Air Fryer German Apple Pancakes — Air fryers are all the rage right now, and for a good reason! They make cooking so much easier and faster, producing healthier results than traditional frying. This week, we're trying out an air fryer German apple pancake recipe that's sure to be a hit with everyone in your family.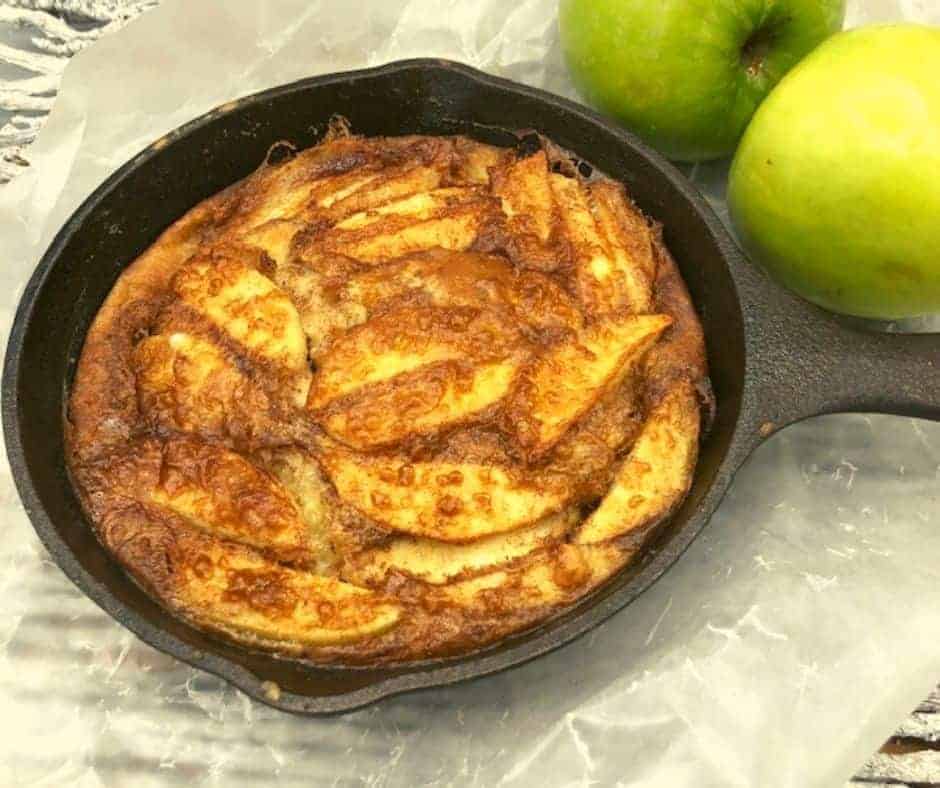 Air Fryer German Apple Pancakes is a great and easy breakfast made in the Air Fryer, and it is so delicious! And the apples caramelize beautifully, so if you are looking for the perfect weekend breakfast, this is one of my favorites!
If you have never made a German Pancake before, don't worry, it is as yeas as making a cake! And the rich apples provide a LOT of flavors!
Lighty, air, and delicious, this is s excellent twist on a classic pancake, and with the air fryer, you get a fantastic delicious within minutes!
Have you not made Pancakes in the Air Fryer yet? What are you waiting for? Some of my favorite recipes are AIR FRYER CHOCOLATE CHIP PANCAKE MUFFINS, AIR FRYER, BLUEBERRY FILLED DUTCH BABY (PUFFED PANCAKE), and AIR FRYER, MAKING HOMEMADE PANCAKES IN THE AIR FRYER.
What Is A German Pancake?
German pancakes and Dutch Baby Pancakes are almost the same things. German Pancakes are baked rather than fried, and the eggs in the batter cause them to puff up!
The air fryer is perfect for making German pancakes since the hot air spinning around the air fryer causes the batter to magically puff up, creating a light and airy German Pancake.
Ingredients Needed For Air Fryer German Apple Pancakes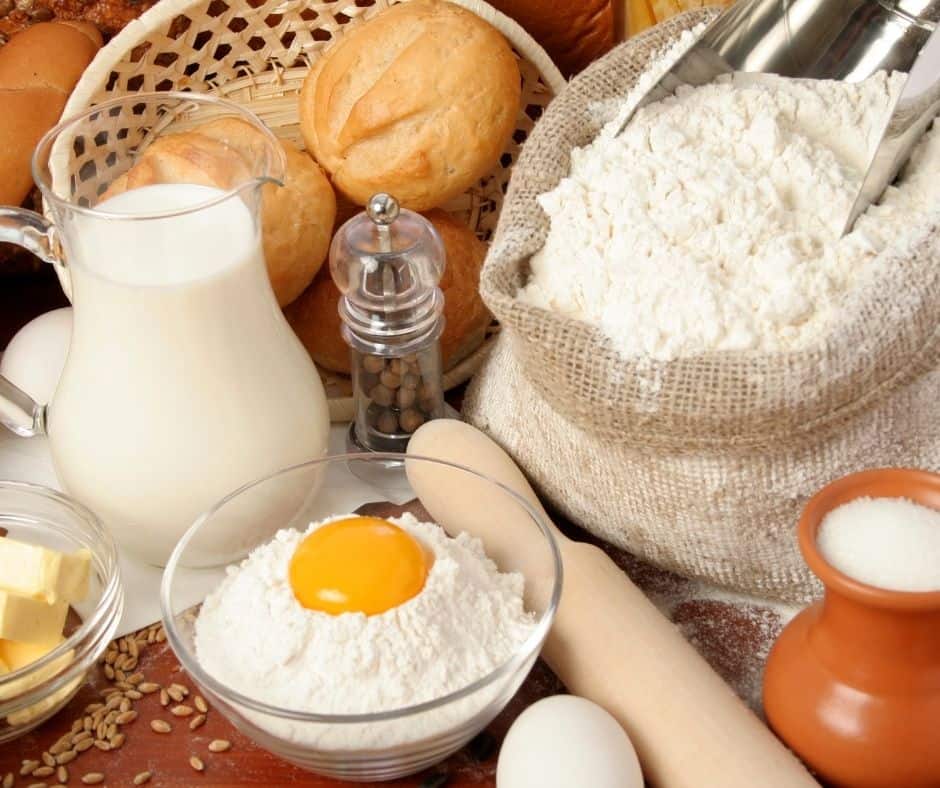 Eggs
Milk
Baking Soda
All-Purpose Flour
Granulated Sugar
Apples
Ground Cinnamon
How To Make Air Fryer German Apple Pancakes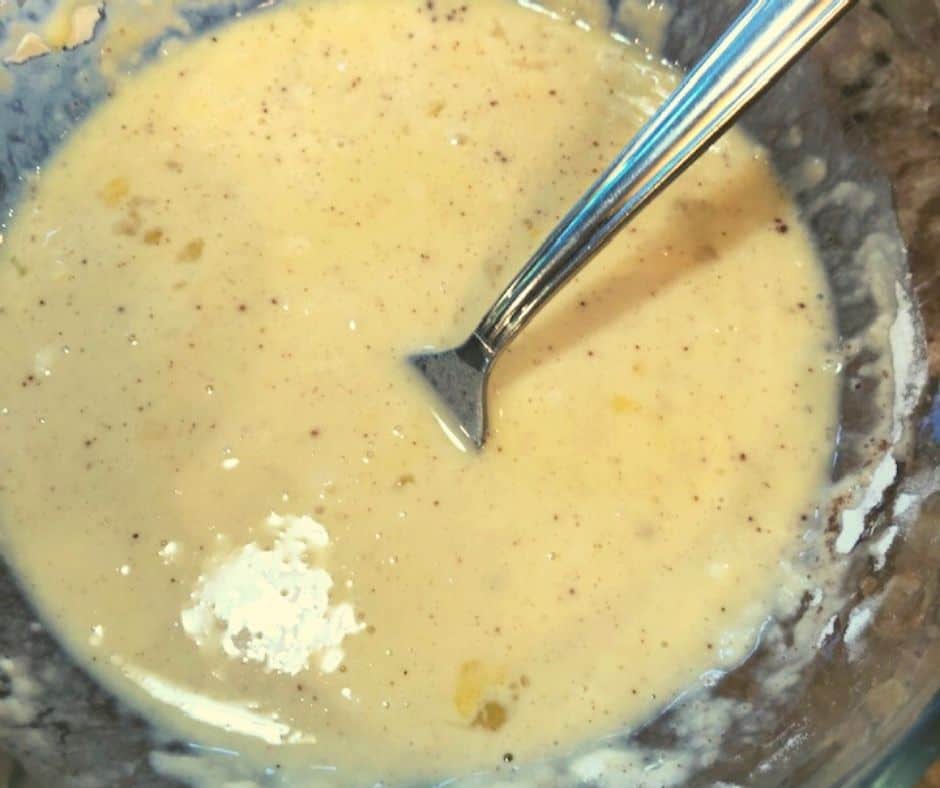 In a small mixing bowl, mix all the batter ingredients and sit for about 15 minutes.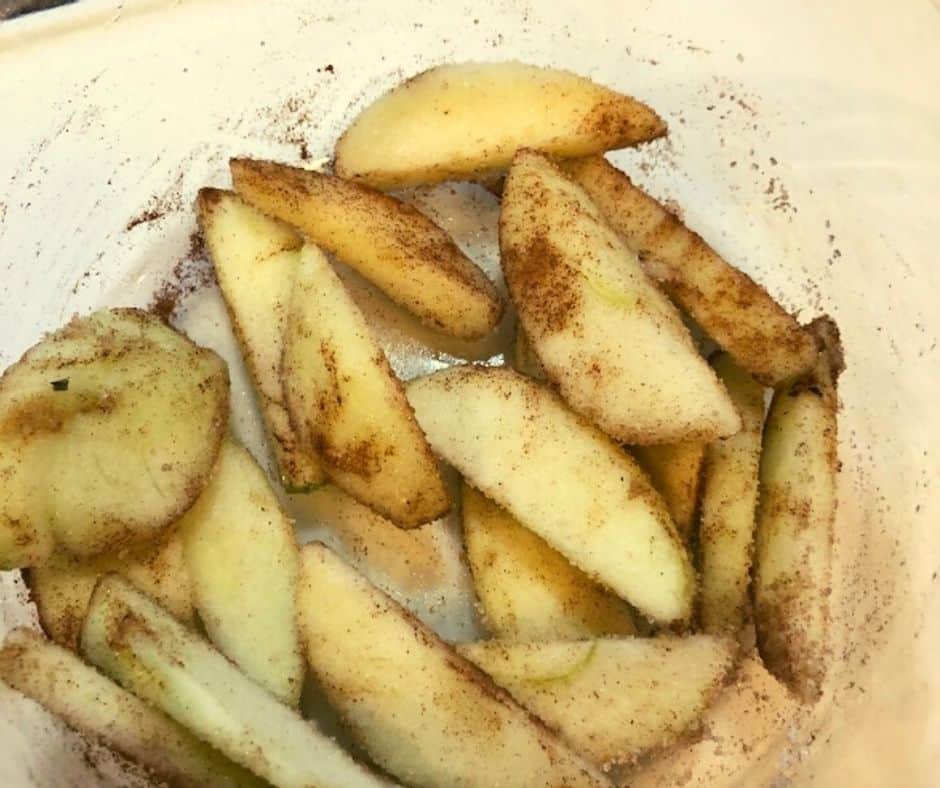 Peel and slice the apples, add them to a small mixing bowl, add the sugar and ground cinnamon, and stir to coat the apples.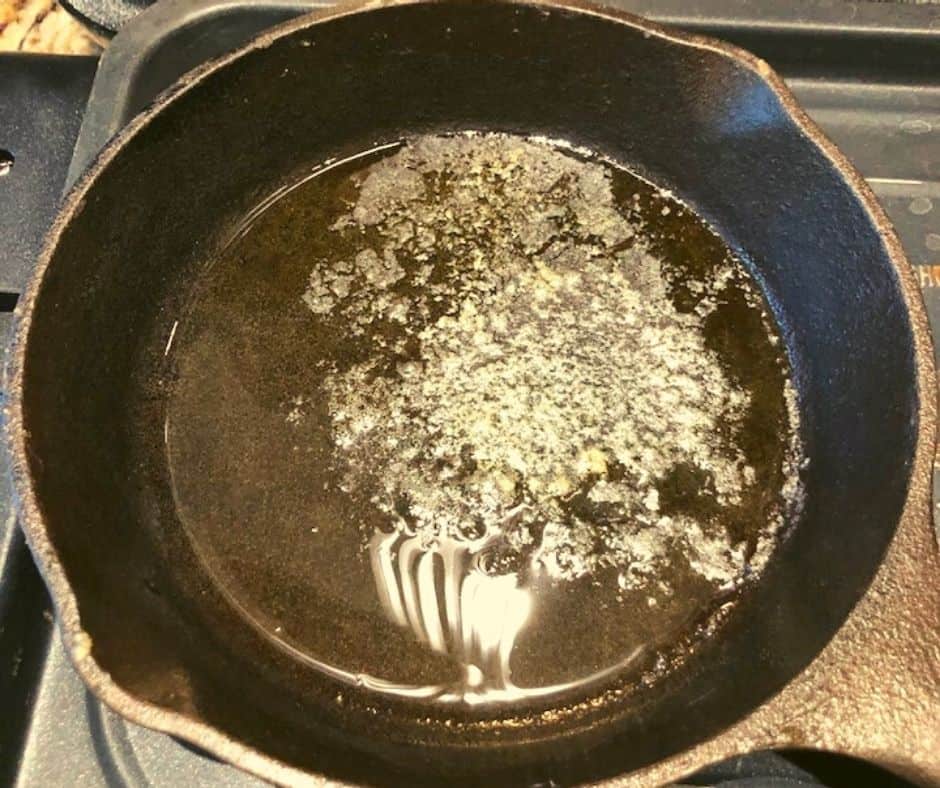 Add the butter to a pan (anything that is oven safe is usually air fryer safe). Place the pan with the butter into the air fryer for 2 minutes at 350 degrees F (air fryer setting)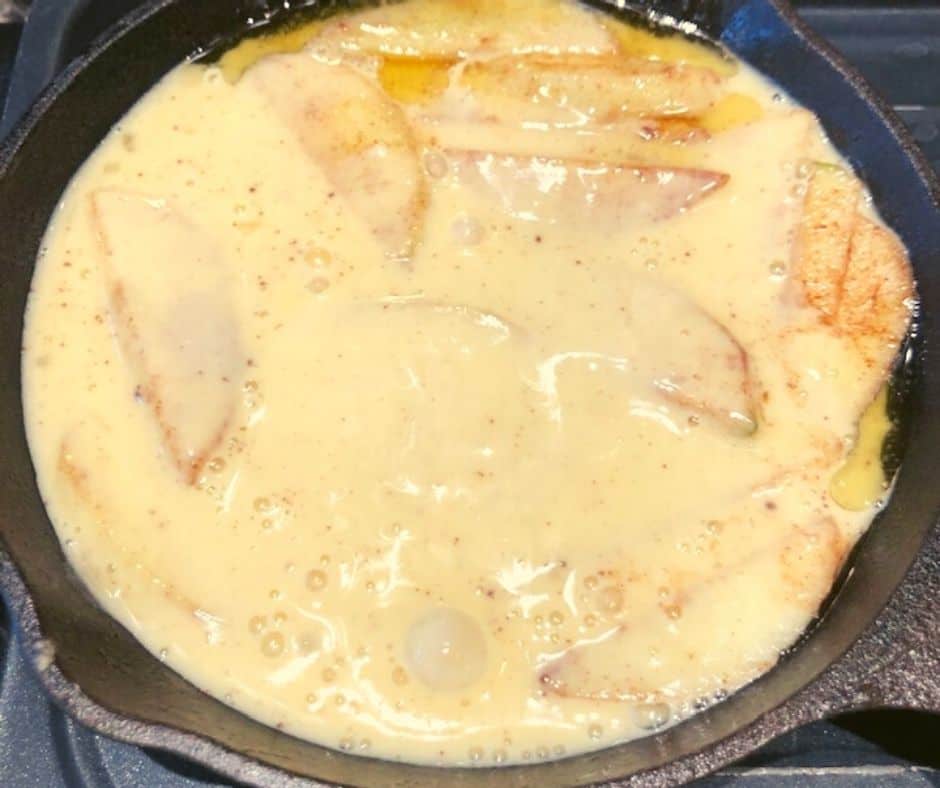 Once the butter is melted, add the apples to the bottom of the pan, and then add the batter on top. Set into the air fryer for 8-12 minutes at 350 degrees F, air fryer setting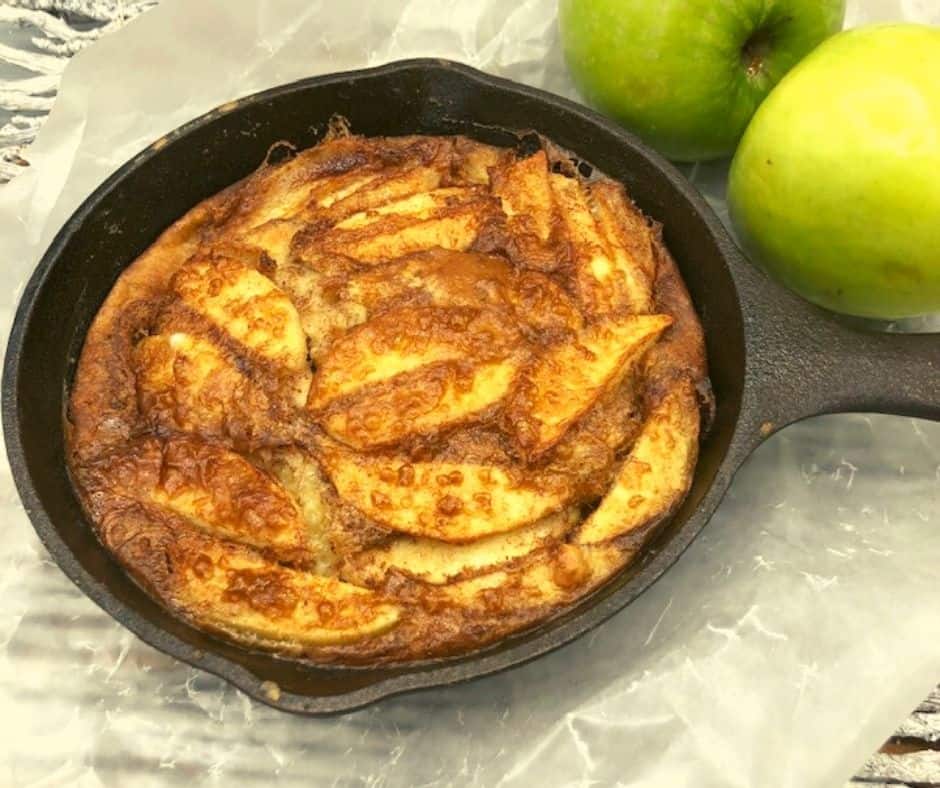 Some Pro Tips For Making The Best Batch of Air Fryer German Apple Pancakes
Slice your apples really thin. This way, they really caramelize well.
For best results, use a thin pan. If you use a thick pan, the batter will not fully cook.
Eat as soon as it comes out, as when you wait, the puff of the German Pancake will flatten. So, for best results, eat right out of the air fryer (after it cools a bit, no need to get burned)
This recipe will work well with any other fruit, peaches, etc.
What To Serve on Air Fryer German Apple Pancakes
This is a great recipe, and you can serve it with several things. Here are some of my favorites:
Powdered Sugar
Maple Syrup
Fresh Apple Preserves (Warmed Up)
Caramel Sauce
What Are The Best Apples To Use?
I usually use whatever I have on hand, especially after my kids go apple picking. For this recipe, you want a firm apple, so avoid the Red Delicious, which tends to get mushy when cooked.
Some great apples to use in this recipe are Gala Apples, Granny Smith, Jonagold, Pink Lady, or Golden Delicious.
How To Store Air Fryer German Apple Pancakes
Although these are best eaten fresh, you can refrigerate any leftovers in an airtight container.
To heat up, either add the contents to a microwave-safe bowl or place them back into the air fryer and heat until warmed through.
What Are The Best Pans For Air Fryer Pancakes?
While you can use any pan on hand that is oven-safe. (which is usually air fryer safe, but remember to always check your owner's manual for safety concerns) This recipe's thin pan works best since it fully allows the air fryer to cook up the batter.
Today, I used this cast iron pan, which I enjoyed in my air fryer journey. It is thin enough for the hot air circulating the basket to cook thoroughly. (affiliate link below)

5.4 inch (13.7cm) pre-seasoned cast iron skillet
Some Other Great & Easy Air Fryer Pancake Recipes-
Don't Forget To Pin-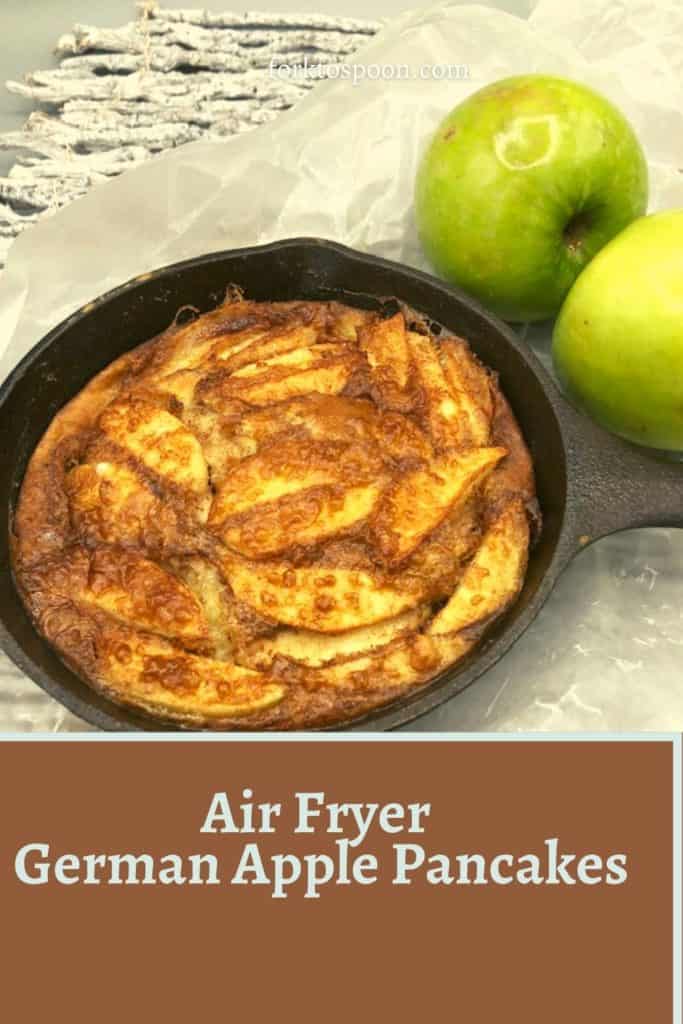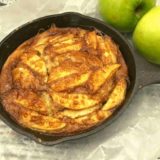 Air Fryer German Apple Pancakes
Description
German pancakes are usually just called dutch baby pancakes. They have the usual pancake batter but are usually cooked (or baked, but today we air fried), so they become puffy. Since fall is upon us, today I made my German pancake with apples coated in ground cinnamon. This makes a terrific breakfast. If you want to make them plain, use the same batter, and garnish with any fruit in season.
Ingredients
Batter:
2

large

eggs

1/2

cup

milk

1

teaspoon

baking soda

1/4

cup

all-purpose flour

1

teaspoon

sugar

1

teaspoon

vanilla extract
Apples:
1

large

apple

,

peeled and diced

1

teaspoon

ground cinnamon

1

teaspoon

sugar
Topping
1/8

cup

maple syrup

1/8

cup

powdered sugar
Instructions
In a small mixing bowl, mix all of the batter ingredients and sit for about 15 minutes

Peel and slice the apples, add them to a small mixing bowl, add the sugar and ground cinnamon, and stir to coat the apples.

Add the butter to a pan (anything that is oven safe is usually air fryer safe)

Place the pan with the butter into the air fryer for 2 minutes at 350 degrees F (air fryer setting)

Once the butter is melted, add the apples to the bottom of the pan, and then add the batter on top.

Set into the air fryer for 8-12 minutes at 350 degrees F, air fryer setting
Equipment
Air Fryer

Cast Iron Pan,

or Baking Pan
Nutrition
Serving:
1
g
Calories:
330
kcal
Carbohydrates:
57
g
Protein:
10
g
Fat:
7
g
Saturated Fat:
3
g
Polyunsaturated Fat:
1
g
Monounsaturated Fat:
2
g
Trans Fat:
0.02
g
Cholesterol:
193
mg
Sodium:
645
mg
Potassium:
349
mg
Fiber:
4
g
Sugar:
38
g
Vitamin A:
432
IU
Vitamin C:
5
mg
Calcium:
144
mg
Iron:
2
mg