Frozen bagels are a quick and easy breakfast option, but they can sometimes turn out soggy or undercooked in the conventional oven. That's where the Frozen Bagel Air Fryer comes in.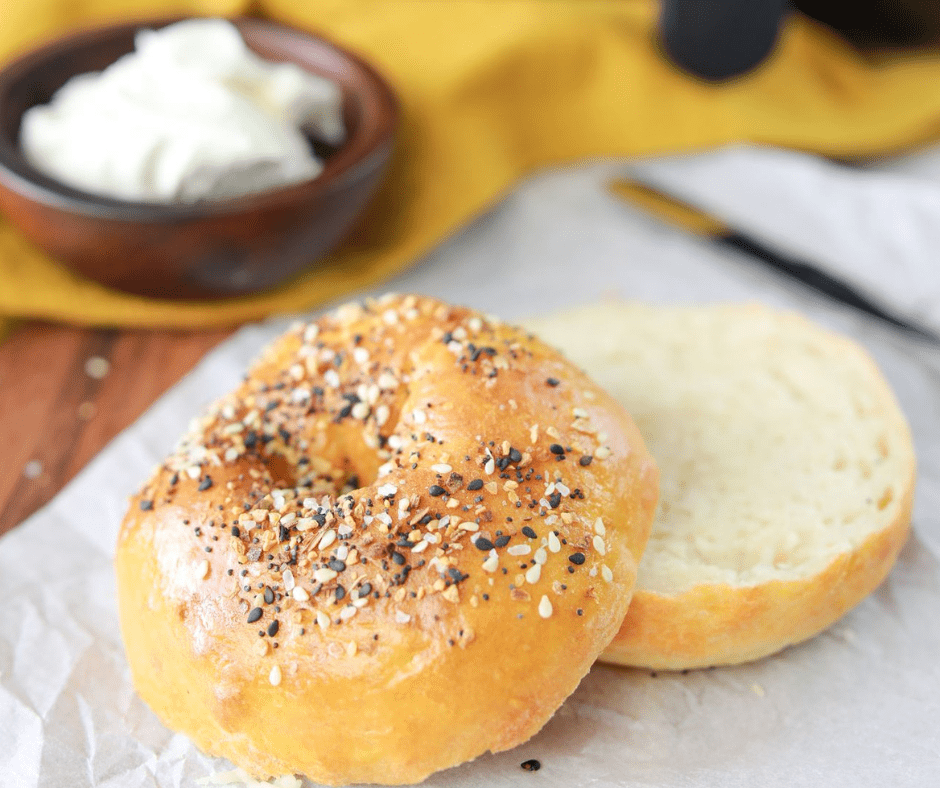 With this innovative appliance, you can easily achieve a crispy outside and fluffy inside without the added oil or grease of traditional deep frying. It's perfect for busy mornings when you're short on time but still want to enjoy delicious bagels. Plus, it's versatile enough to cook other frozen foods like chicken wings and tater tots. Say goodbye to unevenly cooked frozen bagels and hello to the Frozen Bagel Air Fryer. Your breakfast will thank you.
Why Cook Air Fryer Frozen Bagels
The Frozen Bagels Air Fryer is a kitchen game-changer. No longer do you have to settle for a cold, soggy bagel or wait for it to toast in the oven – with this handy appliance, you can enjoy a crispy, hot bagel in just minutes.
Simply place your frozen bagel in the fryer and let it work its magic. The result? A delicious, golden brown bagel that tastes like it just came from the bakery. Whether topped with cream cheese or used as the base for an indulgent breakfast sandwich, the Frozen Bagels
Air Fryer makes it easy to enjoy a tasty treat any time of day. So go ahead and stock up on frozen bagels – with this versatile kitchen gadget, you'll always have hot, fresh options on hand.
Can You Cook Frozen Bagels In The Air Fryer
Yes, but not without some adjustments. First, it's important to note that air fryers work best when food is spread out in a single layer rather than stacked on top of each other. For this reason, it's best to cook one or two frozen bagels at a time rather than trying to cram multiple in the air fryer basket.
Secondly, frozen bagels may require a longer cooking time than fresh or thawed bagels, so be sure to check on them periodically until they're at your desired level of crispiness. Adding some oil or butter on top before cooking can also help enhance their flavor and texture. So go ahead and give your air fryer a go with those frozen bagels – just make sure you adjust your technique accordingly for tasty results.
How To Toast frozen Bagel in Air Fryer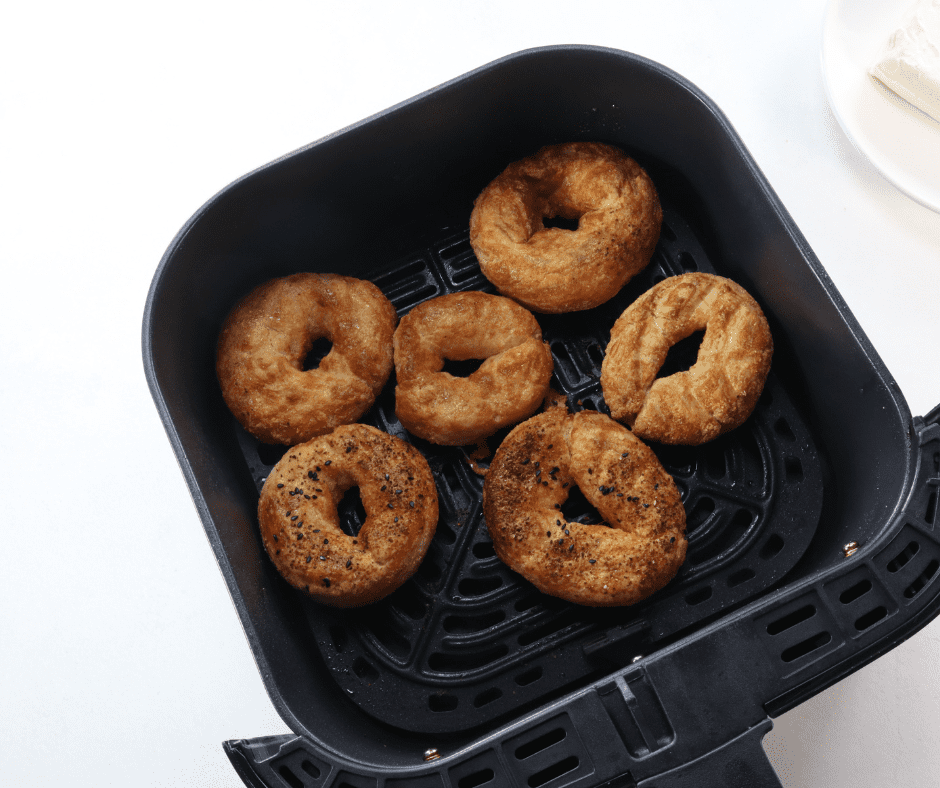 Toasting a frozen bagel in an air fryer is quick and easy.
Simply place the frozen bagel in the air fryer basket, and set the temperature to 375 degrees Fahrenheit for about five minutes.
The heat from the air fryer will crisp up the outside of the bagel while keeping it soft and fluffy on the inside. For even better results, spray the bagel with a bit of oil before cooking to give it a golden brown exterior. No need to preheat or defrost – simply pop that frozen bagel straight into your air fryer and enjoy that freshly toasted taste in just minutes. And who says using an air fryer is just for fries and vegetables? Get creative and try toasting other bread products as well, like English muffins or sliced bread. Happy frying!
Tips For Toasting Bagels In Air Fryer
It's no secret that air fryers have become a popular kitchen appliance in recent years, and they're not just for frying up chicken wings or French fries!
One tasty option to make in your air fryer is bagels. To get that perfect golden crispy exterior while still keeping the inside soft and warm, here are some tips for toasting bagels in the air fryer.
Preheat: Preheat the air fryer to 375 degrees Fahrenheit before placing the bagel inside.
Crispy Air Fried Bagel: For added crispiness, lightly spray the bagel with cooking oil before placing it in the basket.
Timing: Toast for about four minutes on each side, or until your desired level of crispiness is reached.
Serving: Experiment with different toppings like cream cheese, avocado, smoked salmon, or even Nutella for a delicious breakfast or snack option that's made with almost no added oil.
So go ahead and give your air fryer some love beyond fried foods and try toasting your next bagel in it for a crispy twist on a breakfast classic.
Frequently Asked Questions
How Long To Toast Bagel In Air Fryer
If you're looking for the perfect golden brown, crunchy outside and soft inside bagel, look no further than air frying. How long should you toast your bagel in the air fryer?
The answer depends on the size and thickness of your bagel, but typically a thin bagel will only take 2-3 minutes while thicker ones may need 4-5 minutes. Don't overcrowd the basket – if necessary, toast them in batches to ensure even cooking. And remember to flip your bagels halfway through cooking for optimal results! Whether it's for breakfast or a delicious sandwich, your air fryer is sure to give you that perfect toast every time. Happy eating!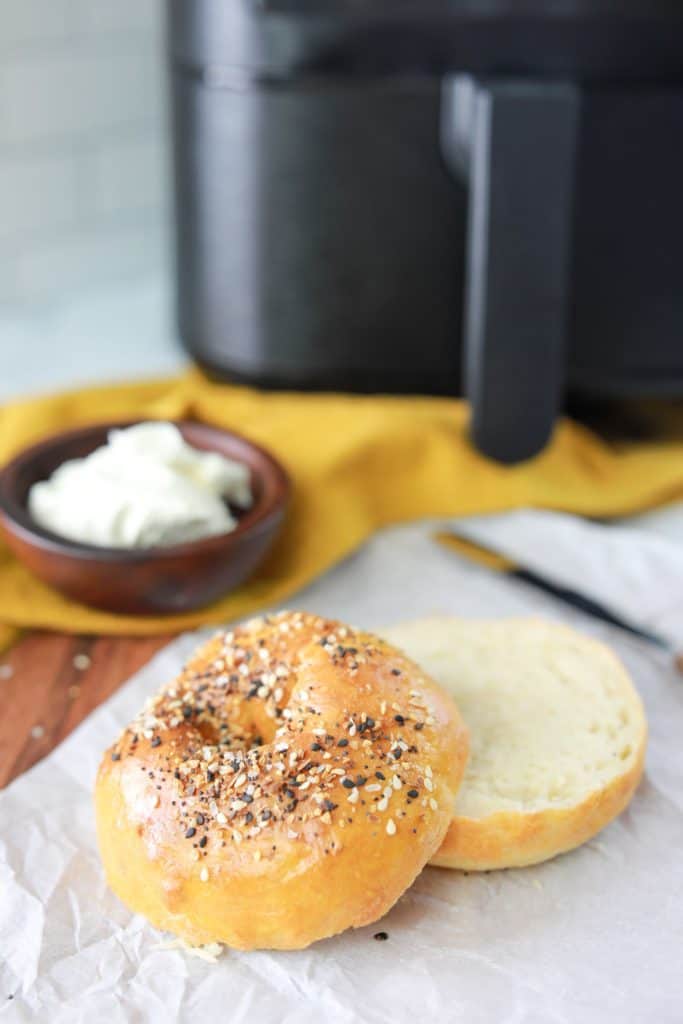 How To Toast A Bagel In The Oven
How do you get that perfectly crispy outside and warm, fluffy inside without a toaster? It's all in the oven!
Simply preheat to 350 degrees and place your bagel on a baking sheet. Toast for 5-10 minutes, depending on how dark you like it. Be sure to let it cool before spreading your favorite toppings, and enjoy your delicious homemade bagel. And don't limit yourself to just plain bagels – try it with everything or blueberry for an extra sweet mid-day snack. The possibilities are endless! Just remember to always keep an eye on your bagel as it toasts, as ovens vary and can quickly burn your bread. Enjoy!
Reheating Bagels In The Air Fryer
Reheating bagels in the air fryer can give them an extra crisp exterior while keeping them soft and warm on the inside. To make sure they don't dry out, brush them with a bit of olive oil before heating them in the air fryer for 2-3 minutes at 350 degrees.
You can also try adding toppings like tomato slices or shredded cheese before reheating for even more flavor. Not only does this method save time and energy, it also gives your bagels a delicious, toasty crunch that traditional microwave reheating just can't compare to. So next time your bagels need a quick pick-me-up, try heating them up in the air fryer for a tasty treat.
What to Eat With Bagels
What is a bagel without the perfect accompaniment? The options are seemingly endless, from cream cheese and vegetables to lox and capers. But there are some tried and true favorites that pair particularly well with the crispy, chewy bread. Smoked salmon, thinly sliced red onions, and a dollop of dill-infused cream cheese make for a classic breakfast or lunch option.
For something sweeter, try spreading nutella or jelly on your bagel, or even topping it with sliced bananas and peanut butter. With so many choices, the only real limit is your own taste buds – so get creative, mix and match toppings, and enjoy one of the most versatile breakfast staples. And don't forget to toast that bagel before digging in – it truly brings out all the flavors. Happy eating!
How Long Do Bagels Last In The Fridge
When it comes to how long bagels last in the fridge, the answer really depends on how they are stored. In their original packaging, bagels will typically stay fresh for about one week.
owever, if they are wrapped tightly in plastic wrap or placed in a sealed container, they can last up to 2-3 weeks.
How Long Do Bagels Last In The Freezer
It may surprise some, but freezing bagels can actually extend their shelf life and keep them from going stale. How long they can last in the freezer, though, depends on how they are stored. Unwrapped or loosely wrapped bagels can suffer from freezer burn and may only last for 2-3 months.
However, if you properly wrap each bagel individually in an airtight container or plastic wrap, they can remain fresh for up to 6 months in the freezer. And don't worry about thawing them – a quick blast in the microwave or toaster will have your frozen bagel tasting like it's straight from the bakery. So go ahead and stock up on your favorite flavor – those frozen bagels will keep for quite a while. Just remember to label and date them so you know when it's time to restock. Happy munching!
Air Fryer Bagels Recipes
Air fryer bagels are the perfect way to enjoy a quick and delicious breakfast or snack. Here are some of my favoite air fryer bagel recipes!
Don't Forget To Pin: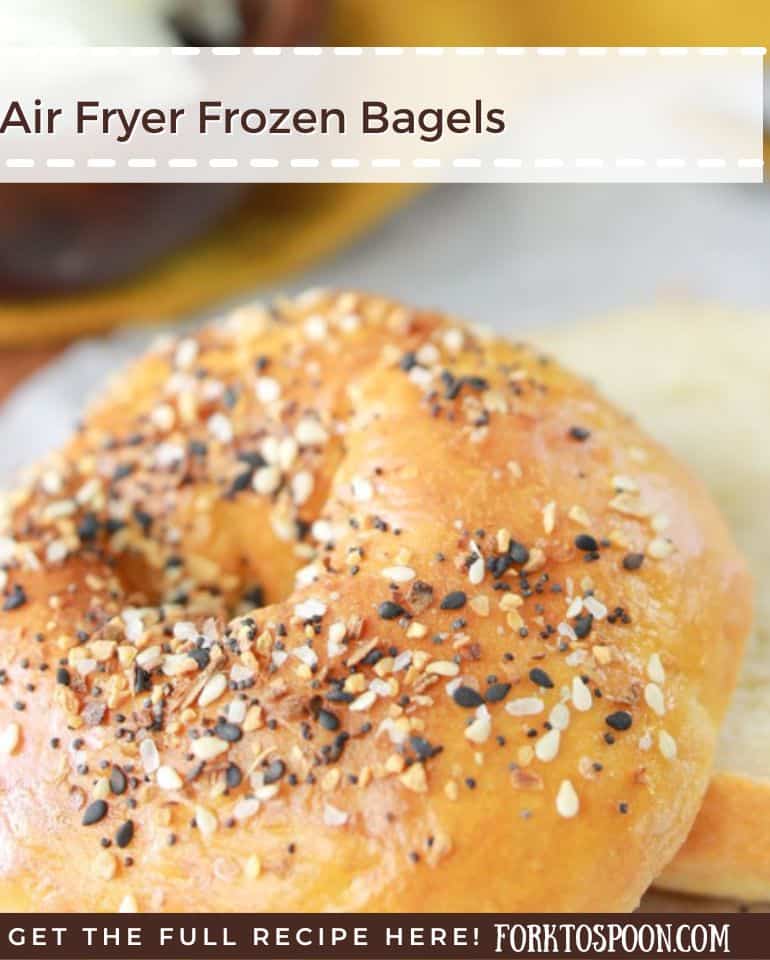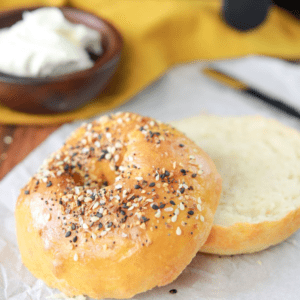 Air Fryer Frozen Bagels
Description
Frozen bagels are a quick and easy breakfast option, but they can sometimes turn out soggy or undercooked in the conventional oven. That's where the Frozen Bagel Air Fryer comes in.
Instructions
Simply place the frozen bagel in the air fryer basket, and set the temperature to 375 degrees Fahrenheit for about 5 to 6 minutes.
Nutrition
Serving:
1
g
Calories:
3
kcal
Carbohydrates:
1
g
Protein:
0.1
g
Fat:
0.01
g
Polyunsaturated Fat:
0.01
g
Sodium:
5
mg
Potassium:
1
mg
Fiber:
0.03
g
Calcium:
0.2
mg
Iron:
0.01
mg