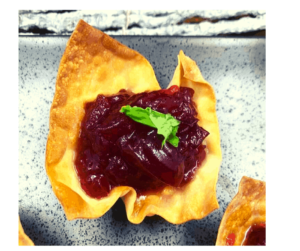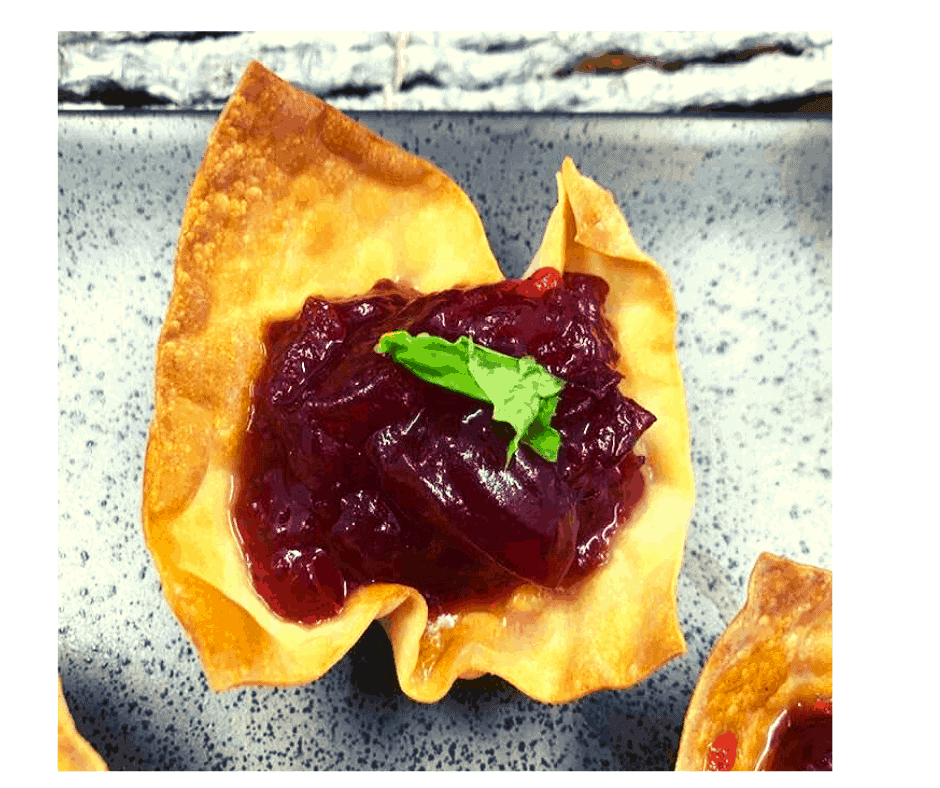 Baked brie is one of my family's favorite desserts/appetizers. I always serve it during movie night at my house. The first time I tried it I picked up this interesting cheese that was wrapped in filo dough,  I didn't know what it was but it sure did look interesting. I think my family all agreed because they ate it up and always begged or try the cheese, on a sample,  when we went to Trader Joes.
If you are not familiar with baked brie, it is nothing short of amazing, you will usually see it sold with toppings, around Valentine's Day, Thanksgiving, Christmas and other holidays. But, making it at home is extremely easy and fun. This is a great place where you can use your imagination to come up with all sorts of amazing and delicious toppings.
Brie (according to Wikipedia) is named after Brie, the French region, where it originated from.
Let's go over some basics about Brie.
It's sold in wheels (round) packages.
Brie can either be called brie or Camembert
You can bake it and eat it directly, or you can add toppings up, that are melted together to create a new taste.
Wrapping it up, in a pastry is called: Brie en croute
Brie is commonly wrapped up in a rind, that needs to be removed in order for it to melt. It is perfectly fine to eat the rind, but when you keep the brie in the rind, it will not melt on the outside, it will only melt the inside. So, I usually remove the top rind, so it melts slightly.
Let the Brie rest after it comes out of the oven or air fryer. Just about 5 minutes, before you cut into it.
If you are looking or thinking about things that will flavor your brie, you can either go with sweet, such as jam or jelly, or something savory such as pesto or sun-dried tomatoes.
If you are going to wrap it up, make sure that your puff pastry is double the size of the brie. which allows you to gather the puff pastry and tie it up. (Just use butcher twine to tie up it and secure it)
Baked brie should have an internal temperature of 400 degrees F. When it's done.
Serve the baked brie with crackers, cut up apples, vegetables, etc.
Kitchen Items Used: (Note: Affiliate links are included in this post)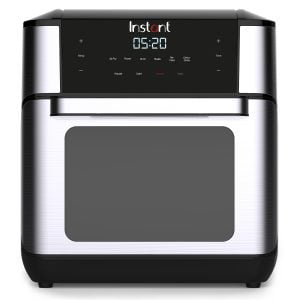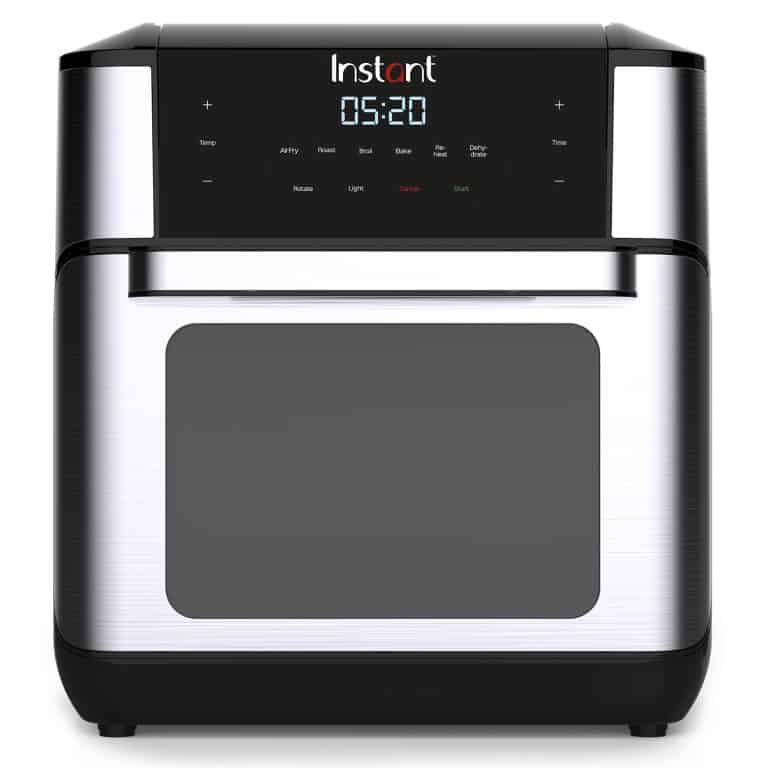 Air Fryer, Instant Pot, Vortex
J.A. Henckels 6-Inch High Carbon Stainless Steel Chef's Kitchen Knife
 Stainless Steel Measuring Cups, 5 Piece Set
Hudson Essentials Stainless Steel Measuring Cups Set-6 Piece Stackable Set with Spout
Anchor Glass Measuring Set–This is one of the handiest tools in the Kitchen 
OXO Good Grips 12 Inch Stainless-Steel Locking Tongs
Don't Forget to Pin–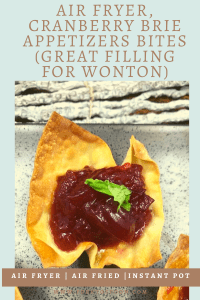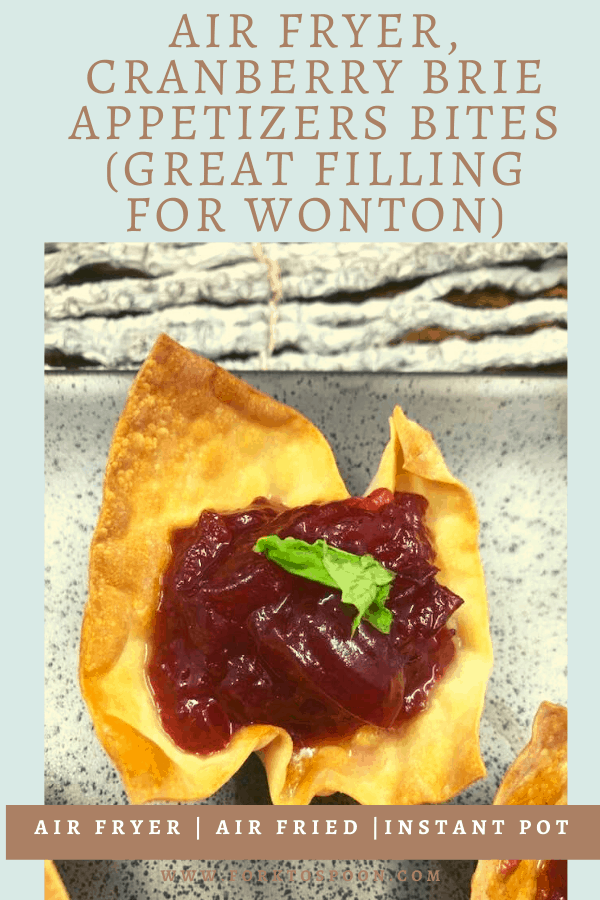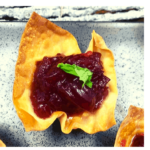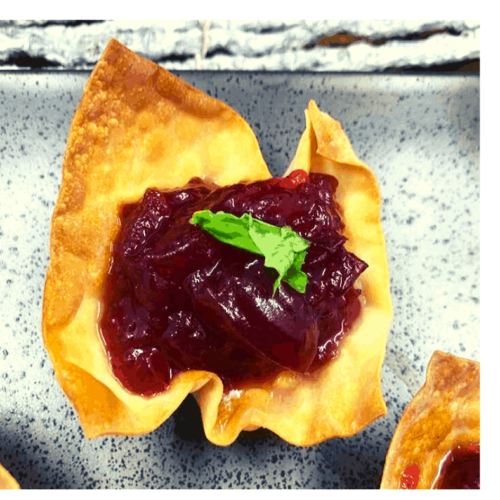 Air Fryer, Cranberry Brie Appetizers Bites (Great Filling for Wonton)
This are so easy to make, The trick with it is to cover the pan with foil so that only the BRie melts and not the wonton wrappers.
Ingredients
1

package

wonton wrappers (my pack was for 25)

8

ounces

soft brie cheese

1

can

whole cranberry sauce
Instructions
Start by putting the wonton wrappers into the muffin tin.

Set the muffin tin into the air fryer basket or tray and set the timer for 300 degrees F for 3 minutes. (air fry setting)

Then add the cut up brie cheese (just cut into small cubes, that fit into the wonton center)

Cover the pan with foil, so the Brie melts nad, not the wonton wrappers.

Air fry for another 4-5 minutes (just enough so that the brie is slightly soft) at 300 degrees F.

Top with a tablespoon of whole cranberry sauce.