Air Fryer Cranberry Brie Bites -These are the perfect appetizer if you have been looking for something amazing to serve at your next Holiday party. These will hit the spot, and in minutes, you can create these, thanks to your hardy air fryer.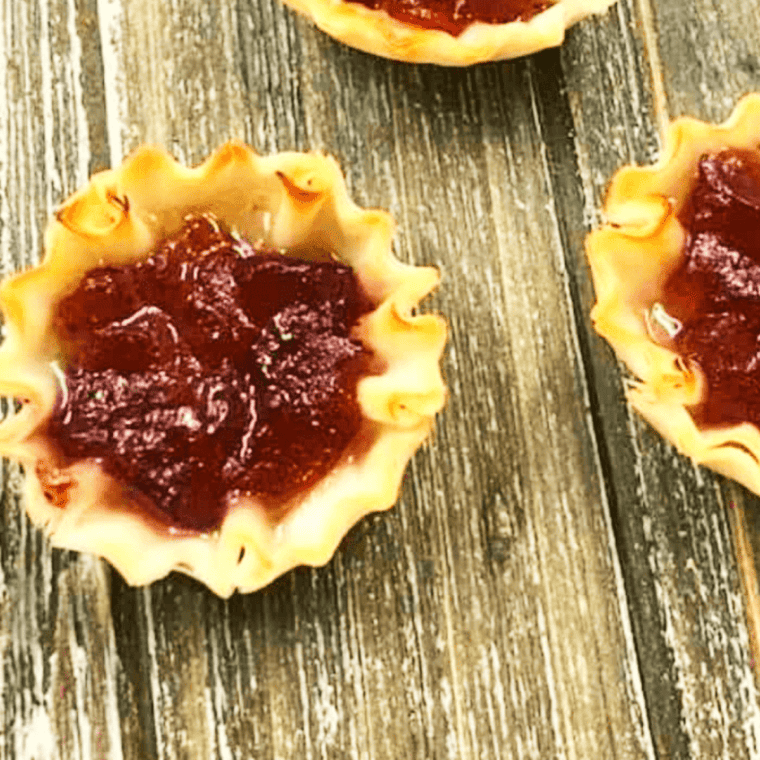 Savor the Festive Flavors: Air Fryer Cranberry Brie Bites​
Welcome to a delightful culinary creation that combines the rich, creamy texture of brie with the tart sweetness of cranberries, all wrapped up in a golden, crispy shell made effortlessly in your air fryer. These Air Fryer Cranberry Brie Bites are the perfect appetizer for any gathering, combining elegance and simplicity in each delicious mouthful.
As the holiday season approaches, or whenever you're in the mood for a gourmet treat that's both easy and impressive, these bites are a go-to recipe. The air fryer works magic, ensuring each bite is perfectly cooked with a crisp exterior and a lusciously melted interior. The combination of brie's creamy richness, cranberry tartness, and the delicate crunch of the outer shell creates a mixture of flavors and textures that's truly irresistible.
So, let's get ready to wow our taste buds and guests alike with these exquisite Cranberry Brie Bites, a true testament to the joy of elegant yet effortless cooking!
Ingredients Needed For Air Fryer Cranberry Brie Bites
Embrace the delightful creamy cheese and tangy fruit pairing with these Air Fryer Cranberry Brie Bites. This recipe combines simple yet elegant ingredients to create flavor in every bite, the perfect holiday appetizer, or as a sophisticated snack. Let's explore the simple ingredients needed to bring this exquisite appetizer to life: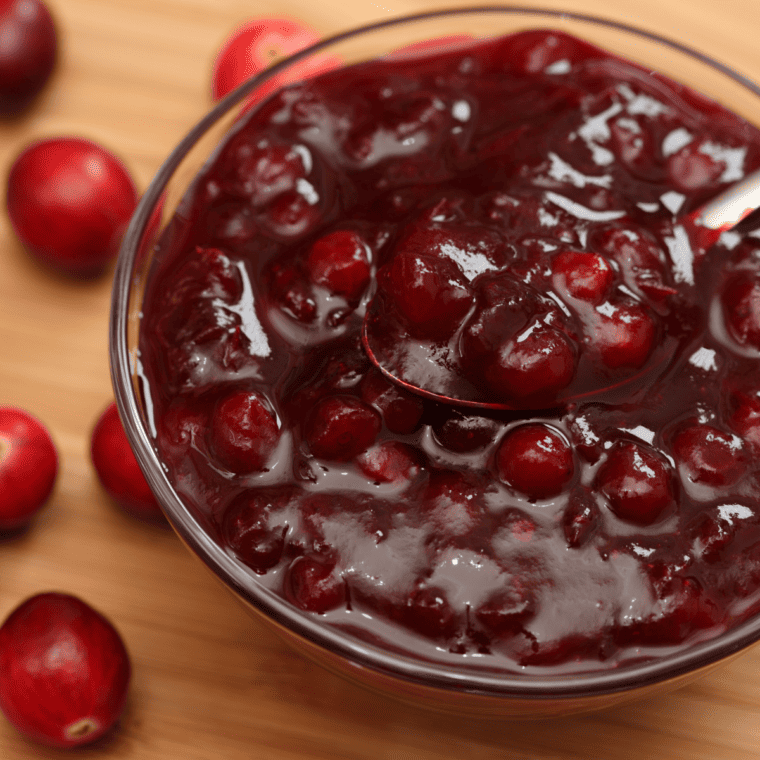 Remember the step-by-step directions and detailed ingredient list are below, in the printable recipe card at the bottom of the post, as well as the nutritional information.
Wheel Of Brie Cheese: The show's star, Brie, is a soft cheese with a mild, buttery flavor that melts beautifully, making it perfect for these bites.
Cranberry Sauce: This provides a sweet and tart contrast to the rich Brie. You can use store-bought whole cranberry sauce or homemade for added freshness.
Phyllo Dough Shells: Mini Phyllo Cups are found in the freezer section of your local grocery store; the shells are amazing,
Fresh Thyme (optional): A sprinkle of fresh thyme adds a subtle, earthy aroma and enhances the overall flavor profile of the bites.
Powdered Sugar (optional): A light dusting of powdered sugar before serving can add a hint of sweetness and a festive look.
Cooking Spray: A light cooking oil spray on the air fryer basket is recommended to prevent sticking and ensure a crisp texture.
Each ingredient is crucial in creating the harmonious blend of flavors and textures in these Cranberry Brie Bites. Gather these simple yet impactful ingredients to craft an appetizer that will delight and impress.
How To Cook Cranberry Brie Bites In Air Fryer
Cooking Cranberry Brie Bites in an air fryer is a delightful way to create a gourmet appetizer that's both delicious and visually appealing. Here's a step-by-step guide to making these tasty treats: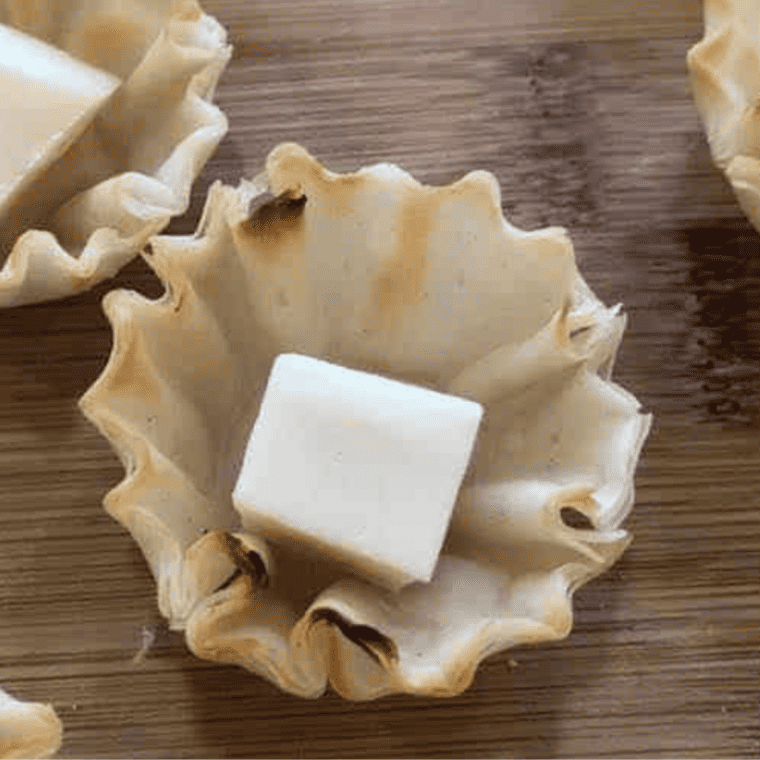 ​Preparation:
Begin by cutting the Brie cheese into small cubes or bite-sized delights. These should be sized to fit comfortably on the phyllo cups.
Assemble the Bites:
Place a small spoonful of cranberry sauce in the center of each. Place each block of cheese into the phyllo shells. Top the cranberry sauce with a piece of Brie cheese. If using, sprinkle a little fresh thyme over the cheese.
Air Fry Brie Bites:
Preheat your air fryer to 250 degrees F for 2-3 minutes. This ensures that your bites cook evenly. Lightly spray the air fryer basket with cooking spray to prevent sticking, or place a piece of parchment paper after the air fryer preheats.
Place the prepared bites in the basket in a single layer, ensuring they don't touch each other to allow for proper air circulation.
Set cook time for 5-7 minutes or until the pastry is puffed and golden brown and the cheese melts.
Serving:
Let the bites cool for a few minutes after cooking, as the cheese will be hot.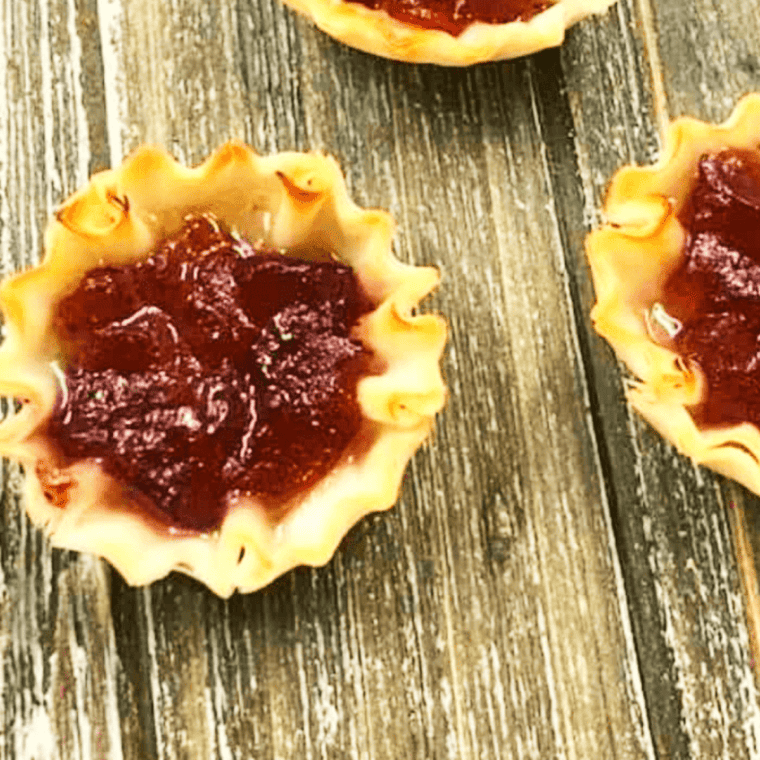 Recipe Variations
Experimenting with different ingredients can add exciting twists to your Air Fryer Cranberry Brie Bites, making them suitable for various tastes and occasions. Here are some delicious recipe variations to try:
Different Cheese Options:
Camembert: Similar to Brie but with a deeper flavor, Camembert can be used for a richer taste.
Goat Cheese: For a tangy twist, substitute Brie with creamy goat cheese.
Blue Cheese: Add a bold flavor with a small amount of blue cheese and Brie.
Fruit Preserves:
Fig Jam: Replace cranberry sauce with fig jam for a sweet and rich flavor.
Apricot Preserves: Apricot preserves can offer a sweet-tart balance to the creamy Brie.
Raspberry Jam: For a more intense tartness, try raspberry jam.
Savory Twists:
Caramelized Onion: Add a spoonful of caramelized onions for a savory-sweet flavor.
Bacon Bits: Sprinkle cooked bacon bits for a smoky, savory addition.
Nutty Flavors:
Pecans or Walnuts: Top the Brie with chopped pecans or walnuts for added crunch and nutty flavor.
Spices and Herbs:
Rosemary: Use fresh rosemary instead of thyme for a more piney aroma.
Honey and Black Pepper: Drizzle honey or brown sugar, and sprinkle cracked black pepper over the Brie for a sweet and spicy combination.
Dough Variations:
Crescent Roll Dough: Use crescent rolls instead of puff pastry for a different texture.
Phyllo Dough or Pastry Cups: Layer phyllo dough for a crispier and flakier bite.
Sweet and Spicy:
Hot Honey: Drizzle hot honey over the bites for a unique sweet and spicy flavor.
Seasonal Twists:
Pumpkin Spice: Add a pinch of pumpkin spice to the cranberry sauce for a fall-themed treat.
Chocolate Addition:
Dark Chocolate: Place a small piece of dark chocolate with the Brie for a gourmet sweet and savory experience.
Dessert Version:
Sweet Cream Cheese and Berry: Use sweetened cream cheese and a berry of your choice for a dessert.
Each variation brings unique flavor and texture to the Cranberry Brie Bites, allowing you to customize the recipe to suit your taste or the occasion. Feel free to mix and match these ideas to create your delightful appetizers!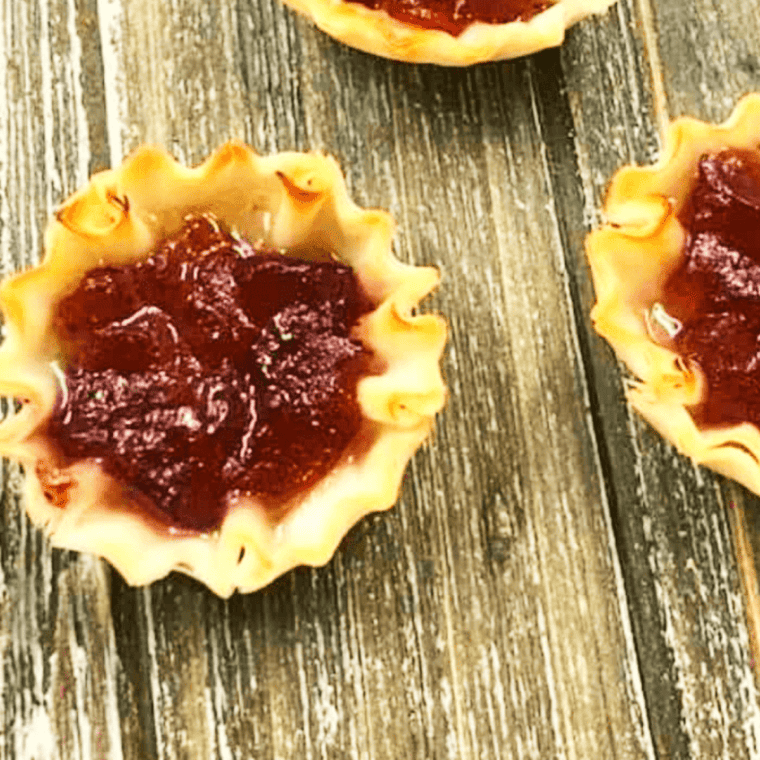 How To Cook Cranberry Brie Bites In Oven
​Cooking Cranberry Brie Bites in a conventional oven is a fantastic way to create a delightful and easy appetizer, especially if you're making a larger batch. Here's a step-by-step guide to making these delicious treats:
​Preheat the Oven: Preheat oven to 375°F (190°C). This ensures that your puff pastry will cook evenly and become nicely golden.
Prepare the Puff Pastry: Roll out the thawed puff pastry on a lightly floured surface to prevent sticking. Cut it into squares or circles, depending on the shape you prefer for your bites.
Assemble the Bites: Place a small spoonful of cranberry sauce in the center of each puff pastry piece. Add a piece of Brie cheese on top of the cranberry sauce. You can remove the rind from the Brie if you prefer. If using herbs, sprinkle a little on top of the Brie.
Fold and Seal: Fold the puff pastry over the filling to create a small pocket. Pinch the edges to seal them. You can use a fork to crimp the edges, which gives a nice decorative touch.
Egg Wash: Lightly brush the tops of the bites with beaten eggs. This will give them a beautiful golden sheen.
Prepare for Baking: Line a baking sheet, or cookie sheet with parchment paper or lightly spray it with cooking spray. Place the assembled bites on the baking sheet, ensuring they are not touching each other.
Bake: Place pan in pre-heated oven, and bake for 15-20 minutes or until the pastry is puffed and golden brown.
Serving: Allow the bites to cool for a few minutes before serving, as the cheese will be hot right out of the oven.
Garnish with additional fresh herbs, rosemary sprigs, and fresh cranberries, if desired.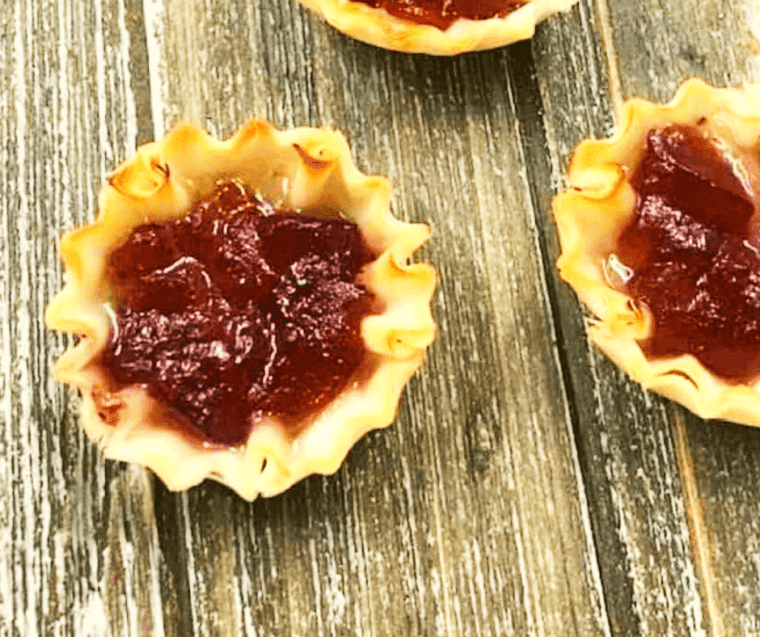 Pro Tips
Creating the perfect Air Fryer Cranberry Brie Bites is both an art and a science. Here are some pro tips to help you achieve delicious results every time:
Choose Quality Ingredients: Opt for high-quality Brie cheese, as it's the dish's star, whether store-bought or homemade cranberry sauce; sound quality can also make a big difference in flavor.
Properly Thaw Puff Pastry: Ensure your puff pastry is properly thawed for easy handling. It should be cold but pliable to prevent tearing when shaping your bites.
Even Cheese Distribution: Cut the Brie into uniform pieces to ensure each bite has an equal amount of cheese, which helps in even melting and consistent flavor.
Preheat the Air Fryer: Always preheat your air fryer for the best results. It ensures a crispy texture and even cooking.
Cook in Batches: Avoid overcrowding the air fryer basket. Air circulation is key to achieving a crispy texture, so cook in batches if necessary.
Monitor Cooking Time: Keep an eye on the bites, as cooking times can vary depending on the air fryer model and the size of the bites.
Rest Before Serving: Let the bites rest for a few minutes after cooking. The cheese will be extremely hot and can burn your mouth.
Adjust Toppings Based on Occasion: Tailor your toppings and fillings based on the occasion – go for more gourmet ingredients for special events, or keep it simple for casual gatherings.
Experiment with Flavors: Don't be afraid to experiment with different jams, cheeses, or spices to find your perfect combination.
Presentation Matters: For an appealing presentation, serve them on a platter with garnishes that complement the flavors, like fresh herbs or a drizzle of honey.
By following these tips, your Air Fryer Cranberry Brie Bites will taste fantastic and look impressive, making them perfect for any gathering or a special treat at home.
FAQ's
Can I make Cranberry Brie Bites in advance?
Yes, you can assemble the bites in advance and refrigerate them. Just air fry them right before serving for the best taste and texture.
What type of Brie should I use?
Any good quality Brie will work. Depending on your taste preference, you can use either a mild or a strong Brie. It's best to remove the rind for a smoother texture.
Can I use frozen puff pastry?
Yes, frozen puff pastry is perfect for this recipe. Just ensure it's fully thawed before you start assembling your bites.
How do I prevent the pastry from becoming soggy?
Avoid overloading the pastry with too much sauce or cheese, and preheat your air fryer. This helps the pastry cook quickly and become crispy.
Can I substitute cranberry sauce with something else?
Absolutely! Other fruit preserves like apricot, raspberry, homemade cranberry sauce, apricot jam, or fig jam can be used. Each offers a unique flavor profile.
How long do I cook them in the air fryer?
Cooking time can vary, but generally, it takes about 8-10 minutes at 350°F (175°C). Always check for a golden-brown color as a sign they're done.
Can I make them gluten-free?
Yes, use gluten-free puff pastry for a gluten-free version. Just be aware that the texture might vary slightly from traditional puff pastry.
How do I store leftovers?
Store leftovers in an airtight container in the refrigerator and consume them within a couple of days. Reheat in the air fryer to retain crispness.
Can these bites be frozen?
Yes, you can freeze the assembled, uncooked bites. Air fry them straight from the freezer, adding a few extra minutes to the cooking time.
What's the best way to serve them?
Serve them warm for the best experience. They make great appetizers or party snacks.
Can I use different types of cheese?
Yes, feel free to experiment with different types of cheese. Camembert or mild blue cheese can be great alternatives.
More Air Fryer Recipes
Don't Forget To Pin!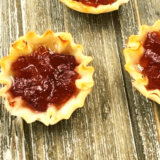 Air Fryer Cranberry Brie Bites
Description
These are perfect for the air fryer. Cranberry Bites are extremely easy to make, and they taste excellent. They are the perfect appetizer for the upcoming Holiday, and I love them. Here is my foolproof recipe for Air Fryer Cranberry Brie Bites.
Ingredients
1

package

phyllo shells

1/2

cup

cranberry sauce

4

ounes

brie
Instructions
Cut the cheese (once you cut the rind off) into chunks. Cut them so they fit inside the cups.

Place each block of cheese into the cups.

Then top with about a tablespoon of cranberry sauce.

As you make them place them into your air fryer basket or tray.

Set in the air fryer oven/basket and set the temperature to 250 degrees F for 5 minutes.
Equipment
Air Fryer

Cooking Spray

Parchment Paper,

optional
Nutrition
Serving:
1
Serving
Calories:
35
kcal
Carbohydrates:
7
g
Protein:
1
g
Fat:
1
g
Saturated Fat:
0.1
g
Polyunsaturated Fat:
0.01
g
Monounsaturated Fat:
0.03
g
Cholesterol:
0.3
mg
Sodium:
12
mg
Potassium:
4
mg
Fiber:
0.1
g
Sugar:
4
g
Vitamin A:
7
IU
Vitamin C:
0.1
mg
Calcium:
1
mg
Iron:
0.05
mg