Air Fryer Cheetos Mozzarella Sticks — These Air Fryer Cheeto's Mozzarella Sticks are the perfect snack for any occasion! They're easy to make and so delicious. You'll love the cheese and Cheeto flavors combined together. Make sure you try these out soon!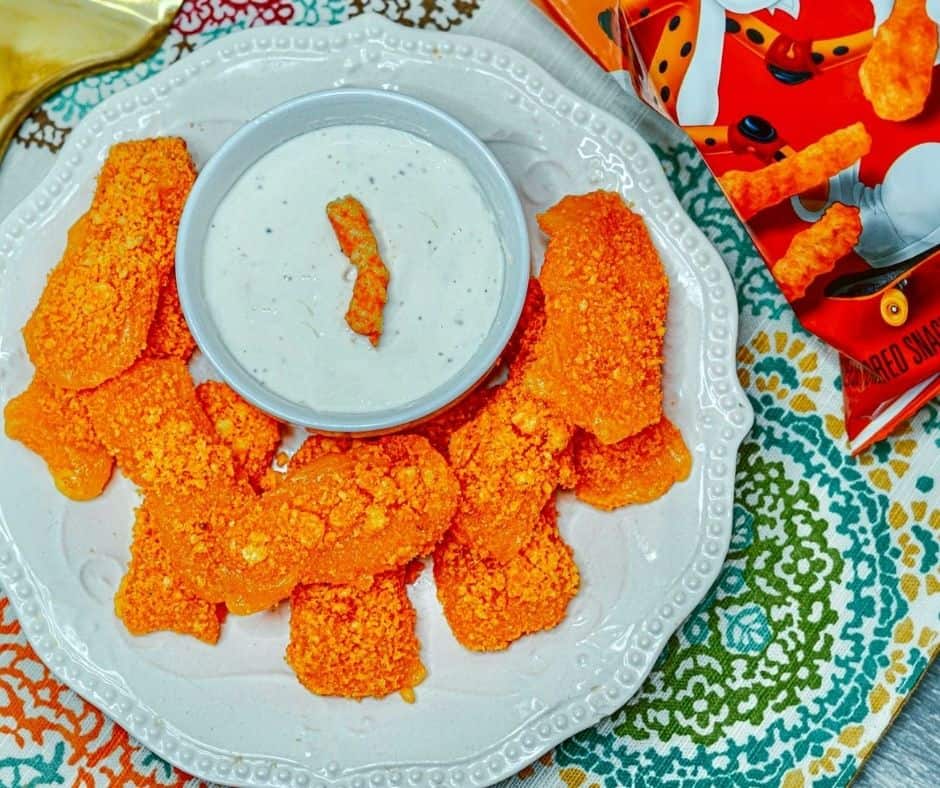 This is a great and easy recipe. With a twist, today, I made a batch of Air Fryer Cheetos Mozzarella Sticks. They are amazing. Whether you use flaming hot or regular Cheetos, the flavor is amazing!
Making any mozzarella sticks in the air fryer is amazing. They come out light, fluffy, and bursting with cheese. They are so much better and tastier than the frozen kind.
So, if you love a tasty and delicious batch of mozzarella sticks, keep on reading, they are amazing, and the coating from the Cheetos makes a tasty bread crumb alternative.
If you are looking for even more Air Fryer Appetizers Recipes, some of my favorites are AIR FRYER PARMESAN DILL PICKLE CHIPS, AIR FRYER TACO BELL COPYCAT NACHO FRIES, AIR FRYER LOADED PIZZA ROLLS or even AIR FRYER JALAPENO POPPER WONTON CUPS.
How Does the Air Fryer Work?
If you have not used an air fryer, you are in for a real shocker. They are amazing. Air Fryers will perfectly cook your food in a matter of minutes, crisp up your chicken, bake a batch of cookies, and even cook some frozen vegetables, all while cooking it faster than it would take you to preheat your oven.
An air fryer is a smaller version of a convection oven, but due to the fan's high speed, it works even quicker. Because the air fryer works from cooking the outside first, then the inside, it provides for a great crispy exterior. At the same time, the inside is moist, tender, and delicious.
The Secret for Great Mozzarella Sticks
The real secret to any great mozzarella stick, coated with Cheetos or not, is to double coat and double freeze your mozzarella sticks.
While this recipe will take you more time than only coating them once, you will get a better and even distributed coating. Plus with the double dipping and double freezing, the coating of the mozzarella sticks will stick to the cheese, no more losing your coating while you air fry them.
Ingredients Needed For Air Fryer Cheeto's Mozzarella Sticks
Air fryers are all the rage these days and for good reason! They make delicious food with little to no oil. If you're looking for a new air fryer recipe to try, look no further than these Cheeto's mozzarella sticks. You'll only need a few simple ingredients, and your air fryer will do all of the work. So get ready to enjoy some cheesy goodness!
Eggs: Use room temperature and large eggs.
Cheetos: Use either Regular or Flaming Hot
Cheese Sticks: Use either mozzarella or Cheddar Cheese Sticks
How To Cook Cheeto's Mozzarella Sticks In The Air Fryer
Start by unwrapping your cheese sticks, and placing them onto a baking tray, freeze the sticks.
When they are frozen solid, crush the Cheetos , slice your cheese sticks in half and then dip them into the egg, then into the crushed Cheetos.
Place on the baking sheet and freeze again, freeze for about 30 minutes, or until frozen solid.
Spray your air fryer basket with cooking spray, and then spread out your frozen mozzarella sticks on top.
Set the basket into the air fryer for 3-5 minutes at 350 degrees F, air fryer setting.
Plate, and serve with your favorite dipping sauce.
Why Make Air Fryer Mozzarella Sticks?
Super easy
Quick to make
Crispy texture with melted cheese in the center
Great appetizer for game day fun
Easy after-school snack to whip up for the kids
Affordable
Simple ingredients
Frequently Asked Questions:
How long do you air fry frozen mozzarella sticks?

You will want to cook your mozzarella sticks at 390 degrees for about 12 minutes. With an air fryer, you will find the temperature and cooking time can vary. So make sure to keep an eye on your air fryer sticks to ensure they don't overcook.

What to serve with mozzarella sticks?

Serve your sticks plain, pair with marinara, or even ranch dressing. Traditional mozzarella sticks are served with marinara. It compliments each other perfectly.
You can make a homemade marinara sauce or venture out and buy your favorite store-brand sauce. Warm it up on the stove and then dip the warm mozz sticks in the sauce.

Why do you freeze the cheese before air frying?

Freezing your cheese is going to help firm up the cheese a bit. If you skip this step you will find all your cheese has a higher chance of oozing out and making a mess in your air fryer.
If you freeze the cheese it will take longer to warm up, giving you the perfect cheese pull texture when you pull your cheese sticks apart or bite into them
Can I Store Them In The Freezer?
Yes, if you want to make a huge batch to stock up, simply freeze them, as directed. Once they are completely frozen, remove them from the baking sheet, and place the frozen mozzarella sticks into a large Ziploc bag.
They should last about 2 to 3 months.
When you are ready to air fry them, simply follow the directions in the recipe below.
Pro Tips For The Best Air-Fried Mozzarella Sticks
You need to freeze the mozzarella sticks until they are frozen, otherwise, they will explode in the air fryer.
Make sure that the basket is coated with olive oil before you add the mozzarella sticks, otherwise, they will stick to the basket, as they air fry.
Space your mozzarella sticks out, which will allow them to cook properly, The air fryer works by circulating the hot air around the food, allowing it to cook evenly.
Low-fat cheese sticks do not come out as regular cheese sticks, the texture becomes almost rubbery, so if you are going to go through the process of making them, treat yourself.
Craving More Air Fryer Appetizers
Do you love your air fryer as much as I do? I can't get enough of it! It's so great for making quick and easy appetizers. Today, I want to share with you some of my favorite air fryer appetizer recipes. You're going to love them!
Air Fryer Calamari | Here you have a crispy coated calamari that makes for an incredible appetizer. Whether you are having a holiday event or a game day party, this calamari will be the star of the party.
Easy Air Fryer Mac and Cheese Balls | Love macaroni and cheese? Here is an air fryer mac and cheese ball that is so tasty, and loaded with cheesy pasta in every bite.
Loaded Waffle Fries | Here is a waffle fry that is loaded with all your favorite toppings. A fantastic appetizer or even snack to fill you up and satisfy your cravings.
SOME HELPFUL PRODUCTS USED IN MAKING THIS RECIPE-
Disclosure: Some of the links below are affiliate links. At no cost to you, I will earn a commission if you click through and make a purchase.

Power XL Air Fryer Grill 8 in 1 Roast, Bake, Rotisserie, Electric Indoor Grill (Deluxe 8 Piece Accessory Pack), Stainless Steel
Don't Forget To Pin:
Air Fryer Cheetos Mozzarella Sticks
Air Fryer Cheeto's Mozzarella Sticks — These Air Fryer Cheeto's Mozzarella Sticks are the perfect snack for any occasion! They're easy to make and so delicious. You'll love the cheese and Cheeto flavors combined together. Make sure you try these out soon!
Course:
Appetizers, Snacks
Keyword:
Air Fryer Cheeto's Mozzarella Sticks
Ingredients
6

frozen

cheddar sticks

2

large

eggs

8.5

ounce

Cheeto's
Instructions
Make sure your cheddar sticks are frozen.

Pour Cheeto's into a large baggie & crush with a rolling pin.

Once the cheddar sticks are frozen, slice each cheddar stick in half and coat in egg.

Then roll each egg coated cheese stick in the Cheeto dust.

Place back in freezer then pre-heat air fryer 350 degrees.

Once pre-heated, remove from freezer and air fry for 3-5 minutes. 

Serve with your favorite dipping sauce and enjoy. 
Nutrition Facts
Air Fryer Cheetos Mozzarella Sticks
Amount Per Serving (1 g)
Calories 365
Calories from Fat 207
% Daily Value*
Fat 23g35%
Cholesterol 94mg31%
Sodium 357mg16%
Potassium 121mg3%
Carbohydrates 35g12%
Protein 7g14%
Vitamin A 135IU3%
Calcium 98mg10%
Iron 1mg6%
* Percent Daily Values are based on a 2000 calorie diet.