It is spring, which means it's time for burgers.
Whether you are grilling them or using your air fryer, hamburgers are one of America's favorite food. And there are many flavors and kinds. So, it's time to start featuring a different burger each week, so you can cover some of them this year.
When I was a child, we only had fast-food burger joints, nowadays there are SO many to choose from, there seems to be a burger joint popping up every few months, and some of the most famous people in the world have started something, so they must be on to something. Last time I checked, Mark Wahlberg (and his brother Danny), Norman Reedus, Susan Sarandon, Johnathan Jackson, Steve Burton, and plenty of other celebrities.
So, with all of this culture of making high-end burgers, here are some hints for you to make them at your own house, so you can enjoy them in the comfort of your own backyard.
80/20 meat is highly recommended, since you need the fat, to help keep the meat nice and juicy, while it cooks .s
Shape the patties once, if you keep on handling them burgers, they will change the texture of the burger.
Save the seasonings, for right before cooking the burger, if you put on salt too soon, it will dry out your meat. Since salt pulls out the liquid.
Put a small indication into the center of the burger, since it will prevent the burger from puffing up.
Always flip just once, during the cooking process, do not press down, when you flip, like most of us do, as it will let the burger juices escape.
The USDA recommends cooking the beef until it has an internal temperature of 160 degrees F.
I love a good crab cake sandwich, as do my kids, so today, I thought why not make crab cake sliders? They are really easy to make, and only require a few ingredients that you don't have in your house.
Kitchen Items Used: (Note: Affiliate links are included in this post)
J.A. Henckels 6-Inch High Carbon Stainless Steel Chef's Kitchen Knife
 Stainless Steel Measuring Cups, 5 Piece Set
Hudson Essentials Stainless Steel Measuring Cups Set-6 Piece Stackable Set with Spout
Anchor Glass Measuring Set–This is one of the handiest tools in the Kitchen 
OXO Good Grips 12 Inch Stainless-Steel Locking Tongs
Today, I used this burger spice, which is my family's favorite—
Don't Forget To Pin—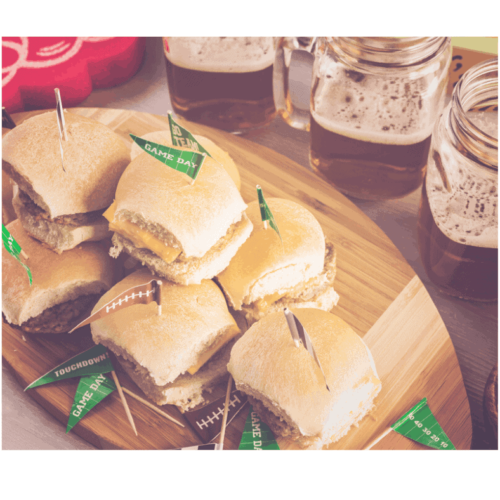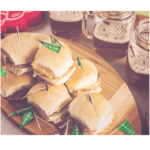 Air Fryer, Cheeseburger Sliders
These are the perfect tailgating or party food. Depending on the air fryer you own, you will be able to make a ton of them, in no time.
Ingredients
2

pounds

lean ground beef

1/4

cup

diced onions

1

teaspoon

salt

1

teaspoon

black pepper

1

tablespoon

hamburger spice (see my post for the one I used)

6

slices

Cheese (any type)

slider buns
Instructions
In a small mixing bowl, mix together the ground beef, burger seasoning mix, onions, salt, and pepper.

Form that patties, as Informed them, I placed them on the air fryer baking sheet (tray)

Set them in the air fryer for 5 minutes at 400 degrees F, then flip the burgers and depending on how well done you want them, add another 2-3 minutes (medium-rare) 3-4 minutes for medium, and 5 minutes for well done.

I place a piece of cheese on the burgers and then closed the door, to allow the heat to melt the cheese.