Air Fryer Broccoli Recipe Round-Up — Are you looking for an easy, healthy side dish to serve this week? Look no further than the air fryer! With this amazing kitchen appliance by your side, you can whip up a delicious batch of crispy broccoli in just minutes.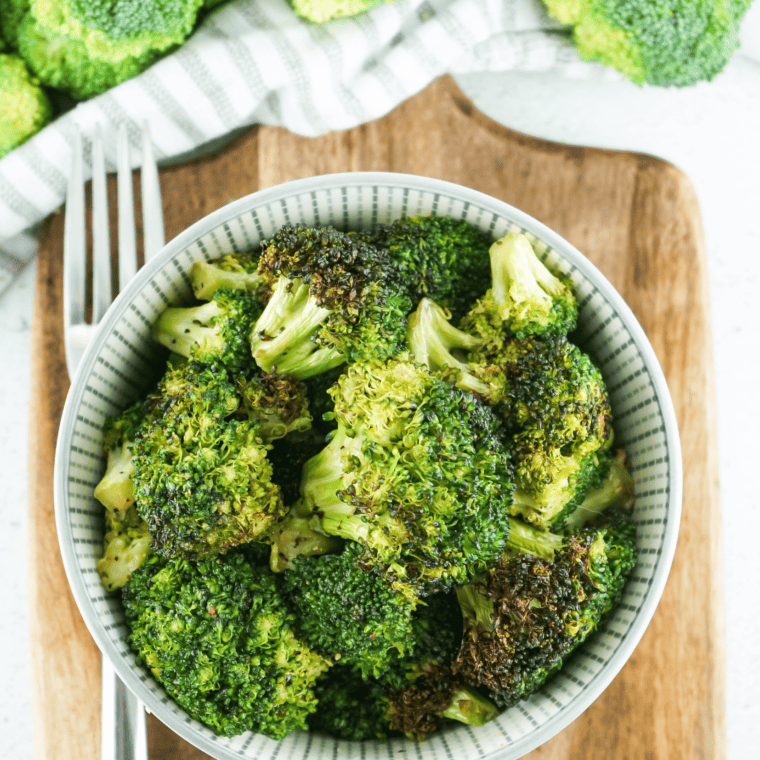 Below, we'll share our favorite air fryer recipes featuring everyone's favorite green veggie. Whether you like it plain with some lemon and olive oil or fancy dressed up in garlic and Parmesan cheese, these nutritious and flavorful recipes will satisfy even the pickiest eaters at mealtime. So get ready – let's discover what delectable delights await us in the world of air-fried broccoli!
Can You Put Broccoli In The Air Fryer
Yes! If you're wondering whether you can put broccoli in the air fryer, the answer is a resounding yes! Air frying broccoli is a fantastic way to achieve a crispy texture and retain its vibrant color and nutrients. Today, we will show you how to make the best air fryer broccoli recipe; we'll explore the benefits of air frying broccoli, provide step-by-step instructions, and offer some pro tips to ensure the best results.
This makes a healthy side dish perfect for any meal, including Air Fyrer Shake and Bake Pork Chops, Air Fryer Flounder Fish, and Air Fryer Boneless, Skinless Chicken Breast.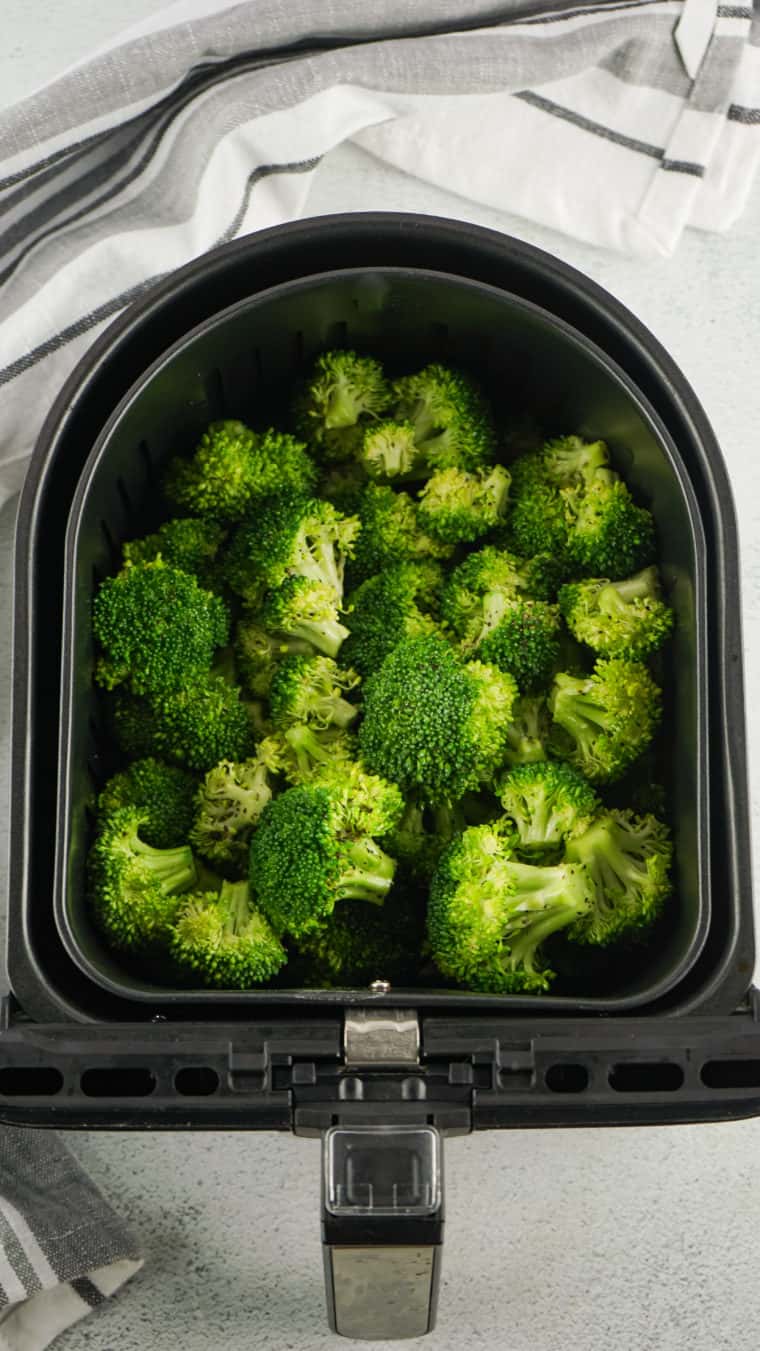 Why Cook Broccoli In Air Fryer
Crispy Broccoli Texture: Air frying broccoli gives it a delightfully crispy exterior while maintaining a tender and slightly crunchy bite. This recipe is a game-changer! This is fantastic if you have roasted broccoli on a sheet pan!
High Heat and Hot Air perfectly cook this easy side dish!
Retained Nutrients: Air frying preserves more nutrients than traditional boiling or steaming methods, allowing you to enjoy the full nutritional benefits of broccoli.
Quick and Convenient: Air frying is a fast and hassle-free cooking method, allowing you to enjoy perfectly cooked broccoli in minutes.
The Best Air Fryer Broccoli Recipes
It's no secret that eating a healthy and balanced diet is important – but the key to sticking with it is finding recipes that you actually enjoy! Lucky for us, air fryers are becoming even more popular than ever before, giving us an easy and delicious way to get all of our favorite veggies into mealtime.
Broccoli may not be everyone's first pick as their favorite vegetable, but thanks to its mild flavor and how adaptable it can be in recipes – especially when cooked in an air fryer – this emerald green veggie has become one of the most popular vegetables to cook up! Whether you're just looking for a quick side dish or are experimenting with new flavors, these best air fryer broccoli recipes will give your meal plan something extra special.
Air Fryer Broccoli Recipe Round-Up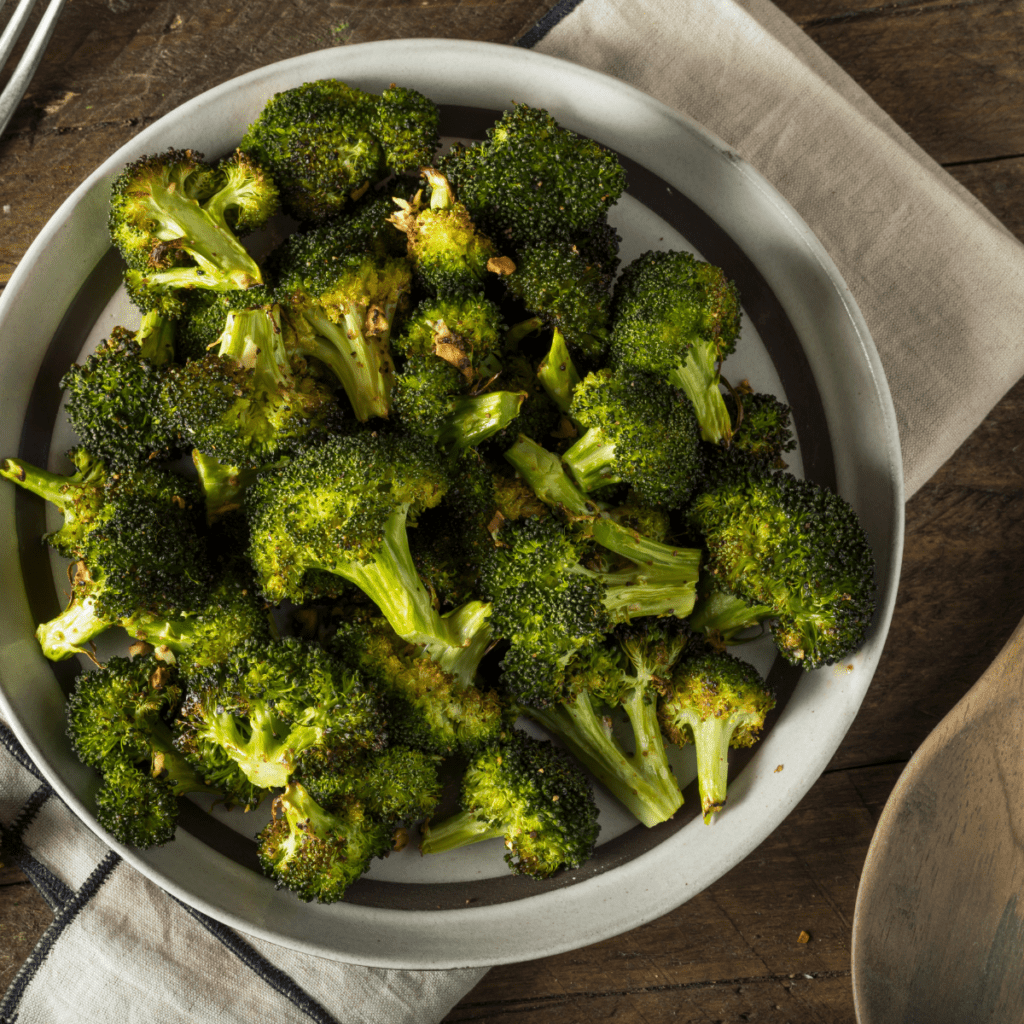 Air Fryer Frozen Broccoli: Are you looking for an easy and tasty way to make frozen broccoli? With the help of an air fryer, you can create a flavorful side dish with minimal effort. Not only is this method quick and simple, but it also retains the nutritional value of your broccoli by cooking it at a lower temperature than traditional methods like oven roasting or deep-frying. In this blog post, we'll show you how to air fry frozen broccoli in three easy steps so that you can serve up a delicious dinner in no time!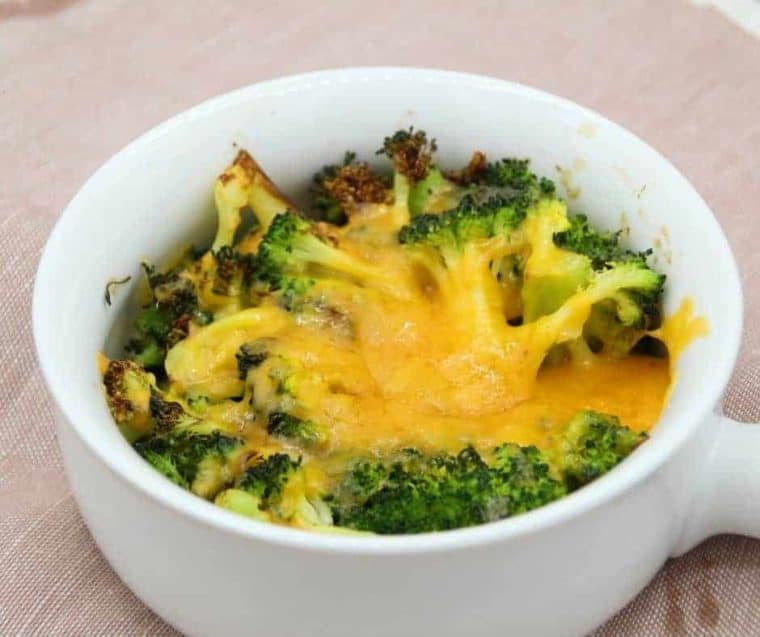 ​Air Fryer Broccoli and Cheese Casserole: Are you looking for a healthy, comforting dinner that will satisfy your craving for savory, cheesy goodness? Look no further than this Air Fryer Broccoli and Cheese Casserole! This delicious recipe is packed with flavor and nutrition but eliminates all the extra fat and calories that come with traditional casseroles. Plus, it only takes 20 minutes to make in an air fryer – so you can quickly have an irresistible meal!
​Air Fryer Cheesy Broccoli and Rice: Are you ready to make a delicious, cheesy dish your family will love? If so, then try this Air Fryer Cheesy Broccoli and Rice recipe! This mouth-watering recipe is easy to make in just minutes. With simple ingredients like broccoli florets, long-grain white rice, shredded cheese, and seasonings – what's not to love? Plus, since it's made in the air fryer, there's almost no mess or cleanup involved! So, try this yummy recipe if you're looking for a quick and flavorful meal option tonight. Your tastebuds won't be disappointed!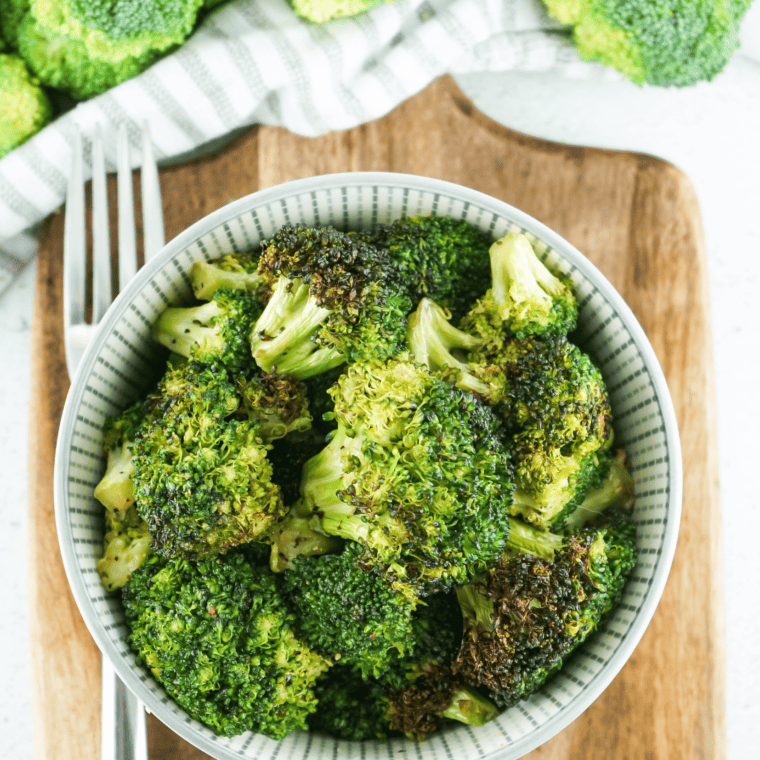 Air Fryer Roasted Broccoli With Garlic: Are you looking for a delicious, quick, and healthy side dish that everyone in your family can enjoy? Look no further! Air Fryer roasted broccoli with garlic is the perfect answer. It tastes amazing, but it takes less than 20 minutes to make this mouthwatering meal from start to finish – talk about an easy way to get dinner on the table!
Enjoy the tender crispness of veggies and the pungent garlic flavor, satisfying your family. It's time to switch up your regular vegetable routine with something new and exciting – let's cook some air fryer roasted broccoli with garlic tonight!
​Air Fryer Beef and Broccoli: Craving a delicious Chinese take-out dish without leaving the comfort of your own home? Look no further than this easy air fryer beef and broccoli recipe – it's so quick and simple to whip up that you'll enjoy a great stir-fry in no time!
Air frying is an incredibly healthy cooking since little oil is needed. Our version uses lean sirloin steak for plenty of protein, but feel free to use any other type of cut if desired. The briny tang from the splash of soy sauce perfectly balances out the sweetness of honey-glazed broccoli while adding even more flavor. You won't believe how mouthwatering this dish turns out just by using your kitchen appliance!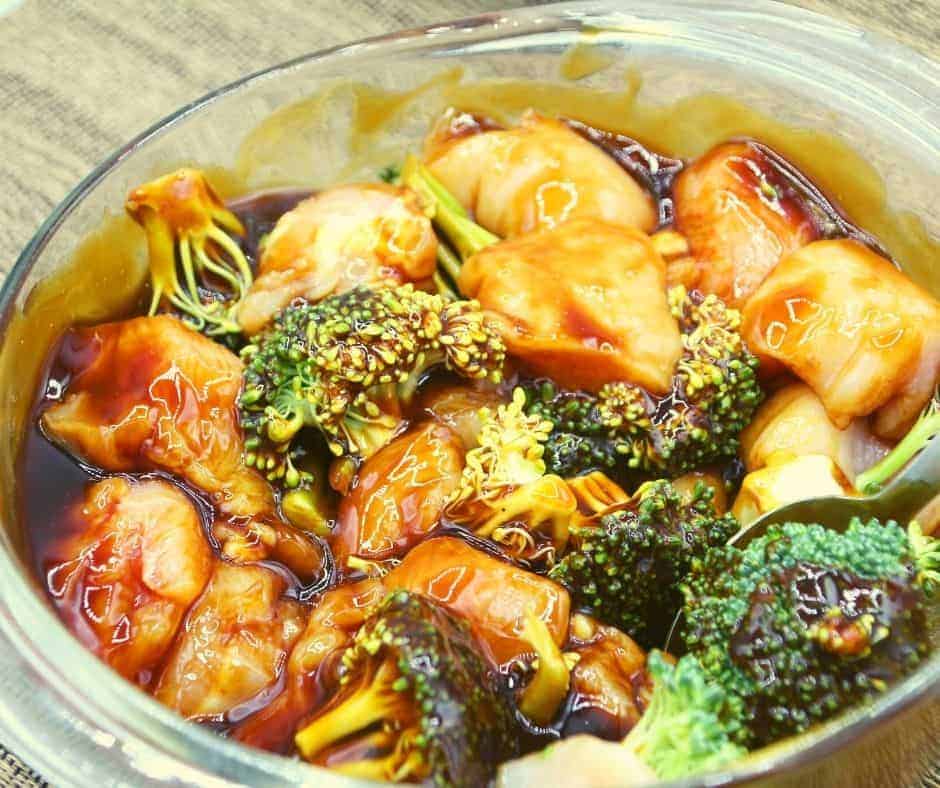 ​
Air Fryer Chicken and Broccoli: Are you ready to take your weeknight routine up a notch? Then try this easy and delicious air fryer chicken and broccoli recipe! Not only is it full of flavor, but it's also healthy, low-calorie, and ultra-satisfying.
You can have an amazing dinner that the whole family will love in just minutes. Cleanup is a breeze since everything cooks in the air fryer! So what are you waiting for? This might be the best main dish you can cook in the air fryer. Let's get cooking!​
Pro Tips For Cooking Broccoli In Air Fryer
Cooking broccoli in an air fryer can produce tender-crisp, perfectly roasted florets. Here are some pro tips to elevate your air-fried broccoli game:
Cut Uniformly: For even cooking, cut your broccoli florets into uniform sizes. This ensures that all pieces cook at the same rate.
Dry Thoroughly: Excess moisture can lead to steaming instead of roasting. Pat the broccoli florets dry with a paper towel before seasoning and air frying.
Season Generously: Don't be shy with seasonings. Toss the broccoli in olive oil, kosher salt, black pepper, and any desired seasonings (such as garlic powder, onion powder, paprika, or red pepper flakes) to infuse flavor.
Single Layer: Arrange the broccoli florets in a single layer in the air fryer basket. Overcrowding can result in uneven cooking, so cooking in batches is better.
Preheat the Air Fryer: Preheating your air fryer for a few minutes ensures that the broccoli starts cooking as soon as it enters the basket, leading to better texture.
Shake or Toss: To ensure even cooking, pause the air fryer halfway through, shake the basket, or toss the broccoli gently. This helps achieve uniform browning.
Check for Doneness: The broccoli is ready when tender and the edges are nicely browned and crispy. The cooking time may vary depending on your air fryer's model, so keep an eye on it.
Lemon Zest or Parmesan: To add extra flavor, try grating some lemon zest or sprinkling grated Parmesan cheese over the broccoli just before serving.
Serve Immediately: Air-fried broccoli is best enjoyed hot and crispy. Serve it immediately to retain its delicious texture.
Experiment with Sauces: Get creative with dipping sauces. Try balsamic glaze, tahini, honey mustard, or a yogurt-based ranch dressing for a tasty accompaniment.
By following these pro tips, you can make air-fried broccoli that's not only healthy but also incredibly flavorful and satisfying.
FAQ About Cooking Broccoli In Air Fryer
Can I cook frozen broccoli in an air fryer?
Yes, you can cook frozen broccoli in an air fryer. Preheat the air fryer, then cook the frozen broccoli at 375°F (190°C) for 10-12 minutes, shaking the basket or tossing the broccoli halfway through.
How long does it take to cook fresh broccoli in an air fryer?
Fresh broccoli typically takes 8-10 minutes in an air fryer at 375°F (190°C). Monitor it and adjust the cooking time based on your preferences and air fryer model.
Can I air fry broccoli without oil?
While a small amount of oil can enhance flavor and crispiness, you can air fry broccoli with minimal or no oil. Simply season the broccoli with your favorite seasonings and cook as usual.
Do I need to blanch the broccoli before air frying?
No, you don't need to blanch broccoli before air frying it. Air frying cooks broccoli quickly, and blanching is unnecessary for achieving a tender-crisp texture.
Can I cook broccoli with other vegetables in the air fryer?
Yes, you can cook broccoli with other vegetables in the air fryer. Just make sure they have similar cooking times and cut them to uniform sizes for even cooking.
How do I prevent the broccoli from becoming too dry in the air fryer?
To prevent dryness, avoid overcooking the broccoli. Keep a close eye on it and test for doneness by checking the tenderness. You can drizzle a small amount of olive oil or sauce over the cooked broccoli before serving.
Can I reheat leftover air-fried broccoli in the air fryer?
Yes, you can reheat leftover air-fried broccoli in the air fryer at a lower temperature, around 325 degrees F (163°C), set the cook time for 3-5 minutes or until it's heated through.
Can I use frozen broccoli in air fryer recipes that call for fresh broccoli?
Yes, you can typically substitute frozen broccoli for fresh in-air fryer recipes. Just be aware that cooking times may need to be adjusted, as frozen broccoli might cook faster than fresh due to its pre-blanching.
What dipping sauces go well with air-fried broccoli?
Popular dipping sauces for air-fried broccoli include ranch dressing, balsamic glaze, honey mustard, tahini, and garlic aioli. Experiment with different flavors to find your favorite pairing.
Can I air fry broccoli stems and leaves, too?
Absolutely! Broccoli stems and leaves are edible and can be air-fried along with the florets. Just cut them into smaller pieces and adjust the cooking time as needed.
​How to store leftover air-fried broccoli
Let the cooked broccoli cool to room temperature and place it in an air-tight container. The cooked broccoli will last in the refrigerator for 2-3 days.
Don't Forget To Pin Air Fryer Broccoli Recipe Round-Up