Air Fryer Easy Breakfast Egg Rolls — Egg rolls get a morning makeover with crispy egg roll wrappers packed with bacon and eggs, creating a delightful breakfast treat!
Transform any dish into a breakfast delicacy showcased by these morning-inspired egg rolls or our beloved Air Fryer Breakfast Burritos. A sprinkle of scrambled eggs and crispy bacon offers a refreshing twist to start the day!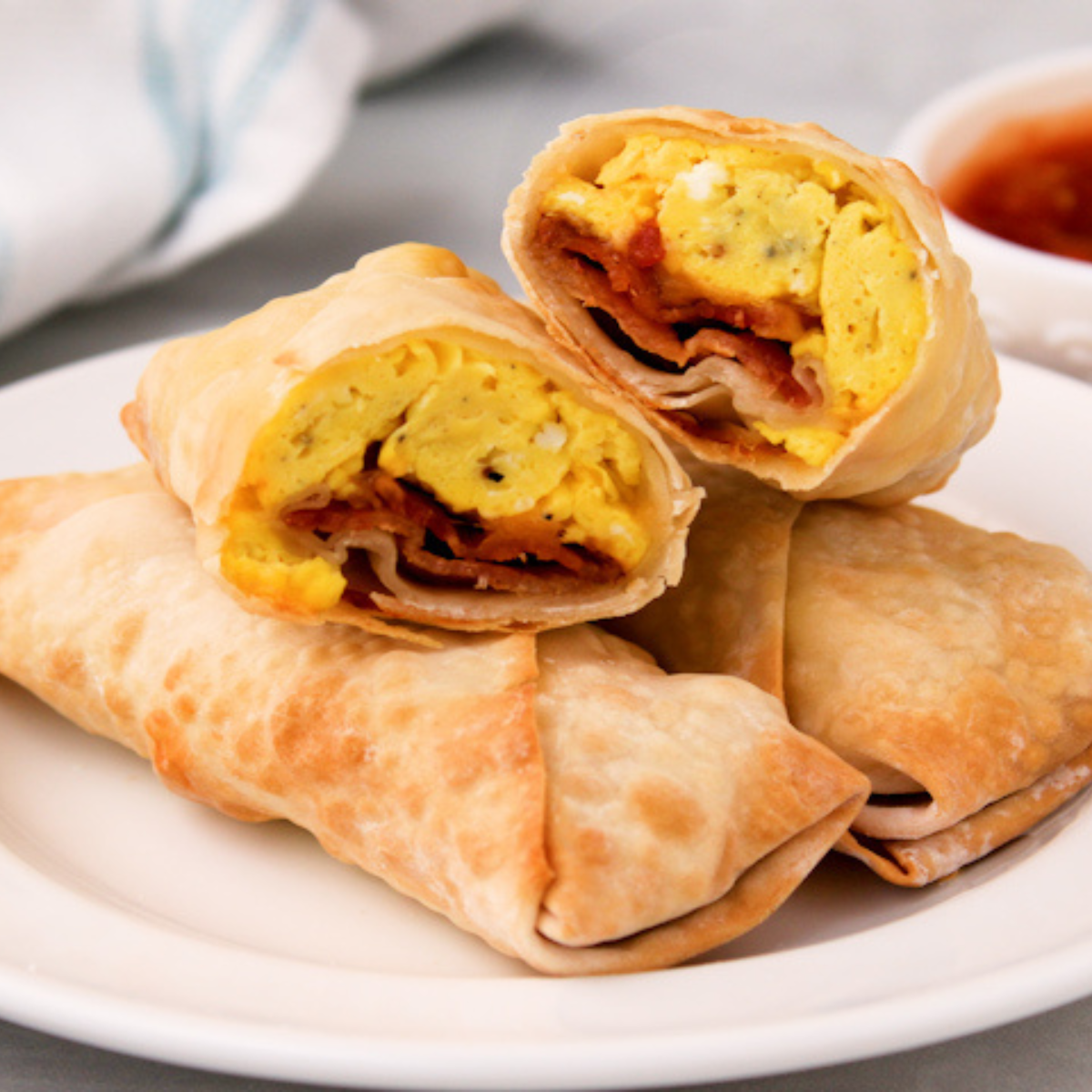 What Are Breakfast Egg Rolls
Breakfast egg rolls are a creative twist on the traditional Asian egg roll. Instead of being filled with typical savory fillings like vegetables, meat, or seafood, they're packed with classic breakfast ingredients. Common breakfast egg rolls include scrambled eggs, bacon, sausage, cheese, and sometimes vegetables like bell peppers or onions.
Once filled, the egg rolls are sealed and then fried (or sometimes baked) until golden and crispy. They offer a handheld, portable breakfast option and are often served with dipping sauces like salsa, sour cream, or even syrup for a touch of sweetness. This fusion dish combines the best breakfast flavors with an egg roll wrapper's crunchy, delightful texture.
Can You Cook Breakfast Egg Rolls In Air Fryer
Yes! Cooking breakfast egg rolls in an air fryer is an excellent alternative to traditional deep frying, which still achieves that desired crispy texture.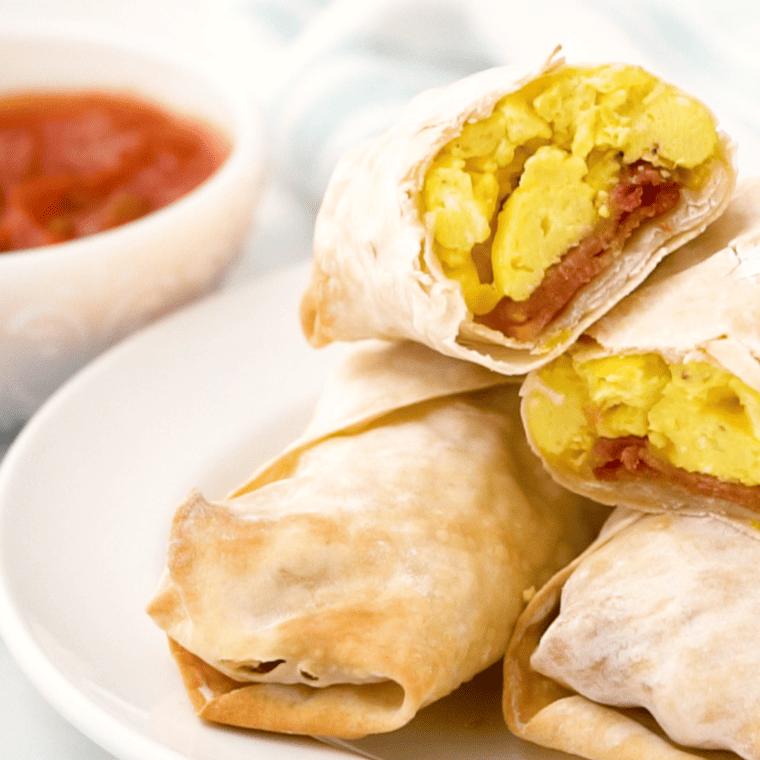 Craving More Egg Roll Air Fryer Recipes
Chinese Egg Rolls | Looking for a classic egg roll recipe? This is my go-to that tastes similar to ordering takeout.
Pumpkin Pie Egg Rolls | This tastes like warm pumpkin pie coming straight out of the oven. Dust with some powdered sugar or pair with some whipped cream. The ultimate dessert egg roll.
Blueberry Cheesecake Egg Rolls | Here is another egg roll dessert recipe. This one is ultra-rich and loaded with incredible flavor in every bite.
Ingredients Needed For Air Fryer Breakfast Egg Rolls
Combining these ingredients within an egg roll wrapper and cooking them in the air fryer creates a delicious, portable breakfast treat with contrasting flavors and textures.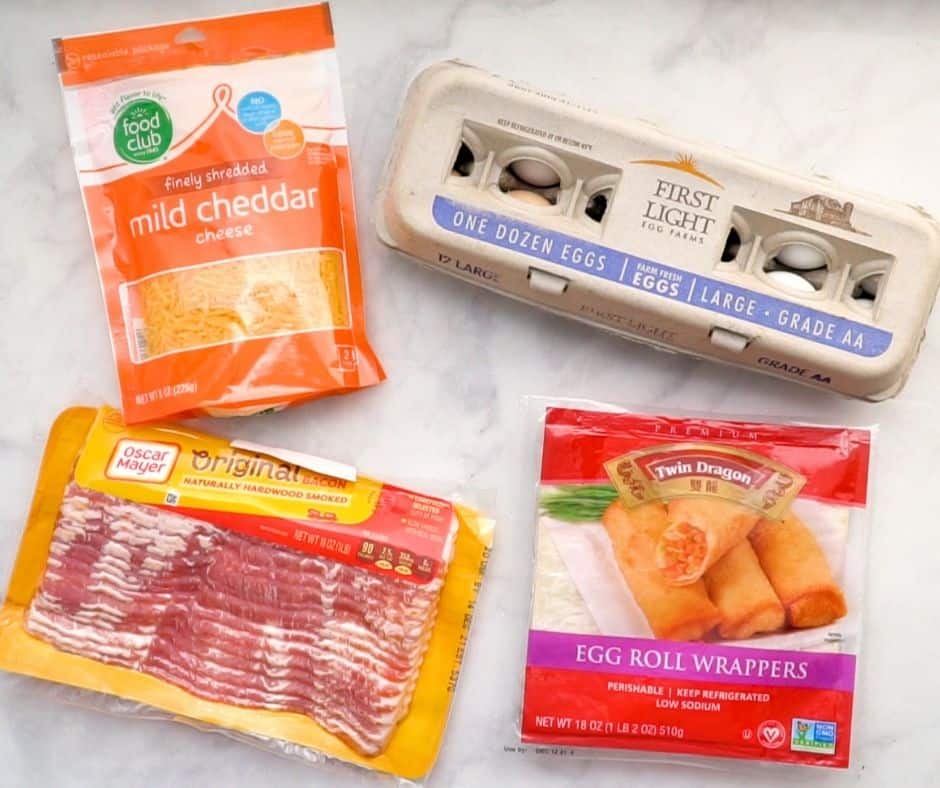 Remember the step-by-step directions and detailed ingredient list are below, in the printable recipe card at the bottom of the post, as well as the nutritional information. ​
Egg Roll Wrappers: Thin pastry sheets made from a simple dough, often found in the refrigerated section, are the vessel for holding all the delicious breakfast fillings.
Scrambled Eggs: Fluffy and lightly seasoned, scrambled eggs provide a rich, protein-packed base for the filling.
Bacon: Crispy and savory, bacon adds a smoky flavor that contrasts beautifully with the other ingredients.
Sausage: Seasoned ground meat that brings a spicy or savory depth, enhancing the overall taste of the egg roll.
Cheese: Melted and gooey, cheese binds the ingredients together, adding a creamy texture and a hint of sharp or tangy flavor, depending on the variety used.
Bell Peppers: These provide a sweet crunch and pop of color to the filling, making each bite a mix of textures.
Onions: Sautéed to translucent or slightly caramelized, onions lend a sweet and aromatic profile to the mix.
Cooking Oil Spray: Used to coat the exterior of the egg rolls, it ensures they turn out golden and crispy in the air fryer.
How To Cook Breakfast Egg Rolls In Air Fryer
Below are the step-by-step directions for a delicious batch of your new favorite breakfast items!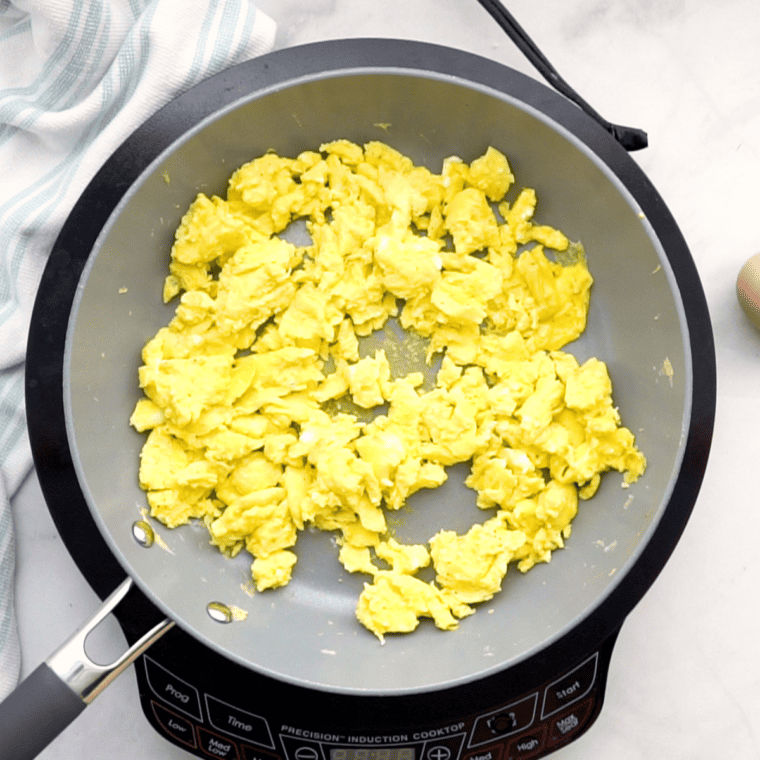 Prepare the Egg Roll Filling:
in a large skillet, cook your chosen proteins, like bacon or sausage, until fully cooked. Set aside. In the same pan, sauté any vegetables like bell peppers and onions, over medium heat, until they're soft.
Whisk the eggs and pour them into the pan, scrambling them until set. Combine with the cooked proteins and any cheese or additional ingredients you prefer.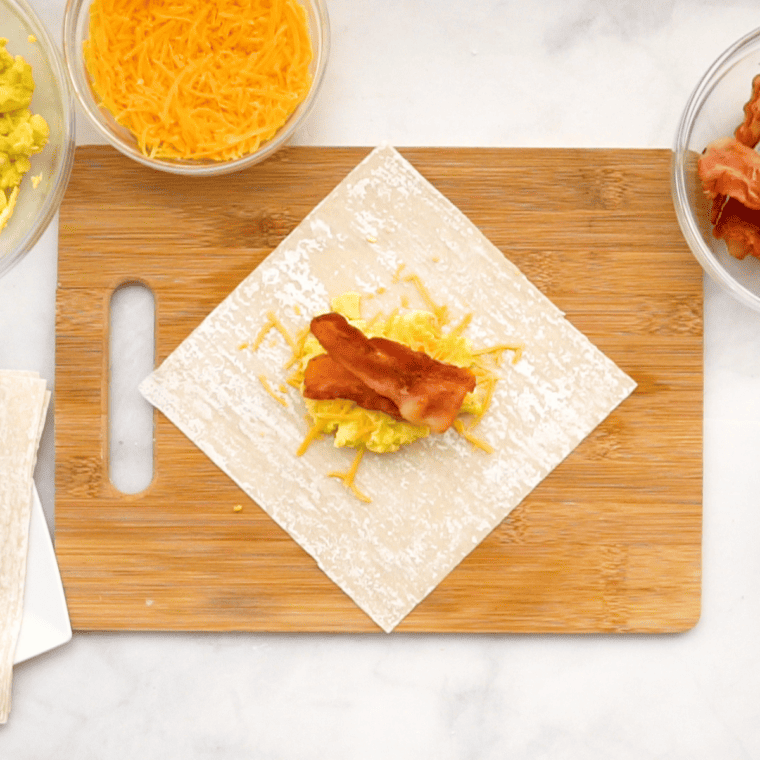 Fill the Wrappers:
Lay out an egg roll wrapper on a clean surface, with one corner pointing towards you.
Spoon 2-3 tablespoons of the breakfast egg mixture onto the bottom third of the wrapper. Fold the bottom corner over the filling, then fold in the sides and roll it up tightly, sealing the final corner with water.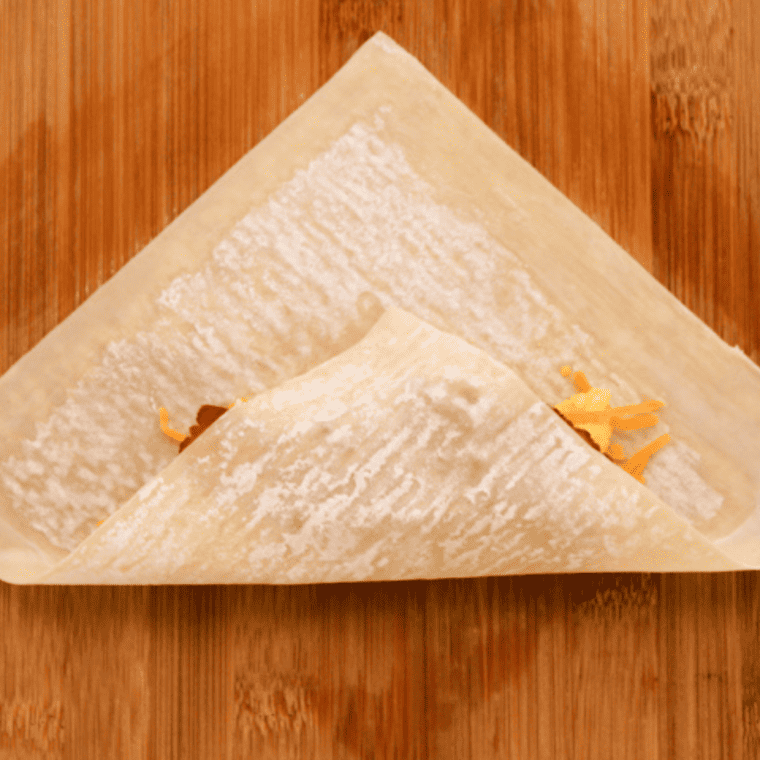 Preheat the Air Fryer:
Set the air fryer to 370 degrees F (190°C) and set cook time for 2-3 minutes.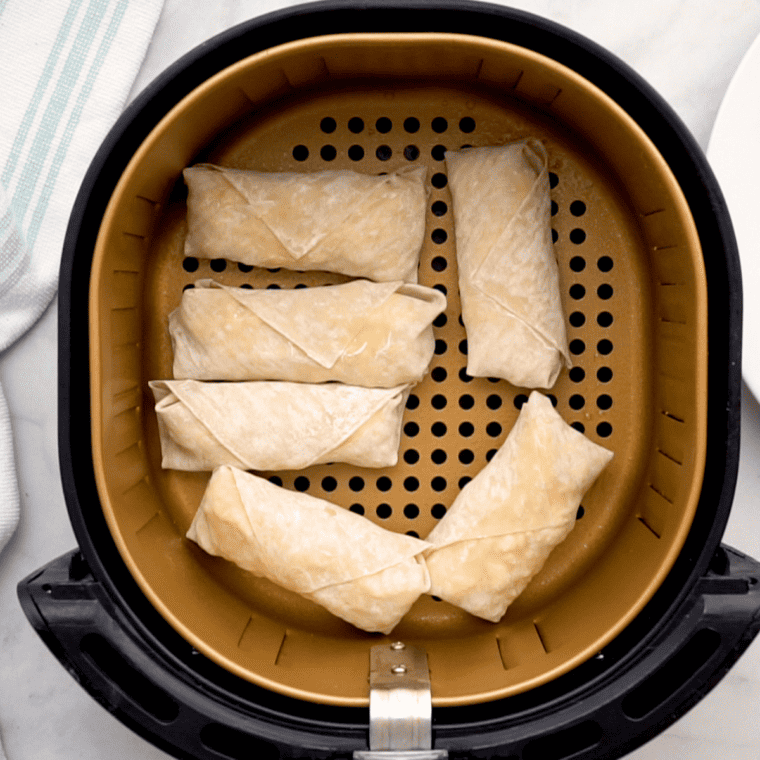 Prep the Egg Rolls for Air Frying:
Lightly spray the egg rolls with cooking spray or brush them with melted butter or cooking oil to ensure even browning.
Air Fry:
Carefully place egg rolls into the air fryer basket, seam side down, in a single layer, ensuring they're not touching to allow for adequate airflow. Set cooking time for 7-10 minutes, turning them halfway through or until golden brown and crispy.
Serving:
Once done, remove the egg rolls from the air fryer.
Serve hot with your choice of dipping sauce like hot sauce, salsa, sour cream, or even maple syrup. A side of fresh fruit, and maybe some air fryer bac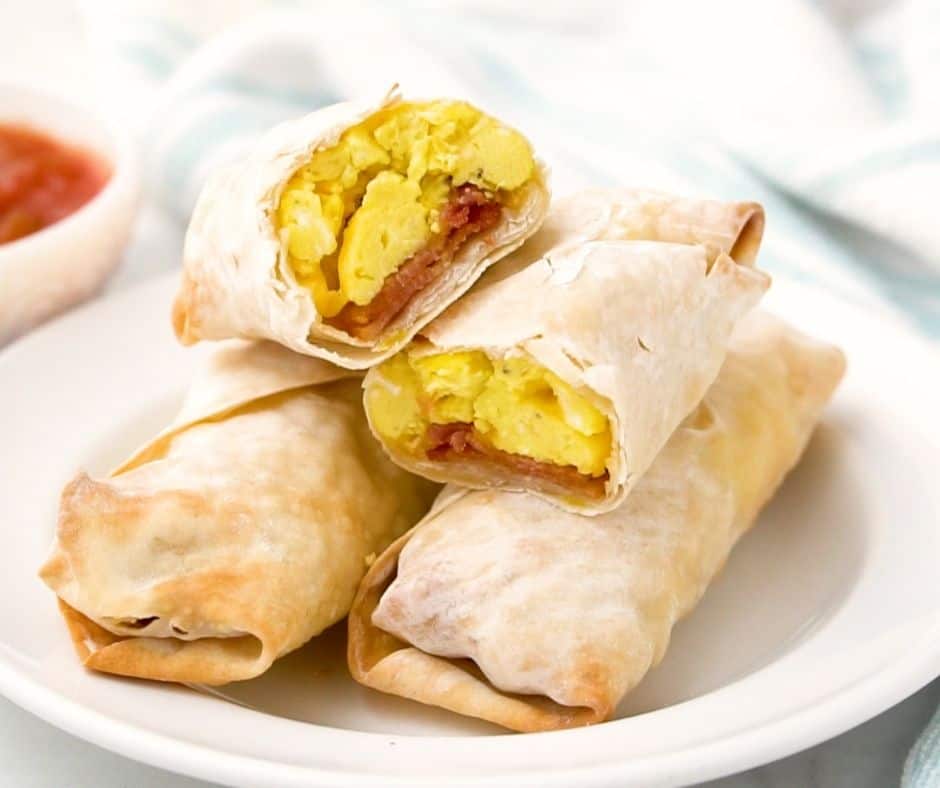 Recipe Tips Breakfast Egg Rolls
Wrapping: Ensure your egg roll wrappers are sealed well to prevent filling from spilling out during cooking. Using a dab of water or a beaten egg is a great adhesive.
Avoid Overfilling: While adding lots of filling is tempting, over-stuffing can cause the wrappers to break or burst open during cooking.
Consistent Size: Keep the filling amount consistent for each egg roll. This ensures even cooking for all the rolls at the same time.
Prevent Drying: Egg roll wrappers dry out quickly. Keep them under a damp cloth while you're working to prevent them from drying and cracking.
Use Pre-cooked Fillings: Ensure that all your fillings, especially meats, are cooked before placing them in the wrapper since the air frying process primarily crisps the exterior and heats the filling.
Optimal Placement: When placing the egg rolls in the air fryer, make sure they aren't touching. This ensures maximum air circulation, which will make them crispy all around.
Regular Turning: Turning the egg rolls halfway through the cooking process ensures even browning on all sides.
Test First: If it's your first time making them, consider cooking one egg roll first to test the cooking time. This way, you can ensure the rest will be perfectly crispy.
Customize Fillings: Feel free to experiment with different breakfast ingredients, like ham, mushrooms, or even spinach, to suit your preference.
Parchment Paper: Line your air fryer basket with parchment paper or brush with olive oil.
Serve Fresh: Breakfast egg rolls are best served hot straight from the air fryer for maximum crispiness. If you're serving later, reheat them in the air fryer for a few minutes to regain that fresh crunch.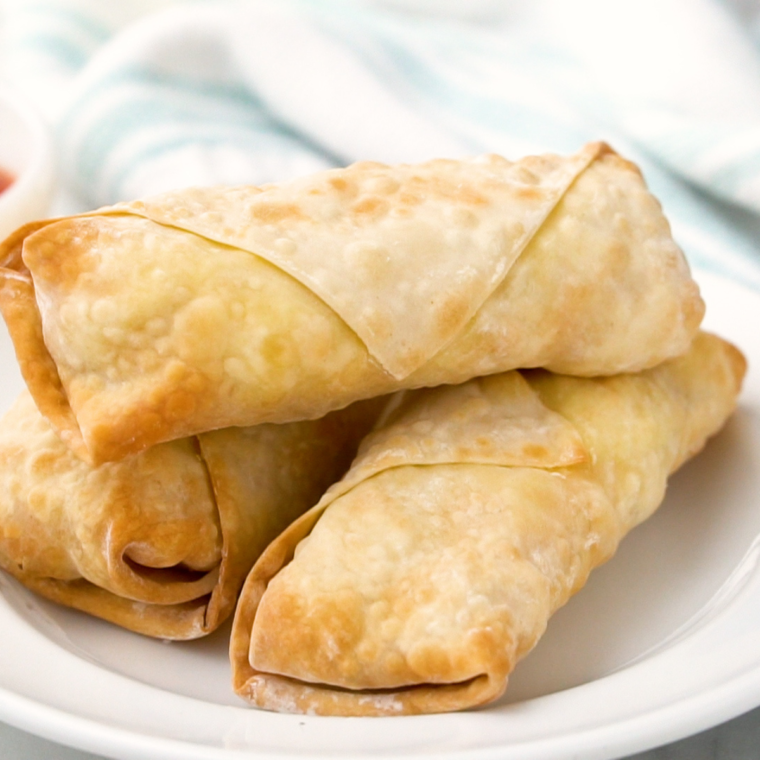 Recipe Variations
Easy Recipe Variations for Air Fryer Breakfast Egg Rolls
Vegetarian Delight: Skip the meats and opt for a veggie-packed egg roll. Consider ingredients like sautéed mushrooms, spinach, tomatoes, and feta or goat cheese.
Southwest Style: Add in some black beans, bell pepper, green onions, corn, diced tomatoes, and a sprinkle of cumin and chili powder for a Southwest twist. Serve with salsa and a dollop of sour cream.
Greek Morning: Incorporate spinach, feta cheese, olives, and dill or oregano for a Mediterranean-inspired breakfast treat.
"Everything" Egg Roll: Just like an everything bagel, fill your egg roll with cream cheese, smoked salmon, capers, and red onion for a New York breakfast twist.
Sweet Morning: For a sweeter version, consider filling the egg rolls with scrambled eggs, cheddar cheese, cooked breakfast sausage, and a drizzle of maple syrup. Dip in additional syrup!
Spice it Up: If you like things on the spicier side, add some chopped jalapeños, black pepper, or green chilies to your filling. Alternatively, serve with hot sauce or spicy salsa.
Tropical Flare: Incorporate ham, scrambled eggs, pineapple bits, and a touch of cheese for a Hawaiian-inspired egg roll.
Healthy Green: Add kale, avocado slices, and quinoa to your scrambled eggs for a health-packed breakfast roll.
Cheese Galore: Mix and match different cheeses like cheddar, mozzarella, pepper jack, or gouda for varying flavors and textures.
Seafood Start: For a seafood twist, consider adding small bits of cooked shrimp or crab meat with your scrambled eggs and a hint of Old Bay seasoning.
Experimenting with these variations can keep breakfast exciting and offer a range of flavors to cater to different tastes and occasions. Remember, the beauty of egg rolls lies in their versatility, so feel free to get creative!​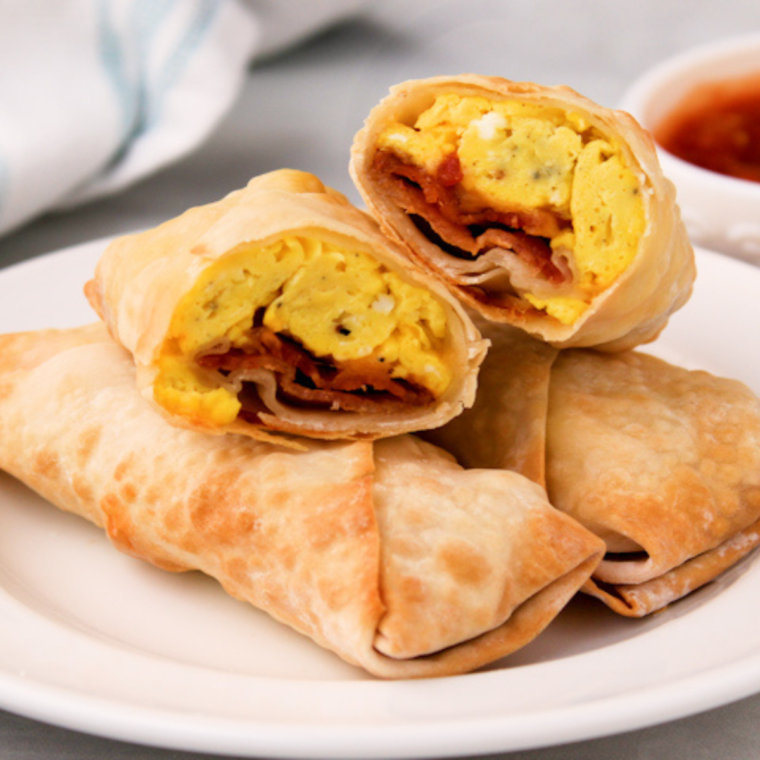 FAQs Air-Fried Breakfast Eggrolls
​
Can I use homemade egg roll wrappers?
Absolutely! If you prefer to make your egg roll wrappers from scratch, go ahead. Just ensure they're thin enough to get crispy in the air fryer.
How do I keep the egg rolls from becoming soggy?
Ensure that all fillings, especially the scrambled eggs, are not too wet. Additionally, serving them immediately after air frying ensures maximum crispiness.
Can I freeze the breakfast egg rolls for later?
Yes, you can prepare the egg rolls, wrap them individually in plastic wrap, then in a freezer bag, and freeze them. When ready to cook, air fry them directly from frozen, adding a few extra minutes to the cooking time.
How to store leftover breakfast egg rolls
Let the homemade egg rolls cool to room temperature, and then place them into an airtight container, lined with a paper towel, they will last in the refrigerator for 3-4 days, reheat in the air fryer at 350 degrees F, for 3-4 minutes.
What dipping sauces go well with breakfast egg rolls?
Popular choices include salsa, sour cream, hot sauce, or maple syrup for a sweet touch. Feel free to experiment with your favorites.
How many egg rolls can I cook at once in the air fryer?
It depends on the size of your air fryer. Ensure the egg rolls are placed in a single layer and not touching to allow proper air circulation.
Do I need to thaw frozen store-bought egg roll wrappers before using?
Yes, it's best to thaw them in the refrigerator overnight or at room temperature for a couple of hours before use.
Why are my egg rolls bursting open while cooking?
This could be due to overfilling the wrappers or not sealing them properly. Ensure you're using the right amount of filling and sealing them securely.
Can I bake the breakfast egg rolls instead?
Certainly! If you don't have an air fryer, you can bake them in a preheated oven at 400°F (200°C) until golden and crispy. Remember to turn them halfway through.
Is there a gluten-free option?
Yes, you can use gluten-free egg roll wrappers available in some specialty stores. Ensure other ingredients are gluten-free as well, especially any sauces or seasonings.
Can I add sauces directly to the filling?
No, It's best to serve sauces on the side for dipping to prevent the egg rolls from becoming too wet and soggy.
More Air Fryer Breakfast Recipes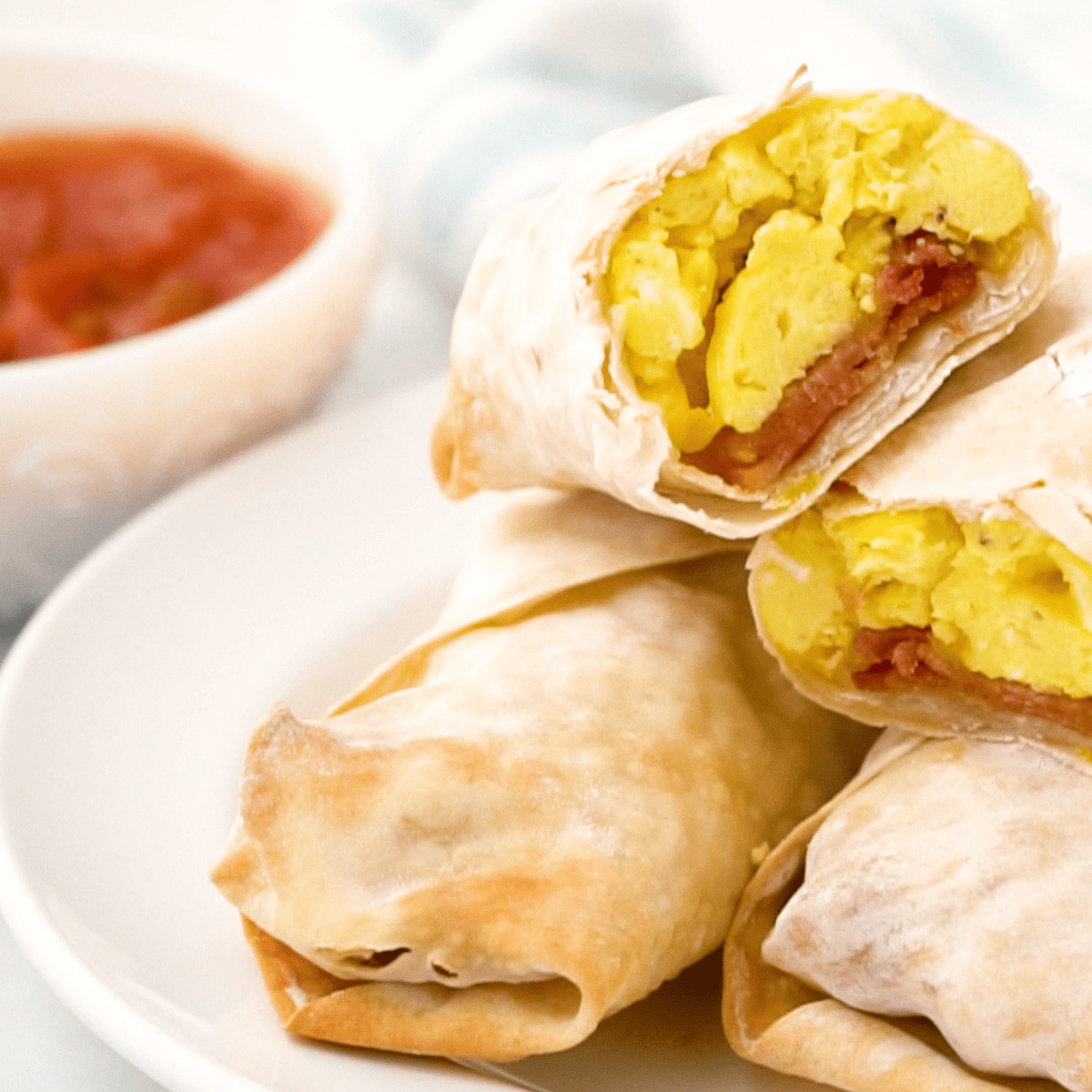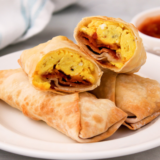 Air Fryer Breakfast Egg Rolls
Description
The air fryer is a new appliance that is taking the world by storm. If you have not yet gotten your hands on one, today I want to share with you some of the wonderful things it can do! One of my favorite recipes using this nifty little gadget are Air Fryer Breakfast Egg Rolls! They are so easy and quick to make, as well as being incredibly tasty.
Ingredients
1

pound

ground sausage or bacon

1

cup

cooked scrambled eggs

1/2

cup

shredded cheddar cheese

12

egg roll wrappers
Instructions
Start by mixing your cooked sausage, scrambled eggs, and cheese in a large mixing bowl. Then layout your egg roll wrapper on a flat surface and add about 2 tablespoons of filling.

Then roll the egg rolls up, but using water and moistening the edges, then take the bottom corner of the egg roll wrapper and lift it over the filling. Next, take your corn and fold it to the center, then repeat with the other side.To roll up the corners, simply wet the seams and roll it up.

As you make them place them on a greased air fryer tray. And then use your oil spray mister and spray them, this is what helps them crisp up in the air fryer. Set in the air fryer for 5-6 minutes at 340 degrees F, air fryer setting.
Equipment
Air Fryer

Cooking Spray

Parchment Paper,

optional
Notes
How To Store Leftover Breakfast Air Fryer Egg Rolls
Refrigerator If you have egg rolls leftover allow them to cool down and then store them in an airtight container. Then you can reheat for a grab and go breakfast any day of the week. Heat in the microwave, or even warm it up in the air fryer.
Freezer | Breakfast egg rolls do freeze nicely. Just let the egg rolls cool down and then transfer to a freezer bag or airtight container. Store for up to three months in the freezer.
Reheat: You can heat from frozen or allow the egg rolls to thaw in the fridge the night before you go and heat it. Either method works great. Just remember, if you batch cook to leave space in between each egg roll to ensure hot air gets circulated all around the egg rolls. Then serve up a delicious breakfast, brunch, or even dinner.
Nutrition
Serving:
1
Serving
Calories:
201
kcal
Carbohydrates:
8
g
Protein:
11
g
Fat:
14
g
Saturated Fat:
5
g
Polyunsaturated Fat:
2
g
Monounsaturated Fat:
6
g
Trans Fat:
0.1
g
Cholesterol:
108
mg
Sodium:
374
mg
Potassium:
136
mg
Fiber:
0.2
g
Sugar:
0.1
g
Vitamin A:
187
IU
Vitamin C:
0.3
mg
Calcium:
54
mg
Iron:
1
mg
Don't Forget To Pin: