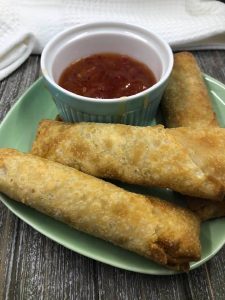 I never thought I would be making homemade egg rolls, but once I received an air fryer, I totally became doing anything recipe my air fryer. Today's simple recipe for Air Fryer Chinese Egg Rolls.
Crispy homemade Air Fryer Chinese Egg Rolls., one of the most popular appetizers at Chinese Food Restaurants in America.
Egg Rolls are the perfect finger food and really kid-friendly since you eat them with your hands, and they are so tasty.
Air Fryer Chinese Egg Rolls
Today, I made my filling in the Instant Pot, which saved me a lot of time. The recipe is found here. But, if you do not have an Instant Pot, you can use a skillet on the stove.
Ingredients:
1 package egg roll wrappers (the above recipe will make 12 egg rolls)
2 large eggs, beaten
2 tablespoons water
Simple Directions:
Start by making your Egg Roll Filling, see the blog link for the recipe. It's amazing, it looks like a lot of work, but it's not really.

Start by placing your egg roll wrapper on a cutting board, which will provide you with a stable surface, to roll on.

Mix your egg, with 2 tablespoons of water in a small bowl, this will help bind your egg rolls together.

Place the egg wash all over the sides of your egg roll wrapper, it will take you a few times to develop your own technique.

Then fill the wrapper with your filling and roll tight.  Use extra egg wash on your sides and ends to create a seal.
As you make them place them into your air fryer basket, once your basket is full, spray them with your olive oil sprayer.

Set your temperature to 370 degrees F, for 5 minutes, after 5 minutes, flip them, spray again, and set the timer for another 5 minutes.

Check them for doneness. Continue until you have used up all of your egg roll ingredients, either the wrappers or the filling.
Plate, serve, and enjoy!


Common Questions Asked About This Recipe–
One of the hardest parts of making egg rolls is finding the wrappers in the store. Where do you buy them? In any grocery store in the United States, the weirdest part is that you can find them in the produce aisle, right next to the Tofu and Tempeh. Weird place for them, in my opinion, but I guess they are there for a reason? If anyone knows why, please drop me a line, I would love to know?
To Make the Egg Rolls (Any Egg Rolls)
Start by laying out the egg roll on a flat surface, I usually place in on my cutting board, which provides a flat surface and allows me to cut if needed.
Rolling Your Egg Rolls
Start by placing one of the egg roll wrappers on the cutting board, and then place the egg roll wrapper with a corner pointed towards you.
Then place the cooked filling into the middle of the egg roll wrapper.
In a small bowl, beat an egg in it, then use a pastry brush and spread it over the edges.
Fold two opposite corners together to make a triangle, then fold the sides in and then roll tightly.
Seal the edges with more of the beaten egg.
Other Great Air Fryer Appetizers–
Don't Forget To Pin–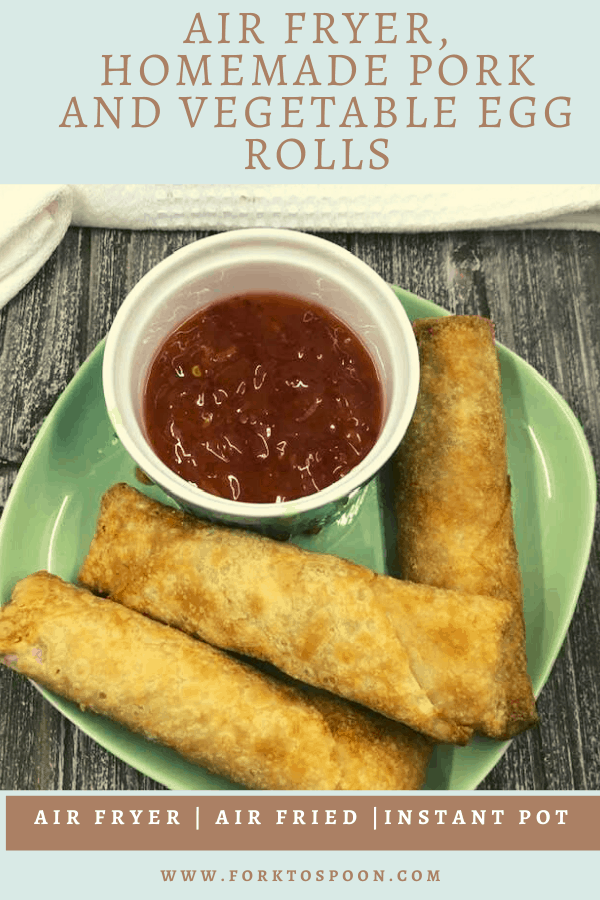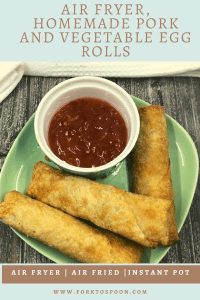 Here Are Some Helpful Products, That Will Help You in Making  Your Egg Rolls–
Print