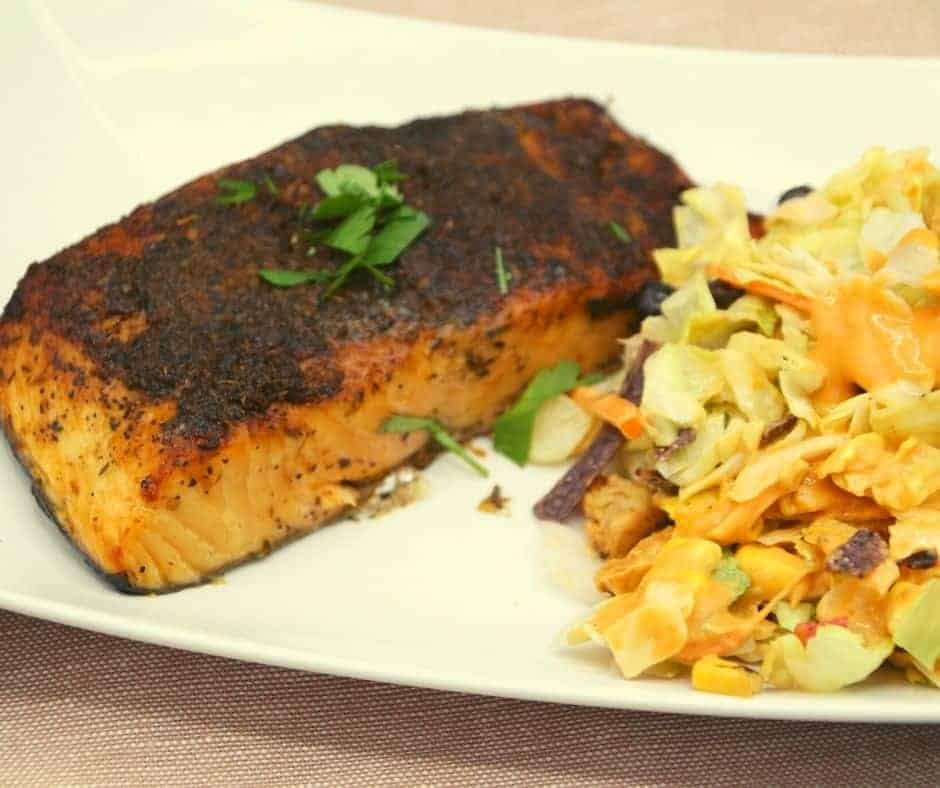 This is such an easy and healthy dinner, Air Fryer Blackened Salmon. I love this recipe, and I love that I made it in less than 15 minutes, from start to finish.
If you are looking for healthy air fryer meals, this is one of my favorites. I love a great piece of roasted salmon (done, of course in the air fryer). This is loaded with spices and then air fried to a flaky and delicious perfection.
If you have been wondering about blackening all that it measns it that it's saturated with melted butter, and then loaded up with spices and herbs. Then it is roasted until the salmon is flaky and cooked throughout.
If you are looking for some other great and easy seafood dishes made in the air fryer, these are some of my favorites, Air Fryer Mussels, Air Fryer Tilapia, of course, my favorite Air Fryer Copycat Legal Seafood Crab Cakes.
Air Fryer Blackened Salmon
Air frying salmon is the best way other than grilled, to cook a perfectly delicious salmon dish. It is easy, delicious, and with parchment paper, there is virtually no cleanup. Simply rinse the air fryer basket, throw after the parchment liner, and your clean up from dinner or lunch is complete.  This can be served as the main entree over rice or a garden salad.
I love eating salmon; it is a great source of protein, Omega 3's, and can be flavored in several ways.
Today, I used a Cedar Plank, which really added a lot of flavor to my salmon dish. If you have never used one, they are generally available at your local grocery store or on Amazon.
Using A Cedar Plank In The Air Fryer
I will tell you to check your user's manual to make sure it's safe to use in the air fryer. I used one in mine and had no trouble. But I also stayed in the kitchen to make sure it would work well. I do not want anyone to run into any troubles while making this dish, so use caution.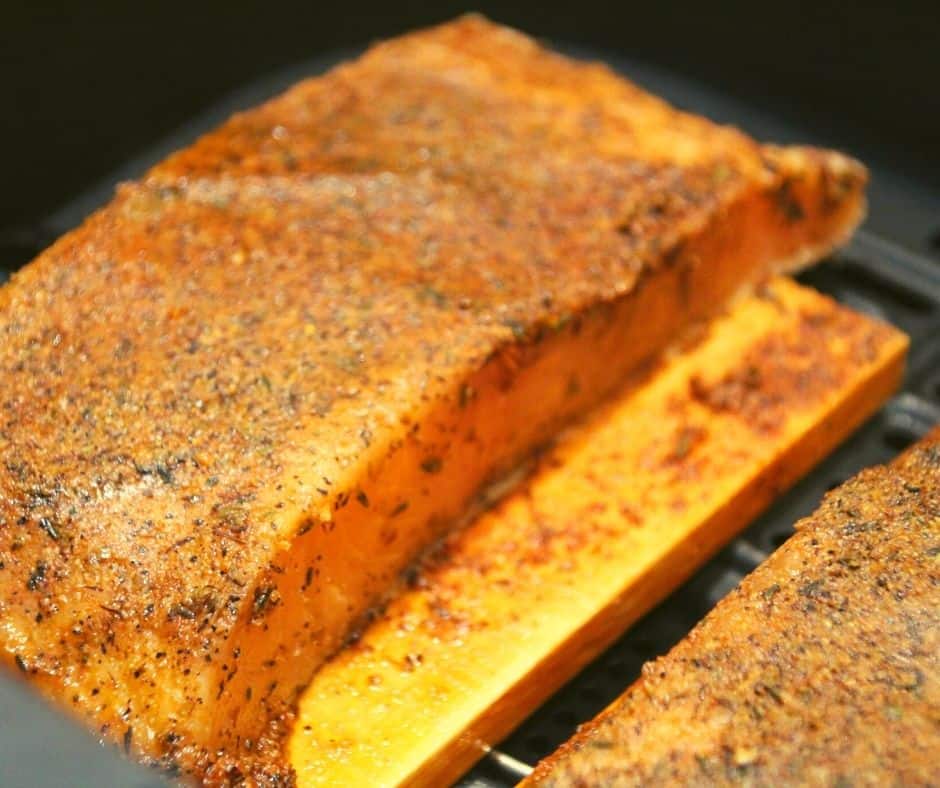 After preheating the air fryer, I place the cedar plank into the air fryer and then set the salmon on top of the wooden plank.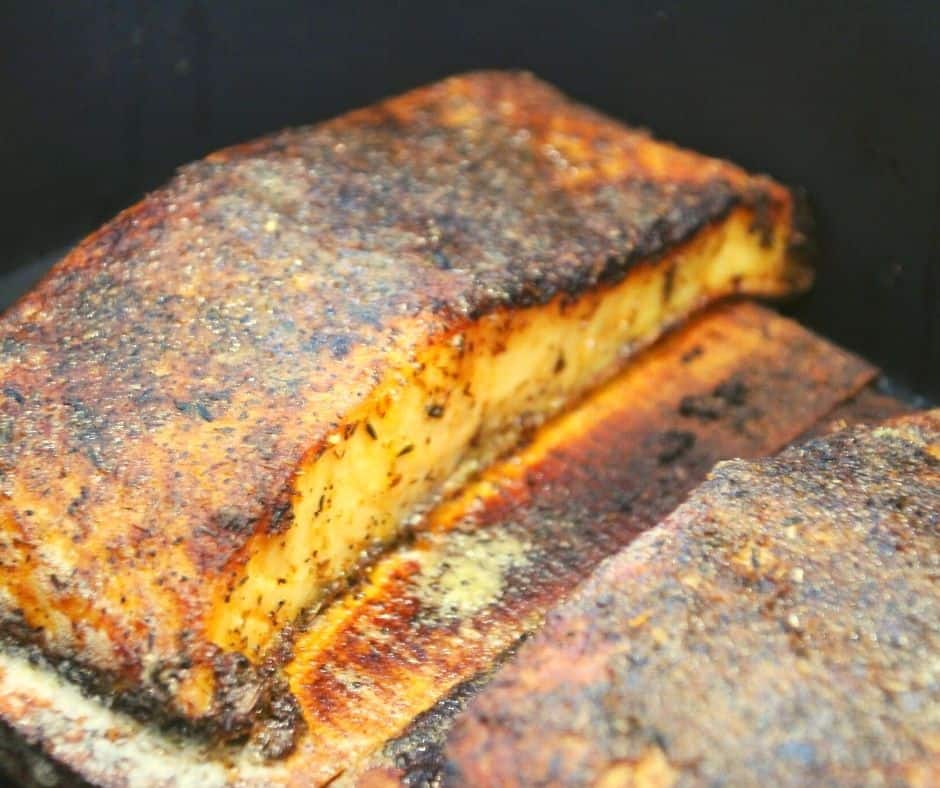 At the halfway point, I brushed some additional butter on top. Which keeps the salmon moist.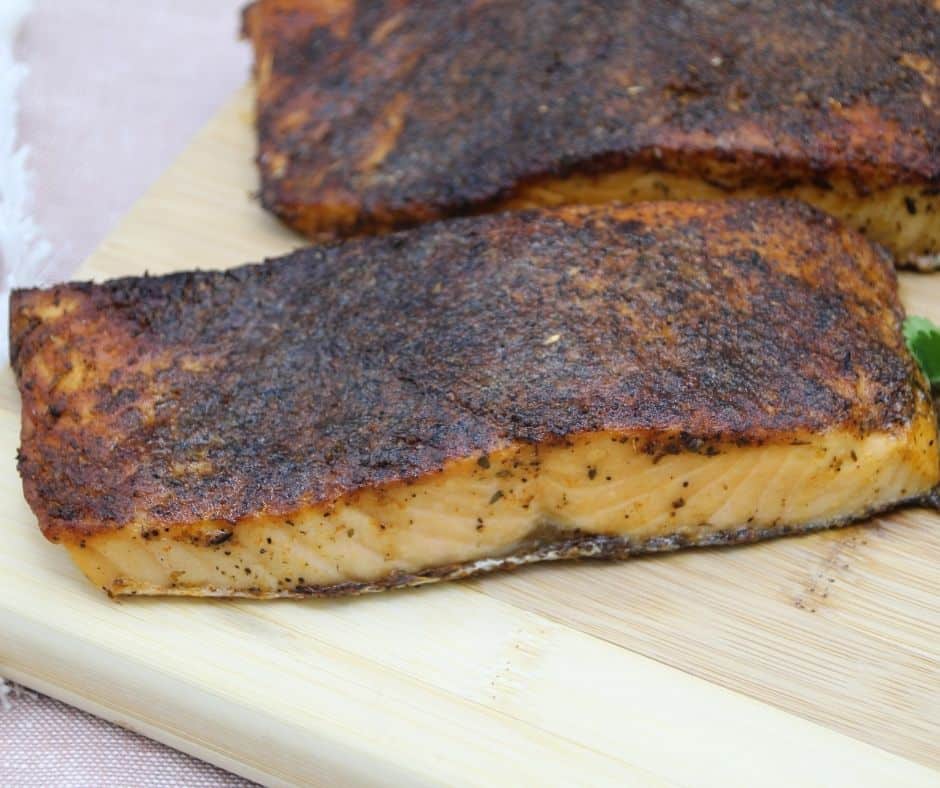 Here are some tips for cooking salmon.
Leave the skin on: It provides a great layer for the skin and the air fryer basket (or parchment paper). Since the skin crisps up, it's easier to flip it halfway during the cooking process. Skin is perfectly edible, so you can choose to eat it or not eat it. It's totally up to you.
Do not Overcook The Salmon: This is actually a prevalent mistake for everyone cooking
salmon. Once the salmon fillet starts to turn white, remove it from the air fryer because it is
cooked.
The best way to cook salmon is medium-rare to a medium is a perfect way since it will not be dried out in the middle.
Do Air Fryers Really Work
Air fryers do really work. They use hot air to circulate all around the food you are cooking, from baking to air frying a crispy appetizer to serve up. This handy kitchen device is trendy, and for a good reason. Whip up your favorite meals without having to turn on the oven!
You will have juicy, flavorful food every time. Or you can try your hand at baking in the air fryer. It is a great way to get the perfect desserts. I think you will love cooking with an air fryer! It is a fun kitchen tool in our home.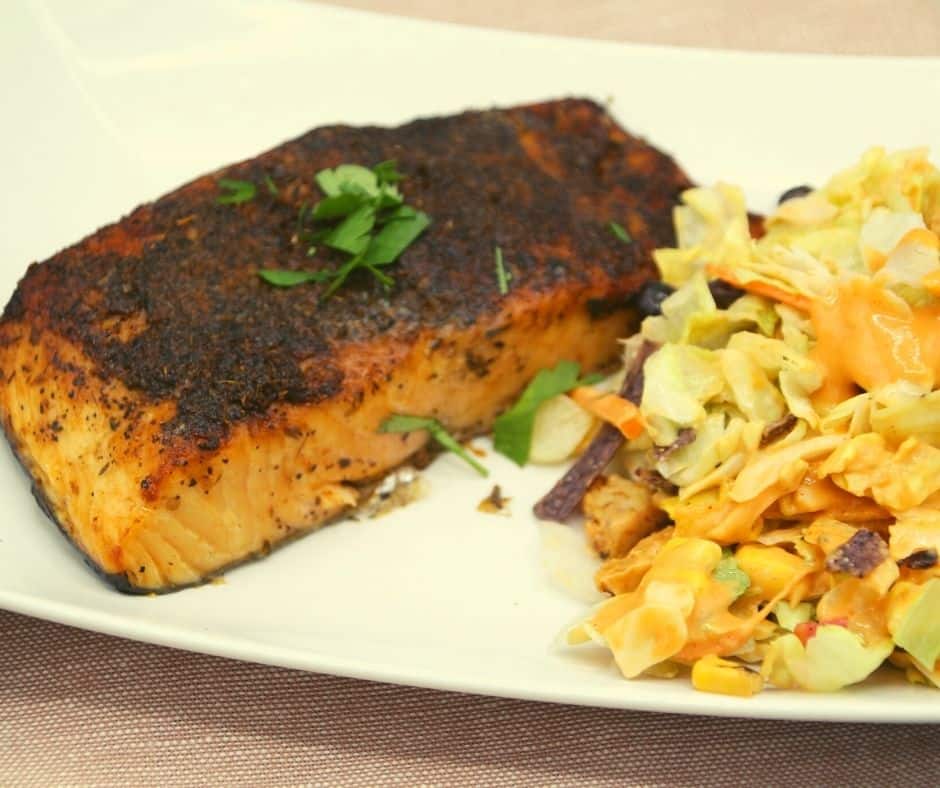 Can I Change Up The Seasoning
Go right ahead and season up your salmon how you prefer to season it. Then cook the same as directed in the recipe card. Salmon is delicious, and when cooked properly, you will find any of your favorite seasonings can become a great compliment to this pink fleshy fish.
Does An Air Fryer Brown Food

You will see that air frying can brown up the food the same way as deep frying. You just need to spritz the food with a little oil. Do not use a can of cooking spray. That can eat away the enamel on the basket or trays. Use an oil mister. It will help give your food that perfect coating to help brown up the food you are cooking.
What to Serve With Air Fryer Salmon
Green Salad
Rice or Pilaf
Greek Salad
Air Fryer Roasted Carrots
Pair your salmon with all your favorite side dish recipes. Or go very simple and reach for a prepared salad or something that is no fuss.
How To Bring Flavor Out In Salmon

I find that drizzling with lemon juice helps amplify the seasonings and spices you placed on your salmon. Give it a try. Once your salmon is done, drizzle with fresh lemon juice.
Dive in and devour this incredible seafood made right in the air fryer.

Looking for more seafood recipes
Crab Cakes | If you are a fan of crab cakes, I highly recommend this recipe. It is one of our favorites, and boy, you will never want to use another recipe again once you ake these.
Fish Sticks | Perfectly battered and air-fried fish sticks are great. Pair with some crispy fries, macaroni, and cheese, or any other favorite side dish.
Calamari | Air fried calamari is one of the tastiest appetizers. Crispy coating, juicy and flavor calamari. Pair with your favorite dipping sauce and dive in!
Storing Leftover Air Fryer Blackened Salmon

If you happen to have extra salmon leftover allow it to cool a bit then transfer to an airtight container.
Store in the fridge for 1-2 days. Reheat as you would like, whether on the stovetop or microwave.
SOME HELPFUL PRODUCTS USED WHILE MAKING THIS RECIPE-
Disclosure: Some of the links below are affiliate links. At no cost to you, I will earn a commission if you click through and make a purchase.
Don't Forget To Pin–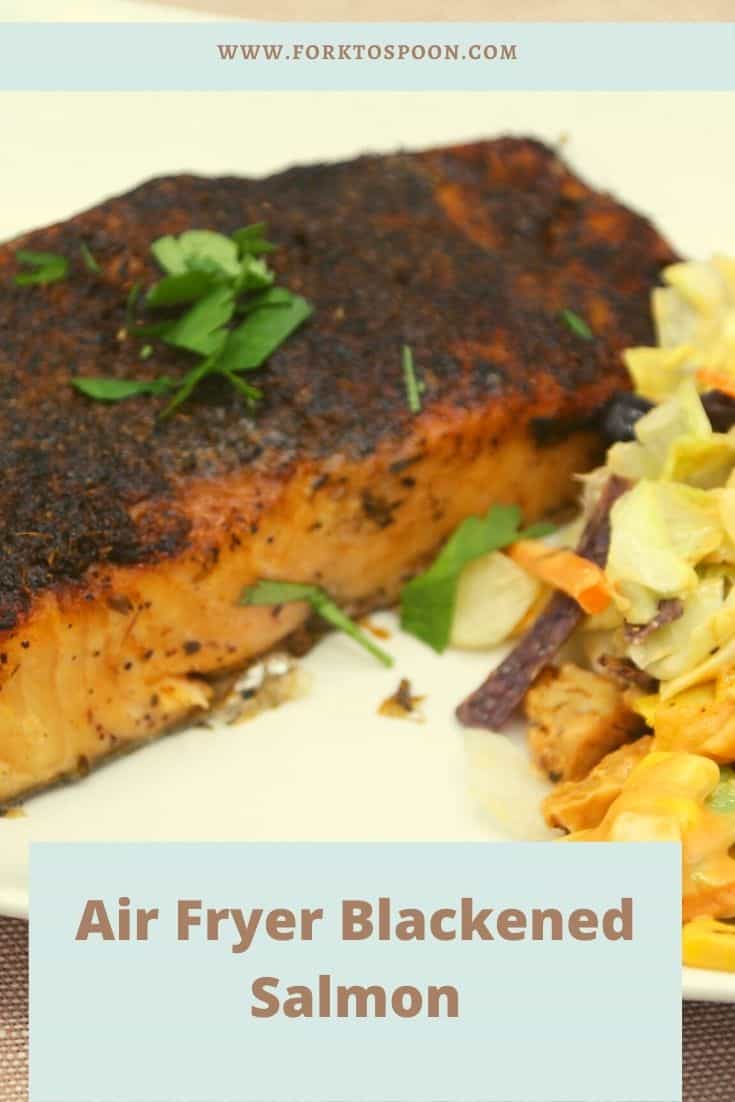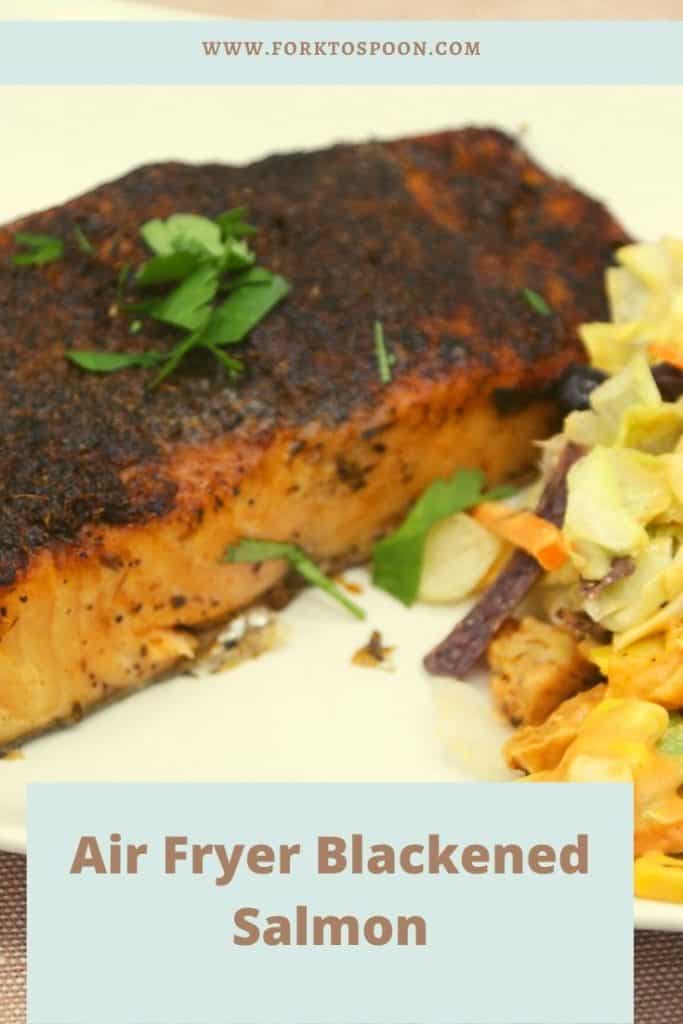 Print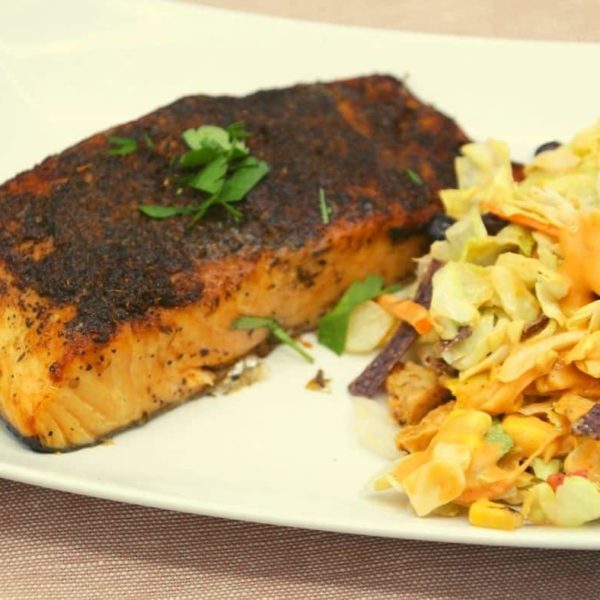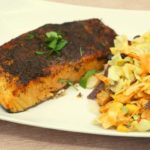 Air Fryer Blackened Salmon
Author:

ForkToSpoon.com

Prep Time:

10

Cook Time:

10

Total Time:

20

Yield:

2

Servings

1

x

Category:

Main Course

Method:

Air Fryer

Cuisine:

American
---
Description
This is such an easy and healthy dinner, Air Fryer Blackened Salmon. I love this recipe, and I love that I made it in less than 15 minutes, from start to finish.
---
2

(6 ounces) salmon fillet (skin on or off)

1 tablespoon

paprika

1 teaspoon

brown sugar

1 teaspoon

salt

1 teaspoon

onion powder

1 teaspoon

garlic powder

1/2 teaspoon

cayenne pepper

1/2 teaspoon

dried oregano

1/2 teaspoon

dried thyme

2 tablespoons

melted butter
---
Instructions
Start by making the blackened spice. In a small bowl, mix the paprika, brown sugar, salt, onion powder, garlic powder, cayenne, thyme, and oregano. Mix well.
Then brush the butter onto the salmon and then cover it with the spice mixture. 
Preheat your air fryer to 400 degrees F, air fryer setting. 
Then place your plank onto the air fryer, and then place the salmon on top of the plank.
Air fry for 5 minutes, and then brush some more butter on top. 
Air fry for another 4-5 minutes, until the internal temperature reaches 145 degrees F.
Plate, serve, and enjoy!
---
Keywords: Air Fryer Blackened Salmon