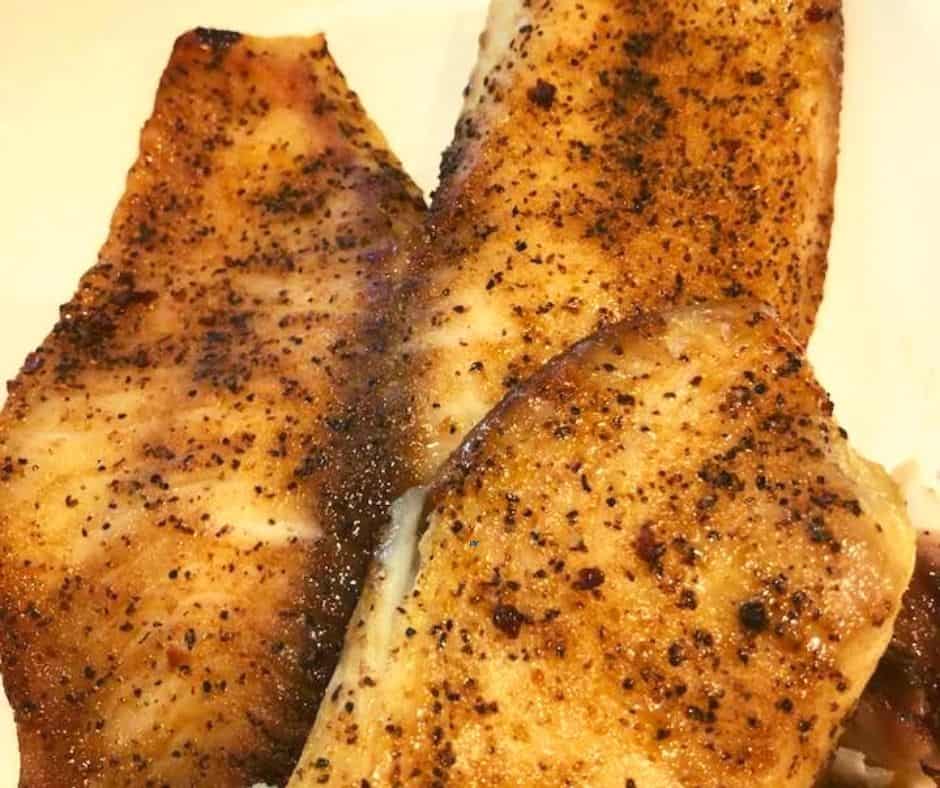 Air Fryer Blackened Tilapia is one of the best ways to cook up Tilapia, in my opinion. It adds so much flavor to this mild fish and pairs great with any of your favorite side dishes. Perfect for lunch or dinner. This air fryer grilled tilapia will steal the show.
Being from Boston, my uncles were all fishermen. Therefore, I was treated to a LOT of seafood over the years. There was absolutely nothing better than my uncles dropping off the days' catch to my mom, who would almost make something amazing. I remember my uncle's dropping off baby lobsters because no one would buy them, now we all know them as chicken lobsters, and if they were free, there would be a line around the block to get them.
Air Fryer Blackened Tilapia
My husband grew up as a good old midwestern boy, but he vacationed every year at Cape Cod, where he ate his share of great seafood.
Then I moved to Ohio after we got married, I noticed that the seafood was different; they didn't have lobsters, they had crab legs, and I literally remember going through the supermarket and saying, what are those?
They just looked like something that came from outer space. Instead of cod, they ate salmon. I have never had salmon, so it was an acquired taste, my mother in law made the best salmon that I have ever had. I will probably be making it in the next couple of weeks, as we finish up Lent. She served it with a creamy dill dip that even my son would eat (granted, he would eat it without the salmon, but he would finish his bowl, LOL).
Seafood is important; it's a great source of protein without a lot of fat. It hits most of the marks, gluten-free, low carb, and other diets.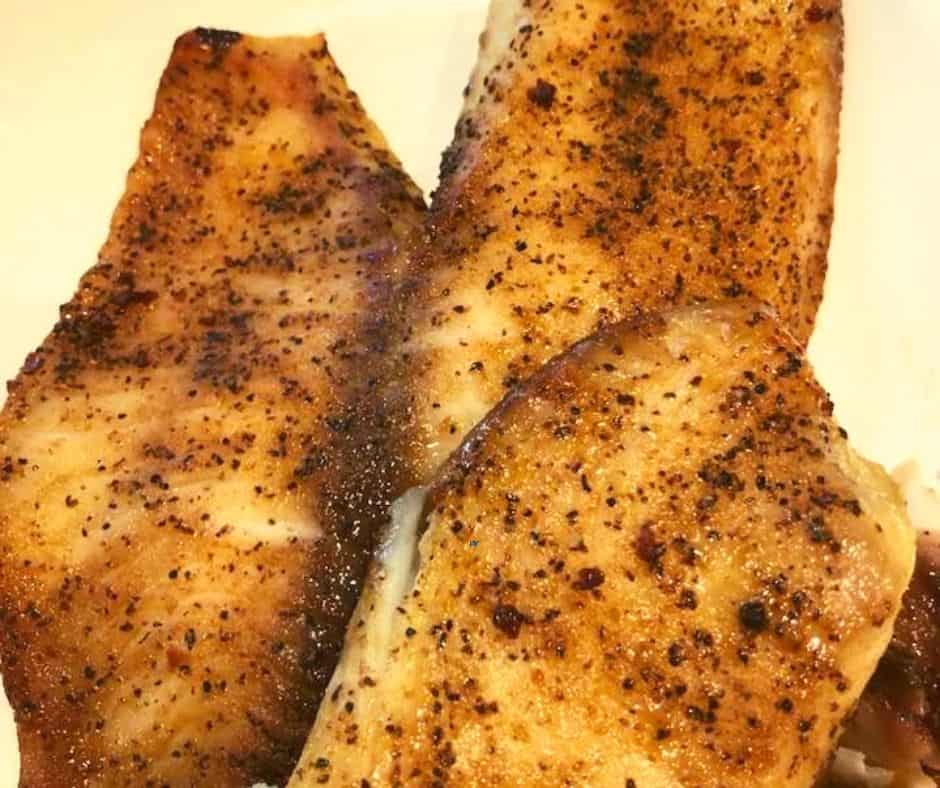 Benefits Of This White Fish Recipe
Today, I am bringing you Tilapia, a widely distributed white fish. I did not grow up eating it, so I had to search for how to prepare it. First, it is a farmed fish; it can not be found in the wild, it has many protein and Omega 3 fatty assets. It is a very controversial fish; I know this because everyone posts it on my air fryer group, people all go up in arms. But it's a recipe, and you don't have to eat it, so I don't get involved in the controversy. I'm just a food blogger, not an activist.
What goes well with blackened tilapia?
Black bean and corn salad, cucumber and onions, salad, grilled potatoes are all great pairings. You can essentially pair with any of your favorite sides for tilapia. Since it is a white fish, the flavoring is not overpowering, complementing so many delicious sides.
What is blackening seasoning made of?
I made my own blackening seasoning—paprika, cayenne pepper, cumin, garlic powder, oregano, and brown sugar along with salt. Simple seasonings and spices create the perfect base for this fish.
If you don't want to make your own blackened seasoning yourself, head to the store and buy one you enjoy. All seasonings will vary a bit in flavor. That is why I find making my own works great. That way, I can control the flavors that go next to my fish.
What fish is best to blacken?
This recipe is for tilapia, but you can reach for red snapper, catfish, trout, or any other white fish you enjoy. Just make sure to adjust the air frying time to fit the fish you are working with.
This blackened rub will work great on any variety of fish you prefer to use.
Is blackened fish healthy?
Blackened fish is a great way to eat your fish. You up the intake of protein in your diet and gain the benefits from the fish. As always, eat in moderation for all foods you cook and eat.
Is Cajun seasoning and blackened seasoning the same thing?
Cajun or Creole seasoning is a bit different than a blackened seasoning. Blackened seasoning tends to have a less spicy flavor, where cajun and creole tend to ramp up the spice in your dish.
Both are incredibly flavorful, and I highly recommend using both in your cooking adventures.
WHAT TO SERVE WITH AIR FRYER BLACKENED TILAPIA?
I personally love a great big salad with mine, but if you are looking for an alternative, here are some of my favorites–
SOME HELPFUL PRODUCTS USED WHILE MAKING THIS RECIPE-
Disclosure: Some of the links below are affiliate links. At no cost to you, I will earn a commission if you click through and make a purchase.
DON'T FORGET TO PIN-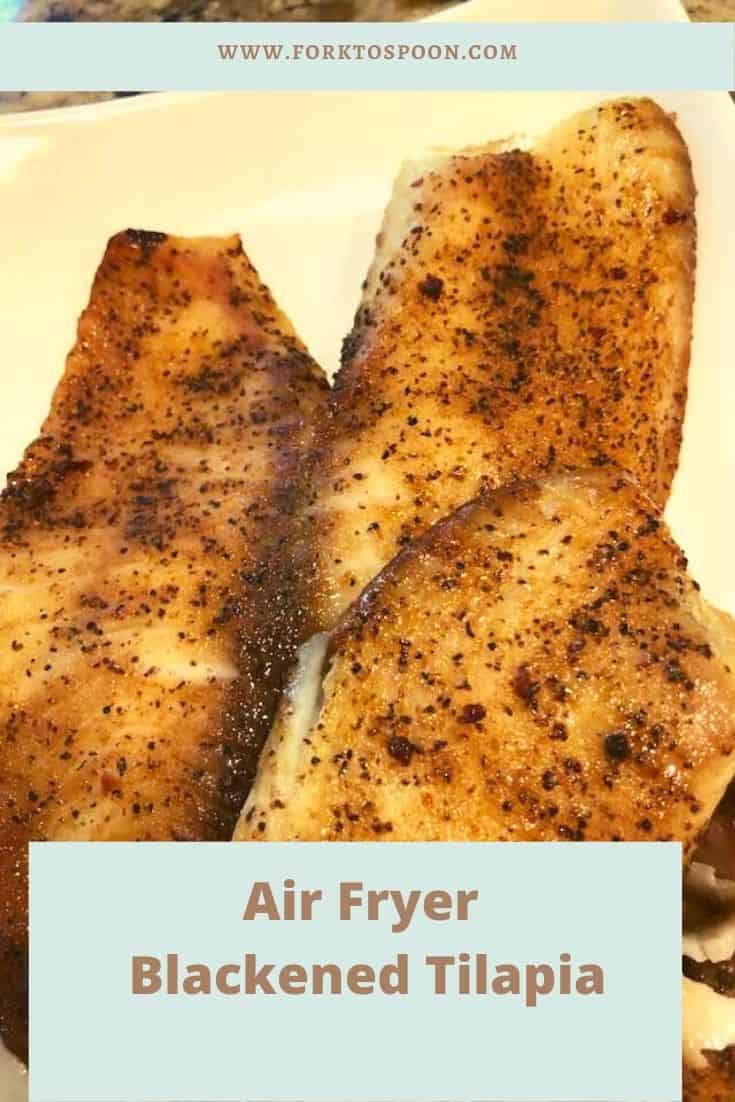 Air Fryer Blackened Tilapia
Air Fryer Blackened Tilapia is one of the best ways to cook up Tilapia, in my opinion. It adds so much flavor to this mild fish and pairs great with any of your favorite side dishes. Perfect for lunch or dinner. This air fryer grilled tilapia will steal the show.
Keyword:
Air Fryer Blackened Tilapia
Ingredients
2

tablespoons

paprika

2

teaspoons

brown sugar

1

teaspoon

dried oregano

1

teaspoon

garlic powder

1/2

teaspoon

cumin

1/4

teaspoon

cayenne pepper

1

teaspoon

salt

4

6 ounces

tilapia fillets
Instructions
Start by making the rub, mix together the paprika, brown sugar, oregano, garlic powder, cumin, cayenne pepper and salt in a small bowl.

Then rub the spices onto the fish. (Both sides)

Spray this fish with olive oil spray, and then place into the air fryer basket or oven. Set the temperature for 400 degrees F, for 4 minutes, after 4 minutes, flip (spray again) and add another 4 minutes.
Nutrition Facts
Air Fryer Blackened Tilapia
Amount Per Serving (1 g)
Calories 15
Calories from Fat 1
% Daily Value*
Fat 0.1g0%
Polyunsaturated Fat 0.04g
Monounsaturated Fat 0.05g
Cholesterol 1mg0%
Sodium 584mg25%
Potassium 38mg1%
Carbohydrates 3g1%
Protein 0.5g1%
Vitamin A 209IU4%
Vitamin C 6mg7%
Calcium 14mg1%
Iron 0.4mg2%
* Percent Daily Values are based on a 2000 calorie diet.