There's nothing like the smell of fresh apple pies baking in the oven. But if you're short on time, or don't want to turn on the oven, an air fryer is a great alternative. These Air Fryer Apple Hand Pies are quick and easy to make, and they taste delicious! The crust is made from store-bought puff pastry, and the filling is made from apples, cinnamon, sugar, and butter. So easy and so good!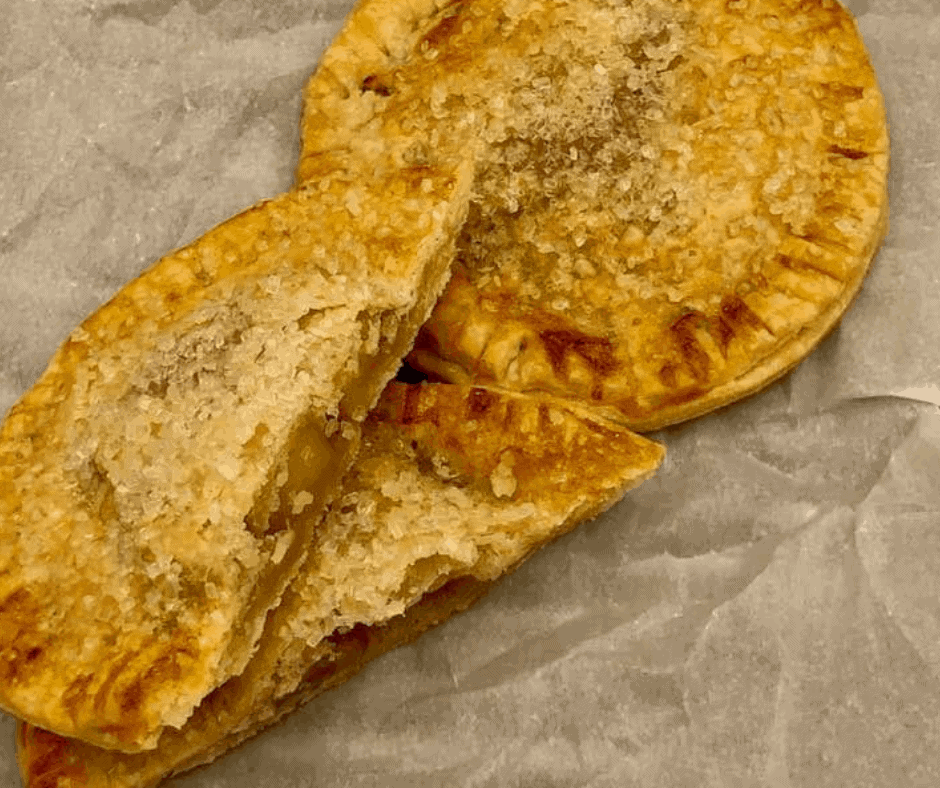 Air Fryer Apple Hand Pies — Everyone loves apple season. Today, I made these special treats for my kids, and they loved them.
They are so easy to make. The fresh apple pie filling is wrapped in a flaky buttery pie crust. These are truly the easiest and tastiest Air Fryer Apple Hand Pies you will ever make, a great alternative to Air Fryer Apple Pie.
Now, if you have not made hand pies, let me tell you they are truly one of the greatest desserts you can make. I mean, who doesn't like their own pie?
These also make a great back-to-school lunch box snack, and if you just went apple picking, this is a great and tasty way to use up those apples.
If you are looking for even more Air Fryer Apple Desserts, some of my favorites are AIR FRYER CARAMEL APPLE DANISH, AIR FRYER APPLE FRITTERS, AIR FRYER APPLE PIE BOMBS, and AIR FRYER APPLE CHEDDAR BACON SCONES.
What Are Hand Pies?
Hand pies are nothing more than a mini apple pie, that you can make with a few simple ingredients. And since you are using premade pie crust, this recipe bakes up in minutes! You get all of the traditional taste of homemade apple pie, but so easy since you are baking them in your air fryer!
Serve with some caramel sauce or vanilla ice cream, or even some coarse sugar. These mini apple pies are amazing!
They make the perfect dessert! Ready in minutes, so if you love warm apple pie, you will love this recipe! And pretty soon, you will have all of the comforting flavors of apple pie within minutes!
Ingredients Needed For Air Fryer Apple Hand Pies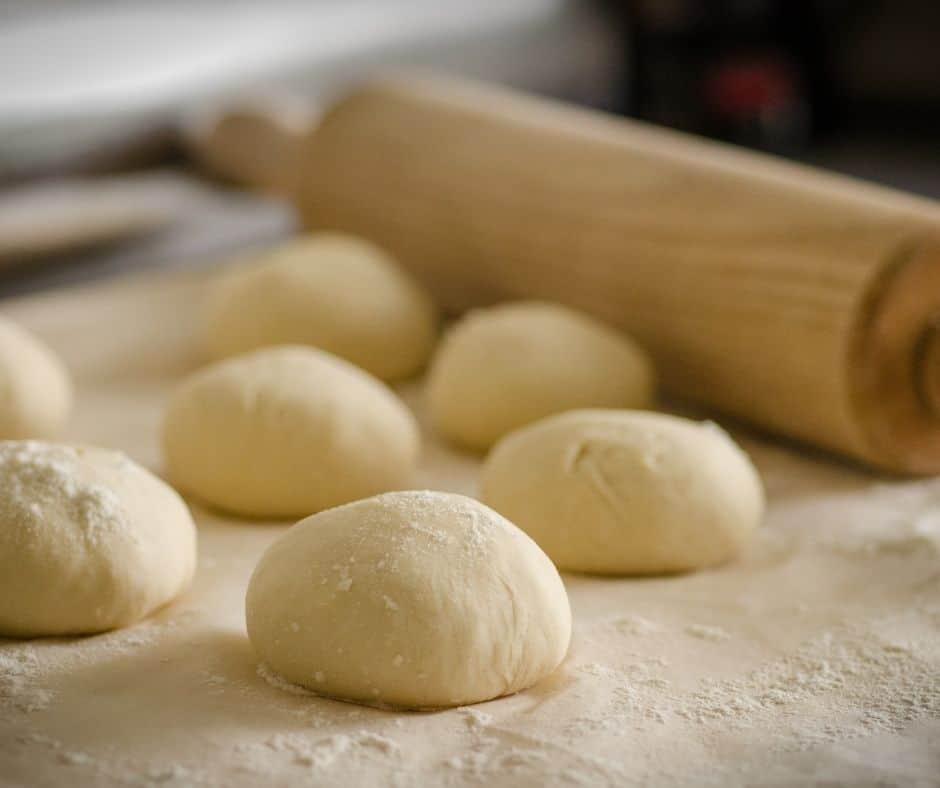 With only a few ingredients, you can make these within minutes. Here are the items I used. Remember to keep on scrolling for a printable recipe card at the bottom of the page with step-by-step instructions:
Pie Dough: While I used store-bought pie crust from Pillsbury, which is found in the refrigerator section, feel free to switch it out for your fresh dough; any pre-made pie crust, or store-bought crust, would work in this recipe. You can also use puff pastry or homemade pie dough!
Apples: I used my children's haul from apple picking, including gala apples, but you can use anything you have on hand.
Sugar: I added a few tablespoons of granulated sugar, you can even add apple pie spice, for more flavor.
All-Purpose Flour: This helps thicken up the pie filling.
Ground Cinnamon: You can not have apple pie without ground cinnamon.
Beaten Egg & Heavy Cream: This creates a great egg wash, which helps crisp up the pie-filling dough.
Sparkling Sugar: This is one of my favorite things I have found this year. It does a great job transferring regular pie dough into the pastry dough.
How To Make Air Fried Apple Hand Pies
Prepare The Easy Apple Pie Filling: Start by peeling the apples. Then dice the apples into bite-size pieces. As you cut them, add them to a small bowl.
Make the Apple Filling: Make the pie filling in the bowl, and add the diced apples, flour, sugar, ground cinnamon, and vanilla extract. Mix well, coating all of the apples, and set the pie filling aside while you work on the dough.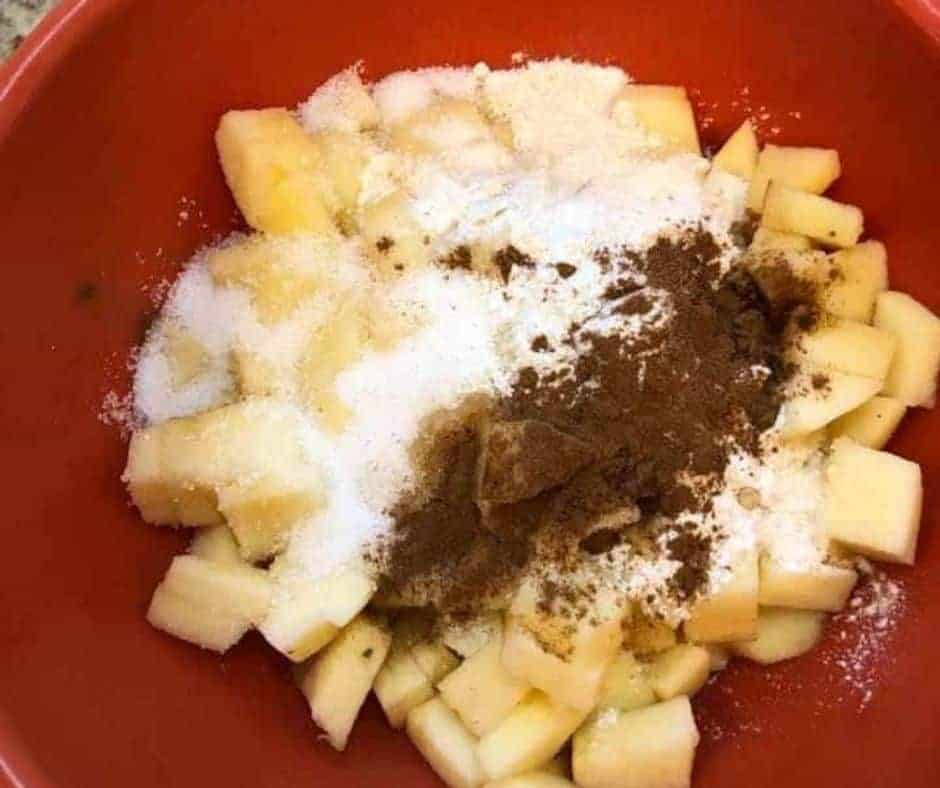 Roll Out The Dough: Flatten your pre-made dough or use a rolling pin. Using your biscuit cutter, round cookie cutter, or pastry cutter, cut out the circles from your dough. Repeat until you have cut all of the circles out.
Prepare The Mini Air Fryer Apple Pies: Add a couple of tablespoons of pie filling to the center of the dough. Then add a circle of dough on top.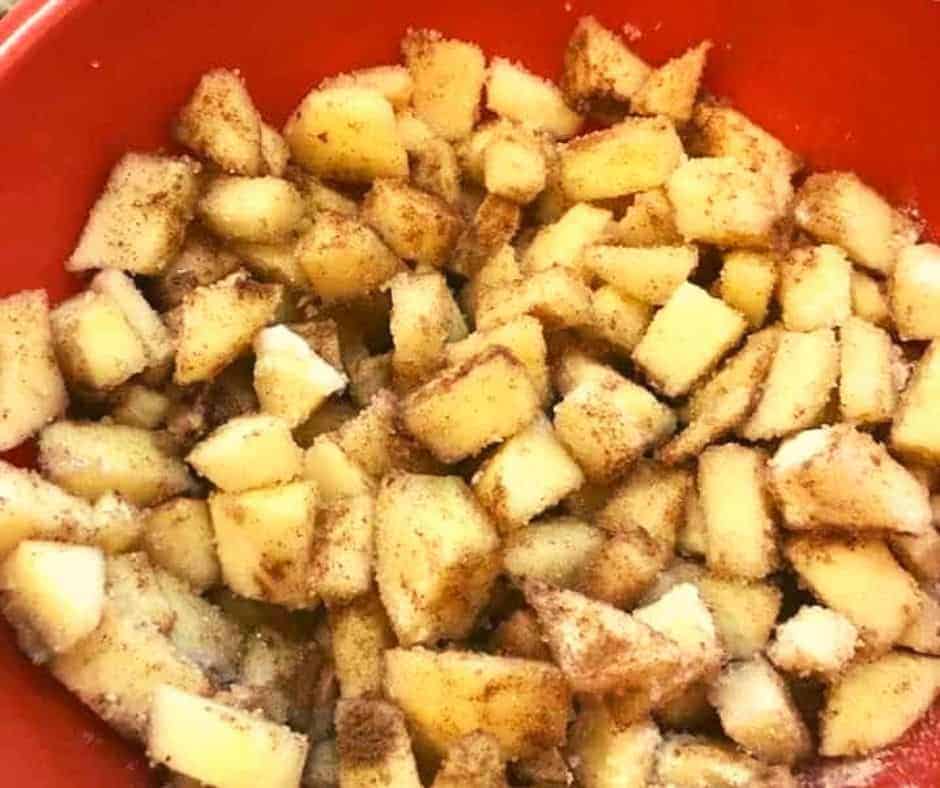 Sealing The Pies: Use your fork, or a pastry cutter, go around the edges, and press the tines into the edges, which will help seal the pastry. Using a sharp knife, make a couple of small slits on the tops of the pies.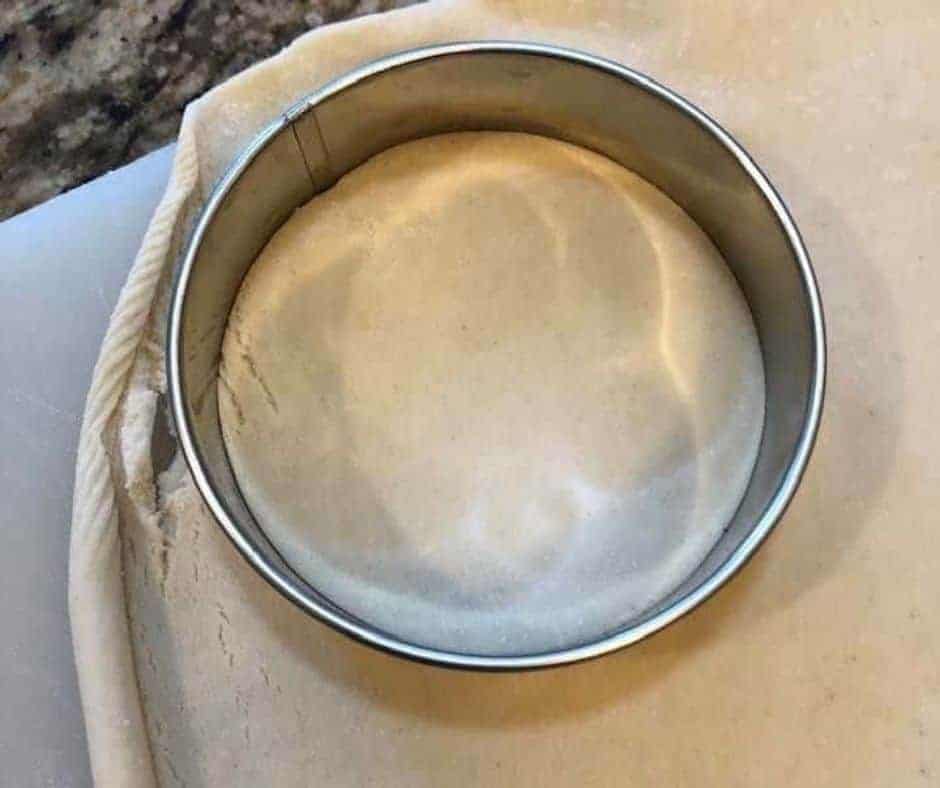 Brush The Tops: In a small mixing bowl, mix the egg and heavy cream mix well. Then use a pastry brush and brush the egg wash on top with a little bit of sprinkle of sparkling sugar (or use brown sugar)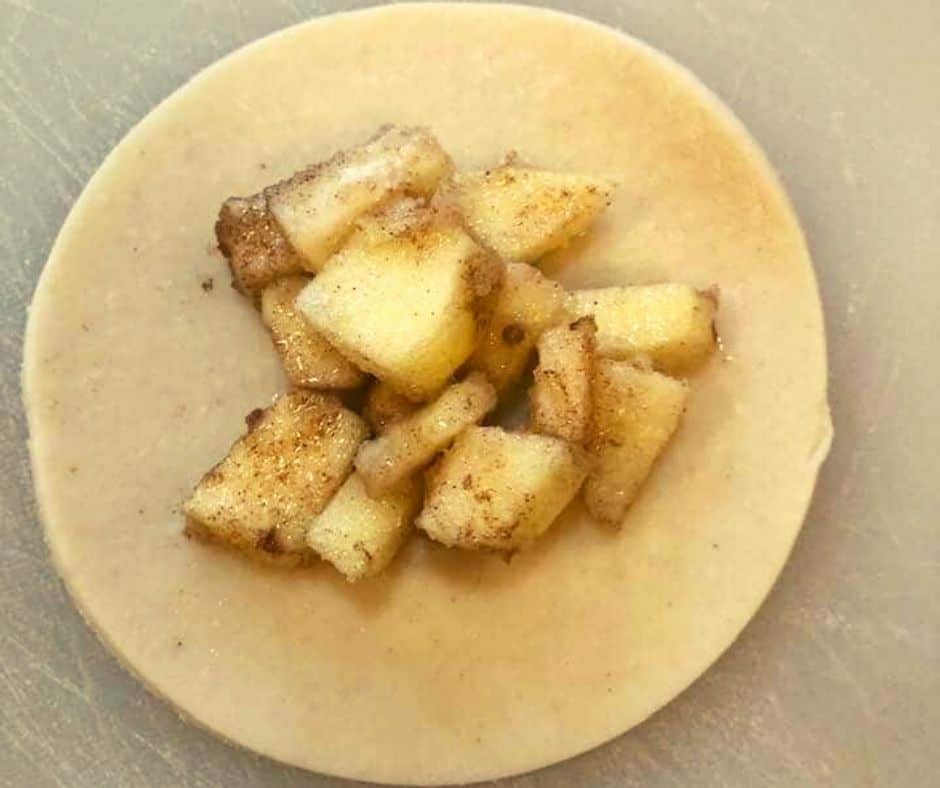 Set the hand pies into the air fryer basket, and set the temperature to 330 degrees F for 4-6 minutes. Check on the individual hand pies during the cooking process.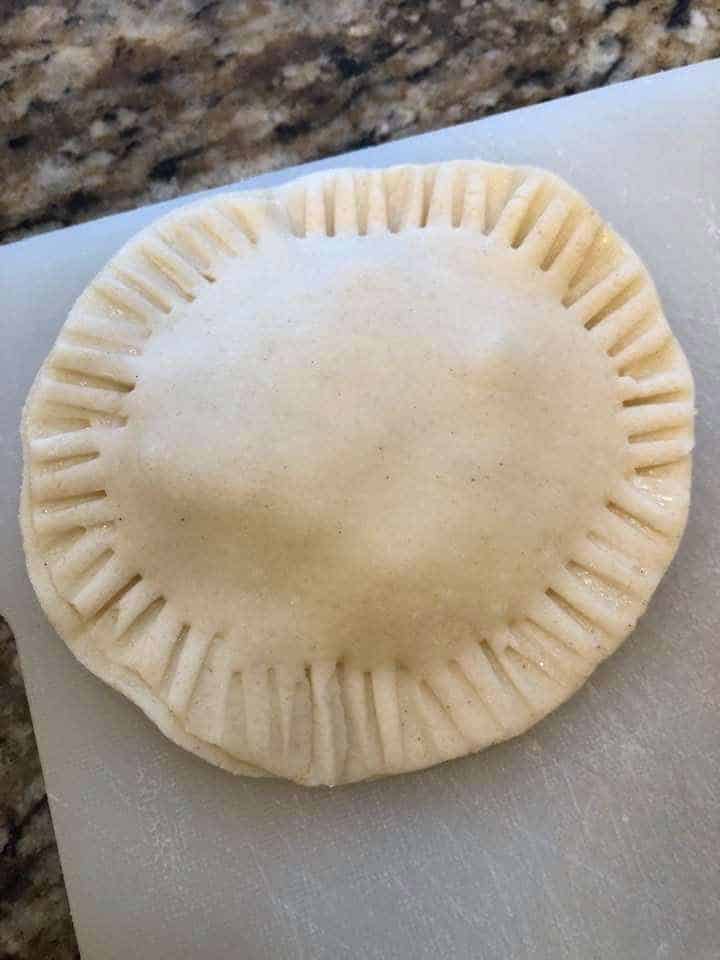 Let the apple hand pies cool to room temperature on a wire rack or cooling rack.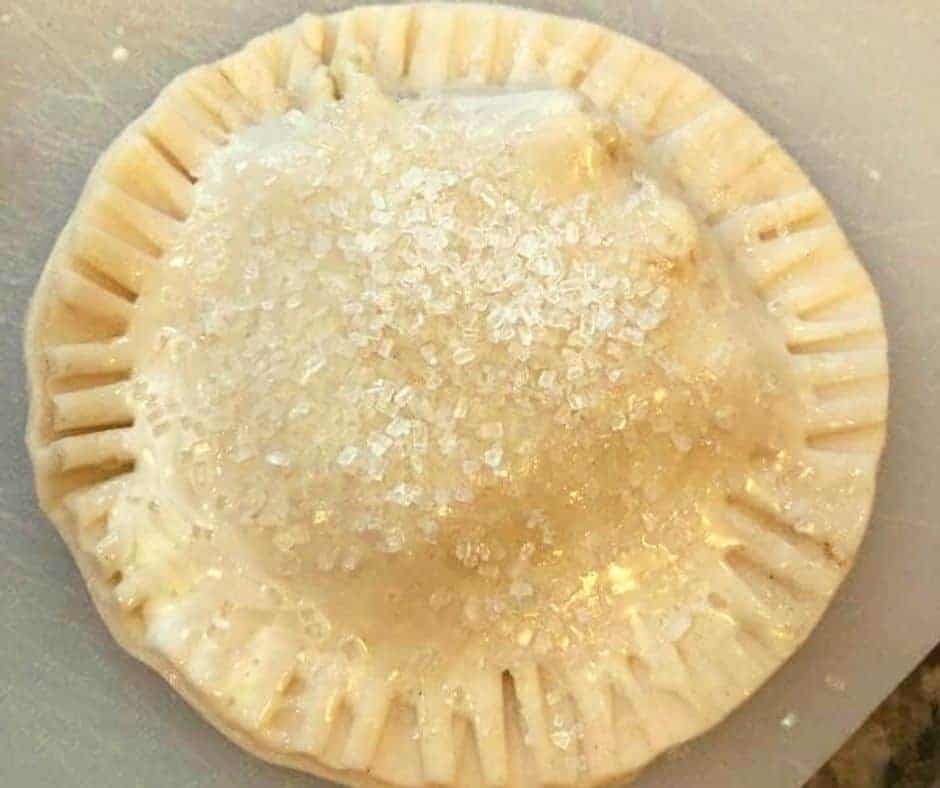 Be careful not to crowd the air fryer basket. Otherwise, the apple hand pies will not crisp up.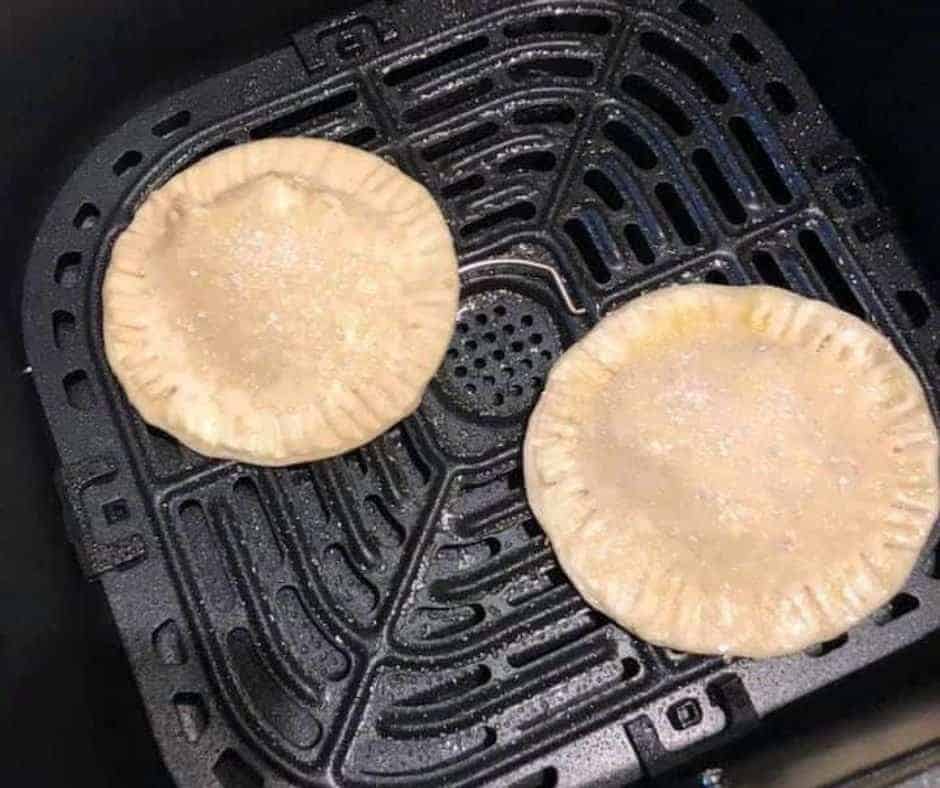 Let cool before serving.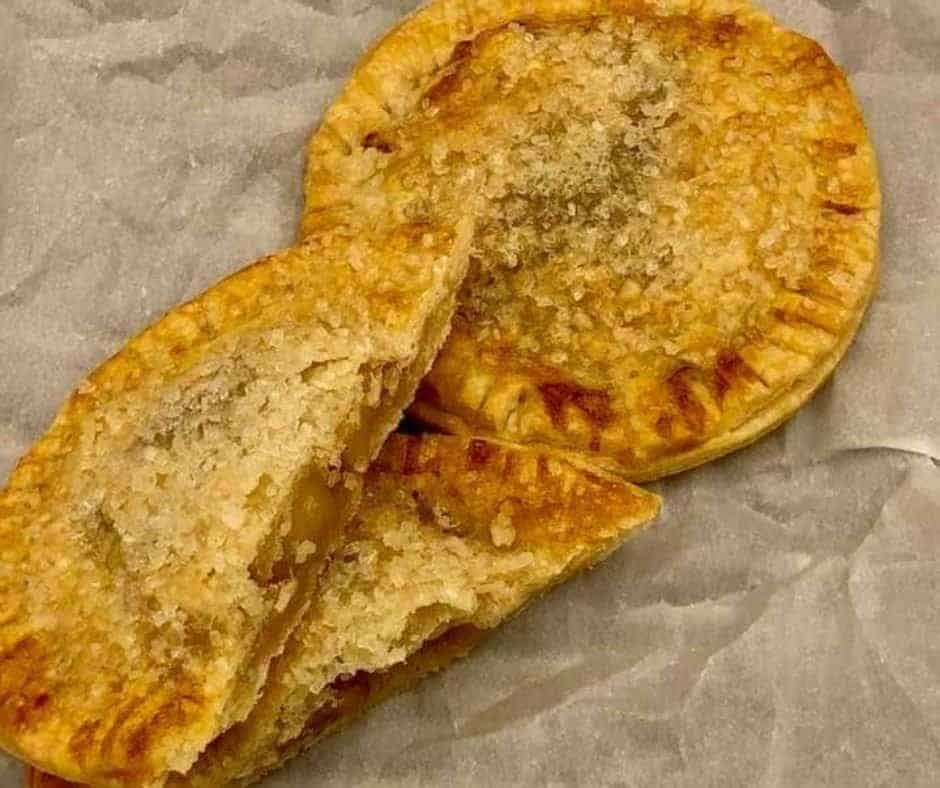 Pro Tips For The Best Air Fried Hand Pies
This recipe can be prepared with any basket-style air fryer or Oven model. This recipe also will work well with the Ninja Foodi, Instant Pot Crisp Lid, Instant Pot Vortex, and even the Mealthy Lid. The temperature will remain the same, but the time will vary within a few minutes. Remember to cook at a low temperature for the best results.
You can change the filling to a premade apple pie filling, and the recipe will remain the same. This recipe will work with any fruit pie filling.
You can change the apple pie filling to any desired one and use your favorite fruit filling.
Parchment Paper: Line the bottom of the air fryer basket with a piece of parchment paper for easy cleanup.
Another great way to serve these is with a drizzle of powdered sugar icing, with 1 cup of powdered sugar and 3 to 4 tablespoons of milk. Mix well, and drizzle over the top of the pies after the Air Fryer Apple Hand Pies cooled.
How to Store Air Fryer Hand Pies
After air frying them, how do you store them? Easy all you need to do is place them in an air-tight container, and they should stay for a few days. Wrap any leftover hand pies in saran wrap or plastic wrap.
Can You Freeze Them?
Yes, all you need to do is let the pies rest to room temperature and then place them in an airtight container or freezer bag and place them in the freezer; they should last between 1 to 2 months. These are great in the middle of winter when pie cravings happen! Who doesn't love this American classic?
How to Use Frozen Apple Hand Pies
Let the pies defrost overnight in the refrigerator; you can then warm them in the microwave or air fryer, heating them until warmed through.
Air Fryer Hand Pies With Puff Pastry
Want to use puff pastry for this recipe, lay out the defrosted (thaw) puff pastry, and use it in place of pie dough!
Can I make Hand Pies in The Oven?
Yes, anything that you make in the Air Fryer or oven can be made in the opposite. Everyone has been making these for years in the oven before the popularity of the Air Fryer.
To make, prepare as directed below, then place into a greased baking sheet, and place the baking sheet into a preheated oven of 400 degrees F for 15 to 20 minutes until golden brown.
Remove and let cool slightly before serving.
What kind of apples is best?
I love using tart apples for the gooey filling and apple mixture; some of my favorites are granny smith apples. Look for crisp apples for the best apple pie filling.
More Air Fryer Recipes: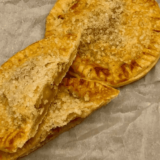 Air Fryer Apple Hand Pies
Description
Air Fryer Apple Hand Pies — Everyone loves apple season. Today, I made these special treats for my kids, and they loved them.
Ingredients
1

package

pie crust

,

found in the refrigerator section

2

cup

apples

,

peeled and diced

4

tablespoons

granulated sugar

2

tablespoons

all-purpose flour

1

teaspoon

vanilla extract

1

teaspoon

ground cinnamon

1

large

egg

1

tablespoon

heavy cream

1

tablespoon

sparkling sugar

,

or brown sugar
Instructions
Start by peeling the apples.

Then dice the apples into bite-size pieces. As you cut them, add them to a small mixing bowl.

Make the pie filling in the bowl, add the diced apples, flour, sugar, ground cinnamon, vanilla extract.

Mix well, coating all of the apples, set the pie filling aside while you work on the dough.

Using your biscuit cutter, cut out the circles from your dough. Repeat until you have cut all of the circles out.

Add a couple of tablespoons of pie filling to the center of the dough. Then add a circle of dough on top.

Use your fork, go around the edges, and press the tines into the edges, which will help seal the pastry.

In a small mixing bowl, mix the egg and heavy cream mix well. Then use a pastry brush and brush the egg wash on top with a sprinkle of sparkling sugar.

Set the hand pies into the air fryer, and set the temperature to 330 degrees F for 4-6 minutes. (air fryer setting)
Nutrition
Serving:
1
g
Calories:
321
kcal
Carbohydrates:
40
g
Protein:
5
g
Fat:
16
g
Saturated Fat:
5
g
Polyunsaturated Fat:
2
g
Monounsaturated Fat:
7
g
Trans Fat:
0.003
g
Cholesterol:
25
mg
Sodium:
235
mg
Potassium:
101
mg
Fiber:
2
g
Sugar:
11
g
Vitamin A:
79
IU
Vitamin C:
1
mg
Calcium:
20
mg
Iron:
2
mg
Do Not Forget To Pin: