Air Fryer, Air Fried, Instant Pot, Vortex Plus, Air Fried, Fast and Easy Cherry Pastry
My mother was a great baker, she always baked muffins on Sunday, and we would bring them to our walk to school on Monday mornings. This was great because Monday's for most people are slowly starting days. So, having a portable breakfast was important, and since I'm old, we didn't own a microwave or eat frozen foods. So, having an on the go-to breakfast was awesome in my eyes.
My kids have the same problem on Mondays, so I made muffins, on Sunday night, just like my mom and they always grab them on Monday mornings. I guess traditions are important.  So, if you are having trouble with breakfast, try this one, and let me know how they work for you.
Muffins, they are the perfect breakfast food. They are a great healthy alternative for breakfast on the go.  Whatever the muffin, it's sure to be sweet, crumbly and delicious.
I love eating muffins all year round; they are perfect on the go-to breakfast. I always make a huge batch on Sunday, so my husband can bring them to work during the week. These are my favorite muffins, I have been eating them since I was a little girl. I'm not sure where the recipe came from, but they are amazing!  My kids also love them, because they are nice and chocolaty, who doesn't love chocolate.
Don't Forget To Pin—
Print
Air Fryer, Air Fried, Instant Pot, Vortex Plus, Air Fried, Fast and Easy Cherry Pastry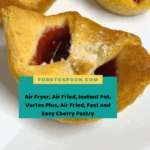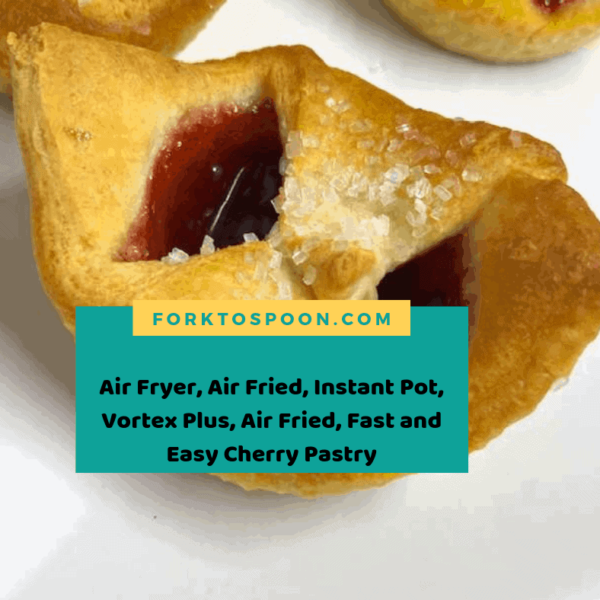 One of the easiest and tastiest desserts, which was ready in a matter of minutes. Hardly any prep work, but this dessert will wow your guests.
Made in both the traditional basket type of air fryer and the Air Fryer Oven, the Instant Pot Vortex Plus Model.
Scale
Ingredients
1

roll Crescent Dough Sheets

1

21 ounce can of cherry pie filling

1/4 cup

sparkling sugar
Instructions
Start by greasing your muffin tins.

Measure your muffin tin, and cut the crescent dough, slightly larger than the hole, remembering that you are going to fold it over.

Scoop some pie filling into the middle of the dough.

Fold over the dough, so you make a nice pocket

Sprinkle with the sugar mixture.

Set in the air fryer tray or basket and air fry for 6 minutes at 320 degrees F.
Let rest, after you remove them from the air fryer, remember they are hot!!

Plate, serve and enjoy!