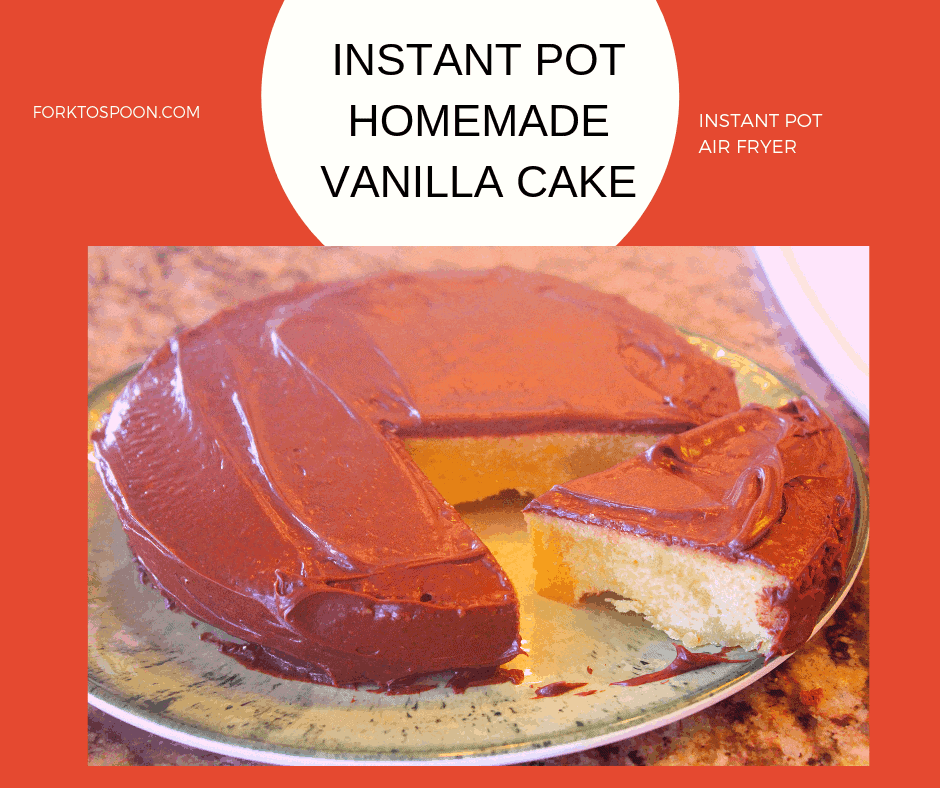 Today we are talking about making a homemade vanilla cake in the Instant Pot. Making a boxed cake in the Instant Pot (Pressure Cooker) has become to my surprise, one of the most popular recipes on my website. So, today, I thought I would bring you a homemade cake.
But, feel free to check out that post, because it's so easy, and to be honest with you, the cakes in the Instant Pot (Pressure Cooker) come out nice, light and fluffy.  They are just like the ones that you purchase at the bakery, obviously with less the cost.
If you have been following my blog for a while, you know, I'm all about real food for real people. Unlike most food bloggers, I don't throw away out food, I serve it to my family and friends. Sometimes, I make donations to my husband's office, who are very kind and appreciative.
If you have never made a homemade vanilla cake, here are some tips to get the best results.
Use cake flour—Cake flour is a type of flour which is very finely milled from soft winter wheat. Cake flour has a lower protein content than all-purpose (regular) flour, and as a result cake flour is finer, lighter, and softer. Cake flour is always bleached, so the color is paler and the grain is less dense.

This makes for a lighter and fluffier cake.
If you do not have cake flour, you can easily make your own at home, here are some simple instructions.
How To Make Homemade Cake Flour:
6 Cups of regular all-purpose flour and 12 tablespoons of cornstarch. Mix well, then use a flour sifter and sift the flour, for about 5 to 6              times, until you get a nice fine flour.
Beat your eggs and sugar, this is actually called creaming the ingredients. But why do we do this? Why not just mix everything together, which is so much easier.
The reason for creaming the sugar and the eggs in a separate bowl, before adding them to the other ingredients is that when you beat the sugar and eggs together you create a fluffier texture, which will create a better and fluffier cake.
I have an electric kitchen aid mixer, which allows me to drop the sugar and eggs in and beat for a good 4 minutes, while the eggs and sugar become creamed together and in return create a lighter batter.
I have this one, and I have had mine for over 16 years, so it's a great investment.
The third tip for making a light and airy cake is using PURE vanilla extract, it is one of the easiest and simplest ways to create an elevated flavor, to any cake product. Vanilla extract has become expensive over the years since I started cooking, but again it is well worth the investment and a small bottle will make several cakes or other baked goods.
To Make A Classic White Cake here is a breakdown of the ingredients:
Here Are Some Great Cake Pans for the Instant Pot:
For the 3 Quart Instant Pot
For the 6 Quart Instant Pot
For the 8 Quart Instant Pot
Kitchen Items Used: (* Note: Affiliate links are included)
Instant Pot Smart Du060 (I also made this in my 3 Quart to make sure it works)
J.A. Henckels 6-Inch High Carbon Stainless Steel Chef's Kitchen Knife
Stainless Steel Measuring Cups, 5 Piece Set
Hudson Essentials Stainless Steel Measuring Cups Set-6 Piece Stackable Set with Spout
Anchor Glass Measuring Set–This is one of the handiest tools in the Kitchen 
Italian Olive Wood Spatula (I LOVE THis for my IP)
OXO Good Grips 12 Inch Stainless-Steel Locking Tongs
Silicone Pot Holders, made just for the IP (If you don't have a pair, get a pair, because they prevent burns)
Don't forget to pin: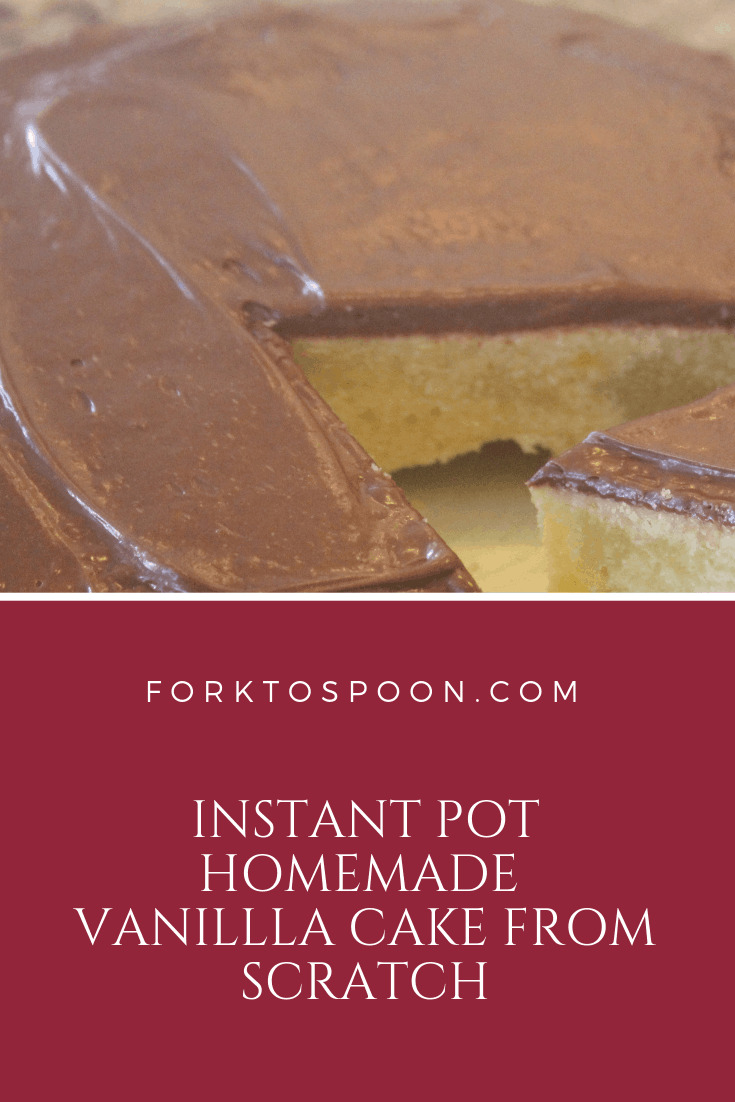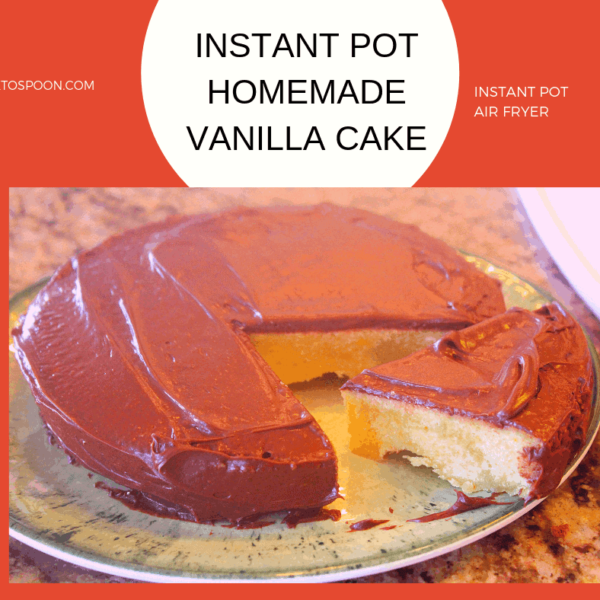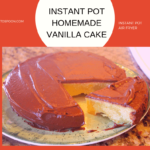 Pressure Cooker (Instant Pot) Homemade Vanilla Cake From Scratch
Ingredients
2 1/2

cups

cake flour

1

teaspoon

baking powder

1/4

teaspoon

baking soda

1/2

teaspoon

salt

1 3/4

cup

sugar

1

cup

buttermilk

10

tablespoons

melted butter

3

whole

eggs

3

egg yolks (the yellow part)

3

tablespoons

vegetable oil

2

teaspoons

vanilla extract

1/2

teaspoon

cream of tartar
Instructions
Start by beating the eggs, egg yolks, cream of tartar together. This will ensure a fluffy cake. Then add in the sugar, beat until all mixed, and the mixture has air bubbles.

Then mix in the liquid ingredients, buttermilk, melted butter, vegetable oil, and vanilla extract.

In another bowl mix the dry ingredients, cake flour, baking soda, baking powder, and the salt.

Then mix the two bowls together, the dry and wet, and make sure they are well combined, check the bottom for any dry ingredients not mixed into the batter.

Spray your Instant Pot Safe pan (See the detailed post about what pans will fit your Instant Pot)

Then pour the batter into the prepared pan.

Cover with foil, this will keep your cake dry.

If your Instant Pot came with a handled trivet: (when you first purchased it) put it on the bottom of a 6-quart or 8-quart Instant Pot. Make sure that the handles are up so that you can lift the cake out later.

If your Instant Pot did not come with a trivet or you can't find it. Then just use a small (OVEN, it has to be able to withstand heat) bowl turned upside down and placed in the center.

Place your cover on the Instant Pot. Make sure that the vent is on sealed


Cook on high pressure (manual) for 35 minutes. When the cooking time is complete, let the pressure naturally release.

Remove the cake carefully, making sure not to burn yourself, let the cake cool.

Remove the cake from the pan and frost it (if you would like to)