Instant Pot Vegetable Fried Rice — Are you looking for a delicious and easy vegetarian meal to put on the dinner table? Try this Instant Pot vegetable fried rice! It's packed with flavorful, healthy ingredients and cooks in just 15 minutes.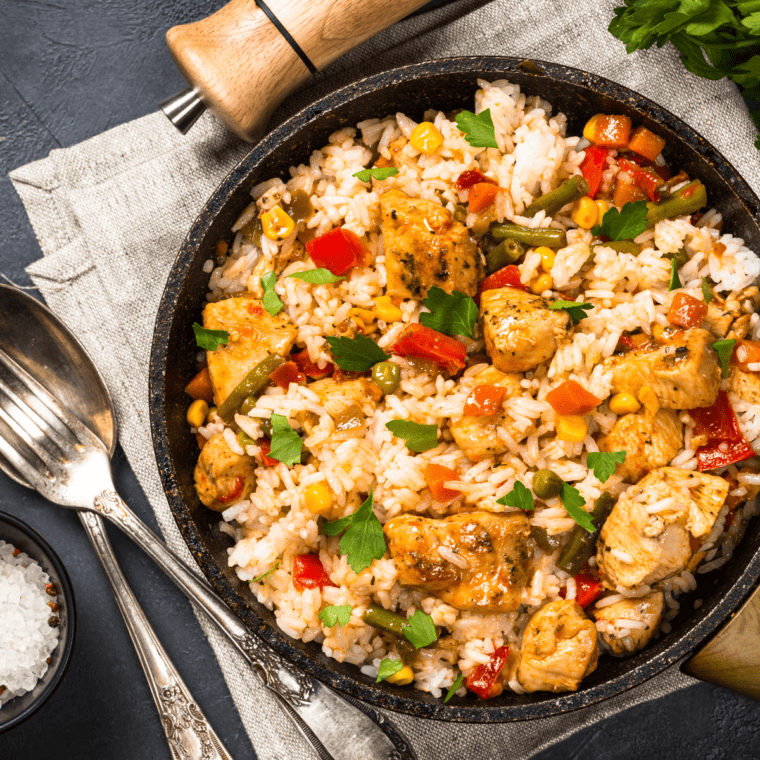 Plus, the entire dish is cooked simply in your pressure cooker – no mess, no stress! This will quickly become a favorite recipe for busy weeknights when you need something fast without sacrificing great taste. The entire family can enjoy this vegetable-loaded dish, knowing it's both nutritious and flavorful. Ready to get cooking? Let's dive into making these tasty and fragrant fried rice grains!
Instant Pot Vegetable Fried Rice Recipe
In today's fast-paced world, finding delicious and efficient recipes is like unearthing a culinary gem. Enter the Instant Pot Vegetable Fried Rice—a fusion of vibrant vegetables, fluffy rice, and aromatic seasonings, all cooked to perfection in record time.
This dish offers a symphony of flavors and textures and answers those busy weeknight dinners when you crave something hearty yet wholesome. Join us as we dive into this classic dish's modern twist, ensuring a satisfying meal with minimal fuss. Let's transform your kitchen into a bustling Asian eatery!
Why Pressure Cook Vegetable Fried Rice
Pressure cooking vegetable fried rice, especially in a device like the Instant Pot, has several advantages that make it an excellent choice for busy home cooks and rice enthusiasts:
Efficiency: One of the most significant benefits of using a pressure cooker is the reduced cooking time. The Instant Pot can cook rice faster than traditional stovetop methods, saving precious minutes during meal prep.
Fluffy Rice: Pressure cooking ensures the rice is uniformly cooked and fluffy. The sealed environment prevents steam from escaping, allowing the rice grains to absorb water evenly, leading to a perfect texture every time.
One-Pot Wonder: Cooking vegetable fried rice in a pressure cooker means fewer dishes to clean. Sauté the vegetables, cook the rice, and mix everything in the same pot. It simplifies the process and reduces cleanup.
Enhanced Flavor: The sealed environment of a pressure cooker means that flavors are locked in. Vegetables retain more natural aromas, and the seasonings penetrate the rice more deeply, leading to a more flavorful dish.
Nutrient Retention: Pressure cooking can retain more vitamins and minerals than other cooking methods. Because the cooking time is reduced and less water is used, there's less chance of these essential nutrients being lost.
Consistency: With a pressure cooker, you can always achieve consistent results. Once you've figured out your preferred settings and timings, your vegetable fried rice will come out perfect with every batch.
Versatility: Remember that a pressure cooker offers versatility while focusing on vegetable fried rice. You can easily adapt and add proteins or different vegetables based on your preferences or what you have.
In essence, pressure-cooking vegetable fried rice provides a seamless blend of convenience, flavor, and nutrition, making it a winning choice for novice and seasoned chefs.
Ingredients Needed For Instant Pot Vegetable Fried Rice
Making Vegetable Fried Rice in your Instant Pot is a great way to save time and prepare an easy meal for the whole family. Ready in only minutes, this delicious dish will leave you craving more. With its savory flavors and comforting ingredients, it's no surprise that fried rice has become a favorite for busy parents who want to serve something wholesome without spending hours slaving away at the stove.
Below, we'll provide step-by-step instructions on assembling the perfect vegetable fried risotto with your trusty Instant Pot – all you need are a few essential vegetables, grains, and seasonings!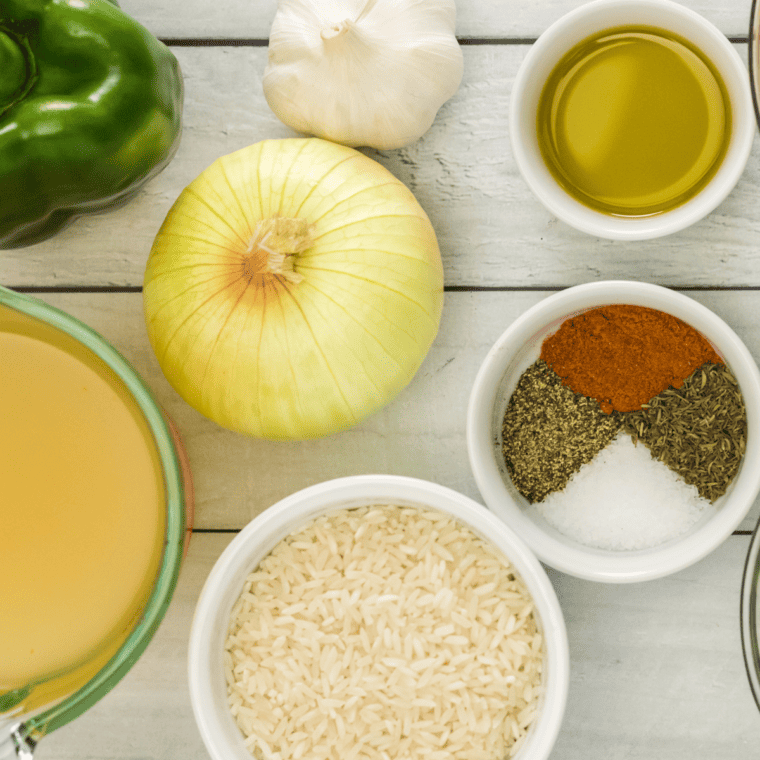 Remember the step-by-step directions and detailed ingredient list are below in the printable recipe card at the bottom of this post, as well as the nutritional information.
Rice: Use long-grain rice or jasmine rice. This type of rice ensures a non-sticky and fluffy texture, which is ideal for fried rice.
Water or Broth: You can use plain water, but vegetable or chicken broth works wonders for an added depth of flavor. Using vegetable broth infuses the rice grains with a richer taste right from the start.
Frozen Vegetables: Mixed frozen vegetables, usually containing peas, carrots, green beans, and corn.
Onions: Onions provide a foundational aromatic flavor.
Minced Garlic: Garlic offers a robust flavor that pairs beautifully with vegetables and rice.
Soy Sauce: It provides saltiness and a deep umami flavor. Light soy sauce is less salty than its dark counterpart, allowing more control over its saltiness.
Sesame Oil: This imparts a distinct nutty flavor typical of many Asian dishes.
Large Eggs add protein and a classic touch to the fried rice.
Green Onions/Spring Onions or Scallions: Chopped for garnish. They add a fresh, crunchy texture and a pop of color.
Seasonings: Kosher salt and black pepper to taste. Adjust based on the sodium content of your soy sauce and broth.
Cooking Oil: Canola, vegetable oil, olive oil, peanut oil, or any neutral cooking oil will do.
Remember, while this recipe provides a general guideline, the beauty of fried rice is its adaptability. Feel free to experiment and tweak based on your preferences and dietary needs.
How To Cook Instant Pot Fried Rice WIth Frozen Vegetables
Are you looking for a flavorful, vegetarian-friendly meal that will come together quickly and easily? Instant pot fried rice with frozen vegetables is the perfect solution. It makes a delicious and comforting dish to enjoy on its own, and you don't have to worry about chopping fresh veggies or waiting for them to defrost!
The versatility of fried rice also allows you to customize the ingredients based on your likes and dietary preferences. It's an ideal recipe when time is short, but hunger is high–you'll be able to whip up something tasty in no time!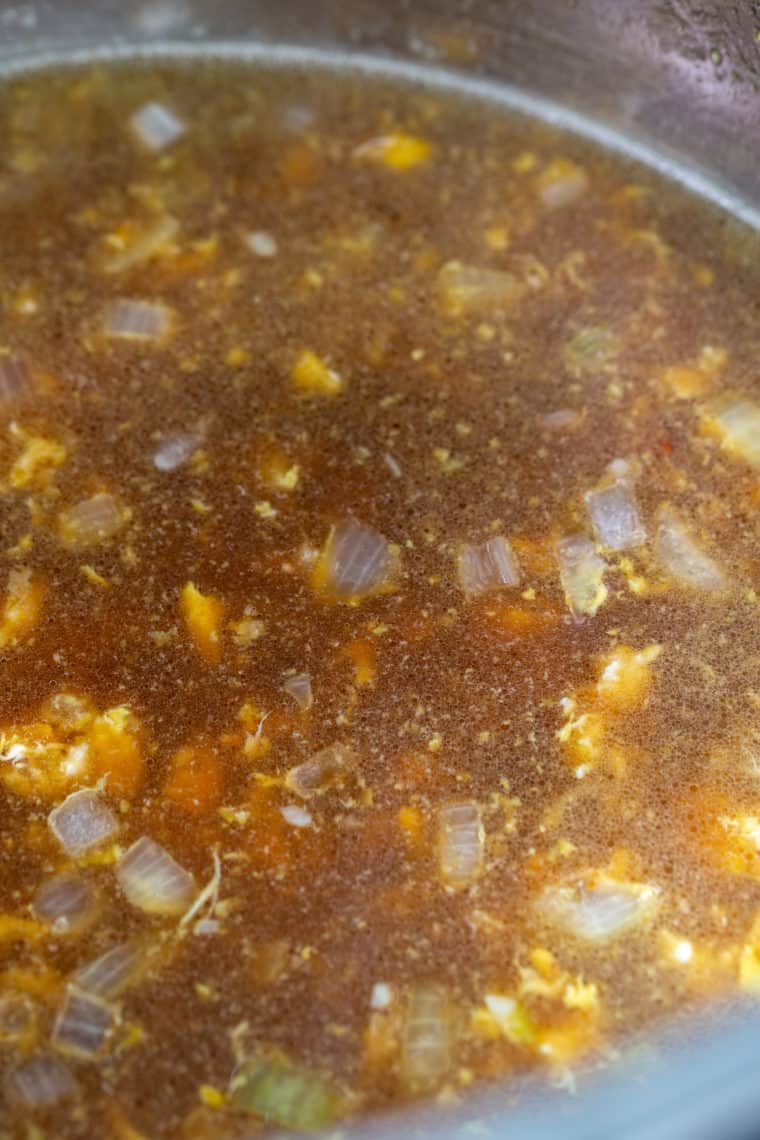 Prepare Rice: Begin by rinsing the rice under cold water until the water runs clear. This helps remove excess starch and prevents the rice from being overly sticky.
Sauté Aromatics: Turn your Instant Pot to the "Sauté" setting. Once hot, add your chosen cooking oil to the inner pot. Add the chopped onions and minced garlic to the bottom of the pot. Sauté them until the onions become translucent and the garlic is fragrant.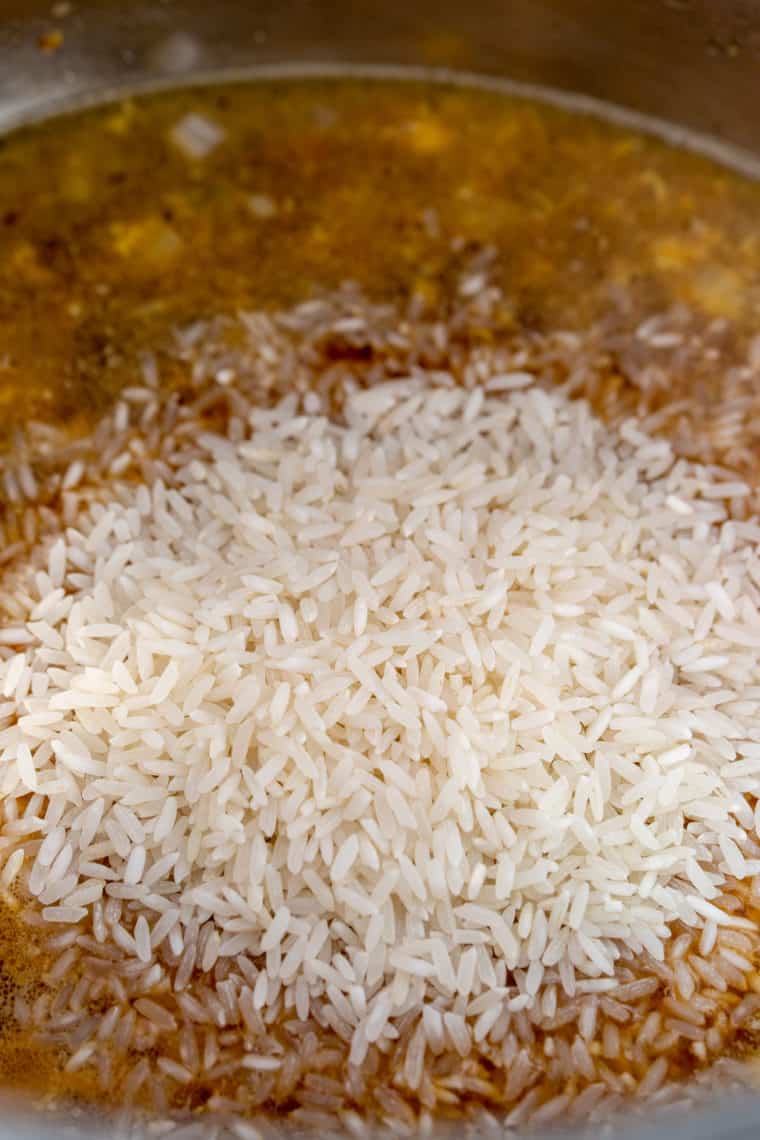 Cook Rice: Add the rinsed rice to the Instant Pot, stirring it with the onions and garlic for about a minute. This step helps to toast the rice lightly. Then, pour in the water or broth.
Pressure Cook: Secure the lid on the Instant Pot and set it to "Pressure Cook" or "Manual" on high at a cook time of 5 minutes. Once done, let the pressure release naturally for 10 minutes, then do a quick release for any remaining pressure. Make sure the valve is in the sealing position.
Scramble Eggs: Push the rice to one side of the pot. Pour some oil on the empty side and crack the eggs or beaten eggs into it. Quickly scramble the eggs with the spatula. Once they're mostly set, stir them in with the rice.
Add Frozen Vegetables: Stir in the bag of frozen mixed vegetables. The residual heat will help thaw and warm them up; cook for another 2-3 minutes.
Season: Pour in the soy sauce and sesame oil, and give a quick stir. Taste and adjust with salt, pepper, or soy sauce for extra flavor.
Serve: Transfer your vegetable fried rice to a bowl or platter. Garnish with chopped green onions or scallions. Serve hot and enjoy!
Note: The key to perfect Instant Pot fried rice is the rice-to-liquid ratio and the cooking time. It might require a bit of experimentation based on the type of rice you use and your specific Instant Pot model. The above instructions are a general guide, but you may need to adjust them for optimal results.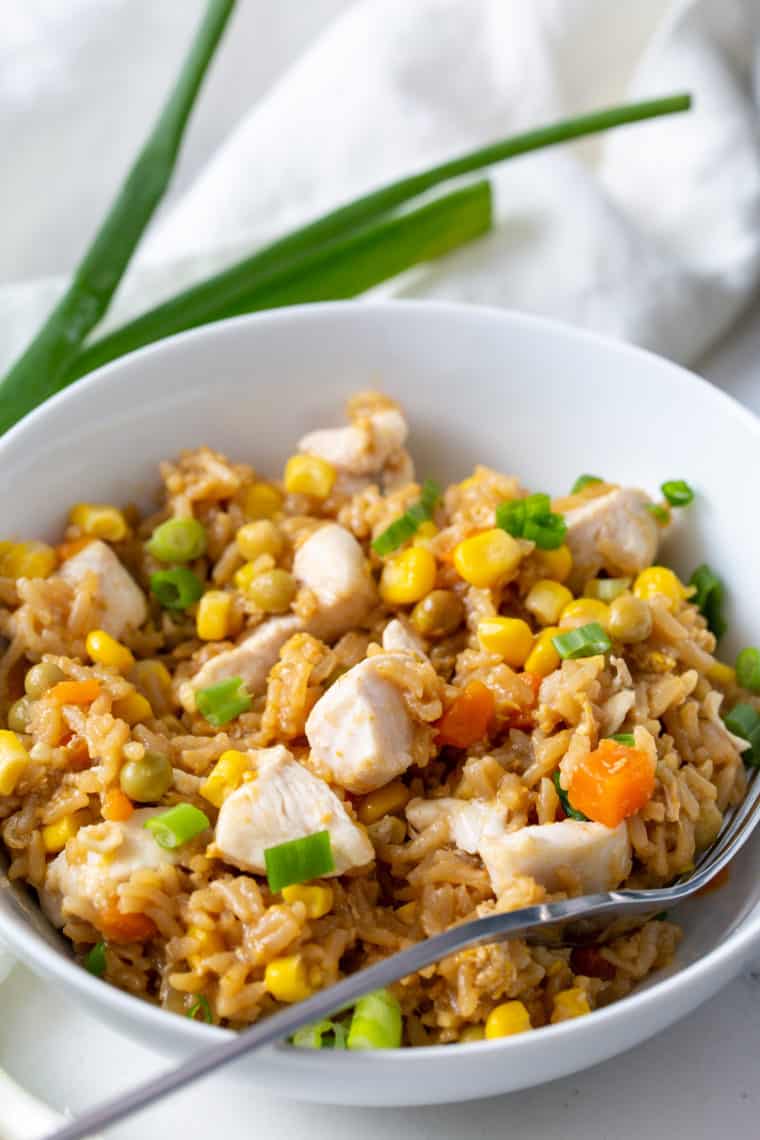 Pro tips for making instant pot vegetable fried rice
Use Day-Old Rice: If you can plan, cook your rice a day in advance and store it in the refrigerator. Leftover rice, or Day-old rice, tends to be drier and less sticky, making it perfect for fried rice. The grains will separate nicely and won't become mushy.
Rinse Your Rice: Always rinse your rice thoroughly before cooking. This removes excess starch and helps to prevent the rice from becoming too sticky.
Frozen Veggies for Convenience: Using a bag of mixed frozen vegetables or frozen peas speeds up the process and ensures you have a variety of veggies without much prep work. Ensure you don't overcook them to retain their vibrant color and crunch.
Soy Sauce & Sesame Oil: Both add depth of flavor. Remember to add them after pressure cooking to retain their aromatic qualities. Consider using low-sodium soy sauce to control salt levels.
Customize Your Veggies: While frozen mixed vegetables are a great shortcut, add or substitute with fresh veggies of your choice, like bell peppers, snap peas, or broccoli.
Heat Levels: If you like your fried rice with a kick, add a touch of chili oil or red pepper flakes for some heat.
Avoid Overcrowding: If you're making a large batch, consider sautéing your onions, garlic, and eggs separately on the stovetop to ensure even cooking, then mixing everything together in the Instant Pot.
Garnish Generously: Fresh green onions, cilantro, or even some toasted sesame seeds can elevate the look and taste of your fried rice.
Stir Regularly During Sautéing: When sautéing ingredients, ensure you're stirring regularly to avoid sticking to the bottom. This is especially important in an Instant Pot, as burnt bits on the bottom can prevent it from reaching pressure.
Quick Release vs. Natural Release: For fried rice, a combination of a natural release (letting it sit for about 10 minutes) followed by a quick release (manually releasing any remaining steam) tends to work best. It helps in ensuring that the rice isn't overcooked.
By following these pro tips, you can ensure that your Instant Pot Vegetable Fried Rice is flavorful, perfectly cooked, and a hit with everyone at the table!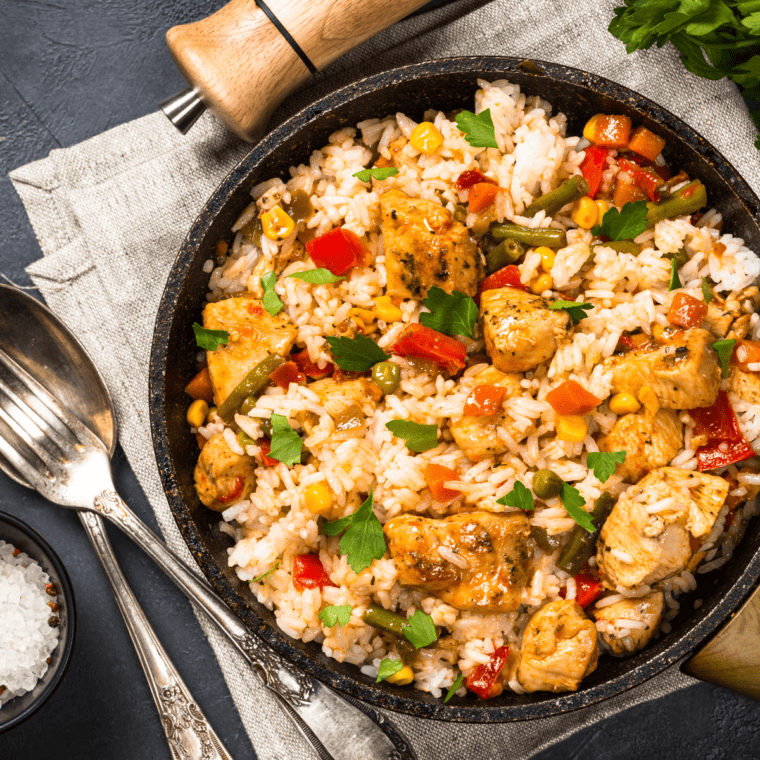 FAQ's:
Can I use brown rice instead of white rice for this recipe?
Absolutely! Brown rice can be a healthier option and works well in the Instant Pot. Remember that brown rice generally requires a longer cooking time and may need more liquid than white rice.
Do I have to use day-old rice?
While day-old rice works best because it's drier and less sticky, you can use freshly cooked rice. Just cool it on a tray for a bit before adding it to the Instant Pot to reduce its moisture content.
How long can I store the vegetable fried rice?
Stored in an airtight container, the fried rice should last 3-4 days in the refrigerator.
Can I add protein to this dish?
Yes, you can easily add tofu, chicken, shrimp, or any protein you choose. If using raw meats or seafood, ensure they are cooked thoroughly before adding to the rice.
Can I double the recipe in my Instant Pot?
As long as you don't exceed the maximum fill line of your Instant Pot, you can double the recipe. Ensure that you adjust the cooking time and ingredients proportionally.
My rice came out too soft/mushy. What went wrong?
It could be that the rice was overcooked or there was too much liquid. Ensure you correctly measure the water/rice ratio and follow the recommended cooking times.
Why is my Instant Pot displaying a 'BURN' message?
This usually means something is sticking to the bottom. Make sure to stir ingredients well and scrape the bottom of the pot before setting it to pressure cook, especially after sautéing.
Can I use fresh vegetables instead of frozen?
Yes, fresh vegetables can be used. Just chop them into bite-sized pieces and adjust the sautéing time as necessary.
What other sauces can I use for flavor?
Beyond soy sauce, you can experiment with teriyaki sauce, hoisin sauce, or oyster sauce to add different flavors to the fried rice.
How can I make this dish spicier?
You can add red pepper flakes, a touch of hot sauce, or some sliced jalapeños to give your fried rice an extra kick!
Don't Forget To Pin!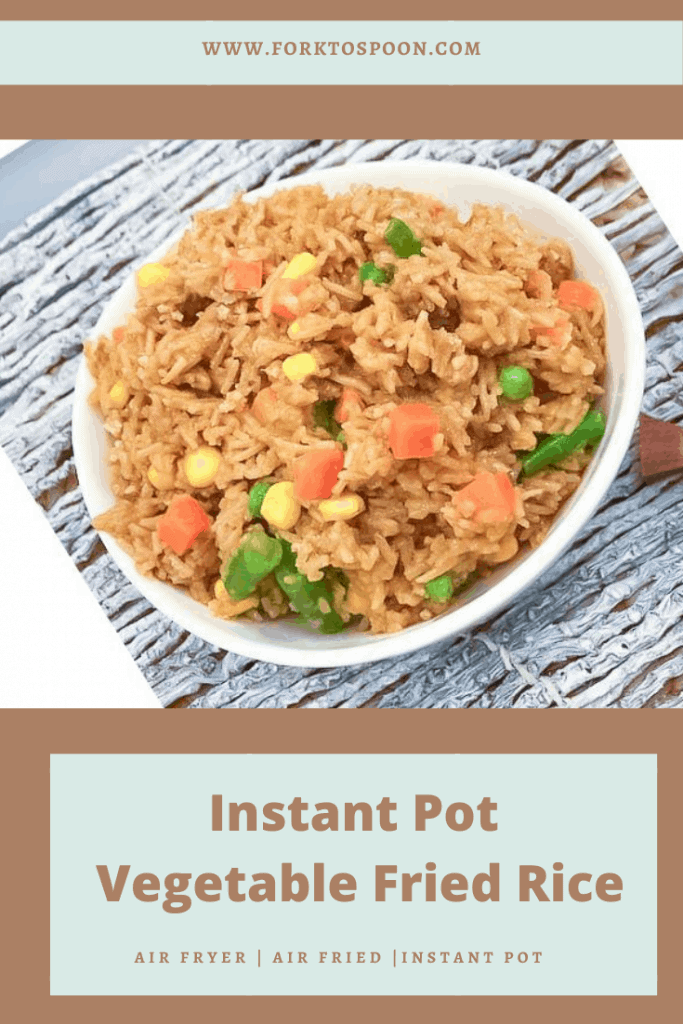 More Instant Pot Recipes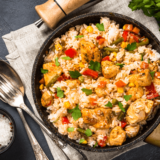 Instant Pot Vegetable Fried Rice
Description
Join us as we dive into this classic dish's modern twist, ensuring a satisfying meal with minimal fuss. Let's transform your kitchen into a bustling Asian eatery!
Ingredients
2

cups

day-old jasmine or basmati rice

2

tbsp

sesame oil or vegetable oil

1

onion

,

finely chopped

3

garlic cloves

,

minced

1

bell pepper

,

diced

2

cups

frozen mixed vegetables

,

like carrots, peas, and green beans

3

large eggs

,

beaten

3

tbsp

soy sauce

,

adjust to taste

1

tbsp

oyster sauce

,

optional

2

green onions

,

sliced

Salt and pepper

,

to taste
Instructions
Prep the Ingredients: Ensure rice is cold and grains are separated. Prepare all vegetables and set aside.

Sauté Vegetables: Set the Instant Pot to 'Sauté' mode. Add sesame oil. Once hot, add onions, garlic, and bell pepper. Sauté until onions are translucent.

Add Frozen Vegetables: Stir in the frozen mixed vegetables and cook for an additional 2-3 minutes.

Push Vegetables Aside & Add Eggs: Push the vegetables to one side of the pot. Pour the beaten eggs into the other side. Let them sit for a few seconds and then scramble. Once cooked, mix the eggs with the vegetables.

Add Rice and Sauces: Add the day-old rice to the pot. Pour soy sauce and oyster sauce (if using) over the top. Stir well to ensure the rice and vegetables are well combined.

Pressure Cook: Close the Instant Pot lid, set to 'Manual' or 'Pressure Cook' mode, and adjust the cooking time to 4 minutes. Make sure the venting knob is set to 'Sealing'.

Quick Release & Serve: Once done, do a quick release of the pressure. Open the lid, fluff the fried rice with a fork, and stir in sliced green onions. Adjust salt and pepper to taste. Serve hot.
Equipment
Instant Pot,

or Ninja Foodi
Notes
Day-old rice works best as it's less sticky. If you're using freshly cooked rice, spread it out on a baking sheet and let it cool for about 20-30 minutes before using.
You can add proteins like chicken, shrimp, or tofu to make this dish more hearty.
Adjust the amount of soy sauce based on your preference.
Nutrition
Serving:
1
Serving
Calories:
360
kcal
Carbohydrates:
62
g
Protein:
11
g
Fat:
8
g
Saturated Fat:
2
g
Polyunsaturated Fat:
3
g
Monounsaturated Fat:
3
g
Trans Fat:
0.01
g
Cholesterol:
82
mg
Sodium:
650
mg
Potassium:
336
mg
Fiber:
4
g
Sugar:
2
g
Vitamin A:
3861
IU
Vitamin C:
34
mg
Calcium:
59
mg
Iron:
2
mg