Easy Air Fryer Loaded Nachos Recipe — Ever craved nachos but dreaded the mess or the uneven cheese melt in the oven?
Enter the air fryer: the unsung hero of the modern kitchen. With its promise of even cooking and mess-free preparation, this mighty appliance takes the classic nacho experience to new heights.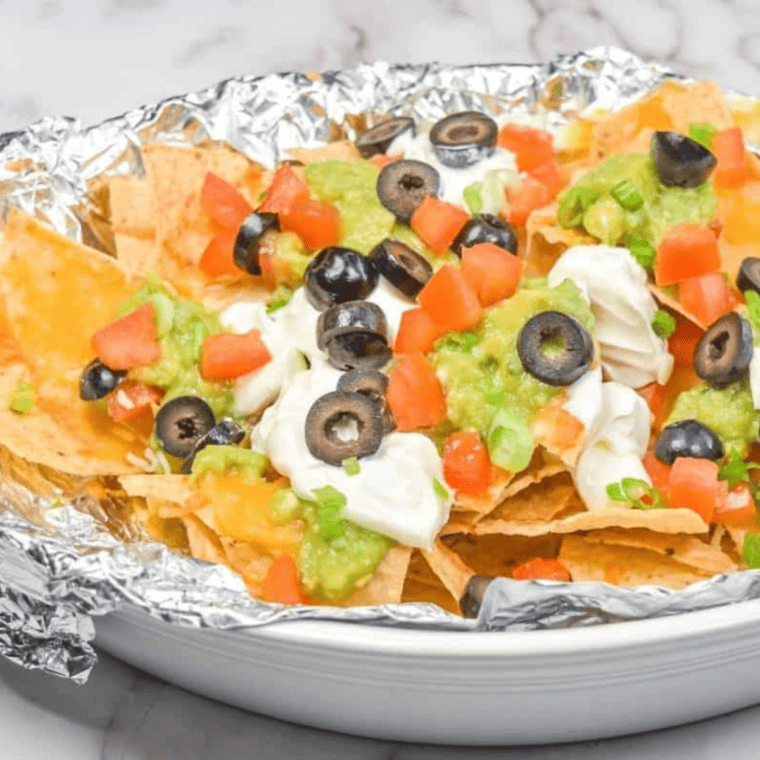 Below, we're diving deep into the world of Air Fryer Nachos – a dish so simple yet unbelievably delicious that it'll become your go-to snack for movie nights, game days, or just-because moments. Say goodbye to soggy chips and hello to perfectly crispy, cheese-drenched nachos every single time! Let's embark on this culinary adventure together.
Can You Make Nachos In Air Fryer?
Yes, you can make nachos in an air fryer! The air fryer provides even heating, ensuring your tortilla chips become crispy while the cheese melts beautifully without the chips getting soggy. Layering your chips and desired toppings and then air-frying them briefly will give you a delightful plate of hot, cheesy nachos.
It's a quick and efficient method, especially when craving a tasty snack without using an oven. The result is evenly cooked nachos with a delightful texture and a perfect melt. So, next time you're in the mood for nachos, remember your trusty air fryer is up to the task!
Watch How To Cook Nachos In Air Fryer
Easy Loaded Air Fryer Nachos Recipe
Picture this: a mountain of crispy tortilla chips, each one perfectly coated with melted cheese, sprinkled with flavorful toppings, and not a soggy chip in sight. Sounds dreamy, right? Well, the dream is real, thanks to the magic of the air fryer! Introducing our Easy Loaded Air Fryer Nachos recipe – the answer to spontaneous snack cravings, movie nights, and spontaneous get-togethers.
Whether you're a nacho novice or a connoisseur of crunch, this method will revolutionize how you think about this classic dish. Ready to take your nacho game to stratospheric levels of deliciousness? Let's dive in!
Ingredients Needed To Make Nachos In Air Fryer
Get ready to assemble the ultimate snack with just a handful of ingredients. For these air fryer nachos, you'll need crispy tortilla chips as your base, a blend of cheeses for that gooey melt, and an array of toppings to sprinkle on the flavor and fun. Let's gather these essentials and start the nacho fiesta!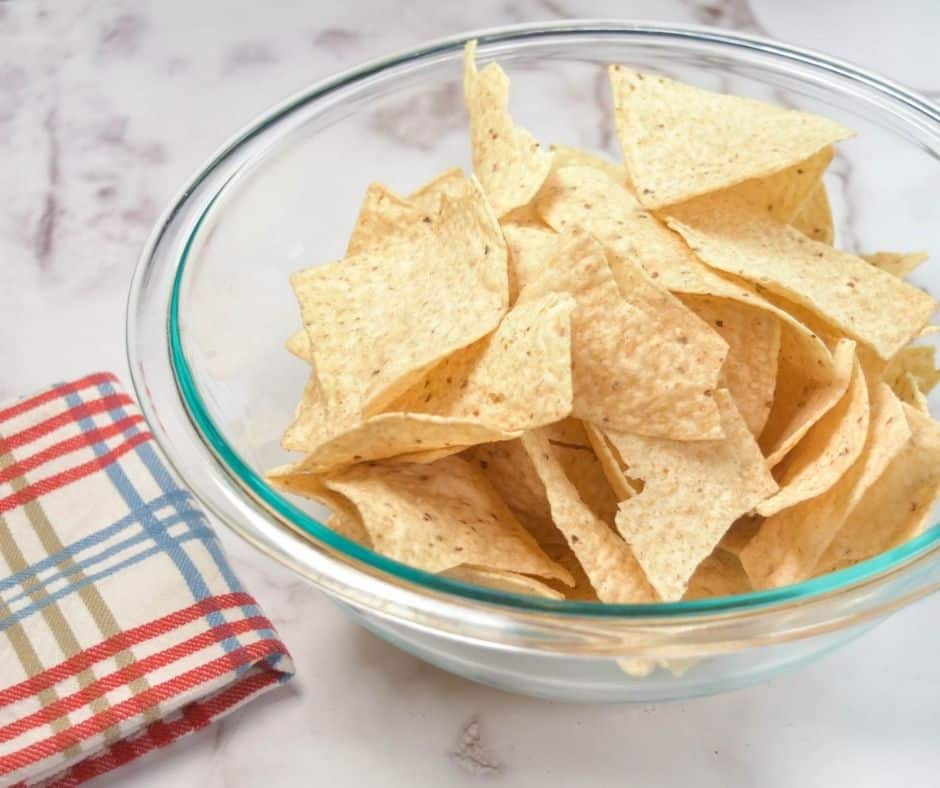 Remember the step-by-step directions and detailed ingredient list are below in the printable recipe card at the bottom of the post, as well as the nutritional information. ​
Tortilla Chips: The foundational crunch of your nachos; these golden, crispy triangles are the canvas on which you'll layer your flavors.
Shredded Cheese (Cheddar & Monterey Jack): The heart of any nacho dish, this cheese combo melts beautifully, bringing gooeyness and a rich, savory taste.
Black Beans: A protein-packed addition that introduces a hearty texture and deep, earthy flavors to contrast the cheesiness.
Jalapeños: These spicy slices bring a kick of heat, waking up your taste buds and adding color.
Diced Tomatoes: Offering a refreshing, juicy contrast to the other toppings, tomatoes add a natural sweetness and vibrancy.
Black Olives: Salty and slightly tangy, these small bites are perfect for those who appreciate a Mediterranean twist to their nacho experience.
Green Onions: These provide a subtle sharpness and a fresh, oniony bite that complements the rich and spicy flavors.
Sour Cream, Guacamole, and Salsa: Essential dips that elevate each nacho bite. While sour cream adds a cool, tangy creaminess, guacamole lends a creamy richness, and salsa brings a zesty, tangy punch.
How To Make Nachos In Air Fryer?
Elevate your snacking game with the magic of the air fryer. Crafting the perfect plate of nachos has never been easier or crisper. With layers of cheesy goodness and your favorite toppings, let's embark on a quick culinary journey to nacho nirvana using the air fryer!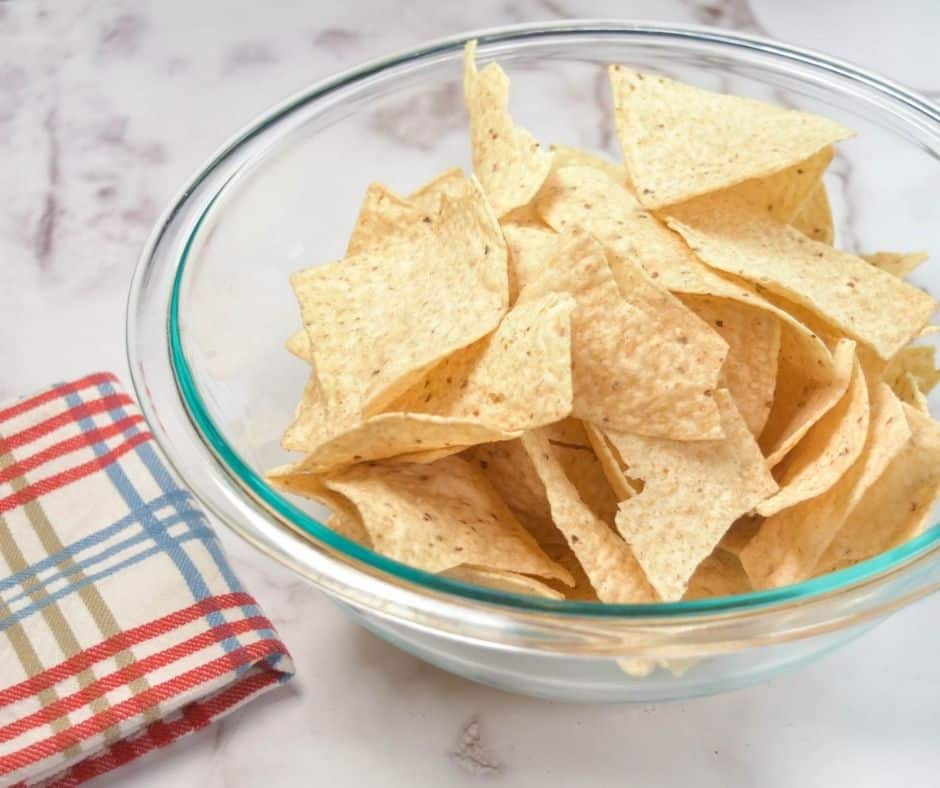 Preparation:
Prep all toppings like beans, jalapeños, tomatoes, and olives are prepared and ready to go.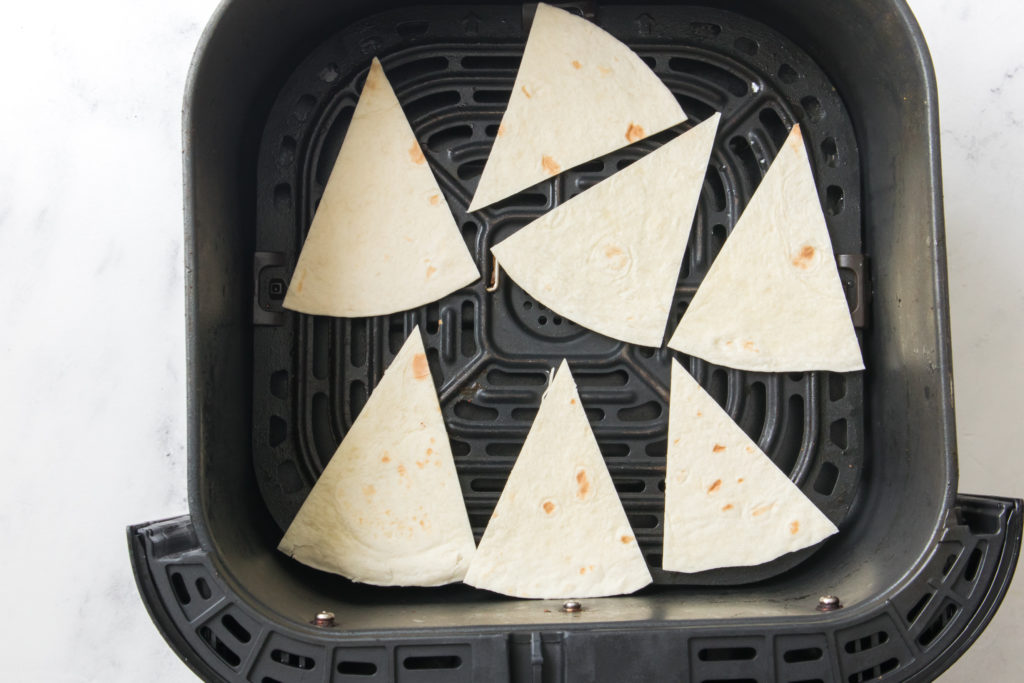 Layering the Nachos:
Place a single layer of tortilla chips at the bottom of the air fryer basket, making sure not to overcrowd.
Evenly sprinkle a portion of shredded cheese over the chips. Add a handful of black beans, diced tomatoes, jalapeños, and black olives. Top with another light sprinkle of cheese to bind the toppings together.
Air Frying:
Preheat the air fryer to 350 degrees F (175°C) for 2-3 minutes. Place the basket with the loaded chips into the air fryer.
Cook for 3-4 minutes or until the cheese is fully melted and slightly bubbly. Monitor closely to prevent overcooking or burning.
Serving:
Carefully remove the nachos from the air fryer and transfer to a serving dish. Garnish with sliced green onions.
Serve immediately while hot with dips on the side – sour cream, guacamole, and salsa.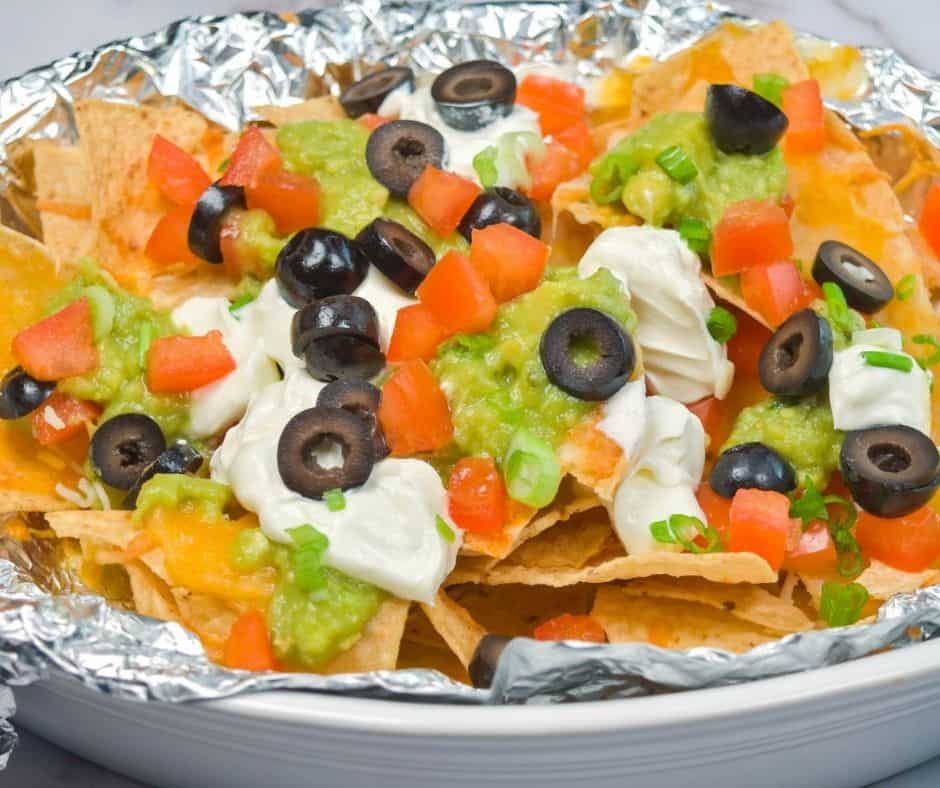 Pro Tips for Making Perfect Air Fryer Nachos
Avoid Overcrowding: The chips are spread in a single layer for optimal crispiness. Overlapping can result in uneven melting and cooking.
Layer Wisely: Start and finish with a sprinkle of cheese. This helps the toppings stick to the chips and ensures even melting.
Watch Closely: Due to the efficient cooking of the air fryer, nachos can go from perfectly cooked to overcooked quickly. Keep a close eye, especially during the last couple of minutes.
Fresh ingredients vs. Canned Ingredients: If using canned ingredients like beans or olives, ensure they are well-drained to prevent the chips from getting soggy.
Heat Variation: Adjust the spiciness to your liking. Remove seeds from jalapeños or use green bell peppers for a hint of flavor without the heat for milder nachos.
Customize Freely: The beauty of nachos is their versatility. Don't hesitate to experiment with various cheeses, proteins (like chicken, beef, or tofu), or even unique toppings like pineapple or corn.
Serve Immediately: Air fryer nachos are best enjoyed right after cooking to relish the crispiness of the chips and the melty cheese.
Dips on the Side: Serve dips like guacamole, salsa, pico de gallo, and sour cream separately to retain the chip's crunch and allow guests to customize each bite.
Reheat with Care: If you have leftovers (which is rare!), reheat them in the air fryer for 2-3 minutes to bring back the crispiness.
Armed with these pro tips, you're all set to create a mouthwatering platter of air fryer nachos that'll be the star of any snacking occasion!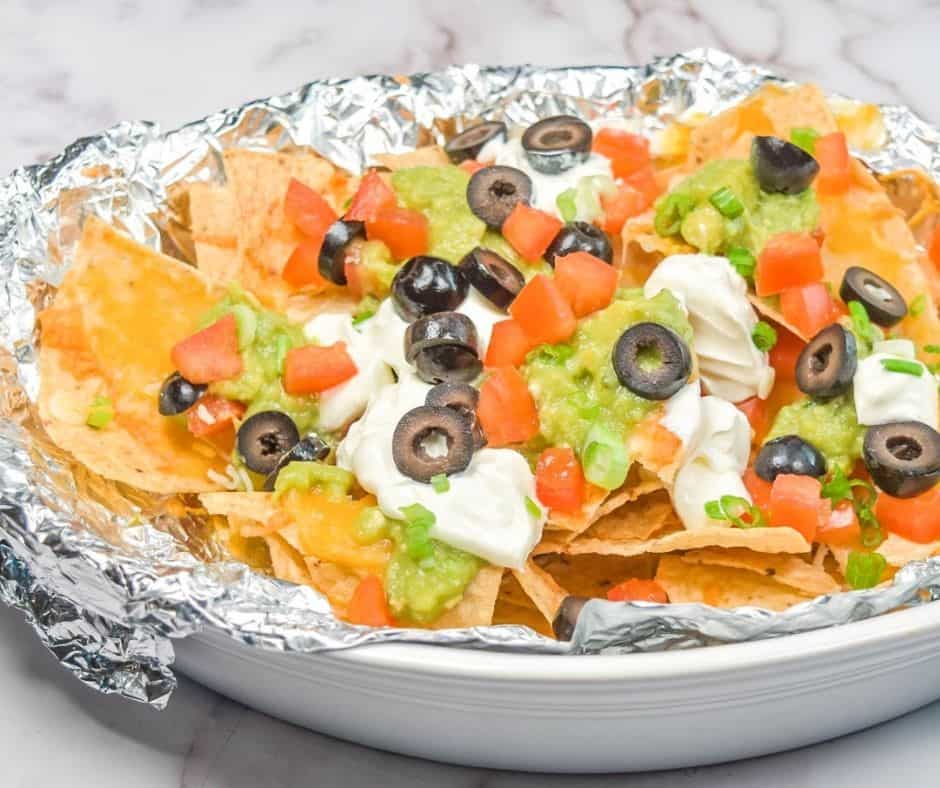 Best Toppings for Air Fryer Loaded Nachos
---
Proteins: (Add any cooked meat)

Ground Beef: Seasoned with taco or fajita seasoning. Leftover taco meat works perfectly here.
Shredded Chicken: Marinate in lime, chili, and cumin.
Pulled Pork: For a BBQ twist.
Tofu or Tempeh: Crumbled and sautéed with spices for a vegetarian alternative.

Cheeses:

Cheddar Cheese is classic and melts well with a rich taste.
Monterey Jack: Creamy and melts easily.
Pepper Jack: Adds a spicy kick.
Queso Fresco: Crumbled over the top for a fresh touch or nacho cheese sauce

Veggies & Legumes:

Black Beans, Refried Beans, or Pinto Beans: For protein and a hearty touch.
Bell Peppers: Adds color and crunch.
Red Onions: Gives a punchy flavor.
Corn: Fresh, roasted, or grilled for a sweet pop.
Avocado: Slices or chunks for creaminess.

Spicy Add-ons:

Jalapeños: Sliced fresh or pickled.
Chili Flakes or Hot Sauce: For added heat.
Serrano Peppers: If you're looking for a spicier kick.

Fresh Herbs & Greens:

Fresh Cilantro: Chopped, for a fresh, zesty flavor.
Green Onions: Sliced for a mild onion flavor.
Lettuce: Shredded for a cool crunch.

Creamy Elements:

Sour Cream or Greek Yogurt: Dolloped on top.
Guacamole: Classic accompaniment that pairs perfectly.

Additional Flavors:

Salsa: Pico de gallo, mango salsa, or traditional red.
Olives: Sliced black or green for a tangy bite.
Lime: Squeezed on top or wedges on the side.
Queso: Drizzled over for creamy indulgence.
---
These toppings not only add a range of flavors and textures but also make your nachos visually appealing. You can mix and match as per your preference, and there's no limit to customization. So, load up those chips and dive into a plate of deliciousness!
Can I use flavored tortilla chips for my nachos?
Absolutely! Using flavored chips, like lime or spicy variants, can add an extra layer of taste. Just be mindful of how they pair with your chosen toppings. You can use homemade tortilla chips, gluten-free tortilla chips, or even leftover corn tortila chips.
I want to add meat to my nachos. How should I prepare it?
If adding meat, like ground beef, ground turkey, or ground chicken, ensure it's cooked thoroughly before placing it on your nachos. Season as desired and cook separately before adding.
Can I make a larger batch of nachos in the air fryer?
Yes, but you might need to cook in batches to ensure even heating and melting of cheese. Overcrowding can lead to uneven results.
How do I prevent my nachos from getting soggy?
To prevent soggy nachos, make sure all wet ingredients, like beans or tomatoes, are well-drained. Also, serve liquidy dips like salsa and guacamole on the side.
Can I use cheese sauce instead of shredded cheese?
Yes, though it might alter the texture. Cheese sauce will give a creamier, wetter consistency compared to the gooey melt of shredded cheese.
How long can I store leftover nachos?
While best enjoyed fresh, leftovers can be stored in the refrigerator for a day, in an airtight container. Reheat in the air fryer for best results.
Can I use foil in my air fryer when making nachos?
While not necessary, you can use foil or parchment paper for easier cleanup. Ensure it doesn't block the air circulation. Line the basket of your air fyrer with a piece of aluminum foil, than add your layers of chips.
I don't have an air fryer. Can I make these nachos in an oven?
Absolutely! The method is similar, but you'll likely need to adjust the cooking time and temperature.
Are air fryer nachos healthier than oven-baked or microwave-made nachos?
The air fryer uses circulating hot air to cook food, reducing the need for added oils. This method can be considered slightly healthier due to reduced added fats.
Can I make a vegan version of these nachos?
Definitely! Use dairy-free cheese and vegan-friendly toppings. Beans, guacamole, and various veggies make excellent toppings for vegetarian nachos.
To Reheat Nachos
Place any leftover loaded nachos on parchment paper or a piece of aluminum foil, and heat until warmed through. You can add fresh toppings and cheese right before serving.
More Air Fryer Recipes: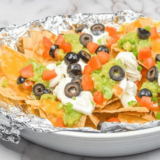 Air Fryer Loaded Nachos
Description
Air Fryer Loaded Nachos – This is hte perfect snack, made in your air fryer!
Ingredients
2

cups

tortilla chips

2

cups

shredded cheese

1

large

tomato, diced

1/2

cup

diced olives

1

cup

sour cream

1/2

cup

guacamole

1

large

green onion, sliced
Instructions
Start by creating a Bowl in your air fryer basket, with foil.

Spray your foil with olive oil. So that the chips do not end up sticking to it when you are done. I used the foil, like a serving platter, so it would be best to use it only on the bottom of the foil.

Spread down your chips and then cover with your cheese, scattering them out a bit.

Air fry for 4 minutes, at 350 degrees F. Check and see if all of the cheese has melted, the exact time is going to depend on your air fryer. So, check constantly.

Then add your diced tomato, olives, sour cream, guacamole, diced scallions, etc.
Equipment
Air Fryer

Parchment Paper,

optional
Nutrition
Serving:
1
Serving
Calories:
638
kcal
Carbohydrates:
48
g
Protein:
19
g
Fat:
43
g
Saturated Fat:
16
g
Polyunsaturated Fat:
8
g
Monounsaturated Fat:
15
g
Trans Fat:
0.04
g
Cholesterol:
78
mg
Sodium:
826
mg
Potassium:
503
mg
Fiber:
6
g
Sugar:
5
g
Vitamin A:
1292
IU
Vitamin C:
11
mg
Calcium:
423
mg
Iron:
2
mg
Don't Forget To Pin: