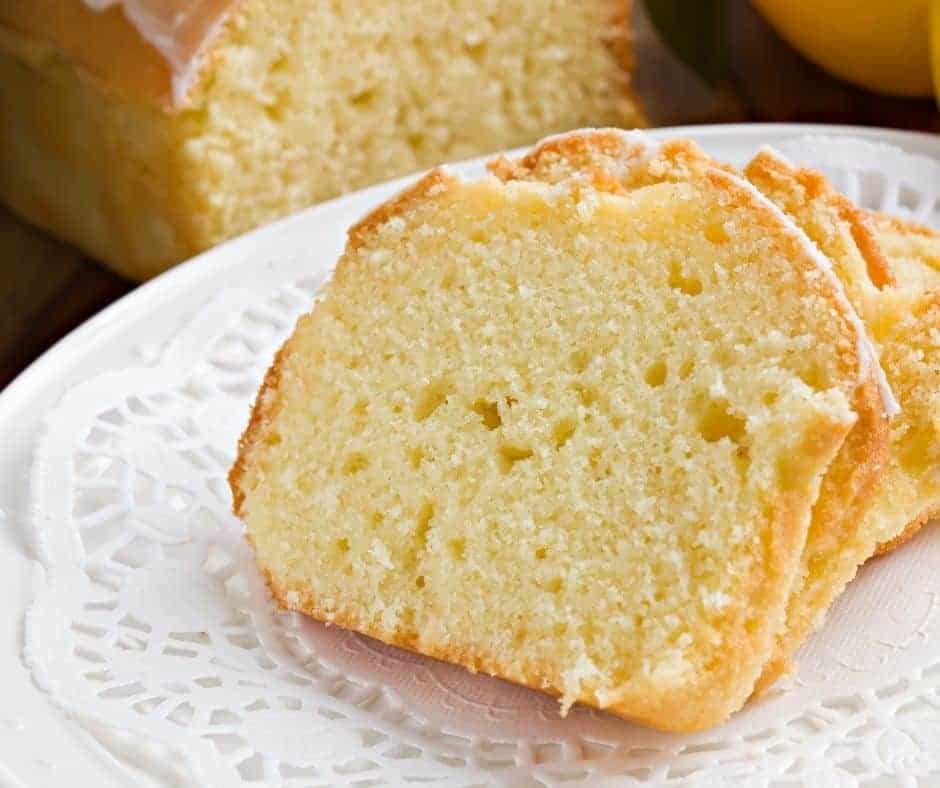 There is nothing better than a great piece of Air Fryer Easy Pound Cake. It's buttery, it's rich, and it's absolutely delicious.
I love a great piece of moist and delicious pound cake. This is so easy to make and only has a few pantry and refrigerated items. So you can always make a great loaf of pound cake. And the air fryer does an amazing job of cooking it.
This is one of my favorite recipes, and once I made a pound cake, I kept on going and make a lot of quick breads. Because as a mom, I am always looking for something fast and easy for the kids to bring to school. And there is nothing like making a quick bread the night before and slicing a piece to go with your morning coffee.
If you are like me and become hooked on Air Fryer Quick Breads, some of my favorites are AIR FRYER BANANA BREAD, AIR FRYER APPLE CRANBERRY BREAD, AIR FRYER BANANA BREAD MUG CAKE, and AIR FRYER BLUEBERRY ZUCCHINI BREAD.
Pound Cake
Everyone always asks me why there are so many eggs, flour, and sugar in the recipe. When I try to explain that the name pound came from a pound of butter, sugar, and flour, readers seem to grasp that.
Besides the pure vanilla extract and salt, which you can omit for a true pound cake. This is a true pound cake recipe.
Depending on what air fryer you own, you can either get 3 mini loaves or one big (regular-sized loaf). It really depends on what size pan you can fit into the air fryer. However, I highly recommend mini loaf bread pans, as the middle tends to bake more evenly than a big (regular) sized loaf bread pan.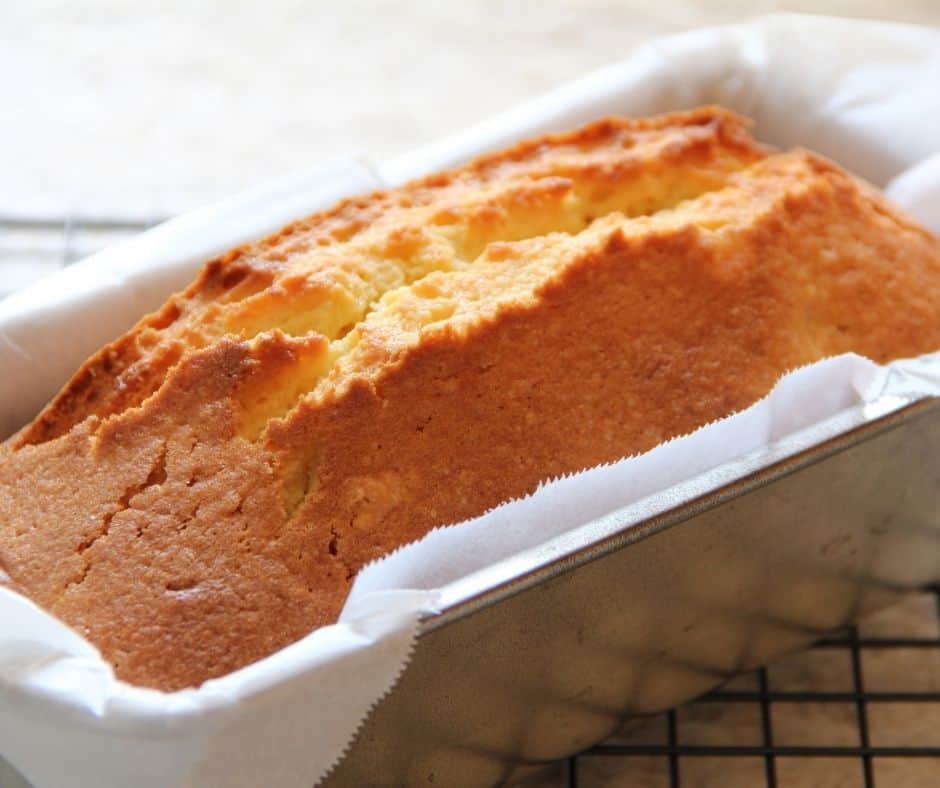 Ingredients In Air Fryer Easy Pound Cake
Butter
Granulated Sugar
Eggs
All-Purpose Flour
Pure Vanilla Extract
Salt
How To Make Air Fryer Easy Pound Cake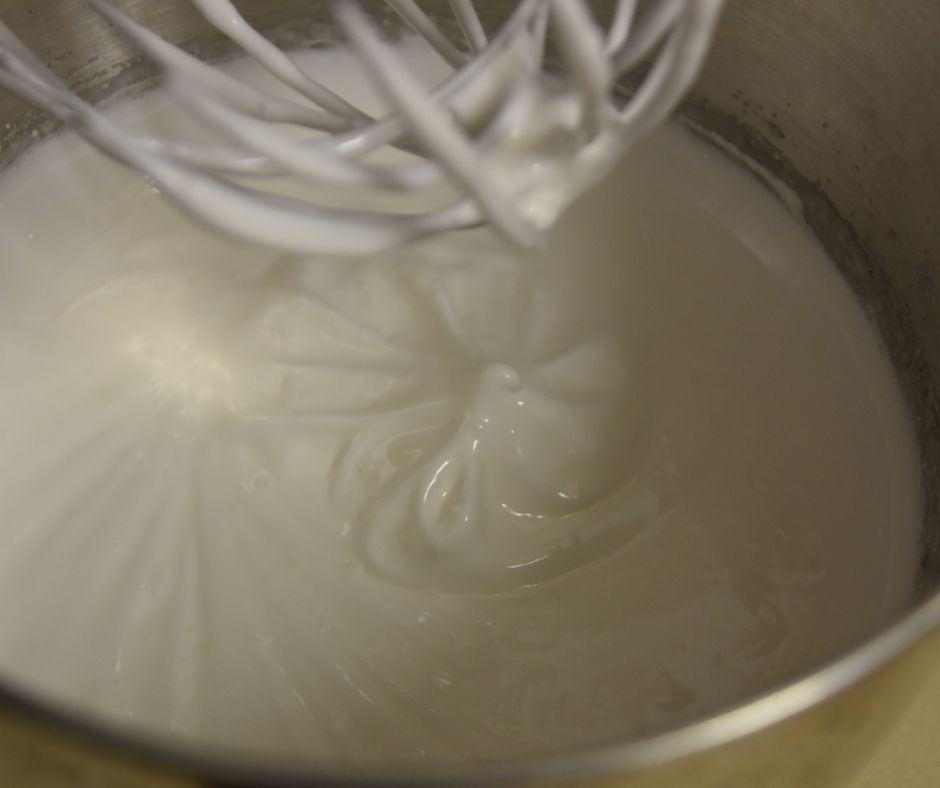 In a large mixing bowl, cream the butter and sugar together. This will make for a fluffy cake. Then mix in the egg and egg yolks,  flour, vanilla extract, and salt. Mix well.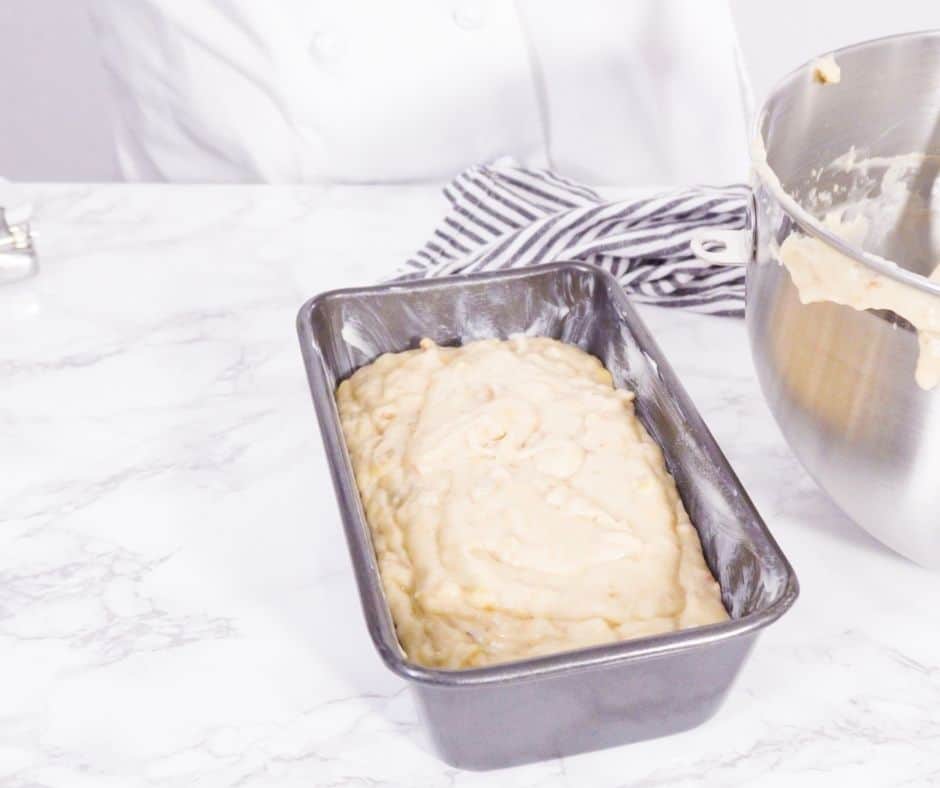 Pour the batter into a greased air fryer-safe pan. Set the pan into the air fryer, and set the temperature to 320 degrees F, air fryer setting, for 20 to 25minutes.
Note: When the time is up, place a toothpick in the pound cake, and check to see that the toothpick comes out clean. If not, add another 5 minutes.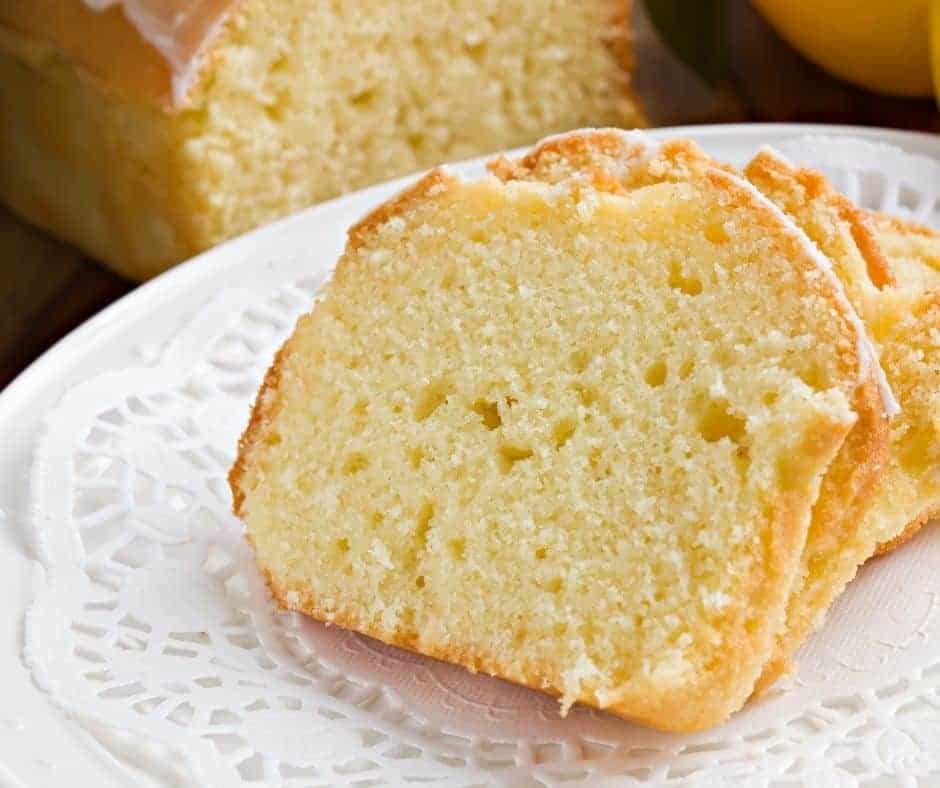 Can  You Freeze Air Fryer Pound Cake?
Yes, absolutely, this is a great make-ahead and freezer-friendly recipe. To freeze, let it cool to room temperature. And then place it in saran wrap, then wrap it in foil.
This Pound Cake will last for about 1 to 2 months. To use from frozen, place the frozen bread onto the counter until it's defrosted (it usually takes about 12 to 15 hours)
Can I Add Nuts or Chocolate Chip?
Absulteuoy if you want to add in anything nuts or chocolate chips make a great add-in.
I would add about 1/2 cup of diced nuts or chocolate chips into the recipe.  Remember to mix well to distribute the chocolate chips or nuts throughout the bread. 
Can I Make Two Loaves Instead of One?
This recipe will make about 3 mini-sized loaves or one regular size loaf. If you want to double or even trip this recipe, it will work the same. 
Can I Make the Batter into Muffins?
Yes, if you want to make a great big batch of Air Fryer Pound Cake Muffins, add them into Air Fryer Safe Muffin Tins or Cups, about 3/4 the way full, and the bake time will be reduced to about 12 to 15 minutes. 
How Should I Store Pound Cake?
This is a great item to place on your counter, and the pound cake should eat it within a few days. If you want it to stay longer, place it into an airtight container and place it into the refrigerator, it should last a week.
Tips For The Best Air Fryer Pound Cake
For best results, either use salted or unsalted butter. If you use salted butter, omit the salt from the ingredient list.
Use Pure Vanilla Extract; it will really increase the flavor of the end product.
Use Mini Pans, as many people try to use a regular size, and the middle does not cook up. For best results, use a mini loaf pan. 
Remember to check the pound cake at the end of the cooking time, and as soon as it is done cooking (use a toothpick to check the center), remove it. You do not want an overbaked pound cake.
Don't Forget To Pin-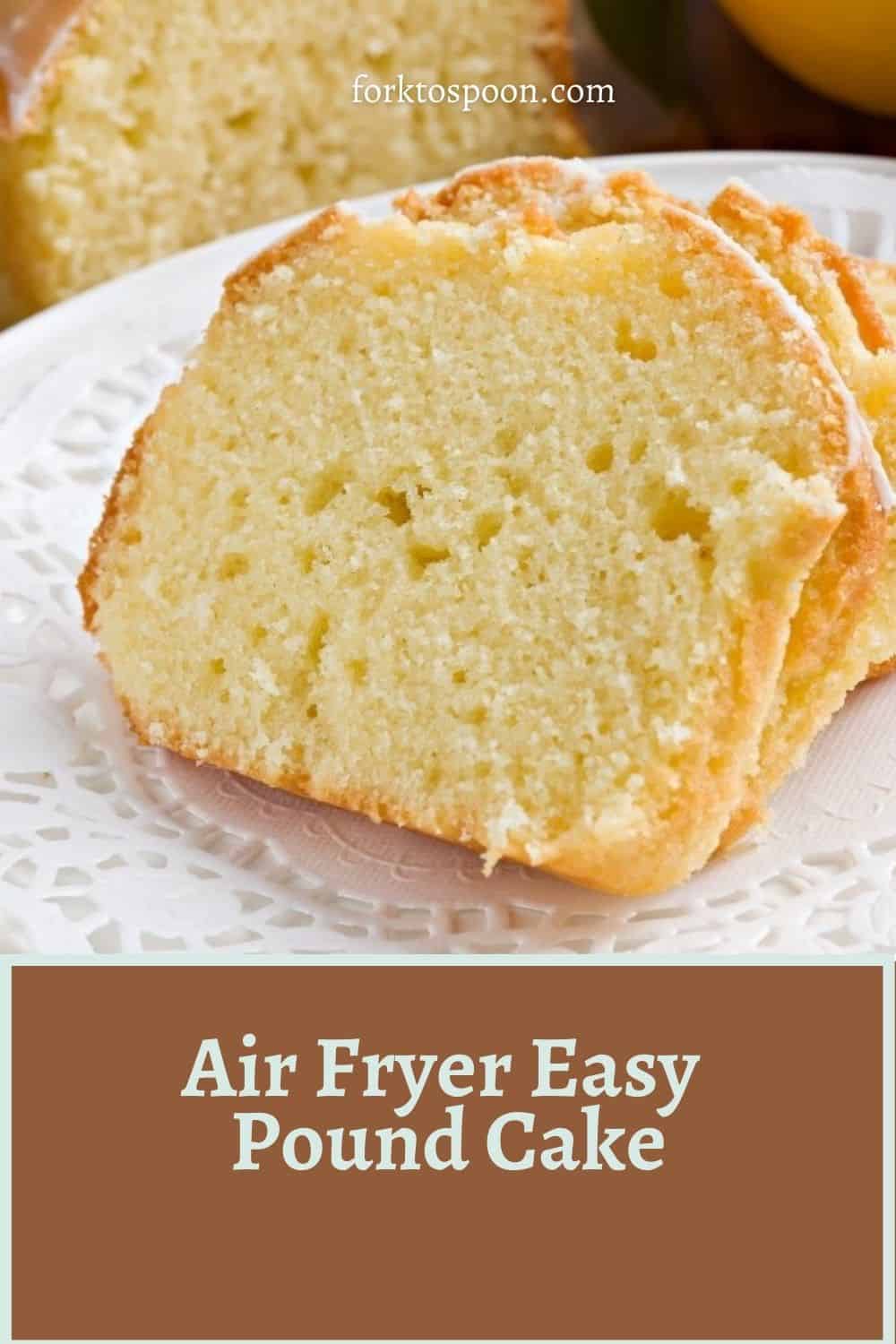 Yield: 8 Servings
Air Fryer Easy Pound Cake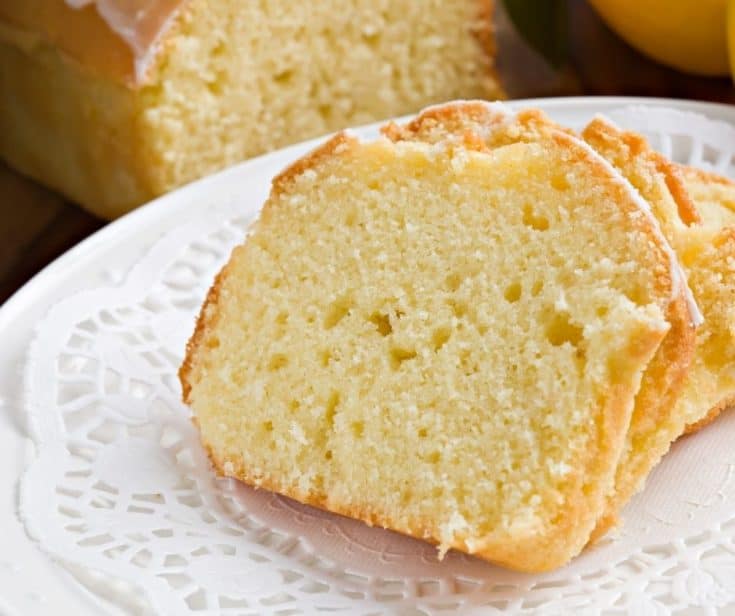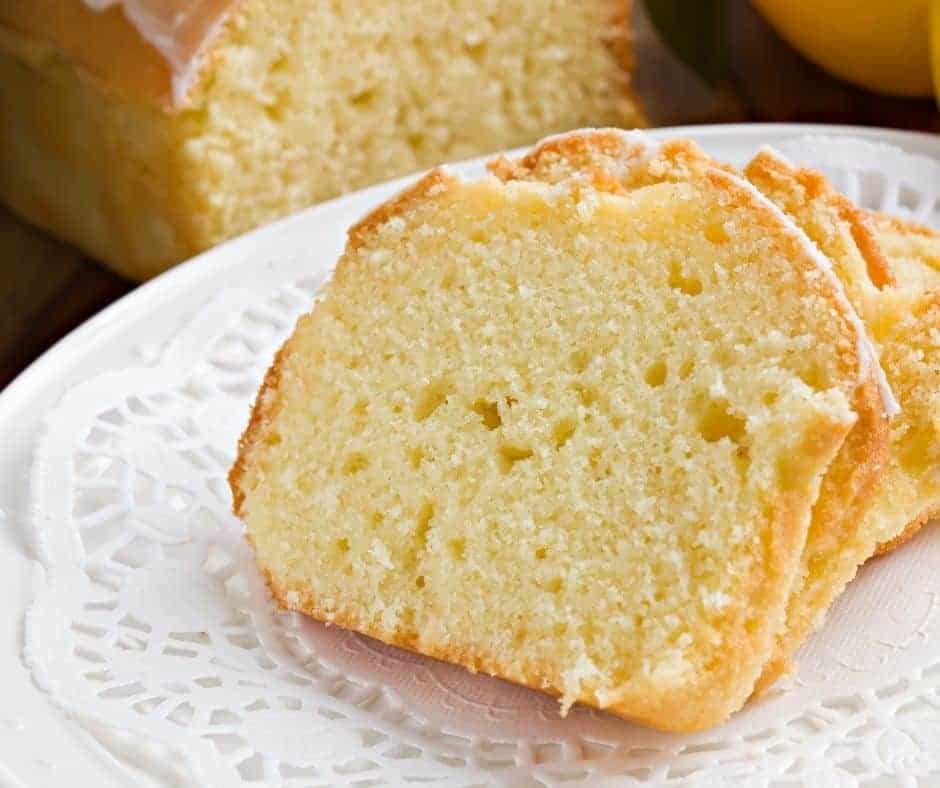 This is a really great recipe for a classic pound cake. The air fryer does an amazing job of keeping the bread moist and delicious.
Ingredients
2 cups room temperature butter
3 1/2 cups sugar
6 egg
6 egg yolks
3 1/2 cups all-purpose flour
1 tablespoon vanilla extract
1 teaspoon salt
Instructions
In a large mixing bowl, cream the butter and sugar together. This will make for a fluffy cake.
Then mix in the egg and egg yolks, flour, vanilla extract, and salt.
Mix well.
Pour the batter into a greased air fryer-safe pan.
Set the pan into the air fryer, and set the temperature to 320 degrees F for 20 minutes. (air fryer setting)
When the time is up, place a toothpick in the pound cake, and check to see that the toothpick comes out clean. If not, add another 5 minutes.
Plate, serve and enjoy
Nutrition Information:
Yield:
8
Serving Size:
1
Amount Per Serving:
Calories:

1044
Total Fat:

54g
Saturated Fat:

32g
Trans Fat:

2g
Unsaturated Fat:

18g
Cholesterol:

400mg
Sodium:

691mg
Carbohydrates:

130g
Fiber:

1g
Sugar:

88g
Protein:

13g