This Air Fryer Southwestern Chicken Salad is the perfect solution if you're looking for a delicious and healthy weeknight dinner! Incredibly easy to make in just minutes, it's full of nutritious ingredients like lean chicken breast and colorful vegetables.
The combination of peppers, tomatoes, and lettuce tossed with avocado ranch dressing perfectly complements the smoky flavor of grilled chicken air-fried crisp in your air fryer. Enjoy a light yet flavorful dish that will satisfy you without sacrificing your health goals!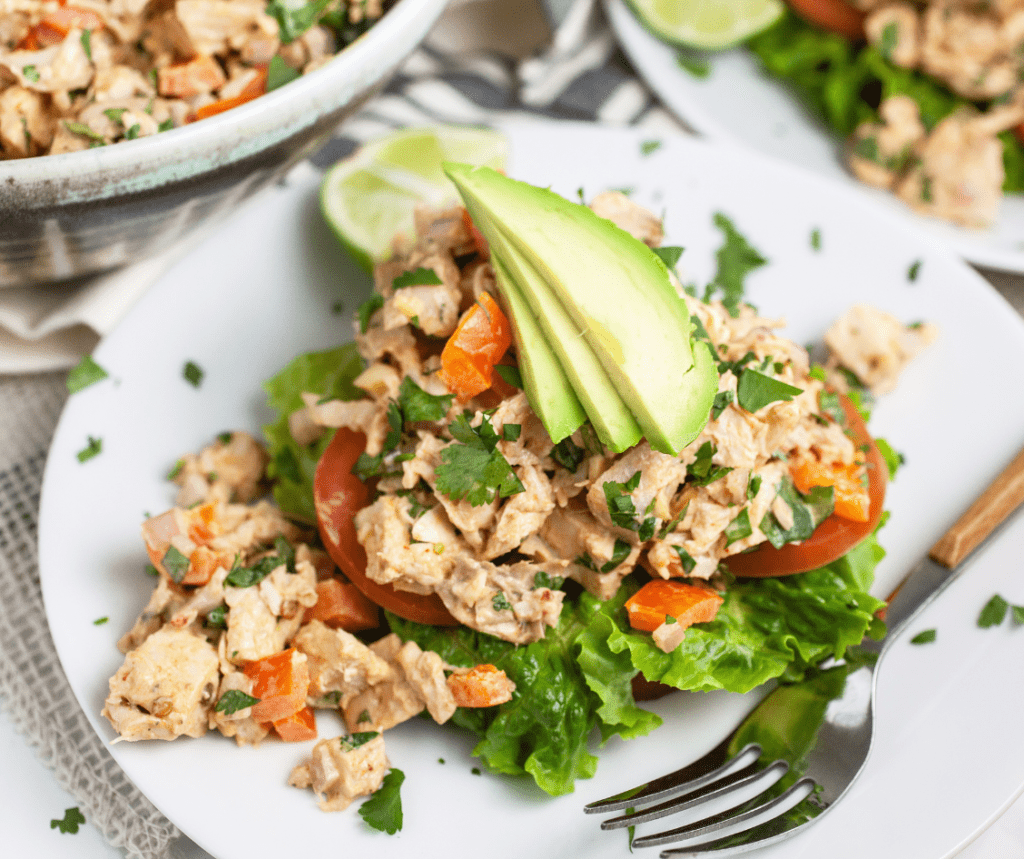 The Best Air Fryer Chicken Salad
The Best Air Fryer Chicken Salad is a simple and delicious way to enjoy healthy and flavorful chicken. This recipe uses only a few simple ingredients and takes less than 30 minutes to prepare! The air fryer gives the chicken a crispy exterior with an incredibly juicy interior, making it the perfect protein for your salad.
We've used a combination of fresh lettuce, cherry tomatoes, cucumbers, and green onions to provide a variety of flavors and textures. To bring it all together, we've added a delicious homemade vinaigrette that will tantalize your taste buds with its tangy-sweet flavor. Whether you're looking for an easy weeknight dinner or a nutritious meal to bring to a potluck, the Best Air Fryer Chicken Salad is sure to be a hit! To boost protein and flavor, consider topping it with grilled shrimp or diced avocado.
Try replacing the chicken with turkey or salmon for those wanting to switch things up. Both are tasty alternatives that can also be cooked in an air fryer. If you'd like to give this dish some heat, try adding a few dashes of your favorite hot sauce or red pepper flakes to the salad dressing. You can also swap out the lettuce for kale or spinach if you prefer a heartier salad base. The possibilities are endless!
No matter how you customize it, the Best Air Fryer Chicken Salad will satisfy your appetite and leave you feeling full and satisfied. As an added bonus, this dish is low in calories and fat, making it a great way to enjoy delicious food without compromising your nutrition goals. So give it a try today and enjoy the perfect balance of taste and health.
Ingredients Needed For Air Fryer Southwestern Chicken Salad
Are you searching for a simple and delicious meal that can be whipped up with only a few ingredients? Look no further than this delectable Air Fryer Southwestern Chicken Salad! This hearty dish combines the smoky flavor of southwestern spices with succulent chunks of air-fried chicken for an unforgettable meal both adults and kids alike will love. In just half an hour, your kitchen can become a restaurant-quality culinary masterpiece – without breaking out a full set of pots and pans or spending hours slaving away over the stove! Read on to discover the essential elements required to create this savory delight.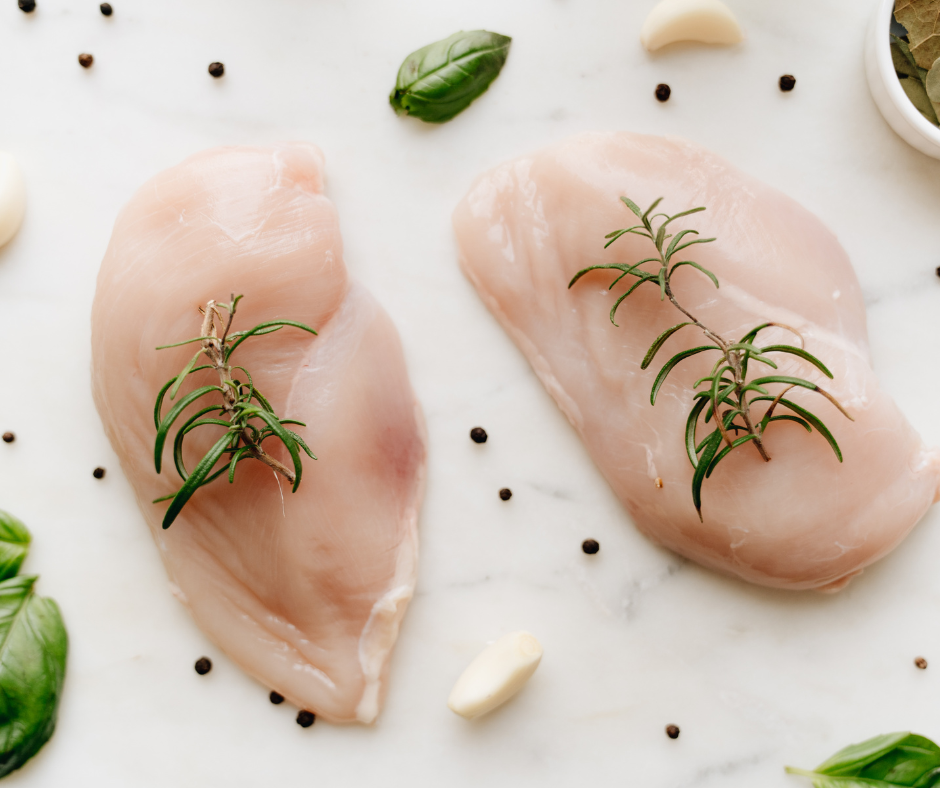 Remember the step-by-step directions below in the printed recipe card at the end of the page.
Chicken: Use boneless skinless chicken breast or boneless chicken thighs.
Garlic: Use freshly minced garlic cloves
Shallots: Add a lot of flavors and a sweet taste; you can also use sweet onions.
Bell Peppers: Use any color, diced.
Mayoannise: Low Fat or full-fat, you can also use Greek yogurt for a healthier option.
Seasonings and Spices: Adobo Sauce, Lime Juice, Granulated Sugar, Kosher Salt, Black Pepper, Cilantro
How To Make Chicken Salad In Air Fryer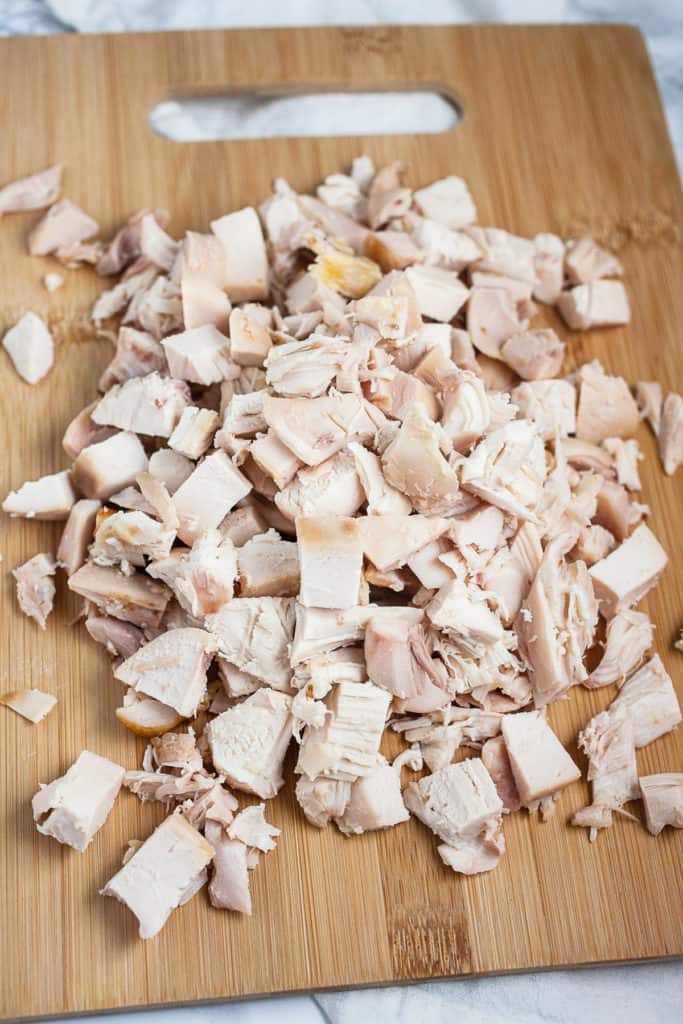 Step One: Marinade Chicken
Add all of the ingredients for the chicken marinade to a large mixing bowl. Add your chicken, and marinate the chicken for 2-6 hours.
Step Two: Cook The Chicken
Add your chicken to the air fryer basket, single layer, and set the cooking time for 12-15 minutes at 370 degrees F, using the air fryer setting. Remove the chicken when the internal temperature is 165 degrees F, using a meat thermometer.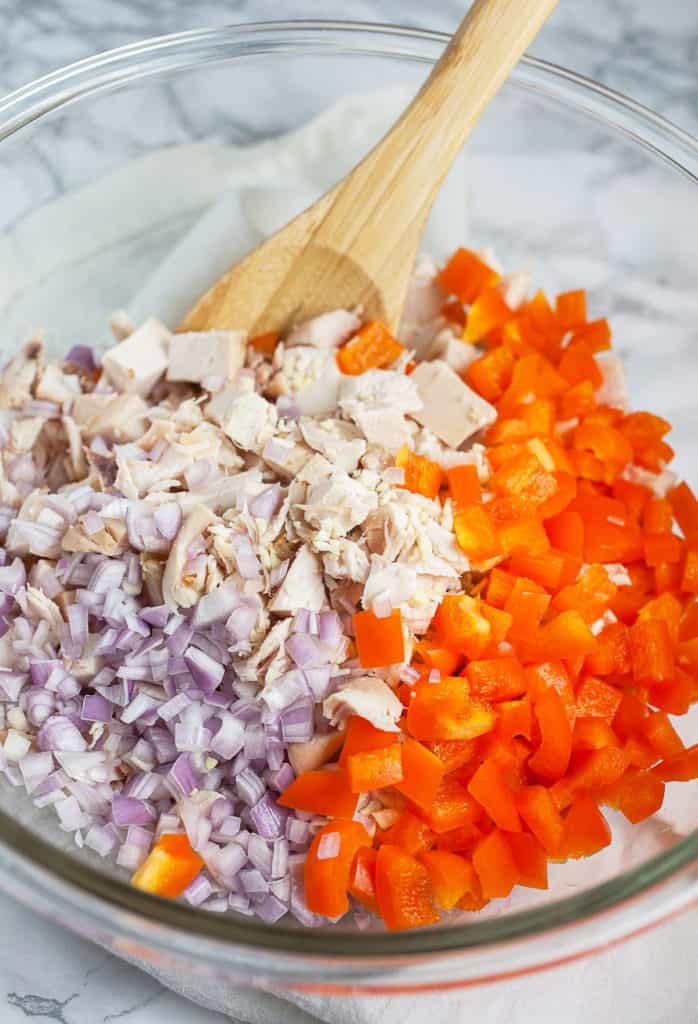 Step Three: Chop The Chicken
Allow the chicken to cool for a few minutes, then dice the chicken into 1-inch pieces; add the diced chicken into a large bowl.
Step Three: Make The Chicken Salad
Mince, the garlic and shallots cloves, then add your green pepper and toss well.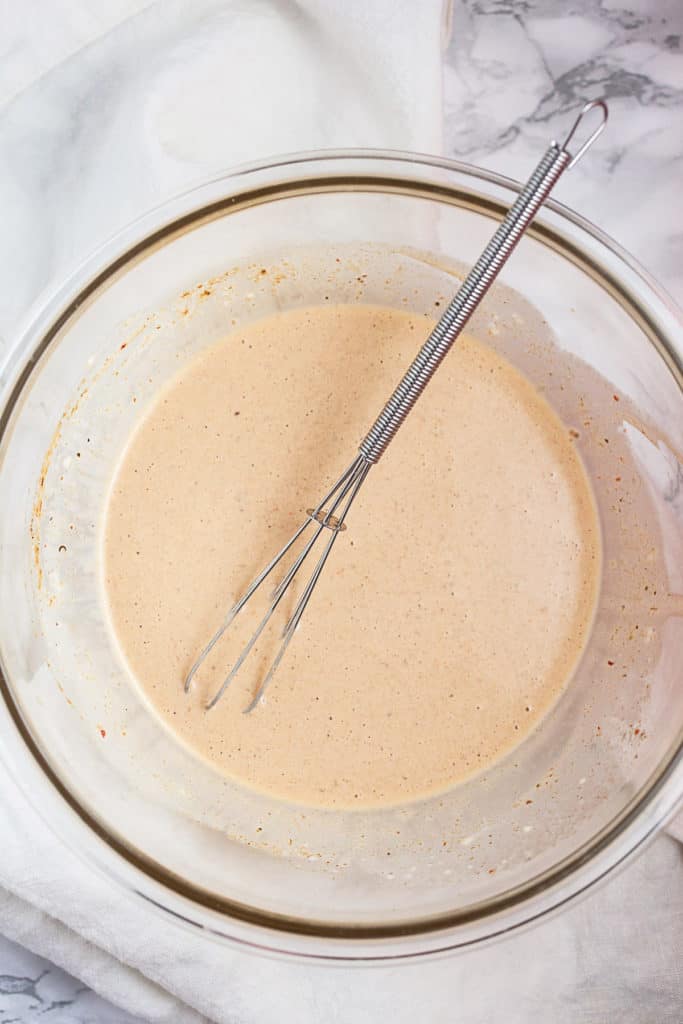 Step Four: Prepare The Southwestern Dressing
Add the mayo, Adobo Sauce, Lime Juice, and granulated sugar in a large bowl. Mix well, and refrigerate for 10-12 minutes. In a food processor, mince about 1/2 cup of the fresh cilantro, and fold it into the dressing.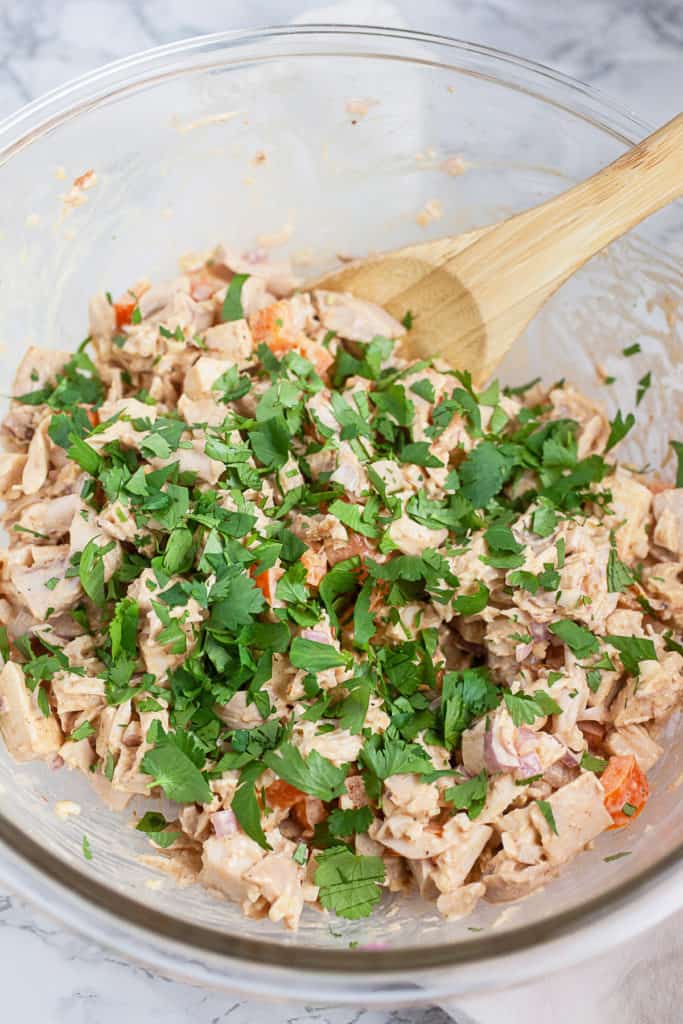 Step Five: Assemble The Chicken Salad
Pour the chipotle lime dressing over the chicken as much or as little as you like. Stir all of the ingredients together until completely combined.
Add the minced cilantro and stir until totally combined.
Step Six: Serving
Serve the chipotle chicken salad as a half sandwich or full sandwich on bread, in a wrap, tortilla, pita bread, naan bread, or low-carb as a lettuce wrap. It may also be served as an appetizer with crackers or sliced vegetables. (Make sure to choose gluten-free brands if gluten-free. Use any brands you like if gluten is not an issue for you).
I love serving it as a half sandwich with leaf lettuce and sliced tomatoes.
Garnish with extra cilantro and a squeeze of lime, and adjust the salt and pepper levels as needed (optional).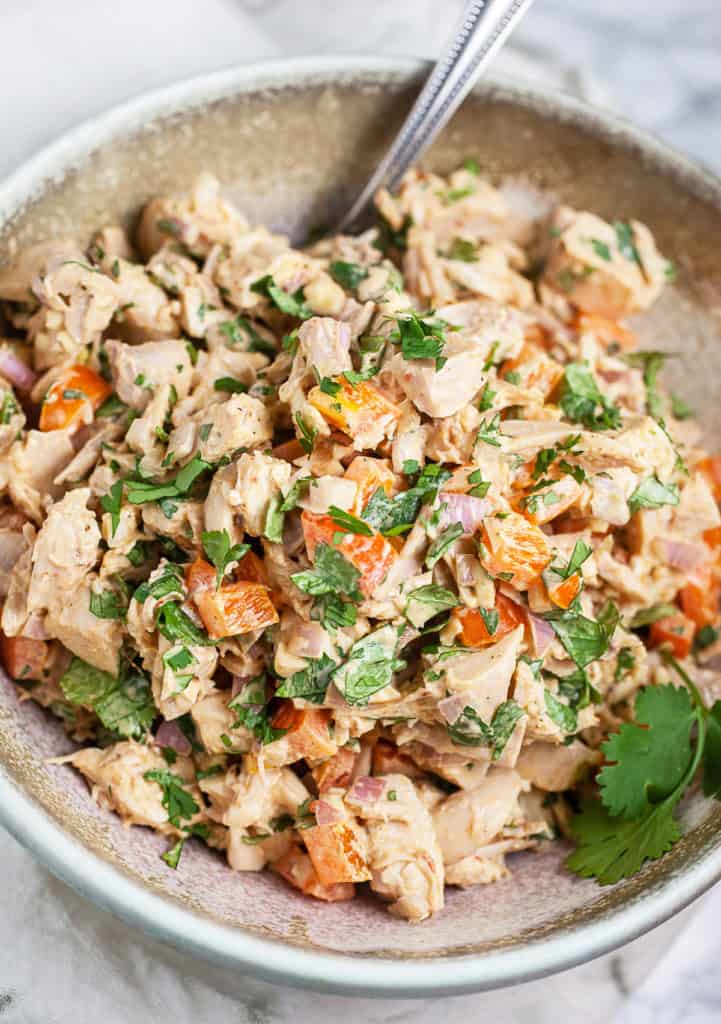 Recipe Notes:
You can add as much or as little of the dressing as you like. Any leftover dressing may be stored in the fridge for 2-3 days in an airtight container. The leftover dressing makes a great dip for veggies or sandwich spread!
You can adjust the spice level of the dressing if you like. For a less spicy dressing, use 1 Tbsp. Adobo sauce instead of 2. If you like it spicier, use 3 Tbsp. of adobo sauce instead of 2. If the dressing is too spicy, add more sugar until the spice level is balanced.
This chicken salad can be made the day before and stored in an airtight container in the fridge. Be sure not to store chicken salad at room temperature.
Any leftover chicken salad may be stored in an airtight container in the fridge for 4-5 days.
This chicken salad should not be frozen as it contains mayo.
If serving at a picnic or potluck, do not allow the chicken salad to sit in the sun for more than an hour or two as it contains mayo.
Frequently Asked Questions
How long does chicken salad last in the fridge?
Chicken salad is a delicious and convenient meal that can easily be made ahead of time. It will last up to four days when stored correctly in the refrigerator. It's important to remember that if you are using raw ingredients like eggs or other proteins, they should not be left out for more than two hours before being refrigerated.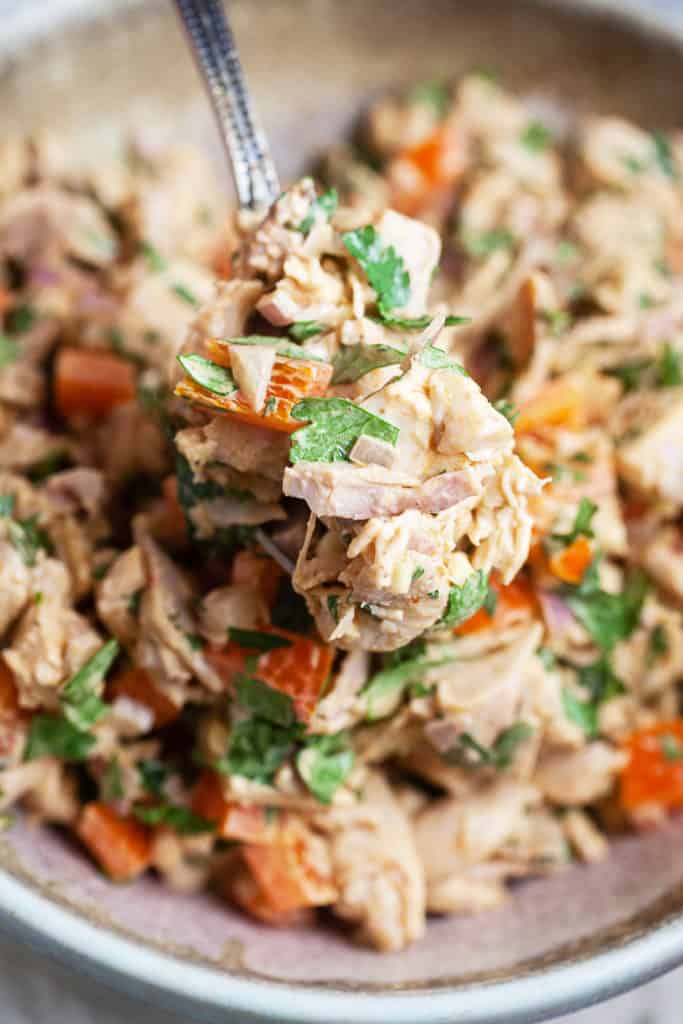 Can chicken salad be frozen?
Yes, it is possible to freeze chicken salad. It is important to note that freezing chicken salad can affect the texture and flavor of the dish, so it should be consumed within a short period of time after thawing.
To prepare your chicken salad for freezing, make sure to use cooked or pre-cooked chicken diced into small pieces. Mix together the chicken, mayonnaise, and any other ingredients you wish to include in your salad. Place the mixture into a freezer-safe container or bag and store it in the freezer for up to three months. When ready to eat, thaw the salad overnight in the refrigerator before consuming it. For best results, consume your frozen chicken salad within 2-3 days after thawing.
How to keep chicken salad from becoming watery?
Chicken salad is a popular dish, but making it can be tricky. It's easy to end up with a watery concoction that doesn't have the desired texture and flavor. Fortunately, you can take some simple steps to ensure your chicken salad stays delicious and creamy every time.
Start using cooked chicken that is diced or shredded, and ensure it is well chilled before adding it to the salad. Adding too much mayonnaise can also lead to a watery outcome, so use as little as possible while still achieving your desired consistency.
Adding some diced celery, red onion, or even apples is a great way to add flavor and texture to your chicken salad. These ingredients help absorb some moisture and prevent your salad from becoming too runny.
Finally, make sure you chill your chicken salad before serving it. This will give everything time to meld together so you can enjoy a delicious, creamy result every time.
How to fix dry chicken salad?
If you've made a dry chicken salad, there are several ways to fix it and make it moister. The first way is to add some mayonnaise or yogurt to the mixture. This will help bind all the ingredients together and add some moisture.
If your recipe calls for oil, you can also increase the amount, as it will help bring some more moisture to the salad. Adding fresh herbs can also add a lot of flavors, which may be missing in a dry chicken salad. For added texture and flavor, you can also mix diced vegetables like carrots or onions. Lastly, adding a few acidic ingredients, such as lemon juice or vinegar, can brighten the flavor profile. These simple tips allow you to transform a dry chicken salad into one bursting with flavor and moisture.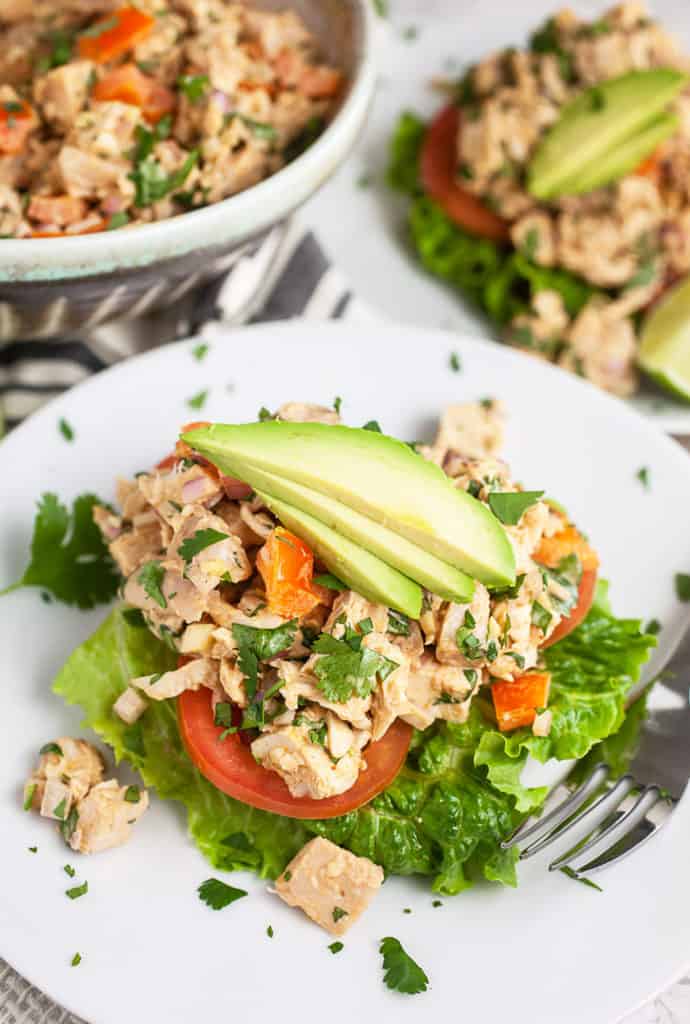 Can chicken salad be made the day ahead?
Yes, it is possible to make chicken salad the day ahead. Making a chicken salad the day before you serve it deepens flavors and develops overnight. This means that homemade chicken salad can be even tastier when served the following day.
To do this, store the cooked chicken in an airtight container in the refrigerator until you prepare the salad. When making the salad, use fresh ingredients such as herbs and vegetables, and combine all the ingredients just before serving. For best results, serve chilled or at room temperature.
What to serve with chicken salad?
Chicken salad is a versatile dish that can be served as an entrée or a side. When serving it as an entrée, accompaniments such as crackers, croissants, lettuce wraps, or pita bread are great choices for adding crunch and flavor.
To make a heartier meal, pair the chicken salad with pasta dishes like macaroni and cheese, or serve it alongside a green salad with cucumbers and tomatoes. For a filling side dish, try serving the chicken salad with roasted vegetables like sweet potatoes, broccoli, or Brussels sprouts.
If you're looking for something light to accompany your chicken salad, consider adding some fresh fruit, such as melon, grapes, or apple slices. To round out the meal, add a few slices of crusty bread or creamy soup on the side. Whatever you choose to serve with your chicken salad, it's sure to be delicious!
What can I serve chicken salad with besides bread?
Chicken salad can be served in several different ways. It is often enjoyed as a sandwich on white or wheat bread, but it can also be served with crackers, toast points, over a bed of lettuce, or even wrapped up in a tortilla. If you want to keep it light, serve your chicken salad over cucumber slices or in a hollowed-out tomato.
Alternatively, if you're looking for something more substantial, serve your chicken salad with a side of pasta or quinoa salad. Try serving it alongside roasted potatoes or sweet potato fries for a truly unique twist. Your guests will love this classic dish no matter how you choose to serve it up.
More Air Fryer Recipes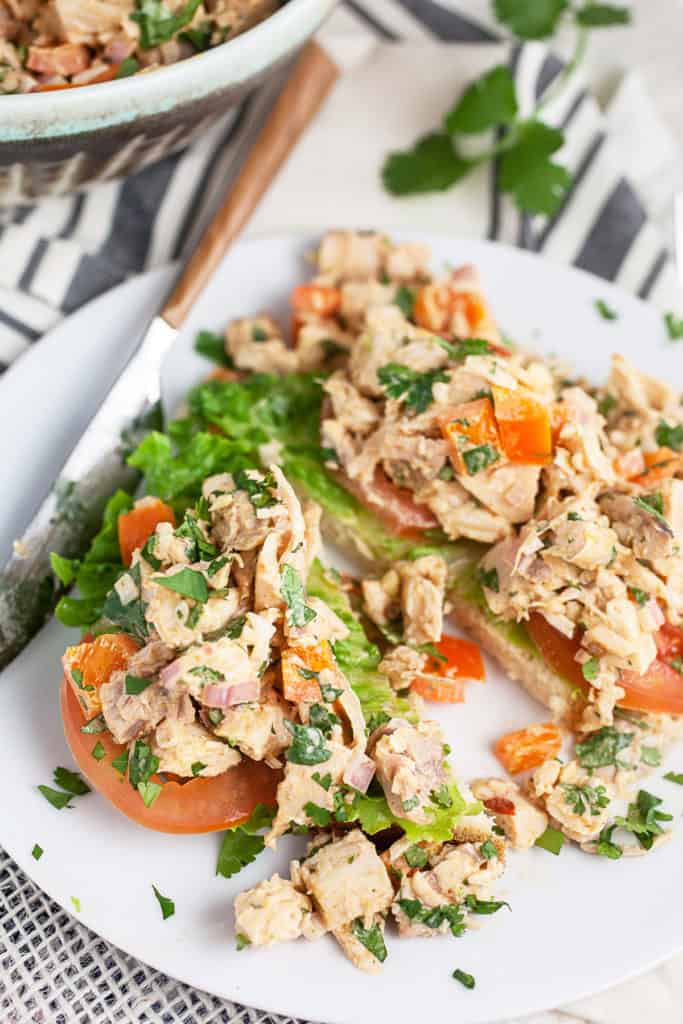 Don't Forget To Follow Us Along on Social Media; Instagram, Facebook, and TikTok, and Join Our Facebook Page and group for all your Air Fryer Recipes and Tips!
This salad is perfect for a quick and healthy lunch or dinner. The air fryer chicken is crispy and juicy, while the vegetables are fresh and crunchy. The southwest dressing ties everything together perfectly. If you're looking for a delicious, easy-to-make salad, look no further than this Air Fryer Southwestern Chicken Salad!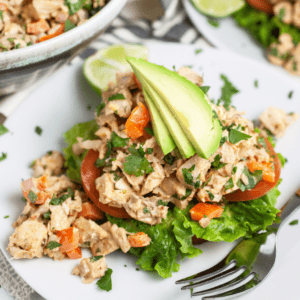 Air Fryer Southwestern Chicken Salad
Description
This salad is perfect for a quick and healthy lunch or dinner. The air fryer chicken is crispy and juicy, while the vegetables are fresh and crunchy. The southwest dressing ties everything together perfectly. If you're looking for a delicious, easy-to-make salad, look no further than this Air Fryer Southwestern Chicken Salad!
Ingredients
Chicken Marinade:
3

tablespoons

olive oil

2

large

limes

,

juiced and zested

1/4

cup

cilantro

,

diced

2

teaspoons

garlic

,

minced

1

teaspoon

ground cumin

1/2

teaspoon

chili powder

1/2

teaspoon

salt

1/4

teaspoon

black pepper
Chipotle Lime Mayo Dressing:
1/3

cup

mayo

2

tablespoons

adobo sauce

1

tablespoon

granulated sugar

3

tablespoons

lime juice

1/2

cup

cilantro

,

minced
Southwestern Salad:
4

teaspoons

garlic

,

minced

2

shallots

,

minced

1

large

bell pepper

,

diced
Instructions
Add all of the ingredients for the chicken marinade to a large mixing bowl. Add your chicken, and marinate the chicken for 2-6 hours.

Add your chicken to the air fryer basket, single layer, and set the cooking time for 12-15 minutes at 370 degrees F, using the air fryer setting. Remove the chicken when the internal temperature is 165 degrees F, using a meat thermometer.

Allow the chicken to cool for a few minutes, then dice the chicken into 1-inch pieces; add the diced chicken into a large bowl.

Mince, the garlic and shallots cloves, then add your green pepper and toss well.

Add the large bowl of mayo, Adobo Sauce, Lime Juice, and granulated sugar. Mix well, and refrigerate for 10-12 minutes. In a food processor, mince about 1/2 cup of the fresh cilantro, and fold it into the dressing.

Pour the chipotle lime dressing over the chicken as much or as little as you like. Stir all of the ingredients together until completely combined.

Add the minced cilantro and stir until totally combined
Nutrition
Serving:
1
g
Calories:
285
kcal
Carbohydrates:
11
g
Protein:
17
g
Fat:
20
g
Saturated Fat:
3
g
Polyunsaturated Fat:
7
g
Monounsaturated Fat:
9
g
Trans Fat:
0.03
g
Cholesterol:
53
mg
Sodium:
1397
mg
Potassium:
442
mg
Fiber:
2
g
Sugar:
5
g
Vitamin A:
1104
IU
Vitamin C:
47
mg
Calcium:
37
mg
Iron:
1
mg