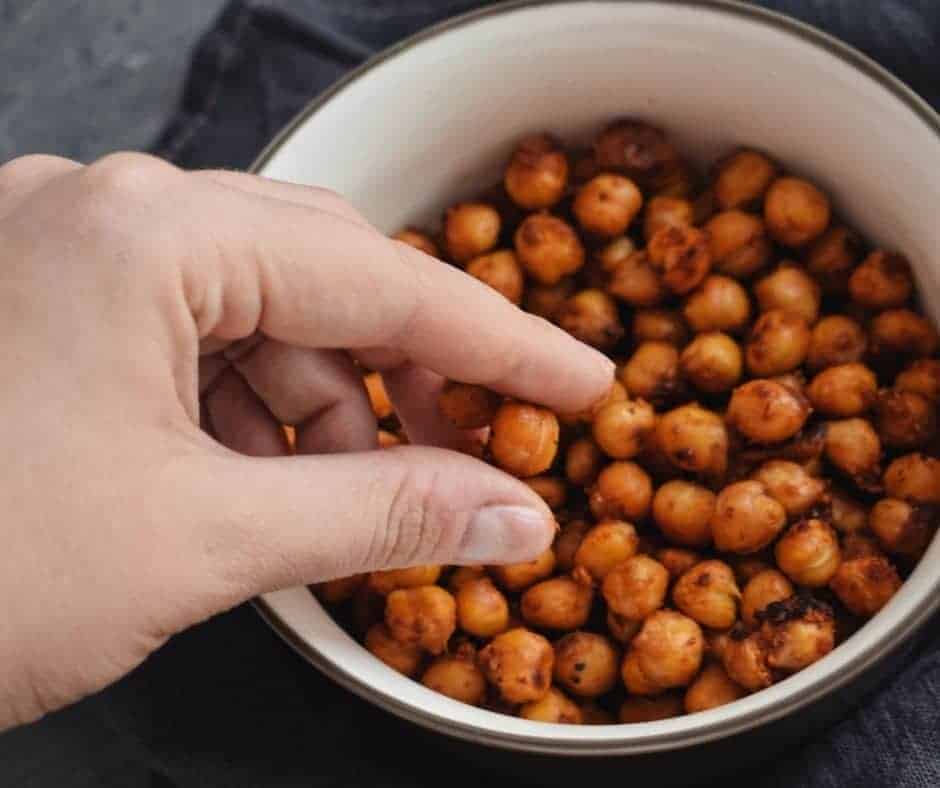 Air Fryer Roasted Barbecue Chickpeas are amazing! They are so crispy and the perfect healthy snack to serve your family. There is nothing better than a batch of perfectly seasoned garbanzo beans roasted to perfection!
If you have ever roasted chickpeas in the oven, you will know that they take about half as long as making them in the oven. This is because the air fryer works by the hot air circulating around the food, making your food crispy and delicious.
Why You Will Love Making Air Fryer Chickpeas
You will fall in love with making Air Fryer Chickpeas for many reasons. My teens love them, and they are so healthy!
Other great reasons to make these are vegan, full of protein, and fiber. They are so healthy for you, and if you are looking to lose weight, this is a great source of both fiber and protein that will keep you feeling full for hours!
The main reason that I started making Chickpeas was for my son, who went to a Hockey Tournament, and they were charging over $6.00 a bag! I knew I could make a batch of Air Frye Roasted Chickpeas for under $1.00, so budget-friendly!
Ingredients Needed For Air Fryer Roasted Barbecue Chickpeas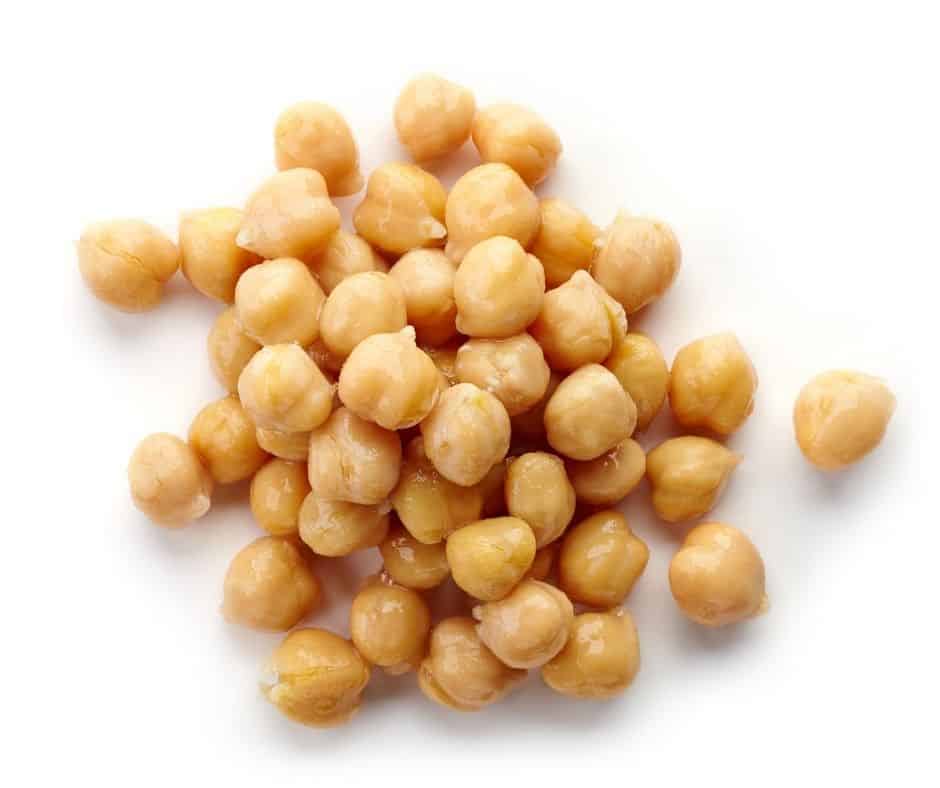 Chickpeas (Canned)
Peanut Oil
Maple Syrup
Paprika
Garlic Powder
Black Pepper
Ground Mustard
Chipotle Powder
What Type of Air Fryer Can You Use?
I have made these in several Air Fryers over the years. I most recently made them in my Ninja Foodi. But I have made them in my Power Xl Air Fryer, Instant Pot Vortex, Omni, and the new Air Fryer Crisper Lid.
The recipe will work the same in all of the models.
How To Make Crispy Air Fryer Chickpeas
Start by draining your can of chickpeas and then use a kitchen towel and dry the chickpeas.
In a small bowl, mix together the chickpeas, peanut oil, maple syrup, and other seasonings so all of the chickpeas are covered.
Add your chickpeas to the air fryer basket or spread them over the air fryer tray; spread them out so that they are in a single layer, as they will cook more evenly.
Set the timer for 6 minutes at 375 degrees F. (air fryer setting). After 6 minutes, shake the basket or the tray, then add another 6 minutes.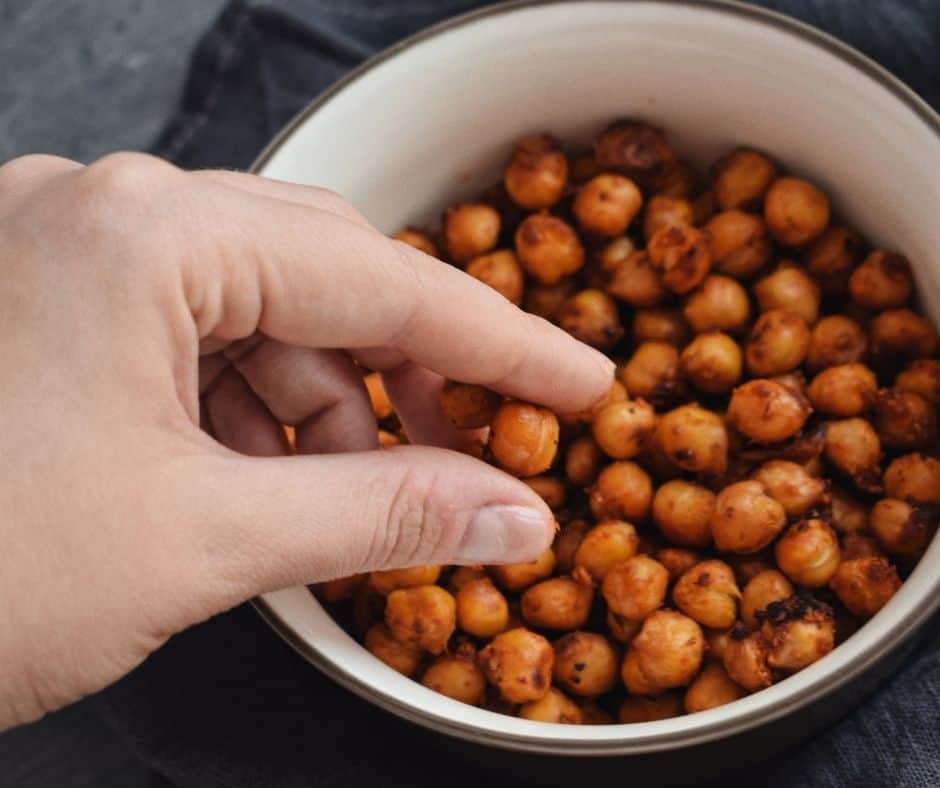 Some Pro Tips
Make sure that you drain and dry your chickpeas before adding the olive oil and spices. Otherwise, they will not crisp up.
Remember, since every air fryer is slightly different, you will need to watch your chickpeas, and depending on your air fryer, they will start crisping up towards the end of the cooking cycle.
Shake your basket several times during the cooking process, so they all perfectly cook up.
A single layer works best on chickpeas, so you may need to run them in several batches, depending on your air fryer.
Season with some good-quality sea salt before serving.
Crunchy Chickpea Flavor Options
I have been making Air Fryer Roasted Chickpeas for years, and years; I have come up with some great family-favorite flavors, some of my favorites:
Trader Joe's Everything Bagel Seasoning
Cinnamon & Sugar
Zaatar Seasoning
Korean BBQ Seasoning
Taco Seasoning
The options are endless, find something you love for seasoning, and air fry them up!
How To Store Crispy Chickpeas
These will not last long. After a couple of days, they will lose their crunchiness, but they will either add them to an open mason jar or container for best results.
Another option is to store them in a brown paper bag at room temperature.
More Air Fryer Snacks
Don't Forget To Pin-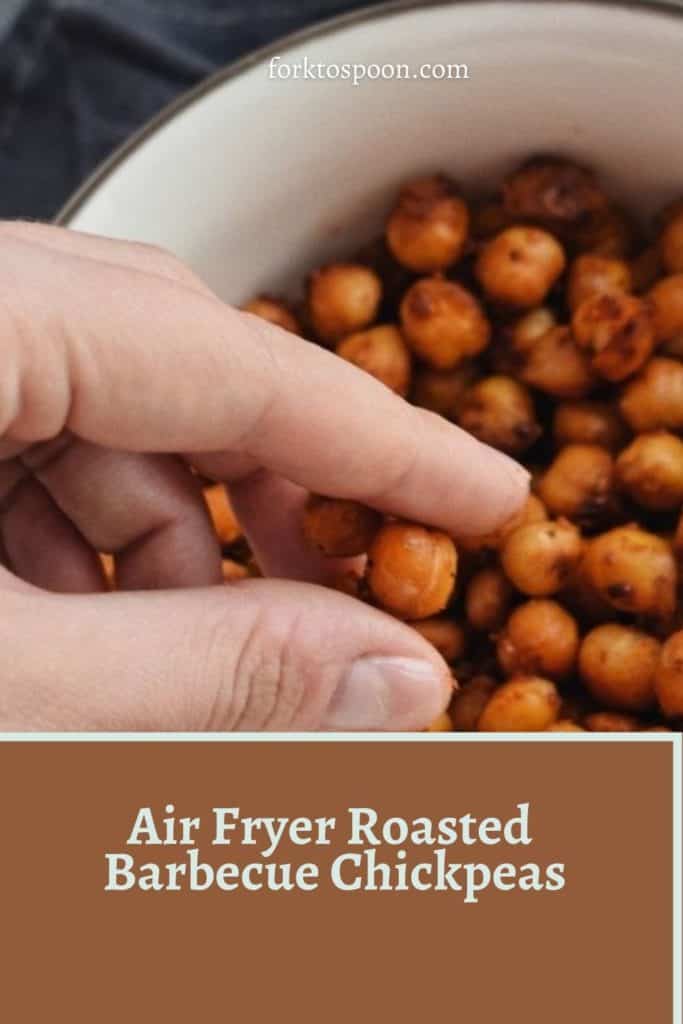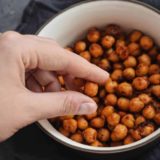 Air Fryer Roasted Barbecue Chickpeas
Description
This is a great protein-based snack or appetizer, that is so easy to make in the air fryer. There are so many different options for making and seasoning them, but whatever you choose, roasting them in the air fryer makes these awfully delicious.
Ingredients
30

ounces

chickpeas

,

canned, or cooked

2

teaspoons

peanut oil

1

teaspoon

maple syrup

1

teaspoon

paprika

2

teaspoons

garlic powder

1

teaspoon

black pepper

1

teaspoon

ground mustard

1

teaspoon

chipotle powder
Instructions
Start by draining your can of chickpeas and then use a kitchen towel and dry the chickpeas.

Mix the chickpeas, peanut oil, maple syrup, and other seasonings in a small bowl, so all chickpeas are covered.

Add your chickpeas to the air fryer basket or spread them over the air fryer tray. Spread them out so that they are in a single layer, as they will cook more evenly.

Set the timer for 6 minutes, at 375 degrees F. After 6 minutes, shake the basket or the tray, then add another 6 minutes. (air fryer setting)
Nutrition
Serving:
1
Serving
Calories:
382
kcal
Carbohydrates:
61
g
Protein:
19
g
Fat:
8
g
Saturated Fat:
1
g
Polyunsaturated Fat:
3
g
Monounsaturated Fat:
2
g
Sodium:
24
mg
Potassium:
663
mg
Fiber:
17
g
Sugar:
11
g
Vitamin A:
247
IU
Vitamin C:
4
mg
Calcium:
113
mg
Iron:
6
mg