Air Fryer Ranch Zucchini Chips — Who doesn't love a good chip? Especially when they're healthy and guilt-free! These ranch zucchini chips are the perfect snack to help you stay on track this summer. Plus, they're easy to make and taste delicious. You'll be reaching for these snacks instead of unhealthy junk food in no time!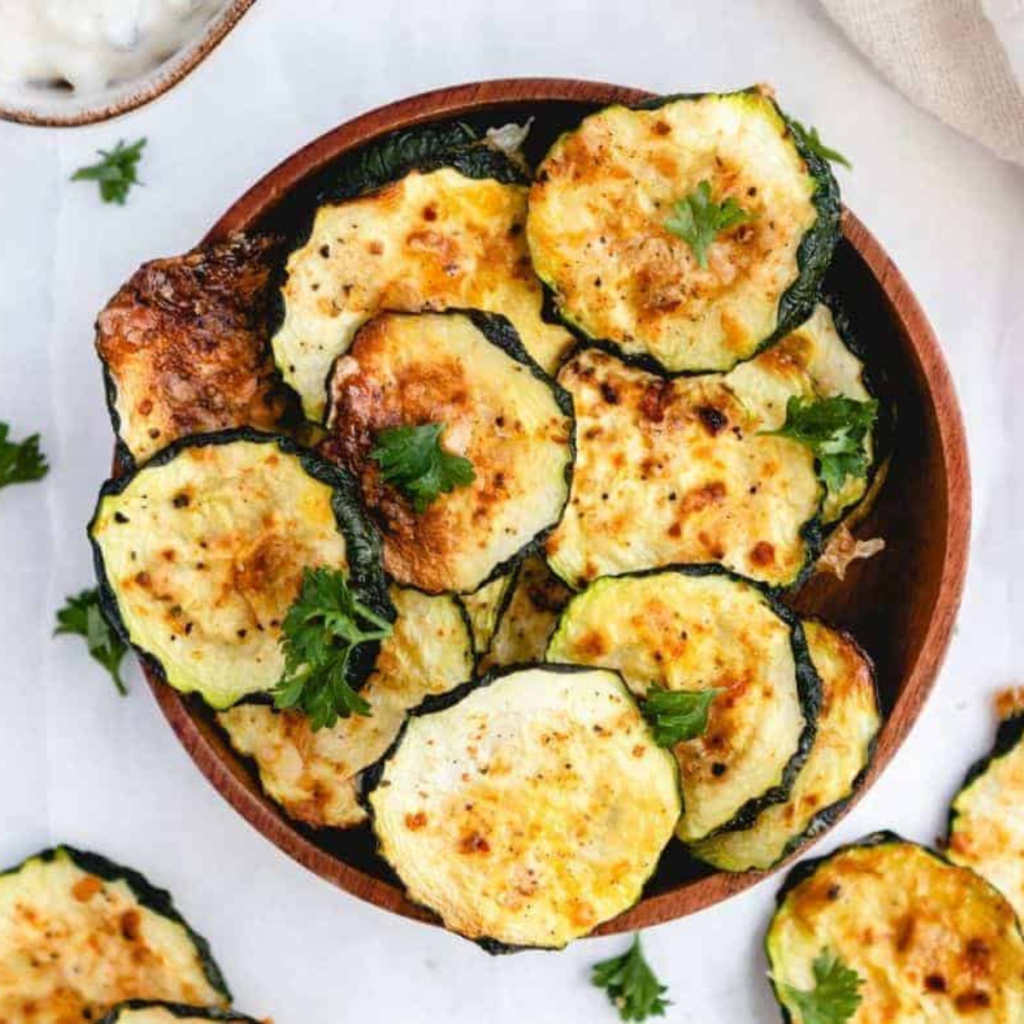 These are such fabulous and healthy snacks. Who wouldn't love a batch of homemade Air Fryer Ranch Zucchini Chips?
When zucchini seasons happen, there is nothing better than a fresh batch of crispy Zucchini Chips, and they are amazing coming out of the air fryer, and best of yet, they do not take forever.
Looking for an air fryer zucchini chip recipe? This recipe for ranch zucchini chips is crunchy and bursting with savory ranch flavor in every bite.
The perfect way to use up fresh zucchini from your garden or farmers' market. This is one of my favorite zucchini air fryer recipes right now.
Crispy like a chip, without all the guilt. Whip these up for snacking on for movie night, packing in lunches, and more.
These are easy, and they are delicious. They are the best for a quick and easy-fried zucchini chip without any breading at all. This is a perfect and healthy KETO-friendly, low-crab, and Weight Watchers-friendly snack.
If you are looking for more ways to perfectly air fry up a batch of zucchini from your garden, some of my favorites are AIR FRYER ZUCCHINI FRITTERS, AIR FRYER ZUCCHINI CHEDDAR SAVORY MUFFINS, AIR FRYER ZUCCHINI CRISPS, and AIR FRYER ZUCCHINI PIZZA BOATS.
Why Make Zucchini Chips In The Air Fryer?
Thinking about making zucchini chips in the air fryer? Here are three reasons why you should: they're healthy, delicious, and easy to make. Zucchini is a great source of dietary fiber and potassium, and air-fried chips are a healthier alternative to traditional potato chips. They also taste amazing – light, crispy, and slightly salty. Making zucchini chips in the air fryer is simple – just slice your vegetables thin, toss them with olive oil and salt, then cook them at a high temperature for around 10 minutes. Give it a try!
Ingredients You Will Need For Air Fryer Ranch Zucchini Chips
Looking for a healthy snack that's both tasty and easy to make? These air fryer ranch zucchini chips are perfect! With just a few simple ingredients, you can have a delicious and satisfying snack in no time. So why not give them a try today? You won't be disappointed!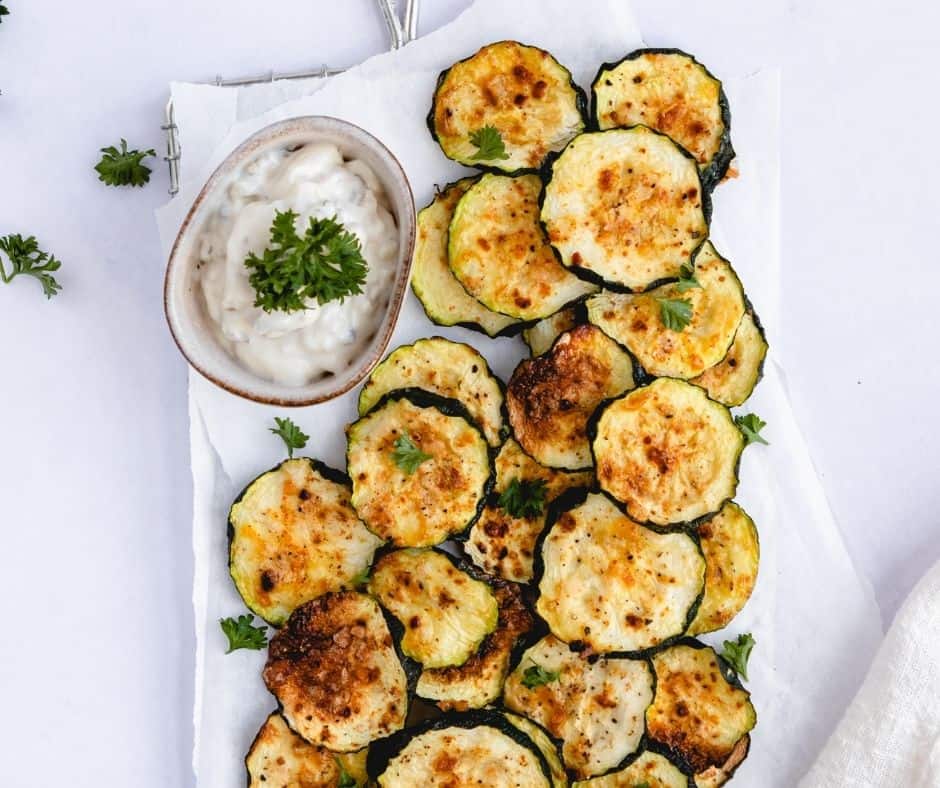 Air Fryer Ranch Zucchini Chips
For this recipe, you really only need a few ingredients, to make this batch.
Zucchini
Egg
Salt & Pepper
Dill
Parsley
How to Cook Ranch Zucchini Chips In The Air Fryer
Full steps for this zucchini chips air fryer are in the recipe card below.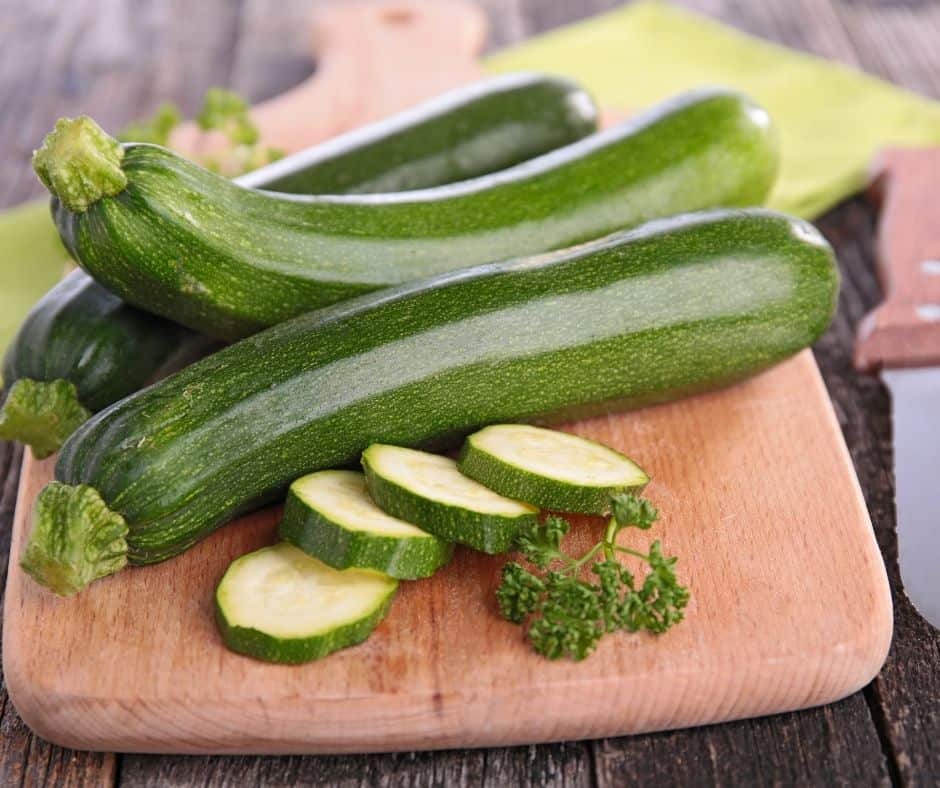 The first step is rinsing your zucchini and then slice thin. You want to cut your zucchini around 1/4 inch thick.
Then you will lay out your zucchini on paper towels. Sprinkle with some salt, and allow the zucchini to sit for around 15 minutes. This will pull out the excess liquid in the zucchini.
Once the time has passed, pat dry the zucchini.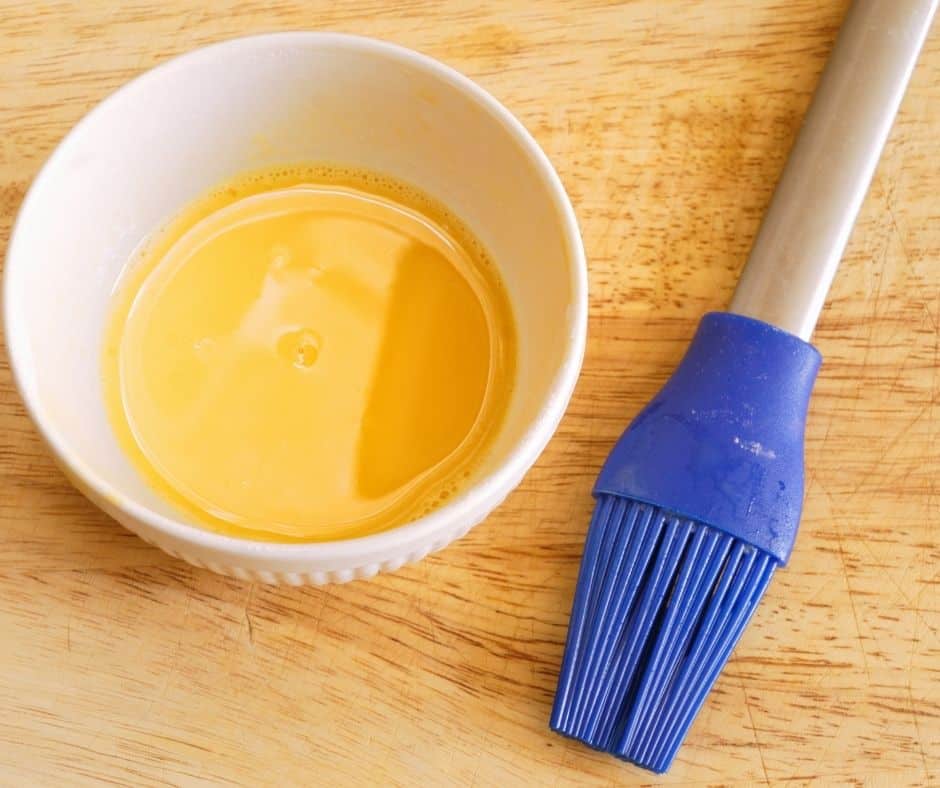 Then in a bowl whip up your egg with a little water. This is going to be the egg wash.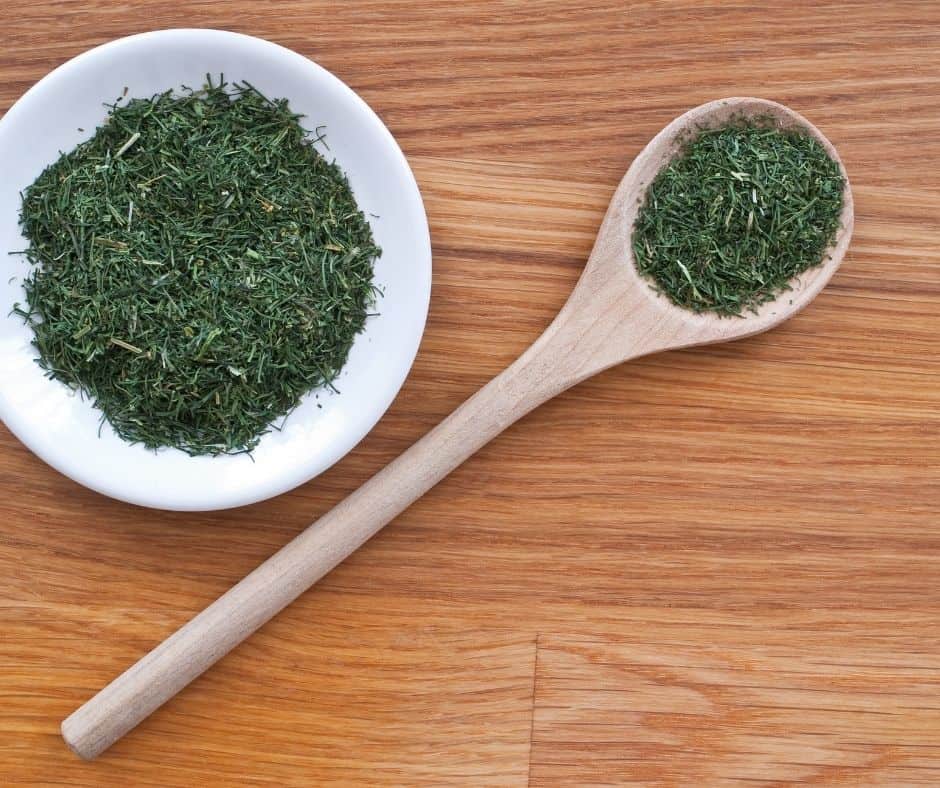 In another small bowl, add your salt, pepper, dill, and parsley. Mix well. Dip your slices in the egg wash. Then sprinkle the seasoning on top. Air fry as directed by the recipe card. Once crispy, remove and serve up the chips.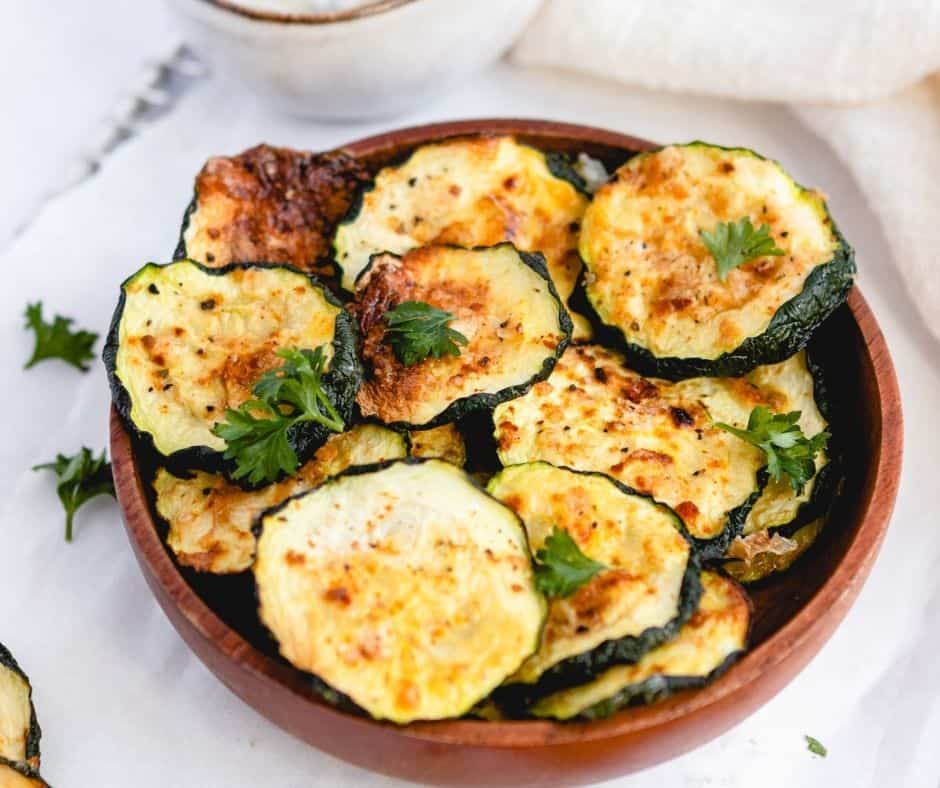 What are the health benefits of zucchini?
Zucchini is a wonderful vegetable to add to your diet. This green veggie is loaded with antioxidants, fiber, vitamins, minerals, and more.
Zucchini is also great for heart health, can aid in weight loss and even improve vision.
How to pick zucchini?
When you pick zucchini, the goal is to look for zucchini around 6-9 inches long. You will find that the bigger the zucchini, the difference in the flavor.
You want the zucchini to feel heavy for its size. Aim for a blemish-free that is also dark green. If you find wrinkles on the skin or soft spots, you will find the meat inside will not be quality.
How do you cut zucchini off the plant?
If you are growing your own zucchini, the easiest way to grab your zucchini squash and twist this will break the squash off the plant.
Or if you find it won't twist, grab some gardening shears and cut it 1-2 inches away from the vegetable.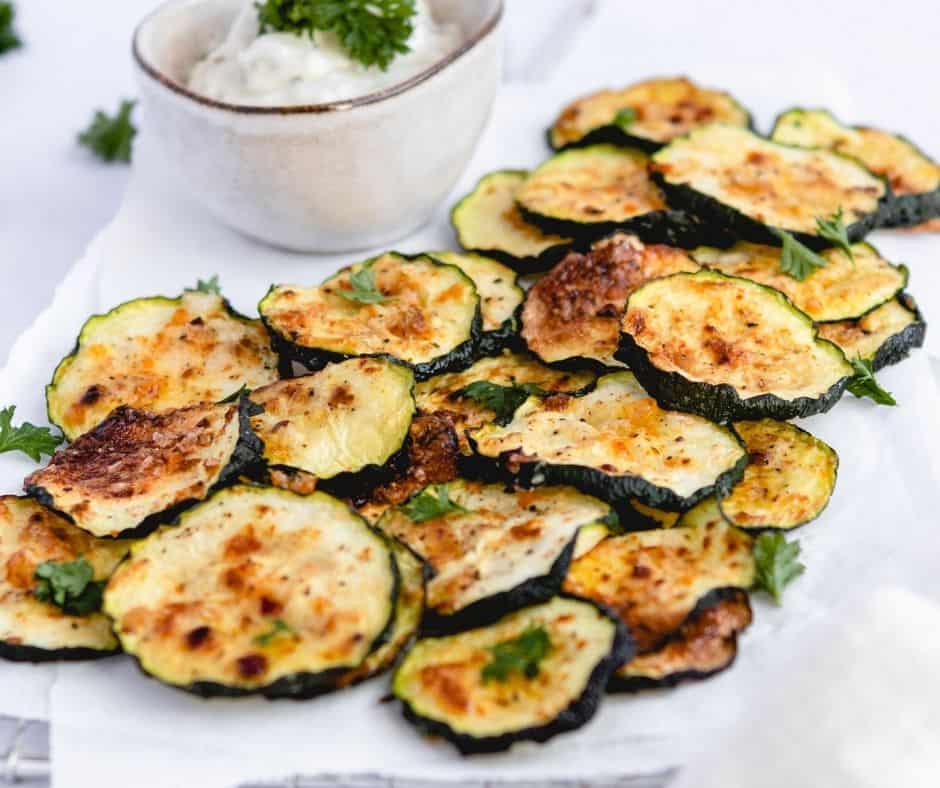 Should I pick the flowers off my zucchini?
Zucchini flowers are something many don't think about. But, you can pick the yellow flowers and fry them up in a batter to eat.
You will also find removing the flowers of some of the male plants will reduce vegetable production. So if you don't want to harvest as much produce, remove some of your flowers.
If you want a higher turnout of produce, leave the flowers on the plants.
Should Zucchini be refrigerated?
Zucchini should be stored in the refrigerator until you are ready to use it. You will find that storing the zucchini in the fridge helps preserve the texture and the flavor of the squash.
Other squash varieties can be stored on the counter, but zucchini is not one I recommend.
Tips for Making Zucchini Chips
Use a slicer to create evenly sliced pieces of zucchini. This will help in allowing all the chips to cook in about the same amount of time.
Don't skip removing excess liquid from the zucchini, or your chips will not crisp up.
Season your zucchini with any spices that you would like to alter the flavor.
Make sure to check on the chips, as all air fryers are cooked at different times. So use it as a guide, and when the chips are crispy, then remove them.
Place all your zucchini in a single layer. If you overlap, you will get soft spots where the veggie overlaps each other.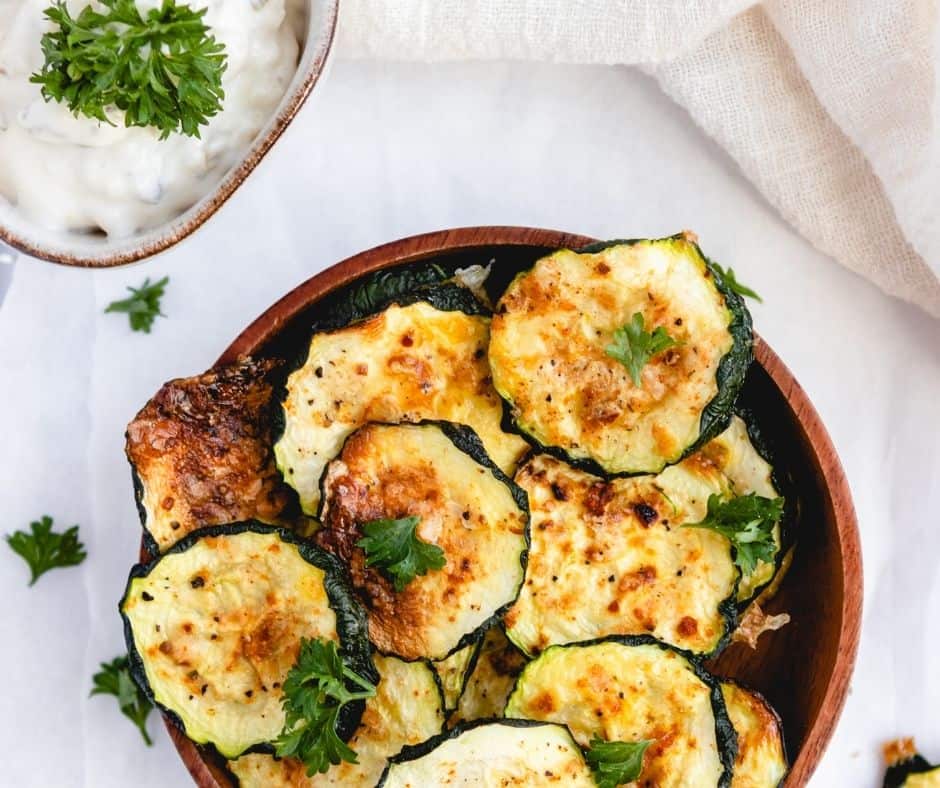 What can I do with a lot of zucchini?
If you have a surplus of zucchini, give one or more of these recipes a try. They are a fun twist from sweet to savory options for you to try out.
Don't Forget To Pin: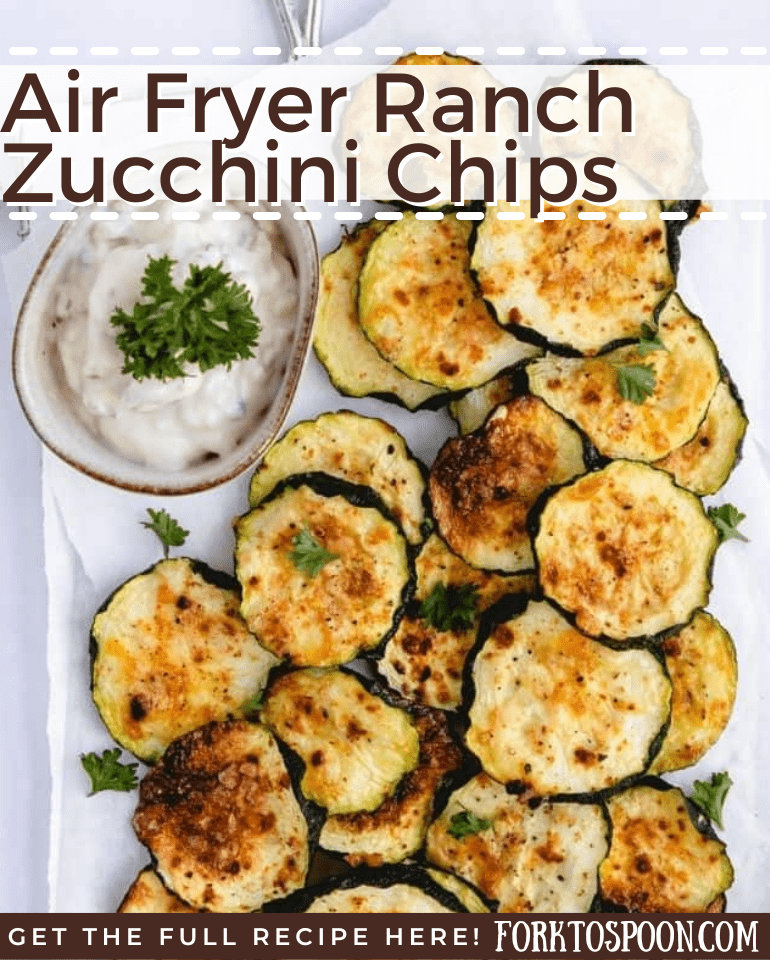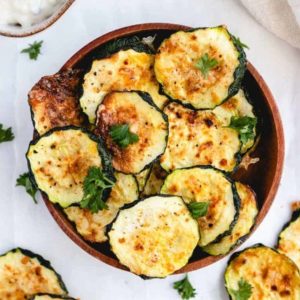 Air Fryer Ranch Zucchini Chips
Description
Whip up a batch of these air fryer zucchini chips. Ranch zucchini chips that are crispy and so satisfying. A healthy and easy air fryer snack.
Ingredients
2

small

zucchini

,

sliced

1

large

egg

1/2

teaspoon

salt

1/2

teaspoon

black pepper

1

teaspoon

dill

1

teaspoon

parsley
Instructions
Slice your zucchini about 1/4 inch thick.

Place the sliced zucchini on paper towels, and sprinkle some salt on top. Wait for about 10-15 minutes, and then blot the zucchini with a paper towel.

In a small bowl, make the egg wash, mix the egg and 1 teaspoon of water.

In another small bowl, mix the salt, pepper, dill, and parsley.

Brush the zucchini chips with the egg wash, then sprinkle the spice blend on top.

Spray your basket with cooking spray, then place your chips into the basket. Not crowing the basket.

Set the temperature to 380 degrees F, air fryer setting for 10-15 minutes, flipping halfway.
Nutrition
Serving:
1
g
Calories:
29
kcal
Carbohydrates:
2
g
Protein:
2
g
Fat:
1
g
Saturated Fat:
0.4
g
Polyunsaturated Fat:
0.3
g
Monounsaturated Fat:
0.5
g
Trans Fat:
0.01
g
Cholesterol:
47
mg
Sodium:
313
mg
Potassium:
175
mg
Fiber:
1
g
Sugar:
2
g
Vitamin A:
191
IU
Vitamin C:
11
mg
Calcium:
18
mg
Iron:
0.5
mg