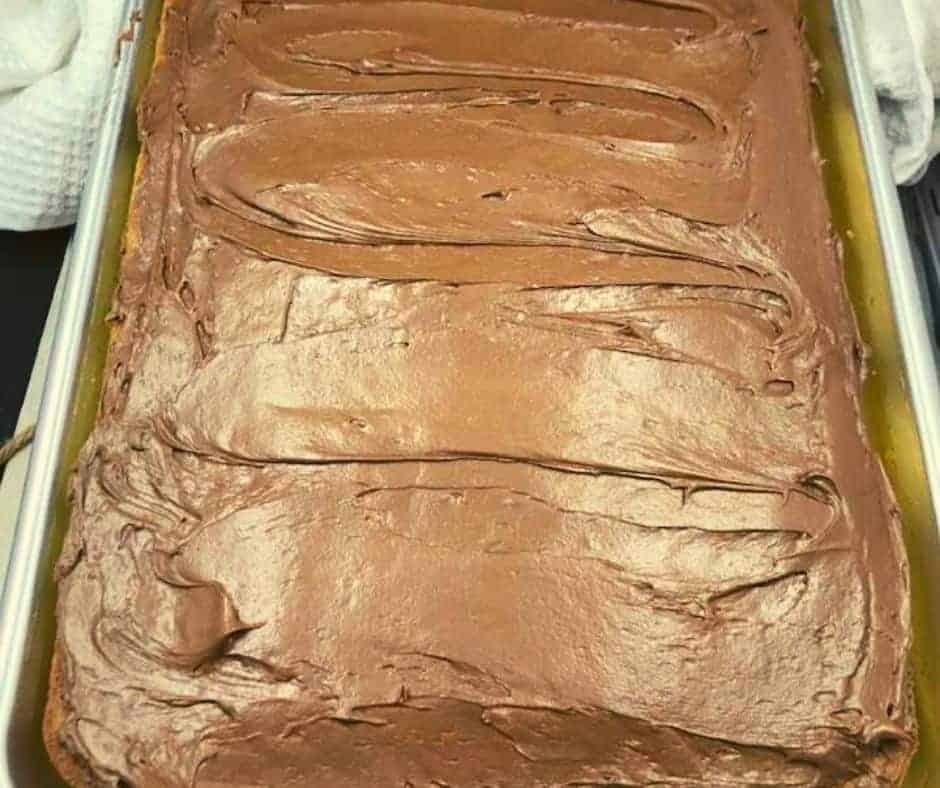 Air Fryer Vanilla Texas Sheet Cake –Dessert will never be the same again. Today, I tried to make a giant vanilla cake in the Air Fryer, also known as a sheet cake.
If you have never made a cake in the Air Fryer before, let me tell you, you will so regret that it took you this long to do. Perfectly cooked, moist, and tender, everything that you want in a cake!
Today, my experiment just used a simple cake mix, but you can change this out for any recipe flavor, and it will work the same. My kids love a great old big vanilla cake with chocolate frosting.
If you are looking for even more Air Fryer Cake Recipes, some of my favorites are AIR FRYER BLUEBERRY CRISP, AIR FRYER CARROT CAKE LOAF, AIR FRYER LEMON MUG CAKE and NINJA FOODI COPYCAT STARBUCKS COFFEE CAKE.
What Is A Texas Sheet Cake?
If you have never heard of a Texas Sheet Cake, they are truly perfect for the Air Fryer Ovens. If you have a smaller Air Fryer basket, you can make them, but not as big. The size of your air fryer determines the size of any cake pan that goes into your air fryer.
I have no idea where the name Texas Sheet Cake came from, and apparently, when you google why they have no idea why. So, think of it as a regular sheet cake pan.
The size of the cake is really perfect if you are having a get-together, party, graduation party or just everyone to celebrate any occasion.
For the air fryer, I did use a thinner pan, which is referred to as a Jelly Roll Pan, which caused my cake to be perfectly cooked. I have found that thicker pans do not work in the Air Fryer, leading to all sorts of troubles.
Ingredients For Air Fryer Vanilla Texas Sheet Cake
For the first Air Fryer Texas Sheet Cake, I went with a vanilla cake mix, but you can use any flavor cake mix that you want, and the recipe will remain the same.
Box Cake Mix (any flavor)
Ingredients To Make Above Cake Mix
Chocolate Frosting
How To Make Air Fryer Vanilla Texas Sheet Cake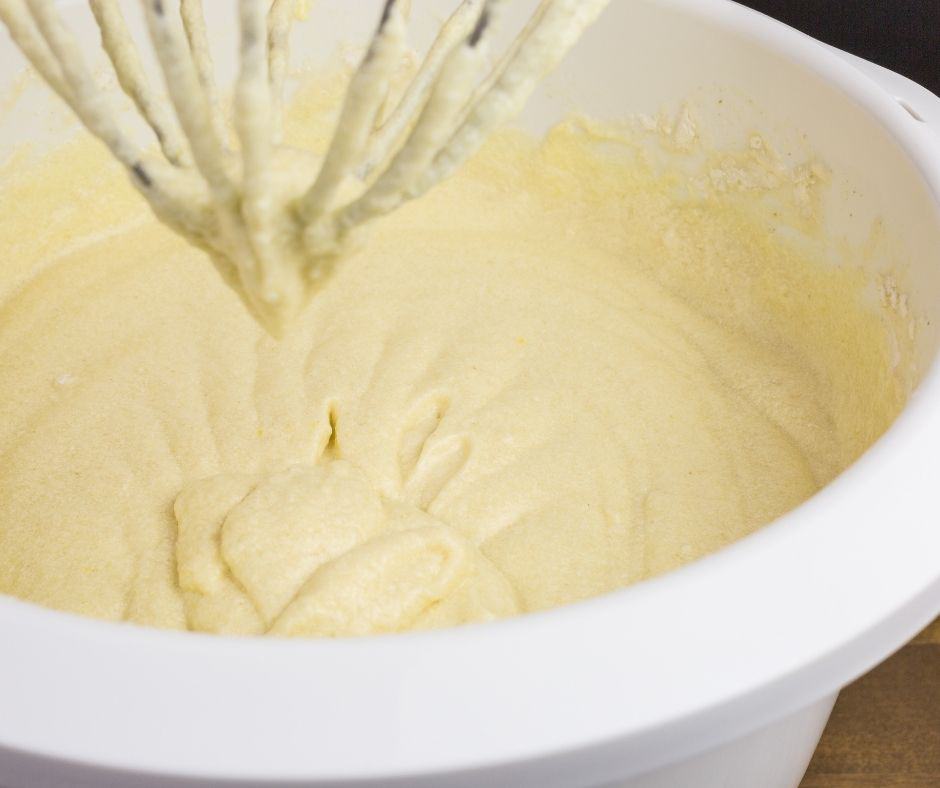 In a large bowl, mix the cake mix and the rest of the ingredients, called for in the cake mix directions. Mix well.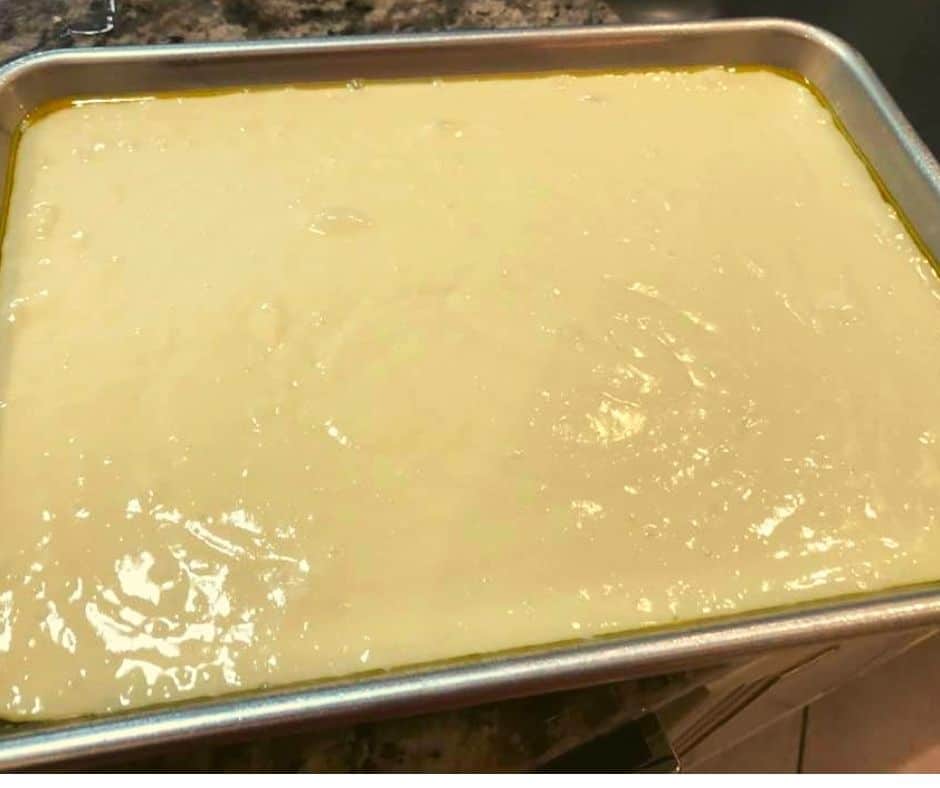 Spray your pan with cooking spray, and then pour the batter into the pan. Set into the air fryer oven for 12-15 minutes at 320 degrees F, air fryer setting. When you stick a toothpick into the center of the cake, and it comes out clean, remove the cake.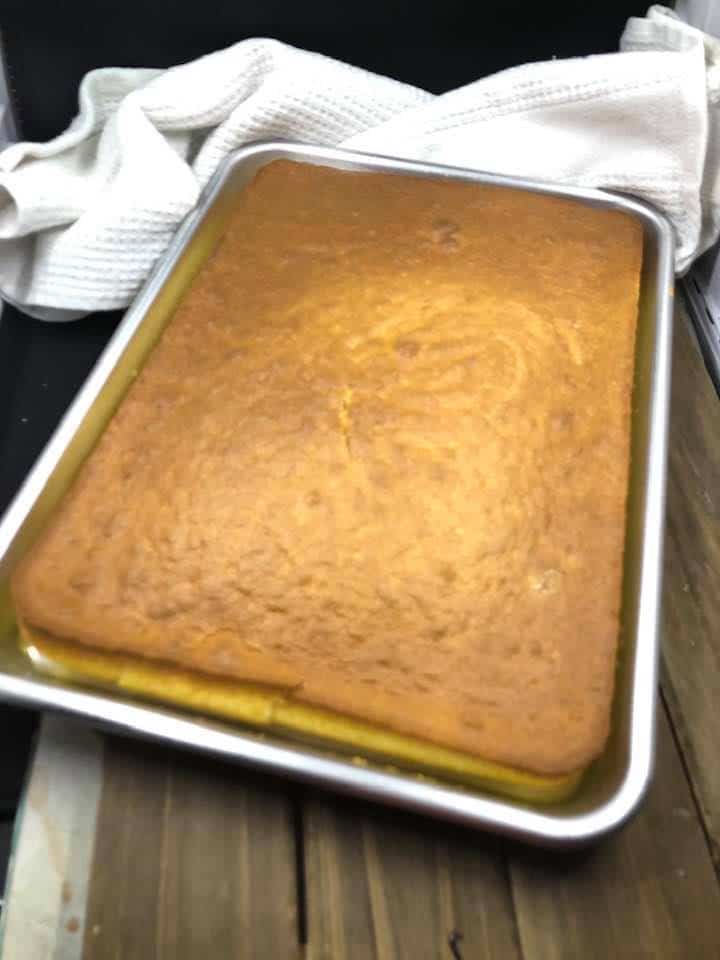 Let cool before frosting.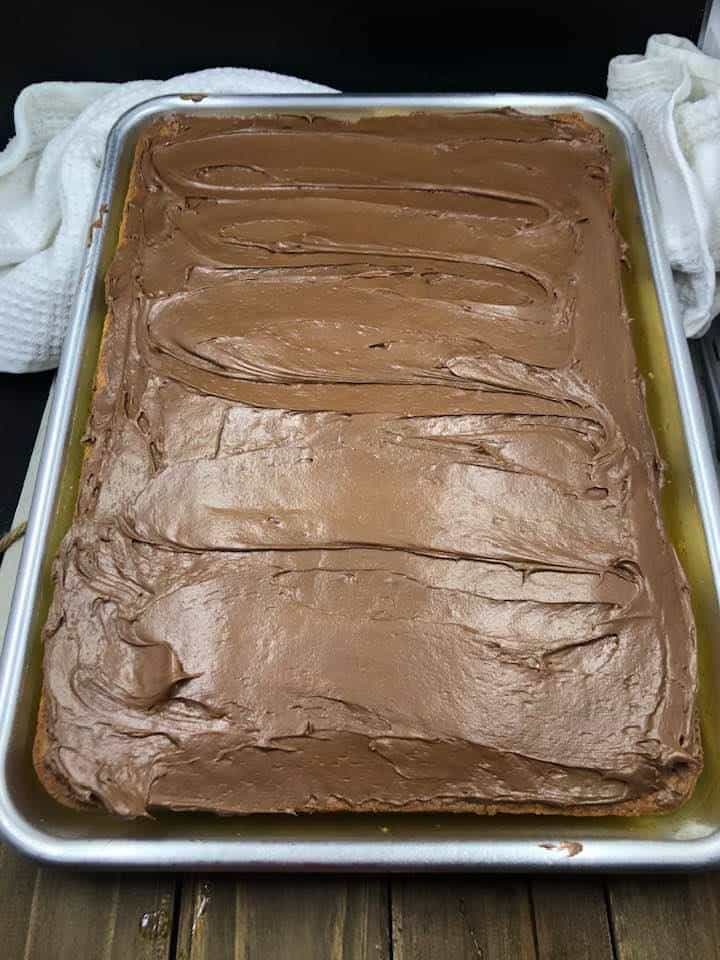 What makes Texas Sheet Cake different?
The best thing is that everything is prepared in one bowl, and then you pour it into the sheet pan to cook up perfectly.
The pan's size will depend on what air fryer you own. Use the largest pan that you can find that will fit your air fryer.
What's the difference between a sheet cake and a regular cake?
The only difference is that Sheet Cakes are typically made with a thin jelly pan roll. This is perfect for baking in the air fryer. Since the pan is thin, the entire cake will fully cook up.
How do you store a Texas sheet cake overnight?
This is a great cake to store overnight, wrap it tightly in saran wrap, and then leave on the counter, where it will last for about a week.
For any longer, cover and place into the refrigerator.
Can You Freeze A Air Fryer Vanilla Texas Sheet Cake?
This is a great cake that you can make ahead of time. For best results, do not frost until ready to serve.
To Freeze: Let it cool to room temperature, then either cut it up in pieces or leave it whole. Wrap the slices of cake in saran wrap a few times, and then wrap a couple of times in aluminum foil. Place into the freezer, and it will last about 2 to 3 months.
To Use From Frozen: Place the cake into the refrigerator overnight, or leave it on the counter until fully thawed. Then frost, and serve.
What Pans Can I Use?
While you can use any pan that you have in your cupboards, I have found the best pan to use is this one (affiliate links included) Note: These fit inside the Omni.

Sheet Pan, Cookie Sheet, Hotel Pan, Heavy Duty Stainless Steel Baking Pans, Toaster Oven Pan, Jelly Roll Pan, Barbeque Grill Pan, Deep Edge, Superior Mirror Finish
Some Other Air Fryer Cake Recipes-
Yield: 12 Servings
Air Fryer Vanilla Texas Sheet Cake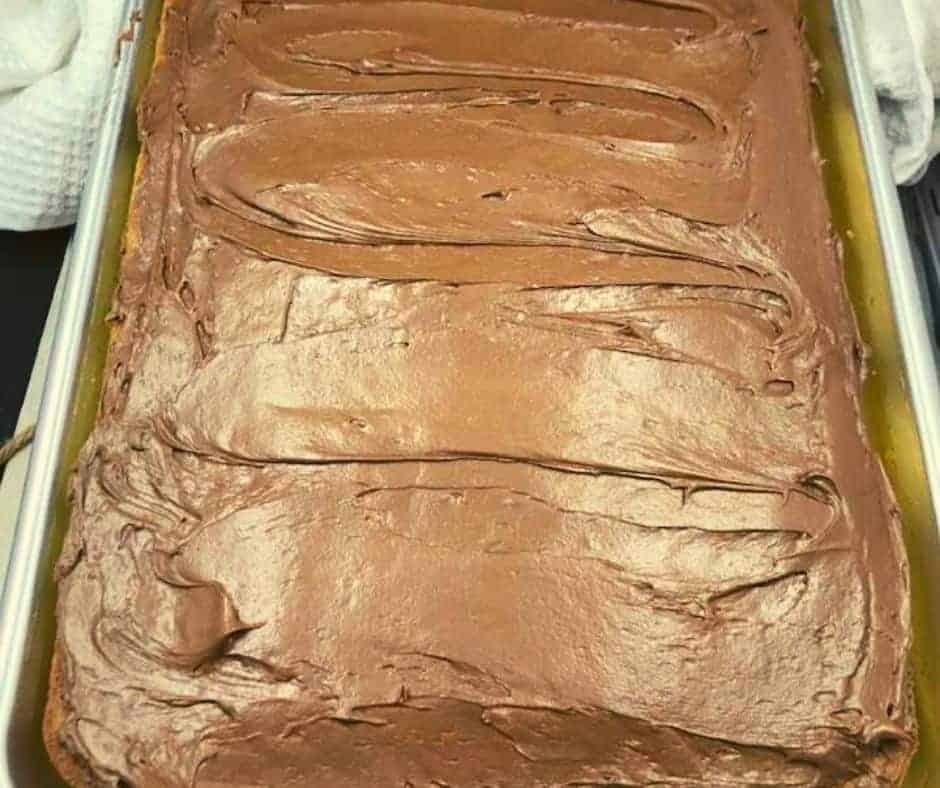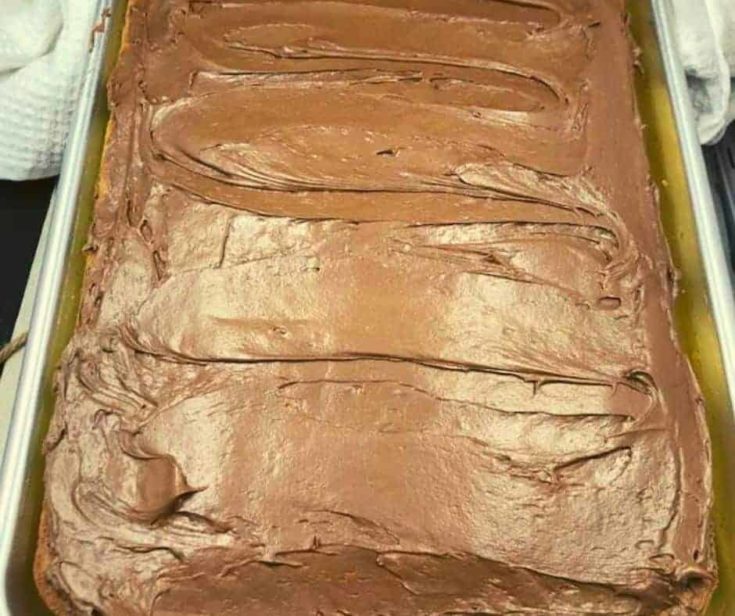 This is an amazing cake, and it feeds a crowd, which is what a sheet cake is supposed to do. My kids loved it; I loved that it served 12 guests, and it took me less than 15 minutes to make. I hope you and your family will enjoy it!
Additional Time
10 minutes
Ingredients
1 package vanilla cake mix
ingredients to make the above cake mix, per package instructions
1 container chocolate frosting
Instructions
Prepare as directed on the box.
Prepare your pan by either spraying non-stick cooking spray or olive oil into the pan.
Pour the batter into the prepared pan.
Set the pan with the batter into the air fryer (here I used the Omni)
Air fry for 12-15 minutes at 320 degrees F, air fryer setting.
Place a toothpick in the center of the cake to make sure it's fully cooked.
Remove and let cool.
Frost the cake.
Plate, serve, and enjoy!
Nutrition Information:
Yield:
12
Serving Size:
1
Amount Per Serving:
Calories:

333
Total Fat:

3g
Saturated Fat:

2g
Trans Fat:

0g
Unsaturated Fat:

1g
Cholesterol:

0mg
Sodium:

639mg
Carbohydrates:

73g
Fiber:

1g
Sugar:

39g
Protein:

3g
Don't Forget To Pin-