Air Fryer Carrot Cake — Are you looking for a yummy, delicious treat to finish your next meal? Whether you're searching for an indulgent dessert to reward yourself after a long day or something special to make for family and friends on a special occasion, this carrot cake recipe is the perfect solution.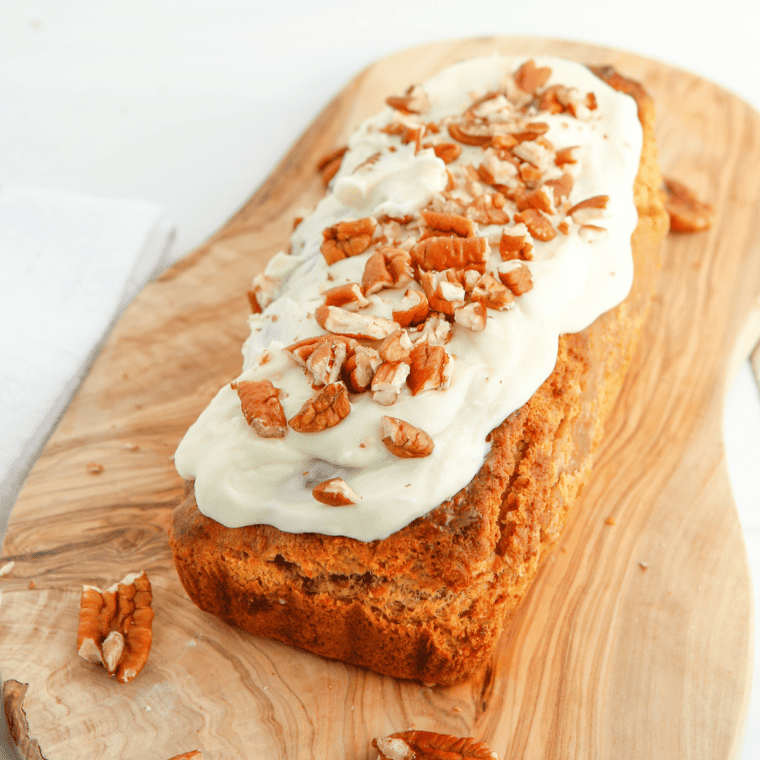 Soft, moist layers of spiced cake are made irresistible with a luscious cream cheese frosting – it's guaranteed to be the hit of any gathering. With detailed step-by-step instructions and pictures, even novice bakers and new air fryer users can easily create this classic favorite from scratch!
If you are looking for some other great air fryer Easter Desserts some of my favorites are AIR FRYER RASPBERRY WONTONS, AIR FRYER CHERRY CHEESECAKE EGG ROLLS, NINJA FOODI RUM RAISIN RICE PUDDING, or even AIR FRYER CANNOLI.
Can You Make Carrot Cake In Air Fryer?

Yes, you can make carrot cake in an air fryer! The air fryer is versatile and can bake desserts, including cakes. Making carrot cake in an air fryer is a quick and efficient way to enjoy this classic dessert without turning on your oven.
The cake turns out moist and delicious, with the added benefit of quicker cooking times compared to conventional baking. Remember to use an air fryer-safe pan or a cake tin that fits comfortably inside your air fryer basket. Adjust the cooking time and temperature based on your specific air fryer model and the cake size.
The Best Air Fryer Carrot Cake Recipe

Introducing the ultimate dessert hack for all the cake lovers: The Best Air Fryer Carrot Cake Recipe! Imagine getting the moist, flavorful, and spiced perfection of a traditional carrot cake but in a fraction of the usual baking time. The air fryer, often celebrated for its ability to crisp foods without excessive oil, has another trick up its sleeve: it's a baker's dream! Whether you're looking for a quick dessert for surprise guests or craving a warm slice of carrot cake without heating your entire kitchen, this recipe is your answer. Let's dive into a culinary experience about elevating your air fryer game to a new level of deliciousness!
Ingredients Needed For Air Fryer Carrot Cake
Are you looking for a healthy and delicious way to enjoy your favorite desserts? If so, ensure air fryer carrot cake is on your list! This simple yet indulgent treat combines all the classic flavors of an enriched carrot cake, including carrots, walnuts, cinnamon, and nutmeg – but with fewer calories than traditional recipes.
Whether you're celebrating a special occasion or want to indulge in something sweet occasionally, this dish will hit the spot. Read on as we walk through the ingredients you'll need to whip up your delicious air fryer carrot cake.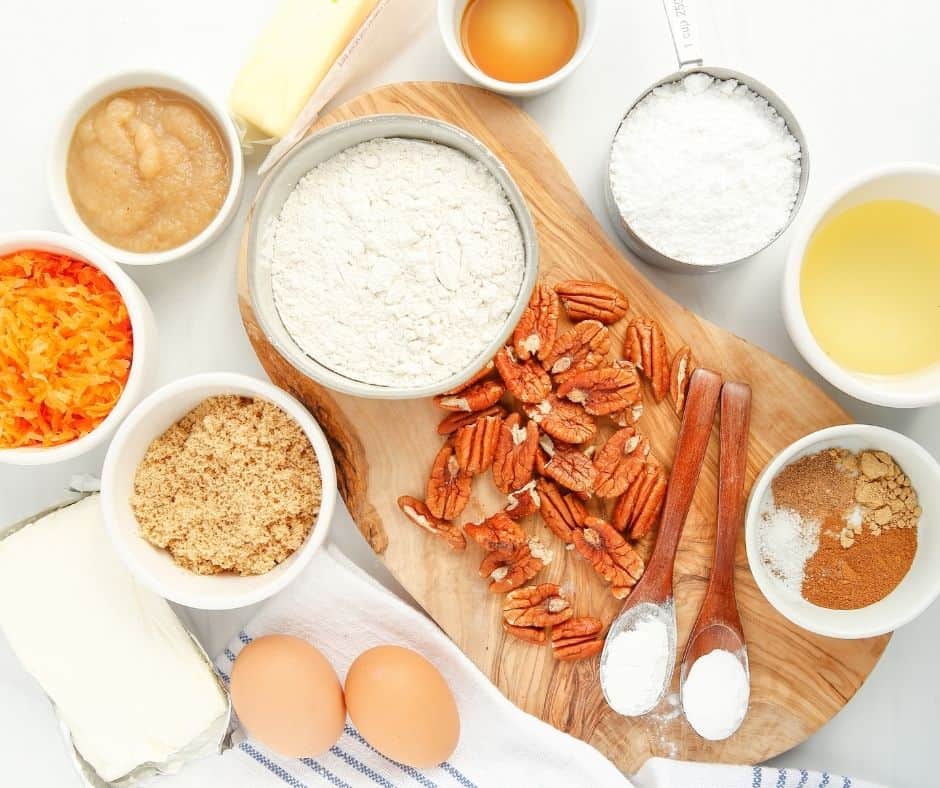 Remember the step-by-step directions and detailed ingredient list are below in the printable recipe card at the end of the post, as well as the nutritional information.
All-purpose flour: The foundation for our cake, providing structure and a soft texture.
Granulated sugar: Adds sweetness and aids in creating a tender crumb.
Baking powder and baking soda: Leavening agents that help the cake rise and become fluffy.
Cinnamon, nutmeg, and cloves: These warming spices bring a depth of flavor and that signature carrot cake aroma.
Kosher Salt: Enhances the flavors and balances the sweetness.
Large Eggs: They provide the cake structure, moisture, and richness.
Vegetable oil: Keeps the cake moist and adds a soft texture.
Vanilla extract: Offers a fragrant, sweet aroma and depth of flavor.
Grated carrots: The star ingredient, offering natural sweetness, moisture, and a delightful texture.
Chopped nuts (like walnuts or pecans): They add a crunchy contrast to the soft cake and a nutty flavor.
Raisins (optional): These sweet morsels bring chewiness and an extra layer of sweetness.
Crushed pineapple (optional): Adds moisture and a tropical twist to the classic recipe.
Shredded coconut (optional): Offers a pleasant chewiness and tropical flavor, complementing the carrot's natural sweetness.
How To Make Carrot Cake Air Fryer
Are you ready for an easy and delicious treat that will satisfy your sweet tooth? Look no further than this incredibly simple carrot cake made in the air fryer! Not only is it a healthier alternative to the classic carrot cake, but its fuss-free method means you don't have to turn on the oven and can enjoy moist, fluffy, sweet, and tangy slices of heaven in minutes.
Whether you're a novice baker or a pro chef looking for something new, look no further – this tasty dish requires minimal effort with maximum payoff! Keep reading for step-by-step instructions on how to make this tasty crowd-pleaser at home.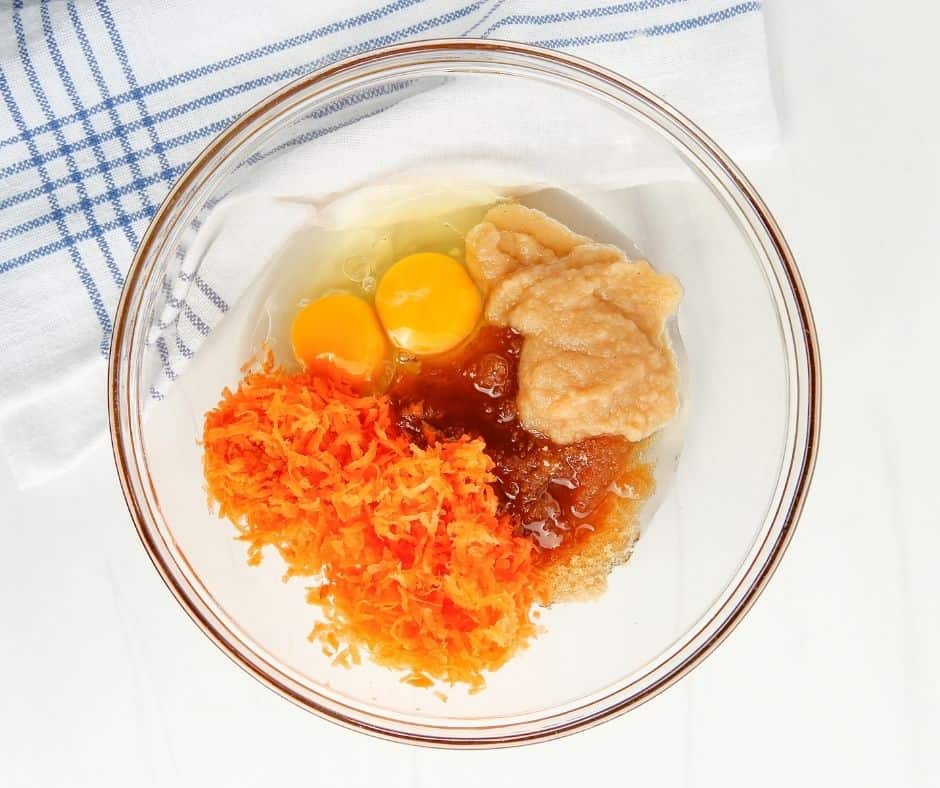 Preparation: Begin by greasing an air fryer-safe cake pan or a regular pan that fits comfortably inside your air fryer basket.
Dry Ingredients: In a large bowl, whisk together the all-purpose flour, granulated sugar, baking powder, baking soda, cinnamon, nutmeg, cloves, and salt. Ensure all ingredients are well combined.
Wet Ingredients: In a separate bowl, beat the eggs with a hand mixer at medium speed until they are light and frothy. Gradually add the vegetable or canola oil and vanilla extract, continuing to mix until smooth.
Combine: Slowly fold the wet mixture into the dry mixture until combined. Overmixing can result in a denser cake.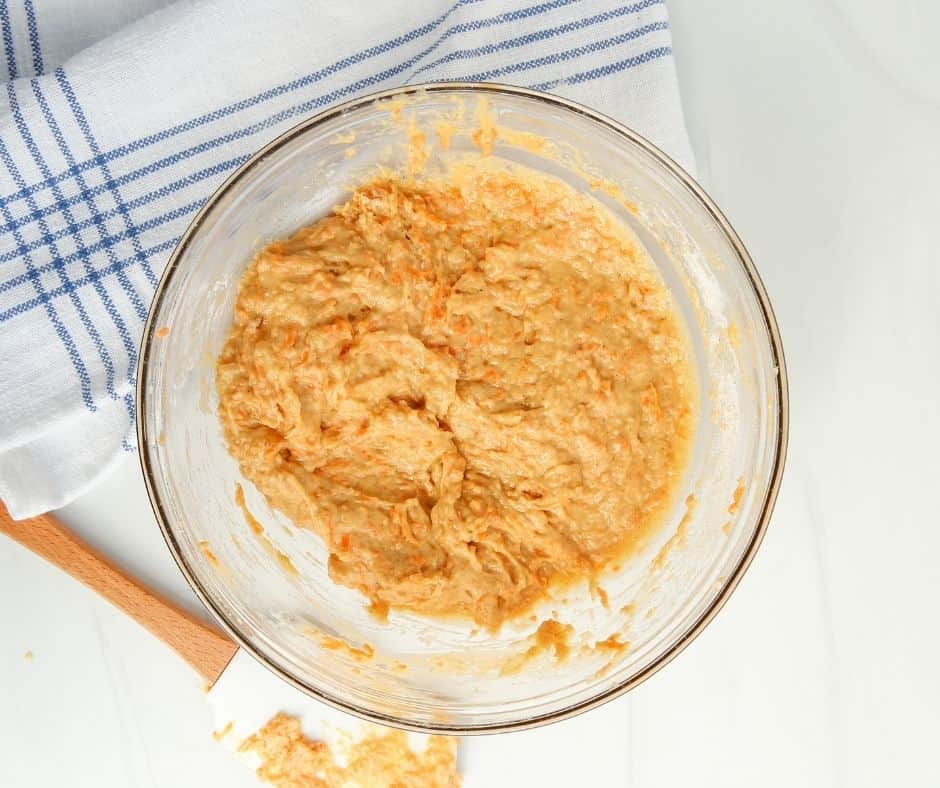 Add-ins: Stir in the grated carrots. If you're using nuts, raisins, crushed pineapple, or shredded coconut, fold them into the batter at this point.
Transfer to Pan: Pour the carrot cake batter into the prepared pan, spreading it out evenly.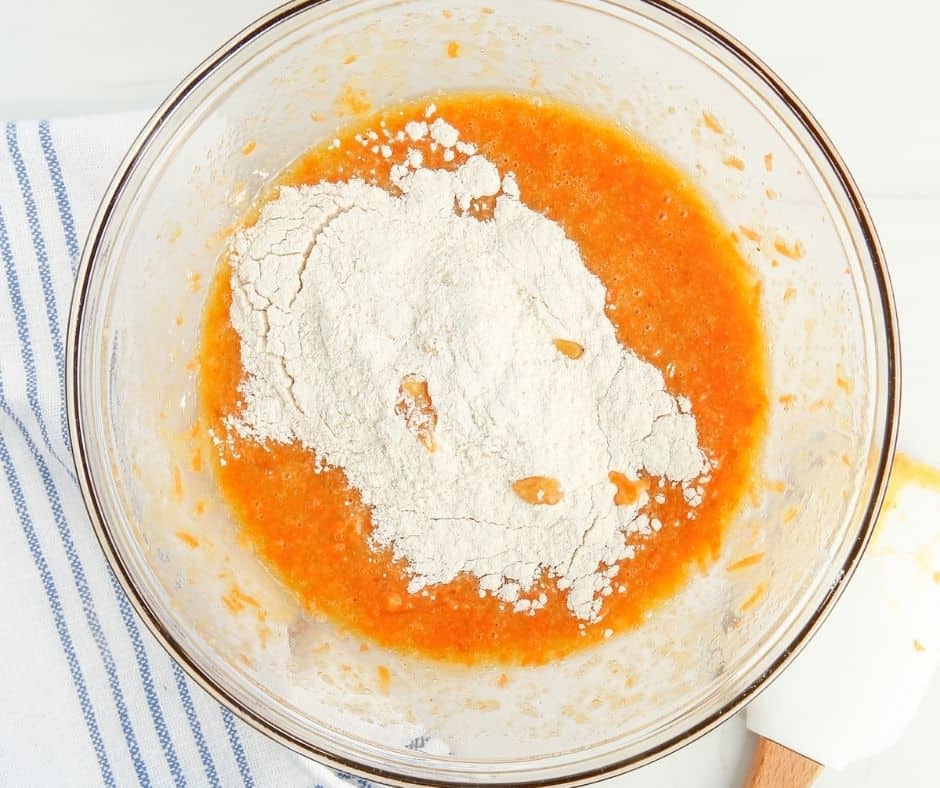 Air Frying: Preheat your air fryer to 320°F (160°C) for a few minutes. Once preheated, carefully place the cake pan into the air fryer basket. Cook for about 25-30 minutes, or until a toothpick inserted into the center of the cake comes out clean or with a few crumbs. Since air fryer models can vary, it's a good idea to start checking around the 20-minute mark.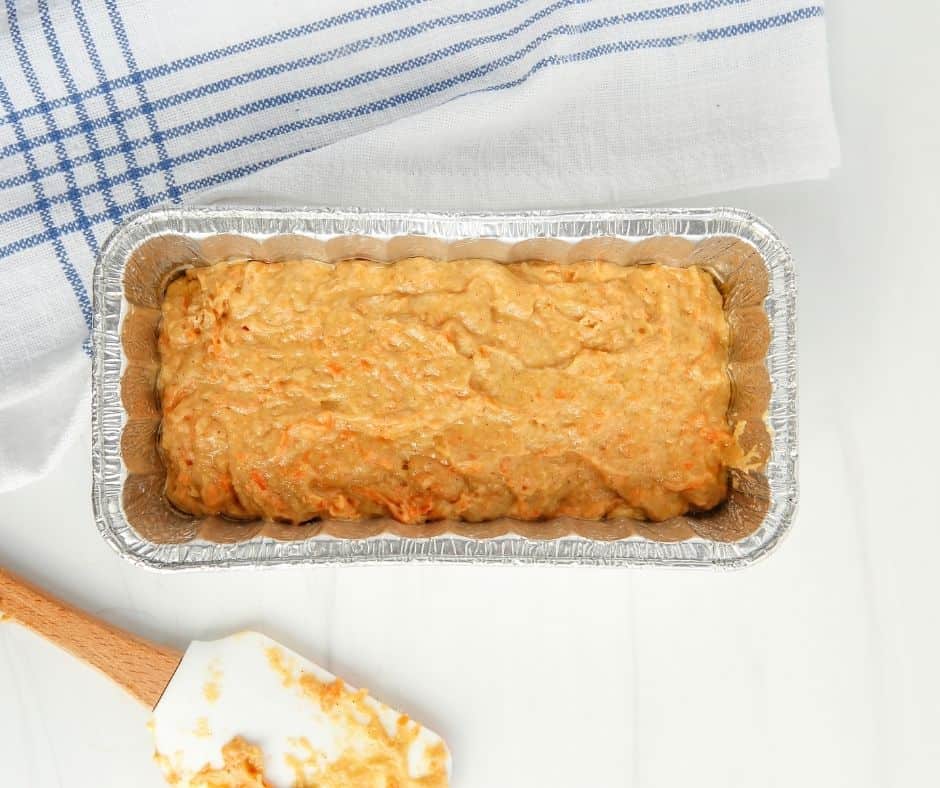 Cooling: Place the cake pan on a cooling rack after carefully removing it from the air fryer. Let the cake cool in the pan for about 10 minutes, then turn it onto the wire rack to cool completely.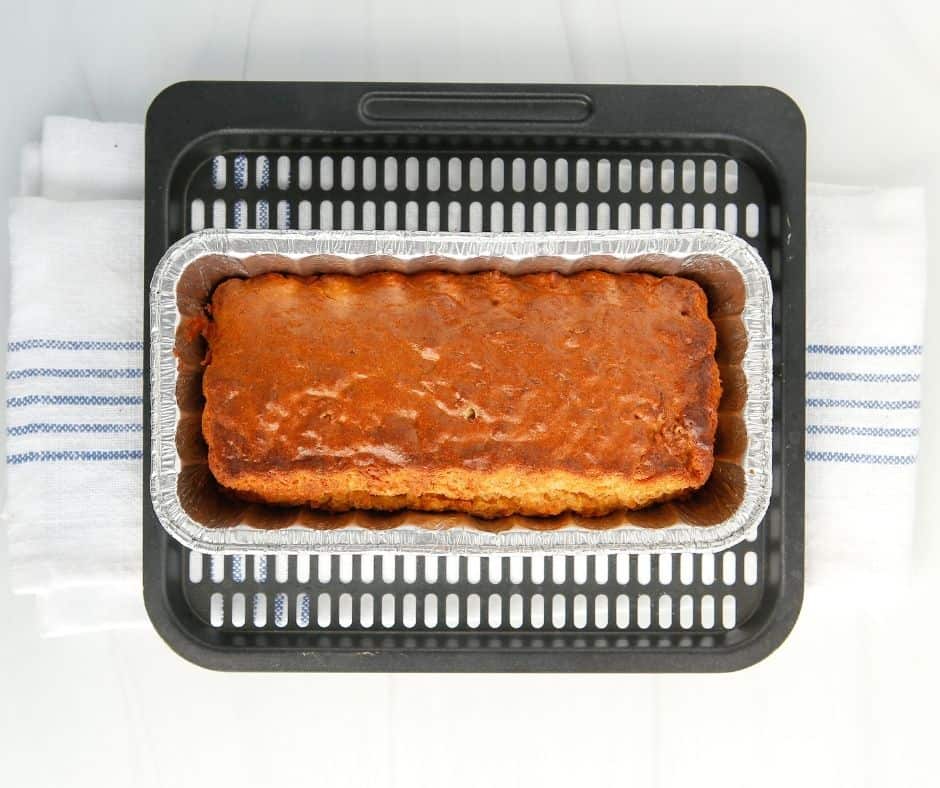 Frosting (optional): Once the carrot cake is completely cooled, top the cake with your favorite cream cheese frosting or enjoy it plain.
Serve: Slice the carrot cake into desired pieces and serve. Enjoy the moist and flavorful treat made conveniently in your air fryer!
Remember, cooking times can vary depending on the specific model of your air fryer and the size of the cake pan, so keep an eye on your cake, especially the first time you make it.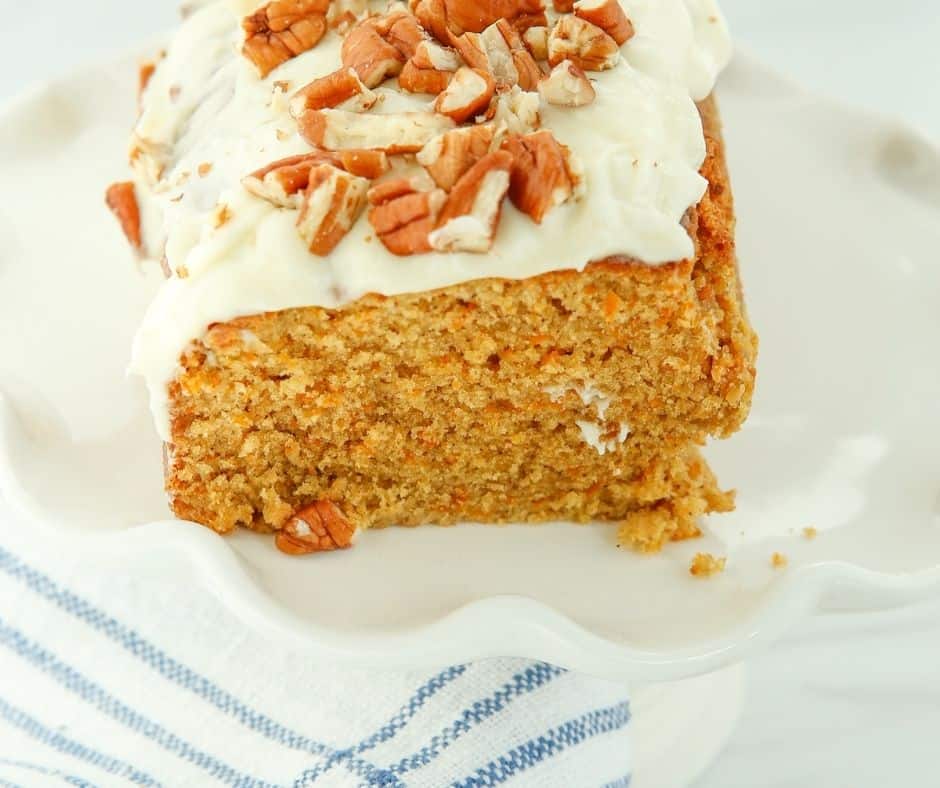 Pro Tips For The Best Carrot Cake Recipe In Air Fryer
Fresh Grated Carrots: Always use fresh carrots and grate them yourself. Pre-shredded carrots from the store can be dry and won't provide the same moisture and flavor.
Even Cooking: To promote consistent cooking, ensure your batter is spread evenly in the pan. The uneven batter can lead to the cake's over or undercooked parts.
Avoid Overmixing: Mix the batter just until the ingredients are combined. Overmixing can lead to a denser, less fluffy cake.
Check for Doneness: Since air fryers can vary in temperature and power, check for doneness a few minutes before the suggested time is up. Use a toothpick or cake tester; the cake is done when it comes out clean or with a few crumbs.
Cool Completely Before Frosting: Let it cool completely if you're frosting your cake. Applying frosting to a warm cake can cause it to melt and become runny.
Cake Pan Size: Use a cake pan that fits comfortably in your air fryer and allows for proper air circulation around the pan.
Temperature: Carrot cake is dense and moist, so cooking at a slightly lower temperature ensures the middle gets cooked without the outside becoming too brown.
Add-ins: Feel free to customize your carrot cake with add-ins like raisins, nuts, or coconut, but be mindful of the amount. Too many add-ins can make the cake crumbly.
Use Room Temperature Ingredients: Using eggs and other refrigerated ingredients at room temperature can help achieve a more uniform texture in the cake.
Regular Checking: Air fryers cook differently than conventional ovens. Check the cake periodically to prevent over-browning, especially if baking it in the air fryer is your first time.
With these pro tips, you can make a delicious and perfectly cooked carrot cake in your air fryer! Enjoy the process and the scrumptious result.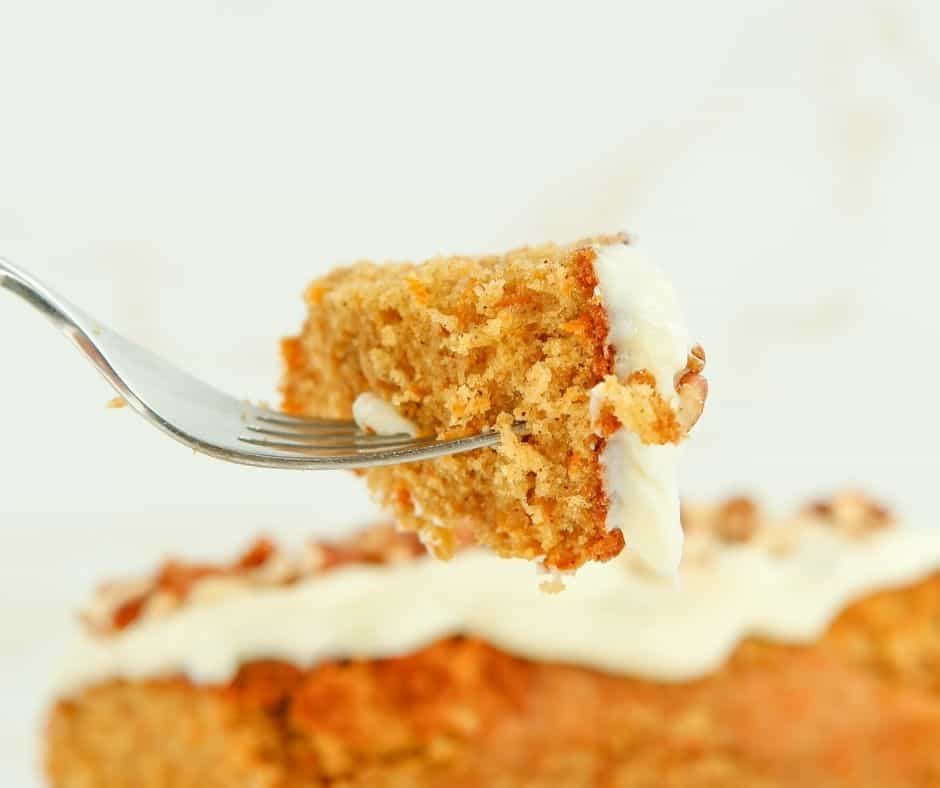 Frequently Asked Questions About Air Fryer Carrot Cake
Is air-frying a cake different than oven-baking? Yes, air frying circulates hot air around the cake, resulting in faster cooking times than conventional ovens. You'll often find that cakes cook quicker in an air fryer, but monitoring closely is essential to avoid overcooking.
Can I use pre-shredded carrots for the cake? While you can use pre-shredded carrots, fresh-grated carrots typically provide better moisture and flavor to the cake.
Can I add nuts or raisins to my carrot cake? Absolutely! You can customize your carrot cake with nuts, raisins, or coconut. Be sure not to overload the batter, as too many add-ins can affect the cake's texture.
How do I know when my carrot cake is done? The best method is the toothpick test. Insert a toothpick or cake tester into the center of the cake; if it comes out clean or with a few crumbs, the cake is done.
Can I use this recipe to make carrot cake muffins or cupcakes in the air fryer? Yes, you can. Adjust the cooking time accordingly since smaller portions cook faster than a whole cake.
Do I need to preheat my air fryer before baking the cake? Preheating your air fryer for a few minutes before adding the cake is good practice, as it helps achieve consistent results.
The top of my cake is browning too quickly. What should I do? If you notice the top browning too fast, cover it lightly with aluminum foil to prevent further browning while the cake cooks inside.
Can I use a frosting other than cream cheese icing for my carrot cake? Of course! While cream cheese frosting is traditional for carrot cakes, you can use your favorite frosting or even serve it plain.
I don't have an air fryer. Can I use this recipe in a regular oven? Yes, you can. However, you'll need to adjust the cooking time and temperature. Generally, traditional ovens will require a longer cooking time at a temperature similar to or slightly higher than recommended for the air fryer.
How long will the carrot cake keep after baking? The carrot cake will stay fresh for 2-3 days at room temperature if stored in an airtight container. If refrigerated, it can last up to a week. For longer storage, transfer to a freezer-safe container, or place into a freezer bag.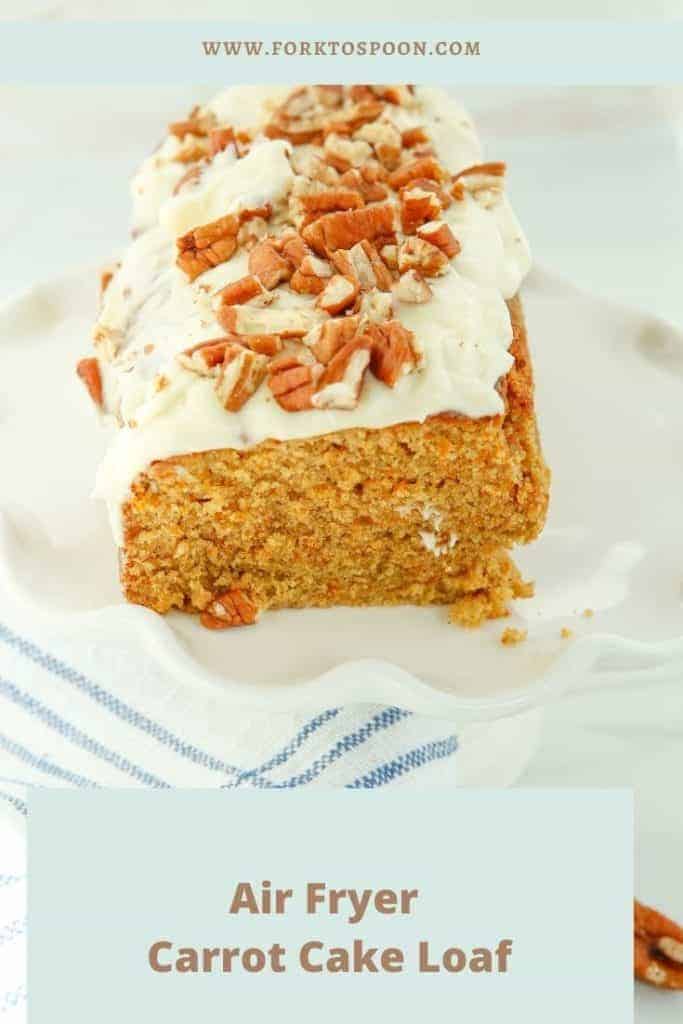 Best Pans For Making Carrot Cake In Air Fryer
Disclosure: Some of the links below are affiliate links. At no cost to you, I will earn a commission if you click through and make a purchase.
Don't Forget To Pin-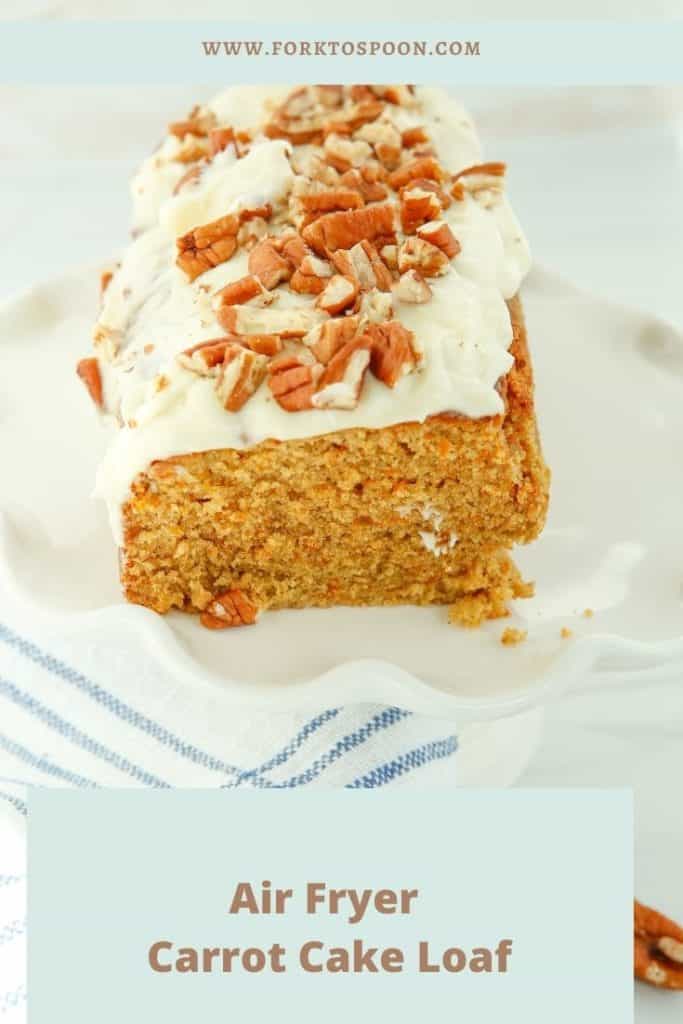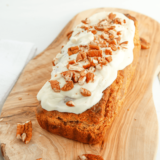 Air Fryer Carrot Cake
Description
This is a great and easy way to make a homemade carrot cake with real cream cheese frosting.
Ingredients
Carrot Cake Ingredients:
1 ½

cups

sifted all-purpose flour

¾

teaspoon

baking soda

1

teaspoon

baking powder

1

teaspoon

ground cinnamon

¼

teaspoon

ground nutmeg

¼

teaspoon

ground ginger

¼

teaspoon

kosher salt

1 ½

cup

peeled and shredded carrots

½

cup

avocado or vegetable oil

2

large eggs

,

room temperature

¾

cup

light brown sugar

,

packed

⅓

cup

unsweetened applesauce

1

teaspoon

vanilla extract

⅓

cup

chopped pecans for garnishing
Cream Cheese Icing or Cream Cheese Frosting:
4

oz

cream cheese

,

softened to room temperature

2

tablespoons

butter

,

room temperature

¾

cup

confectioners sugar

1

teaspoon

vanilla extract
Instructions
Preheat your air fryer to 320 degrees F, air fryer setting.

In a medium bowl, combine the flour, baking soda, baking powder, cinnamon, nutmeg, ginger, and salt in a bowl until combined.

In a large bowl, mix the carrots, oil, eggs, brown sugar, applesauce, and vanilla extract. Add the dry ingredients into the wet ingredients and mix until just combined. Pour the batter into your prepared loaf pan about ⅔ full and bake for 20-30 minutes in the air fryer depending on pan size, or until a toothpick inserted in the center comes out clean.

Meanwhile, prepare your frosting. Beat the cream cheese and butter with an electric or hand mixer until creamy and smooth. Add in the powdered sugar and vanilla and mix for another minute until well combined. Remove and set aside.

Once the carrot loaf has finished cooking, remove it from the air fryer and transfer it to a wire rack to cool completely. Once the loaf is cooled, spread the frosting over the loaf top and garnish it with chopped pecans. Slice and serve, enjoy!
Equipment
Air Fryer

Baking Pan

Cooking Spray
Notes
Leftover frosted carrot cake loaf can be stored in an airtight container in the refrigerator for up to 1 week.
This recipe will make 2-3 mini loaves, depending on your pan size.
Placing foil tightly over the top of the loaf pan halfway through the cooking process can help prevent the top from browning too much.
To bake this recipe in the oven with a standard 9×5 loaf pan, preheat to 350F and bake for 50 minutes.
Nutrition
Serving:
1
Serving
Calories:
421
kcal
Carbohydrates:
55
g
Protein:
5
g
Fat:
26
g
Saturated Fat:
7
g
Polyunsaturated Fat:
9
g
Monounsaturated Fat:
7
g
Trans Fat:
0.2
g
Cholesterol:
63
mg
Sodium:
334
mg
Potassium:
192
mg
Fiber:
2
g
Sugar:
23
g
Vitamin A:
4353
IU
Vitamin C:
2
mg
Calcium:
85
mg
Iron:
2
mg