Air Fryer KETO Pepperoni Cracker Chips –Make a crunchy, delicious snack at home with your air fryer! These Air Fryer Pepperoni Chips are made in the air fryer and take only minutes to complete. They're crispy on the outside and chewy on the inside!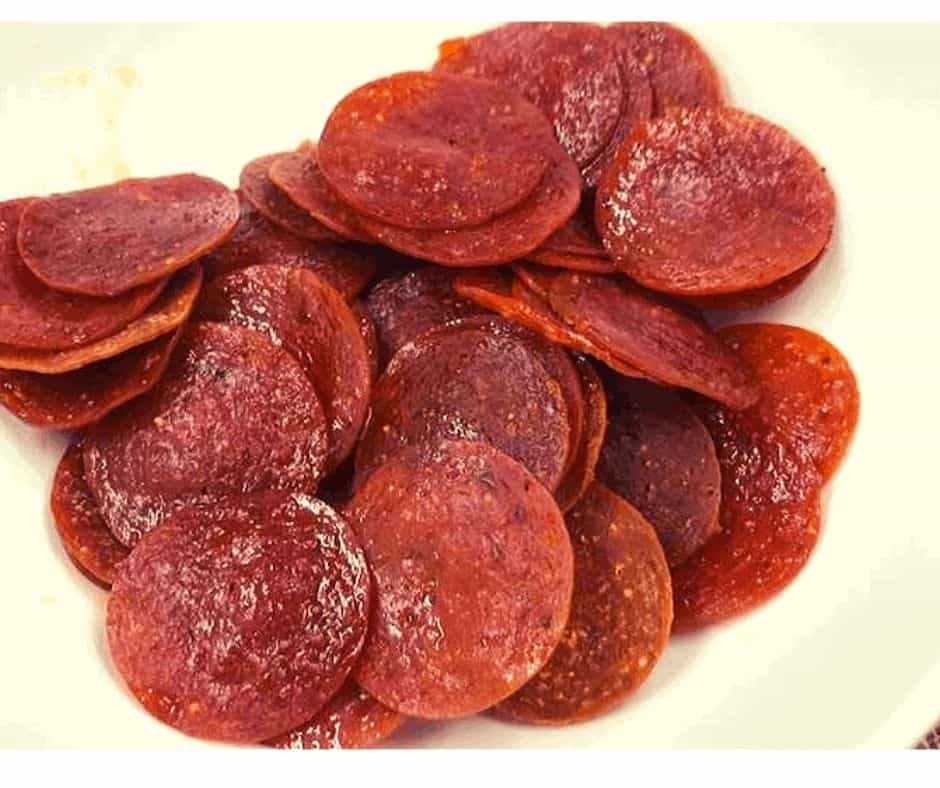 These are great snacks or appetizers if you are making them for a crowd. They are also relatively inexpensive and KETO friendly. If you are making them and you are on KETO, make sure that you check the carb count.
You won't be able to resist these addicting and easy-to-make keto pepperoni chips! Just throw some meat into an air fryer, then press those delicious little circles down. You'll get all of that flavor with none of the guilt in just 5 minutes flat – perfect for snacking on them or packing as a Lunch Break Treat!
I LOVE keto pepperoni chips! Let me tell you why you need to make these as your next Air Fryer Snack–they are amazing!
And if you are following a low-carb or Keto-Friendly Diet, this is the perfect snack because they are made with only one ingredient and have ZERO carbs too?!
Best of all, they cook up perfectly in the air fryer! Oh, so good!
What Are Pepperoni Chips?
Pepperoni chips are a tasty treat that is similar to pepperoni pizza but without cheese. Pepperoni chips can be made from ground beef or turkey and then air-fried until crispy. They make an excellent appetizer for parties or just as a snack at home! Instead of having to wait for your pizza to cook in the oven, you can have these delicious snacks ready within 5 minutes. It's so easy!
Now it's your turn – try making some pepperoni chips today and tell us what you think! Or if they're already one of your favorite snacks!
How To Make Air Fryer Pepperoni Chips (or Pepperoni Crisps)
Are you a fan of the delicious, crunchy, and spicy flavor of pepperoni chips? If so, then this recipe t is definitely for you! You can make air fryer pepperoni chips in just 5 minutes. You can use any type of pepperoni or salami that you want, but I would recommend using a thicker cut because they have more meat per slice. The thinner pieces tend to burn much faster than the thicker ones do. This recipe also works well with turkey bacon which is a great way to add some lean protein to your snack! For best results, try not to overcrowd the air fryer basket. This will ensure that all sides get crispy and golden
To Cook Up Air Fryer KETO Pepperoni Cracker Chips
Lay them out in the air fryer basket or tray, being careful not to crowd them.

Set the temperature to 400 degrees F for 4 minutes.

Drain them on a paper towel, see all the grease, you get out.

Plate, serve and enjoy!
Keto Pepperoni Chips Nutrition Facts
Keto Pepperoni Chips are a great snack to have on hand when you feel hungry and need something crunchy. They are an excellent substitute for potato chips.
Hey, they are made from pepperoni slices that have been air-fried until they become crispy. These chips are high in fat and low in carbs, making them perfect for anyone following a keto diet!
How To Store Air Fryer Pepperoni Chips
So, you just made a great batch of air fryer pepperoni chips, and now you can't wait to eat them. Before doing so, some simple steps need to be taken before storing them for a few days.
These tips will help keep your chips fresh for longer!
The first tip is to store your pepperoni chips in an airtight container. Air exposure does nothing but dry out food products like these delicious snacks. Keeping them away from any type of moisture or humidity will also prolong their shelf life and keep their flavor fresh!
Finally, another great way to make sure your chips retain their yummy taste is by keeping them in a cool dark place such as the pantry or even on top of the fridge where they will not get direct sunlight. 
These snacks do not need to be refrigerated and last about 1 to 2 days before losing their crispness.
More Air Fryer KETO Air Fryer Recipes:
Air Fryer KETO Pepperoni Cracker Chips
These are low carb, KETO friendly snacks. You can use them as chips or crackers, too. I love eating them, with a slice of KETO friendly cheese on top.
Keyword:
Air Fryer Appetizers, Air Fryer Easy Recipes, Air Fryer Keto Recipes, Air Fryer Pepperoni Chips, Air Fryer Pepperoni Crisps
Instructions
This is the package, I used in this recipe.

Lay them out in the air fryer basket or tray, being careful not to crowd them.

Set the temperature to 400 degrees F, for 4 minutes, air fryer setting.

(The Omni only does 5 minutes, so just stop it at 4) using the air fryer setting.

Drain them on a paper towel, see all the grease, you get out.
Recipe Video
Nutrition Facts
Air Fryer KETO Pepperoni Cracker Chips
Amount Per Serving (1 g)
Calories 178
Calories from Fat 144
% Daily Value*
Fat 16g25%
Cholesterol 34mg11%
Sodium 557mg24%
Potassium 97mg3%
Carbohydrates 0.4g0%
Protein 7g14%
Calcium 7mg1%
Iron 0.5mg3%
* Percent Daily Values are based on a 2000 calorie diet.
Don't Forget To Pin: