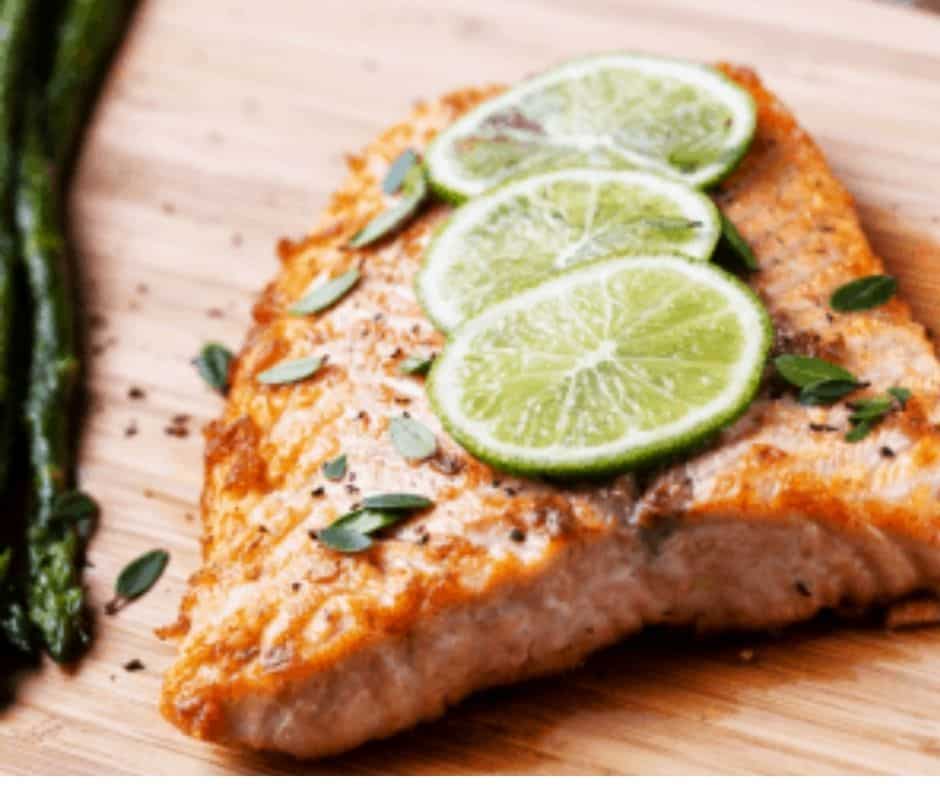 Air Fryer Keto Garlic Butter Salmon-If you have not made salmon in the air fryer, you are missing out. This Air Fryer garlic butter salmon and loaded with flavor, and you can serve up perfectly cooked salmon in no time. Air fryer salmon is a delicious dinner or lunch.
This is one of my family's favorite recipes. It hits all of the marks; it's Gluten-Free, KETO compliant, Paleo, and most importantly, it is absolutely delicious. The herb crust is amazing, and it perfectly balances out the salmon.
This is the air fryer that I used in this recipe; it is one of my favorites.
Air Fryer Keto Garlic Butter Salmon
Air frying salmon is the best way other than grilled, to cook a perfectly delicious salmon dish. It is easy, and delicious, and with the use of parchment paper, there is virtually no cleanup. Just simply rinse the air fryer basket, throw after the parchment liner, and your clean-up from dinner or lunch is complete.  This can be served as the main entree, over rice, or over a garden salad.
I love eating salmon it is a great source of protein, Omega 3's, and can be flavored in a number of ways.
Here are some tips for cooking salmon.
Leave the skin on: It provides a great layer for the skin and the air fryer basket (or parchment paper). Since the skin crisps up, it's easier to flip it halfway through the cooking process. Skin is perfectly edible, so you can choose to eat it or not eat it. It's totally up to you.
Do not Overcook The Salmon: This is actually a very common mistake for everyone cooking
salmon. Once the salmon fillet starts to turn white, remove it from the air fryer because it is
cooked.
The best way to cook salmon is medium-rare to medium is a perfect way since it will not be dried out in the middle.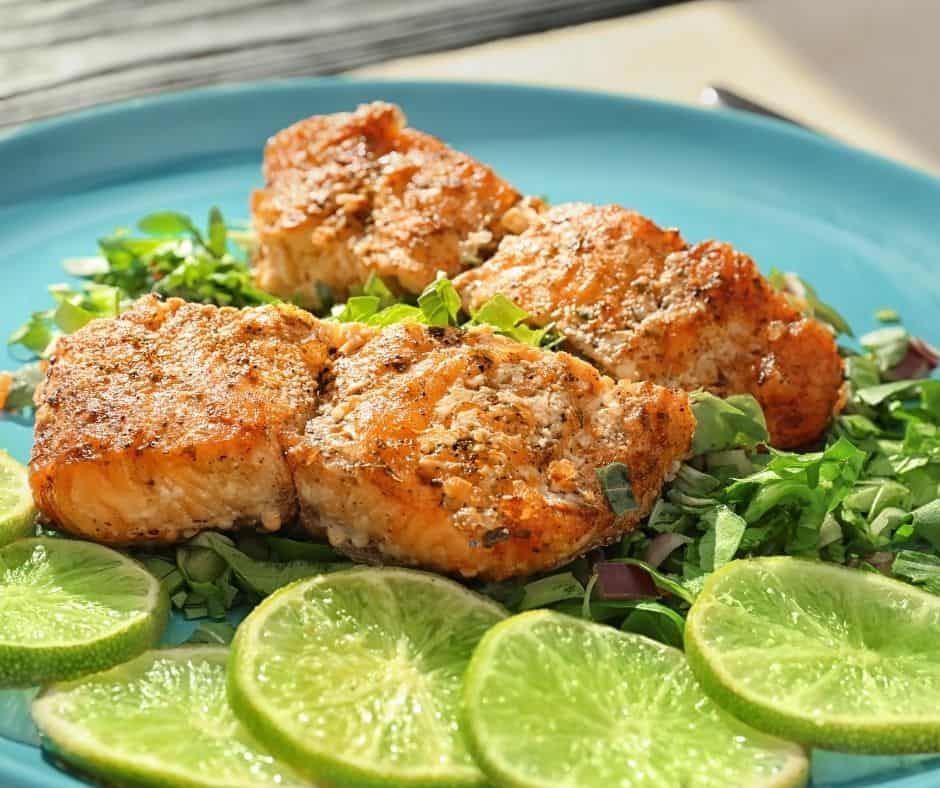 Do Air Fryers Really Work
Air fryers do really work. They use hot air to circulate all around the food you are cooking, from baking to air frying a crispy appetizer to serve up. This handy kitchen device is really popular, and for a good reason. Whip up your favorite meals without having to turn on the oven!
You will have juicy, flavorful food each and every time. Or you can try your hand at baking in the air fryer. It is a great way to get the perfect desserts. I think you will love cooking with an air fryer! It is a fun kitchen tool in our home.
Kitchen Items Used: (Note: Affiliate links are included in this post)
How To Season Salmon For The Air Fryer
Go right ahead and season up your salmon how you prefer to season it. Then cook the same as directed in the recipe card. Salmon is delicious, and when cooked properly, you will find any of your favorite seasonings can become a great compliment to this pink fleshy fish.
Does An Air Fryer Brown Food
You will see that air frying can brown up the food the same way as deep frying. You just need to spritz the food with a little oil. Do not use a can of cooking spray. That can eat away the enamel on the basket or trays. Use an oil mister. It will help give your food that perfect coating to help brown up the food you are cooking.
What to Serve With Air Fryer Salmon
Green Salad
Cucumber and Onions or Pasta Salad
Pair your salmon with any and all your favorite side dish recipes. Or go very simple and reach for a prepared salad or something that is no fuss.
How To Bring Flavor Out In Salmon
I find that drizzling with lemon juice really helps to amplify the seasonings and spices you place on your salmon. Give it a try. Once your salmon is done, simply drizzle it with fresh lemon juice. 
Dive in and devour this incredible seafood made right in the air fryer. 
Air Fryer Keto Garlic Butter Salmon
This is a really delicious dish, which is KETO compliant. It has a great natural taste that is enhanced by the air fryer. It has a great flavor with both the Butter and Parmesan cheese, but at the same no carbs.
Keyword:
Air fryer Keto Garlic Butter Salmon
Ingredients
1

pound

salmon fillet

4

tablespoons

butter

unsalted, melted

1/4

cup

Parmesan cheese

grated

2

tablespoons

garlic

minced

2

tablespoons

parsley

1

teaspoon

salt

1

teaspoon

black pepper

or to taste
Instructions
Start by removing the skin from the salmon fillet. 

Then season the salmon with salt and pepper.

In a small mixing bowl, mix the melted butter, parmesan cheese, minced garlic, and parsley. Mix well.

Pour the melted butter/cheese/garlic and parsley over the salmon, coating it well.

Place the salmon in your air fryer basket or on the air fryer tray.

Set the tray or basket in the air fryer, and set the temperature to 400 degrees F for 5 minutes. After 5 minutes, check on the salmon. It's really easy to overcook salmon, so as soon as it is flaky, remove it. I added another 2 minutes.
Nutrition Facts
Air Fryer Keto Garlic Butter Salmon
Amount Per Serving (1 g)
Calories 294
Calories from Fat 180
% Daily Value*
Fat 20g31%
Cholesterol 97mg32%
Sodium 823mg36%
Potassium 599mg17%
Carbohydrates 2g1%
Protein 25g50%
Vitamin A 616IU12%
Vitamin C 4mg5%
Calcium 104mg10%
Iron 1mg6%
* Percent Daily Values are based on a 2000 calorie diet.