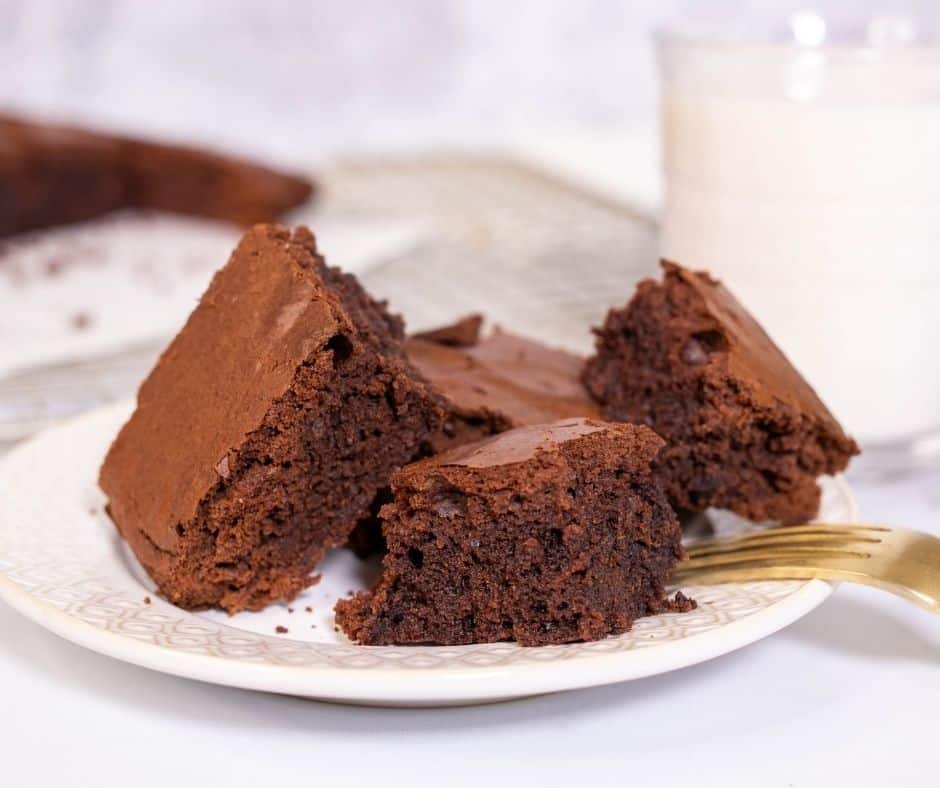 There is nothing like a good air fryer hack. I love them, if you have been reading my website for a while, you know this. Today, I am simply making Air Fryer Boxed Brownies. If you are a fan of brownies, consider grabbing your favorite brand and make it in your air fryer instead of the oven.
Now, I will be honest with you, this makes an awesome brownie, especially on the days, when you just don't want to spend the time or energy measuring everything. And seriously it's a budget dessert, with an average price of around $2.00.
Also, give my Air Fryer Chocolate Chip Cookie Brownies a try in your air fryer as well.
Here are the Ingredients Used in This Recipe, Every recipe will be slightly different because you follow the instructions on the box. (and each brand will alter slightly)
Brownie Mix, any type
Ingredients called for on the box.
Here Is How To Make Air Fryer Boxed Brownies–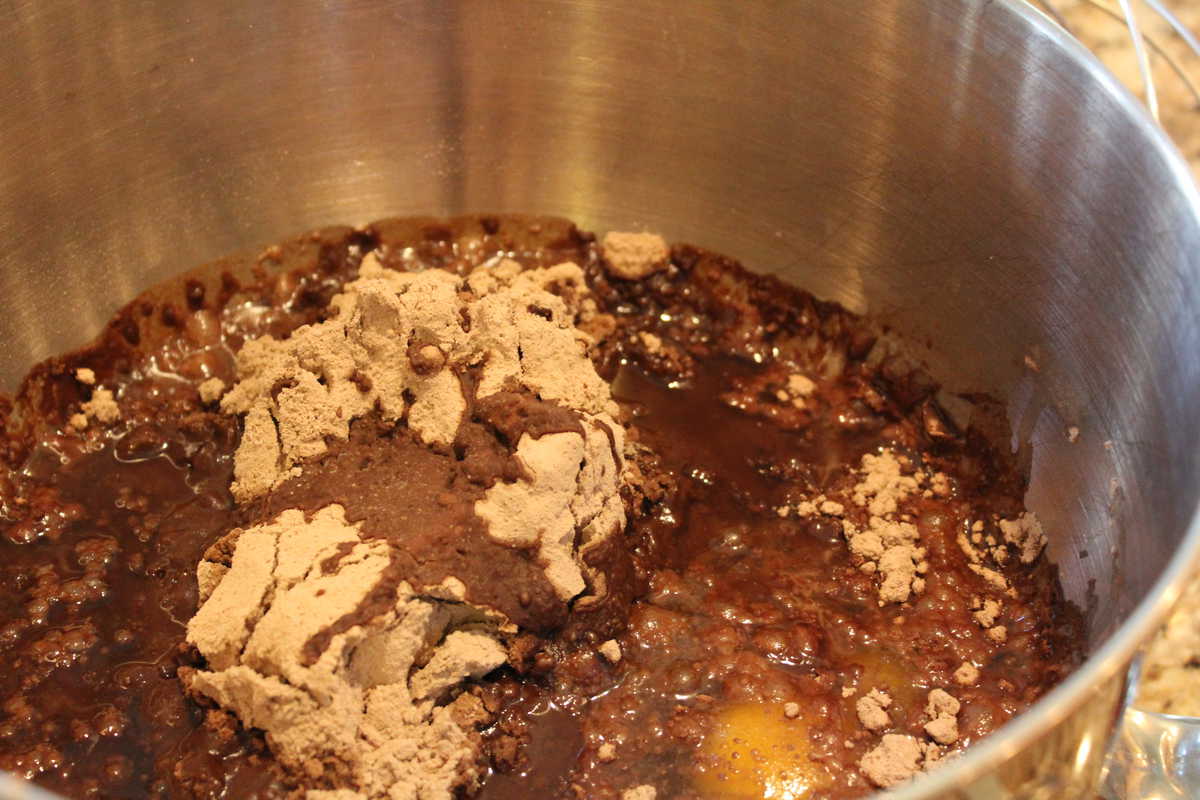 Start by making the brownies, per the instructions on the box.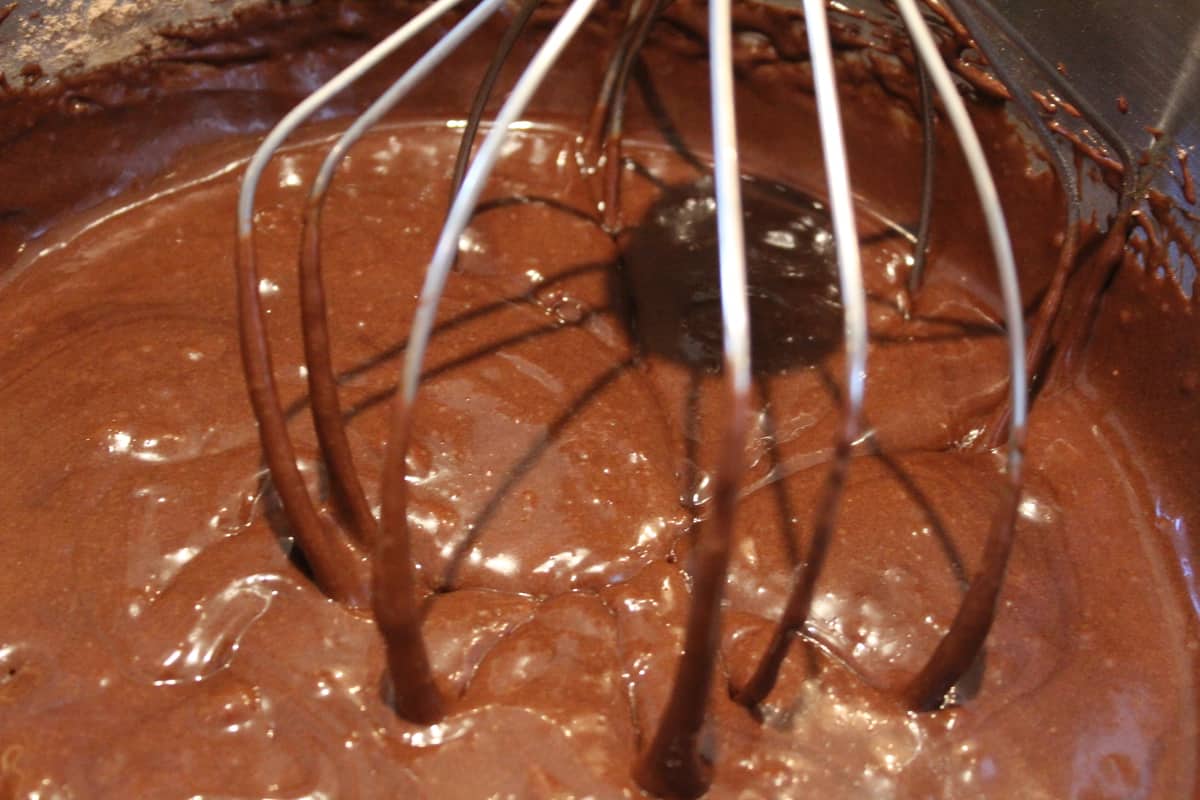 Then mix well.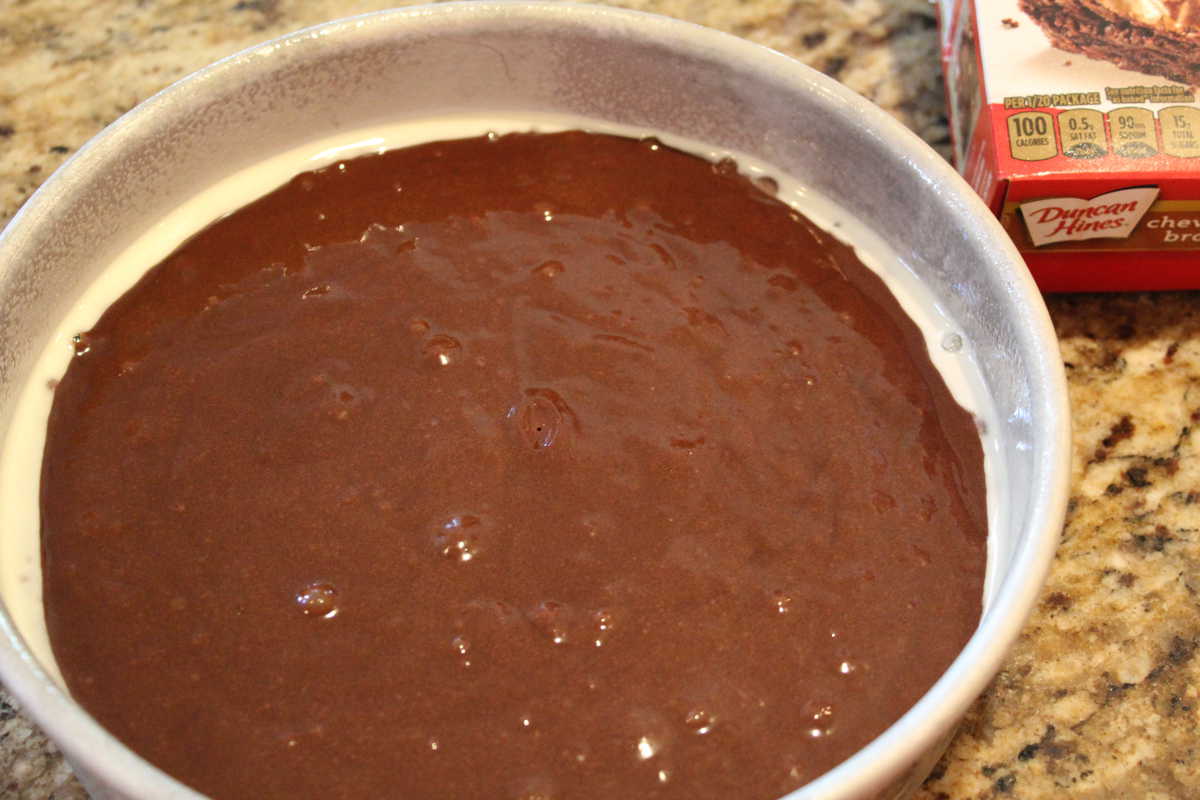 Next,  pour into an air fryer safe pan, and then place in the air fryer basket.
It is so simple to make and there is no need to wait for the oven to preheat. Just whip up this dessert. Give this method of making brownies a try.
Can I Use This Recipe For Gluten Free Brownie Mix
You are more than welcome to reach for a gluten-free mix if that is what you need. Also, you could even do a vegan style brownie. Just know that it might need to alter the cooking time for the brownie mix.
HERE ARE SOME TIPS FOR MAKING AIR FRYER BOXED BROWNIES
Use room temperature eggs, they make for a lighter brownie.
Check on your brownies frequently, the thicker the brownie, the longer it will take to cook, in the air fryer.
Did you know that the pan that you use, makes a difference in the cooking time? Metal pans cook faster, while glass dishes take longer. I always recommend investing in a good brownie pan (metal) it will save you lots of time air frying.
Use parchment paper (or aluminum foil) on the bottom of your pan, it makes it easier to cut, and remove from the pan.
The right pan is ESSENTIAL for baking, it has to be the right depth.
Brownies continue to cook after you take them out of the air fryer. If you insert a knife and it comes out with a FEW crumbs, they are done.
SOME EASY VARIATIONS ON A BOXED MIX,
Here are some easy ways to jazz up your boxed mix.
Add some nuts, whether walnuts, almonds, peanuts, cocoa nibs, etc.
Add some chocolate chips to the batter.
Mix in some candy bar pieces. My kid's favorites are Snickers, Kit-Kats, and even M&MS.
Add some sea salt on top.
Add some chocolate drizzle on top, this is one of my family's favorite.
Sometimes mixing in some easy and quick toppings can totally transform your brownies to a whole new level. Give it a try, or do half one way and the other half-naked.
Fun Ways to Serve Up Brownies
Ice Cream | Nothing is sweeter than a warm brownie with a scoop of vanilla bean ice cream. You could even go on the edge and do a peppermint or pecan style ice cream as well.
Whipped Cream | A dollop of homemade whipped cream is one of my favorites. Add a cherry on top and dive in fork first.
Drizzle With Sauce | Melt up some hot fudge, caramel, or even butterscotch and drizzle over the top of your brownies.
Powdered Sugar | Nothing beats a little dusting of powdered sugar on brownies.
SOME VERY COMMON QUESTIONS ASKED BY READERS–
CAN I USE BUTTER INSTEAD OF OIL FOR THE BROWNIES?
Yes, just substitute the same quantity, 1/2 cup of oil you use 1/2 cup of butter.
CAN I USE MILK INSTEAD OF WATER FOR THE BROWNIES?
Yes, you can use milk or heavy cream. The amount will be exactly the same.
WHAT CAN I SUBSTITUTE OUT FOR THE EGGS?
If you have an egg allergy the easiest replacement would be unsweetened applesauce.
Do Brownies Freeze Well?
Brownies are one dessert that does freeze nicely. Just allow your brownies to cool down once you pull them out of the oven. Then you will want to slice and place it in an airtight container. Then freeze for up to three months.
Thaw on the counter and enjoy a brownie whenever you get a craving. If you have a vacuum sealer you can extend the shelf life even longer.
Do You Have to Refrigerate Brownies?
Brownies do not have to be refrigerated. Only unless you swirl in cream cheese or something, then yes, they need refrigerated. Storing in an airtight container is all you need to do.
What Pan Can I used in the Air Fryer For Baking or Brownies in this case,
Disclosure: Some of the links below are affiliate links. At no cost to you, I will earn a commission if you click through and make a purchase.
Don't Forget To Pin—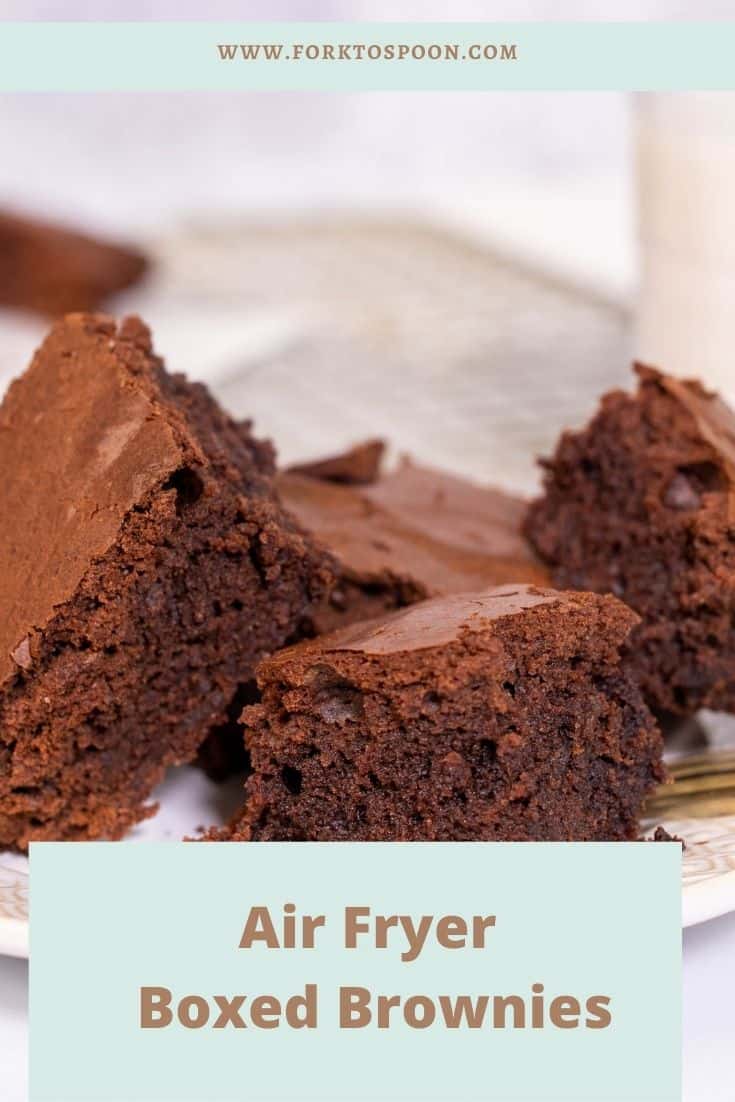 Print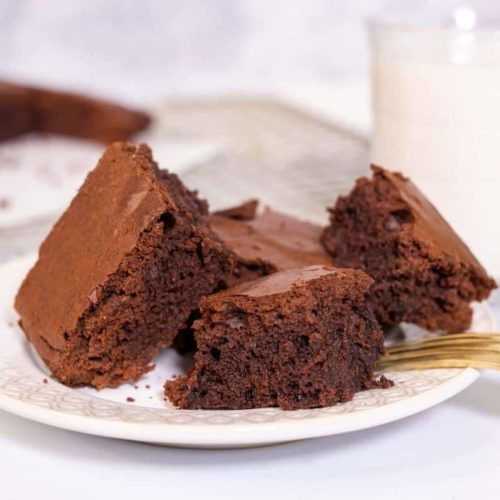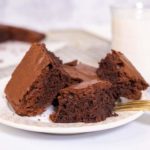 Air Fryer Boxed Brownies
Author:

ForkToSpoon.com

Prep Time:

10

Cook Time:

25

Total Time:

35

Yield:

6

servings

1

x

Category:

Baked Goods

Method:

Air Fryer

Cuisine:

American
---
Description
This recipe depends on how big your air fryer is. If you have an oven, you can use a regular-sized pan; otherwise, use a special air fryer pan.
Here are my suggestions:
Note, I made this and then divided it into 2 pans for my air fryer.
---
1

box brownie mix
Ingredients to go with the boxed mix 
---
Instructions
Start by preparing your brownies per the box instructions. When you are down, mix everything.
Line your brownie with aluminum foil or parchment paper, or leave it as is. Then use a non-stick cooking spray, spray the bottom of your pan (or foil/parchment paper)
Pour your brownie mix into the prepared pan.
Set the pan in your air fryer for 350 degrees F. for 15 minutes
After 15 minutes, check the brownies, and then adjust the time for that. I always put mine in at 5-minute intervals and check them until they are done.
Note: The exact time for your brownies depends on your machine, wattage, how thick the brownies are, etc.
Let cool after you take them out of the air fryer.
Plate, serve & enjoy!
Keywords: boxed brownies in air fryer how to make box brownies in air fryer air fryer brownies from scratch air fryer brownie bites how long to cook brownies in air fryer air fryer oven brownies how to cook brownies in a power airfryer betty crocker brownies in air fryer