Air Fryer Homemade Pop Tarts — Do you have a sweet tooth? Is your favorite food dessert? Do you love air frying stuff in general?
Then this recipe is for YOU! I made homemade pop-tarts with an air fryer, which was so easy. If you've wanted to try things like this but don't know where to start, here's a great place. In the next few minutes, I'll show you how to make these delicious treats from scratch and prepare them for the air fryer without all that greasy mess.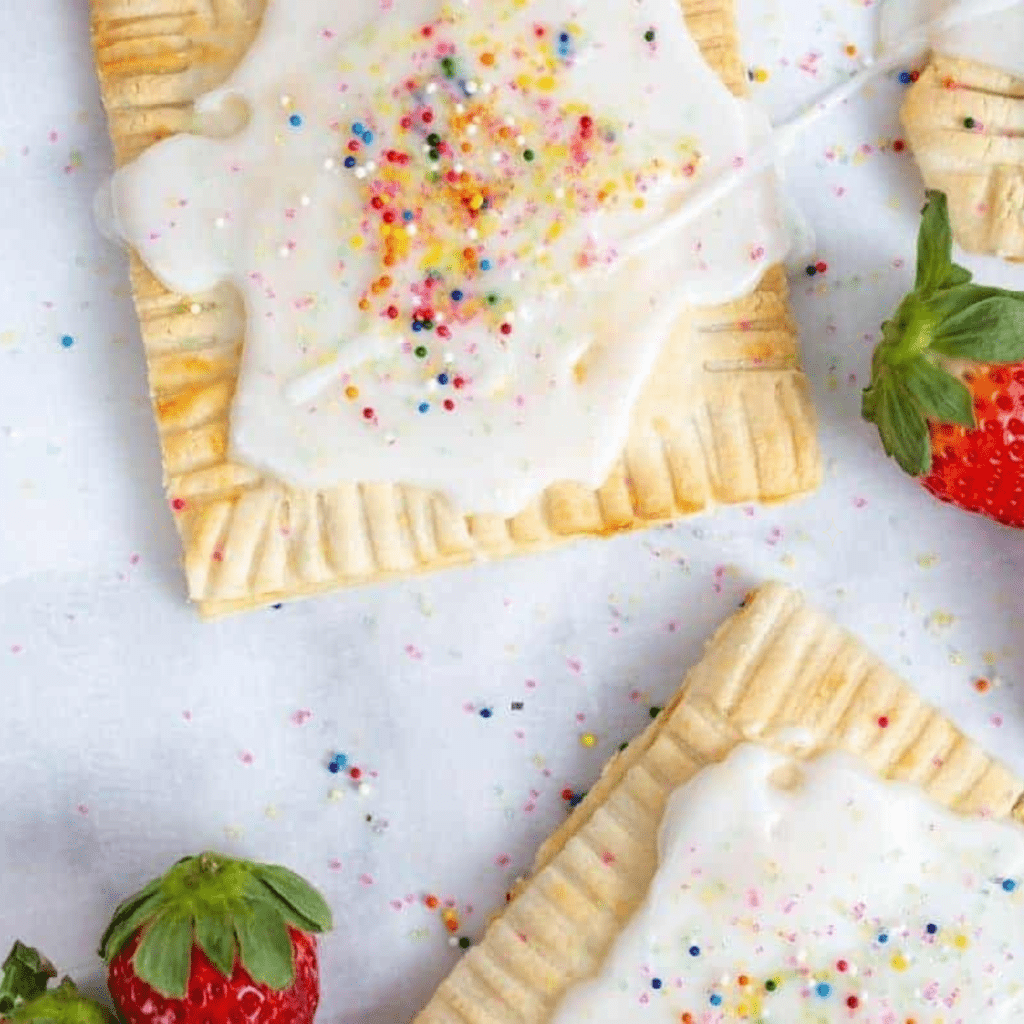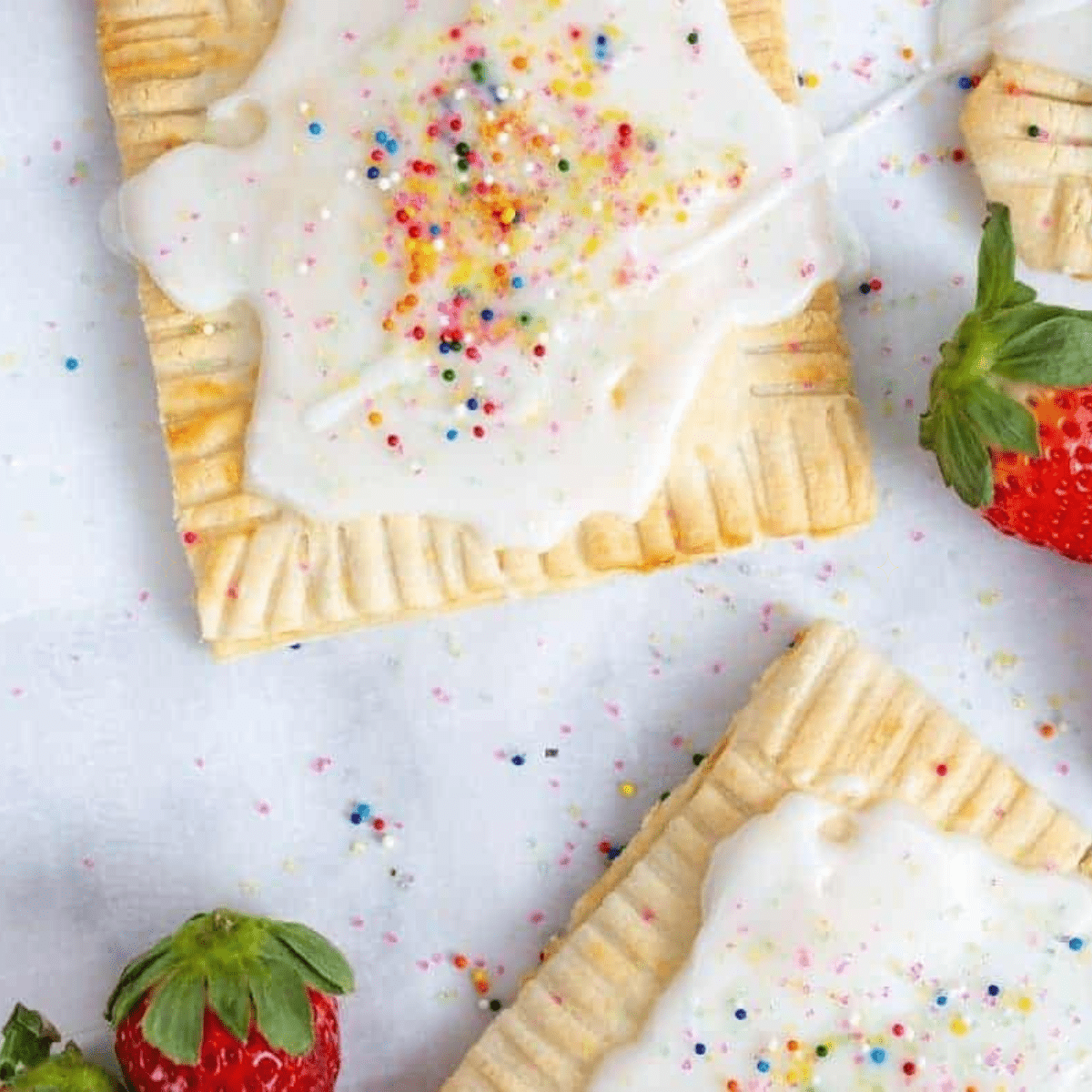 The Best Homemade Strawberry Pop-Tarts
The Best Air Fryer Strawberry Pop Tarts –Confession, before my air fryer, I never even thought about making my homemade pop tarts. I mean, they are already perfectly made by the PopTart manufacturer, and you can not improve on a classic, or so I thought. Today, I am bringing you my Air Fryer Strawberry Pop Tart Recipe!
This is an easy and fun breakfast you can make with the kids. My kids love the store-bought version, but with a few ingredients, you have a copycat version in minutes. Amazing & delicious.
My kids love that it still has the iconic frosting and the flaky crust, which makes a pop-tart.
If you are looking for more Air Fryer Breakfast Recipes, some of my favorites are APPLE PIE CINNAMON ROLL CUPS, AIR FRYER APPLE CRANBERRY BREAD, and AIR FRYER BREAKFAST EGG ROLLS.
Ingredients Needed For Homemade Air Fryer Pop Tarts
Few snacks deliver a flavor quite like homemade Strawberry Pop-Tarts! Full of sweet sugary strawberry jam and delicious flaky pastry, these treats are perfect for breakfast, lunchboxes, or an afternoon snack.
Super simple to make with just a few simple ingredients that you likely already have in your pantry, this recipe is sure to please the whole family! If you're feeling crafty and want to try something new in the kitchen today, whip up a batch of these delectable homemade Strawberry Pop-Tarts and get ready for some happy tummies.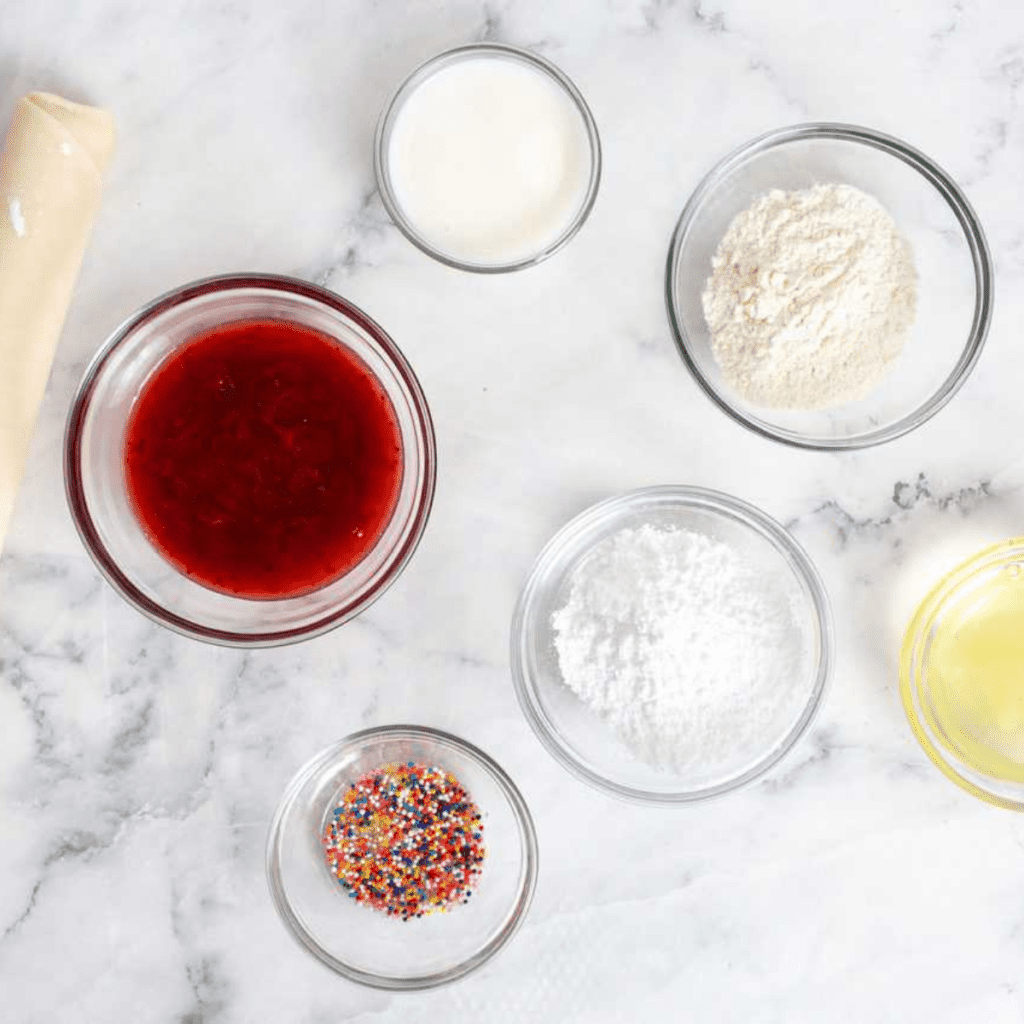 Remember the step-by-step directions are below in the printable recipe card at the bottom of the page, as well as the nutritional information.
Homemade or pre-made pie crusts
Egg Whites
Milk
How To Make Homemade Air Fryer Pop-Tart
Imagine being able to make those delicious pop-tarts from your childhood with ease. With this recipe for homemade air fryer pop-tarts, you no longer have to imagine – it's a reality! Whether you're looking for a leisurely breakfast option or a snack time hit amongst the family, these savory treats are quick, yummy, and so convenient, thanks to today's modern cooking technology! So what are you waiting for? Let's get baking!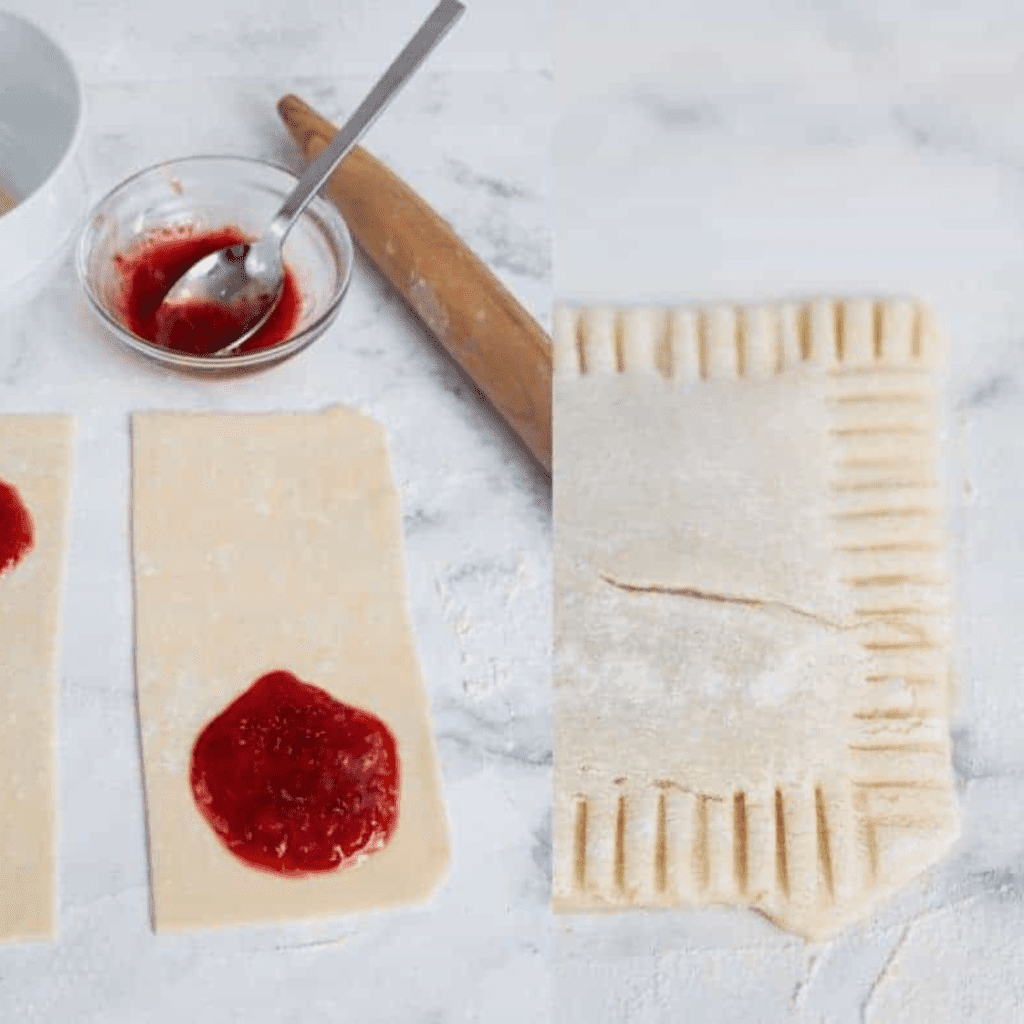 Step One: Prepare Your Howmmeade Pop Tart
Roll out the pie crust dough on a lightly floured surface, and cut the dough with a sharp knife or pizza cutter into four equal-sized dough rectangles.
Step Two: Add Your Filling
Add about a tablespoon of strawberry jam to the center of the rectangle. Then add the top piece of pie dough, and use a fork to seal the edges.
In a small bowl, add your egg, and using a fork, beat the egg with about one tablespoon of water until you have an egg wash. Using a pastry brush, brush the top of the pop tart.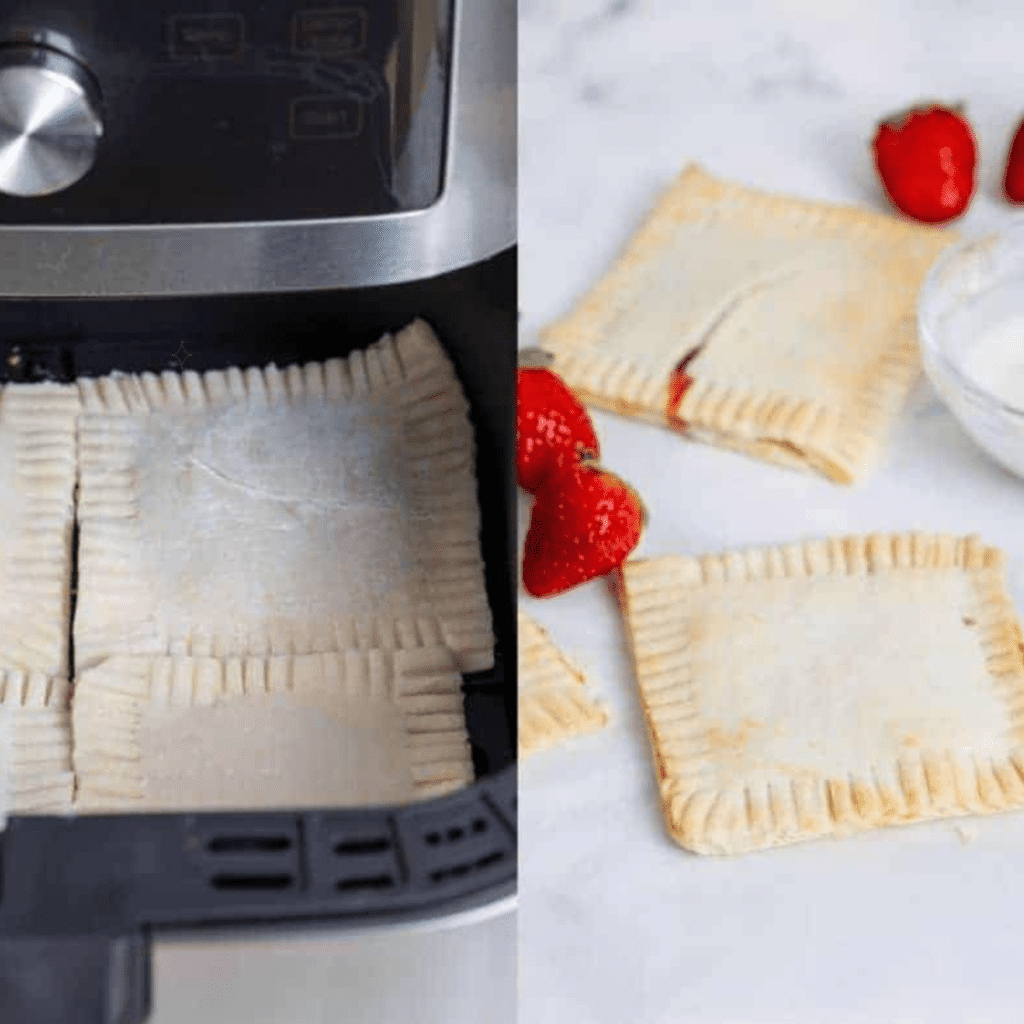 Step Three: Air Fry
Line your air fryer basket with parchment paper, add your homemade toaster strudels in a single layer, set the air fryer cooking temperature to 350 degrees f, and set the cooking time for 8-10 minutes. Remove when golden brown.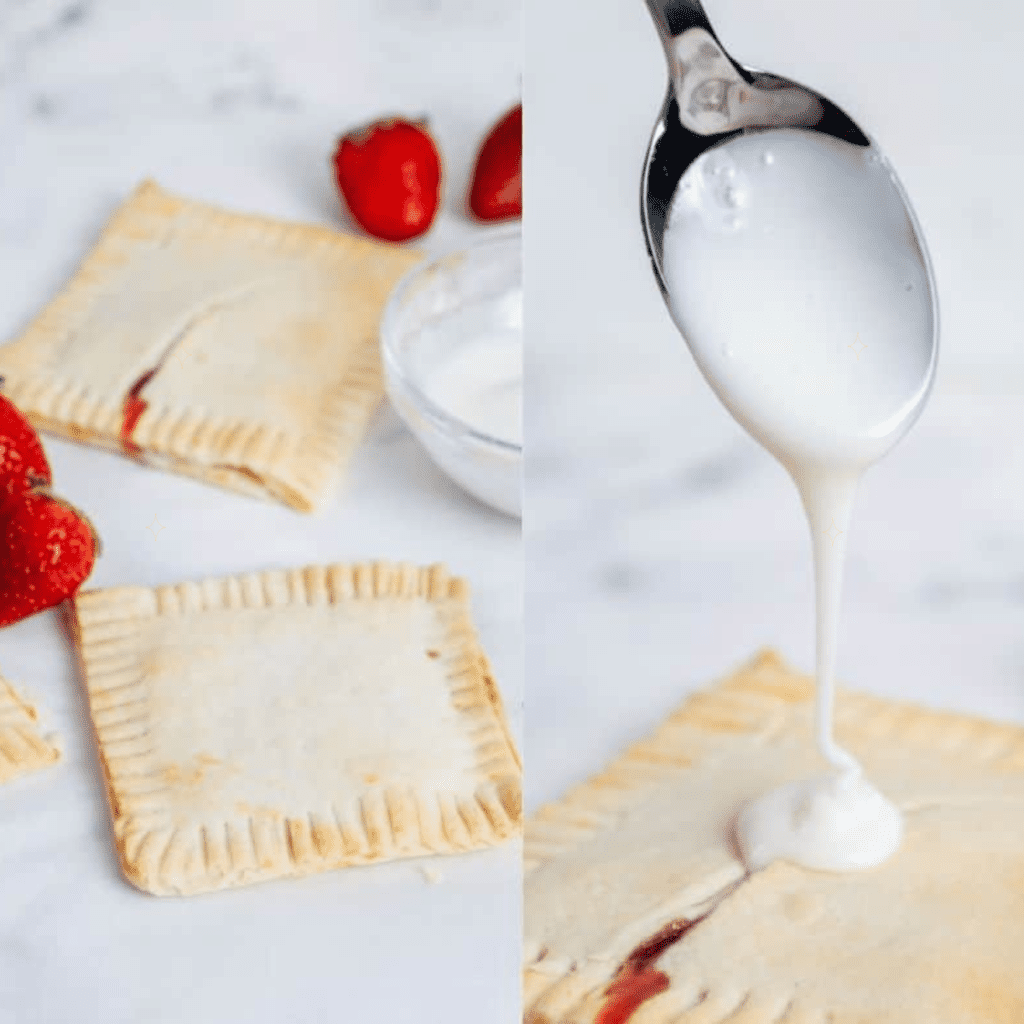 Step Four: Serving
Let the homemade pop-tarts cool on a wire rack before you apply the frosting and or sprinkles. Mix the powdered sugar and milk in a small bowl to make the frosting. Spread the frosting over the top of each pop tart and add some sprinkles. (You must add the sprinkles while the frosting is wet so they adhere)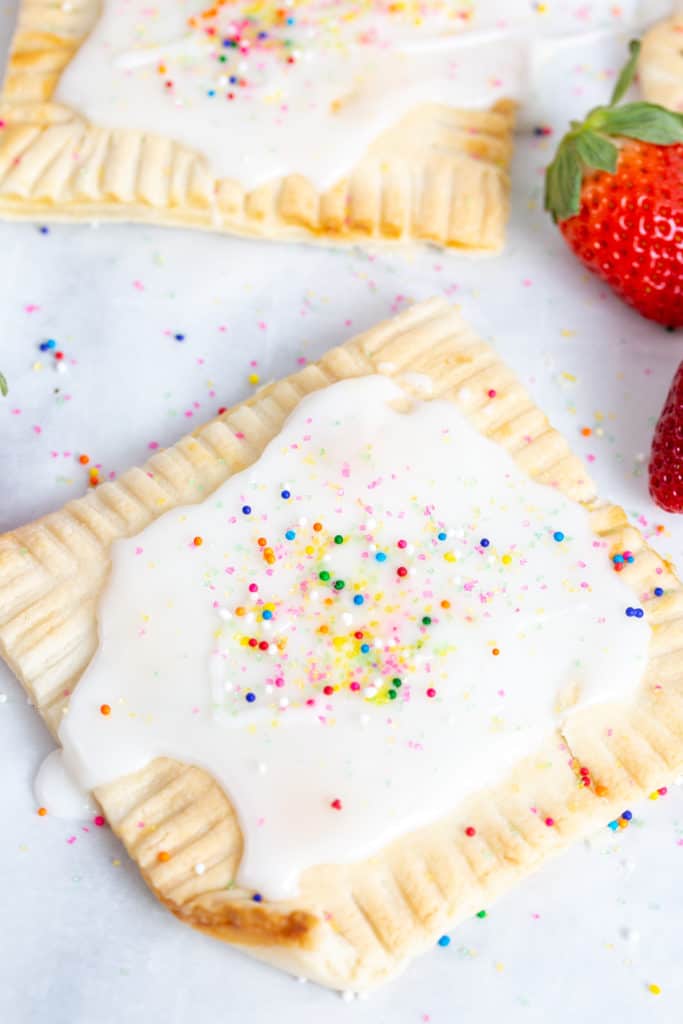 Pro Tips For Making The Best Homemade Strawberry Pop Tarts
Homemade strawberry pop tarts are a delicious treat that can be enjoyed for breakfast, dessert, or anytime in between. Here are some pro tips to help you make the best homemade strawberry pop tarts:
Use a flaky pastry dough: You can also use homemade unbaked pie crust or puff pastry. Store-bought pie crusts work amazingly here; Pillsbury makes a great refrigerated pie crust.
Jam Flavor: You can use any jam flavor; another popular option is raspberry jam.
Seal the edges well: Use a fork to press down the edges of the pop tarts to seal them shut. This will help prevent the filling from leaking and create a neat, uniform appearance.
Brush with egg wash: Brushing the pop tarts with an egg wash will give them a golden brown color and a shiny finish. You can also sprinkle them with sugar or decorative sprinkles before baking.
By following these pro tips, you can make delicious homemade strawberry pop tarts that will surely be a hit with family and friends!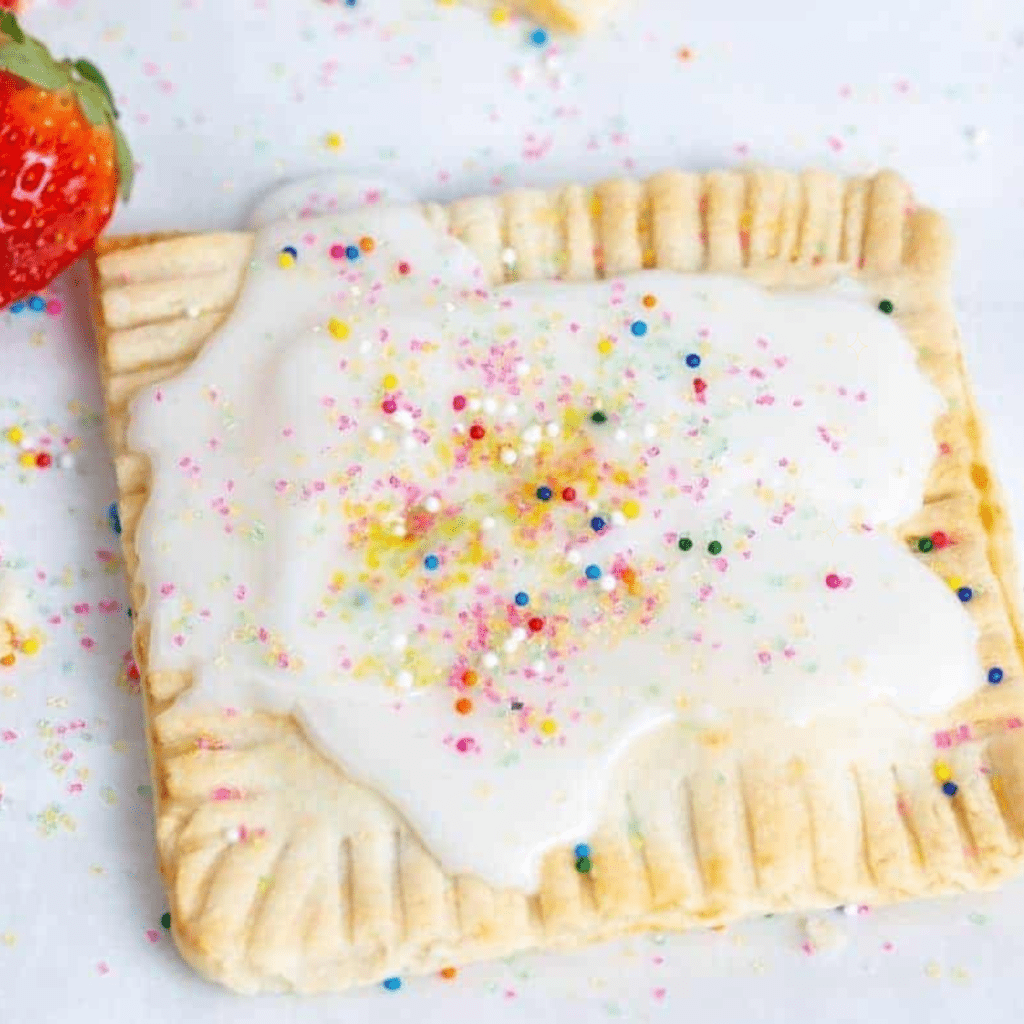 Frequently Asked Questions
Can You Air Fry A Pop Tart?
Yes, you can air fry a pop-tart! Here's how you can do it:
Preheat your air fryer to 350°F (175°C).
Remove the pop tart from its foil package and place it in the air fryer basket.
Cook the pop tart for 3-4 minutes or until it's crispy and heated.
Carefully remove the pop tart from the air fryer basket and let it cool for a few minutes before serving.
How To Store Leftover Pop Tarts
If you have leftover pop tarts, there are a few ways to store them to keep them fresh for later:
Storing: At Room temperature: Pop-tarts can be stored in an airtight container or plastic bag for 2-3 days. Refrigerator: If you want to extend the shelf life of your pop tarts, you can store them in the refrigerator. Please place them in an airtight container or plastic bag and store them for up to 1 week.
Freezing: Pop-tarts can also be frozen for longer-term storage. Wrap each pop tart in plastic wrap or foil, and then place them in a freezer-safe container or plastic bag. They can be stored in the freezer for 2-3 months. When you're ready to eat your stored pop tarts, allow them to come to room temperature before enjoying them. You can also reheat them in a toaster oven or microwave for a warm and crispy treat.
What To Serve With Homemade Strawberry Pop Tarts
Homemade strawberry pop tarts can be enjoyed on their own as a delicious breakfast or dessert, but if you're looking to add some variety or create a more balanced meal, here are some options to consider:
Milk: Pop tarts and milk make a classic and satisfying combination. Serve your pop tarts with a cold glass of milk for a refreshing and creamy beverage.
Fresh fruit: Serve your pop tarts with fresh fruit such as sliced strawberries, blueberries, or raspberries. This will add some extra sweetness and nutritional benefits to your meal.
Yogurt: Pair your pop tarts with a serving of Greek yogurt or regular yogurt for a creamy and protein-rich accompaniment.
Coffee or tea: Enjoy your pop tarts with a hot coffee or tea for a relaxing and comforting treat.
Bacon or sausage: Add bacon or sausage for extra protein and flavor if you serve Pop-Tarts for breakfast or brunch.
You can create a delicious and satisfying meal or snack by pairing your homemade strawberry pop tarts with one or more options.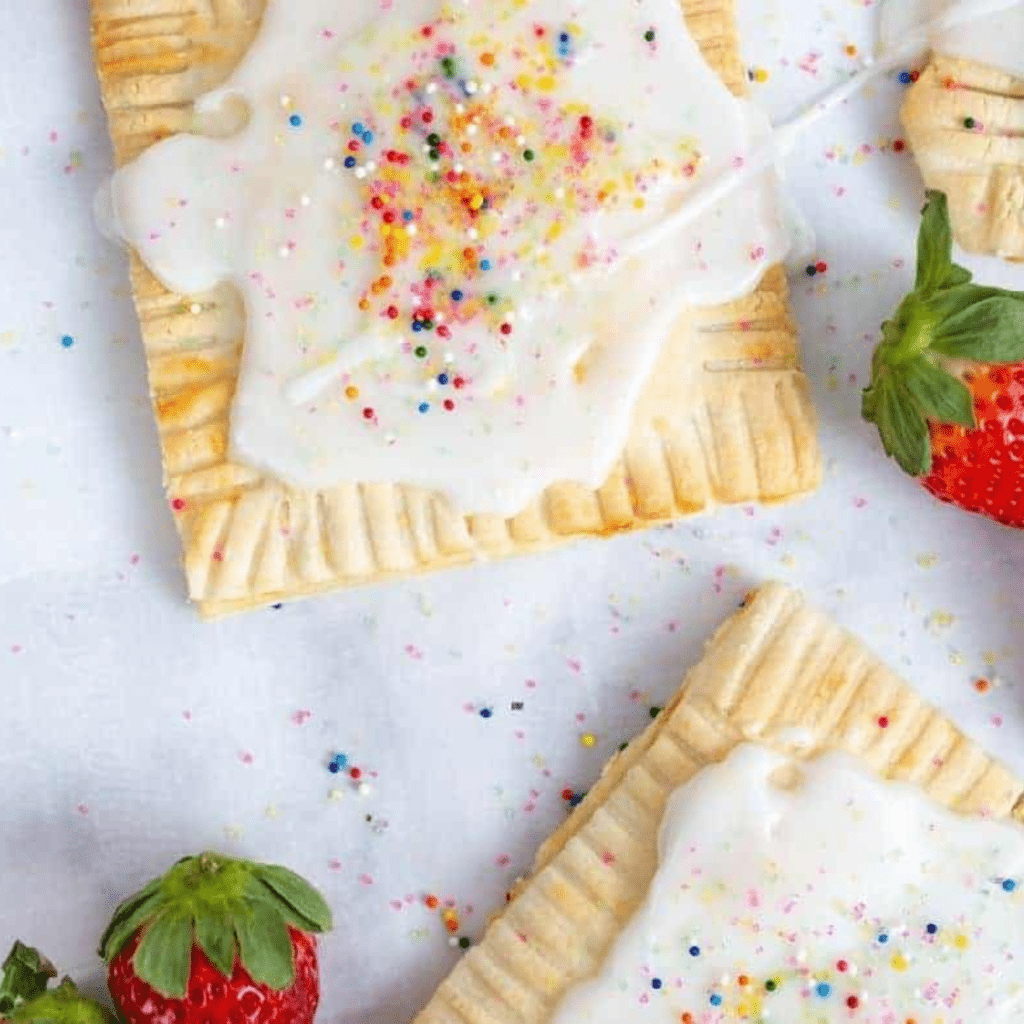 Other Toppings For Homemade Pop Tarts
While the strawberry jam is a classic filling for homemade pop tarts, you can try many other delicious toppings and fillings. Here are some ideas:
Nutella or chocolate spread: Spread a layer of Nutella or chocolate spread over the pastry before baking for a chocolatey twist on traditional pop tarts.
Peanut butter: Spread a layer of peanut butter over the pastry before baking for a rich and nutty flavor.
Fruit jam or preserves: Try other fruit jams or preserves such as raspberry, blueberry, or apricot for a fruity variation.
Cream cheese: Spread a layer of cream cheese over the pastry before adding your filling for a tangy and creamy twist.
Brown Sugar Cinnamon Sugar: Sprinkle a mixture of cinnamon and brown sugar over the pastry before baking for a sweet and spiced flavor.
Maple glaze: Mix powdered sugar and maple syrup to create a sweet glaze that you can drizzle over the pop tarts once baked.
Lemon icing: Mix powdered sugar and lemon juice to create a tangy and sweet icing that you can spread over the pop-tarts.
By experimenting with different toppings and fillings, you can create a variety of delicious homemade pop tarts that will satisfy your sweet tooth. They are so much better than store-bought pop-tarts and only take a few minutes cook time.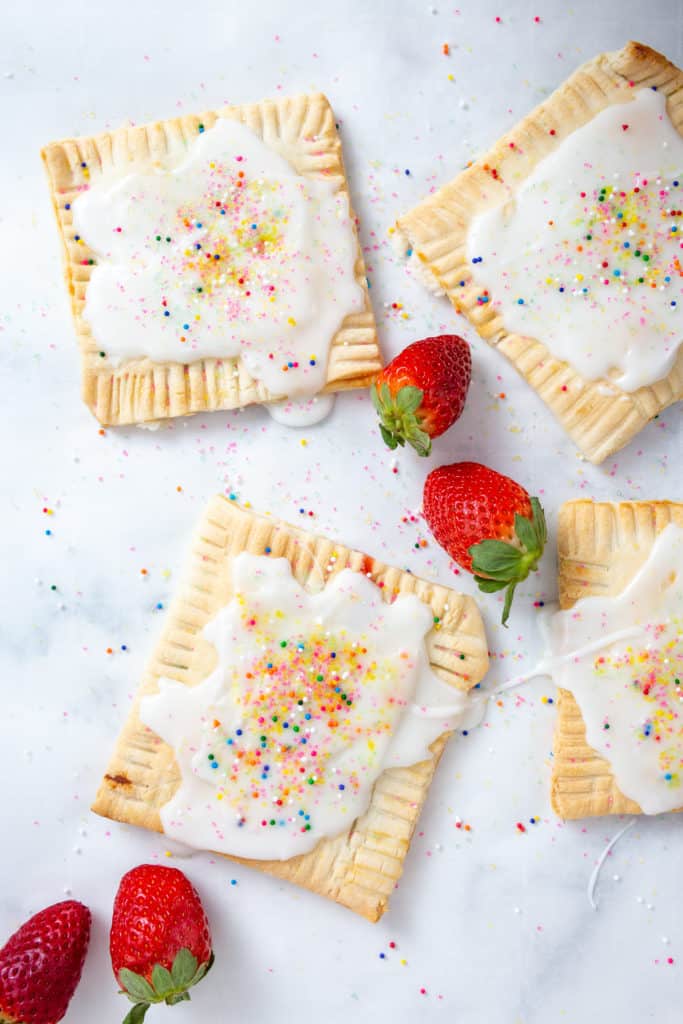 More Air Fryer Recipes
Air Fryer Pop Tarts are a great way to enjoy a delicious treat without frying up oil. Not only do they come out perfectly crispy and golden brown every time, but they are also incredibly easy to make at home. Kids of all ages will love helping you create homemade Pop-Tarts with the help of an air fryer.
And have fun coming up with your combinations — the endless possibilities for such a unique appliance! These treats hit the spot for a wholesome snack or sweet indulgence, making them perfect for any occasion. Don't let their delectable looks deceive you; these Air Fryer Pop-Tarts can be made with minimal effort and maximum perfection!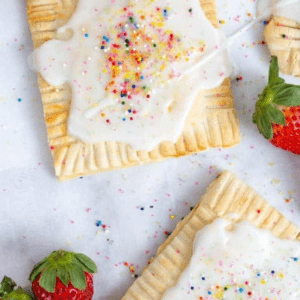 Air Fryer Homemade Pop Tarts
Description
Air Fryer Homemade Pop Tarts — Do you have a sweet tooth? Is your favorite food dessert? Do you love air frying stuff in general?
Ingredients
1

package

refrigerated pie crust

1/4

cup

all-purpose flour

1/2

cup

strawberry jam
Egg Wash:
2

small

egg whites

1

tablespoon

water
Icing:
1/2

cup

powdered sugar

2

teaspoons

milk
Instructions
Roll out the dough so that you get a rectangle shape. Make sure both your rolling pin and surface are dusted with flour so the dough does not stick.

I made mine by using one side already sealed, like a book, and then filling it with strawberry jam. I found out that the jam stayed better in place when you had one side already sealed.

Use egg wash to coat the edges before you seal. Just beat the egg whites in a small bowl and use a pastry brush to brush the edges.

Fold your dough over and use the fork tines to seal the edges. Press the fork around the dough's entire length and width. It creates a pretty pattern.

Spray your air fryer basket with non-stick cooking spray.

Set your pop tarts in the air fryer basket at 350 degrees F for 8 minutes. Check to see if they are golden brown. When they are golden brown, remove them from the basket.

Let cool before you apply the frosting and or sprinkles.

In a small bowl, mix the powdered sugar and milk; this will be your frosting.

Spread the frosting over the pop-tarts and add some sprinkles. (You must add the sprinkles while the frosting is wet so they adhere))
Equipment
Air Fryer

Parchment Paper,

or Cooking Spray
Nutrition
Serving:
1
Serving
Calories:
380
kcal
Carbohydrates:
57
g
Protein:
5
g
Fat:
15
g
Saturated Fat:
5
g
Polyunsaturated Fat:
2
g
Monounsaturated Fat:
7
g
Cholesterol:
0.1
mg
Sodium:
245
mg
Potassium:
88
mg
Fiber:
2
g
Sugar:
22
g
Vitamin A:
3
IU
Vitamin C:
2
mg
Calcium:
17
mg
Iron:
2
mg