Air Fryer Eggplant Parmesan — There is nothing better than a plate of eggplant parmesan for dinner or lunch! This will be a crowd-pleaser. Add with a plate of spaghetti for a perfect dinner!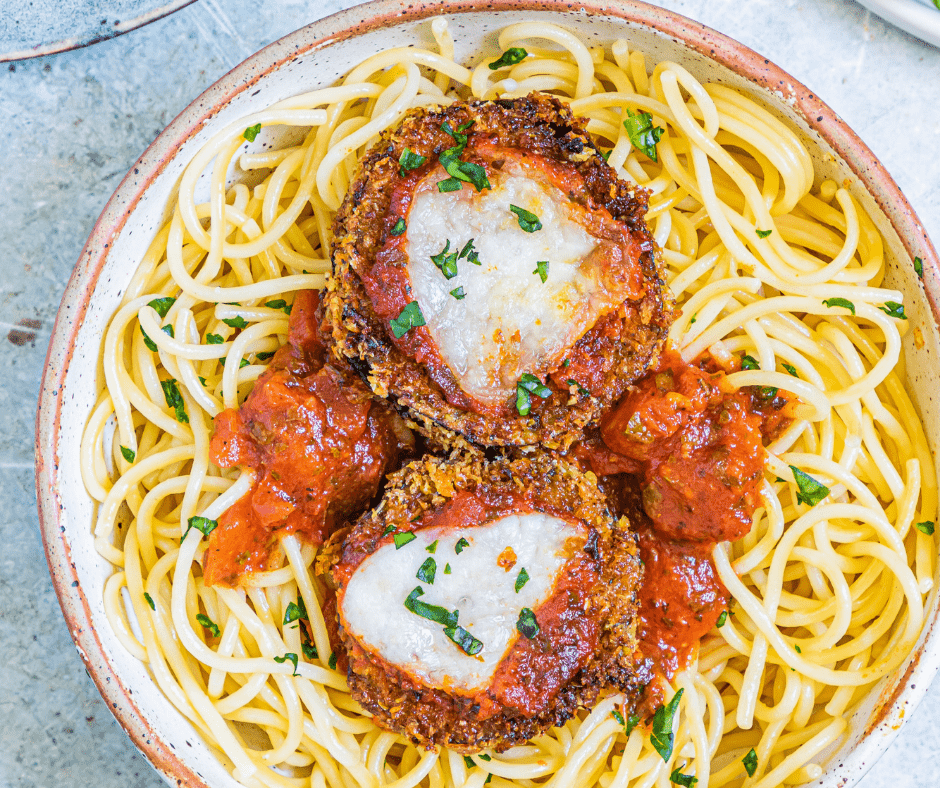 Crispy Air Fryer Eggplant Parmesan is genuinely impressive, and there is nothing better. Tender and crispy on the outside, but you have a great warm and delicious breaded eggplant in the middle.
I love a great breaded eggplant, and the air fryer does a fantastic job at perfectly baking them up. And your entire family will love a great Crispy Air Fryer Eggplant Parmesan dinner.
Growing up, my mother made Eggplant Parmesan at least once a week, and let me tell you, and the Air Fryer does such a fantastic job at making this classic Italian Dish healthy. There is no eggplant dredged in oil, and it's truly healthy and delicious!
If you are looking for even more Classic Air Fryer Italian Dishes, some of my favorites are AIR FRYER ITALIAN DRESSING CHICKEN, AIR FRYER EASY ITALIAN CHICKEN TENDERS, AIR FRYER ITALIAN MEATLOAF, and AIR FRYER ITALIAN GRILLED CHEESE SANDWICH.
What Is An Air Fryer?
An air fryer is a small appliance that cooks food by circulating hot air around it—this cooking method results in crispy food on the outside and tender on the inside. Air fryers are popular because they are affordable, easy to use, and produce healthy meals. This blog post will discuss what an air fryer is, how it works, and some of its benefits. Remember to check out all of my Air Fryer Recipes on www.forktospoon.com
And don't forget to check out what air fryers I recommend, if you are in the market for a new air fryer!
What Is Eggplant Parmesan?
Eggplant Parmesan is a traditional Italian dish. It comprises breaded eggplant slices, usually deep-fried in oil, and then assembled in a casserole dish with a topping of marinara sauce and cheese.
The best thing about this dish is that you are air frying the eggplant, which means so much less oil is being used, and the result is healthier eggplant parmesan, which everyone will love!
The Best Air Fryer Eggplant Parmesan Recipe!
This is truly the best recipe, made with the same formula that my Siiclician Grandmother passed on for generations. The only twist is a healthier alternative, and there is nothing better than a more nutritional Italian Air Fryer Dinner!
Ingredients Needed For Air Fryer Eggplant Parmesan
It was made with a few ingredients. This makes for a great and quick mid-week meal. I love air frying up the eggplant over the weekend and then assembling it over the week for a quick and healthy meal!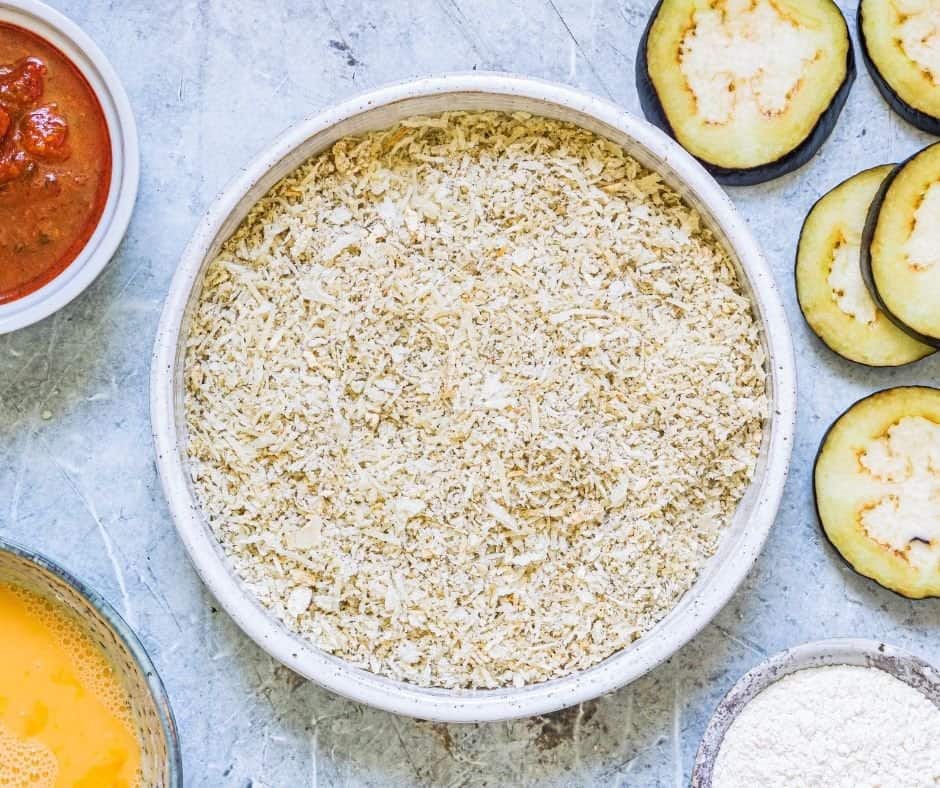 Eggplant: Look for firm eggplants without any blemishes.
Panko Bread Crumbs: You can substitute gluten-free bread crumbs.
Grated Parmesan: Nothing says Italian like Parmesan Cheese.
All-Purpose Flour: You can also use Gluten-Free All-Purpose Flour. If you want to make this dish gluten-free
Eggs: The coating and binding for the breading.
Seasonings: Italian Seasoning, Garlic Powder, Salt, and Black Pepper
Marinara Sauce: You can use either homemade marinara sauce or store-bought
Shredded Mozzarella Sauce: Nothing is better than freshly shredded Mozzarella Cheese. It will melt much better than store-bought.
How To Make Air Fryer Eggplant Parmesan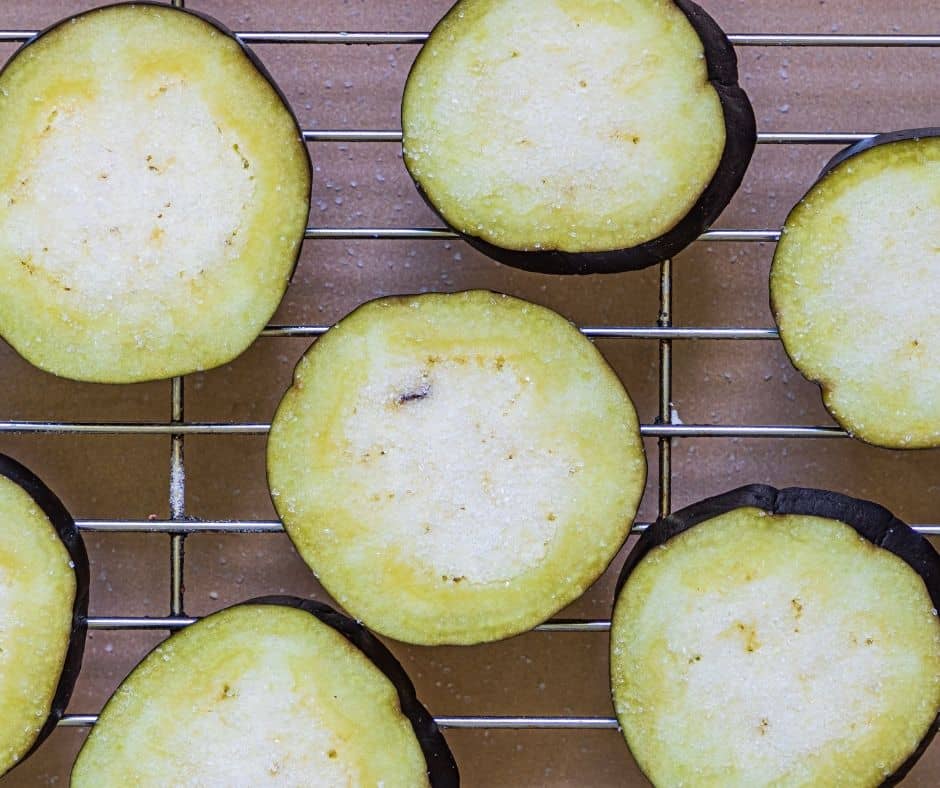 Line a large baking sheet with parchment paper. Slice eggplant into ½ inch slices. Sprinkle salt on both sides of the eggplant slices and put them on a wire rack. Leave. For 10 minutes, draw out excess moisture. Dry the eggplant slices.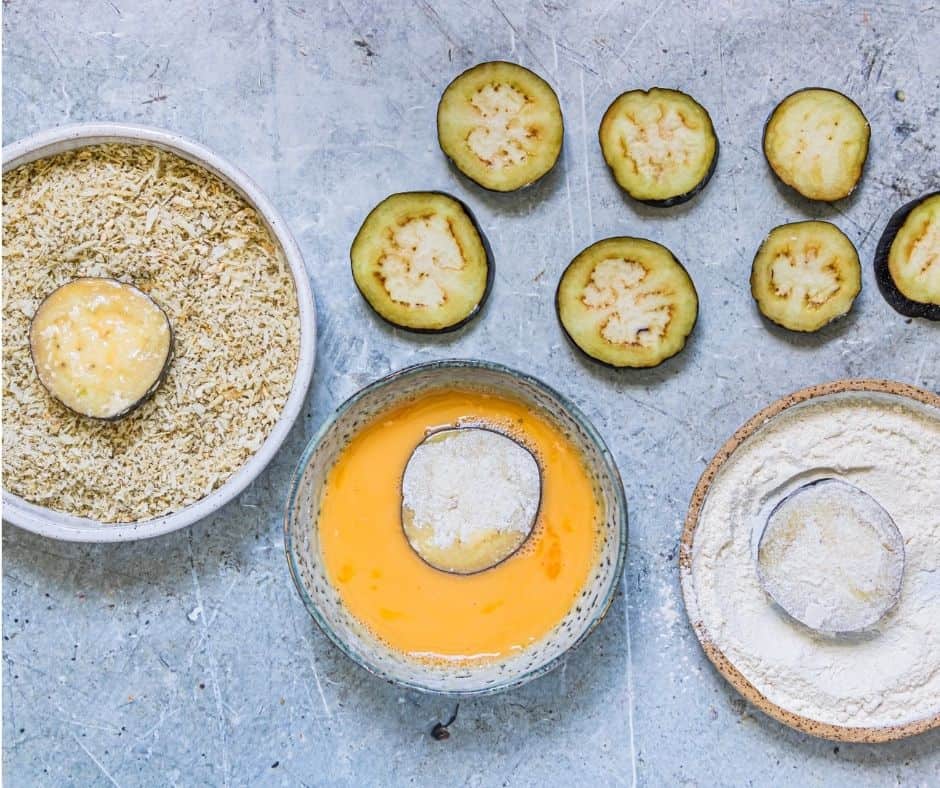 Combine the breadcrumbs, parmesan, Italian seasoning, garlic powder, salt, and black pepper in a medium shallow bowl.
Place flour and beaten eggs each in separate shallow bowls. Dip each eggplant slice first in flour to thoroughly coat, then shake off the excess flour. Next, dip the coated eggplant slice in beaten eggs, and shake off the extra egg.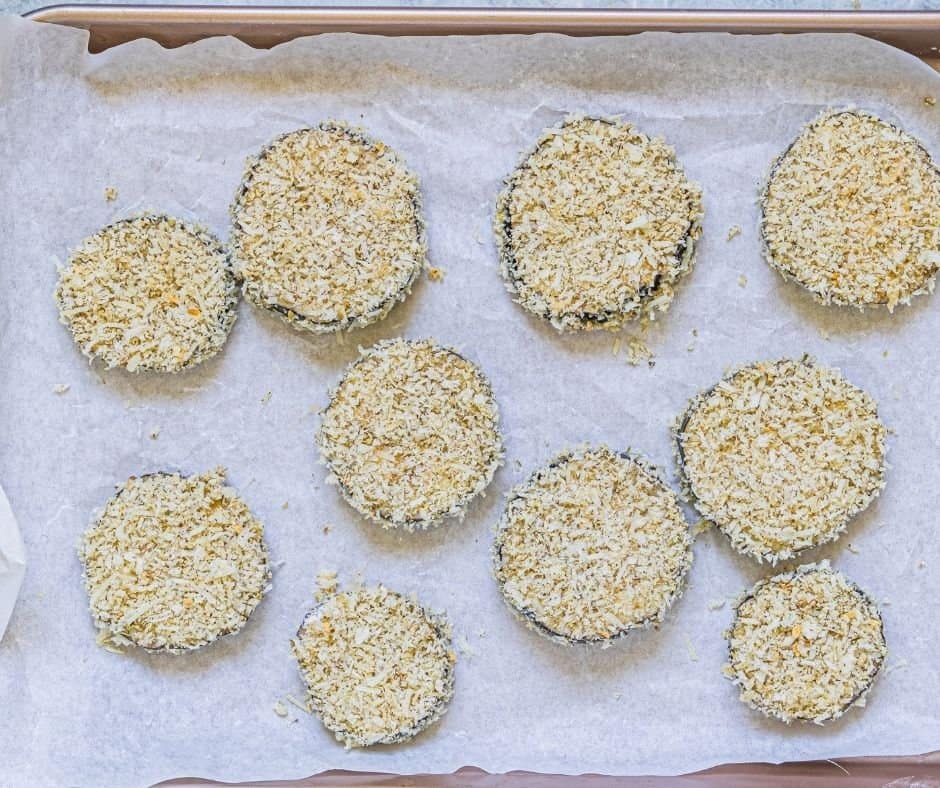 Finally, thoroughly coat the eggplant slice in the breadcrumb mix. Set onto the prepared baking sheet.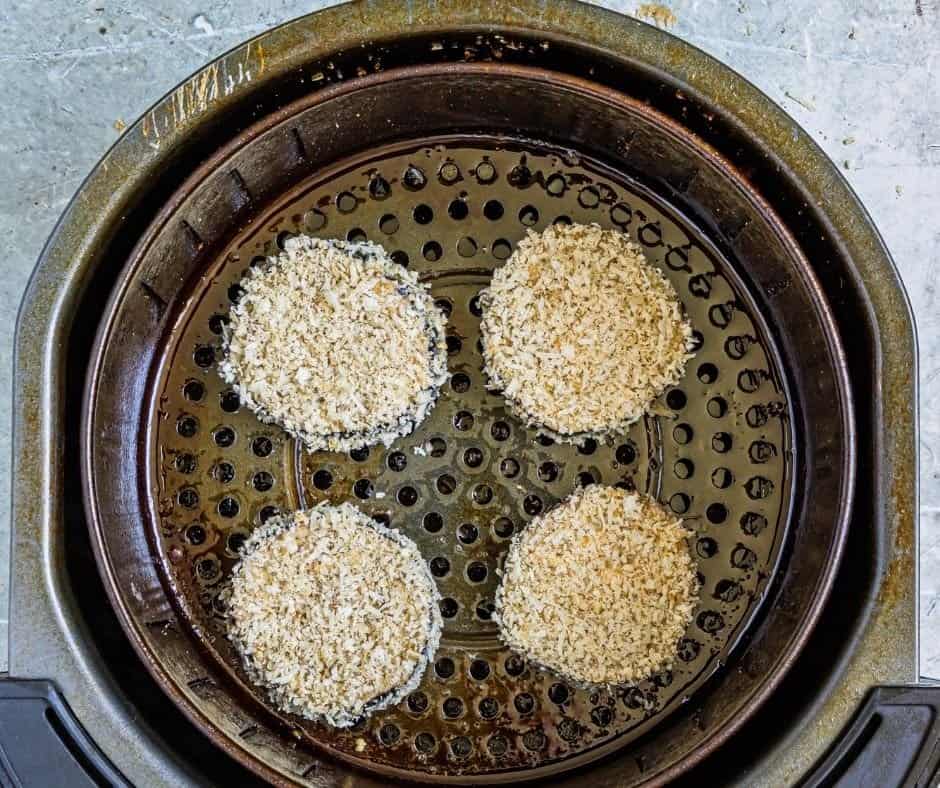 Repeat the process for all remaining eggplant slices—pre-heat the air fryer to 375°F, air fryer setting, and spray the basket with cooking spray. Spray eggplant slices on both sides with cooking spray and transfer them into the Air Fryer basket in a single layer. Cook in the Air Fryer for 8-10 mins, until pale golden brown and crispy.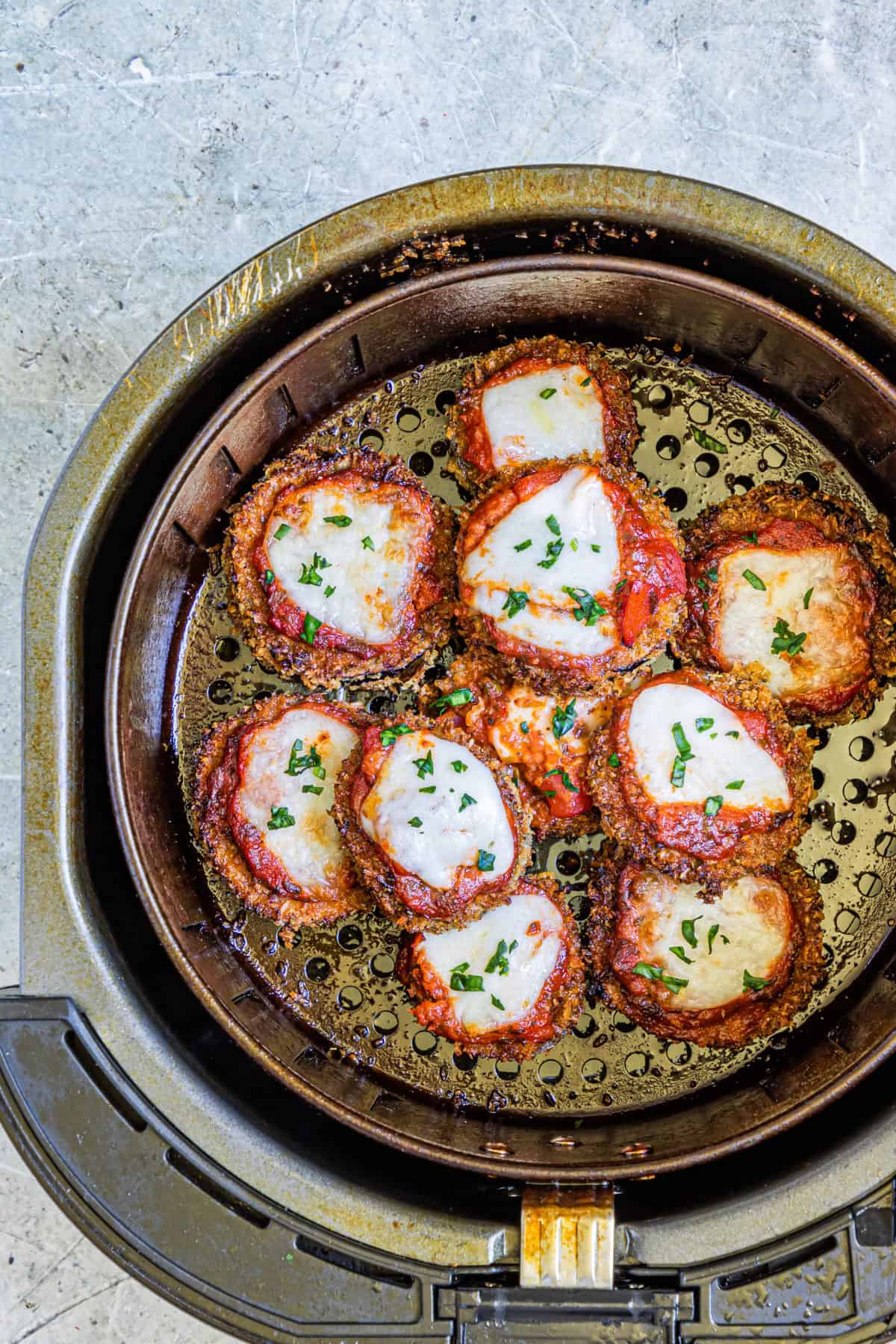 Top the cooked eggplant slices with marinara sauce and a slice of mozzarella cheese. Cook for a further 1-2 mins until the cheese melts. Serve immediately as a snack or with some pasta or salad as part of a full meal. Garnish with chopped fresh basil/parsley (optional).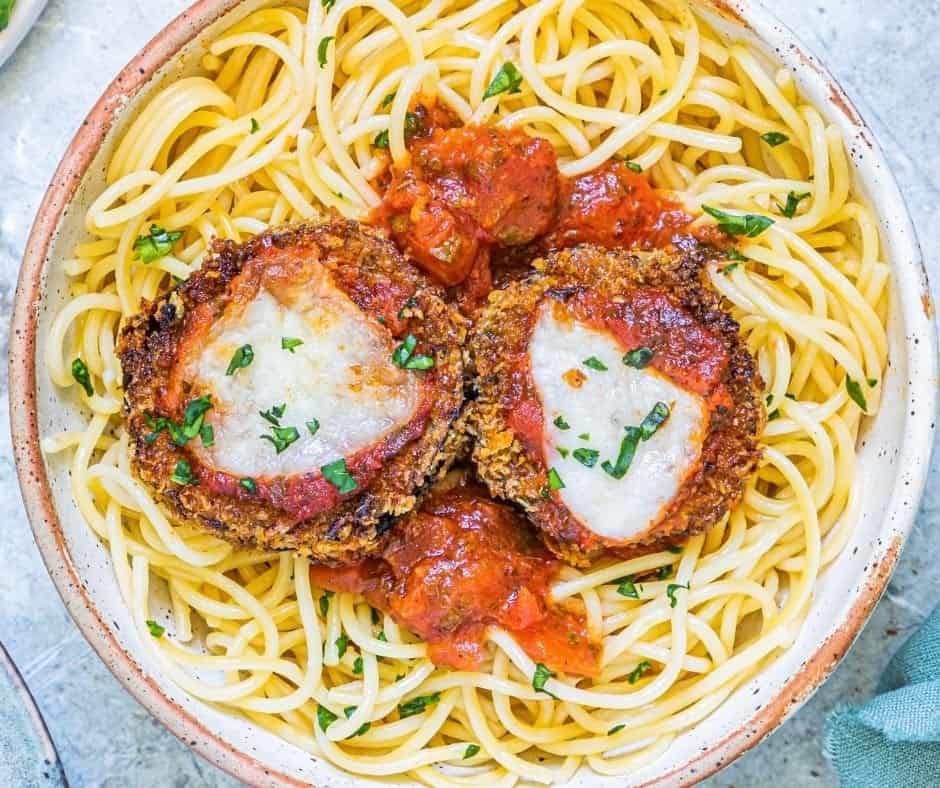 Pro Tips:
Slice Eggplant Evenly: This is a great recipe, but you will need to cut your eggplant into the same size so they all air fry up simultaneously.
Crowding: For best results, leave plenty of space around the eggplant slices, so they crisp up. Remember, an air fryer works by the hot air flowing around the food, causing it to become crispy and delicious, so make sure you work in batches to prevent crowding.
Flipping: Depending on what air fryer you own, you may need to flip the eggplant halfway during the cooking process so both sides get cooked to perfection!
How To Make Air Fryer Eggplant In An Air Fryer Oven: To make this recipe in an air fryer oven, place the breaded eggplants slices on the bottom tray. This way, the outside and inside will cook up simultaneously!
Ingredient Notes:
Bread Crumbs: You can either use regular bread crumbs for this recipe, Italian bread crumbs, or Gluten-Free Bread crumbs. The recipe will work the same.
Eggplant: For the best batch of Crispy Air Fryer Eggplant Parmesan, buy the best eggplant that you can find. I would recommend looking for a shiny and firm eggplant.
Freshly Grated Cheese: There will be more melted cheese if you use freshly grated cheese, which isn't coated with wood pulp. It will provide you the melted cheese through your eggplant!
Salt: Salting your eggplant causes the water to draw out of your eggplant, which will help them crisp up. But remember to wipe the salt off before continuing with the recipe.
Recipe Variations:
You can make this dish your own. I sometimes add:
Minced Fresh Garlic: Add about 2 teaspoons of freshly grated cheese.
Seasonings: Add some oregano, basil, or even fresh herbs. I love serving with fresh basil leaves, which is impressive!
Heat: Like a traditional restaurant, serve with some red peppers and flakes right before serving, adding warmth to the dish.
How To Bread Eggplant
There is nothing easier than breading eggplant; there is a method to properly bread eggplant. The first is to set up your stations, and there are three for breading eggplant.
The first breading station is coating the eggplant slices with flour. Then add the egg, and finally the breadcrumbs.
If I season the eggplant with salt, it will draw out the moisture. This makes breading eggplant easier, and the coating stays on the eggplant better.
How To Serve
Usually, my family eats eggplant parmesan two ways. The first is over a hearty plate of pasta, and the second is in an Eggplant Parmesan Subs; both are delicious. Other ways to eat Crispy Air Fryer Eggplant Parmesan
Make-Ahead Tips for Eggplant Parmesan
You can either make and assemble the casserole or bread, air fry the eggplant, and then assemble right before serving. Either will work:
Making The Casserole Ahead of Time: Make as directed in the recipe, and then let cool to room temperature. Then place the parmesan in an aright container. IT will last for about 2 to 3 days in the refrigerator. You can also freeze the casserole for about 2 to 3 months in the freezer, defrost it in the fridge overnight, and reheat it in the microwave or air fryer.
Air Fry Breaded Eggplant Slices: Make the breaded eggplant slices, and then let cool to room temperature. Place the air-fried eggplant slices into an airtight container and refrigerator for about 2 to 3 days. You can also freeze your breaded eggplant slices by placing them on a parchment-lined baking sheet. Place the baking sheet into the freezer and freeze until the eggplant slices are frozen solid. Remove and put them into a freezer bag or freezer-safe container. They will last in the freezer for 2 to 3 months. Defrost in the refrigerator overnight.
More Air Fryer Recipes:
Don't Forget To Pin: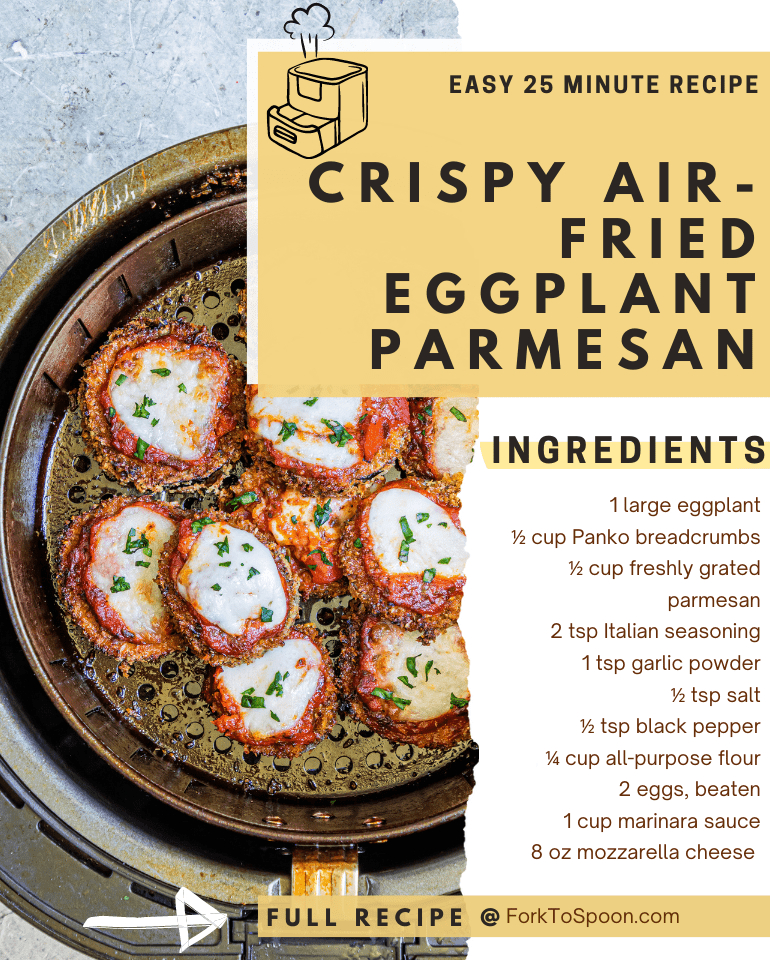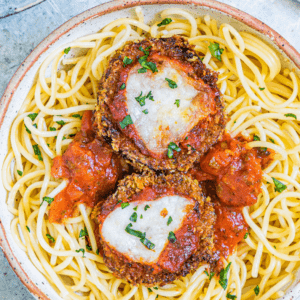 Air Fryer Eggplant Parmesan
Description
Air Fryer Eggplant Parmesan — There is nothing better than a plate of eggplant parmesan for dinner or lunch! This will be a crowd-pleaser. Add with a plate of spaghetti for a perfect dinner!
Ingredients
1

large

eggplant

1/2

cup

panko breadcrumbs

1/2

cup

freshly grated parmesan

2

teaspoons

Italian seasoning

1

teaspoon

garlic powder

1/2

teaspoon

salt

1/2

teaspoon

black pepper

1/4

cup

all-purpose flour

2

large

eggs

,

beaten

1

cup

marinara sauce

8

ounces

mozzarella cheese

,

thinly sliced
Instructions
Line a large baking sheet with parchment paper.

Slice eggplant into ½ inch slices. Sprinkle salt on both sides of the eggplant slices and put them on a wire rack. Leave for 10 minutes to draw out excess moisture. Dry the eggplant slices.

Combine the breadcrumbs, parmesan, Italian seasoning, garlic powder, salt, and black pepper in a medium shallow bowl.

Place flour and beaten eggs each in separate shallow bowls

Dip each eggplant slice first in flour to completely coat, then shake off the excess flour.

Next, dip the coated eggplant slice in beaten eggs, and shake off the excess egg.

Finally, completely coat the eggplant slice in the breadcrumb mix. Set onto the prepared baking sheet.

Repeat the process for all remaining eggplant slices.

Preheat the air fryer to 375°F, air fryer setting, and spray the air fryer basket with cooking spray.

Spray eggplant slices on both sides with cooking spray and transfer them into the Air Fryer basket in a single layer. Cook in the Air Fryer for 8-10 mins, until pale golden brown and crispy.

Top the cooked eggplant slices with marinara sauce and a slice of mozzarella cheese.

Cook for a further 1-2 mins until the cheese melts.

Serve immediately as a snack or with some pasta or salad as part of a full meal.

Garnish with chopped fresh basil/parsley (optional)
Nutrition
Serving:
1
g
Calories:
362
kcal
Carbohydrates:
25
g
Protein:
24
g
Fat:
19
g
Saturated Fat:
10
g
Polyunsaturated Fat:
1
g
Monounsaturated Fat:
6
g
Trans Fat:
1
g
Cholesterol:
146
mg
Sodium:
1230
mg
Potassium:
581
mg
Fiber:
5
g
Sugar:
8
g
Vitamin A:
926
IU
Vitamin C:
7
mg
Calcium:
500
mg
Iron:
3
mg