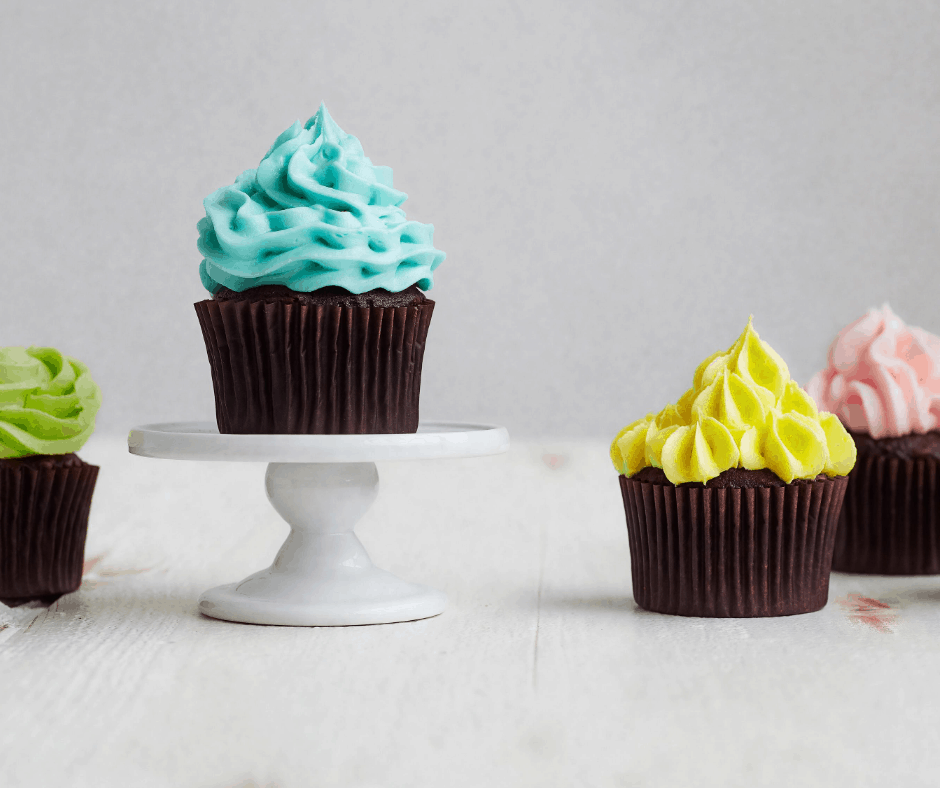 The cupcake, definitely one of the coolest kid treats there is, of course, adults love them too. They come in so many varieties, that the only limit is your imagination.
So, what is really a cupcake?
well, according to Wikipedia the cupcakes were invented in 1796, by an American chef, Amelia Simmons. Believe it or not, she had the first American Cookbook that was ever printed in the United States. But, the first recipe for a cupcake in a cookbook, had to wait another thirty years, by Eliza Leslie's Cookbook, Receipts Cookbook.
So, what did they define as a cupcake, Simmons, simply referred to as a cupcake, "as a light cake to bake in small cups." I am assuming that she meant that the small cake would be cook in some sort of ramekin, which fast forward a couple of hundred years if you make cupcakes in your air fryer, you can easily use a ramekin. I guess history has come full circle.
How To Make A Perfect Cupcake:
Although a cake mix, gives you a good quality cupcake, I mean you have to make them for the bake sale, and your son reminds you at 5 am, that cake mix comes in really, really handy. But, you want to make homemade cupcakes, here are some good pointers.
For really soft cupcakes, simply switch out about 1/2 of the all-purpose flour with cake flour.
All-Purpose Flour is really just flour that has been refined, which is made from what grains after removing the brown covered. Then it is furthered refined by the process of milling, refined and then bleached. This flour also combines both the hard and soft wheat, which gives it a protein content (gluten) of about 10-12 percent. The bleach further softens the texture. All-Purpose Flour is a great baking product since it retains more of the structure of the item you are cooking. This flour was really developed so that all home bakers could only purchase one flour, which would suit the home baking needs.
Cake Flour, on the other hand, is very fine since it only contains soft wheat. It has a protein count (gluten) of between 5 to 8 percent. This gives you a softer texture, which is ideal for both cakes and cupcakes.
Another Great Tip to get a rich and moist cupcake is to add an extra egg yolk into the recipe, this, of course, is up to you, but I find that extra egg yolk, gives it a chewy, moist and rich cupcake.
For a really rich cupcake switch out the milk in the recipe for either sour cream or buttermilk.
Cooking Cupcakes In the Air Fryer:
Since day one, I have been making cupcakes. As most of you know, I have children, and all kids love cupcakes. At first, when I was experimenting, I would use ramekins or silicone cupcake liners, which both did an adequate job, but as I am now making a lot of cupcakes, for both my family and this website, I opted out to purchase these two cupcake pans, both of them are reasonably priced and found on Amazon. ( I did a huge search of all of the popular stores, and couldn't find any)
For the Air Fryer Basket, please measure your basket before you purchase though. This fit my GoWise and other Air Fryers, perfectly:
For my Vortex (Instant Pot) Air Fryer, I found this set, which works perfectly:
Now, for the Omni, I went even BIGGER, which my kids are really appreciating, as they can get more frosting!!
If you haven't been following along, we are at www.ForktoSpoon.com
Kitchen Items Used: (Note: Affiliate links are included in this post)

J.A. Henckels 6-Inch High Carbon Stainless Steel Chef's Kitchen Knife

Stainless Steel Measuring Cups, 5 Piece Set

RSVP International Endurance (DILL) Spice Measuring Spoons, Stainless Steel

Anchor Glass Measuring Set–This is one of the handiest tools in the Kitchen

OXO Good Grips 12 Inch Stainless-Steel Locking Tongs
Fat Daddio's Anodized Aluminum Round Cake Pan, 7 x 3 Inch, Silver
Check Out This Book, everything to get you started and SUCCESSFUL in Air Frying.
DON'T FORGET TO PIN–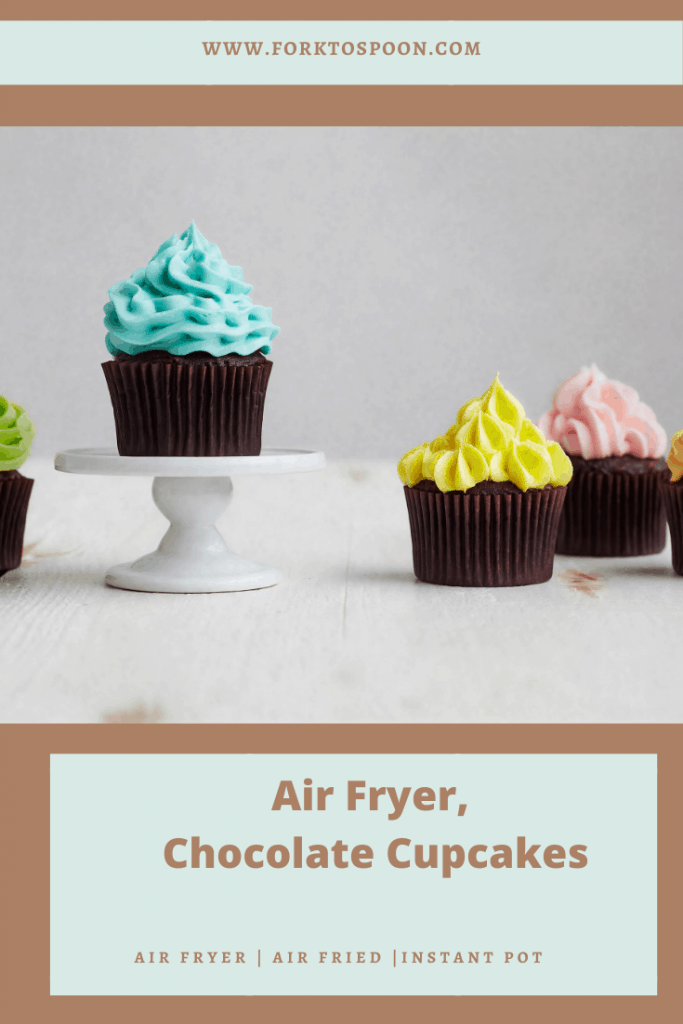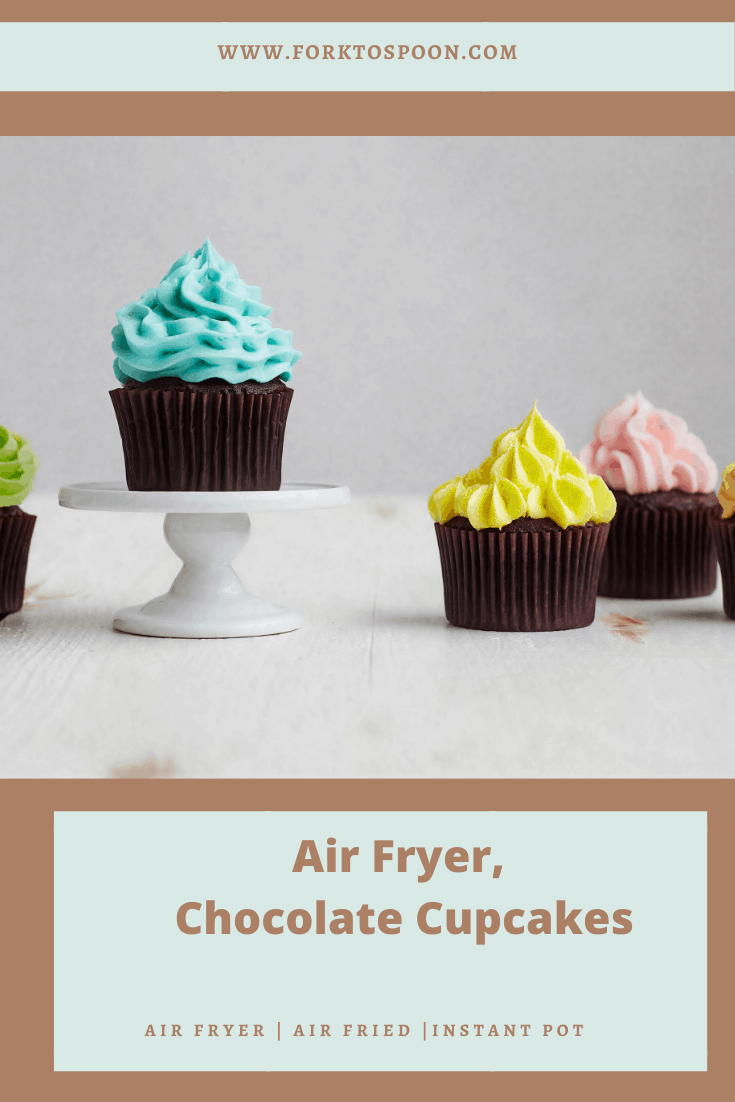 Yield: 12 Servings
Air Fryer, Chocolate Cupcakes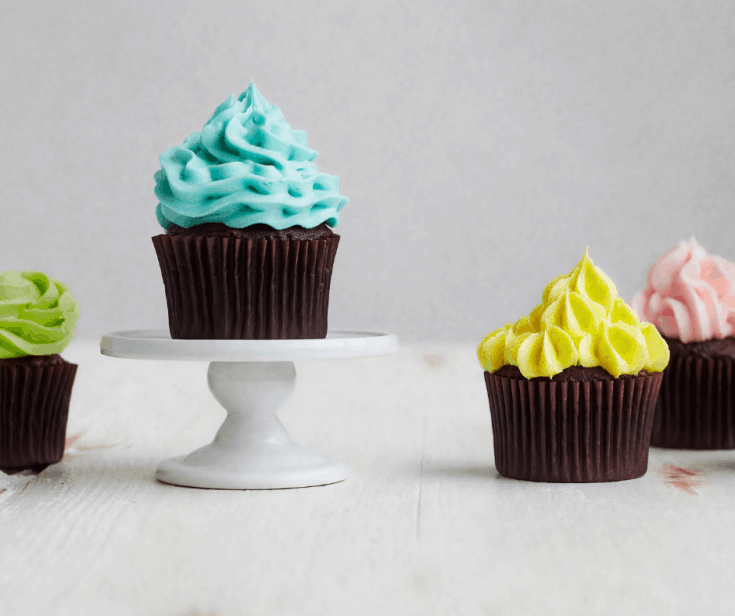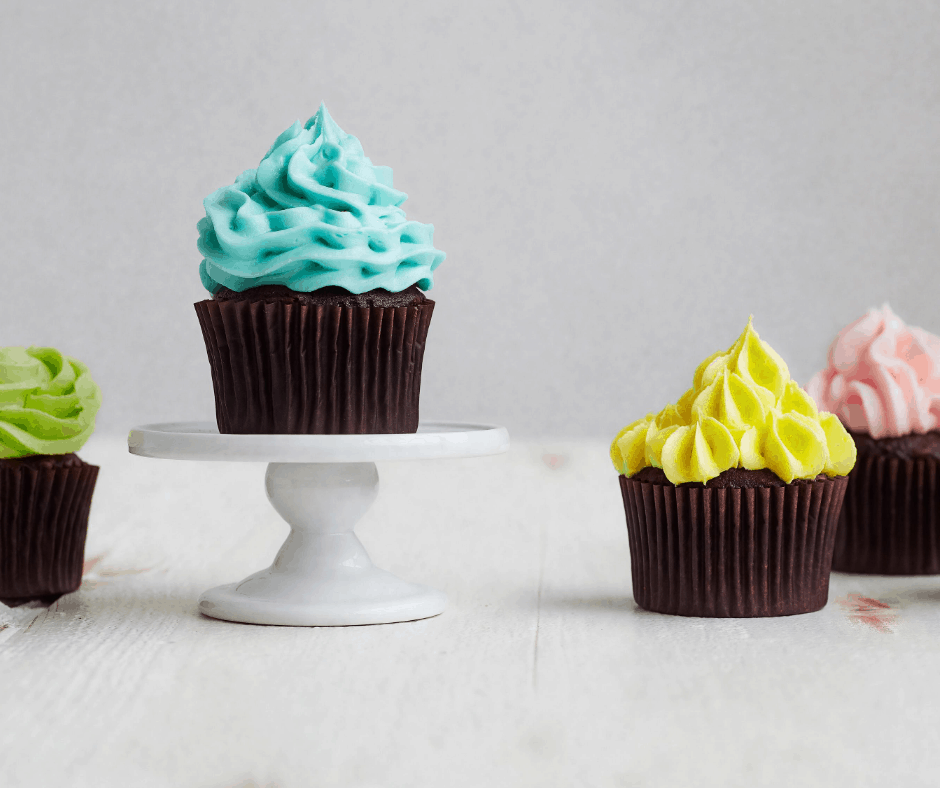 One of the easiest recipes for a great cupcake. I would recommend that you purchase the metal muffin tin, which in my opinion produces better-looking cupcakes when using the air fryer.
Ingredients
2 1/2 cups all-purpose flour
1/2 cup unsweetened cocoa powder
2 cups of sugar
3 teaspoon baking powder
1 teaspoon salt
1 cup milk
1/2 cup vegetable oil
2 teaspoons vanilla extract
2 eggs
1 cup of water
Optional: Frosting
Instructions
In a large mixing bowl, add the flour, cocoa powder, sugar, baking powder, and salt.
In another mixing bowl, add the milk, vegetable oil, vanilla extract, and eggs.
Slowly, pour the wet ingredients into the dry ingredients, mix well.
Then slowly pour the water into the mixture.
Spray your muffin tin with olive oil, or if you are using muffin liners, fill the cupcake pan.
Pour the batter into the muffin tins, filling out about 2/3 the way.
Set into the air fryer for 9-12 minutes, at 330 degrees F.
Let cool, before decorating.