This Air Fryer Chocolate Chip Pizookie Recipe is ultra-indulgent! Made with brown sugar, white sugar, chocolate chips, and topped with a scoop of vanilla ice cream.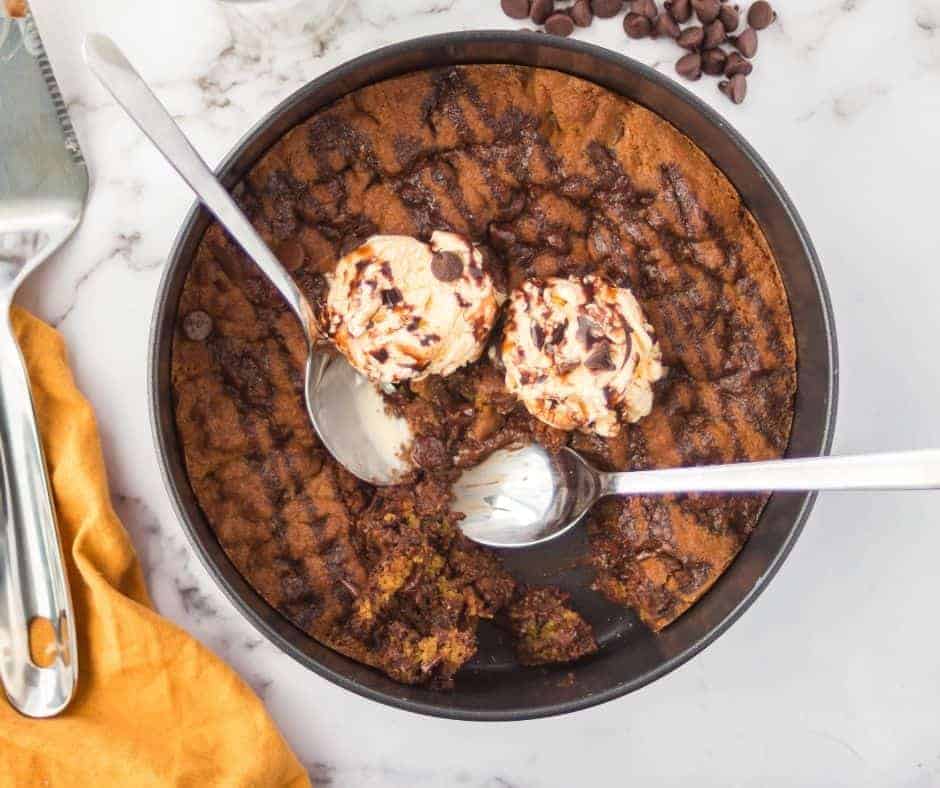 Air Fryer Pizookie Recipe
This is the perfect recipe for any cook who wants to make a dessert that feels indulgent but doesn't take a ton of effort. With only a few ingredients, this Air Fryer Pizookie is ready for you and your family or friends to enjoy in less than 30 minutes.
This rich, ooey-gooey air fryer cookie is dangerously addictive and utterly decadent. Get ready for this air fried to melt-in-your-mouth perfection dessert.
My kids went crazy for this delicious, rich, and fantastic alternative to traditional chocolate chip cookies. They are easy to make and so quick, with the help of the air fryer.
If you are looking for some other easy Air Fryer Cookie Recipes, some of my favorite are EASY AND DELICIOUS COOKIE MUG CAKE RECIPE MADE IN MINUTES, AIR FRYER STARBUCKS CRANBERRY BLISS BARS COPYCAT RECIPE, AIR FRYER SLICE, AND BAKE COOKIES, AIR FRYER LINZER COOKIES and AIR FRYER CHOCOLATE BROWNIE COOKIES.
Ingredients Used In Air Fryer Pizookie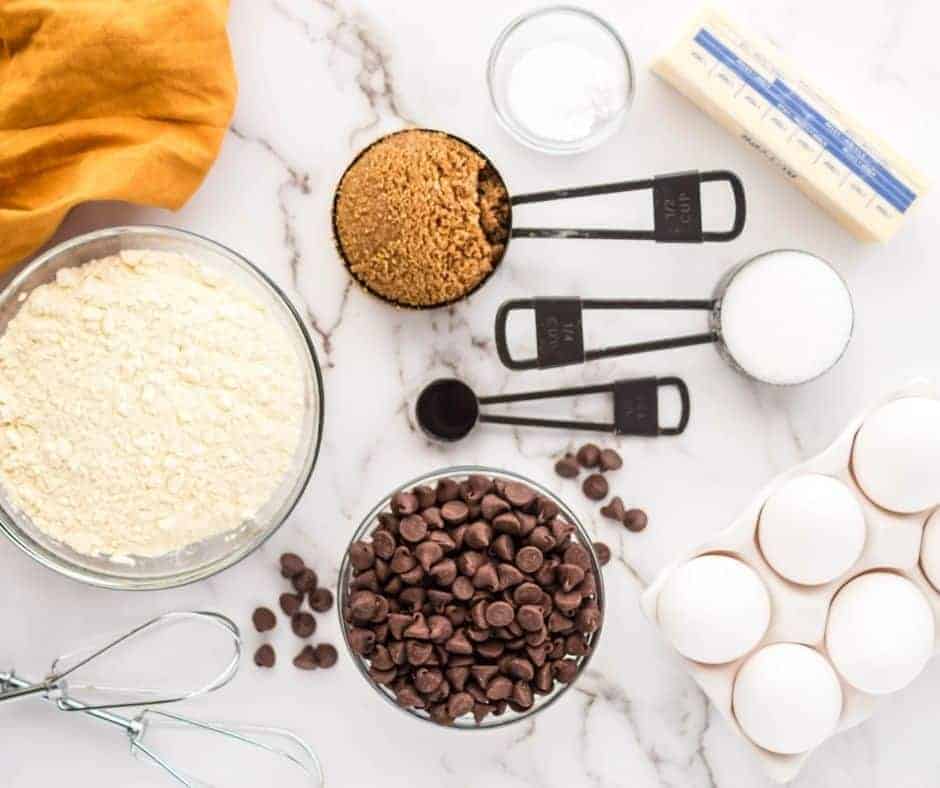 Flour — Because this recipe creates an air fryer cookie with an extremely gooey center, the type of flour you choose to use makes a big difference. We usually stick with all-purpose flour, but feel free to use whole wheat or gluten-free, understanding that the texture will vary.
White sugar — Not only helps to sweeten your cookie, but also caramelizes and adds the perfect level of crispness to your finished air fryer pizookie. Feel free to use your favorite sugar substitute, like stevia, instead.
Brown sugar — The abundance of brown sugar in this recipe will give your finished chocolate chip cookie a luscious, subtle caramel flavor. If you're looking for a slightly healthier way to sweeten your pizookies, try coconut sugar! When baked, it creates a similar caramelly flavor.
Eggs — Eggs act as the stabilizer in your cookie dough and will help keep everything bound together as your pizookie fries.
Butter — Butter helps create that rich, melt-in-your-mouth flavor and texture you're looking for in a good dessert. If you're dairy-free, try using coconut oil or vegetable shortening instead.
Vanilla — Adding a dash of vanilla to your dough will help to round out the deeper caramel and chocolate flavors. I think Mexican vanilla tastes best, but any brand will do.
Leavening Agents — A combination of baking powder and baking soda will allow your pizookie to rise and spread to the perfect thickness evenly.
Chocolate chips — The melty texture of the chocolate chips blends perfectly with the gooey center of your finished pizookie. However, if you're not a huge fan of semi-sweet chocolate, try using caramel bites, white chocolate, toffee bits, or whatever other cookie mix-in your heart desires.
How to make air fryer pizookie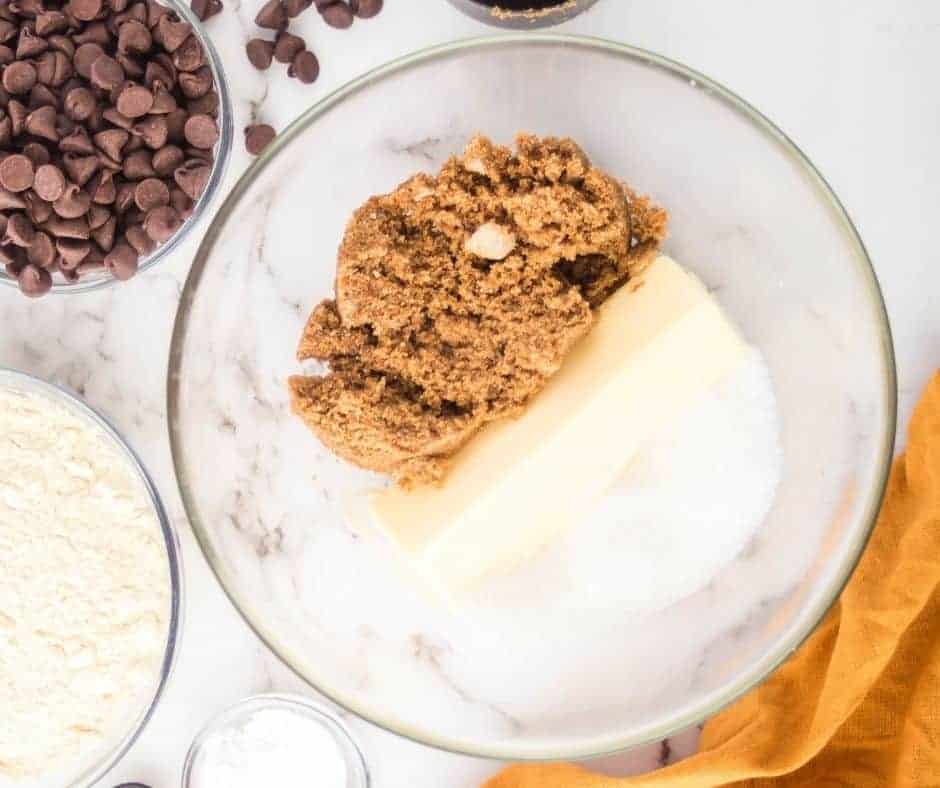 Step 1: Preheat your air fryer
Set your air fryer to 325°F, close the lid or insert the basket and let heat for five or more minutes before placing your cookie inside.
Step 2: Cream together butter and sugars
In a medium-sized bowl, use a hand mixer to cream your butter, white sugar, and brown sugar until the sugar crystals are almost dissolved.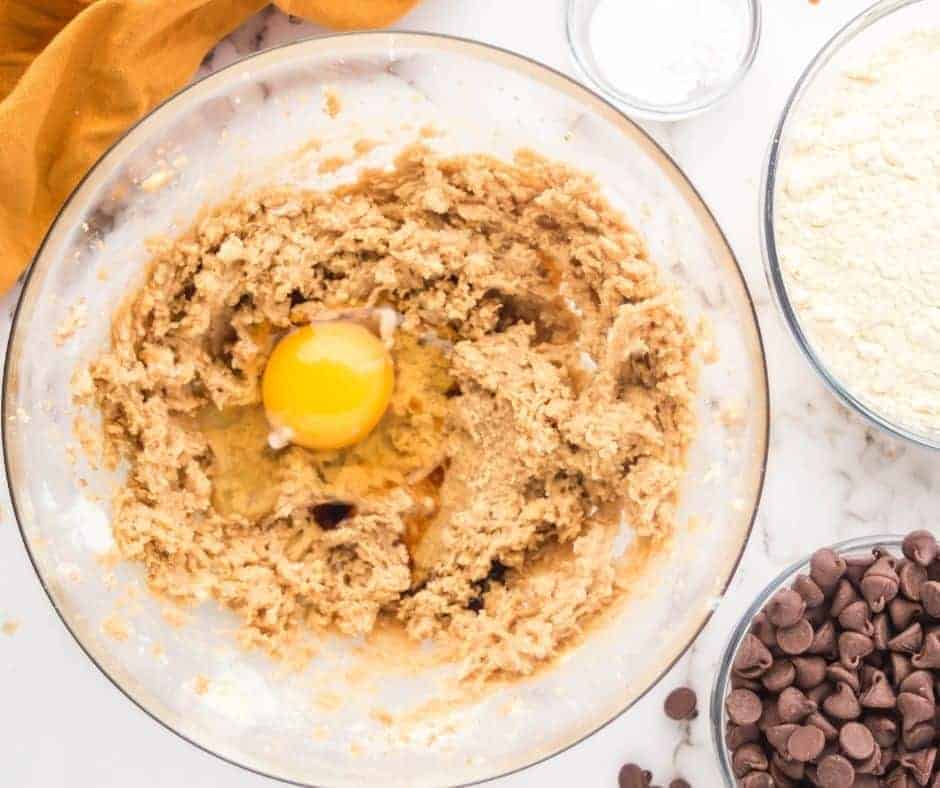 Step 3: Add your egg and vanilla
Once your butter mixture is creamy, add in your egg and vanilla and beat again until smooth.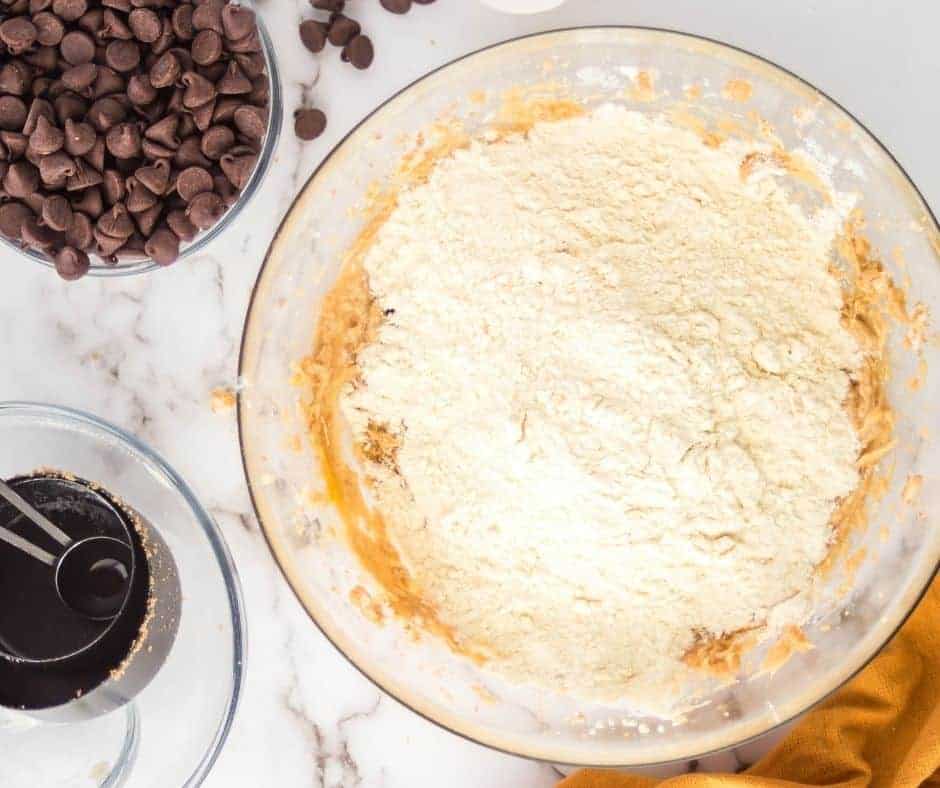 Step 4: Add flour and leavening agents
For easy mixing, sift your flour, baking powder, and baking soda into your butter mixture. Beat until everything is combined and a thick dough forms.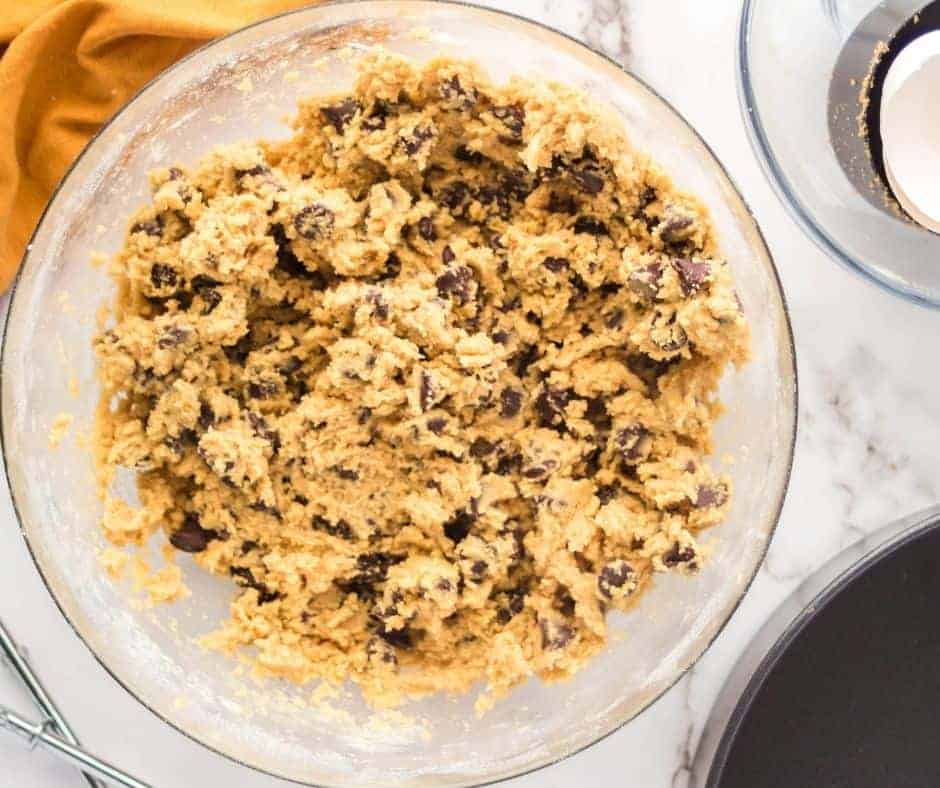 Step 5: Gently fold in your chocolate chips
Add your chocolate chips, and using a wooden spoon or the slowest speed on your hand mixer, gently mix the chocolate into the dough.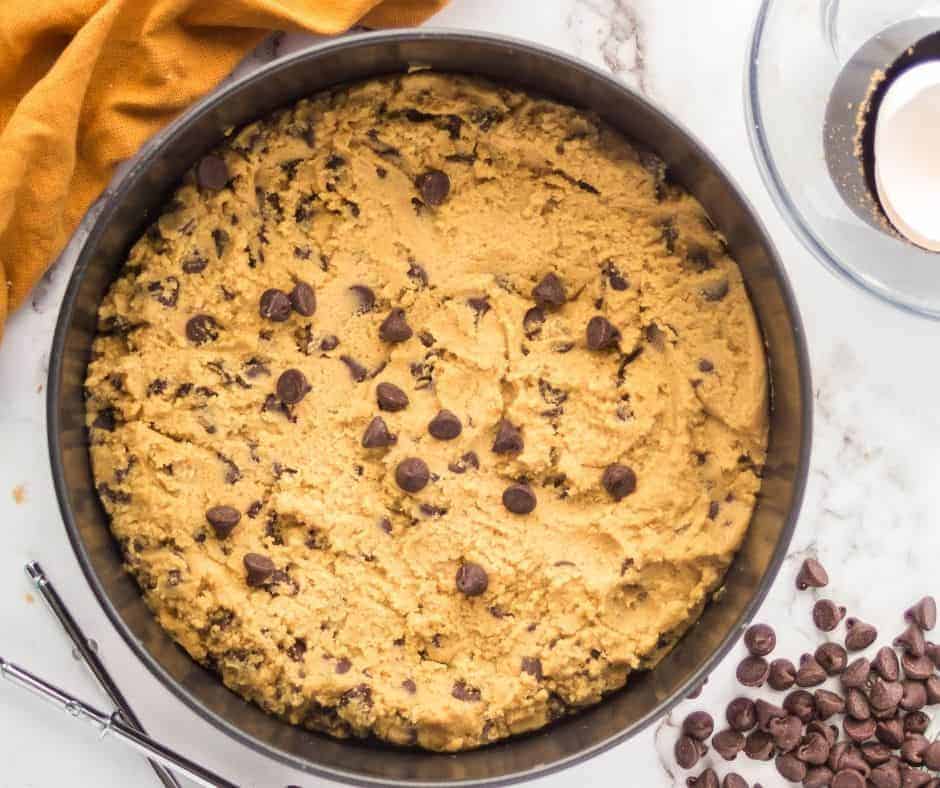 Step 6: Air fry
Press your cookie dough down into a shallow baking dish that is smaller than the basket of your air fryer. Place the baking dish into your preheated air fryer and fry at 325°F for 20-22 minutes.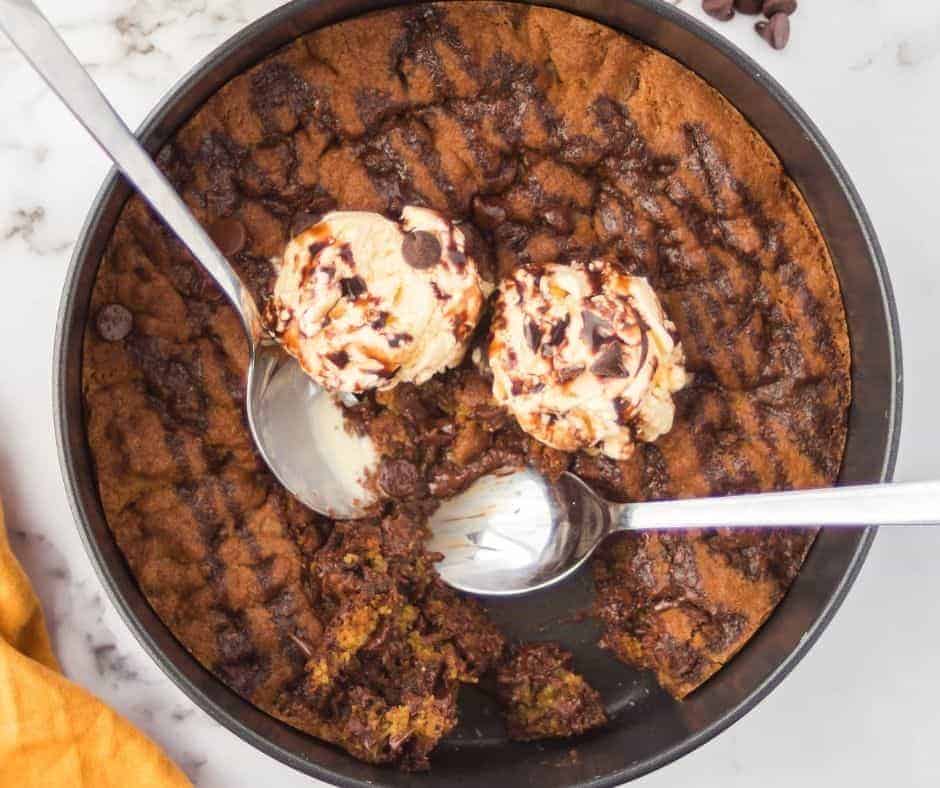 Step 7: Top, serve and enjoy
When your air fryer cookie is finished, pull it out of the air fryer and allow it to cool for a couple of minutes before finishing it off with the toppings of your choice. Serve and enjoy!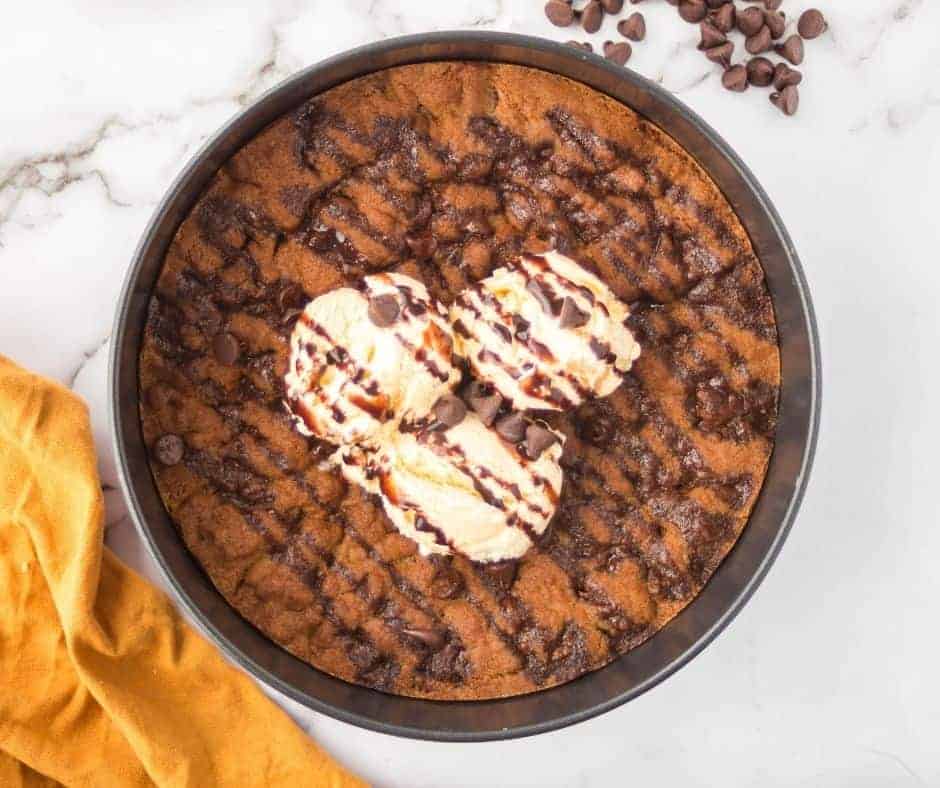 Frequently Asked Questions
How is air frying my pizookie different than baking it?
Air Fryers are designed to very effectively circulate hot air evenly throughout a small space. This causes cookies to quickly "fry" instead of slowly baking. What results is a cookie that is crispy on the outside and very gooey and caramelly on the inside. This texture is harder to achieve in the oven.
How do I know when my pizookie is done frying?
If you prefer a more well-done air fryer pizookie, you'll want to leave it in your air fryer until a toothpick inserted into the center comes out mostly clean. If you're like me and like your cookie to have a gooey center, feel free to stop frying as soon as the edges of your cookie turn golden brown and crispy.
What if I want to make individual-sized pizookies?
This pizookie recipe is designed to be made in and eaten out of a large pan; however, it's also super fun to make individual-sized pizookies. Instead of pressing your dough into a large baking dish, divide your dough into quarters and press it into ramekins or mini pie dishes before frying to make personal pizookies.
Can I use this cookie dough recipe to make regular cookies?
Absolutely! Once your dough is finished, scoop it into tablespoon-sized balls and bake in a 375°F oven for 8-10 minutes for a delicious batch of homemade cookies!
Recipe Variations
When it comes to the magical world of cookie making, there's no need to limit yourself to the classic chocolate chip. Below are some pizookie recipe variations to help you get your creative baking juices flowing!
Make a white chocolate raspberry by adding white chocolate chips instead of semi-sweet and topping with warm raspberry jam.
Enjoy a pretzel caramel crunch by adding caramel bites and crushed pretzels to your dough and topping with flaky sea salt.
Add peanut butter chips and top with chocolate ice cream for a decadent peanut butter chocolate.
The pan that you use will depend on what air fryer you own. I would suggest the following pans (affiliate links included)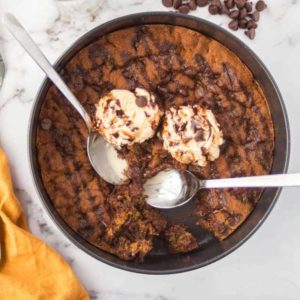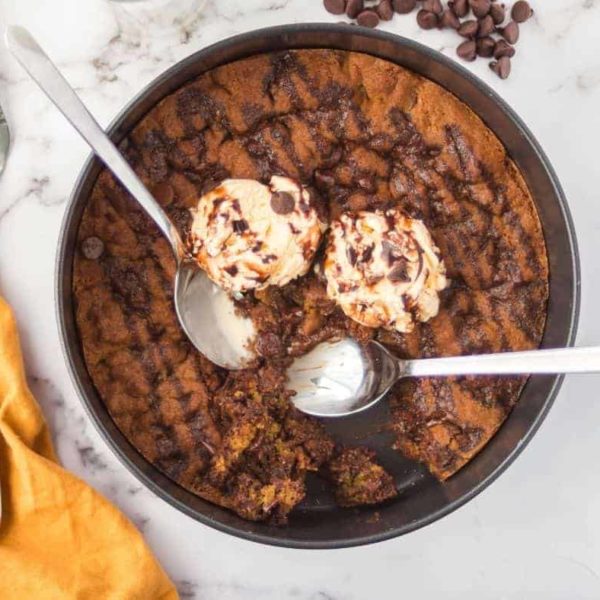 Air Fryer Chocolate Chip Pizookie
Description
This Air Fryer Chocolate Chip Pizzooki Recipe is ultra-indulgent! Made with brown sugar, white sugar, chocolate chips, and topped with a scoop of vanilla ice cream.
Ingredients
1/2

cup

butter

1/4

cup

white sugar

1/2

cup

brown sugar

1

egg

1/2

teaspoon

vanilla

1/2

teaspoon

salt

1/4

teaspoon

baking powder

1/2

teaspoon

baking soda

1 1/2

cups

all purpose flour

1

cup

chocolate chips
Instructions
Preheat your air fryer at 325°F for 5 minutes.

Using a stand mixer or handheld electric mixer, cream together your softened butter and sugars until creamy.

Add eggs and vanilla and continue beating until smooth.

Add your flour, baking powder, and baking soda and mix until a stiff dough forms.

Add your chocolate chips and gently stir until just combined.

Press your dough into a moderately shallow dish that's smaller than your air fryer basket.

Air fry your dough at 325°F for 20-22 minutes or until the edges of your pizookie are golden brown.

Let your pizookie cool for a couple of minutes, top with vanilla ice cream, and enjoy!
Nutrition
Calories:
460
kcal
Carbohydrates:
63
g
Protein:
4
g
Fat:
22
g
Saturated Fat:
13
g
Polyunsaturated Fat:
1
g
Monounsaturated Fat:
4
g
Trans Fat:
1
g
Cholesterol:
74
mg
Sodium:
448
mg
Potassium:
73
mg
Fiber:
1
g
Sugar:
37
g
Vitamin A:
512
IU
Calcium:
39
mg
Iron:
2
mg