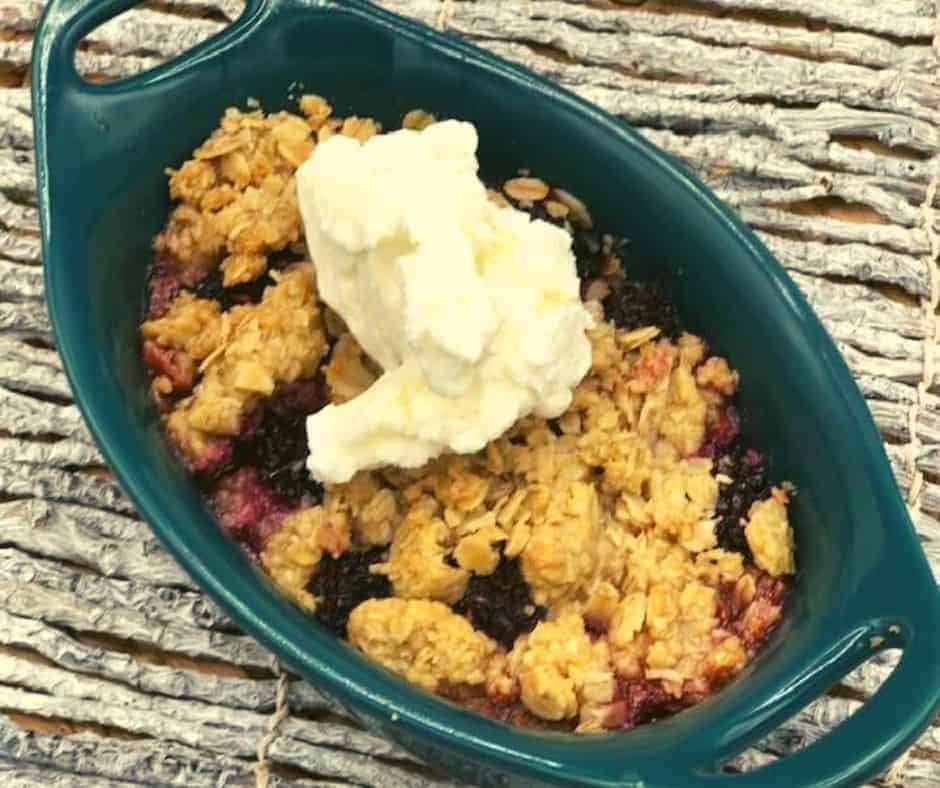 Air Fryer Blackberry Cobbler is amazing! If you are looking for a great summer dessert with fresh blackberries, this is the perfect evening treat for you!
I truly love a great cobbler, either made in the oven or the Air Fryer, and it's so great when you have fresh produce all around you. It's a sweet, juicy, and delicious filling, and all served with a buttery crust on top.
If you have not baked yet in the Air Fryer, you will not be disappointed; the Air Fryer does an amazing job at perfectly cooking your food to absolute perfection.
Once you make this, I am sure that you will be looking for even more Air Fryer Cobbler Recipes, and some of my favorites are AIR FRYER MUG STRAWBERRY COBBLER, AIR FRYER PEACH COBBLER MUG CAKE, AIR FRYER PEACH COBBLER FOR TWO.
What Is A Cobbler?
If you have never made a cobbler, do not be scared, this is one of the easiest recipes.
Made with either a biscuit topping for a crust or an oatmeal topping. Both of the coatings are poured over the fruit of your choice. Today's fruit is Blackberry.
If you want to use a biscuit topping instead, this recipe will still work. However, you will probably need to cook longer until the biscuit topping is completely cooked.
Ingredients Needed For Air Fryer Blackberry Cobbler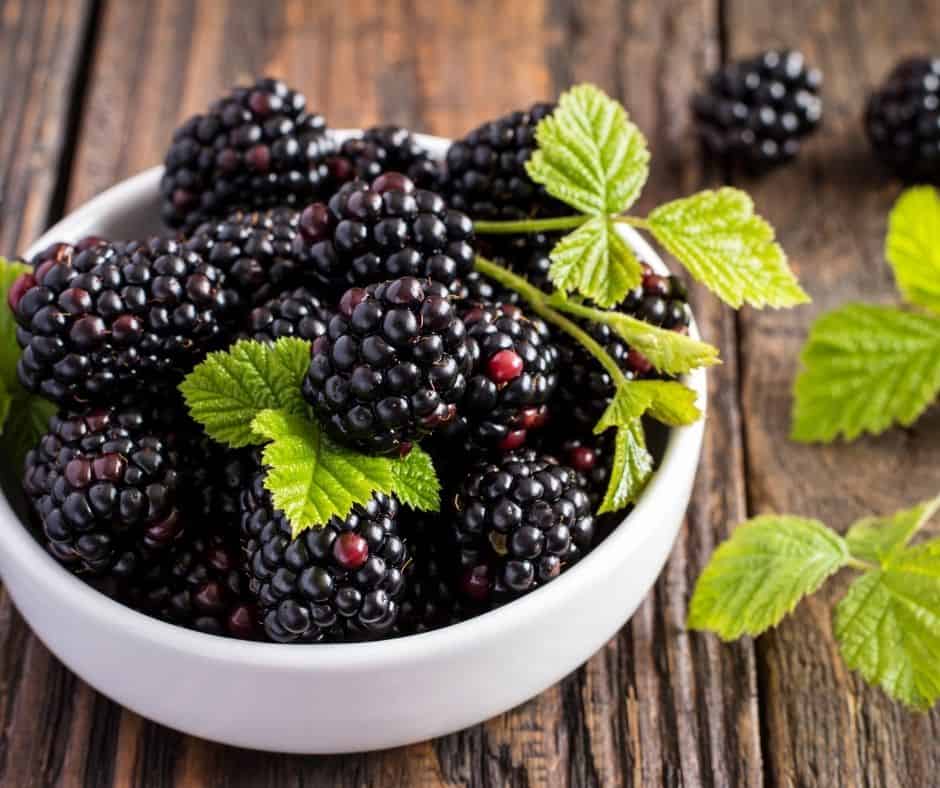 Blackberries
Granulated Sugar
Brown Sugar
All-Purpose Flour
Lemon Juice
Quick Oats
Salt
Butter
Optional Topping: Vanilla Ice Cream
How To Make Air Fryer Blackberry Cobbler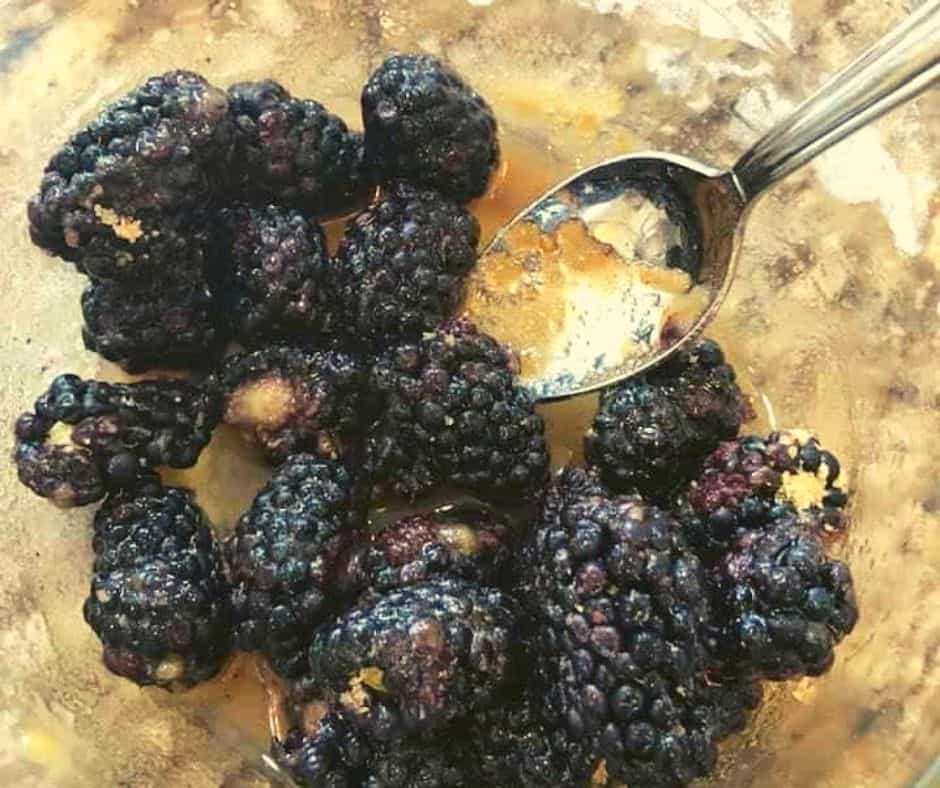 In a small mixing bowl, add the blackberries, flour, lemon juice, brown sugar, and sugar. Then let it sit for about 10 minutes, this will draw the liquid out, so it's not incredibly watery.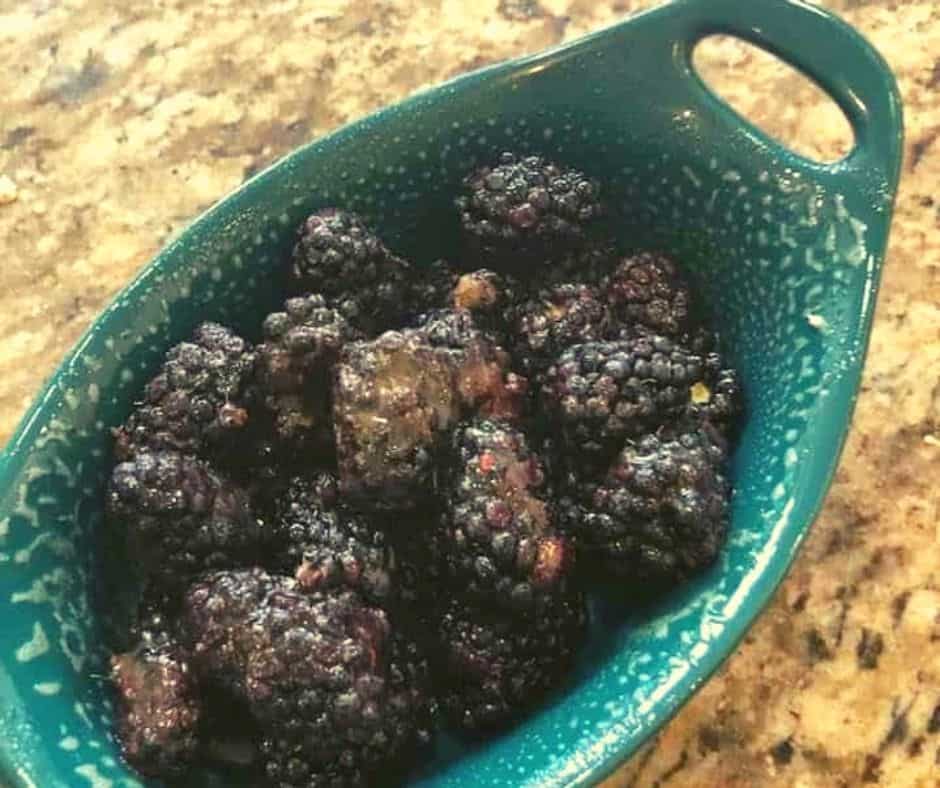 Then add the blackberries to a greased ramekin.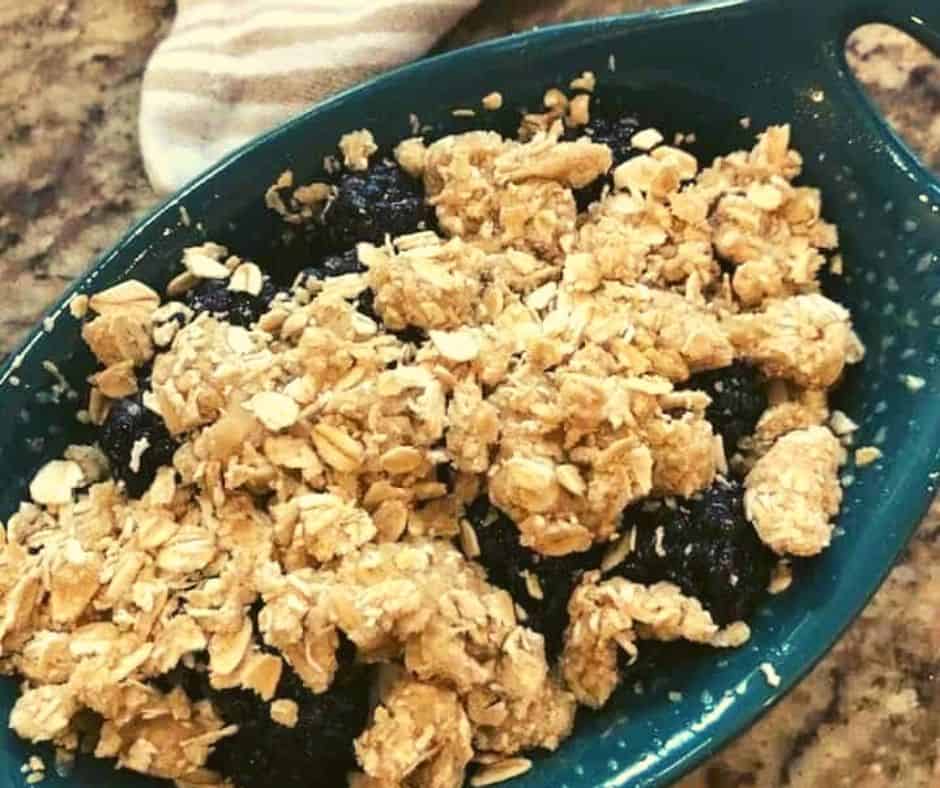 Mix the quick oats, flour, brown sugar, salt, and butter in a small mixing bowl. Mix well, then sprinkle over the top of the blackberries. Place the pan into the air fryer, and set the temperature to 330 degrees F, air fryer setting, for 8 to 10 minutes.
Remove once golden on top, and let cool before serving.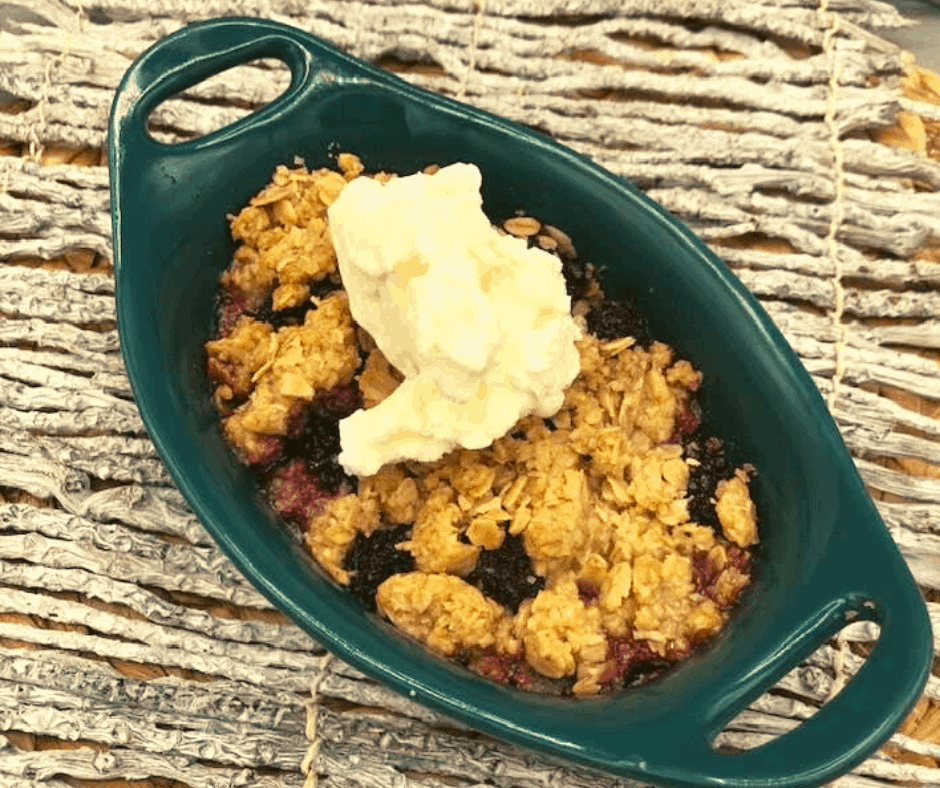 How to Pick Blackberries for Blackberry Cobbler
Whether you go blackberry picking, the farmer's market, or the grocery store for some blackberries.
The way to tell if blackberries are great for picking, you should easily take the blackberries off the vine. The few times I have gone blackberry picking, I was amazed at how easily the fruit fell off the vines.
How To Tell What Blackberries To Buy in Packages
There is nothing worse than bringing home a package of berries only to find mold or them about ready to expire. This has happened to me many times.
For picking out the perfect package of blackberries, look for a deep blue or black color; they should be firm when you touch them and never wrinkle.
What If I Don't Have Fresh Blackberries?
This recipe will work precisely the same as frozen berries.
I advise defrosting them and then drinking the liquid from the blackberries. This is an important step. Otherwise, the blackberry cobbler will end up watery.
How to Store Air Fryer Blackberry Cobbler
This is a great dessert to make ahead of time, and if you have any leftovers, it's really easy to store.
Cover the blackberry cobbler with saran wrap, and leave it on the counter for a couple of days. You can either eat it at room temperature or reheat the cobbler in your Air Fryer until warmed through.
What To Serve Air Fryer Blackberry Cobbler With?
Today, I served it with a scoop of vanilla ice cream, a great treat. You can easily serve it with the following:
Whipped Cream
Fresh Fruit
Powdered Sugar
What Bowls Work For Making Cobbler In The Air Fryer?
While you can use any oven-safe bowl or baking pan, I have been using a few dishes in my air fryer that I would like to share with you.
The first is ramekins, which I can find hundreds of uses for, from eggs to deserts. And the other was this set I picked up, which is amazing for cobblers. It has become one of my favorite dishes for baking in the Air Fryer. (affiliate link included)

Rachael Ray Solid Glaze Ceramics Au Gratin Bakeware / Baker Set, Oval – 2 Piece, Teal
Some Other Great Easy Air Fryer Desserts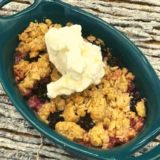 Air Fryer Blackberry Cobbler
Description
This is such an easy recipe, and perfect for when blackberries are in season. An easy fruit dessert with the air fryer can never get easier.
Ingredients
Fruit Layer:
2

cups

blackberries

,

fresh

1/4

cup

sugar

1/4

cup

brown sugar

1/3

cup

flour

1

tablespoon

lemon juice
Topping Layer:
1 1/2

cup

quick oats

1

cup

flour

1

cup

brown sugar

1

teaspoon

salt

1

cup

butter
Optional:
1

cup

vanilla ice cream

,

for serving
Instructions
In a small mixing bowl, add the blackberries, brown sugar, flour and lemon juice, and sugar. Then let it sit for about 10 minutes, this will draw the liquid out, so it's not incredibly watery.

Then add the blackberries to a greased ramekin.

In a small mixing bowl, mix the oats, flour, brown sugar, salt, and butter.

Then sprinkle on the topping. Set the temperature to 330 degrees F, air fryer setting, for 8 to 10 minutes. Remove once golden on top, let cool, before serving
Nutrition
Serving:
1
Serving
Calories:
1079
kcal
Carbohydrates:
147
g
Protein:
11
g
Fat:
53
g
Saturated Fat:
32
g
Polyunsaturated Fat:
3
g
Monounsaturated Fat:
14
g
Trans Fat:
2
g
Cholesterol:
137
mg
Sodium:
995
mg
Potassium:
444
mg
Fiber:
8
g
Sugar:
90
g
Vitamin A:
1711
IU
Vitamin C:
17
mg
Calcium:
155
mg
Iron:
4
mg
Don't Forget To Pin-