Turkey Breast Cutlets in the Air Fryer — When it comes to a dish that's both savory and simple, turkey breast cutlets are a perfect choice.
But have you ever thought of taking this classic and giving it an air-fried twist? Enter the air fryer—a modern kitchen marvel that promises crispy, golden finishes with a fraction of the oil.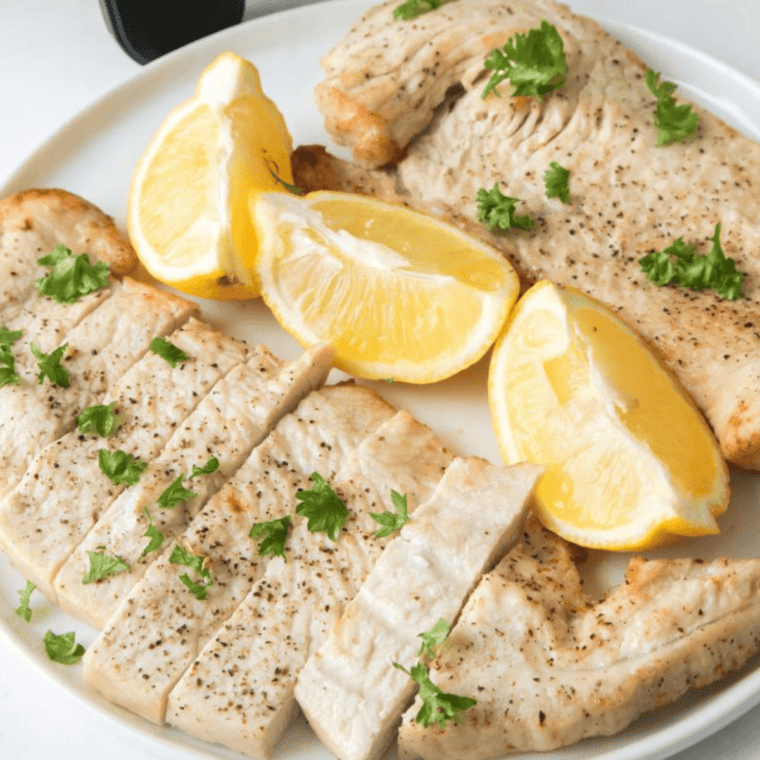 ICooking turkey cutlets in the air fryer speeds up the cooking process and ensures each cutlet is cooked to tender perfection. This makes a quick and delicious meal that the whole family will love!
Aside from turkey cutlets in the air fryer, there are many more ways to use this lean meat — even leftovers! Try more of my favorite Air Fryer Turkey Recipes, including AIR FRYER TURKEY MEATLOAF, AIR FRYER TURKEY CLUB SANDWICH, AIR FRYER TURKEY CROQUETTES, and AIR FRYER TURKEY TETRAZZINI.
What Are Turkey Cutlets?
Turkey cutlets are thin slices of turkey breast meat, often pounded to achieve even thickness. Due to their thin nature, they cook quickly and evenly, making them ideal for fast meals.
Typically lean and packed with protein, turkey cutlets are popular for those looking for a healthier meat option. They can be seasoned, breaded, or marinated and are versatile enough to be grilled, sautéed, baked, or air-fried, as we're focusing on today. Their mild flavor makes them an excellent canvas for various dishes, allowing for many culinary explorations.​
Why Cook Turkey Cutlets In Air Fryer?
Cooking turkey cutlets in an air fryer offers several advantages; this is the best cooking method for cooking turkey chops.
Crispy Exterior: The circulating hot air of the air fryer ensures that the turkey cutlets achieve a uniformly crispy and golden-brown exterior, mimicking the results of deep frying without the excess oil.
Quick Cooking: Given their thin nature, turkey cutlets cook rapidly in an air fryer, making it a time-saving method, especially for busy weeknights.
Consistent Heat: The air fryer's consistent heat distribution ensures that the turkey cutlets are cooked evenly throughout, reducing the risk of undercooked spots.
Less Mess: Without pans or oil splatters, cooking in an air fryer can reduce cleanup time and keep your kitchen less greasy.
Flavor Retention: The rapid cooking time and sealed environment of the air fryer helps to lock in the turkey's natural juices and flavors, resulting in a moist and flavorful cutlet.
Overall, using an air fryer for turkey cutlets is a healthier alternative and a convenient and efficient way to achieve delicious results.
Ingredients Needed For Air Fryer Turkey Cutlets Recipe
You can make this decklous air fryer turkey cutlet recipe perfect for a quick dinner with a few simple ingredients.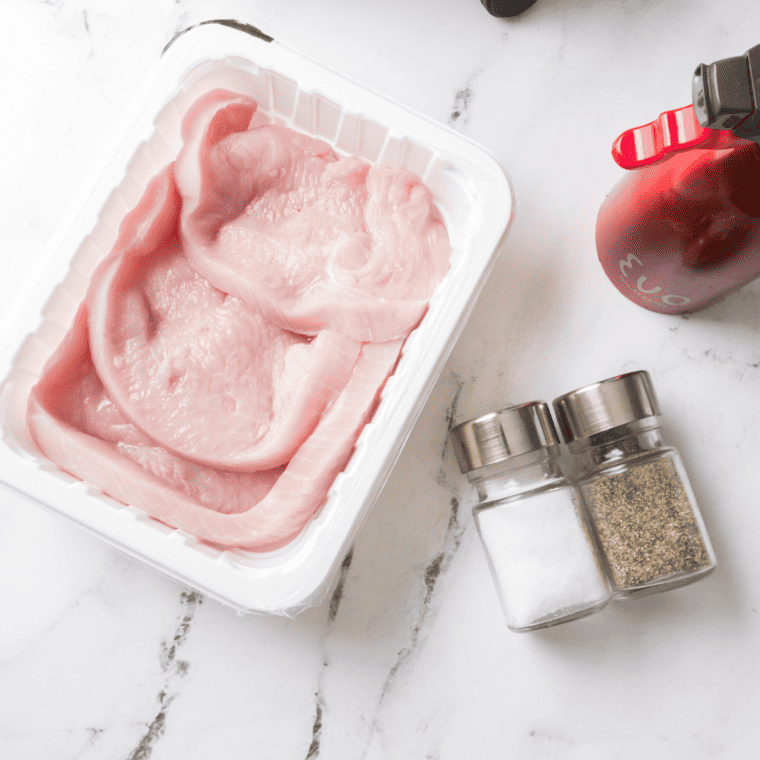 ​Remember the step-by-step directions and detailed ingredient list are below in the printable recipe card at the bottom of the post, as well as the nutritional information.​
Turkey Cutlets: Thin slices of turkey breast. Turkey cutlets are lean and protein-rich and cook quickly, making them ideal for fast and nutritious meals.
Olive Oil: A heart-healthy oil that imparts a mild fruity flavor, olive oil helps in browning the turkey cutlets in the air fryer and ensures they don't dry out.
Kosher Salt: An essential seasoning, salt enhances the natural flavors of the turkey and helps in the tenderization process.
Black Pepper: Adding a slight kick and aroma, freshly ground black pepper pairs beautifully with the mild taste of turkey, elevating its flavor.
Garlic Powder (optional): This dried seasoning provides a quick and convenient way to add garlic's rich, aromatic flavor to the cutlets without the need for fresh cloves.
Paprika (optional): Offering a hint of sweetness and vibrant color, paprika can give the turkey cutlets a subtle depth of flavor and a pleasing golden hue when cooked.
Breadcrumbs (optional for a breaded version): When used, breadcrumbs give the turkey cutlets a delightful crispy exterior, contrasting beautifully with the tender meat inside.
How To Cook Turkey Cutlets In Air Fryer
Easy recipe for air fryer turkey steaks can be made with simple steps.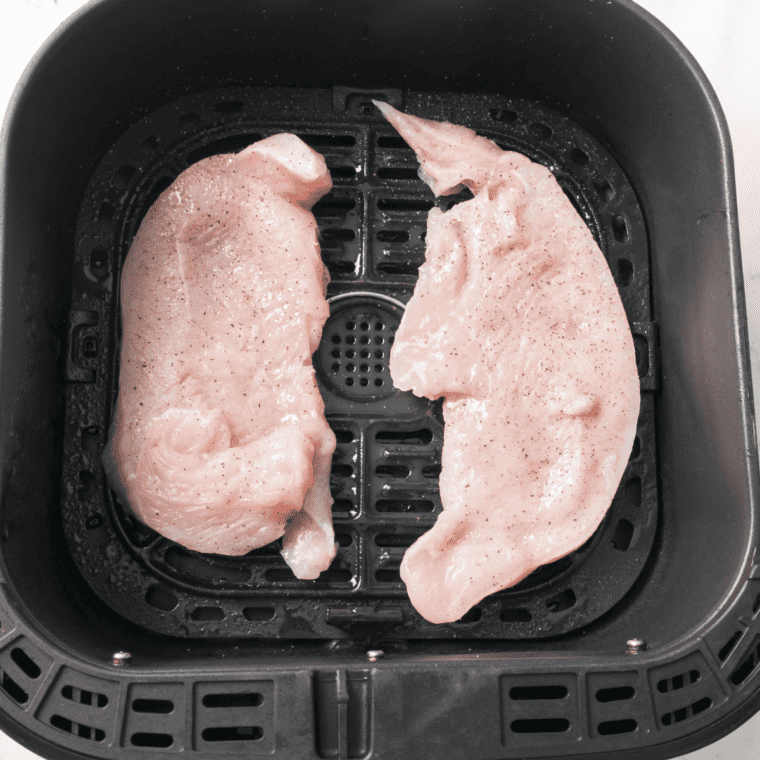 ​
Preparation: Begin by patting the turkey cutlets dry with paper towels. This ensures even cooking and better seasoning absorption.
Seasoning: Lightly brush both sides of the turkey cutlets with olive oil—season with salt, black pepper, garlic powder, and paprika. If you're going for a breaded version, dip the cutlets in a beaten egg, then coat them evenly with breadcrumbs.
Preheat Air Fryer: Set your air fryer to 375 degrees F (190°C) and let it run for about 3 minutes to preheat.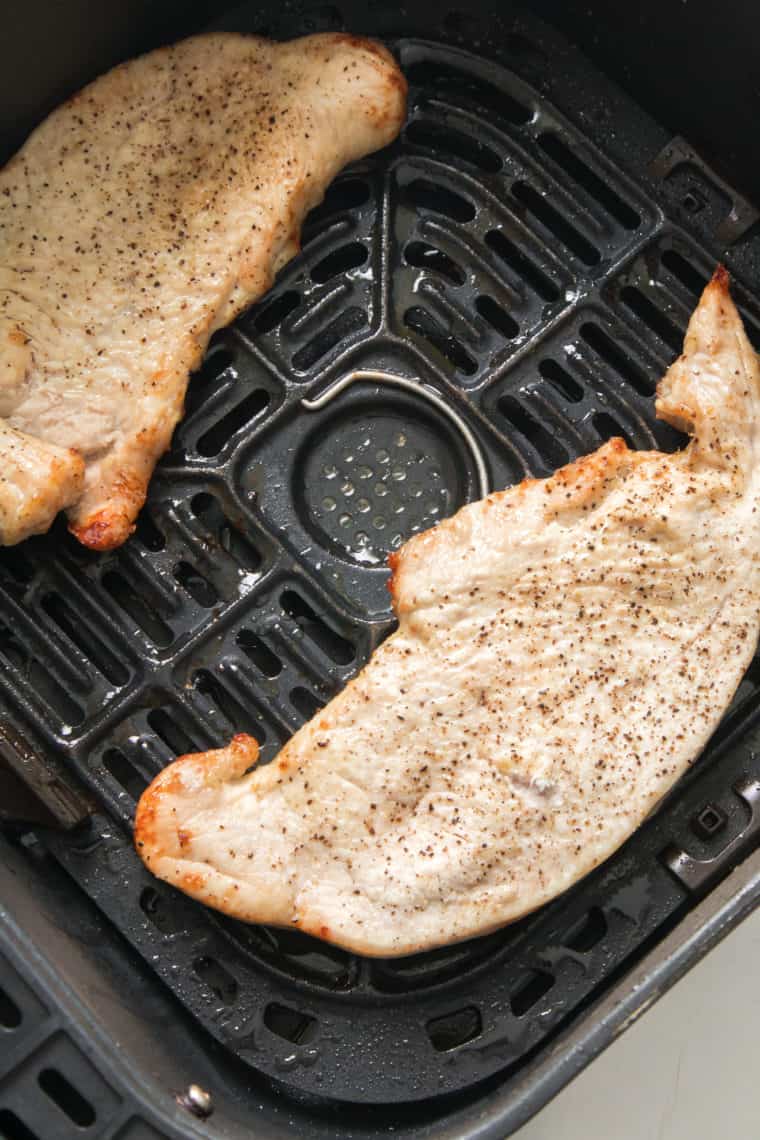 Arrange Cutlets: Place turkey breast cutlets in a single layer in the preheated air fryer basket, ensuring they do not overlap. This might require cooking in batches, depending on the size of your air fryer.
Cooking: Cook the cutlets at 375°F (190°C) for 5-6 minutes, then flip them and cook for another 5-6 minutes. Check the internal temperature of the turkey cutlets; when they are 165°F (74°C), you can safely remove the turkey cutlets, check by using a meat thermometer.
Serving: Once cooked, remove the turkey cutlets from the air fryer and let them rest for a few minutes. Serve hot with your choice of dipping sauce or side dishes.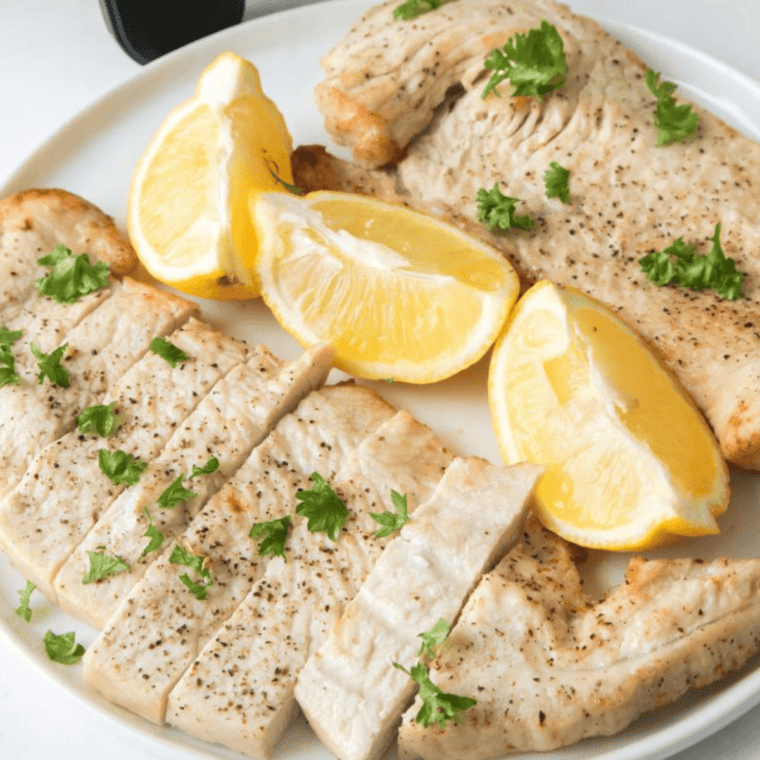 Pro Tips
Even Thickness: Ensure that all your turkey cutlets are of even thickness. This promotes even cooking. If they aren't even, you can use a meat mallet to pound them to a uniform thickness gently.
Avoid Overcrowding: It's tempting to fit as many cutlets as possible in the air fryer, but overcrowding can lead to uneven cooking. It's better to cook in batches for the best results.
Check Temperature: Use a meat thermometer to ensure your turkey cutlets reach an internal temperature of 165°F (74°C). This ensures they are safely cooked.
Season Well: Turkey meat is lean and can be a bit bland. Don't skimp on the seasoning. Marinating the cutlets for a few hours can also enhance flavor.
Rest Before Serving: Letting the cutlets rest for a few minutes after cooking allows the juices to redistribute, ensuring a moist and flavorful bite.
Stay Creative: While the recipe provides a basic seasoning mix, experiment. The possibilities are endless: adding some Parmesan cheese to the breadcrumbs or using a different marinade!
Clean Promptly: To maintain your air fryer and ensure its longevity, clean it promptly after use. Residual oil and crumbs can smoke if left in the fryer for subsequent use.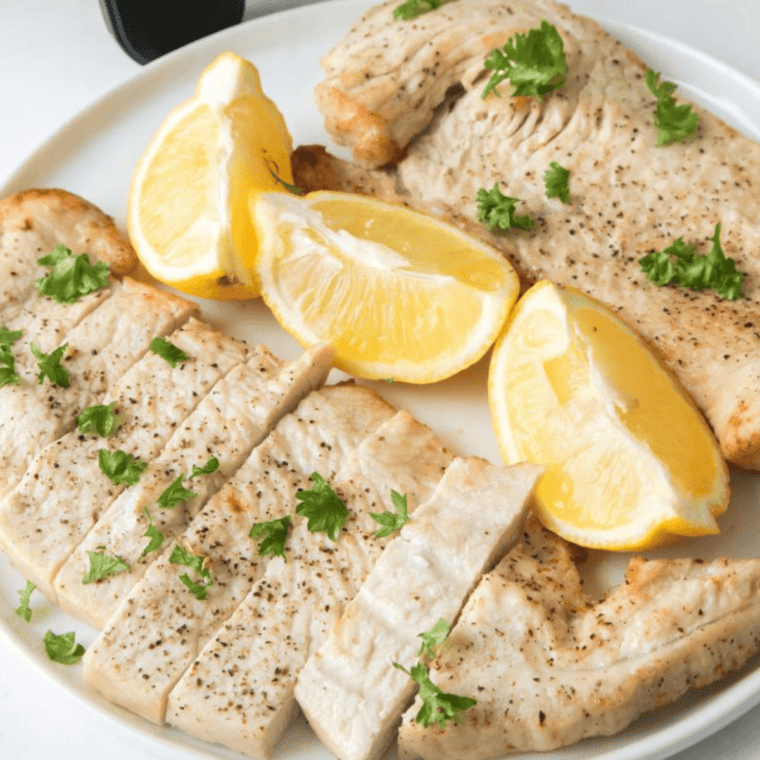 Recipe Variations​
Herb-Crusted Turkey Cutlets: Mix rosemary, thyme, onion powder, and oregano with your breadcrumb mixture for a flavorful crust.
Parmesan Turkey Cutlets: Add grated cheese, brown sugar, garlic salt, and garlic granules to the breadcrumb mix for a cheesy, delicious twist.
Spicy Turkey Cutlets: Introduce a kick with some cayenne pepper or chili flakes added to your seasoning.
Lemon-Pepper Turkey Cutlets: Combine fresh lemon zest with ground black pepper in your breadcrumb mix for a zesty flavor profile.
Curried Turkey Cutlets: Blend in some curry powder with your breadcrumbs for an exotic twist on the traditional recipe.
Garlic Butter Turkey Cutlets: After cooking, brush the cutlets lightly with a mixture of melted butter and minced garlic.
Asian-Inspired Turkey Cutlets: Use Panko breadcrumbs and add a touch of soy sauce, ginger, and sesame oil to your egg wash for an Asian-inspired version.
Gluten-Free Turkey Cutlets: Substitute traditional breadcrumbs with gluten-free breadcrumbs or crushed gluten-free cereal.
Keto Turkey Cutlets: Replace breadcrumbs with crushed pork rinds and almond flour for a keto-friendly version.
Mediterranean Turkey Cutlets: Add crumbled feta cheese, Italian seasoning, olives, and sundried tomatoes to your breadcrumb mixture for a Mediterranean flair.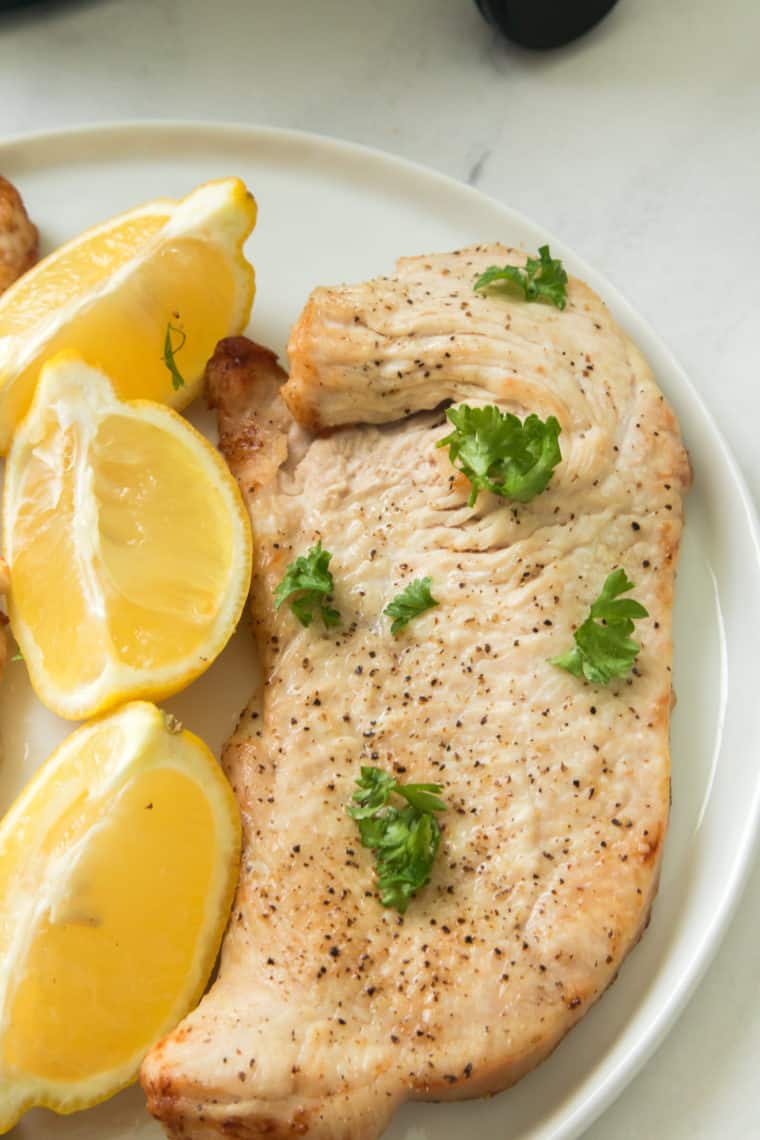 FAQ's
​Do I need to preheat my air fryer? While not always necessary, preheating the air fryer can help achieve a crispier exterior and ensure even cooking.
Can I use chicken cutlets instead of turkey? Yes, chicken cutlets can be used as a direct substitute for turkey. Ensure the internal temperature reaches 165°F (74°C) for safe consumption.
What's the ideal thickness for turkey cutlets in the air fryer? Aim for cutlets that are about 1/4 to 1/2 inch thick. This ensures quick, even cooking without drying out the meat.
How do I prevent the cutlets from sticking to the air fryer basket? Lightly spraying the basket with cooking spray or using parchment paper inside of the air fryer basket (specifically for air fryers) can prevent sticking.
Can I stack the cutlets in the air fryer? No, for best results, lay the cutlets in a single layer. Overlapping or stacking can result in uneven cooking.
How long do the turkey cutlets stay fresh after cooking? Cooked turkey cutlets can be refrigerated in an airtight container for 3-4 days.
Is it necessary to flip the cutlets halfway through? For even browning and cooking, it's recommended to flip the cutlets halfway through the cooking time.
Can I marinate the turkey cutlets? Absolutely! Marinating the cutlets can add extra flavor. Just ensure you pat them dry before breading or seasoning to achieve a crisp finish in the air fryer.
What sides go well with turkey cutlets? Almost anything! Consider pairing it with a light salad, roasted vegetables, mashed potatoes, or even a tangy coleslaw.
Are air-fried turkey cutlets healthier than pan-frying? Air frying typically uses significantly less oil than traditional frying methods, making it a leaner and often healthier cooking option.
​Serving Suggestions
Air fryer turkey breast is an easy dish that tastes good with all your favorite sides. Add a green salad or some rice and vegetables for a simple meal. Here are more of my favorite additions to air-fried turkey breast:
Don't Forget to Pin!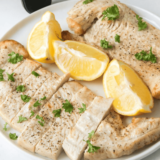 Air Fryer Turkey Breast Cutlets
Description
Air Fryer Turkey Breast is tender and juicy, with crispy edges just like on the grill. Add a simple marinade or seasonings for plenty of flavor. With this recipe, learn how to cook turkey breast filets in the air fryer in minutes!
Ingredients
2

pounds

turkey cutlets

,

preseasoned
Instructions
Place turkey breast cutlets into the air fryer basket, and spray with olive oil spray.

Set the temperature to 400 F degrees.

Set the time for 5 minutes.

After 5 minutes, flip the turkey cutlets.

Set the time for another 5 minutes.

Remove from the air fryer.
Equipment
Air Fryer

Cooking Spray

Parchment Paper,

optional
Notes
Storing and Reheating Air Fryer Turkey Breast Cutlets:
Storing:
Cool Completely: Before storing, allow your air-fried turkey breast cutlets to cool to room temperature. This prevents condensation which can make the cutlets soggy.
Airtight Containers or Plastic Wrap: Store the cutlets in an airtight container to prevent them from drying out or absorbing odors from the refrigerator. Alternatively, you can wrap them tightly in plastic wrap.
Refrigeration: Stored correctly, your turkey breast cutlets should last 3-4 days in the fridge.
Freezing: If you wish to store them for a longer duration, place the cooled cutlets in a single layer on a baking sheet and freeze. Once frozen, transfer them to a zip-top freezer bag and press out as much air as possible before sealing. Label the bag with the date, and the cutlets should remain good for up to 3 months.
Reheating:
Preheat the Air Fryer: For best results, preheat your air fryer to 350°F (175°C).
No Thawing Necessary: If frozen, there's no need to thaw the cutlets beforehand. However, reheating from frozen will take a bit longer.
Single Layer: Place the turkey breast cutlets in a single layer in the air fryer basket. Ensure they aren't overlapping for even reheating.
Reheat: For refrigerated cutlets, reheat for 3-4 minutes. For frozen, aim for 5-7 minutes. If they aren't warm after this, continue in 1-minute increments to avoid drying them out.
Serve Immediately: Once reheated, the turkey cutlets should be consumed immediately for best quality.
Tip: When reheating, a light spray of cooking oil can help revive the crispiness of the cutlets. Always be cautious of not over-reheating to retain moisture and flavor.
Nutrition
Serving:
1
Serving
Calories:
243
kcal
Protein:
57
g
Fat:
1
g
Cholesterol:
142
mg
Sodium:
104
mg
Iron:
0.4
mg