Homemade yellow mustard may seem like a daunting task, but with the right ingredients and a bit of patience, anyone can make their own delicious condiment.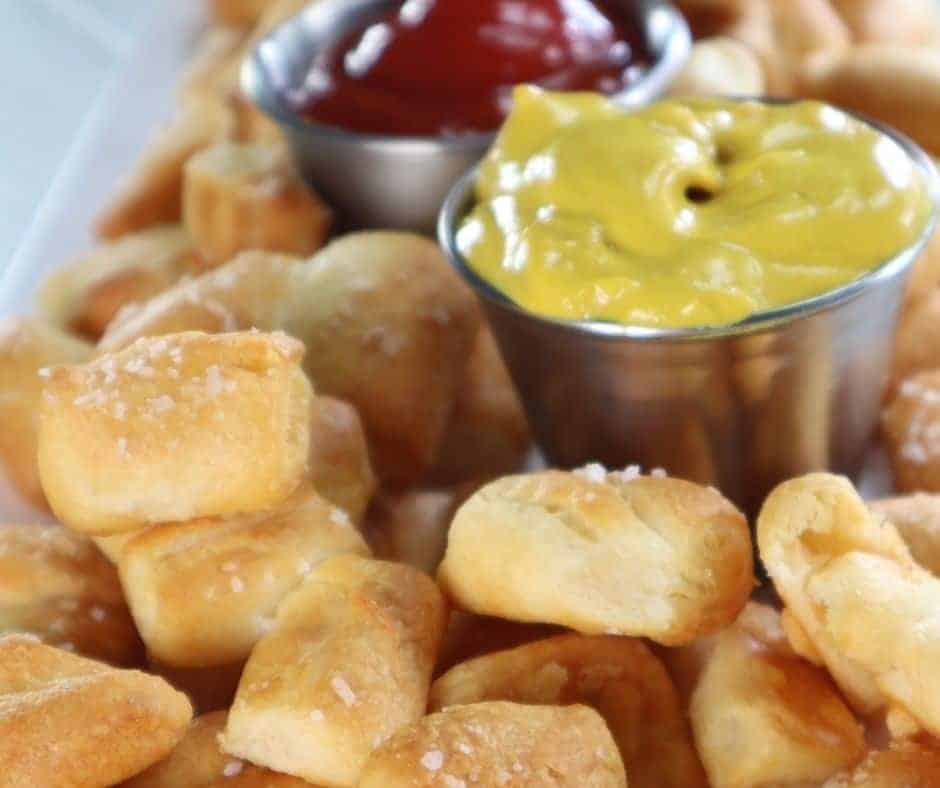 Looking for something to add a little extra zing to your sandwiches and hot dogs? Homemade yellow mustard can be the perfect addition. Don't be intimidated by the idea of making your own condiment – it's actually quite simple!
All you need is yellow mustard seed, vinegar, turmeric, garlic powder, and salt. Soak the mustard seeds overnight, then grind them into a paste using a food processor or mortar and pestle. Mix in the remaining ingredients, adjust to taste, and voila – you have yourself delicious homemade mustard with a fresh kick of flavor. Give it as a gift or keep it all for yourself – either way, homemade yellow mustard is sure to impress at your next BBQ or picnic. It's easy, tasty, and sure to make people ask for the recipe!
Why Make Homemade Yellow Mustard?
Why spend money on store-bought yellow mustard when you can easily make it at home? Homemade yellow mustard has a fresher taste and more depth of flavor than the warehouse-produced varieties. Plus, making your own allows you to control the level of spiciness and customize it with other ingredients like honey or horseradish.
The process is simple: just combine ground mustard seeds, vinegar, and seasonings in a jar or container and let sit for several days for the flavors to develop. In addition to being tasty and customizable, homemade mustard is also more cost-effective in the long run. So next time you're reaching for that bottle of yellow mustard, consider giving homemade a try!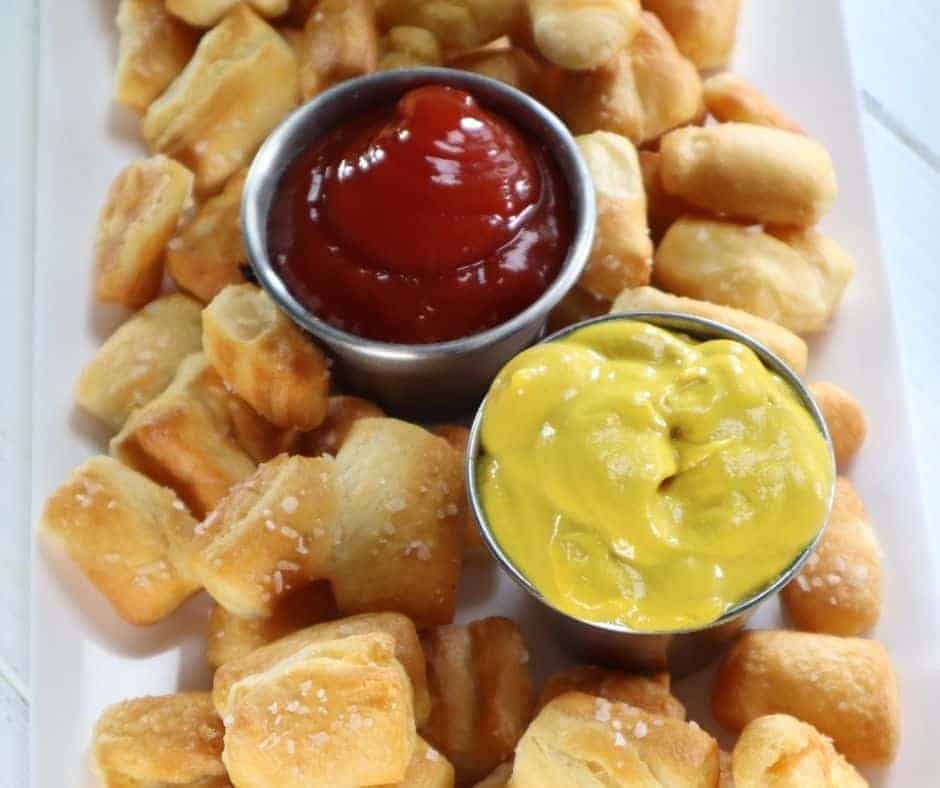 Ingredients Needed For Yellow Mustard
Remember all of the ingredients and quantities are found at the bottom of the page, in the recipe card.
When most of us think of yellow mustard, we immediately think of hot dogs and hamburgers at a summer BBQ. But have you ever stopped to wonder what exactly goes into that delicious condiment? The basic ingredients needed are:
Cold Water: Use room temperature water.
Mustard Powder: The real flavor behind this American mustard! Found at your local grocery store, in the spice section!
Salt: Use regular kosher salt.
Organic Tumeric Powder: Gives mustard a bright yellow color.
Garlic Powder: Adds some spice!
Organic Paprika: Adds a bit of spice to the mustard.
White Vinegar: Adds some zing to the mustard.
How To Make This Popular Condiment
In a small saucepan, add the water, mustard powder, salt, turmeric powder, garlic, and paprika, and simmer for about 30 minutes until it starts to thicken.
Add in the white vinegar, and continue to simmer until thicken for another 8 to 10 minutes.
Let cool, and then transfer to an airtight covering.
Place in the refrigerator for about 30 minutes before serving
Variations
Honey Mustard: If you're looking for a delicious and simple dressing for your salads or dipping sauce for your veggies, look no further than homemade honey mustard. To make it, all you need is mustard, honey, lemon juice, and a bit of salt and pepper. Mix all the ingredients together to taste, and voila! You have a tasty dressing that's much healthier and fresher than store-bought versions. Make a big batch to keep in the fridge for easy access to add some flavor to your meals. Just don't forget to adjust the amount of honey based on how sweet or tangy you want it – this recipe is customizable to fit your own taste preferences. So grab those ingredients and get mixing for easy and delicious addition to any meal.
Dijon Mustard: Dijon mustard is a creamy, tangy condiment that pairs well with meats and sandwiches. Unlike traditional American yellow mustard, Dijon is made with white wine rather than vinegar for its acidic base.
In addition to white wine, Dijon mustard typically includes brown or black mustard seeds, salt, and spices such as turmeric and garlic. Some recipes also call for a small amount of sugar or honey to balance out the bitterness of the mustard seeds. While regular yellow mustard can be used as a substitute in a pinch, true Dijon lovers know that these special ingredients give the condiment its signature appeal. So next time you whip up a sandwich or charcuterie plate, don't forget to include some delicious Dijon mustard on the side
Spices and Seasonings: Experiment with different combinations to find your favorite flavor profile. We recommend adding in some garlic powder and turmeric for a classic yellow mustard taste or try adding in paprika and cumin for a spicy flavor.
Do I Need To Use Mustard Seeds For This Recipe
No, while there are many recipes that call for mustard seeds (whether whole mustard seeds, white mustard seeds, brown seeds, brown mustard seeds, or yellow mustard seeds) we find that using mustard powder is a great way to make a simple, but delicious homemade mustard.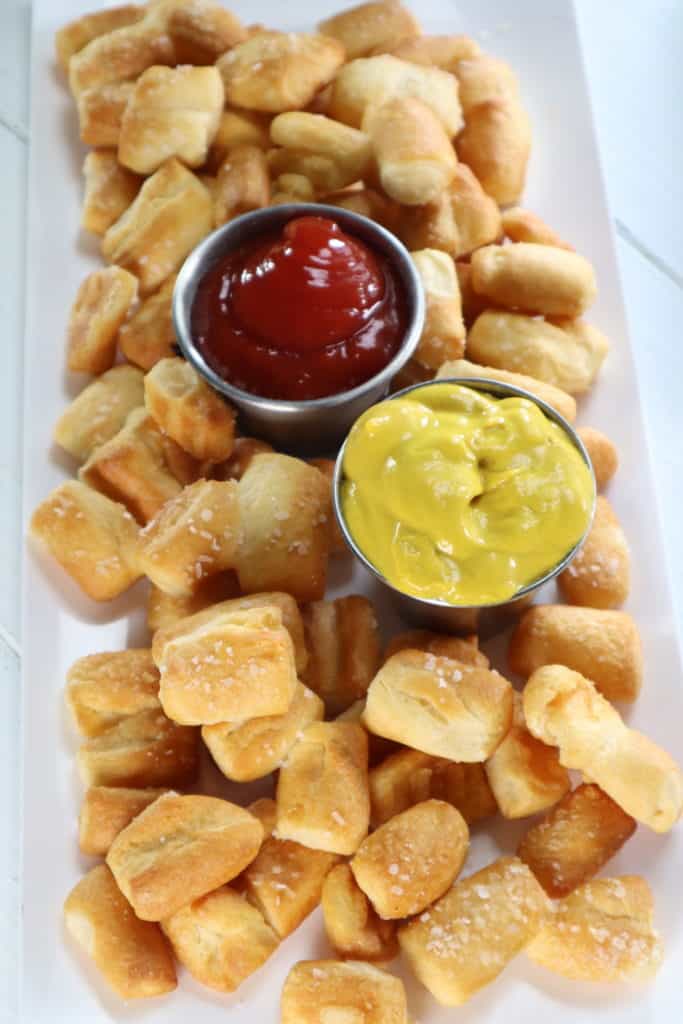 How To Store Mustard
Let the mustard cool to room temperature and then place it into an airtight container or mason jar. This mustard, because it has no preservatives, will only last for 1 to 2 weeks. Be sure to place it in the refrigerator.
How To Use Mustard
Many people think of mustard as just a condiment for hot dogs and sandwiches, but this versatile ingredient can add a delicious kick to various dishes. Some great options for this American classic are to use on salad dressings, potato salad,
Health Benefits of Mustard
Mustard may not be the first thing that comes to mind when you think of healthy foods, but it turns out this condiment has some impressive health benefits. Mustard seeds are rich in antioxidants and contain anti-inflammatory properties. It's also rich in B-Complex Vitamins, and Vitamin C. Research also suggests that consuming mustard may improve heart health and potentially lower cholesterol levels.
Adding a bit of mustard to your sandwich or using it as a base for salad dressing can also help increase the variety of nutrients in your diet. So next time you reach for the ketchup, consider swapping it out for some yellow or Dijon mustard for a delicious and nutritious option. For an extra boost, try using mustard seeds in dishes such as stir-fries or curries. Whether you spread it on your sandwich or sprinkle it on your salad, adding mustard to your meals is a tasty way to boost your overall health.
French's Classic Yellow Mustard is made with the finest ingredients – vinegar, water, #1-grade mustard seed, and salt. The stone ground mustard seeds are sourced from Canada and the United States, guaranteeing high-quality and flavorful products. Unlike other yellow mustards on the market which use organic turmeric to achieve that classic yellow color,
French relies on natural ingredients to give their Classic Yellow Mustard its signature color. No artificial flavors or preservatives are added – just pure, all-natural taste in every squeeze No high fructose corn syrup is added. So next time you're looking for that perfect addition to your hot dog or sandwich, grab a bottle of french's classic yellow mustard for a classic yet reliable option. And of course, it's available in squeeze bottles!
More Homemade Sauce Recipes
Are you tired of the same old marinara or barbecue sauce? Spice up your recipes with some homemade sauce They are naturally gluten free, and you don't have to worry about cross-contact of ingredients if you have a food allergy. Your taste buds will thank you for these recipes!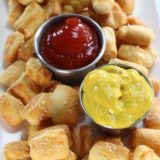 Homemade Yellow Mustard
Description
I thought I would whip up a Homemade Yellow Mustard; it was the perfect dipping sauce to go along with my Air Fryer Homemade Pretzel Bites.
Ingredients
1

cup

cold water

3/4

cup

mustard powder

1

teaspoon

salt

1/2

teaspoon

turmeric powder

1/2

teaspoon

garlic powder

1/2

teaspoon

paprika

1/2

cup

white vinegar
Instructions
In a small saucepan, add the water, mustard powder, salt, turmeric powder, garlic, and paprika, simmer for about 30 minutes until it starts to thicken.

Add in the white vinegar, and continue to simmer until thicken for another 8 to 10 minutes.

Let cool, and then transfer to an airtight covering.

Place in the refrigerator for about 30 minutes before serving.
Nutrition
Serving:
1
g
Calories:
64
kcal
Carbohydrates:
4
g
Protein:
3
g
Fat:
4
g
Saturated Fat:
0.2
g
Polyunsaturated Fat:
1
g
Monounsaturated Fat:
3
g
Sodium:
294
mg
Potassium:
93
mg
Fiber:
1
g
Sugar:
1
g
Vitamin A:
13
IU
Vitamin C:
1
mg
Calcium:
34
mg
Iron:
1
mg