I'm always looking for ways to make fun and interesting donuts, and I think I've finally hit on the perfect recipe – air fryer sour cream donuts! They're fluffy, delicious, and not too unhealthy since they're baked in the air fryer. Plus, they only require a few simple ingredients that you likely already have on hand. Give them a try today!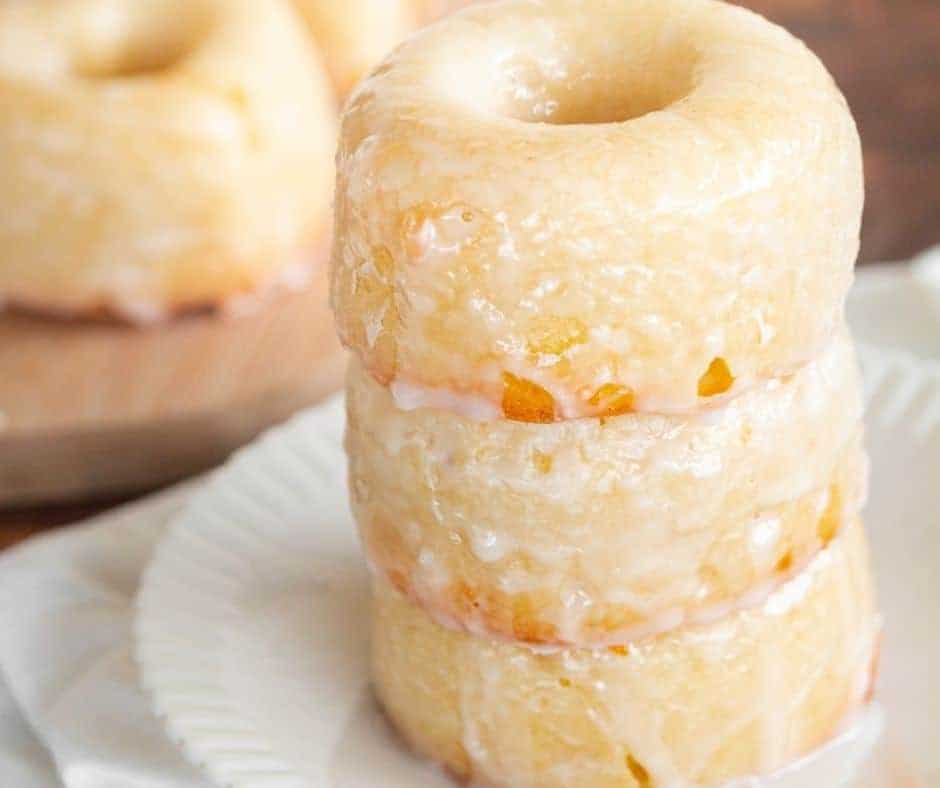 This is one of the best recipes for homemade donuts. Today, I made a batch of old-fashioned sour cream donuts in the air fryer. They are amazing. I poured a simple glaze over them, and voila, breakfast is served–Air Fryer Sour Cream Donuts.
Making homemade donuts in the air fryer is so easy. All you need is a great batter and some silicone molds. You can create any donut that you want. Today, I made a batch of fresh old-fashioned air fryer sour cream donuts glaze. My kids loved them!
If you love fresh donuts, this is the recipe for you. Best yet, you do not even have to wait for these donuts to rise, they are easy, and they are delicious! I am sure that once you taste these, they will become one of your family's favorite air fryer donut recipes.
Suppose you are looking for other great and easy air fryer donuts. In that case, some of my favorites are Air Fryer Blueberry Donuts, Air Fryer Strawberry Donuts, and of course, being from Boston, Air Fryer Dunkin Donut Chocolate Frosted Donuts.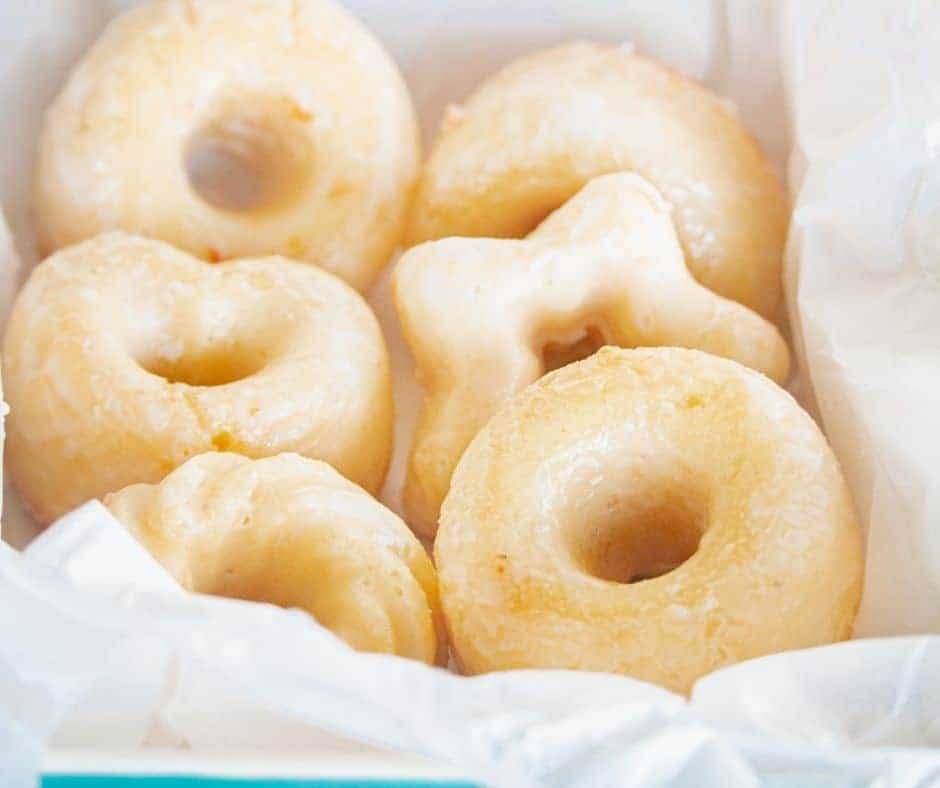 Sour Cream Donuts
So, if you have never had a sour cream donut before, they are just a donut with sour cream in the batter.
The sour cream adds a bit of sweetness to the batter, but they are not sweet.
The key to these donuts is that there is no yeast involved. Therefore they are tender and flaky and air fried to perfection. They make a great homemade donut.
Ingredients Needed For Air Fryer Sour Cream Donuts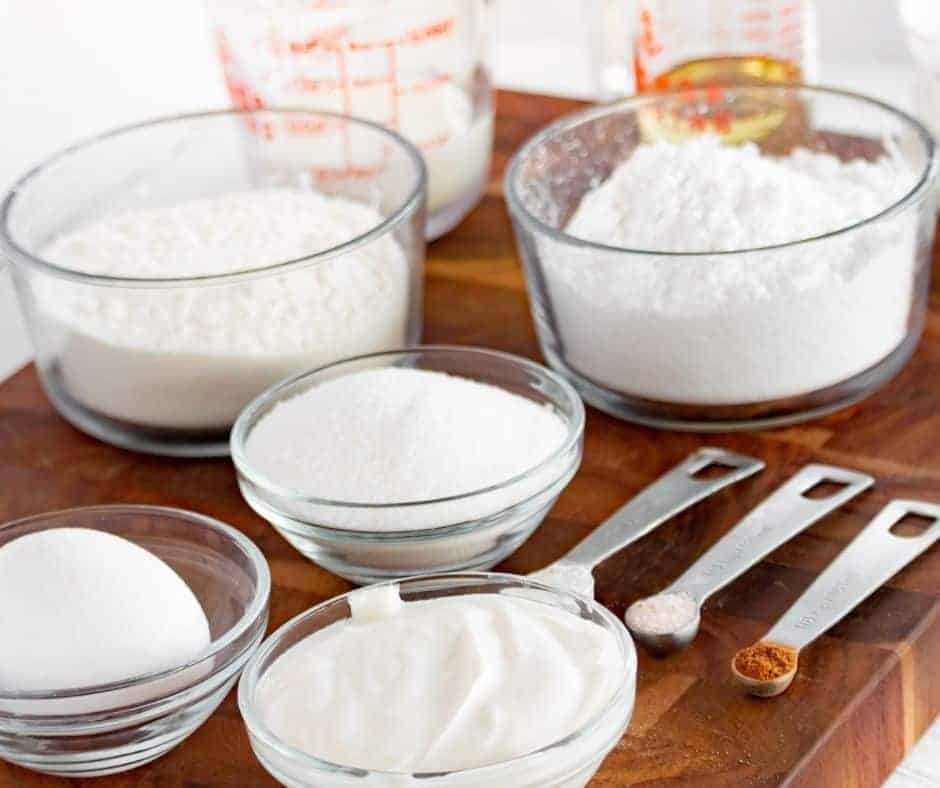 To make these donuts, you use the same ingredients as you would if you were going to bake them. You Will Need:
Sour Cream
Egg
Pure Vanilla Extract
Vegetable Oil
Granulated Sugar
All-Purpose Flour
Baking Soda
Ground Nutmeg
Salt
Glaze: Powdered Sugar, Milk, and Pure Vanilla Extract
How To Cook Air Fryer Sour Cream Donuts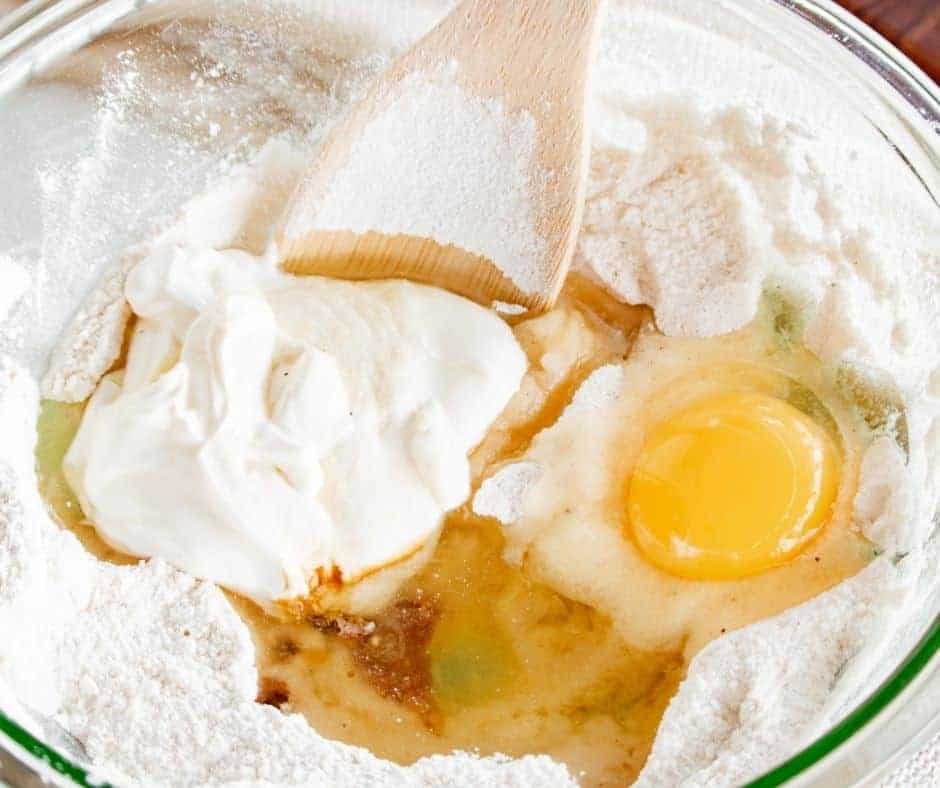 In a large mixing bowl, mix the sour cream, egg, vanilla, oil, and sugar, then add in the flour, baking soda, salt, and ground nutmeg. Mix well.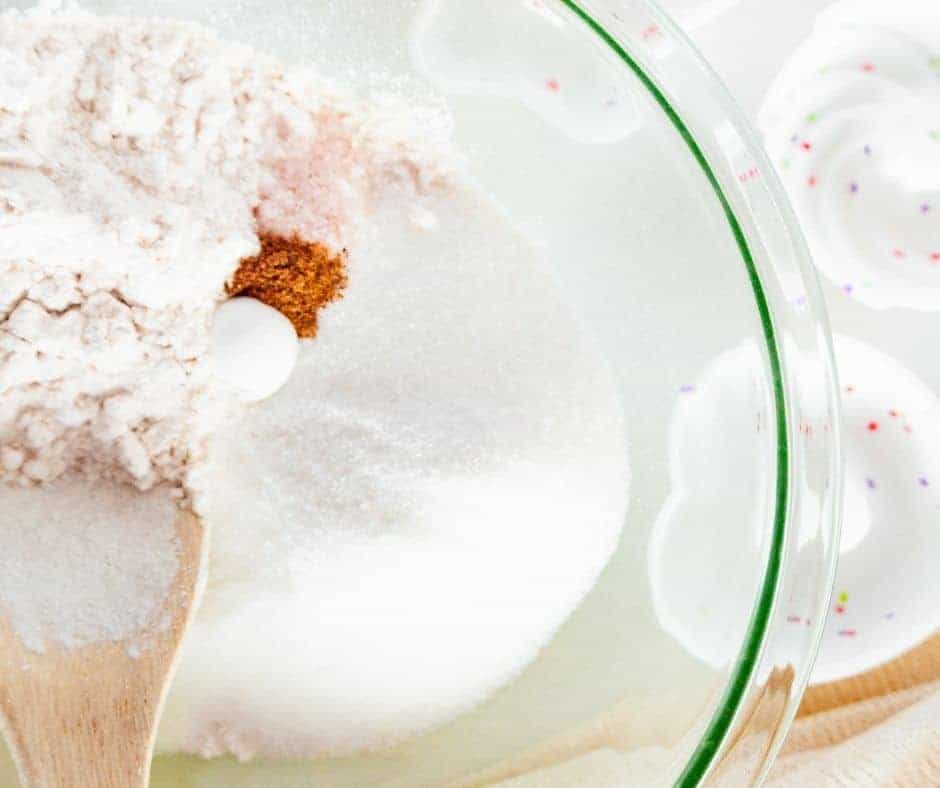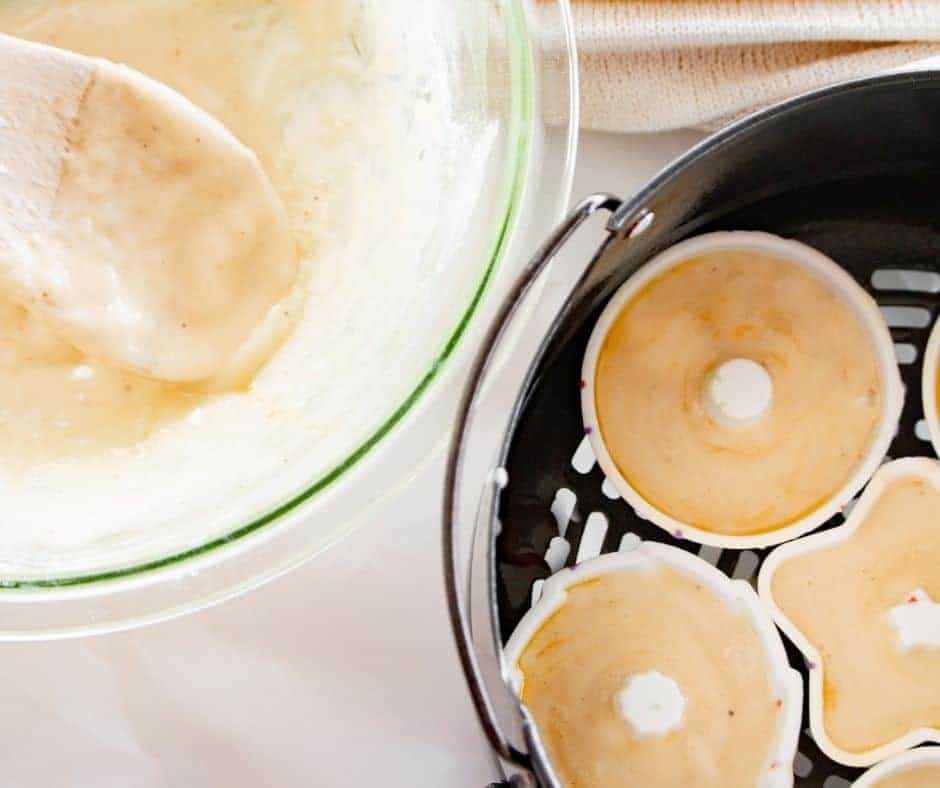 Spray the donut molds with cooking spray, pour the batter about 2/3 the way in the mold, and then set them into the air fryer basket for 10-12 minutes at 320 degrees F, air fryer setting.
Remove from the air fryer basket and let cool slightly, before glazing them.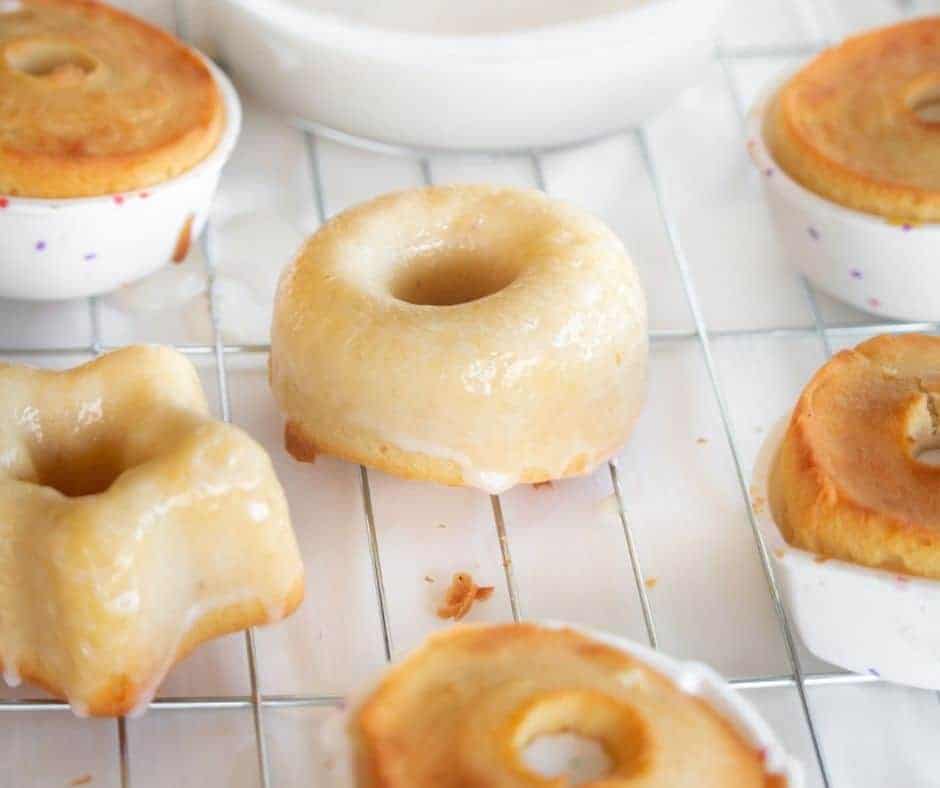 To make the glaze, in a small mixing bowl, mix the powdered sugar, milk, and van to make the glaze, mix well, and then dip your sour cream donuts into the glaze.
Place them on a drying rack to dry, before serving.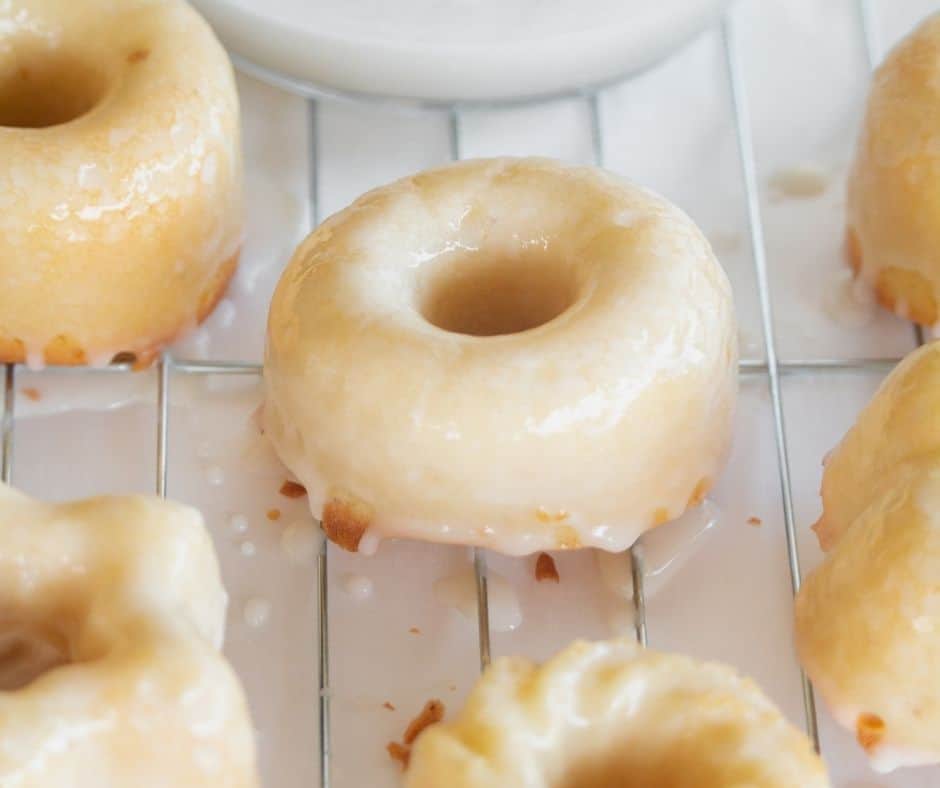 Tips for Making Perfect Air Fryer Sour Cream Donuts
Another great topping for these donuts is a mixture of ground cinnamon and granulated sugar together.
Allow the donuts to completely cool before glazing them, otherize the glaze will runoff.
Place the donuts on a rack to let the glaze runoff; this will ensure an even coating.
Only fill about 2/3 way full. If you overfill them, they will bubble over, and they will be difficult to remove from the donut pan.
You can make the batter in advance. I would advise making it the night before you need it and then covering and refrigerating until the next morning.
CAN I ADD FRUIT INTO THE BATTER IN THIS RECIPE?
Yes, if you want to add small berries to this recipe, that would work perfectly. I would suggest either strawberries, blackberries, blueberries, or raspberries.
If you want frozen fruit in this recipe, I would add them in frozen.
HOW LONG WILL THESE DONUTS LAST?
Truthfully, they don't last long in my house. My kids gobble them up, but if you are looking to store leftovers, here is the best way.
Place them into an airtight container and place them on the counter for about 2 to 3 days. For any more extended storage, put them into the refrigerator.
CAN I FREEZE SOUR CREAM DONUTS?
Yes, if you want to make a batch and keep them in the freezer, that's a great idea. I usually make a big batch on Sunday and then use this for a great and easy breakfast or snack in the next few weeks.
They will last for about 1 to 2 months. To use, place into the refrigerator overnight. I do not add icing until they are defrosted.
TRY THESE AIR FRYER DOUGHNUTS NEXT!
What Donut Pans Can You Use In The Air Fryer?
Air Fryer pans have come a long way since I started baking with my air fryer. They have these fantastic silicone donut molds. These molds will fit any air fryer basket or oven.
Disclosure: Some of the links below are affiliate links. At no cost to you, I will earn a commission if you click through and make a purchase.
Don't Forget To Pin–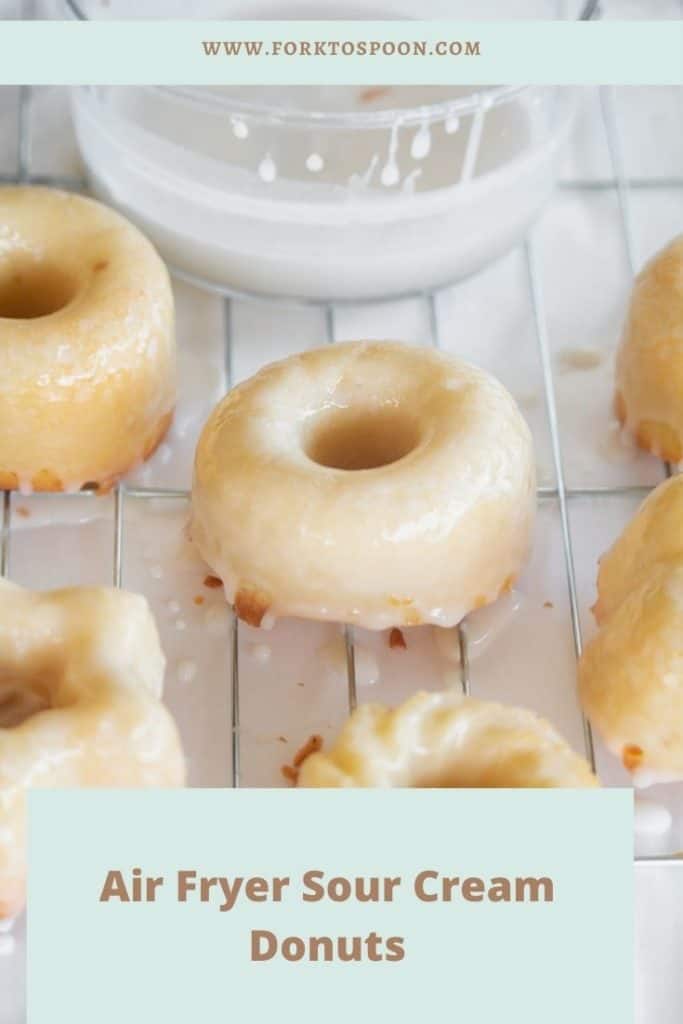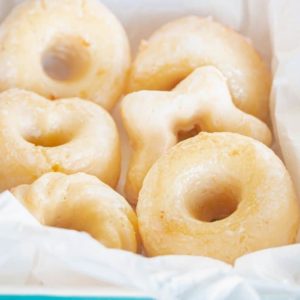 Air Fryer Sour Cream Donuts
Description
Air Fryer Sour Cream Donuts –There is nothing better than a fresh homemade donut, served today with a simple glaze. This made for an amazing breakfast that the entire family loved!
Ingredients
Donuts:
1/2

cup

sour cream

,

regular or low-fat

1

large

egg

1/2

teaspoon

pure vanilla extract

1/4

cup

vegetable oil

1/2

cup

granulated sugar

1

cup

all-purpose flour

1/2

teaspoon

baking soda

1/8

teaspoon

ground nutmeg

1/4

teaspoon

sea salt
Glaze or Icing:
1 3/4

cup

powdered sugar

1/4

cup

milk

1/4

teaspoon

pure vanilla extract
Instructions
In a large mixing bowl, mix the sour cream, egg, vanilla, oil, and sugar, then add in the flour, baking soda, salt, and ground nutmeg. Mix well.

Spray the donut molds with cooking spray, pour the batter about 2/3 the way in the mold, and then set them into the air fryer basket for 10-12 minutes at 320 degrees F, air fryer setting.

Remove from the air fryer basket and let cool slightly before glazing them.

To make the glaze, in a small mixing bowl, mix the powdered sugar, milk, and vanilla, mix well, and then dip your sour cream donuts into the glaze.

Place them on a drying rack to dry before serving
Nutrition
Serving:
1
g
Calories:
311
kcal
Carbohydrates:
52
g
Protein:
3
g
Fat:
11
g
Saturated Fat:
3
g
Polyunsaturated Fat:
4
g
Monounsaturated Fat:
3
g
Trans Fat:
1
g
Cholesterol:
33
mg
Sodium:
158
mg
Potassium:
56
mg
Fiber:
1
g
Sugar:
39
g
Vitamin A:
136
IU
Vitamin C:
1
mg
Calcium:
30
mg
Iron:
1
mg