Making air fryer apple chips is a breeze! In less than 20 minutes, you can have a healthy and delicious snack that is perfect for any occasion. Watch the video below to see how easy it is to air fry apple slices at home. You will be amazed at how crispy they turn out! Enjoy!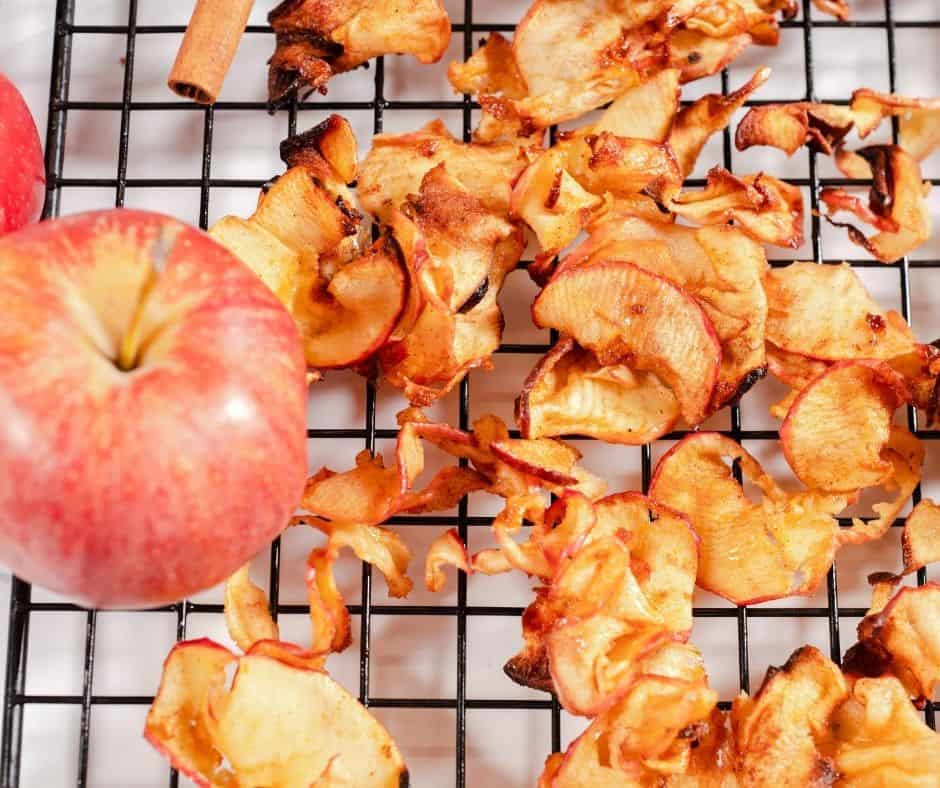 Air Fryer Apple Chips are naturally sweet and completely kid-friendly. Air fry apple slices with cinnamon and sugar until golden and crisp for your new favorite snack! And the good news is that you can make tasty air fryer apple chips in minutes!
Who doesn't love a wholesome snack at the entire family will love, in just minutes? And with only a little sugar, these are so much healthier than store-bought apple chips!
Arguably one of the best and most versatile fruits, apples of all varieties reign supreme. Available year-round from the local grocery store or freshly picked from a local orchard, there is always an opportunity to create delicious snacks and meals with apples — like these Air Fryer Apple Chips!
We love to incorporate apples into Air Fryer Caramel Apple Hand Pies, Apple Pie Baked Apples, Apple Cheddar Bacon Scones, and even Air Fryer Sausages with Roasted Apples and Butternut Squash.
Whether fresh, frozen, or dried, incorporating fruit into your meals, snacks, and desserts is an easy way to naturally sweeten a dish and get some much-needed vitamins and minerals into your food. This is soon going to be a family favorite, and it's a great alternative to potato chips!
What are Apple Chips?
Apple Chips are crispy, crunchy "chips" made from dehydrated apples instead of potatoes. You could, of course, do large batches in a food dehydrator or the oven, but that will take all day, if not days.
Dehydrating one apple at a time in the air fryer means you'll have this quick snack ready in just 15 minutes! And being able to make these yourself at a moment's notice means it's one less thing you have to purchase from the grocery store with additives you can't pronounce.
Tools you'll need
Why You'll Love This Air Fryer Apple Chips Recipe
Easy to make
Simple ingredients
No added sugar, additives, or preservatives
Kid-friendly
Versatile
Simple Ingredients for Apple Chips Recipe
For all of the details on how to make crispy apple chips in your air fryer, remember to scroll to the recipe card at bottom of this post. There you will find the quick steps and nutritional values.
Fresh Apples
Salt
Sugar
ground cinnamon
Cooking Spray
The Best Apples for Homemade Apple Chips
You really can use any apple you have on hand for this apple chips recipe. However, due to the varying water and sugar content of different apple varieties, you may find that you have better results with these suggested and favorite apples!
Honeycrisp
Pink Lady Apples
Gala
Granny Smith
Fuji
Cortlands
Golden Delicious
Red Delicious Apples
How to Air Fry Apple Slices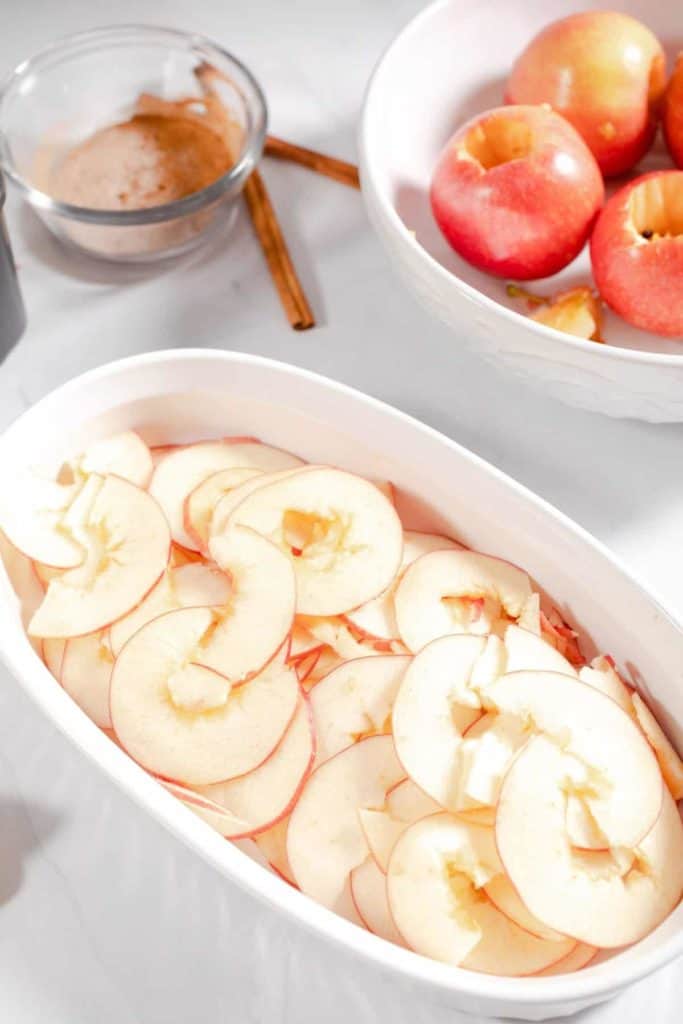 Step 1: Prep apples and air fryer
Preheat the air fryer to 400 degrees F and lightly spray the basket or tray with vegetable oil.
Core and slice apples between 1/6th to 1/8th inch thickness. Sprinkle with salt and let sit for a few minutes.
Step 2: Air fry the apple slices
Coat apple slices with a mixture of cinnamon and sugar, then place apple chips in air fryer in a single layer (you may need to work in batches).
Air fry the apple slices for eight to ten minutes, stopping to flip them halfway through cooking. Don't skip the flipping set as it is very important!
Step 3: Cool
Remove apple chips from air fryer and allow to cool completely on a wire rack. The chips will continue to firm up as they sit and cool.
Tips for Perfect Apple Chips in Air Fryer
Use salt. The salt in this recipe will help to draw out the excess water in the apple slices, resulting in a truly crispy chip. If you're on a low salt diet, you can omit the salt — just know it will likely result in a softer chip.
Use a mandoline slicer for accurate slices. One key tip is to have the apples sliced all the same thickness. This will result in an even cooking time. You also want to get them the perfect thickness so that they don't burn, but also aren't a soggy mess. We found setting the mandolin slicer to 1/6th-1/8th inch in thickness was perfect for this air fryer apple chips recipe. The result is a batch of crispy chips!
Keep the skin on. While you certainly could peel the apple before slicing, there is really no need. Not only does it offer a beautiful pop of color on the dried apple chips, but the skin is where the fiber of apples is stored. Keep the skin on and simply discard the seeds as you slice the apples.
Don't overcrowd the air fryer. A little bit of overlapping is okay initially since you'll be flipping them every so often, and they will shrink and curl as they cook. However, you do not want to mound these on top of each other and restrict airflow. Keeping some space in the air fryer will prevent soggy spots and keep the airflow moving as it's supposed to for 360-degree cooking.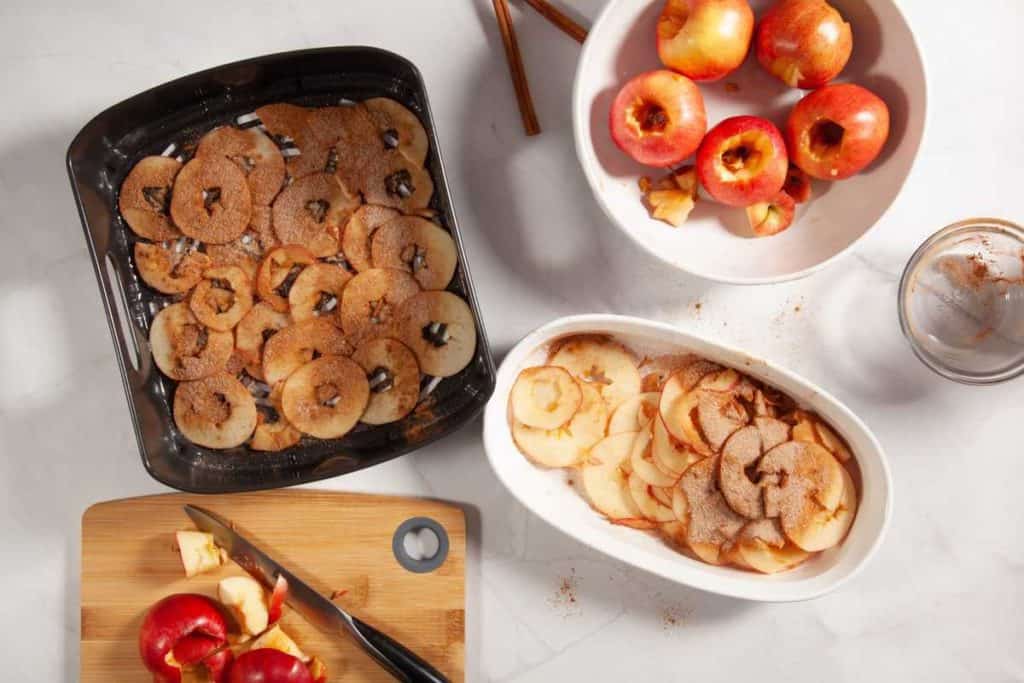 Dried Apple Chips Flavor Variations
One of the best things about this apple chips recipe is the ability to change up the flavors. If you're looking for something a little different than cinnamon and sugar, try adding a dash of nutmeg, ginger, brown sugar, cardamom, or even paprika for a slight spice! Although, cinnamon apple chips are a perfect snack!
Air Fryer Apple Chips Weight Watchers
This is a great and easy Weight Watcher's Snack with no points. You can treat yourself to a big old plate of Air Fryer Apple Chips and not have any guilt at all!! Amazing!
So, this might just become your favorite snack food of all time! Healthy and delicious. And there are zero points in this recipe! Talk about a healthy and tasty snack!
Storing Dried Apple Chips
Apple Chips will last about a week in a sealed container, or airtight container at room temperature. The crunch from the chip will start to go away after a day or so, and they will become a bit softer due to the moisture they are absorbing from the air.
If you have any, you could add a silica packet to the jar to help absorb the oxygen and moisture. This will prolong the crunch and shelf life. Note that storing in a Ziploc bag is not considered airtight, and you'll notice the dried apple chips losing their crunch much more quickly.
Due to the differences in air fryers, it's best to frequently check on your apples to ensure they are dried enough before removing them from the air fryer.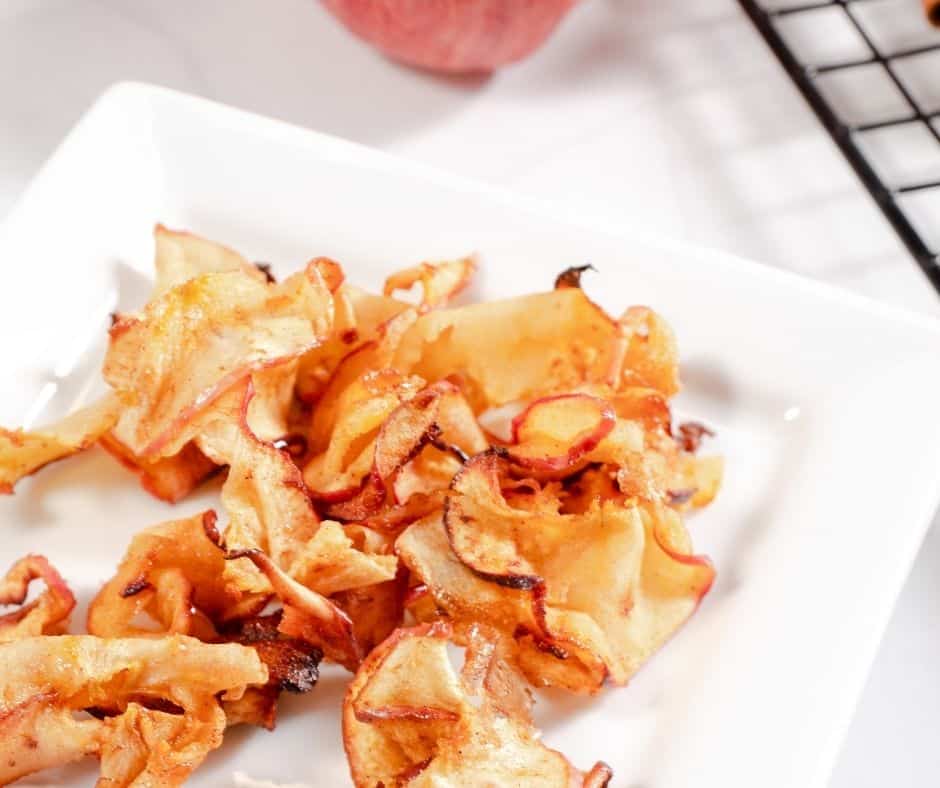 Should I Core the Apples For Air Fryer Apple Chips?
I recommend it! Some apple chips in the air fryer recipes don't require you to core the apples, but I find that it gives cleaner and even crispier results when you do.
How Long Does It Take to Air Fry Apple Slices?
When set to 400 degrees F, it will only take about 15 minutes to make apple chips in the air fryer, flipping halfway through to ensure proper air circulation, a fraction of the time that regular oven baking takes!
Are Apple Chips Healthy?
Most things made at home will be healthier than those found in the store. Thanks to the added fiber, Vitamin C, and other nutrients naturally found in apples, this is a good and healthy alternative to potato chips — even if sprinkled with cinnamon sugar.
How Long Does It Take To Dehydrate Apples in An Air Fryer?
It takes about 7 to 8 hours. The key to great air fryer dehydrated apples is the low temperature of 135 degrees F. Aside from the cooking time, the only difference between dehydrated apple slices and air fryer apple chips is that apple chips are a bit crispier than dehydrated apples.
Can I Air Fry Apple Slices Ahead of Time?
Remember that dried apple chips in the air fryer only stay crispy for about a day or two. If you do want to save some time and get ahead, I recommend making them up to 24 hours before you plan on eating them.
Are Dried Apple Chips Gluten-Free or Vegan?
Yes, to both! Enjoy!
Air Fryer Apple Chips Ninja
If you are looking for a nutritious snack, you can use your Ninja or Ninja Foodi for this recipe. Add your thin slices of apple to the air fryer crisper basket, then set the cooking time to 8-10 minutes at 360 degrees F. Let the apples cool on a cooling rack, before serving. This is a really easy air fryer recipe for your Ninja!
Can I Make This Apple Chips Recipe With An Air Fryer Lid?
Yes! As outlined above, you can make dried apple chips in your Ninja using the air fryer crisper basket and lid. It's a great method for small batches.
After you've washed, cored, and seasoned your apple slices, place them in the air fryer basket on top of the trivet. They should be in a single layer. Close the lid and cook at 375 degrees F for 4 minutes, flip, and continue to air fry for 4 minutes more.
Why Are My Apple Chips Burning?
Air fryers can differ based on wattage, among other things. Apples sliced too thinly can also lead to burning. The first time you make these, be diligent in checking the apples often for the last 3 minutes.
If they're golden brown but still a little soft to the touch, and you're noticing some slight burning, remove them from the air fryer and allow them to cool on a wire rack. They are likely done and need to finish crisping during the cooling process. Proceed with the next batch.
More Air Fryer Apple Recipes
Don't Forget To Pin: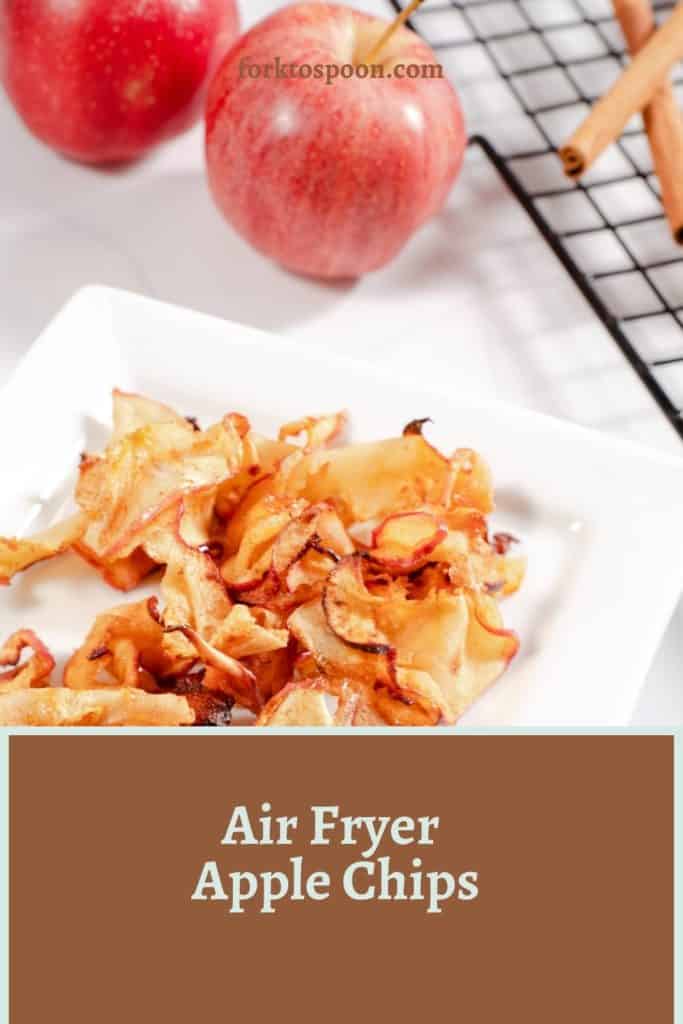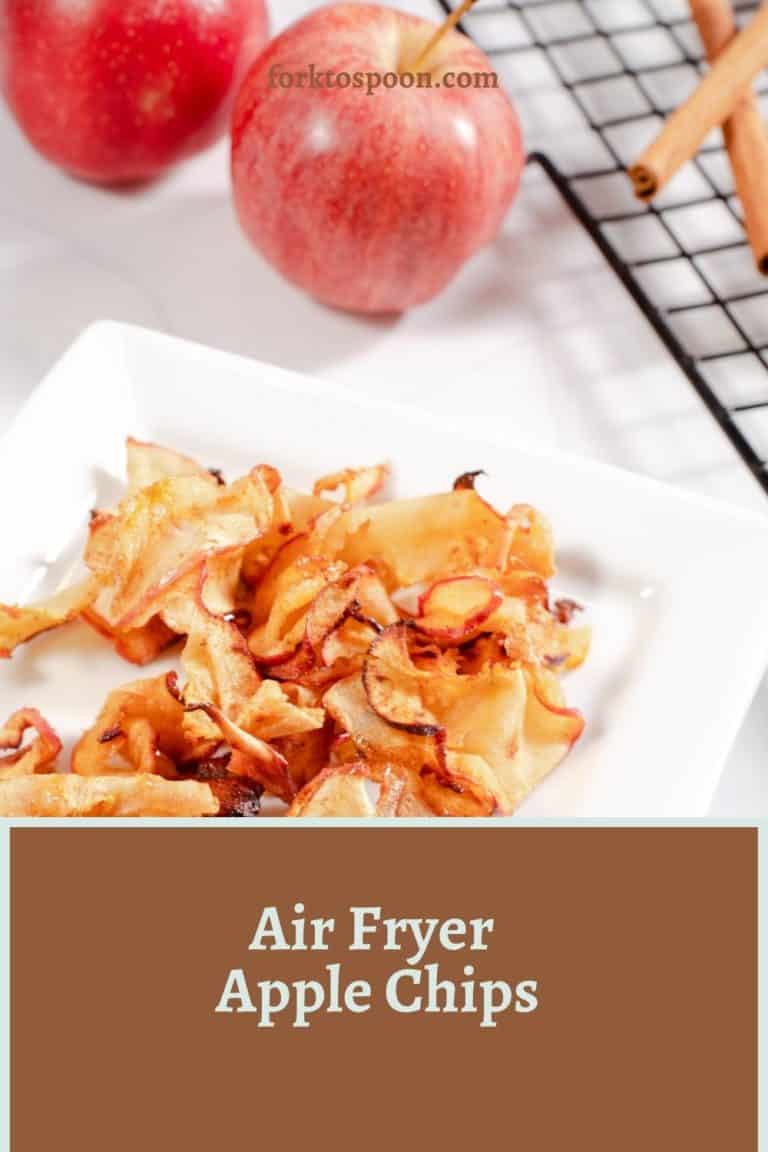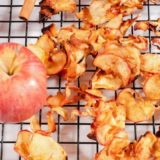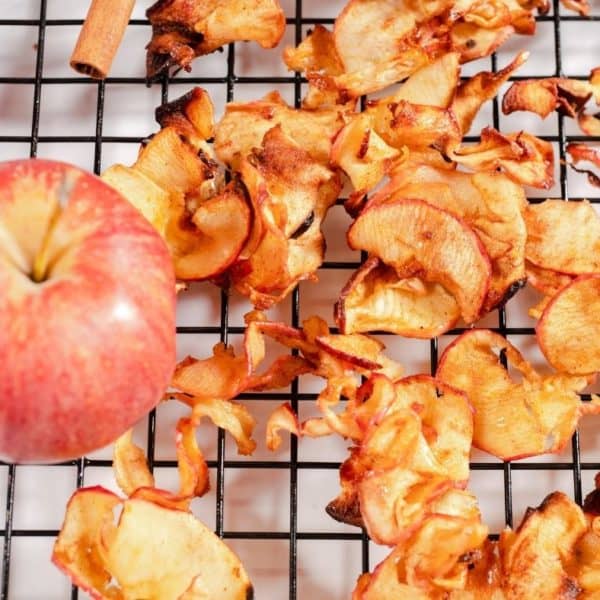 Air Fryer Apple Chips
Description
Air Fryer Apple Chips are naturally sweet and completely kid-friendly. Air fry apple slices with cinnamon and sugar until golden and crisp for your new favorite snack!
Ingredients
5

small

apples

,

any type

1-2

teaspoon

salt

1/4

cup

granulated sugar

2

tablespoons

ground cinnamon
Instructions
Preheat the air fryer to 400 degrees. Prepare an air fryer basket or tray by spraying lightly with cooking spray.

Core and slice apples to between 1/6th to 1/8th inch thickness.

Sprinkle the salt over teh apple slices, and leave for a couple of minutes.

In a medium-sized bowl, combine sugar and cinnamon.

Dredge apple slices through cinnamon and sugar mixture until well coated.

Place coated apple slices in a single layer in the air fryer basket evenly (you may need to work in batches).

Cook for eight to ten minutes, stopping to flip the slices halfway through cooking.

Remove from air fryer and allow apple slices to cool on wire rack.
Equipment
Air Fryer

Apple Corer

Mandoline

Gloves For Protection

Cooking Spray
Nutrition
Serving:
1
g
Calories:
103
kcal
Carbohydrates:
28
g
Protein:
0.4
g
Fat:
0.3
g
Saturated Fat:
0.05
g
Polyunsaturated Fat:
0.1
g
Monounsaturated Fat:
0.01
g
Sodium:
389
mg
Potassium:
145
mg
Fiber:
4
g
Sugar:
21
g
Vitamin A:
75
IU
Vitamin C:
6
mg
Calcium:
34
mg
Iron:
0.4
mg