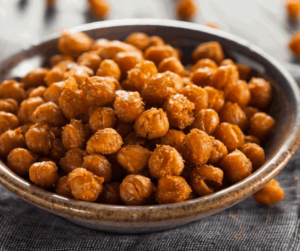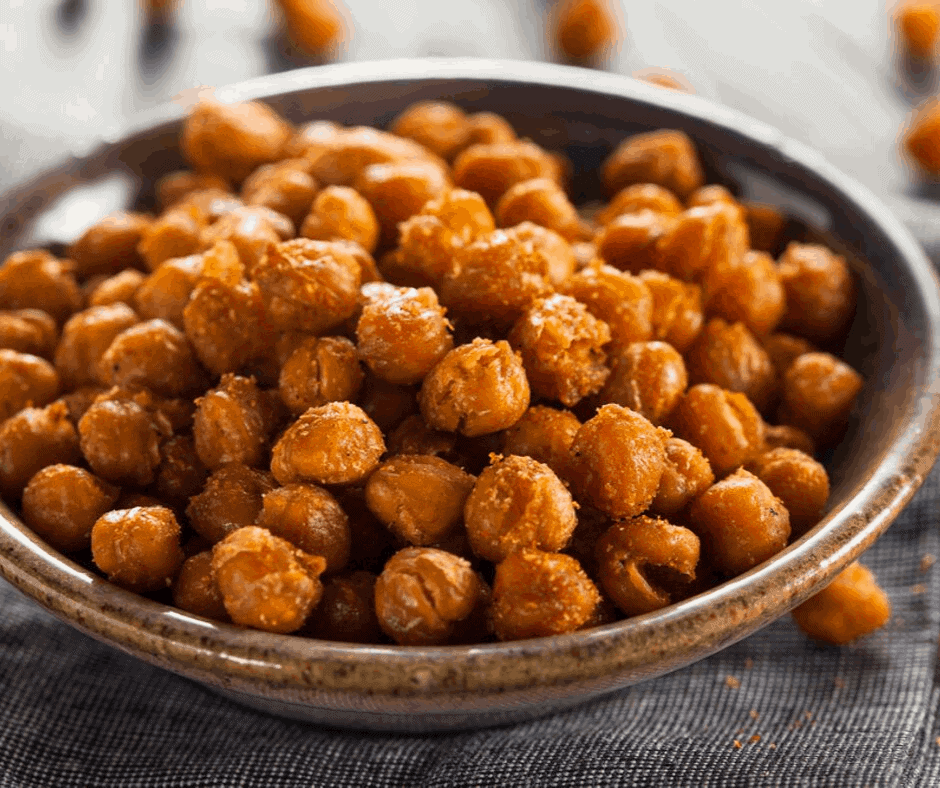 This is a wonderful and easy snack. It's packed full of flavor and it's extremely healthy to snack on, it's also very high in protein, which makes it a great snack if you are on a diet because it will fill you up.
Chickpeas are also called garbanzo beans, which are used a lot in Mediterranean cooking. The most common recipes for chickpeas (garbanzo beans) are for hummus or falafel.  Roasting chickpeas give them a crunch to them, which make them low calorie, savory, addictive, healthy and crunchy snacks. They can be flavored with almost anything, just like chicken, they take on the flavor of the spices.
So, what are chickpeas, that we hear so much about?
The chickpea is a legume of the plant family Fabaceae, The plant is not for its seeds, which are high in protein and fiber.
What Else are chickpeas (chick peas) called?
They are also known as gram, Bengal gram, garbanzo, garbanzo beans, and Egyptian pea.
What Are Some Common Recipes for Chickpeas?
They are mostly known for their use in making hummus. Hummus is the smooshing of chickpeas into a paste, with some other ingredients.
How Should You Store Chickpeas?
Chickpeas are available in both dried and in canned. Dried chickpeas should be used in a year, the older the beans, the longer the cooking time, as the beans become dried out.
Canned chickpeas have a longer shelf life, and should just be stored in a cool, dry place.
Should You Rinse Chickpeas?
Rinsing chickpeas decreased the sodium level by about 50%.
Chickpeas are a great choice for a snack because they have many health benefits, including:
They are high in fiber, they are an excellent snack for people with diabetes, as it is shown that it reduces blood glucose levels.
They are great for bone health because they contain iron, phosphate, calcium, magnesium, zinc and vitamin K. Which are all shown to improve bone strength and structure.
Vitamin K also helps your body absorb calcium, which is great if you have osteoporosis.
Chickpeas are low-sodium, which is great for keeping your blood pressure low.
High fiber is shown to help cholesterol
Chickpeas contain the mineral selenium which helps reduce cancer risks.
You can flavor chickpeas with any variety of spices, they absorb spices, rubs, etc, very well.
Here are some other chickpea recipes prepared in the air fryer–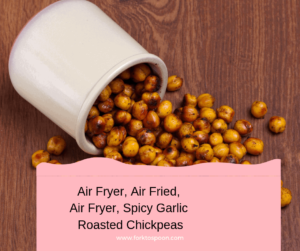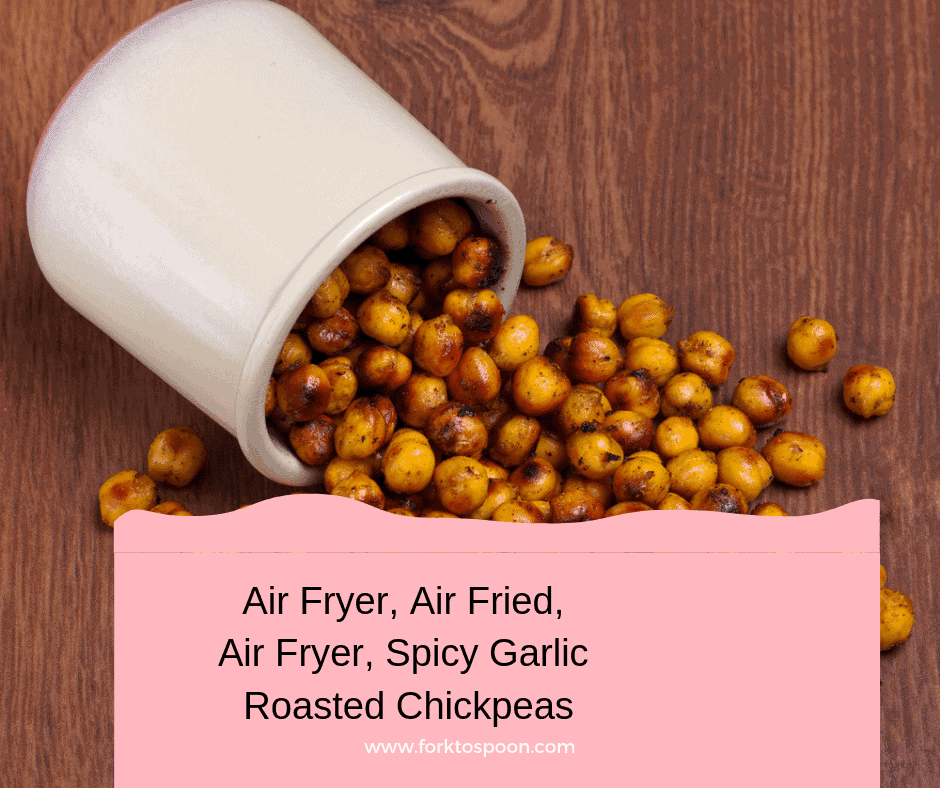 Don't Forget to  Pin—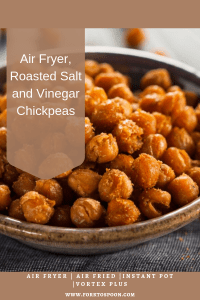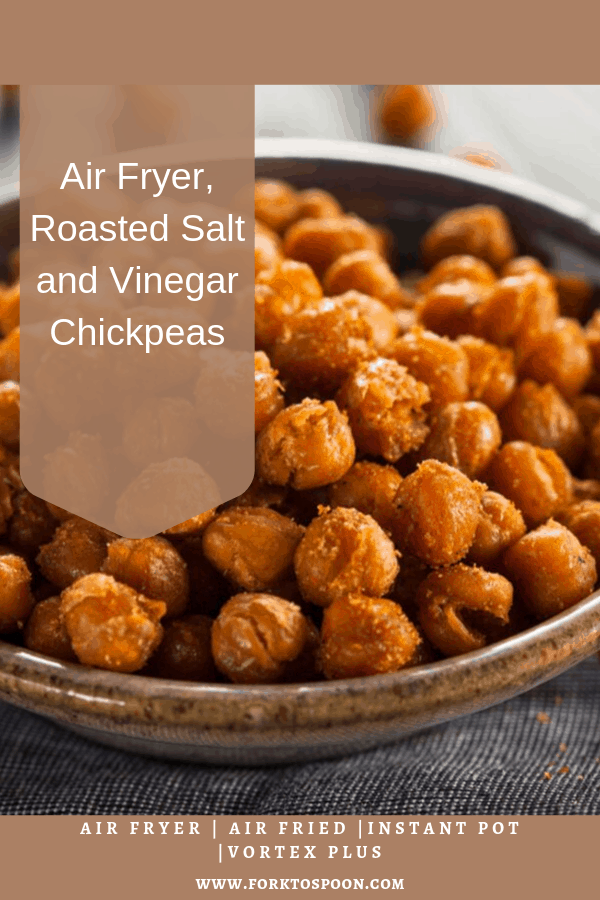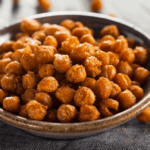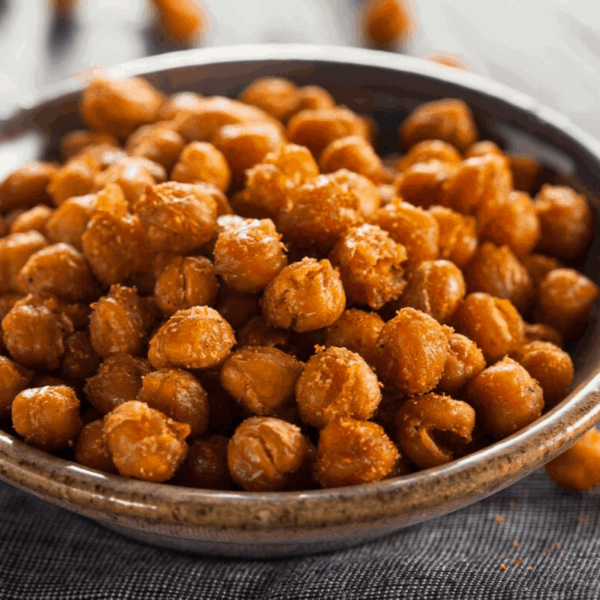 Air Fryer, Roasted Salt and Vinegar Chickpeas
These are so good, roasted to perfection the flavor resembles salt and vinegar potato chips, but without the calories.
Ingredients
1

15 ounce

chickpeas

1

tablespoon

white vinegar

1

tablespoon

olive oil

1

teaspoon

salt
Instructions
Start by draining your can of chickpeas and then use a kitchen towel and dry the chickpeas.

Add the dried chickpeas to a medium-sized mixing bowl.

Pour in your white vinegar, olive oil, and salt, mix well.

Add your chickpeas to the air fryer basket or spread them over the air fryer tray, spread them out, so that they are in a single layer, as they will cook more evenly.

Set the timer for 6 minutes, at 375 degrees F. After 6 minutes, shake the basket or the tray then add another 6 minute