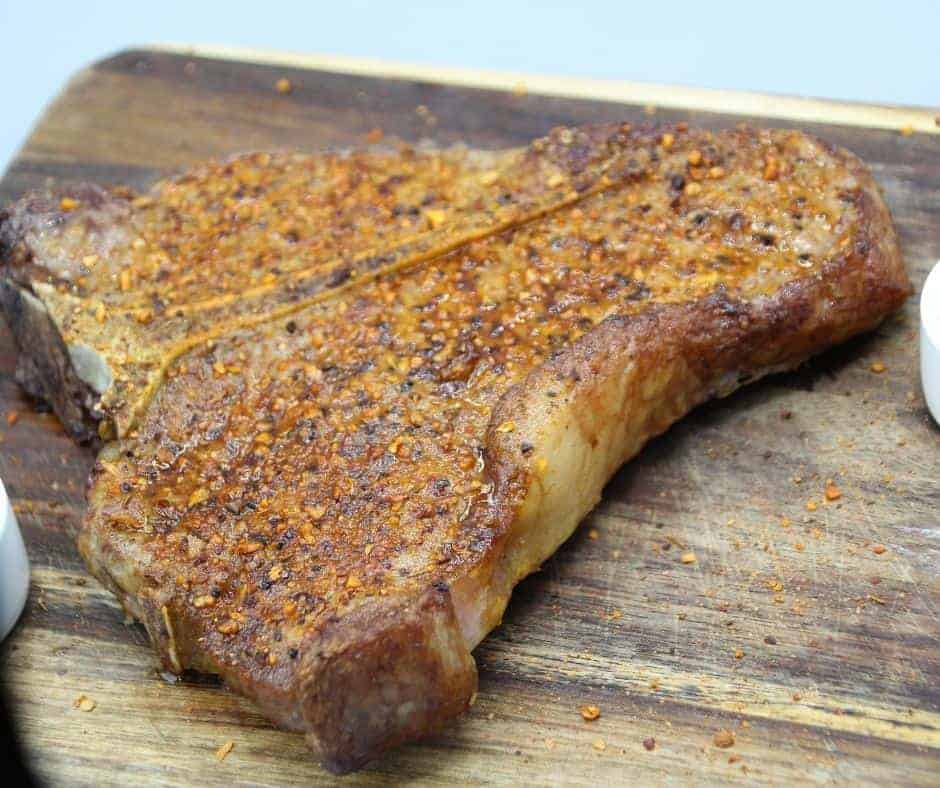 Air Fryer Porterhouse Steak-Here is a wonderful air fryer steak recipe that showcases a tender and juicy steak that is then seasoned and air fried. Skip the grill and enjoy an air fried steak for a change. Pair with your favorite sides for a weeknight steak dinner or holiday party recipe.
My youngest child Jason is an avid hockey player. He plays hockey at least 2 hours a day, followed by a strenuous workout. So, he is always craving protein, his favorite source of protein is steak.
Air Fryer Steak
Steak on the grill is amazing, but during the winter months, it's not always possible to get to the grill, since we have snow to contend with. The air fryer solves this problem.
Seasoning of the steak is important since both the grill and the air fryer will seal in the flavor.
If your mouth waters as you hear the menu selection of steak, you are not alone; my son Jason will drool over a nice steak, drenched with sauce. My son's favorite meal is steak, with a side of mashed potatoes and a vegetable.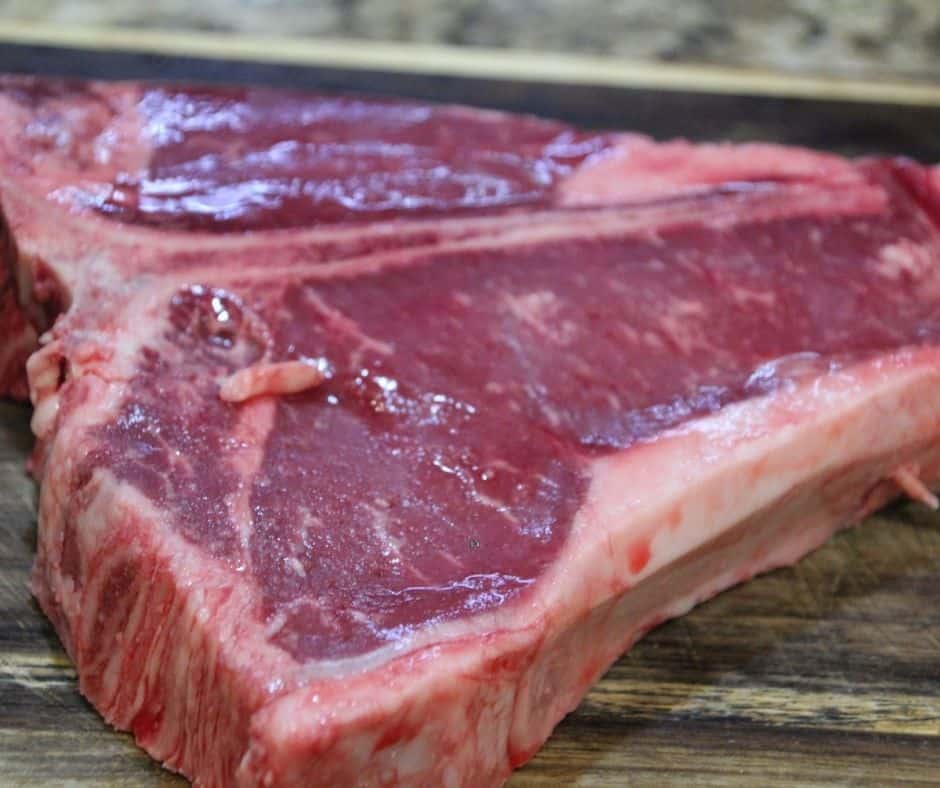 How long does it take to cook steak in Air Fryer?
Depending on your steak, you will find it will vary in how long it needs to cook. If you have a thicker style steak, then naturally, it will take longer to cook.
You will also run into how do you want your steak done. For a rare or medium-rare steak, you will pull it faster from the air fryer. Make sure to just randomly check the steak to reach your desired doneness.
Medium Rare – 130-135 degrees
Medium – 135-145
Well 145-155
Well done 155-165
You can invest in a meat thermometer to check your steak and how done it is. Pick the thickest part of the steak to do a temperature gauge. Or you can run into a false reading.
HERE ARE TIPS FOR AIR FRYING STEAKS–
Choose the right cut of meat- Filet Mignon, Ribeyes, Strip Steaks, Top Sirloin, Porterhouse, and T- Bone are all great for the air fryer. They all have a great fat and meat ratio for the grill or air fryer. You will find cheaper cuts of meat provide a tougher texture. The quality of the meat will provide a more tender texture.
Choose the right quality of meat-Purchase a good quality of meat, from a butcher or from the supermarket. They grade meat on marbling and connective tissues. Marbling should be shown throughout the meat with white-colored fat (marbling). I always look for a thin coat of marble throughout the meat for the air fryer or Instant Pot since it will melt and give a nice flavor to the meat without it being greasy.
Season-Salt your meat before you place your meat in the air fryer.
Room Temperature (Before You Cook)-Take your meat from the refrigerator and let it rest on the counter for about 15 to 30 minutes before cooking. Steak at room temperature absorbs the seasonings better. It also helps the fibers in the meat loosen, which will produce a tender cut of meat. Room temperature steaks (meat) also cook faster than cold steak (meats) seasonings better.
Let Your Cooked Steak (Meat) Rest Again-After cooking let your meat rest, just about 5 minutes. It helps to let the juices flow to the steak center so that when you cut the steak, all of the juices will not flow out. This will give you a better piece of meat for dinner or lunch.
What Goes Well With An Air Fryer Porterhouse Steak Dinner
Steak is a great recipe that can essentially pair with anything, from a baked potato, french fries, coleslaw, pasta salad, etc. You can find that steak will pair nicely with anything you make with it.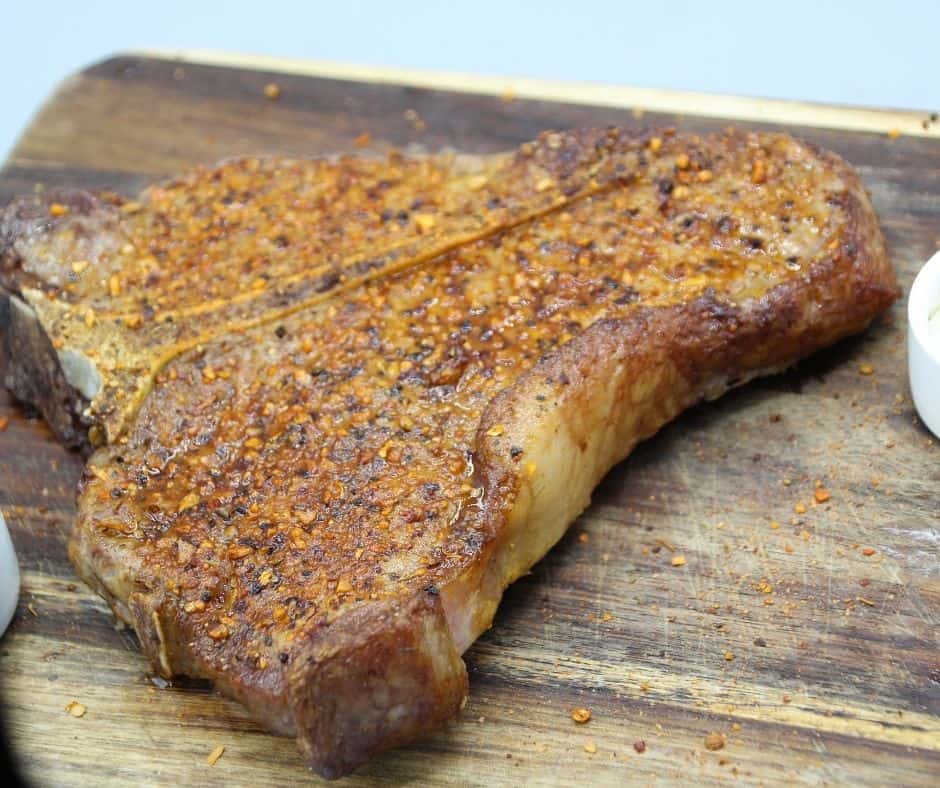 Storing Leftover Steak
If you happen to have steak left over allow it to cool down a bit. Then place it in your proper container and store it in the refrigerator for up to three days.
Then you can slice and reheat the steak or eat it chilled. Steak is a great meat to slice and top salads with, mix into beans, and more for cooking.
If you want to heat up the steak, you can do the microwave for a quick reheat. You will find that heating the steak in a skillet can help make the meat not taste so much like it is reheated.
Or you can toss your steak in the air fryer to quickly heat it up until the meat is fully warmed through.
Then slice and serve however you would like.
Some Great Side Dishes For A Perfect Air Fryer Porterhouse Steak Dinner-
SOME HELPFUL PRODUCTS USED IN MAKING THIS RECIPE-
Disclosure: Some of the links below are affiliate links. At no cost to you, I will earn a commission if you click through and make a purchase.
DON'T FORGET TO PIN AIR FRYER PORTERHOUSE STEAK–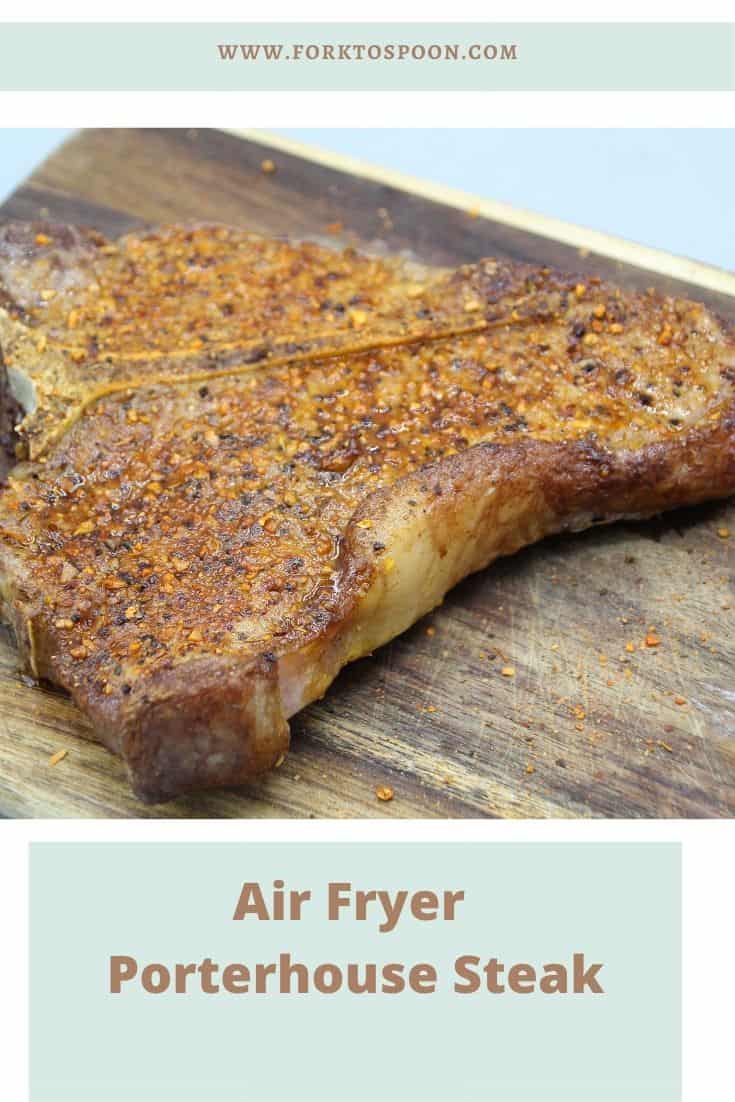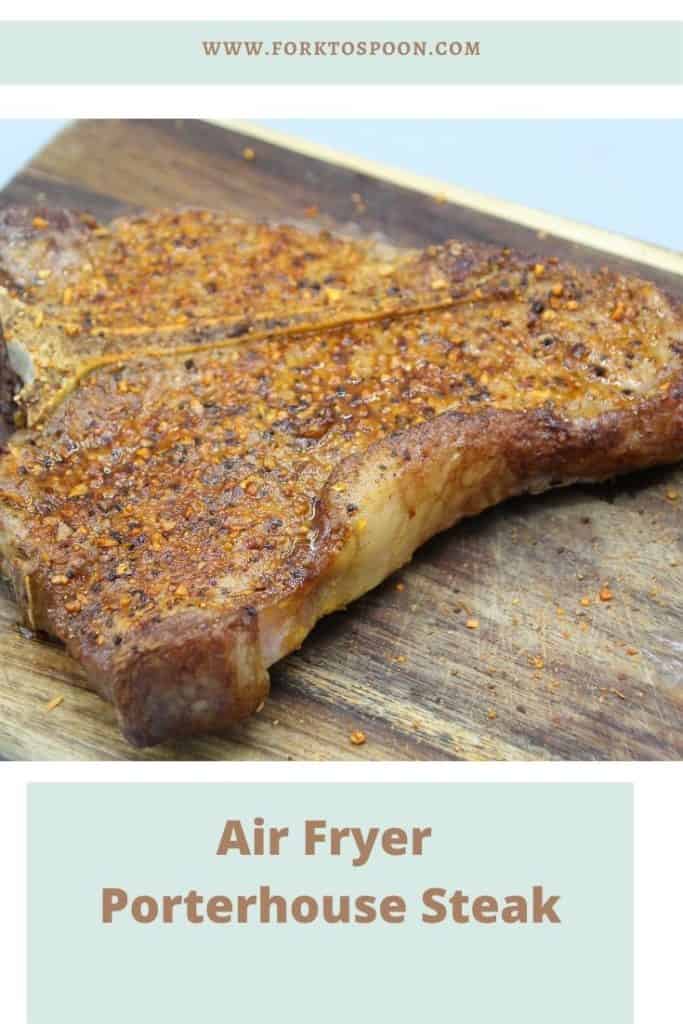 Air Fryer Porterhouse Steak
Making steak in the air fryer has never been the same. Whether it's rib eye, prime rib, or roast, this is a fail-safe recipe. Today, I made a simple Air Fryer Porterhouse Steak with only a few ingredients.
Keyword:
Air Fryer Porterhouse Steak
Ingredients
2

16 ounces

Porterhouse Steaks

2

tablespoons

olive oil or melted butter

1

teaspoon

salt

1/2

teaspoon

black pepper

2-4

tablespoons

steak seasoning
Instructions
The first thing I do when making steak (I got this hint from one of Bobby Flay's shows) let the meat rest at room temperature for AT LEAST 30 minutes.

Start by preheating the air fryer. Steak is one of the few recipes that I preheat the air fryer for. But the meat will come out better, so turn the air fryer oven'/basket on for 5 minutes at 400 degrees F

Then rub the olive oil or butter all over the steak and season with salt and pepper. I added some steak seasoning. 

Set the steaks in the air fryer for 6 minutes, then flip and air fry for another 6 minutes.

Again, per Bobby Flay, let the steak rest for at least 5 minutes.
Nutrition Facts
Air Fryer Porterhouse Steak
Amount Per Serving (1 g)
Calories 140
Calories from Fat 126
% Daily Value*
Fat 14g22%
Cholesterol 1mg0%
Sodium 1165mg51%
Potassium 37mg1%
Carbohydrates 3g1%
Protein 1g2%
Vitamin A 108IU2%
Vitamin C 0.5mg1%
Calcium 43mg4%
Iron 2mg11%
* Percent Daily Values are based on a 2000 calorie diet.