Porterhouse Steak in the Air Fryer comes out tender, juicy, and perfectly seasoned. Skip the grill and enjoy an air fried steak for a change! Pair this air fryer steak recipe with your favorite sides for an easy weeknight dinner or holiday party entree that is sure to impress.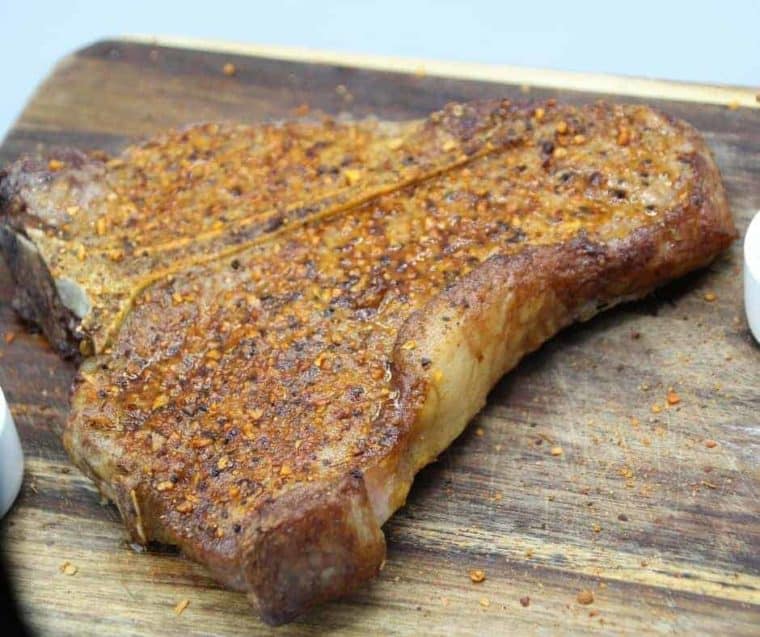 Air Fryer Porter House Steak
Steak on the grill is amazing, but during the winter months, it's not always possible to get to the grill since we have snow to contend with. The air fryer solves this problem!
My youngest child, Jason, is an avid hockey player, so he is always craving protein after a day at the rink. This porterhouse steak recipe is our go-to dinner after games all season long.
All you need is a simple seasoning blend and a good quality piece of meat. The air fryer locks in all the juices and flavor so this porterhouse steak recipe comes out perfect every time.
If your mouth waters as you hear the menu selection of steak, you are not alone! My son's favorite meal is a tender porter house steak with a side of mashed potatoes and a vegetable.
For more easy, delicious, and perfectly cooked air fryer steak recipes, try my AIR FRYER BLACK AND BLEU STEAK, FROZEN RIBEYE STEAK IN AIR FRYER, or AIR FRYER GARLIC BUTTER STEAK BITES.
Why You'll Love This Porterhouse Steak Recipe
Juicy, tender, and perfectly cooked indoors
On the table in less than 20 minutes
Uses just a handful of ingredients
So easy to get right in the air fryer!
What is a Porterhouse Steak?
Many consider the porterhouse steak the king of all cuts of beef. A porterhouse steak is a "composite cut," meaning it combines 2 different loins of the cow. Included in the porterhouse cut is a top loin (also called a New York strip) and a tenderloin (which houses the filet mignon).
And, air frying the porterhouse couldn't be any easier! In fact, you can air fry any quality cut of beef for a delicious steak dinner in minutes, regardless of the time of year!
Ingredients Needed for Air Fried Porterhouse
You can perfectly air fry porterhouse steak with just a handful of spices that you probably already have on hand. To make this recipe all you need is:
Porterhouse steaks
Olive oil (or melted butter)
Salt
Black pepper
Steak seasoning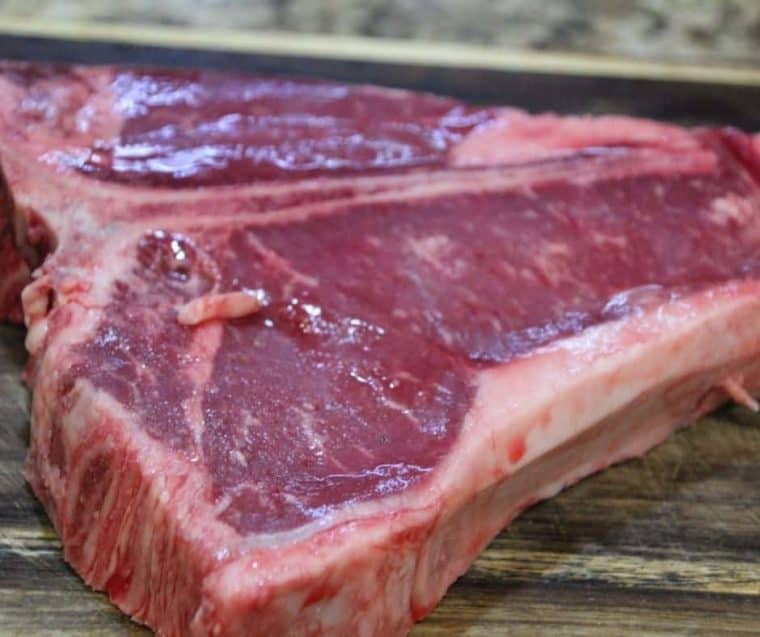 How to Air Fry Porterhouse Steak
Step 1: Rest the Steak
Allow your steak to rest at room temperature for at least 30 minutes. This brings the meat to room temperature for even cooking. However, be sure that beef is not left at room temperature for longer than 2 hours to ensure it is still safe to eat.
Step 2: Preheat the Air Fryer
Preheat the air fryer to 400 degrees F for 5 minutes.
I find the meat turns out better when I take the time to preheat for my air fryer steak recipes.
Step 3: Season Steaks
Rub both sides of the steak with olive oil or melted butter, then season generously with salt, pepper, and steak seasoning.
Step 4: Cook Steaks
Place the steaks in the air fryer basket and cook for 6 minutes. Flip, then cook for another 6 minutes.
Allow the steak to rest for 5 minutes before slicing. This allows the juices to redistribute evenly and keeps your steak tender and juicy.
Enjoy!
How Long Does it Take to Cook Steak in an Air Fryer?
Depending on your steak, you will find that cooking time varies. If you have a thicker cut of steak, then naturally, it will take longer to cook.
You will also run into how you want your steak done. For a rare or medium-rare steak, you will pull it faster from the air fryer. Make sure to monitor the internal temperature of the steak to reach your desired doneness.
Medium Rare – 130-135 degrees F
Medium – 135-145
Well – 145-155
Well Done – 155-165
You can invest in a meat thermometer to check your steak and tell how done it is. Pick the thickest part of the steak to do a temperature gauge, otherwise, you can run into a false reading.
Tips for the Best Air Fried Steaks
Choose the right cut of meat – Filet Mignon, Ribeyes, Strip Steaks, Top Sirloin, Porterhouse, and T- Bone are all great for the air fryer. They all have a great fat and meat ratio for the grill or air fryer. Cheaper cuts of meat will come out tough, so leave those for the slow cooker.
Choose the right quality of meat – Purchase a good quality of meat, from a butcher or from the supermarket. Beef is graded on marbling and connective tissues. Marbling should be shown throughout the meat as white-colored fat. I always look for a thin coat of marble throughout the meat for the air fryer or Instant Pot since it will melt and give a nice flavor to the meat without it being greasy.
Season – Salt your meat before you place your meat in the air fryer.
Bring your steak to room temperature before cooking – Take your meat from the refrigerator and let it rest on the counter for about 15 to 30 minutes before you air fry porterhouse steak. Steak at room temperature absorbs the seasonings better. It also helps the fibers in the meat loosen, which will produce a tender cut of meat. Room temperature steak also cooks faster and more evenly than cold steak.
Allow cooked meat to rest before slicing – After cooking, let your meat rest for about 5 minutes. If you slice too soon, the juices will run out all over your plate and the meat will end up a bit dry.
What Goes Well With a Porterhouse Steak Dinner?
Air fryer porterhouse steak is a great recipe that can essentially pair with anything, from a baked potato, french fries, coleslaw, pasta salad, etc.
You'll find that you can air fry porterhouse steak and pair it nicely with just about anything. I love to serve it with mashed potatoes and a side salad.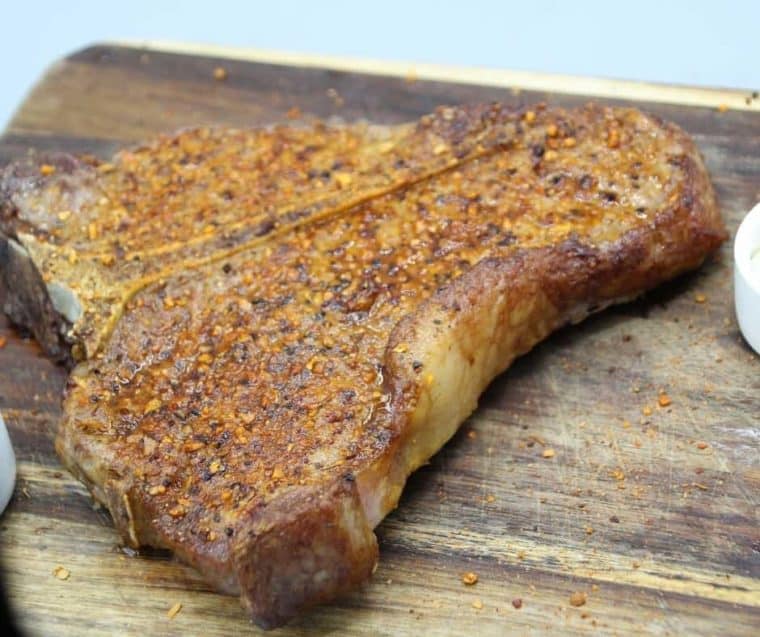 How Do You Store Leftover Steak?
Allow leftovers from this porterhouse house steak recipe to cool down a bit. Then, place in an airtight container and store in the refrigerator for up to 3 days.
Then, slice and reheat the porterhouse steak or enjoy it chilled. Steak is great on salads and sandwiches or mixed into beans and other meals.
How Do You Reheat Refrigerated Steak?
For the best texture, toss porter house steak in the air fryer. Cook at the same temperature, but reduce the cooking time and heat just until warmed through.
Many people think the microwave is faster, but the beef tends to come out overcooked and rubbery.
You can also use the stovetop to reheat steak slowly. Add a splash of water or broth, then cover with a lid and warm over medium low heat until the liquid has evaporated.
What's the Difference Between a Porterhouse and a T-Bone Steak?
Both steaks feature a T-shaped bone through the middle of the cut. However, a porterhouse includes more tenderloin and the New York strip. Porterhouse steaks are usually rather large.
A T-bone is cut further up the flank and also includes tenderloin and a strip. However, the tenderloin side is usually much smaller than that of a porterhouse.
How Do You Avoid Cooking a Tough Steak?
Since the porterhouse is a naturally tender cut of meat, toughness usually comes from overcooking. Conversely, tougher cuts remain tough by undercooking.
Keep an eye on that temperature gauge and cook to temperature rather than cooking by time.
Some Great Side Dishes For A Perfect Air Fryer Porterhouse Steak Dinner
Some Helpful Products Used in Making this Recipe
Disclosure: Some of the links below are affiliate links. At no cost to you, I will earn a commission if you click through and make a purchase.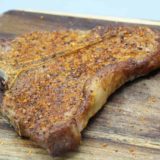 Air Fryer Porterhouse Steak
Description
Porterhouse Steak in the Air Fryer is a wonderful air fryer steak recipe that showcases a tender and juicy porterhouse steak that is perfectly seasoned and air fried. Skip the grill and enjoy an air fried steak for a change. Pair with your favorite sides for a weeknight steak dinner or holiday party recipe.
Ingredients
2

16 ounces

Porterhouse Steaks

2

tablespoons

olive oil or melted butter

1

teaspoon

salt

1/2

teaspoon

black pepper

2-4

tablespoons

steak seasoning
Instructions
The first thing I do when making steak (I got this hint from one of Bobby Flay's shows) let the meat rest at room temperature for AT LEAST 30 minutes.

Start by preheating the air fryer. Steak is one of the few recipes that I preheat the air fryer for. But the meat will come out better, so turn the air fryer oven'/basket on for 5 minutes at 400 degrees F

Then rub the olive oil or butter all over the steak and season with salt and pepper. I added some steak seasoning.

Set the steaks in the air fryer for 6 minutes, then flip and air fry for another 6 minutes.

Again, per Bobby Flay, let the steak rest for at least 5 minutes.
Nutrition
Serving:
1
g
Calories:
140
kcal
Carbohydrates:
3
g
Protein:
1
g
Fat:
14
g
Saturated Fat:
2
g
Polyunsaturated Fat:
2
g
Monounsaturated Fat:
10
g
Cholesterol:
1
mg
Sodium:
1165
mg
Potassium:
37
mg
Fiber:
1
g
Sugar:
0.1
g
Vitamin A:
108
IU
Vitamin C:
0.5
mg
Calcium:
43
mg
Iron:
2
mg
DON'T FORGET TO PIN AIR FRYER PORTERHOUSE STEAK–