Air Fryer Peanut Butter Pizzokie — If you're a fan of both pizza and cookies, you're going to love this air fryer peanut butter pizzokie! This recipe is easy to follow and results in a delicious, fluffy dessert that satisfies your cravings for pizza and cookies. Give it a try today!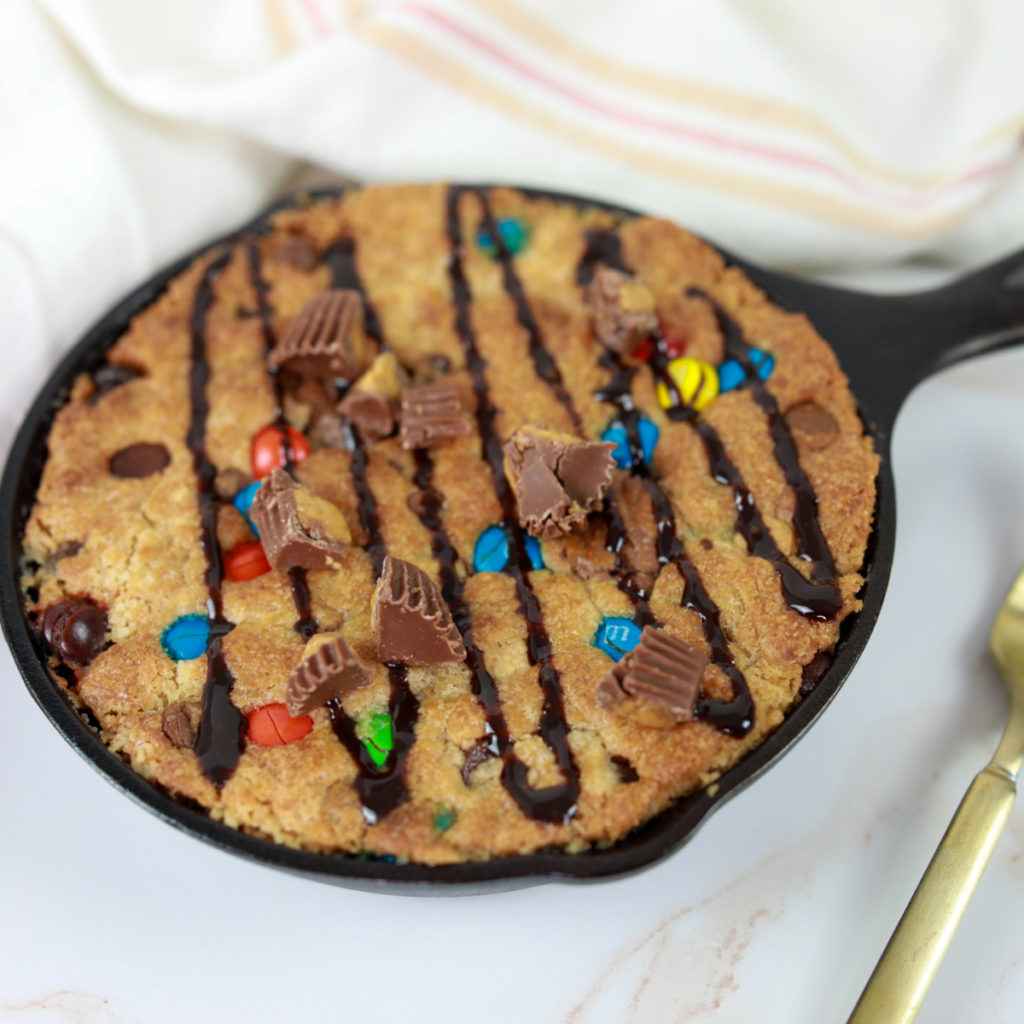 Have you ever had a Pizzokie? No? Well, they are amazing. Start with the chocolate chip cookie-like crust, and then add a layer of peanut butter. Top with another chocolate chip cookie-like crust, and you have this amazing dessert that is like nothing else. I love them, but they can be a little bit time-consuming to make. That's where the air fryer comes in! With the air fryer, I can make Pizzokies in no time at all. Plus, they come out just as delicious as I made them in the oven. If you're looking for an easy and delightful dessert, give my air fryer Peanut Butter Pizzokie recipe a try!
What Is An Air Fryer?
An air fryer is a countertop appliance used to cook food by circulating hot air around it. The appliance produces little or no oil, making it a healthier option than traditional frying. Air fryers come in various sizes, and some even have multiple cooking functions. Whether you're looking for a healthier way to cook your favorite foods or want an all-in-one appliance that can do everything, an air fryer may be the perfect choice for you!
What Is A Pizzokie?
As a cook, you know there are many different ways to make pizza. But have you ever tried making pizzokies? Pizzokies are a cross between pizza and cookies, and they're a great way to use up any candy. Plus, they're easy to customize for your taste. Keep reading for a quick and easy recipe for pizzokies that the whole family will love!
The Best Air Fryer Peanut Butter Pizzokie
Do you love peanut butter and chocolate together? If so, you're going to love this air fryer recipe for peanut butter pizzokies! These delicious little cookies are made with a chocolate chip cookie base and peanut butter filling cooked in the air fryer. They are the perfect treat for wanting something sweet but don't want to indulge in too many calories. So head to the kitchen and give this recipe a try!
Ingredients Needed For Air Fryer Peanut Butter Pizzokie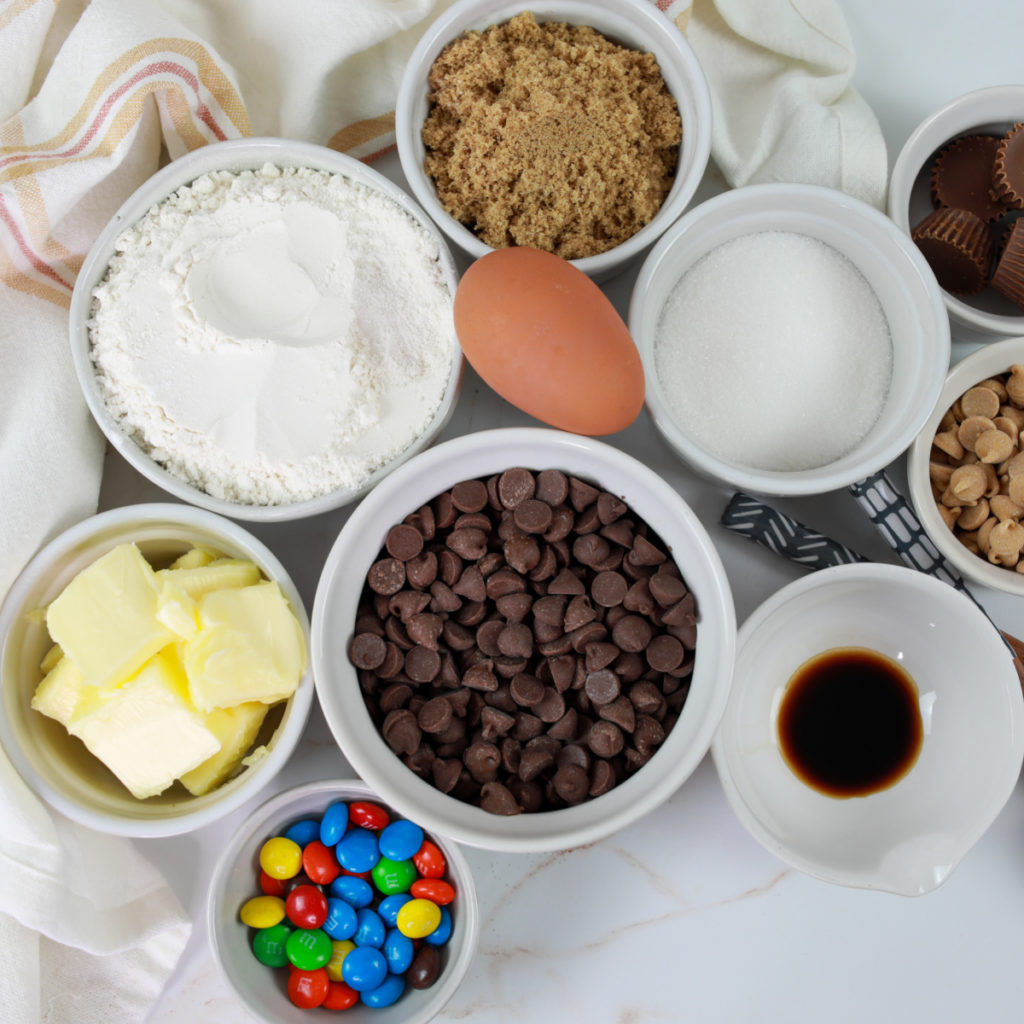 I'm always on the lookout for new recipes to try in my air fryer, and I recently came across one that sounded amazing: peanut butter pizzokie. You can create this in your air fryer with only a few ingredients.
Butter
Granulated Sugar
Brown Sugar
Pure Vanilla Extract
Egg
All-Purpose Flour
Baking Powder
Salt
Chocolate chips
Peanut Butter Chips
Peanut Butter M&M's
Mini Reese Cups
How To Make Air Fryer Peanut Butter Pizzokie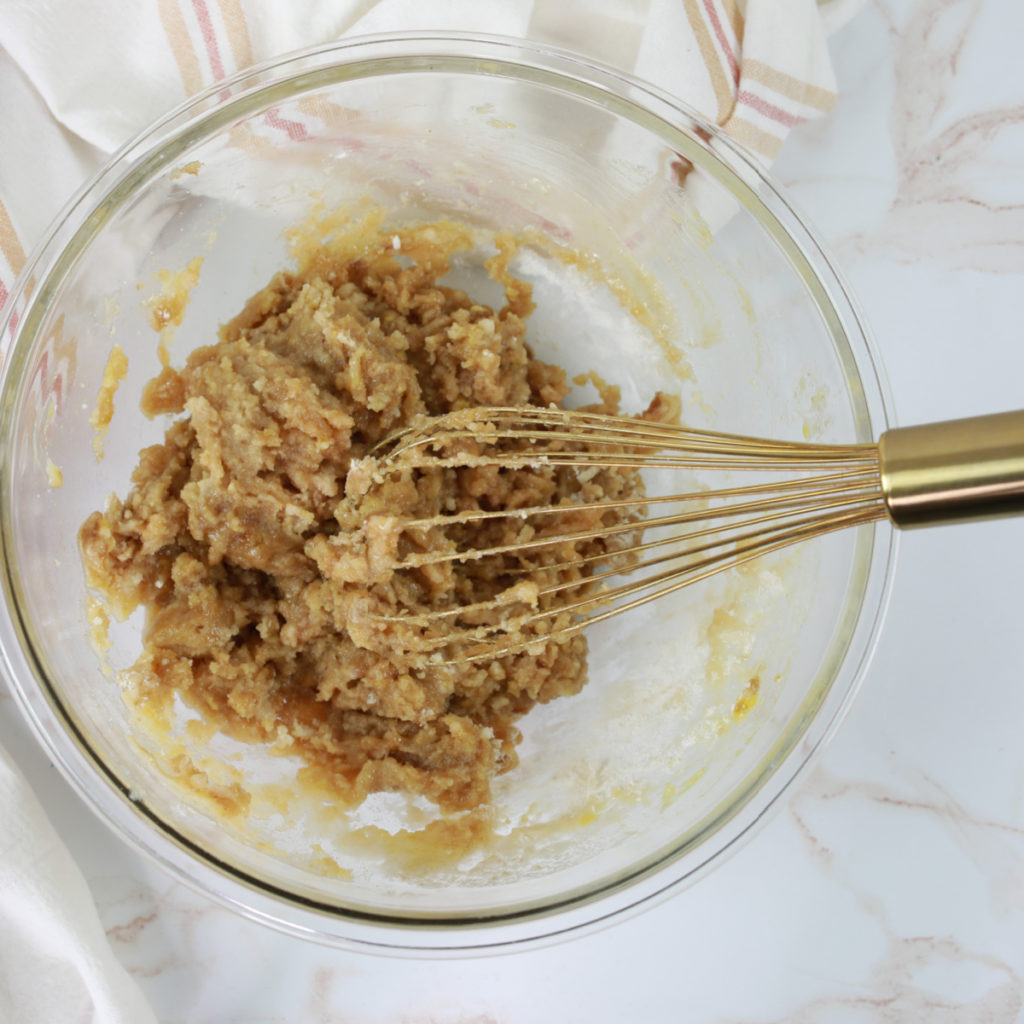 Add the flour, baking soda, salt, butter, sugar, brown sugar, egg, and vanilla in a large bowl.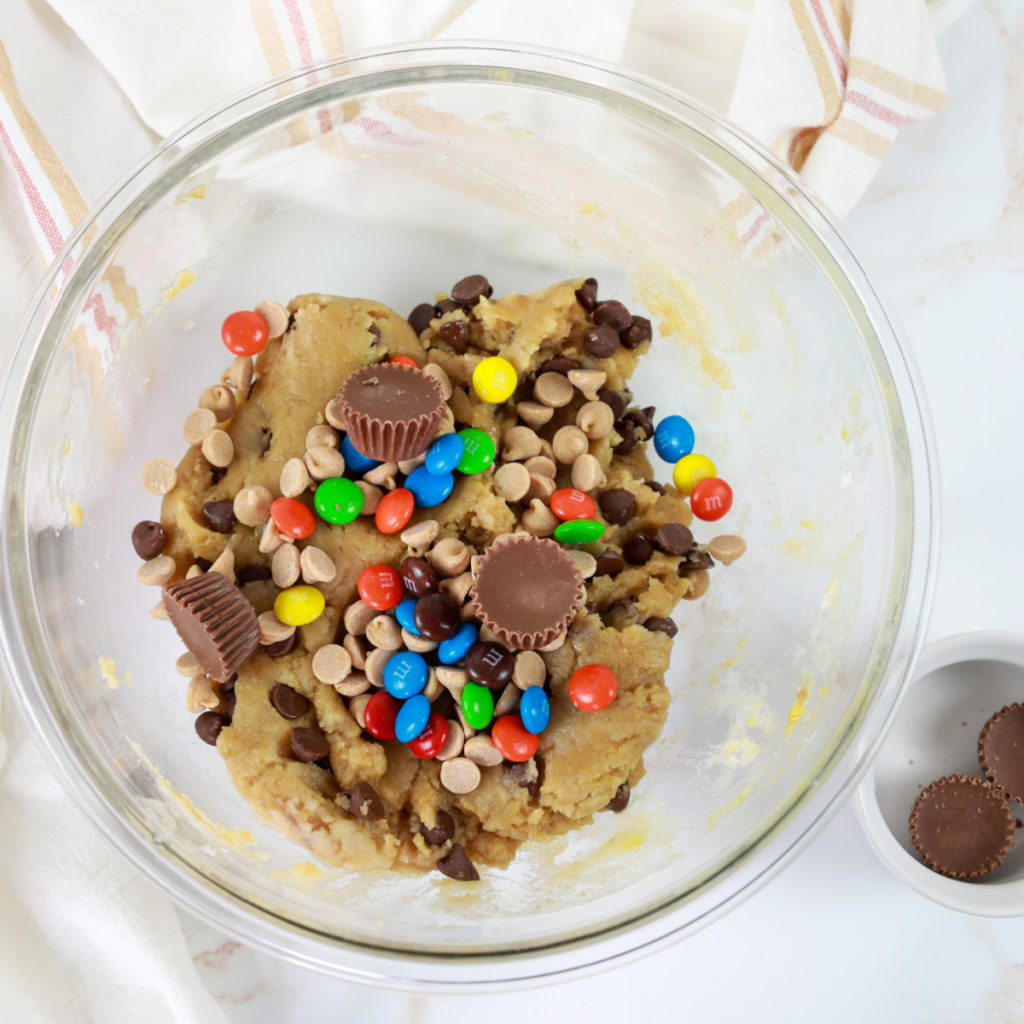 Mix until everything is well combined, then fold in the chocolate chips, peanut butter baking chips, peanut butter M&M's, and Mini Reese Cups.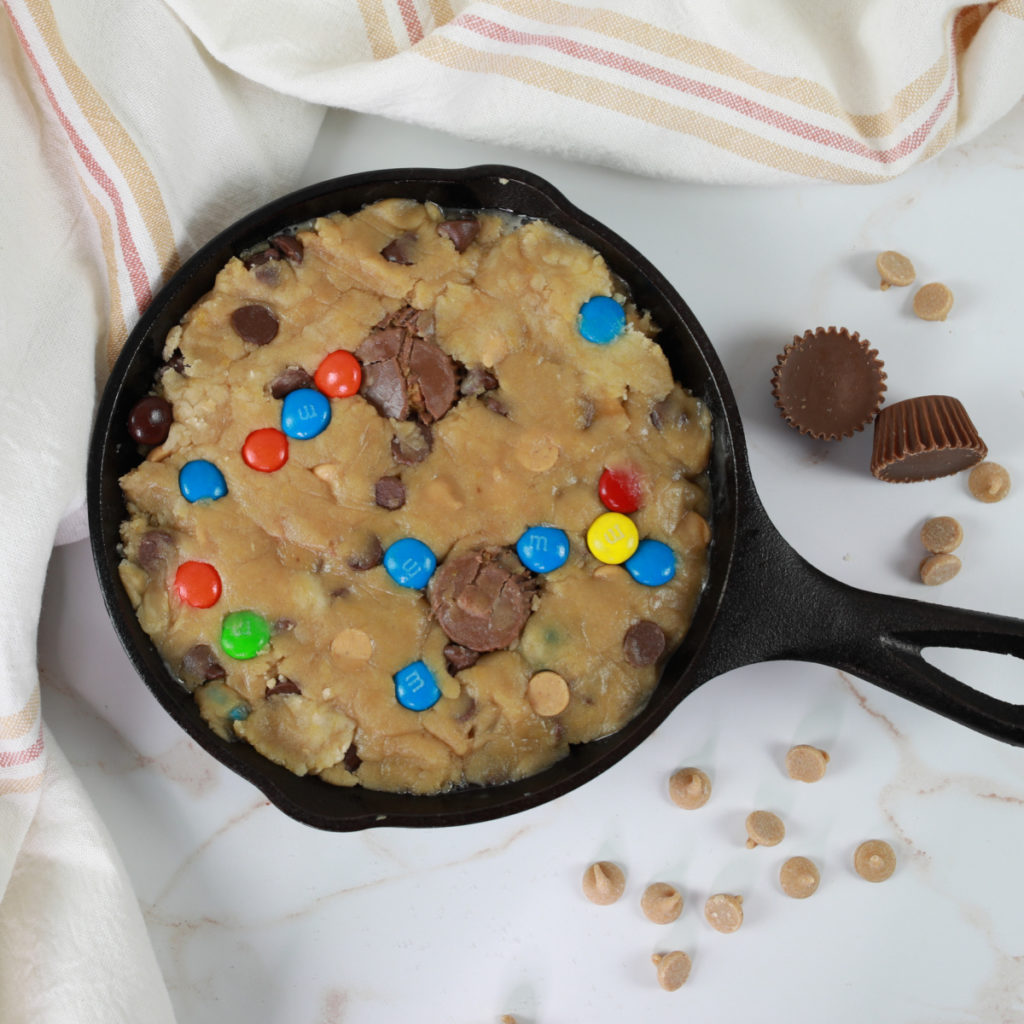 Mix until the add-ins are evenly distributed. Generously spray your pan or skillet with olive oil spray or cooking spray. Press your cookie dough into the prepared pan.
Set the pan into the air fryer and set the temperature to 320 degrees F for 12 minutes. (air fryer setting)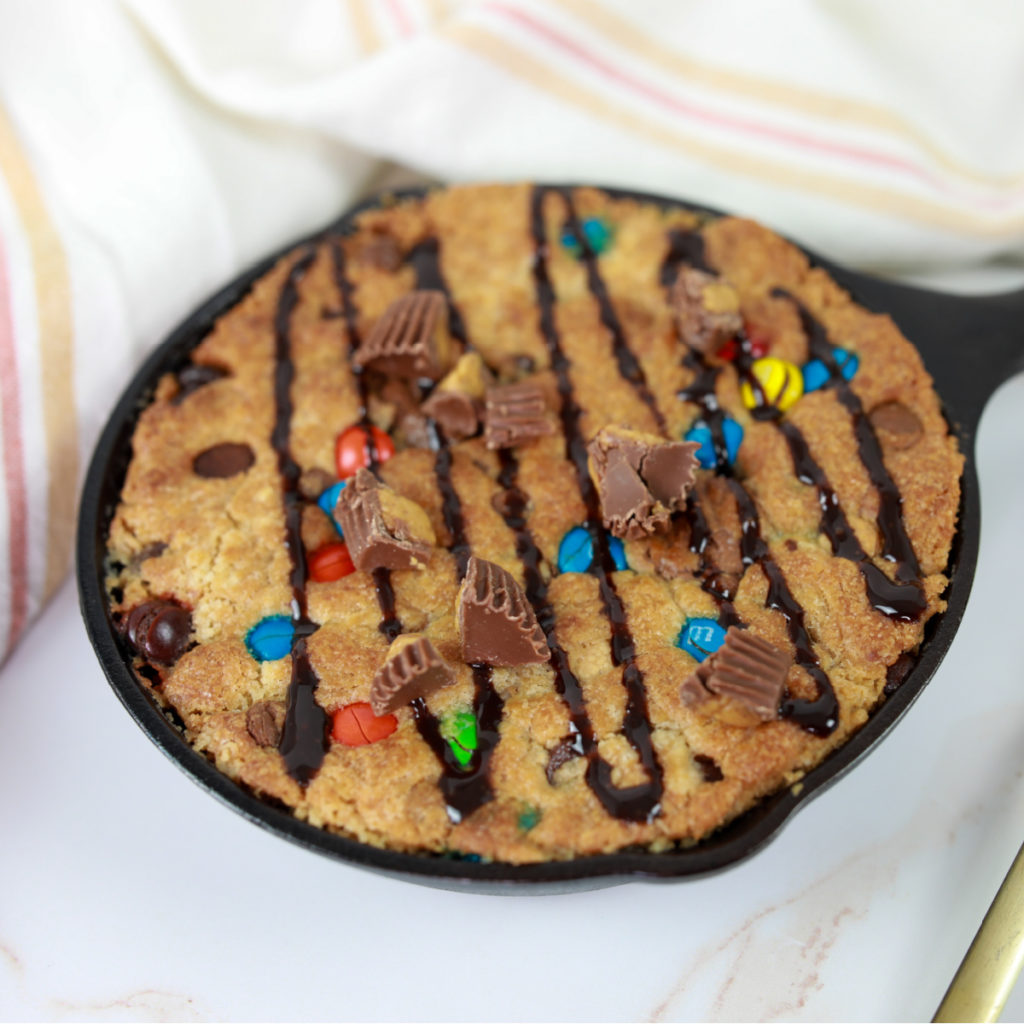 Ingredient Notes For Air Fryer Peanut Butter Pizzokie
Eggs: To get the best results, use room-temperature eggs to blend into cookie dough. It's better than cold ones because their consistency will be much easier and smoother with no lumps.
Pure Vanilla Extract: The best results from using pure vanilla extract; the flavor will enhance your cookie!
Brown Sugar: Make sure to use soft brown sugar to make your cookies more flavorful and tender. If it has hardened, then you'll need a new bag, or else the crystals will turn into hard pieces that are not as good for baking with!
All-Purpose Flour: When measuring your flour, use a scale to get the most accurate result. If you don't have one, then here's what we recommend: gently fluff up the flour before packing them into cups level off with a knife. This will give you the most accurate measurement of flour.
Recipe Notes:
How To Make This Recipe Gluten-Free
What's better than a delicious, gluten-free dessert? A mouthwatering cake that doesn't compromise your dietary needs! Change out the flour for some King Arthur Flour and make this one of many amazing dishes.
Make sure that the candy is gluten-free and has other ingredients. Pretty soon, you will have one of the best Air Fryer Gluten-Free Desserts!
When Do You Know When Your Skillet Cookie Is Done?
The skillet cookie is ready when it develops a lightly browned top. It is important to remove it as soon as the cookie sets. Otherwise, the residual heat from your cast iron pan will continue to cook the dough, which makes for a dried-out cookie.
Can I Make This Cookie Ahead Of Time?
Yes, the air fryer takes almost no time to bake up. I would advise you to make your dough and refrigerate it right before serving so that it's easy for guests who might be coming over unexpectedly!
You can make these before and store them for three days at room temperature or until just before serving. They're best when eaten within 24 hours, though they still taste great after one day!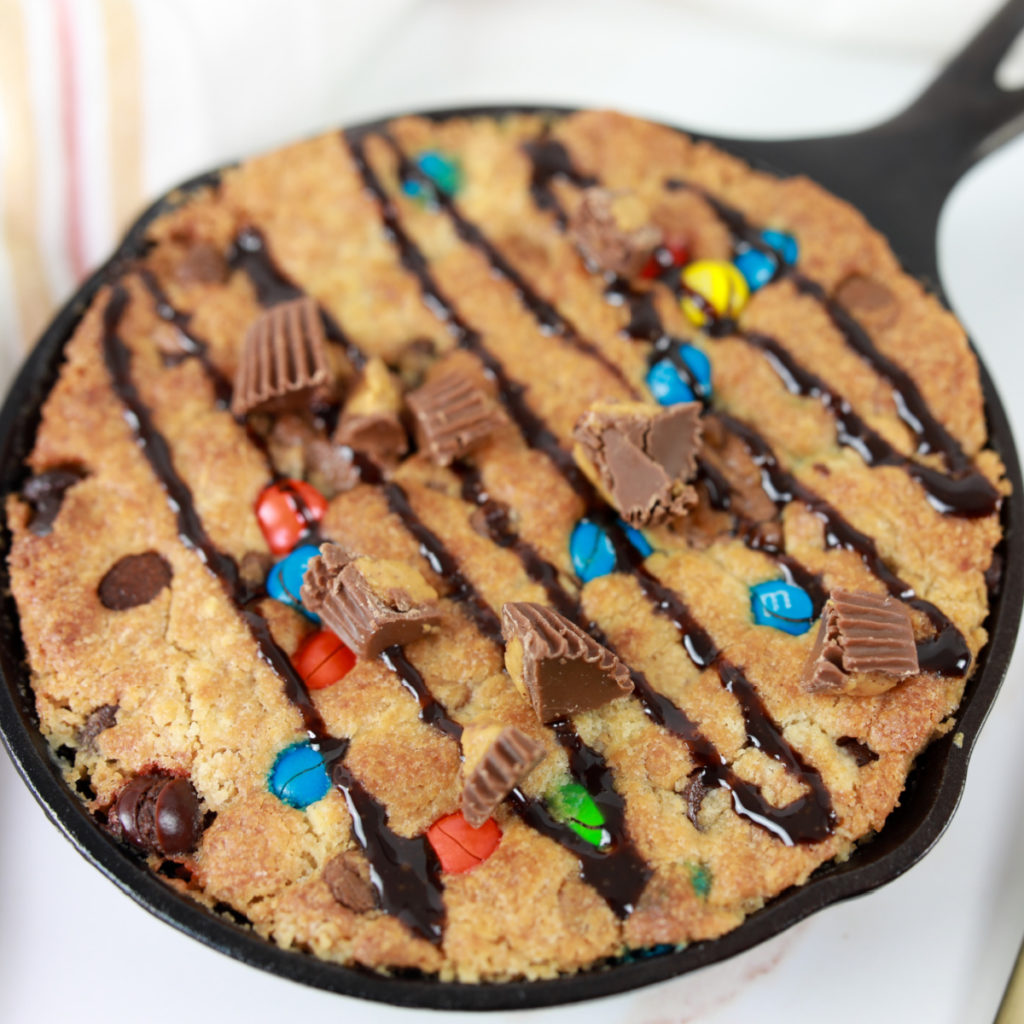 Can I Freeze This Cookie Dough?
This recipe is a must-have for any cookie lover! You can freeze the skillet dough raw or baked, but the best results come from tightly wrapping it in saran wrap and storing it away for 2 – 3 months.
What Cast-Iron Pan Can I Use In This Recipe?
You may be surprised to learn that I use cast iron pans in my air fryer. Before doing so, make sure you check with the owner's manual on what types of cookware are compatible! A couple of my favorite cast iron pans to use with my air fryer are:
More Air Fryer Cookie Recipes:
Be sure to tag @ForkToSpoon on Instagram, if you share a picture on Instagram! Let's get social, you can follow me: on Youtube, Instagram, Facebook, Pinterest or join one of our Facebook Groups: Air Fryer Recipes and Tips
Don't Forget To Pin: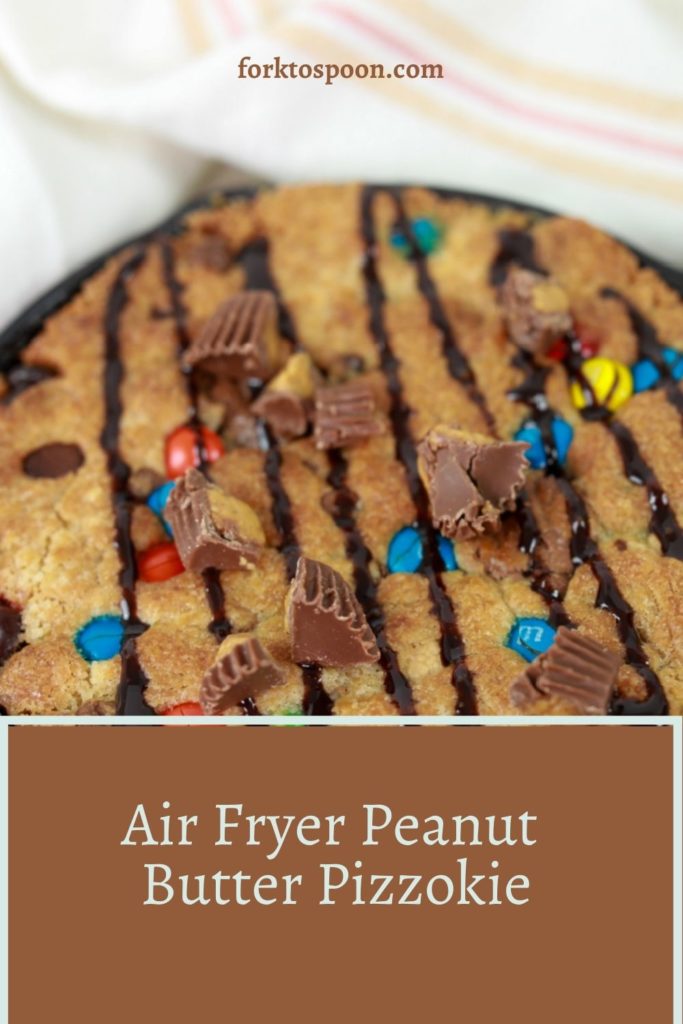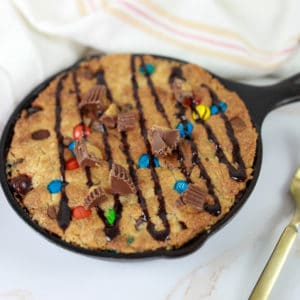 Air Fryer Peanut Butter Pizzokie
Description
If you're a peanut butter fan, you're going to love this Air Fryer Peanut Butter Pizzokie recipe! It's an easy way to make your favorite dessert, and it's a lot healthier than traditional pizza. Plus, the air fryer makes it crispy and delicious. You won't be able to resist the temptation of this sweet and savory treat!
Ingredients
1/2

cup

butter

,

unsalted

1/2

cup

granulated sugar

1/2

cup

brown sugar

1

teaspoon

pure vanilla extract

1

large

egg

1 1/2

cup

all-purpose flour

1/2

teaspoon

baking powder

1/2

teaspoon

salt

1 1/4

cups

chocolate chips

1/3

cup

peanut butter baking chips

1/4

cup

Peanut Butter M&Ms

1/4

cup

Mini Reese Cups
Instructions
Add the flour, baking soda, salt, butter, sugar, brown sugar, egg, and vanilla in a large bowl. Mix until everything is well combined, then fold in the chocolate chips, peanut butter baking chips, peanut butter M&M's, and Reese cups.

Mix until the candy is evenly distributed.

Generously spray your pan or skillet with olive oil spray or cooking spray.

Press your cookie dough into the prepared pan

Set the pan into the air fryer and set the temperature to 320 degrees F for 12 minutes. (air fryer setting)
Equipment
Air Fyrer

Skillet,

see blog post for suggestions
Nutrition
Serving:
1
g
Calories:
767
kcal
Carbohydrates:
131
g
Protein:
12
g
Fat:
23
g
Saturated Fat:
13
g
Polyunsaturated Fat:
2
g
Monounsaturated Fat:
3
g
Trans Fat:
1
g
Cholesterol:
64
mg
Sodium:
510
mg
Potassium:
211
mg
Fiber:
3
g
Sugar:
89
g
Vitamin A:
128
IU
Vitamin C:
1
mg
Calcium:
116
mg
Iron:
3
mg