This was the easiest side dish I had made thus far in my air fryer. It is a throwback from a dish my mother used to make while we were camping. I call it my Air Fryer Loaded Campfire Roasted Potatoes. And it is delicious and hardly any cleanup!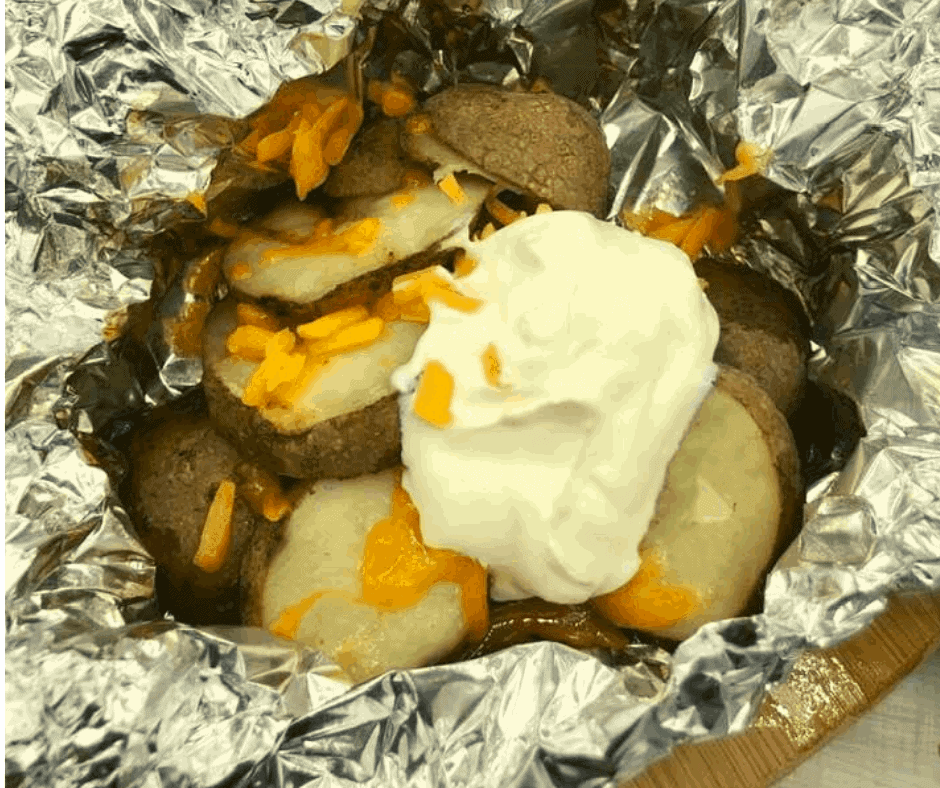 If you are looking for an easy side dish, this is the one for you, and what is even cooler is you can serve this year around. This is a great foil-pack meal.
What Are Campfire Potatoes?
They are easy potatoes that you usually make on a campfire. But this is where our handy air fryer comes into play.
They usually have sliced potatoes; you can add whatever toppings you want. This is a perfect meal if you are looking for a fun thing to do with the family.
Ingredients Needed For Campfire Potatoes
Nothing beats the smoky, comforting aroma of campfire-roasted potatoes cooking on a warm summer day. But what if you had to introduce more excitement and flavor into your traditional fire-roasted recipe?
Introducing air fryer-loaded campfire roasted potatoes! These crunchy spuds offer the same smoky taste but with an extra kick from your favorite seasonings and spices. Plus, they are prepared in less time than standard roasted potatoes – no more waiting for hours around the fire! In this blog post, find out all of the ingredients needed to start creating flavorful and tantalizing air fryer-loaded campfire roasted potatoes that will have everyone begging for seconds.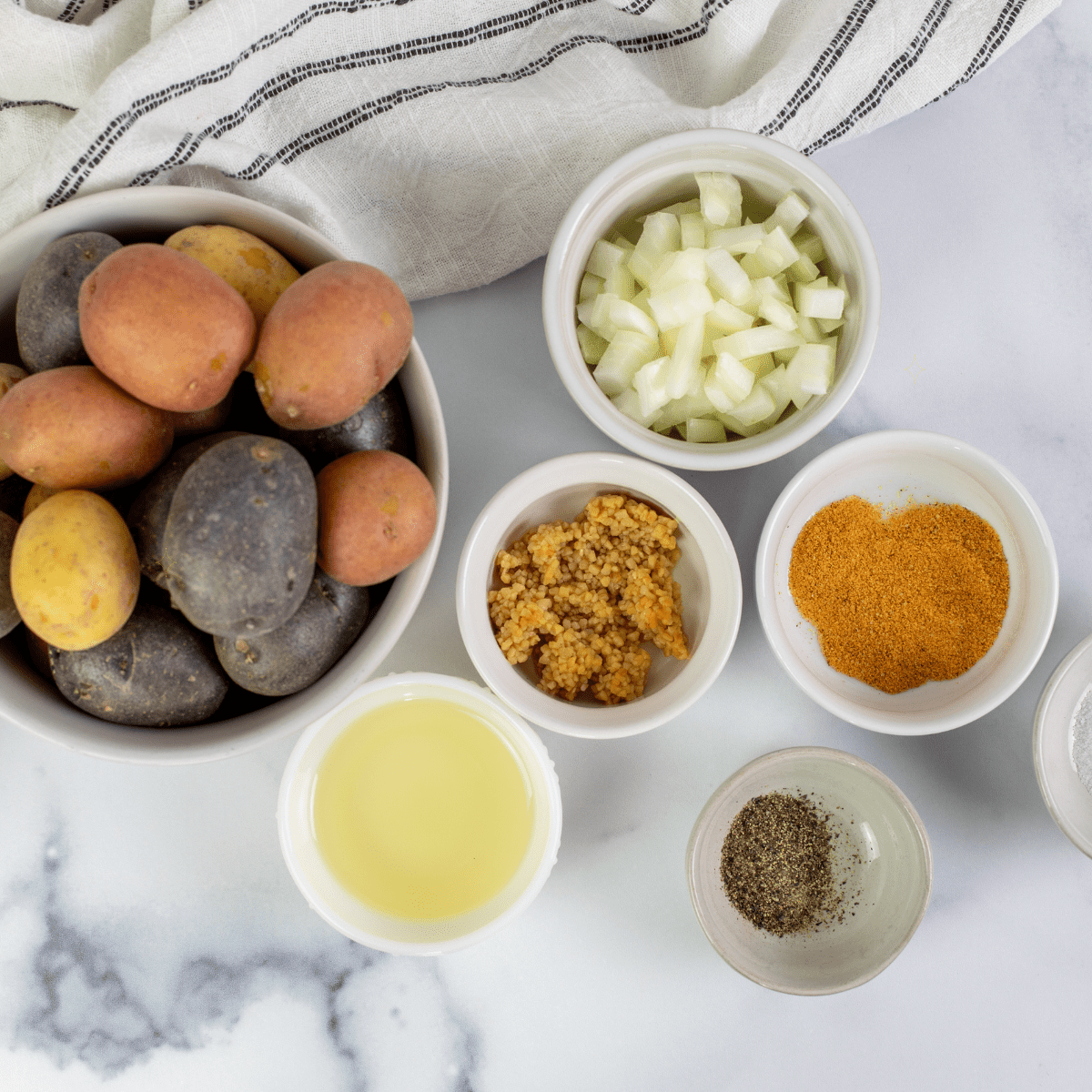 Remember the step-by-step directions are below in the printed recipe card, at the bottom of the page, as well as the nutritional information.
Russet potatoes
Onions
Garlic
Olive Oil
Salt
Pepper
Seasonings
Toppings
How To Make Campfire Potatoes In Air Fryer
Campfire potatoes are a traditional and delicious way to enjoy potatoes outdoors. Imagine the smokey aroma of roasting campfire potatoes and the feeling of excitement when it's time to dig in. Instead of spending your day tending over an open fire, why not try making campfire potatoes in an air fryer instead? Not only do you get that same delicious smokiness, but this method is much faster and easier! Below we'll take you through all the steps necessary for perfecting these campfire-style spuds every time.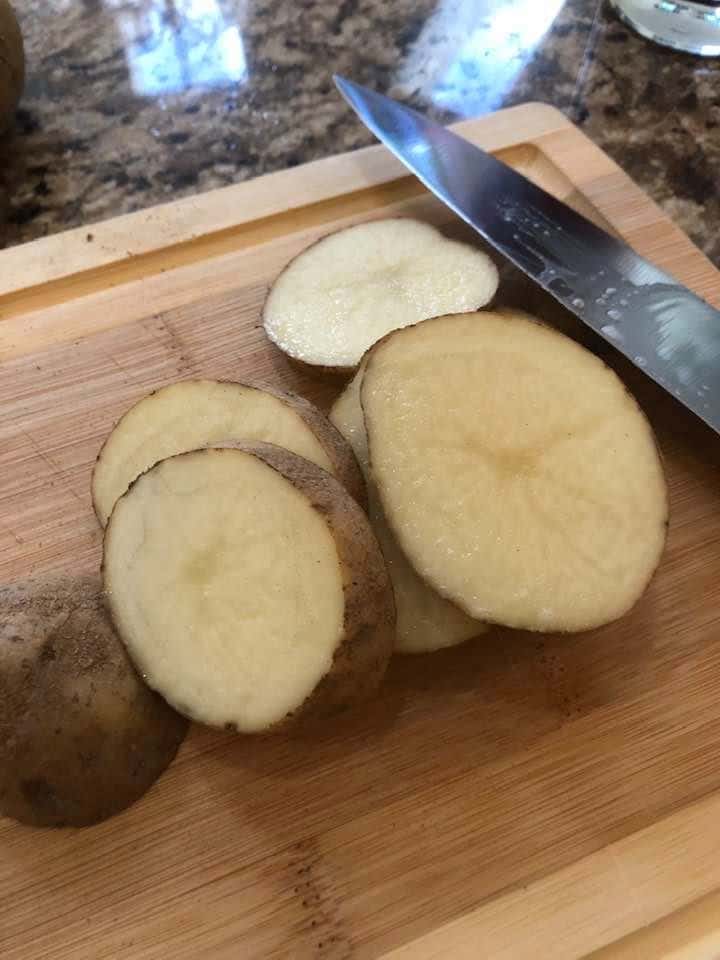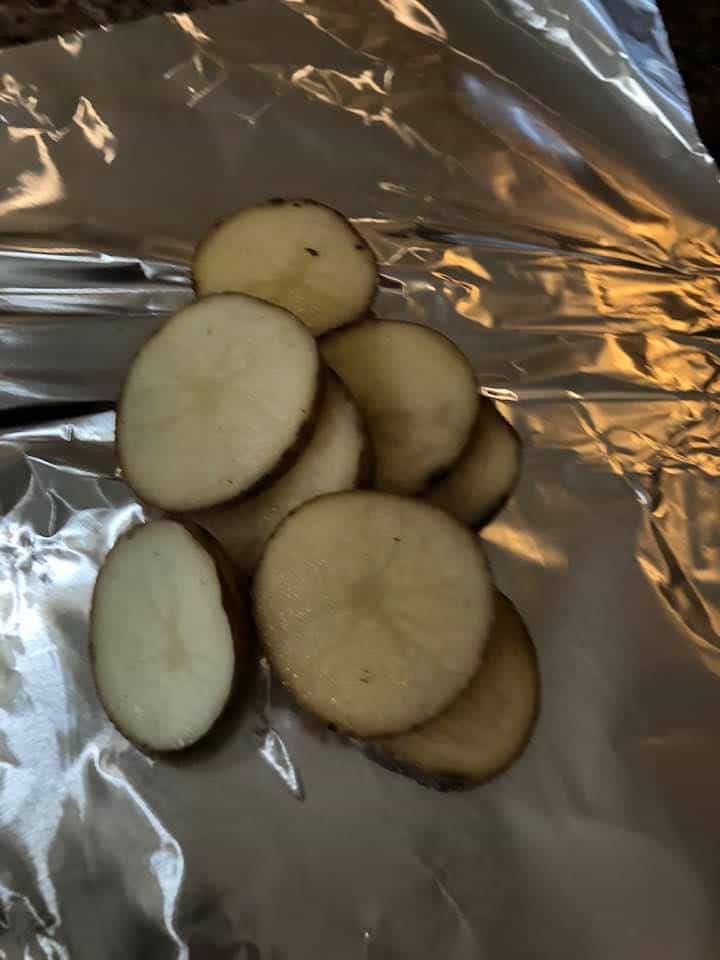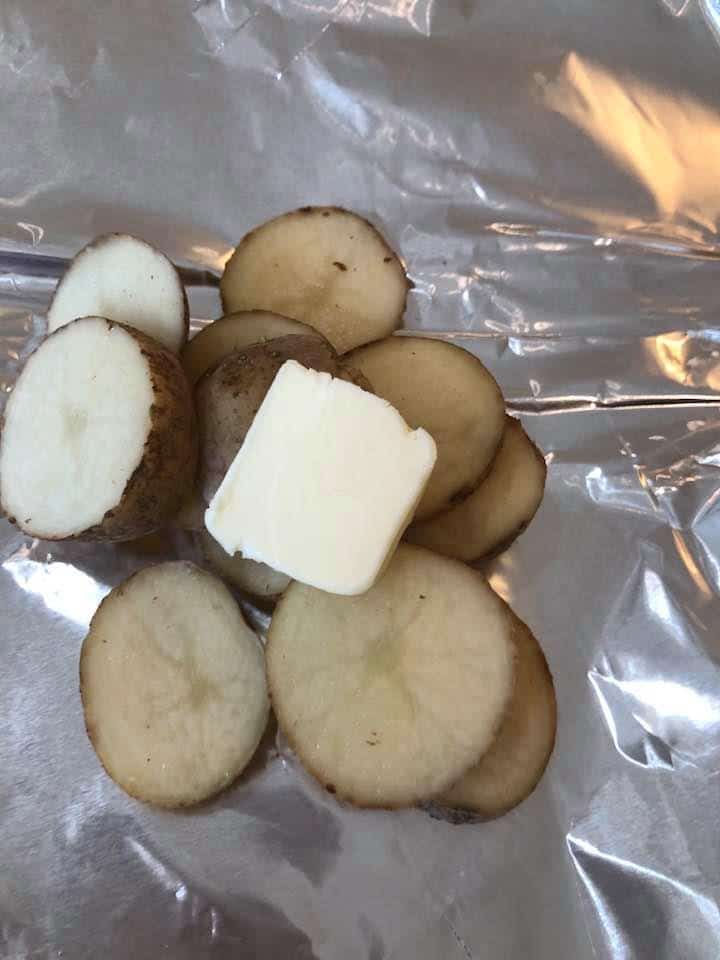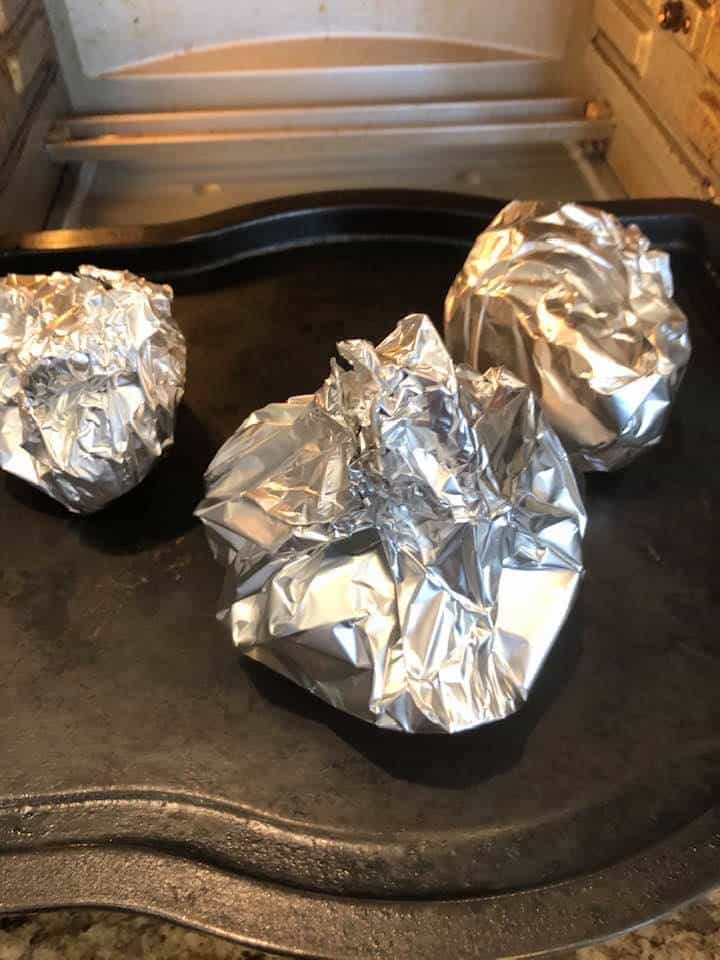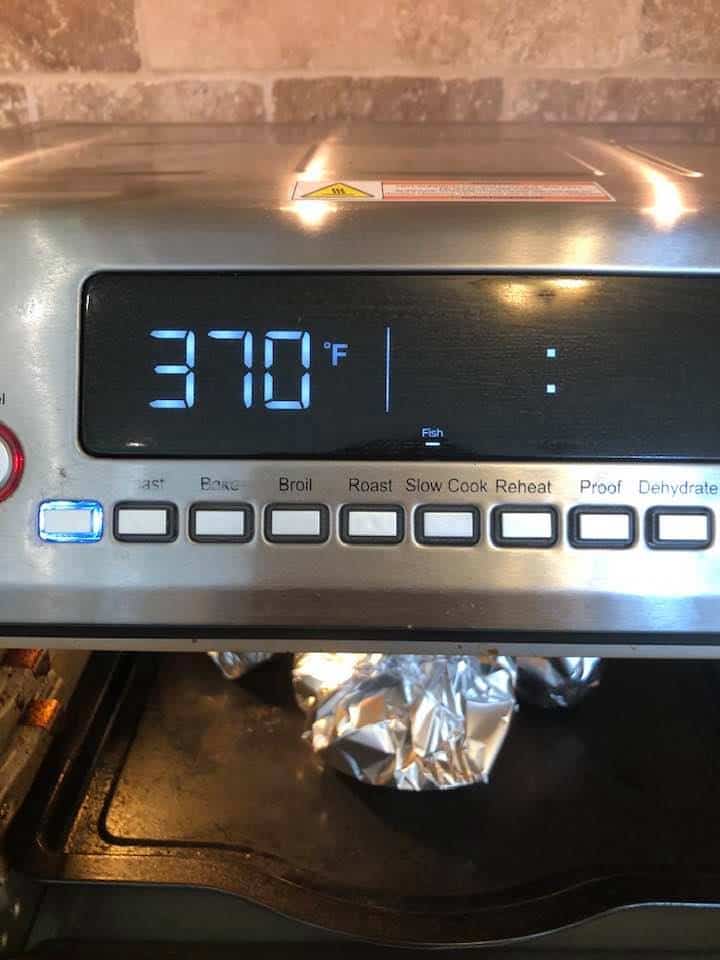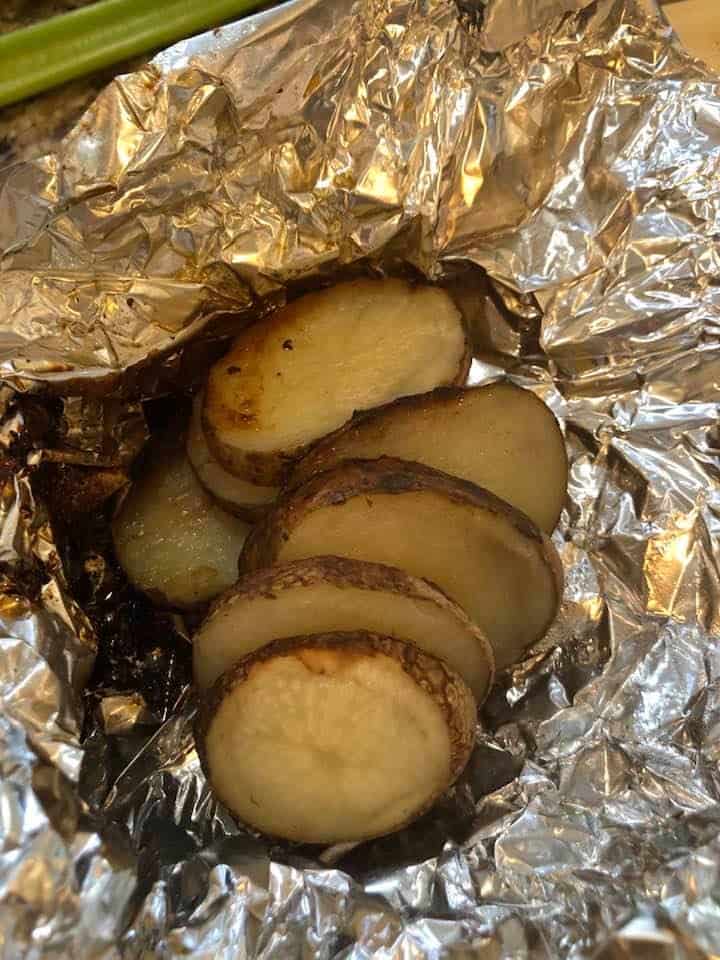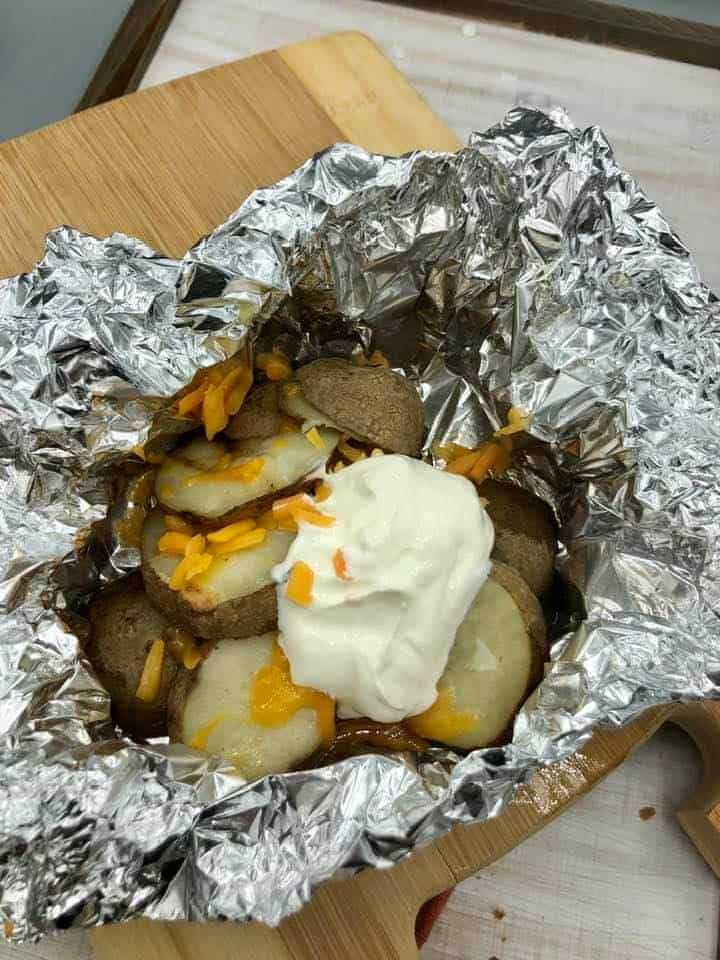 Frequently Asked Questions
Can I Make These On The Grill?
Yes, absolutely all you need to do is add them to the grill, and grill for about 20 to 25 minutes.
Can I Cook These On A Blackstone Griddle?
Yes! They are a great recipe; the kids and the whole family will love them!
Can I Make These In The Oven?
Add the foil packets to a preheated oven for 15 to 20 minutes at 425 degrees F.
More Topping Ideas!
Here are some of my favorites:
Diced Onions
Chives
Cheese
Salsa
Guacamole
Green Onions
Broccoli
Bacon
Black Beans
Chili
Sour Cream
Shredded Cheese
Shredded Beef
Tortilla Chips
Can You Cook Foil Packets in the Air Fryer?
Yes, absolutely. They are a fun and easy meal since there is hardly any cleanup. Just remember not to crowd the basket, as the air needs to circulate around the packet for it to cook properly.
Here Is A Great Book if You are Trying to Get Started in Air Frying.
More Air Fryer Recipes
Don't Forget to Pin Air Fryer Loaded Campfire Roasted Potatoes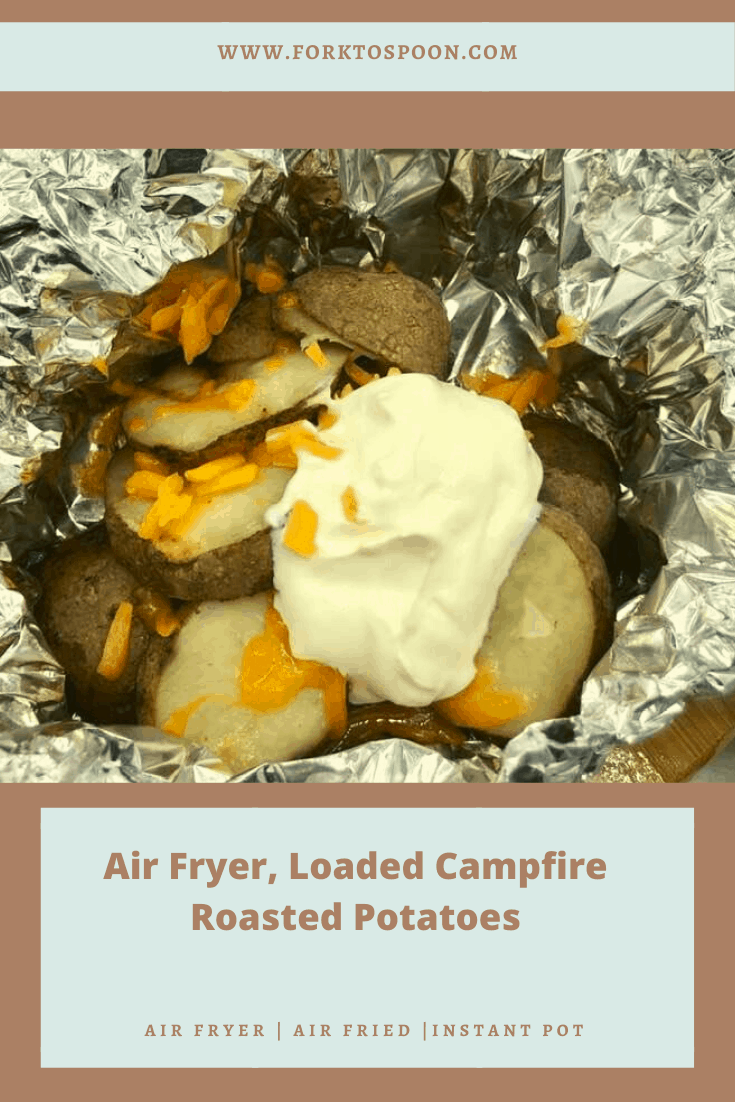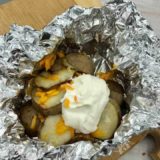 Air Fryer Campfire Potatoes
Description
This is a really easy side dish that is prepared within minutes. Add any toppings that you wish, today I opted for grated Cheddar cheese and sour cream.
Ingredients
4

large

Russet potatoes

4

tablespoons

butter
Toppings: Suggestions sour cream, shredded cheese, sliced green onions, olives, etc.
Instructions
Start by cutting your potatoes into 1-inch slices.

Then place the sliced potato into a piece of aluminum foil. (I used one potato per packet)

Place your pat of butter in the center of the packet.

Then wrap them up and place in the air fryer basket or on the air fryer tray.

Set the temperature to 370 degrees F, for 12 minutes. The exact time is going to depend on the air fryer model, and how thick your potatoes are. You are looking for fork-tender. Once they are fork-tender, remove from the air fryer.

Add your toppings and enjoy!
Nutrition
Serving:
1
Serving
Calories:
392
kcal
Carbohydrates:
67
g
Protein:
8
g
Fat:
12
g
Saturated Fat:
7
g
Polyunsaturated Fat:
1
g
Monounsaturated Fat:
3
g
Trans Fat:
0.5
g
Cholesterol:
30
mg
Sodium:
108
mg
Potassium:
1542
mg
Fiber:
5
g
Sugar:
2
g
Vitamin A:
354
IU
Vitamin C:
21
mg
Calcium:
51
mg
Iron:
3
mg