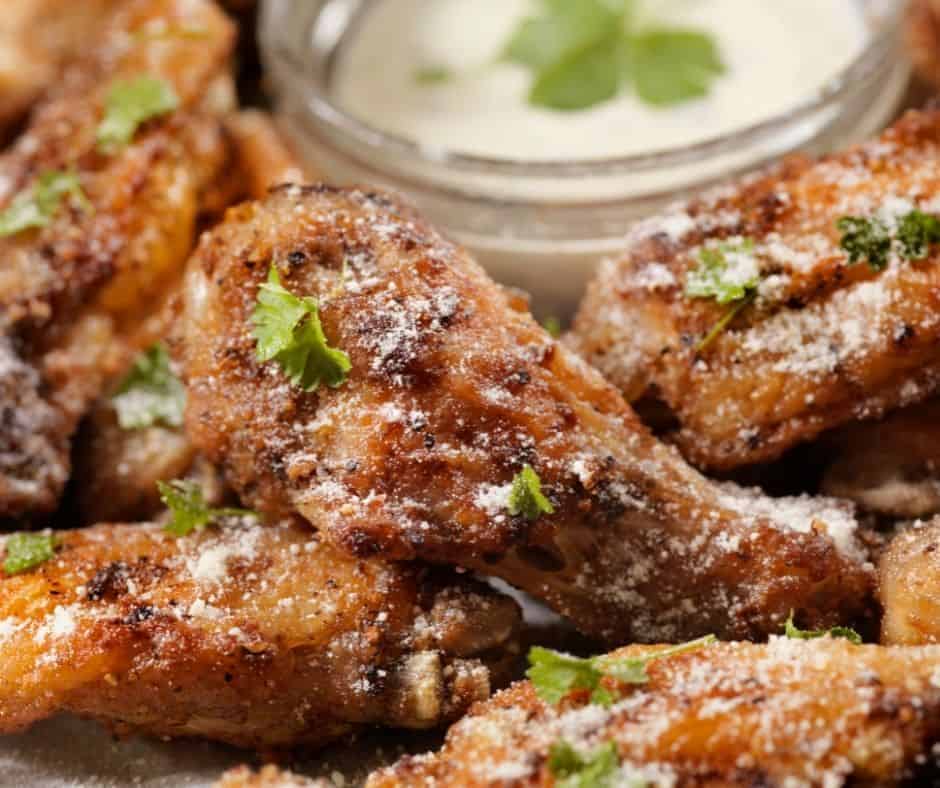 Air Fryer Garlic Parmesan Chicken Wings are amazing! If you have been looking for a great way to make a tasty batch of wings if you air fryer, this is one of my favorites!
Everyone who owns an air fryer has tried chicken wings. They come out so good, they are restaurant quality, they are delicious, crispy, and just so juicy!
Garlic parmesan chicken wings are crispy-skinned wings seasoned perfectly with garlic and parmesan in every bite.
It's a funny thing, when I first got my air fryer, about four years ago, I realized that the chicken wings were less than a cost of a pound of boneless skinless chicken breasts: fast forward four years, and the advent of the new cooking appliance, the Air Fryer. The chicken wings cost more than a pound of boneless breast of chicken.
If you love Air Fryer Chicken Wings as much as my family, some of our favorite recipes are AIR FRYER DRY RUBBED CHICKEN WINGS, AIR FRYER CHICKEN WINGS WITH BUFFALO SAUCE, AIR FRYER TYSON CHICKEN WINGS, and AIR FRYER HONEY BBQ CHICKEN WINGS.
Air Fryer Garlic Parmesan Chicken Wings
In the 1950s, when the famous Buffalo Chicken Wings were invented, you couldn't give away the chicken wings; homemakers used them to make stock or broth. Once the famous Buffalo chicken wings were invented, they became a new chicken piece to be sold off.
Chicken wings are one of the best appetizers during any party or tailgating party. They go great with all sorts of sporting events, from football to baseball.
Why Make This Chicken Wing Recipe
The Air Fryer gives you an incredible device to cook the wings where the wings are crispy on the outside and juicy when you sink your teeth into them.

No need to sear the skin by deep-frying, then finish off in the oil. Or, if you fully deep fry, air frying is a healthier alternative.

The air fryer offers a quick cook time with minimal effort.

The air fryer doesn't heat your home.



Preparing chicken wings are actually quite easy. Here are a few tips:
The amount that you should plan on serving per person is about 5-10, depending on if it's an appetizer (5) or the main course (10)

Thawed wings air fry better than frozen wings, but you can thaw them quickly by placing them in a bowl of cold water on the counter for about four hours.

Cutting your wings is easy. You need to find the joints; there are two cuts that you will need to make into the wing to separate it.

Always season your chicken wings with salt and pepper while they are in the basket.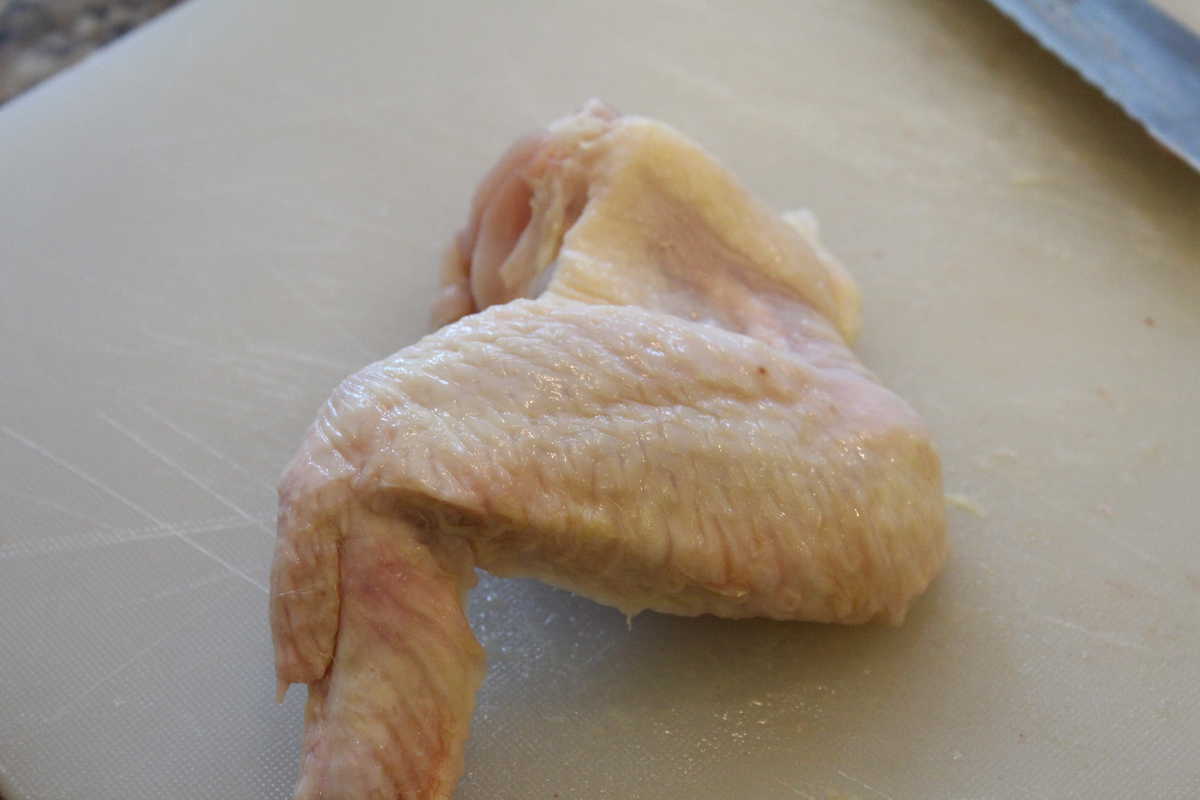 Start by placing your chicken wing (whole) on a cutting board.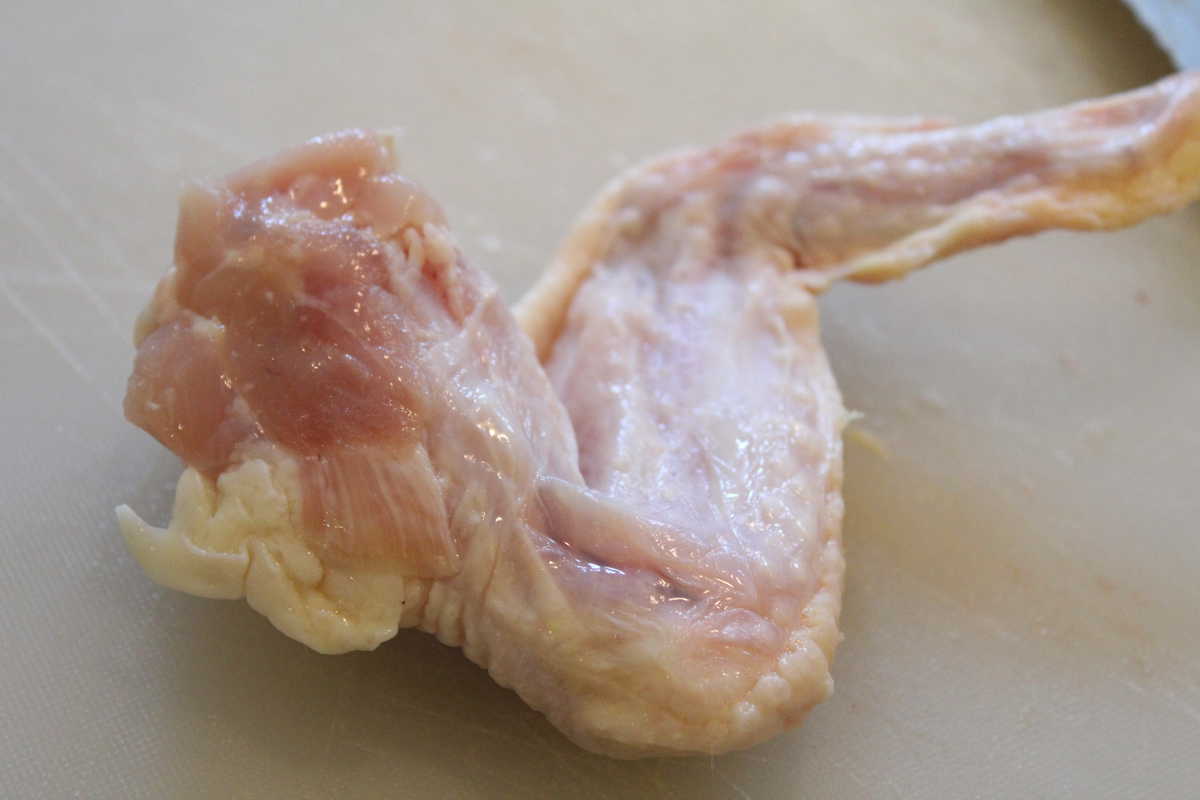 Then find the bone in the middle; it will make a clean cut.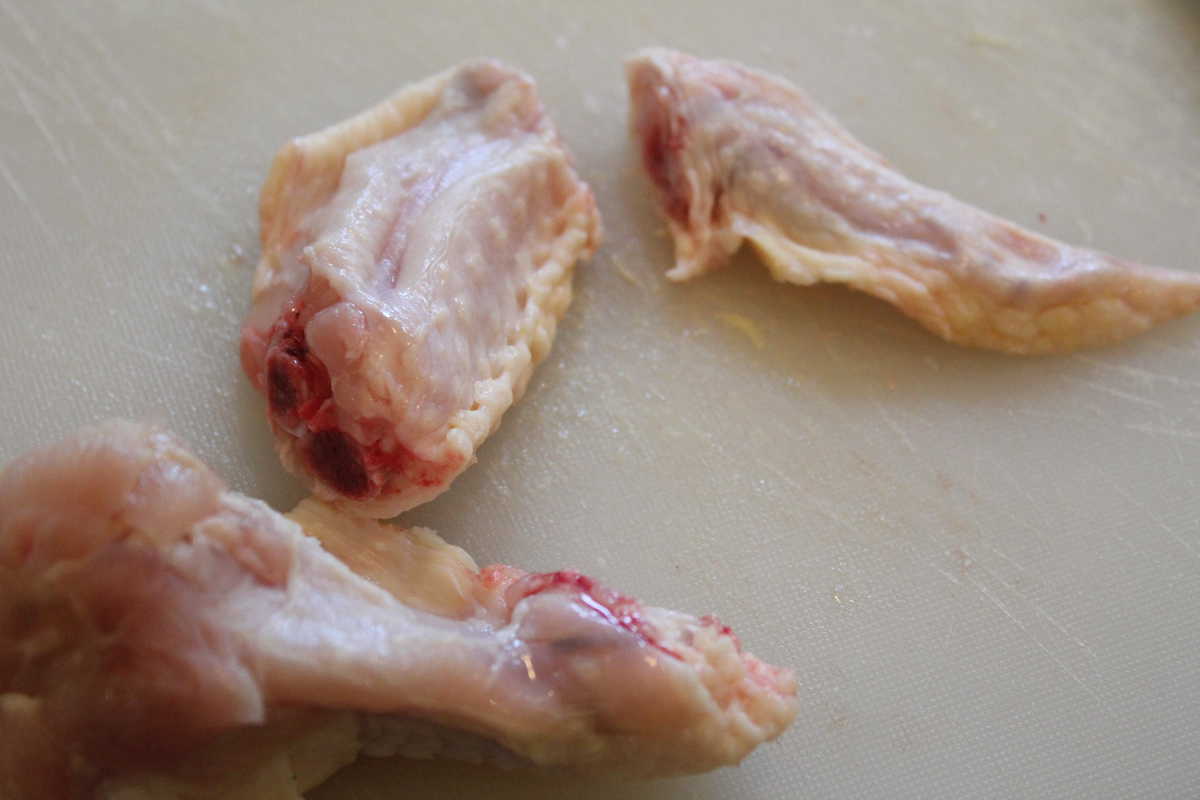 After you make your cuts, you make three in total.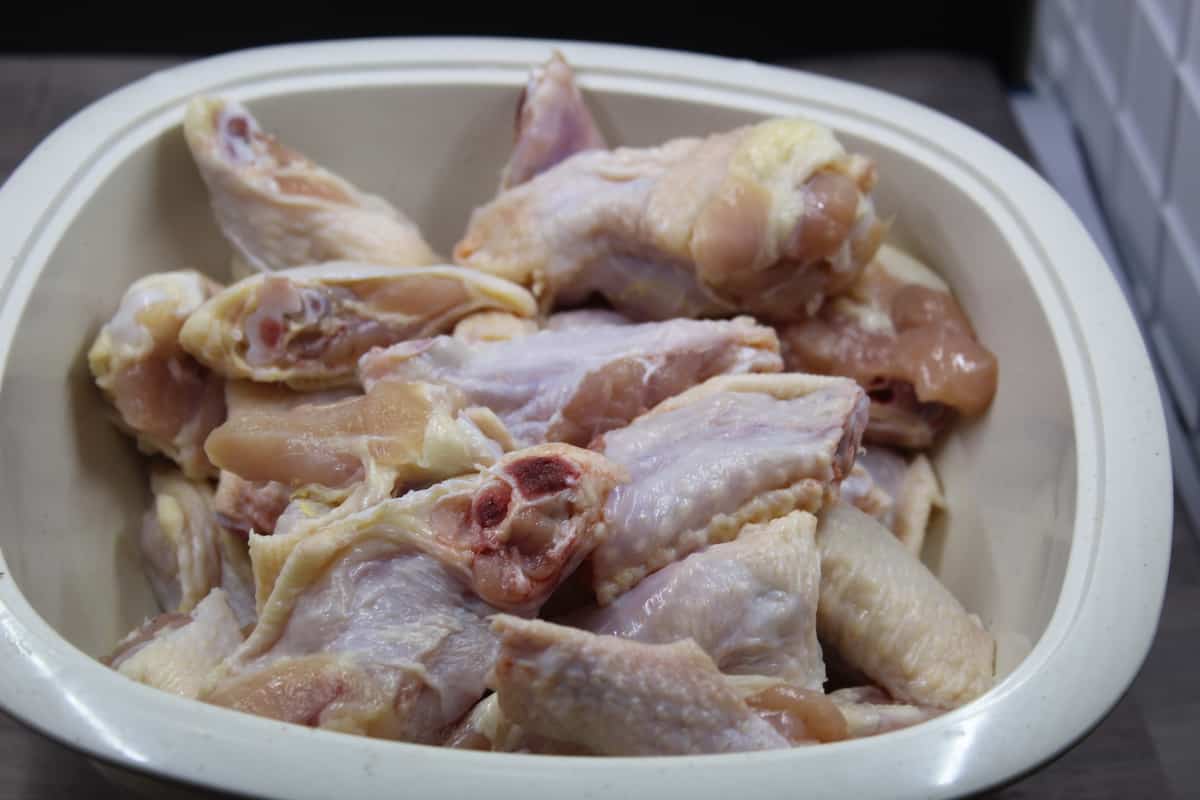 I sorted the wings into those for the air fryer.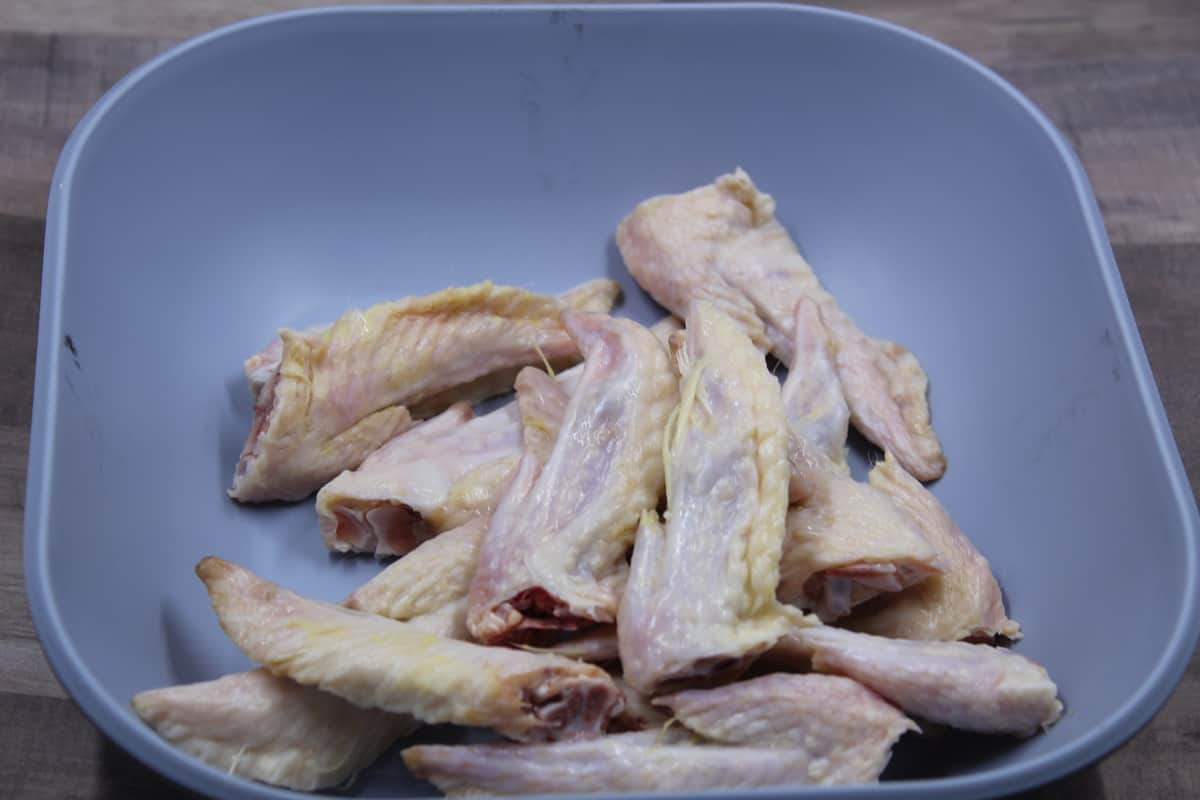 These will go into the Instant Pot Chicken Broth.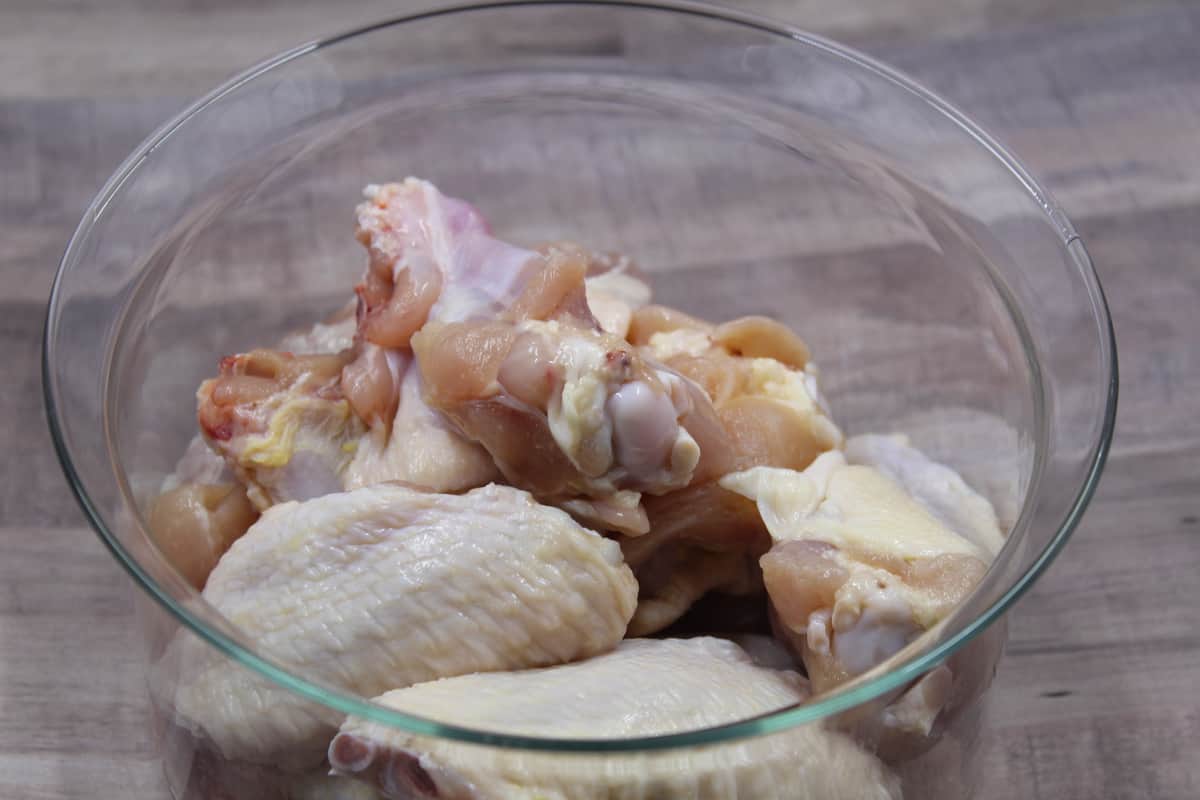 I sorted them into smaller batches for flavoring.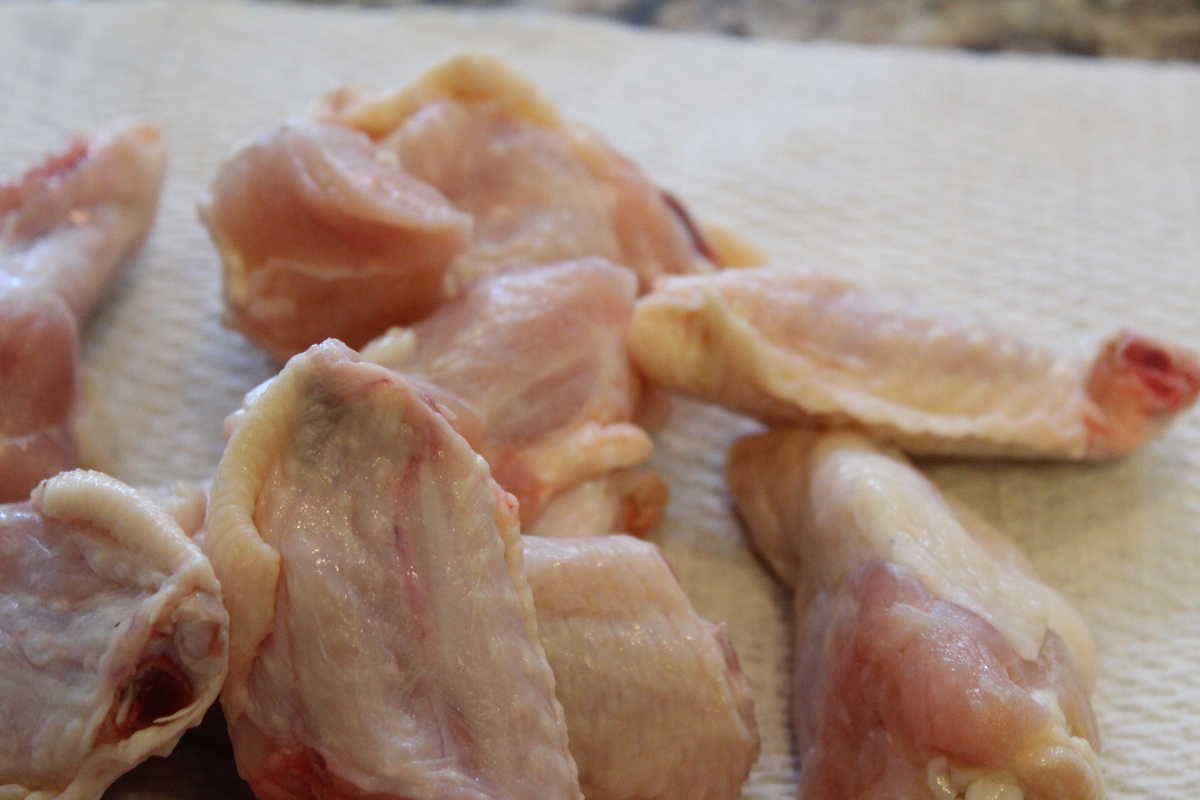 Dry them off with a paper towel. They will make the coating stick better.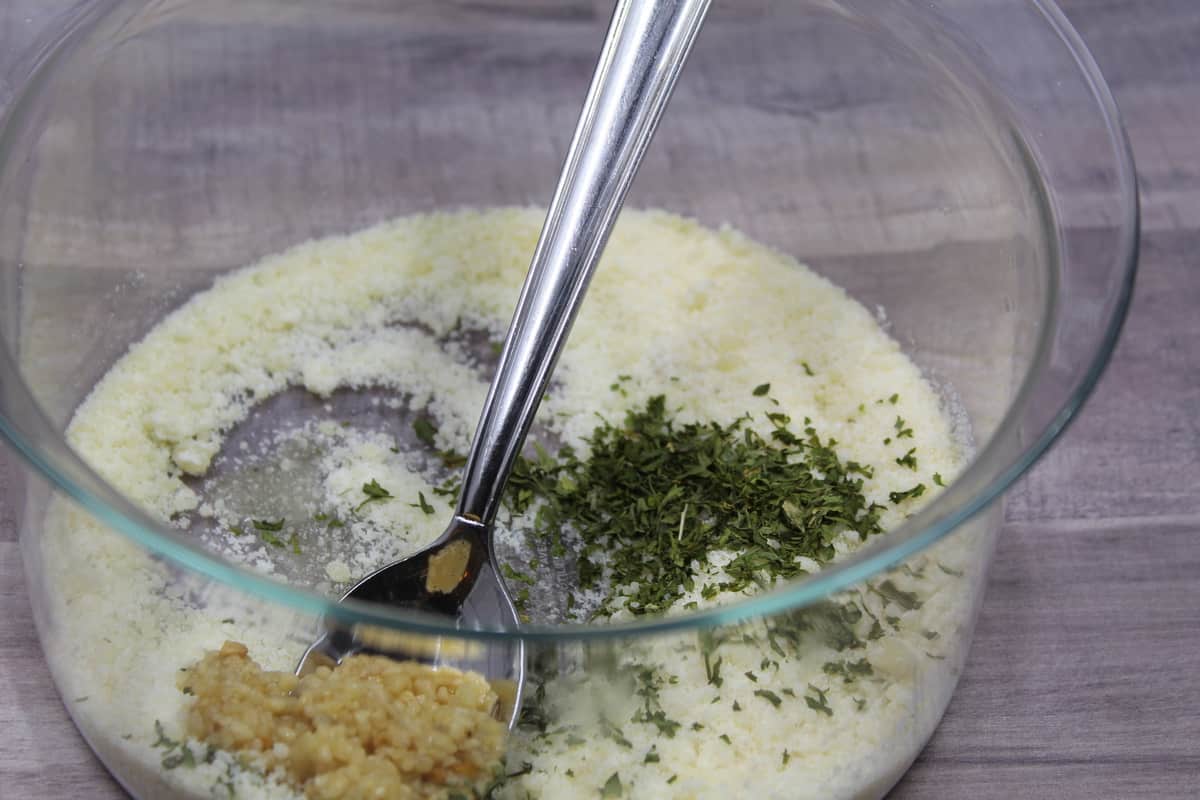 In a small bowl, mix the Parmesan cheese, garlic, and parsley.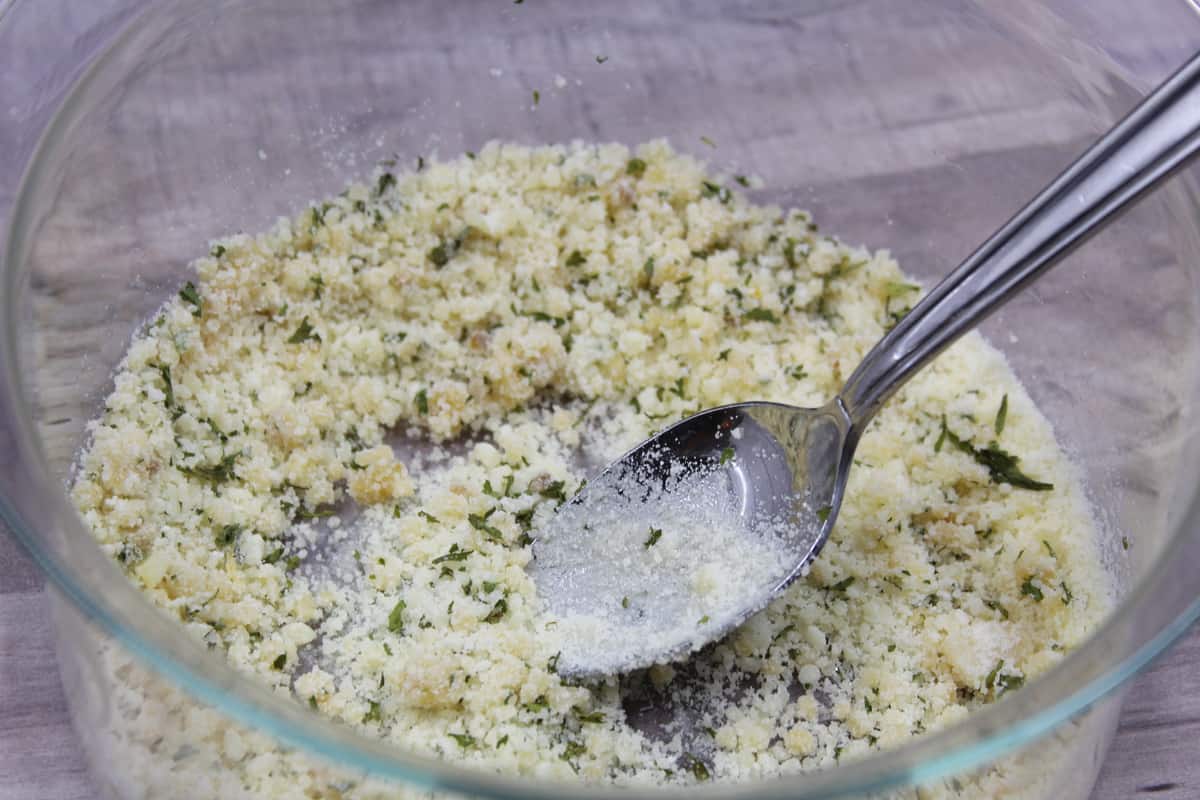 Mix well.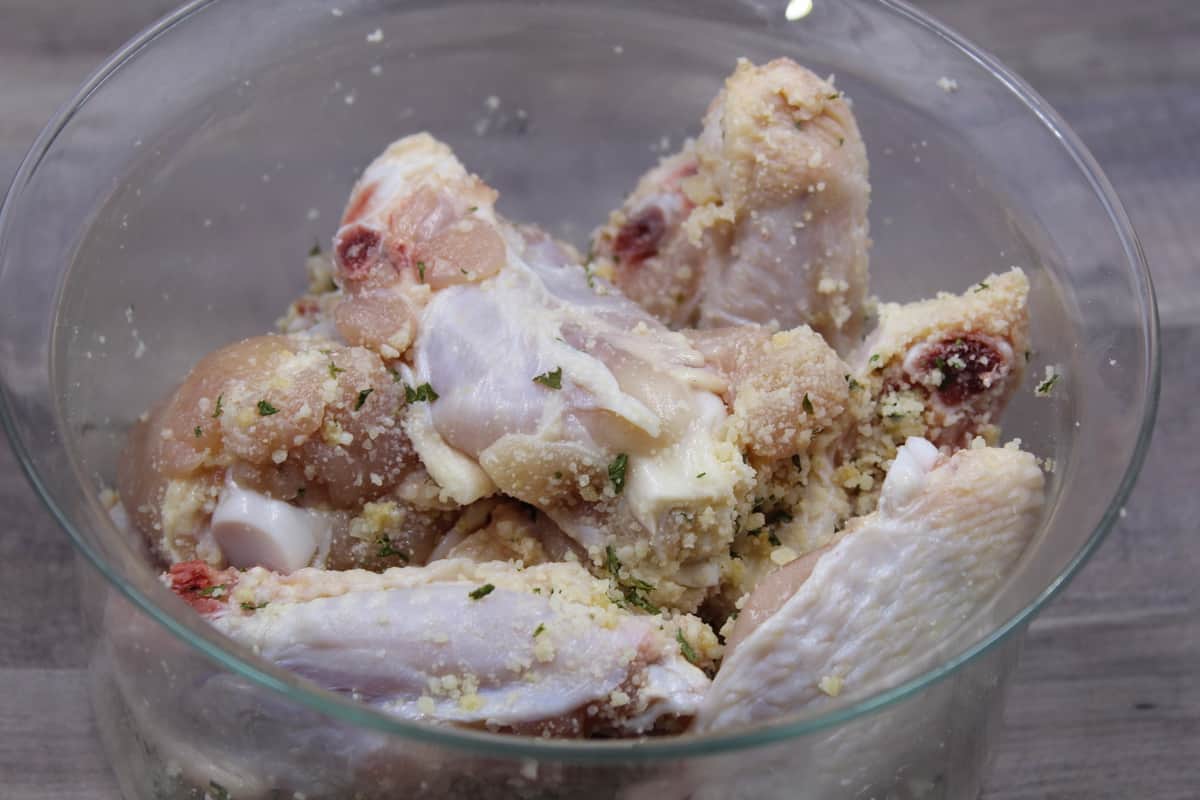 Toss the chicken wings into the coating.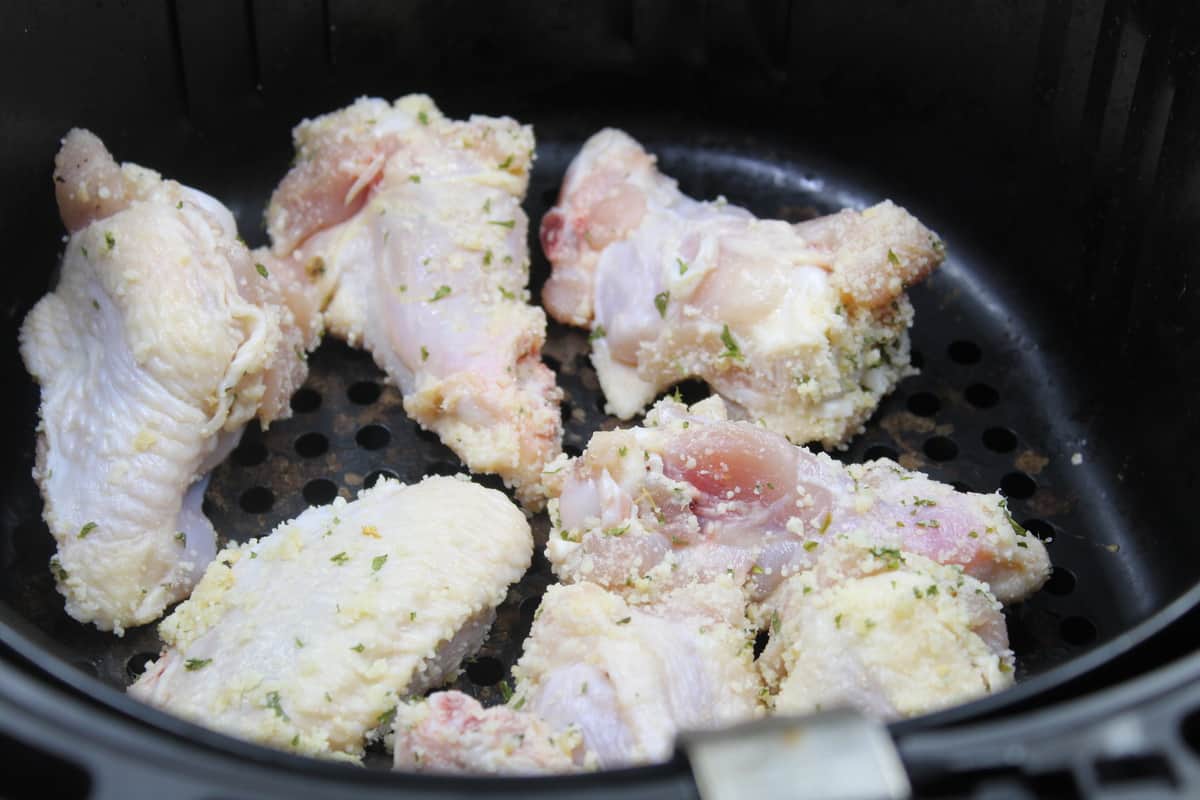 As you coat the wings, add them to your air fryer basket. Single-layer and spray with cooking spray. After 12 minutes, flip the chicken wings and do another 12 minutes.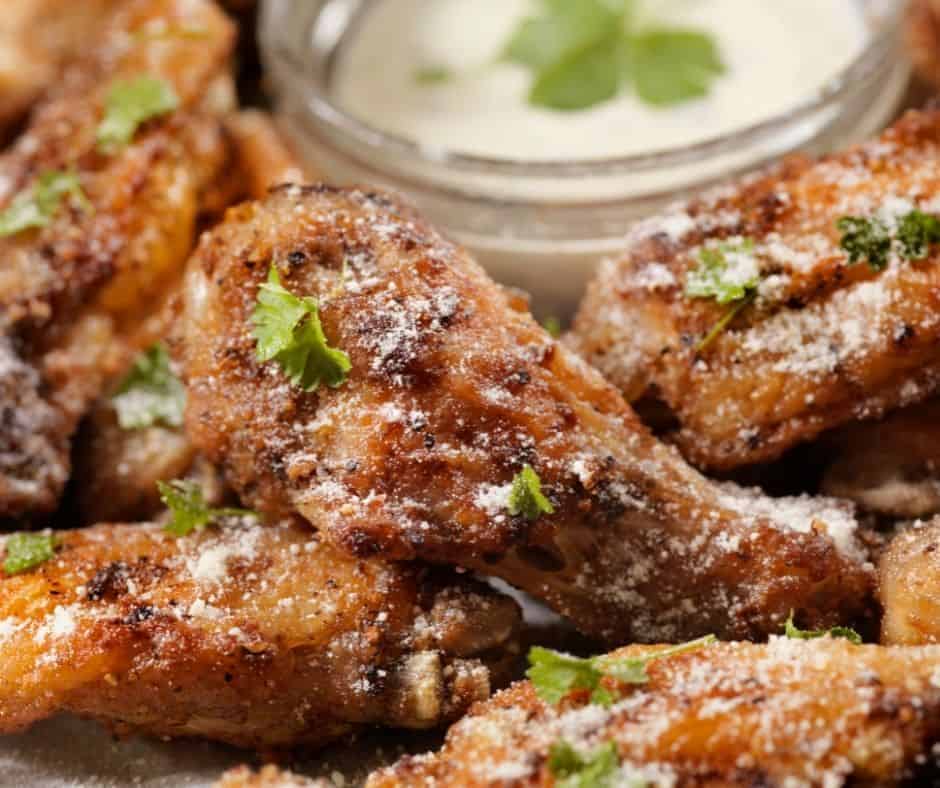 Are Air Fryer Chicken Wings Good
Due to the chicken wings' fat, you will find they cook up perfectly in the air fryer. It gives the skins a nice crispy texture with juicy chicken on the inside. That is why if you are a fan of chicken wings, air frying is a must-try method of cooking!
How to Know When Chicken Wings Are Fully Cooked
The chicken needs to reach 165 degrees internal temperature. One thing is, if you use a meat thermometer, make sure that you don't touch a bone. If you touch the bone of the wing, it will give you a false reading.
Also, the chicken's juice will run clear once the chicken is done, and there will be no pink on the meat.
Want More Easy Air Fryer Recipes
Air Fryer Bang Bang Chicken

| Here is one of my favorites. You have a fully seasoned chicken that is smothered in bang bang sauce.

Fingerling Potatoes

| If you enjoy a spud recipe, give this fingerling potatoes recipe a try. This recipe is one of my favorites. Pair with a burger, chicken fingers, meatloaf, etc.

Fish Sticks

| If you enjoy seafood, give this fish stick recipe a try. It is a great way to get the crunchy coating you know and love with your fish.
Some Helpful Products Used In Making, Air Fryer Garlic Parmesan Chicken Wings–
Disclosure: Some of the links below are affiliate links. At no cost to you, I will earn a commission if you click through and make a purchase.
GDEALER DT09 Waterproof Digital Instant Read Meat Thermometer with 4.6" Folding Probe Calibration Function for Cooking Food Candy, BBQ Grill, Smokers
Instant Vortex Air Fryer 4 in 1, Best Fries Ever, Roast, Bake, Reheat, 6 Qt, 1700W
Don't Forget To Pin,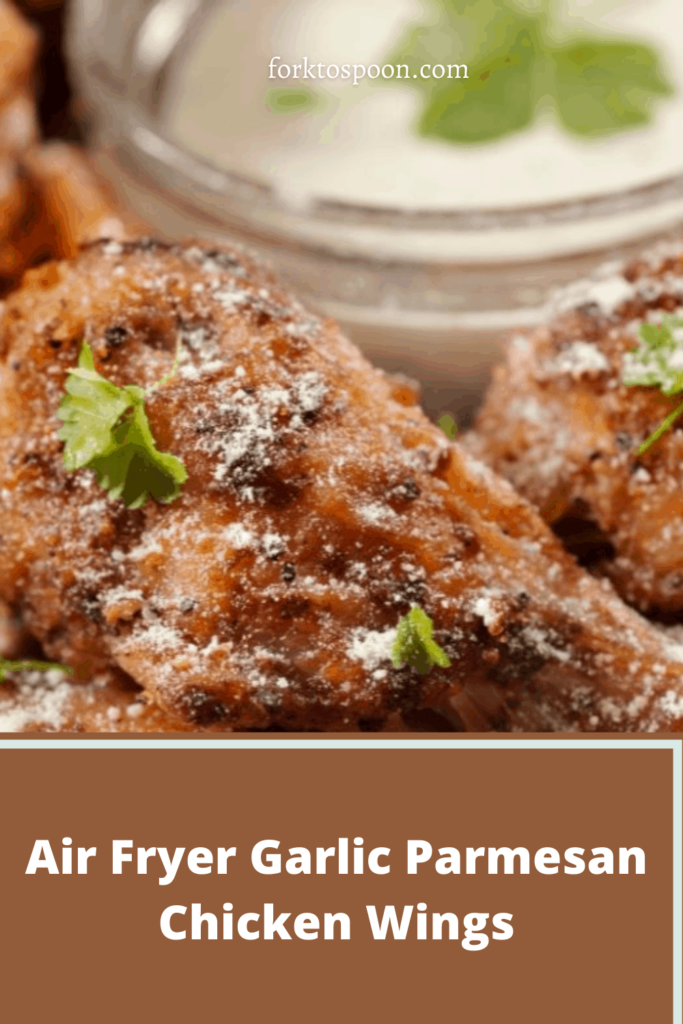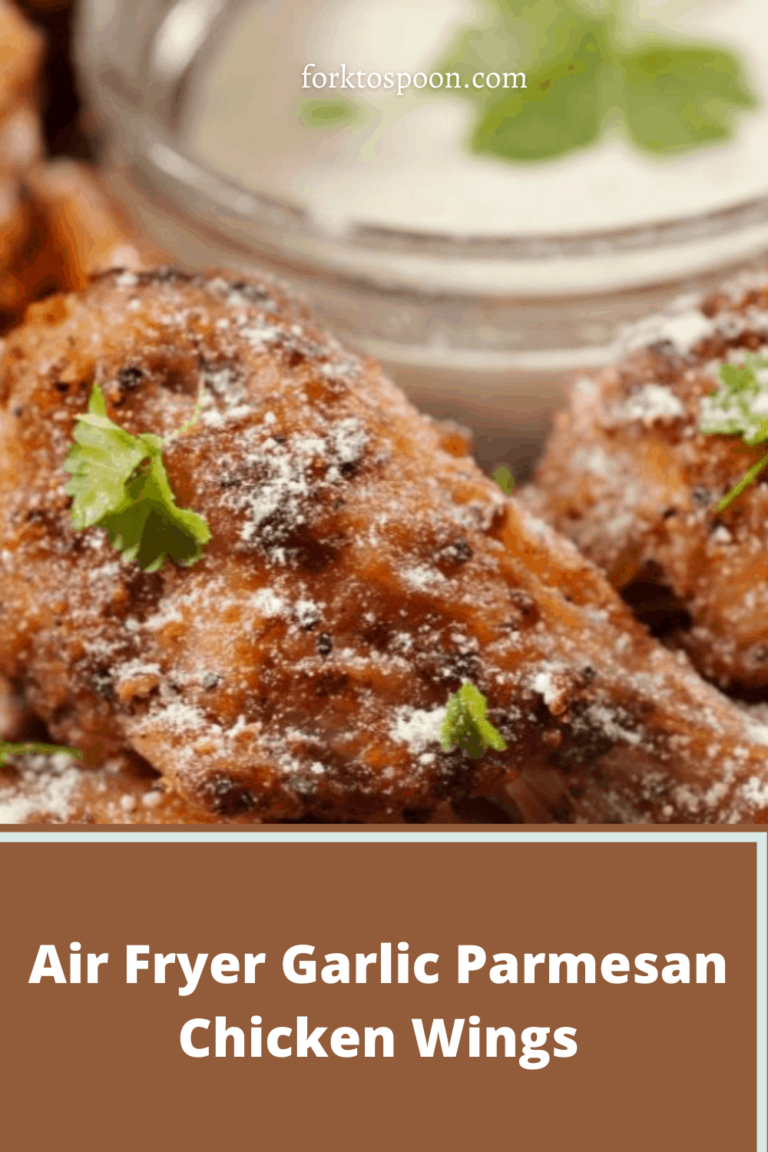 Yield: 4 Servings
Air Fryer Garlic Parmesan Chicken Wings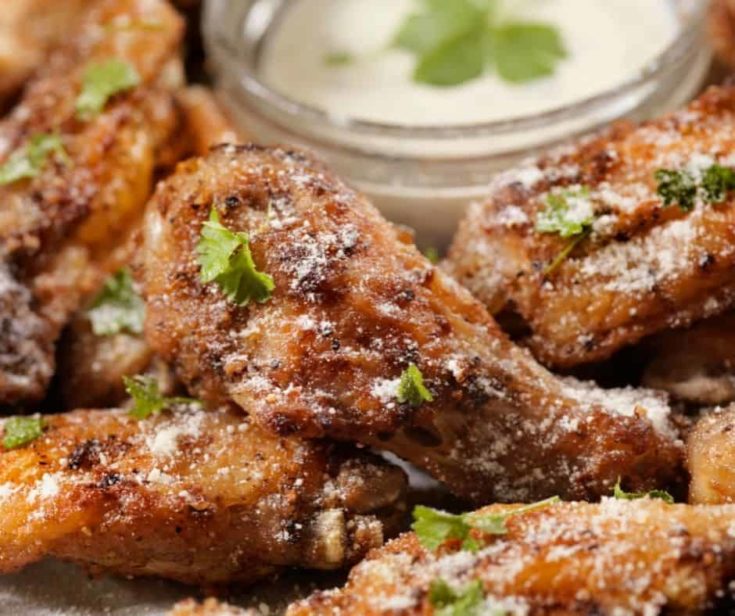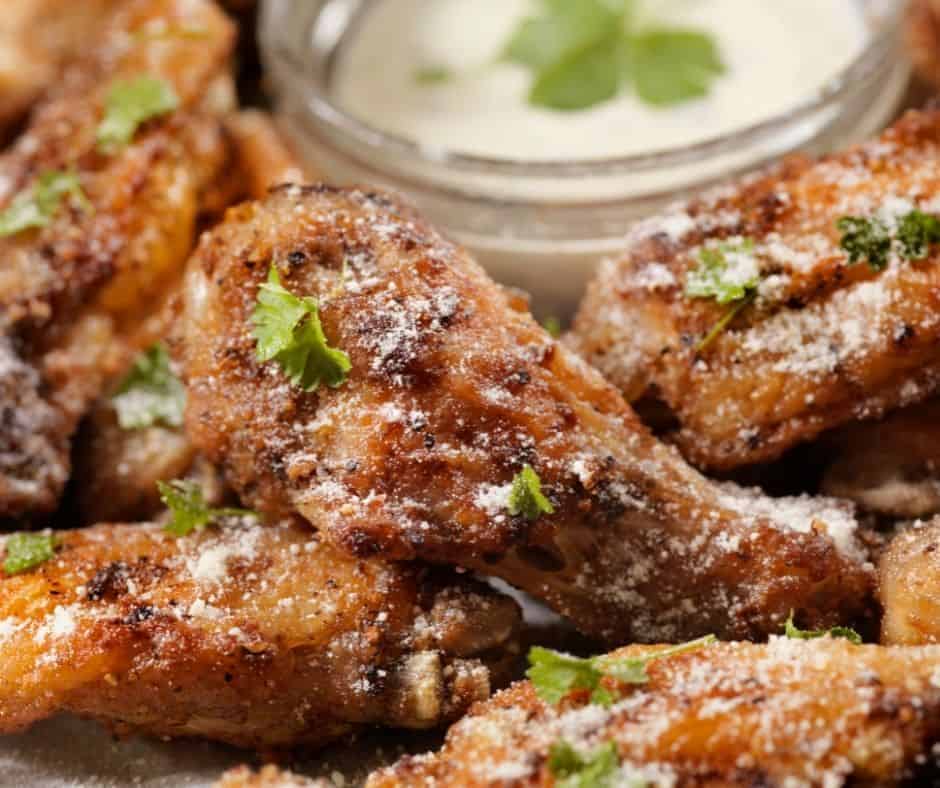 This is one of the easiest and tastiest recipes that you can make in the air fryer. This recipe is so easy, and it is one of my favorites, a simple Air Fryer Garlic Parmesan Chicken Wings Recipe!
Ingredients
Chicken Wings:
2 pounds of chicken wings
Garlic Parmesan Sauce:
3/4 cup grated Parmesan cheese
2 tablespoons minced garlic
1 teaspoon parsley
1 teaspoon salt
1/4 teaspoon pepper
Instructions
Preheat the air fryer to 400°F, air fryer setting.
Meanwhile, mix the cheese, garlic, parsley, salt, and pepper in a small bowl. Then toss the wings in the coating.
Place about half of the chicken wings in the fry basket and insert it into the air fryer. (You do not want the chicken wings to be crowded)
Cook until the skin is browned and crisp, 26 to 28 minutes. I usually set the timer for 12 minutes, open it up, flip the chicken wings, and set it for another 12 minutes. This is a great way to make sure that all sides are cooked and not burnt on one side.
Repeat with all the wings until you are done with the batch.
Plate, serve and enjoy!
Nutrition Information:
Yield:
4
Serving Size:
1
Amount Per Serving:
Calories:

828
Total Fat:

60g
Saturated Fat:

22g
Trans Fat:

1g
Unsaturated Fat:

32g
Cholesterol:

202mg
Sodium:

1759mg
Carbohydrates:

26g
Fiber:

1g
Sugar:

1g
Protein:

44g
ForkToSpoon.com occasionally offers nutritional information for recipes contained on this site. This information is provided as a courtesy and is an estimate only. This information comes from online calculators. Although we try to attempt to provide accurate nutritional information, these figures are only estimates.