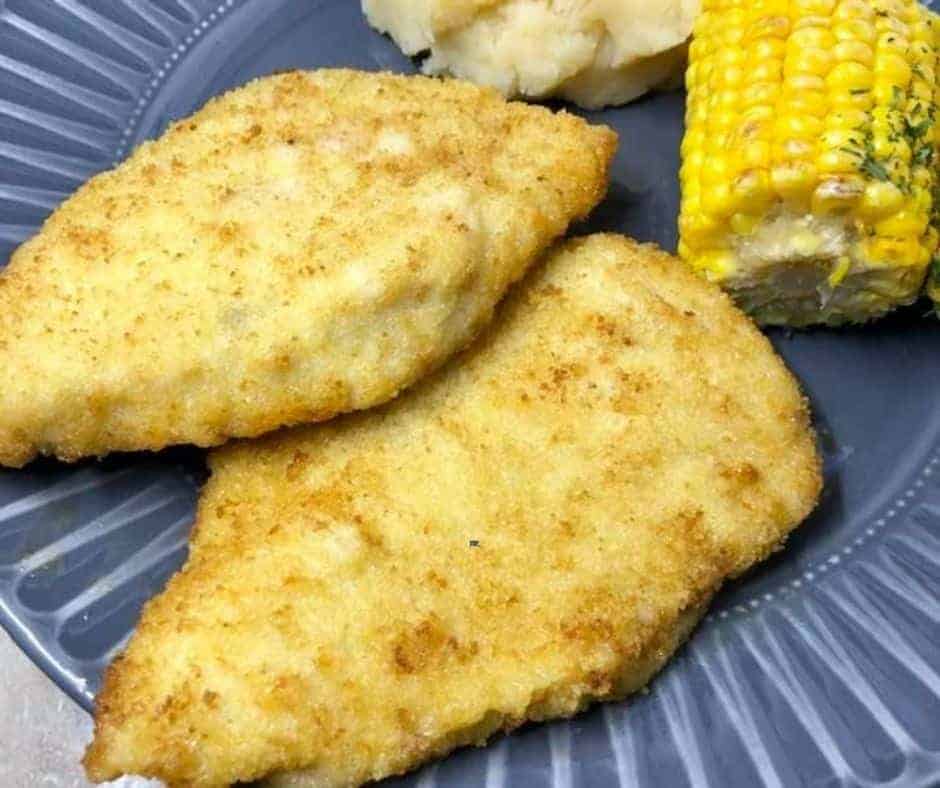 Air Fryer Breaded Chicken Cutlets-6 ingredients are all it takes to make this air fryer breaded chicken! If you are looking for a tasty and easy way to whip up breaded chicken for any night of the week. Or whip this up for a tasty lunch paired with some cucumber and onions, chips, or crunchy fries.
Here is a great recipe, which is a twist on a basic air fried chicken dish, last year, I used the grill to make this chicken dish, and my kids loved it so, I decided to try it in the air fryer.
Air Fryer Breaded Chicken
The sauce adds a great flavor to the chicken, along with the rub. My kids love it because it reminds them of chicken orange chicken, but better because they can have it at home. This chicken is moist, flavorful, and has a great texture as well. My entire family ate it, and it can be made ahead of time. Just cover it with aluminum foil and keep it in the refrigerator until ready to eat.
I purchased our air fryer last April, and then I purchased another air fryer in December, yet I just ordered another one this week. It has quickly become one of our favorite kitchen appliances, and it replaced my oven. The other day, I was dusting my oven, and I thought, when was the last time I used this?
The air fryer is nice and light, and with very little oil, you too can get healthy, crisped dinners (chicken, etc.). And, it saves you a ton of time because it doesn't require you to wait for the oven to preheat, and the dishes quickly cook, compared to the oven.
Can I Use Panko Instead Of Plain Breadcrumbs
Go right ahead and reach for Panko to bread your chicken if you want a bit of a crunchier texture. This is a delicious and easy way to bread chicken and an air fryer to offer a similar flavor to a deep-fried chicken sandwich.
Here are some tips for air frying chicken:
Seasoning your chicken is important.
Most chicken dishes can be rubbed and then set into the refrigerator ahead of time. So,
when you come home from work/errands/kids, etc., you can place it in the air fryer,
spray it with olive oil spray and an air fryer.
Spraying the chicken with olive oil spray is one of the keys. I spray the heck out of, and
I always get no white spots and tender (way juicy) chicken.
Always flip the chicken halfway, and then spray again. This way, both sides are nice, light
and tender.
Because eating uncooked chicken is unhealthy and can you sick, invest in a meat
thermometer.
Why Didn't My Chicken Brown Up

If you are struggling to get your chicken browned on the outside, reach for some oil. Spritz the outside of your chicken, and the breading will begin to brown up in the air fryer.
Don't use a cooking spray as that can eat away the lining of the basket or trays.
Does This Recipe Double Well
You are more than welcome to double the recipe if you need to. Just batch cook your chicken and then repeat the steps until all your chicken is fully cooked. Place your chicken in a single layer on a baking tray and place in the oven at 200 degrees. This will help keep the chicken warm as you finish up the rest of the breaded chicken.
Why Do You Have to Flip Chicken Halfway Through
I recommend flipping your chicken in the air fryer so you get an even cook on your breaded chicken. Just as you would if you were pan-frying, you need to flip part of the way through to ensure the chicken is golden and fully cooked on both sides.
Also, make sure that you use a meat thermometer to ensure the chicken gets fully cooked. The internal temperature needs to reach 165 degrees internal temperature.
What To Serve With Breaded Chicken
Instant Pot Knorrs Rice
Air Fryer Corn on the Cob
Air Fryer Green Beans
Easy Air Fryer Roasted Carrots
Greek Salad
Pasta Salad
Can I Adjust The Breading Flavor
If you want, add in some seasoning with your breadcrumbs to help add flavor to your chicken. Go simple and reach for salt, pepper, garlic, onion. Or do a cajun spice for added flavor. Whip up what you want, and then enjoy!
Can You Freeze Breaded Chicken Patties
Once your chicken is fully cooled, place it on a cooling rack or tray to cool down. Once the chicken is cooled, you can transfer it to an airtight container or freezer bag to freeze. If you are stacking, you can place parchment paper between layers to prevent the chicken patties from sticking together.
All you have to do is reheat from frozen in the oven or air fryer or microwave. This is a fantastic recipe to whip up and then freeze for quick lunches or dinner down the line.
DON'T FORGET TO PIN–
Print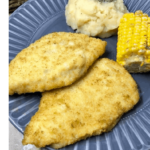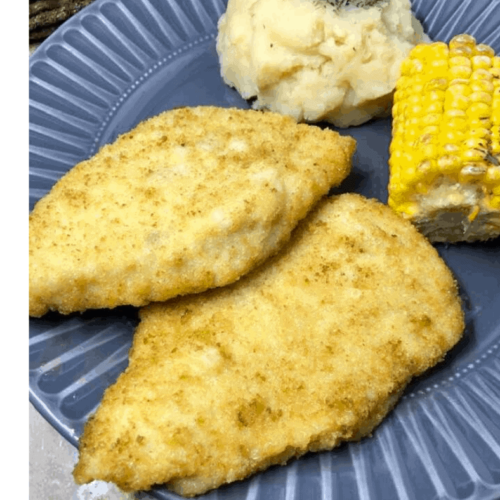 Air Fryer Breaded Chicken Cutlets
Author:

ForkToSpoon.com

Prep Time:

5

Cook Time:

20

Total Time:

25

Yield:

2

servings

1

x

Category:

Main Dish, Chicken

Method:

Air Fryer

Cuisine:

American
---
Description
A straightforward and simple recipe for homemade bread chicken cutlets.
---
2

boneless, skinless chicken breasts

3/4 cup

bread crumbs

1 teaspoon

salt

1/2 teaspoon

black pepper

1

egg

1/2 cup

flour
---
Instructions
In one bowl, add the bread crumbs, salt, and pepper.
Then in another bowl, place the egg, and whisk it until it's frothy.
Then in the third bowl, place the flour.
Then coat the chicken breasts in the flour, then the egg, and finally the bread crumbs. As you coat them, place them on a greased air fryer tray or in the air fryer basket.
Set the temperature to 370 degrees F (air fryer setting) for 7 minutes. After 7 minutes, flip the chicken, and spray generously with olive oil. Check the chicken's internal temperature, which should reach 165 degrees F. If you need more time, add another 4 minutes. Recheck with the meat thermometer.
Plate, serve and enjoy!
---
Keywords: air fryer chicken tenders no breading air fryer chicken breast no breading air fryer boneless chicken breast recipe air fryer fried chicken breast how long to air fry chicken breast air fryer chicken recipes no breading air fryer bone in chicken breast air fryer chicken tenders healthy