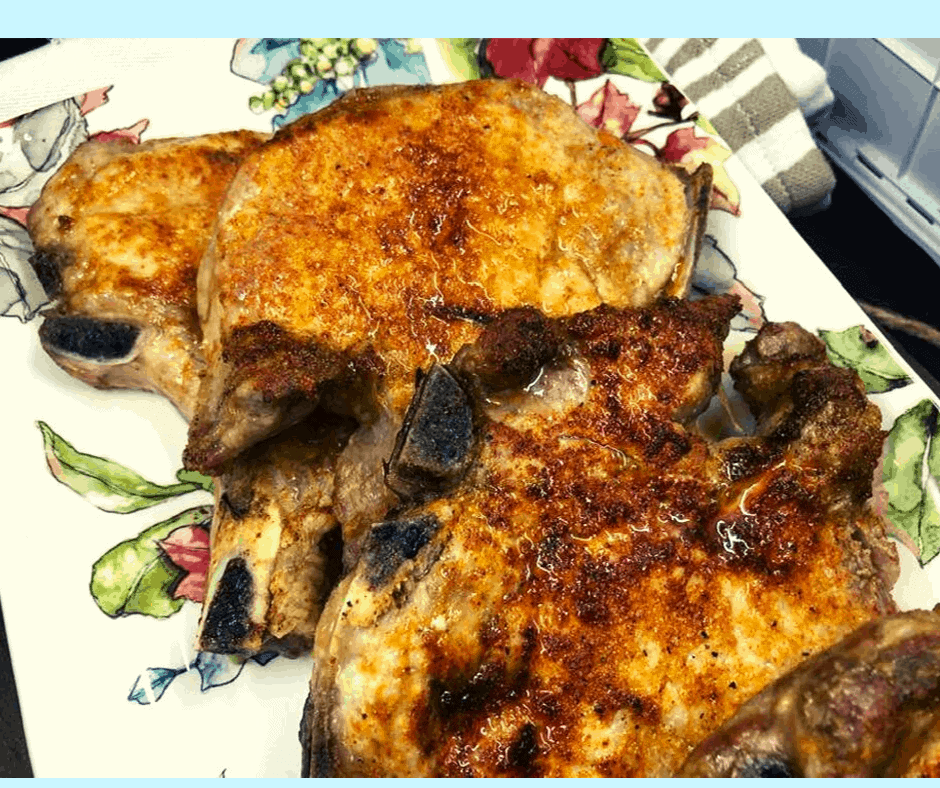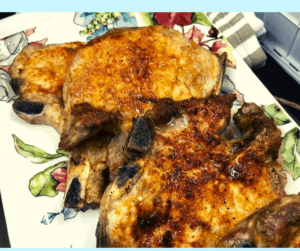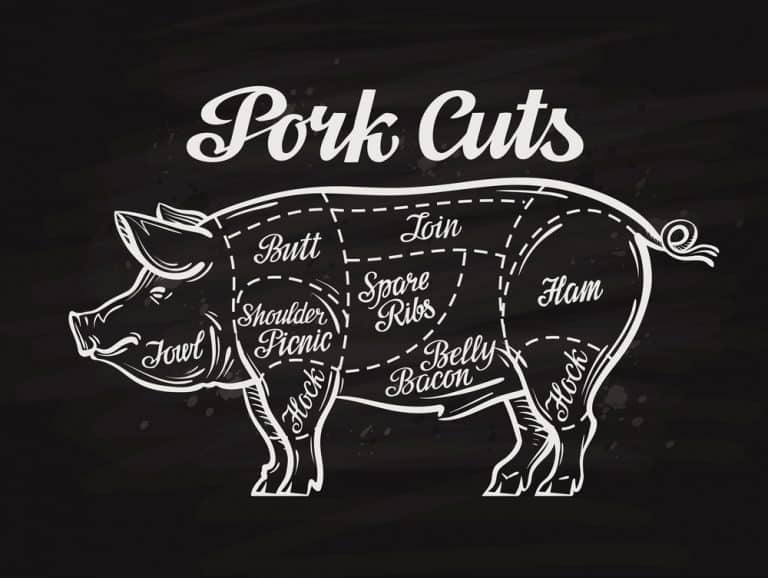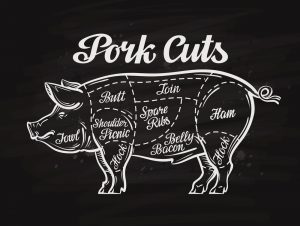 What Are Pork Chops?
All pork chops come from the loin part of the pig.  This piece of meat, as you can see from the picture above, runs from the butt of the pig to the ham part of the big. The most common meat that you will see in the meat aisle of your local grocery store is pork chops or pork loins. Increased in popularity over the past few years, you will also see a pork tenderloin. Here are some tips for Air Fryer Pork Chops.
Some Different Types of Pork Chops Available At Your Local Grocery Store–
As you start to really analyze the different choices of meat in your grocery case, you will start to realize that there is actually more than one type of "Pork Chop."
A. Porterhouse Pork Chops:  This piece of meat, actually has two sides. On one side is the bone and on the other side is the pork tenderloin. The bone adds a ton of flavor.
B. Ribeye Pork Chops:  These come from the rib portion of the loin. There is usually a large bone in the center of the meat, this is very similar to Ribeye Steaks.
C.  Sirloin Pork Chops:  This really comes from the loin part of the pig.
D. New York Pork Chops:  These are usually referred to as Center Cut Chops.  These are boneless chops, they are above the loin chops.
E. Blade Chops:   This piece of meat actually comes from the shoulder blade and has the fattest content, than any other the pork chops listed here.
Tips For Making Perfect Pork Chops:
Air Fry Your Meat at Room Temperature. Take the pork chops out of the refrigerator, for at least 30 minutes before you air fry them. This will ensure that you get juicy pork chops every time.
Generously season the pork chops with salt and pepper, and your favorite spice blend.  As soon, as you take your pork chops out of the refrigerator, give them a generous seasoning with salt. The salt helps to enhance the flavor and texture of the pork chops. If you have extra time, brine them, which greatly enhances the flavor of the pork chop dish, you are cooking. I greatly encourage everyone to use their favorite seasonings in any pork dish you are making.
When Are Pork Chops Done?
The USDA recommends that all pork chops, pork loins, pork roasts, and tenderloins are cooked to 145 degrees F. So, grab your handy thermometer. And remember all air fryers cook at different times and the real factor in any pork chop dish is how thick they are, obviously thicker chops will need more cooking time, than thinner chops.
Other Air Fryer Perfect Pork Chops Recipes–
Don't Forget to Pin, Air Fryer Pork Chops–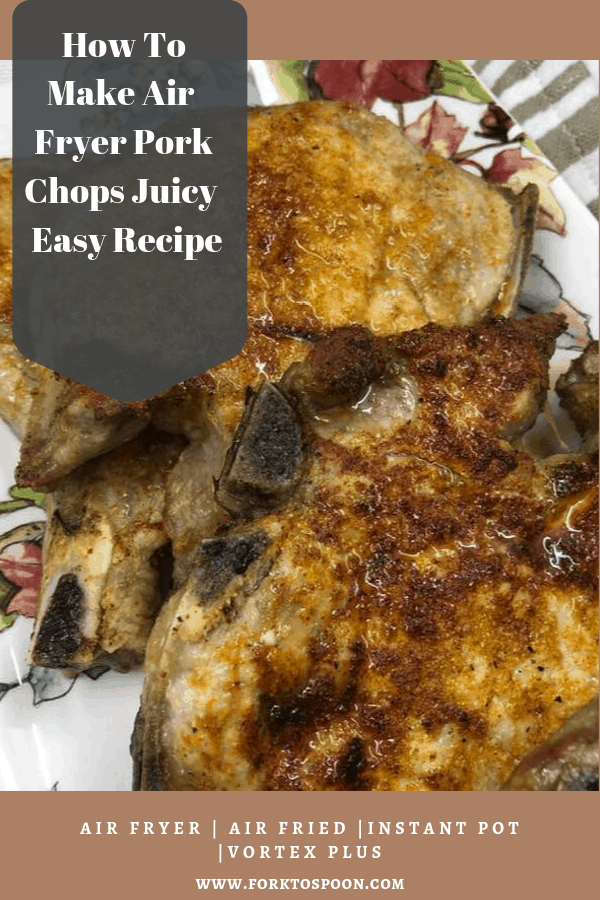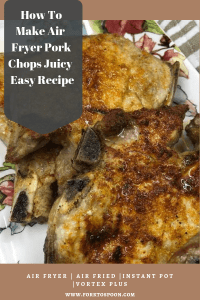 HERE ARE SOME HELPFUL PRODUCTS IN MAKING Air Fryer Pork Chops–
Print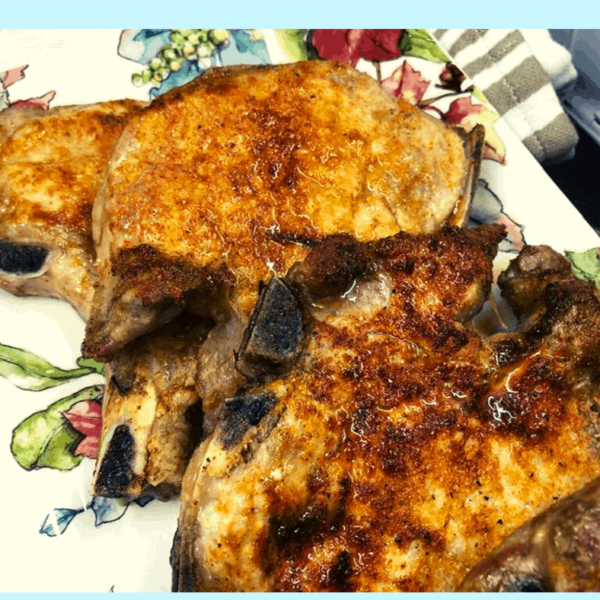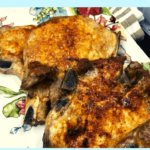 How To Make Air Fryer Pork Chops Juicy and Easy Recipe
Author:

ForkToSpoon.com

Prep Time:

5 minutes

Cook Time:

14 minutes

Total Time:

19 minutes

Yield:

4

servings

1

x

Category:

Dinner

Cuisine:

Pork
---
Description
These are so moist and juicy, my kids absolutely love these. I love that they are so easy to make and I don't have to watch them. Just a few spices and you have a great and tasty meal in front of you. Note the exact cooking time will, of course, depend on how thick your pork chops are.
---
4

6 ounce pork chops

2 tablespoons

olive oil

2 teaspoon

salt

1 teaspoon

black pepper

2 tablespoon

garlic salt

1 teaspoon

smoked paprika (to taste)
---
Instructions
Start by mixing the salt, black pepper, garlic salt and paprika in a small bowl.
Then rub olive oil over the pork chops, both sides.

Then rub herbs all over the pork chops, both side.

As you rub them in olive oil and rub the spices on them, place them in either an air fryer basket or on an air fryer tray. (Both should be sprayed with olive oil or non-cooking spray)

Set in the middle rack or in the basket and set the temperature for 380 degrees F, for 7 minutes, after 7 minutes flip the pork chops and air fry for another 7 minutes.
Note: The exact cooking time will depend on the thickness of the pork chops, so, therefore, check with a meat thermometer and look for a reading of at least 145 degrees F.
Plate, serve and enjoy!

---