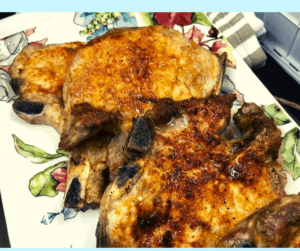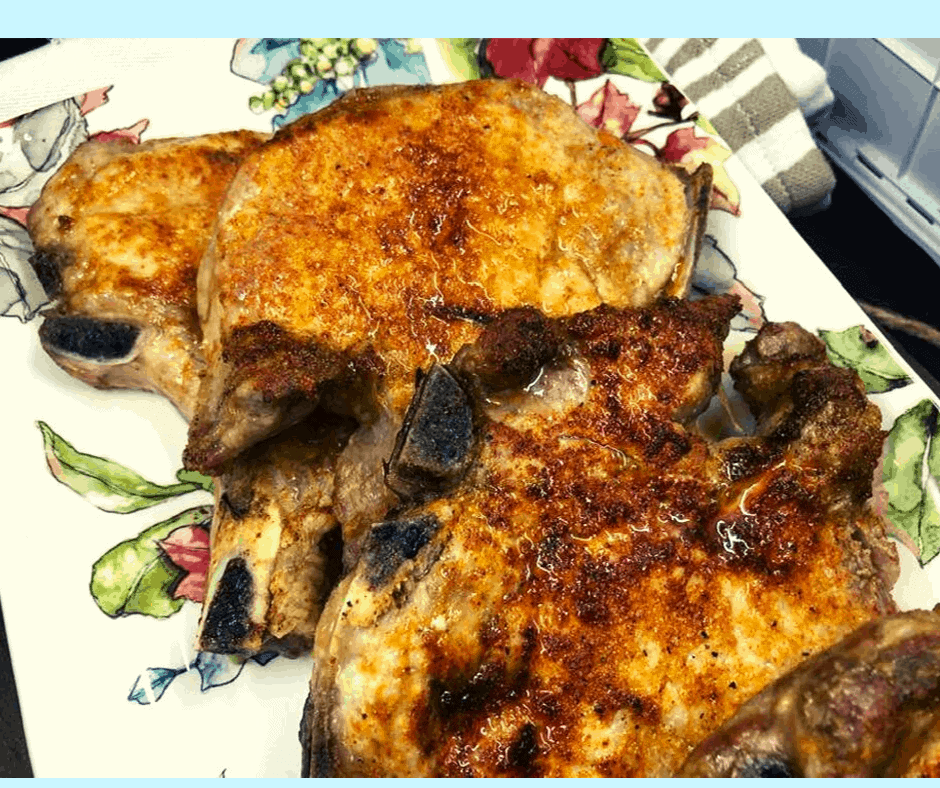 So, easy and so delicious, one of the best recipes for Air Fryer Pork Chops.
Air Fryer-Air Fried-Pork Chops How To Make Air Fryer Pork Chops Juicy and Easy Recipe!!
Your family will love you for making these delicious Pork Chops. This recipe is one of the best pork chops recipes I've ever had the privilege of making. They are super juicy and tender thanks to the air fryer.
Pin this recipe, because you will be sure to make this part of your this weekly menu plan. It is one of the most delicious ways to make pork chops in the air fryer.
No matter, what pork chop you have chosen at the store, it is very important to realize that all pork chops cook at the same time. The thickness of the pork chop (no matter what the variety) determines the cooking time. The most common thickness of pork chops are from 1 inch to 2 inches thick.  When you are using an air fryer, the most important thing to remember is to flip them halfway, so they cook evenly.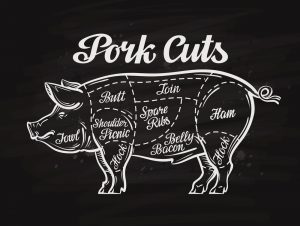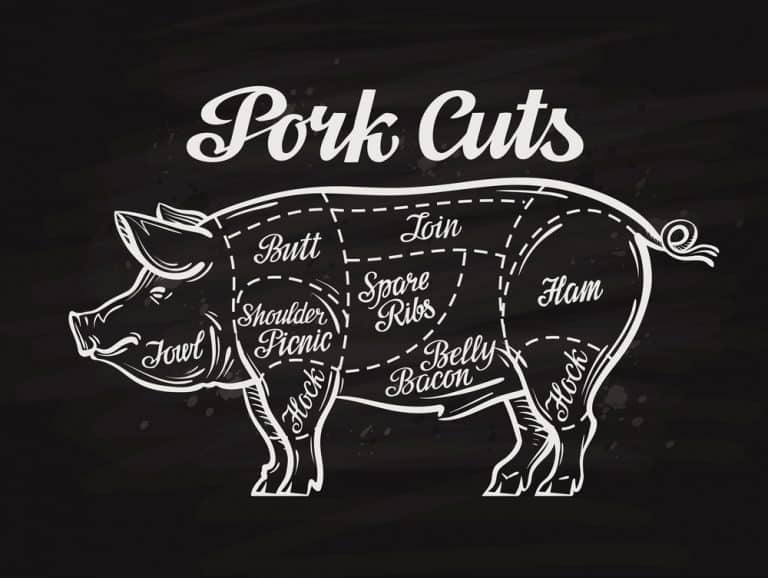 All pork chops come from the loin, this runs from the hip to the shoulder and contains a small strip of meat, that is in the center of the loin,  called the tenderloins. You can usually find the tenderloins at the supermarket, pre-seasoned and marinaded.
The most common parts of the pig that are sold in your local grocery store are from the rib section and the loin.
Did You Know That There are Several Different Types of Pork Chops?
There are several different types of pork chops, at your local grocery store.
A. Porterhouse Pork Chops:  This portion of pork is a bone-in pork chop with pork loin on one side of the T-Bone and the pork tenderloin on the other side.  These chops are usually about 1 inch thick, but you are some times lucky enough to find 2-inch pork chops.
B. Ribeye Pork Chops: These are the center of the loin. These are the boneless pork chops, they are almost like pork loin chops.  The cut comes directly from the rib area of the loin, next to the blade chop.
C.  Sirloin Pork Chops:  This is a cheaper piece of meat that has some hip and backbone, it has more bones than the other chops.
D. New York Pork Chops:  These are usually referred to as Center Cut Chops.  These are boneless chops, they are above the loin chops.
E. Blade Chops:   This cut comes from the shoulder, the meat on the blade chop is darker than the other chops, it also has lots of fat and connective tissues. These are typically sold as pork loin country-style ribs.
Here Are Some Simple Tips For Making Perfect Pork Chops Every Time:
Do Not cook chops straight from the refrigerator. Take the pork chops out of the refrigerator, and let them sit at room temperature for about thirty minutes. This helps the pork cook evenly.
Generously season the pork chops with salt.  As soon, as you take your pork chops out of the refrigerator, give them a generous seasoning with salt. The salt helps to enhance the flavor and texture of the pork chops.
Be Generous with spices and a little bit of flour. To further enhance the flavor of the pork chops, use your favorite spice rub. Mix in a tablespoon of flour, to your spice, as it will create a flavorful crust on your pork chops.
How To Tell When Pork Chops Are Done:
Your pork chops are done when they reach an internal thermometer of 145 degrees F. The time will depend on how thick the pork chops are, you might need to add a few minutes to the cooking times if they are really thick. from the suggested cook times in our recipe below.
It is really important that you do not need raw pork, as you can become ill, by eating raw pork.
Kitchen Items Used: (Note: Affiliate links are included in this post)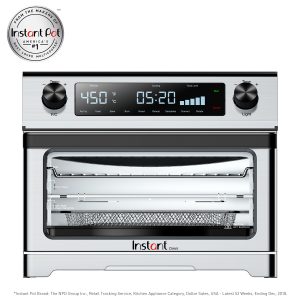 J.A. Henckels 6-Inch High Carbon Stainless Steel Chef's Kitchen Knife
 Stainless Steel Measuring Cups, 5 Piece Set
Hudson Essentials Stainless Steel Measuring Cups Set-6 Piece Stackable Set with Spout
Anchor Glass Measuring Set–This is one of the handiest tools in the Kitchen 
OXO Good Grips 12 Inch Stainless-Steel Locking Tongs
Don't Forget to Pin–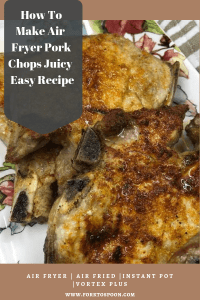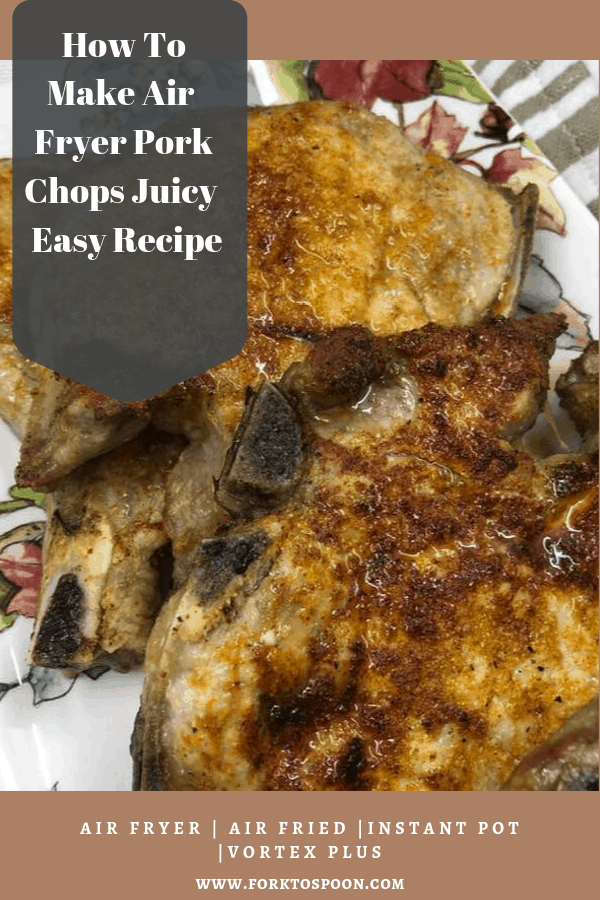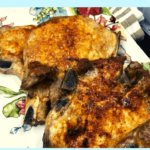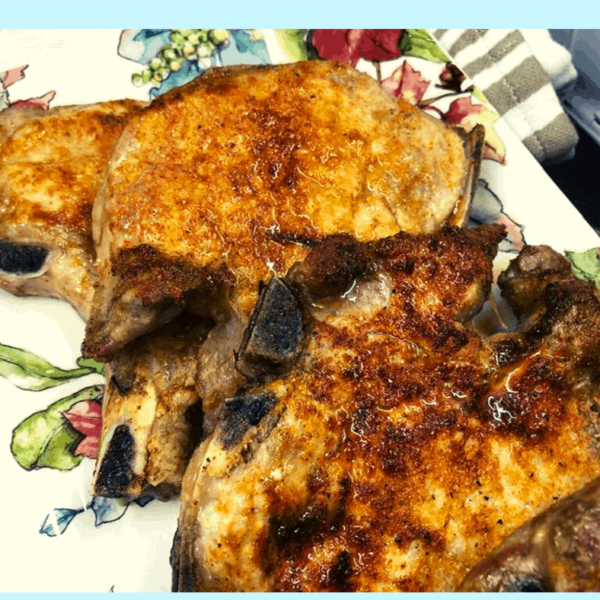 How To Make Air Fryer Pork Chops Juicy and Easy Recipe
These are so moist and juicy, my kids absolutely love these. I love that they are so easy to make and I don't have to watch them. Just a few spices and you have a great and tasty meal in front of you. Note the exact cooking time will, of course, depend on how thick your pork chops are.
Ingredients
4

6 ounce

pork chops

2

tablespoons

olive oil

2

teaspoon

salt

1

teaspoon

black pepper

2

tablespoon

garlic salt

1

teaspoon

smoked paprika (to taste)
Instructions
Start by mixing the salt, black pepper, garlic salt and paprika in a small bowl.

Then rub olive oil over the pork chops, both sides.

Then rub herbs all over the pork chops, both side.

As you rub them in olive oil and rub the spices on them, place them in either an air fryer basket or on an air fryer tray. (Both should be sprayed with olive oil or non-cooking spray)

Set in the middle rack or in the basket and set the temperature for 380 degrees F, for 7 minutes, after 7 minutes flip the pork chops and air fry for another 7 minutes.

Note: The exact cooking time will depend on the thickness of the pork chops, so, therefore, check with a meat thermometer and look for a reading of at least 145 degrees F.