Using an Air Fryer Dehydrator allows you to prepare foods that will last a lot longer. Enjoy flavorful fruits and other foods by dehydrating in an air fryer!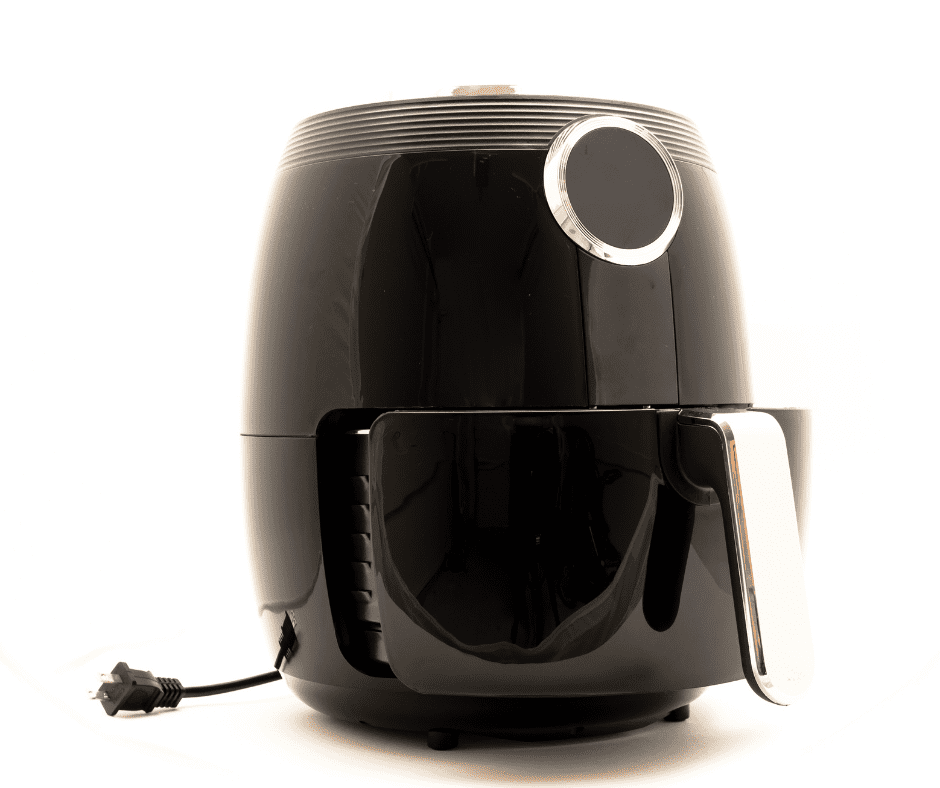 Air Fryer With A Dehydrator
Do you like to cook but don't have a lot of time? Are you looking for a way to cut down on your time in the kitchen? Then it's time to consider dehydrating in an air fryer. It can help you cook your food quickly and easily without sacrificing flavor or nutrition.
Most of us are always looking for ways to make their lives a little easier and their food a little healthier. That's why the dehydrator air fryer combo is the perfect kitchen appliance. It cooks your food quickly and healthily without taking up too much counter space. So if you're looking for an easy way to upgrade your cooking game, this is the air fryer with a dehydrator for you!​
With the recent rise in popularity of air frying, many brands have started including more than one setting. For example, some models can now be used as both baking, roasting, and dehydrator setting.
If you are just starting out in the air fryer world, be sure to read these helpful articles: Using Oils With Air Fryers, Things To Consider Before Buying An Air Fryer, and How To Protect Your Countertop From An Air Fryer.
What Should I Be Looking For In An Air Fryer With A Dehydrator Function?
Are you in the market for a new air fryer? If so, you may be wondering if it's worth investing in one that also features a dehydrator function. In this blog post, we'll take a look at what to look for in an air fryer with a dehydrator function and discuss the pros and cons of such a machine.
Size of the Appliance
In most cases, an air fryer dehydrator combo will be much smaller than your standard model and can only hold small amounts at once, so it's important to shake everything loose before placing it into the unit.
A lot of people purchase stand-alone appliances such as these because they are looking for something versatile. Still, there may come times when having multiple products from different manufacturers would actually benefit someone!
If you are going to run your air fryer to dehydrate for hours, it would be a better idea to have a larger model since it will be able to dehydrate a larger amount of food at the same time.
Air Fryer Dehydrator Heating Settings
The settings for dehydrating in an air fryer are usually very low. The range of the temperature is between 120 degrees F to 140 degrees F. But you can use it to dehydrate herbs, lemons, kiwi, mango, etc.
Dehydrator Air Fryer Settings
While you technically do not need an air fryer dehydrator combo, you will find that food comes out much better when you use a dehydrator. Otherwise, you will find that the food is not really dehydrated; it's more dried out.
5 Best Air Fryers With A Dehydrator Function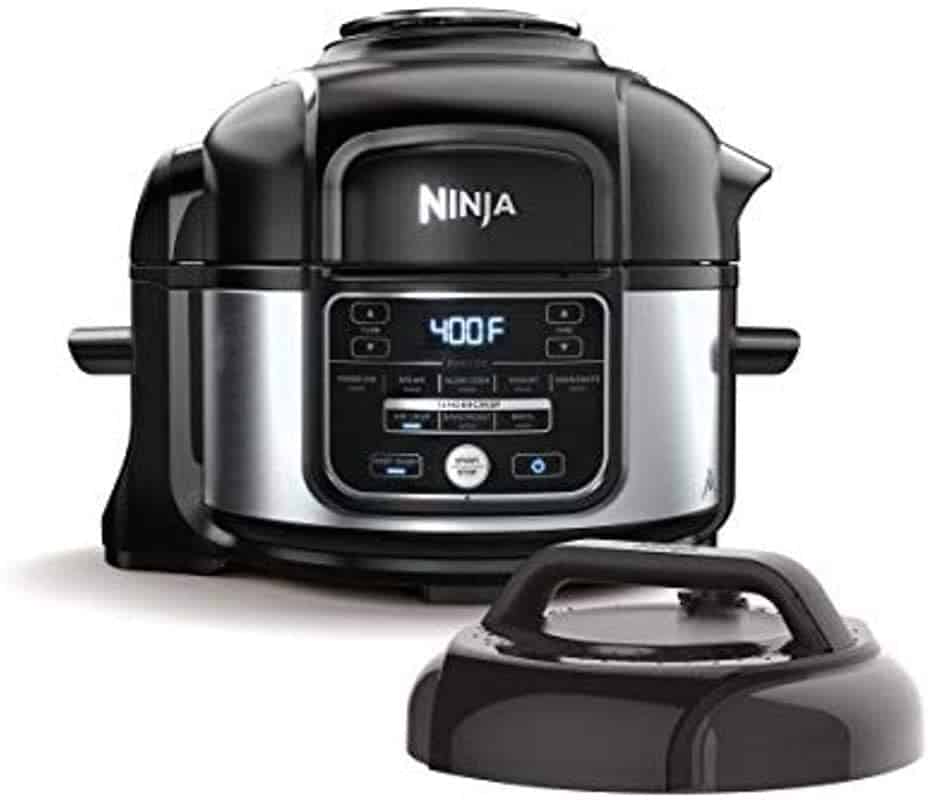 Ninja Foodi 9-in-1 Pressure Cooker and Air Fryer with Nesting Broil Rack, 5 Quart, Stainless Steel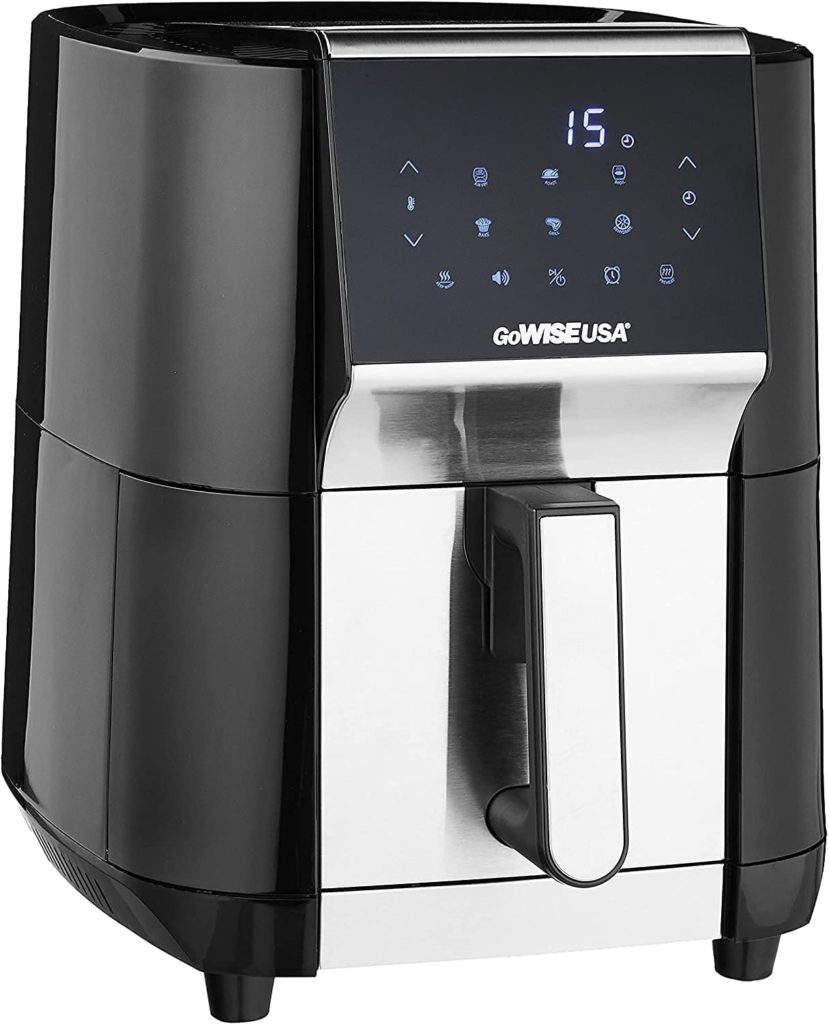 GoWISE USA 7-Quart Air Fryer & Dehydrator – with Ergonomic Touchscreen Display with Stackable Dehydrating Racks with Preheat & Broil Functions + 100 Recipes (Black/Stainless Steel)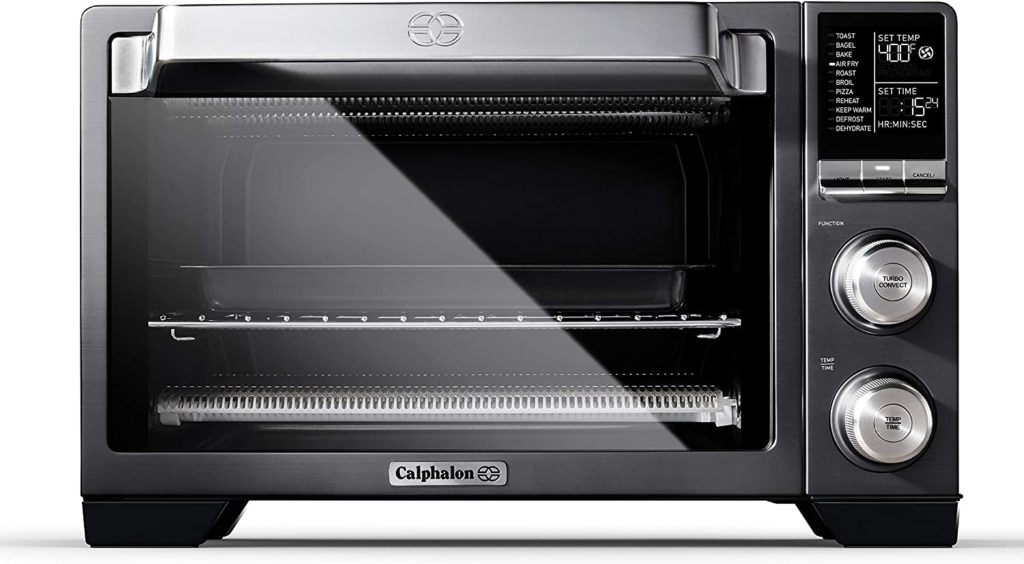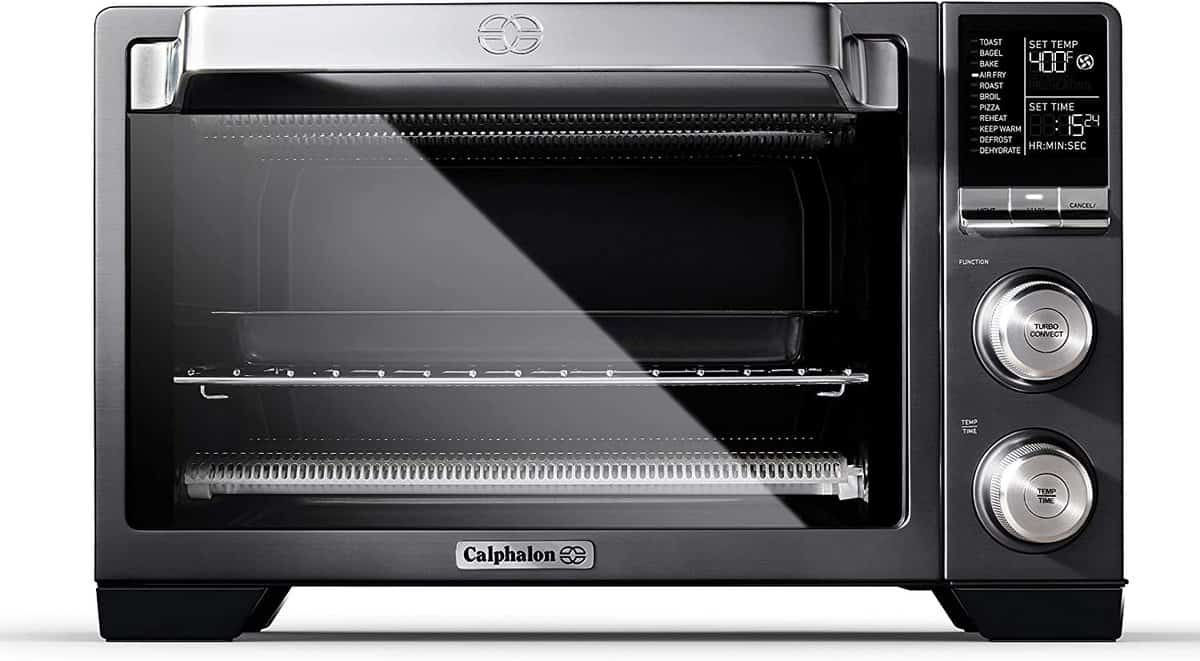 Calphalon Air Fryer Oven, 11-in-1 Toaster Oven Air Fryer Combo, 26.4 QT/25 L, Fits 12″ Pizza, Stainless Steel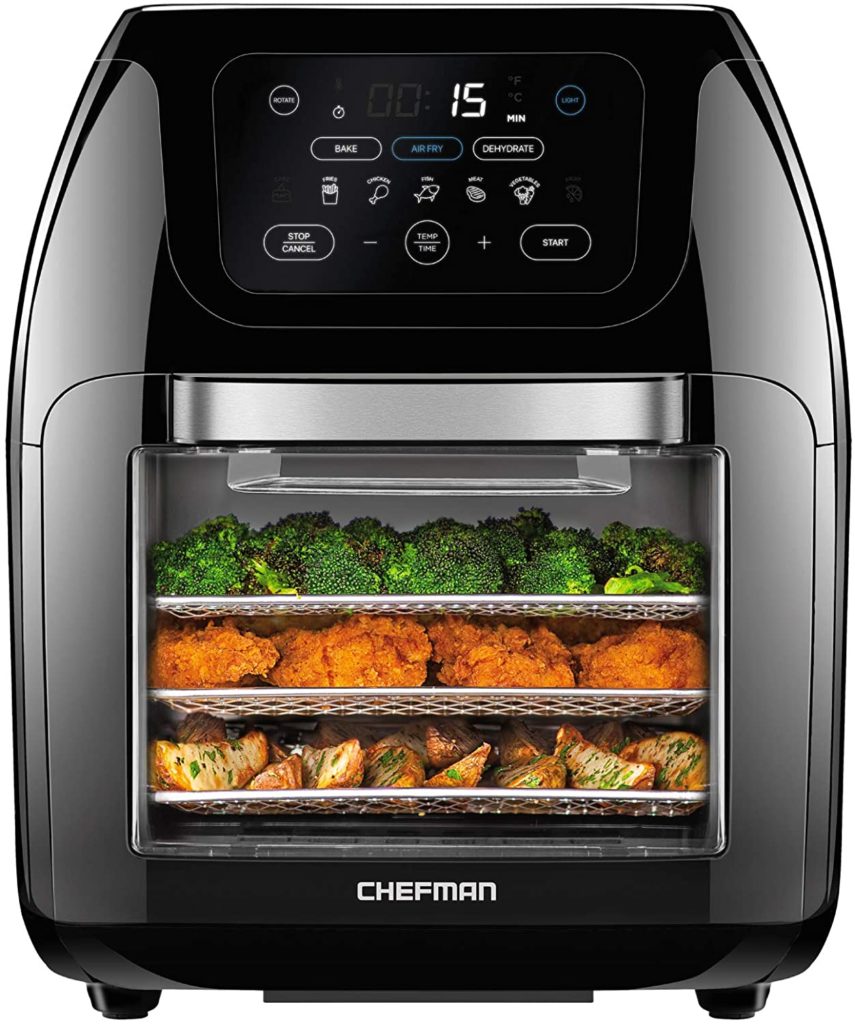 Chefman 5-in-1Digital Air Fryer+ Rotisserie, Dehydrator, Convection Oven, 17 Touch Screen Presets Fry, Roast, Dehydrate & Bake, Auto Shutoff,…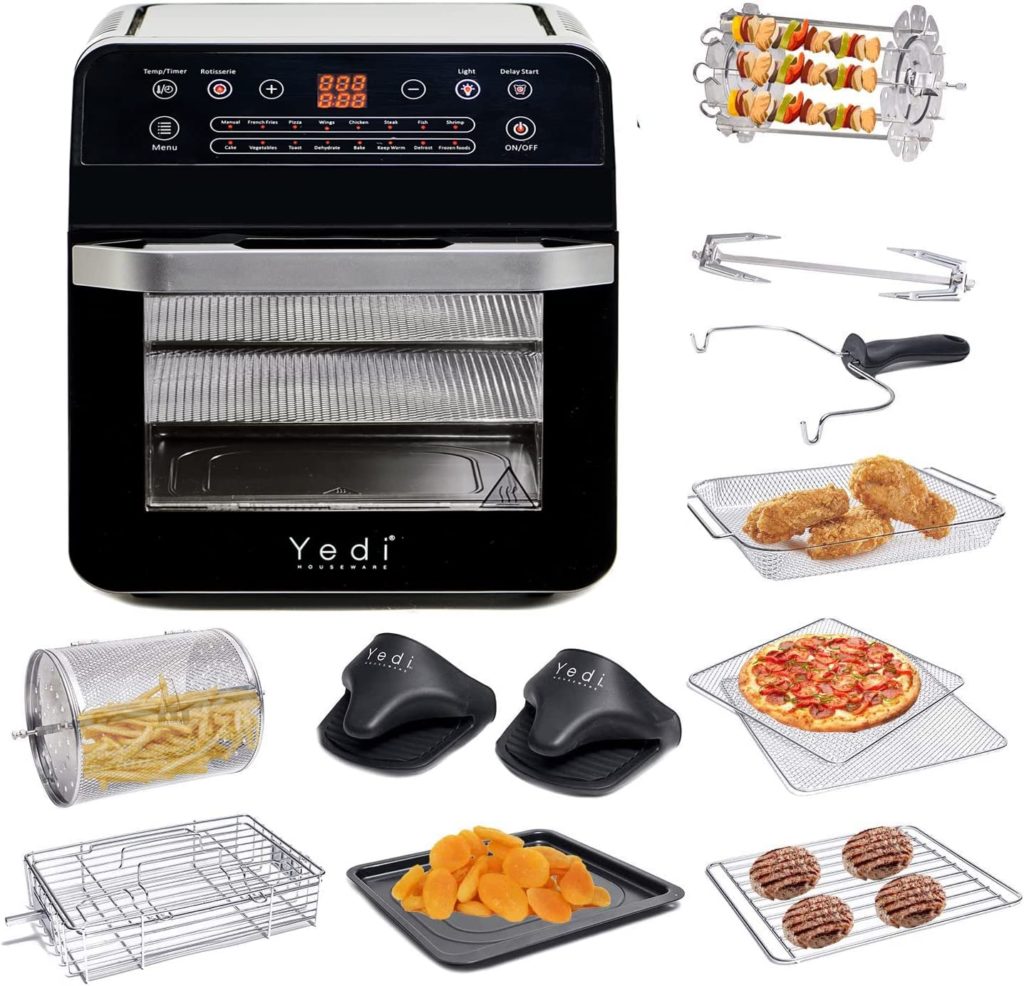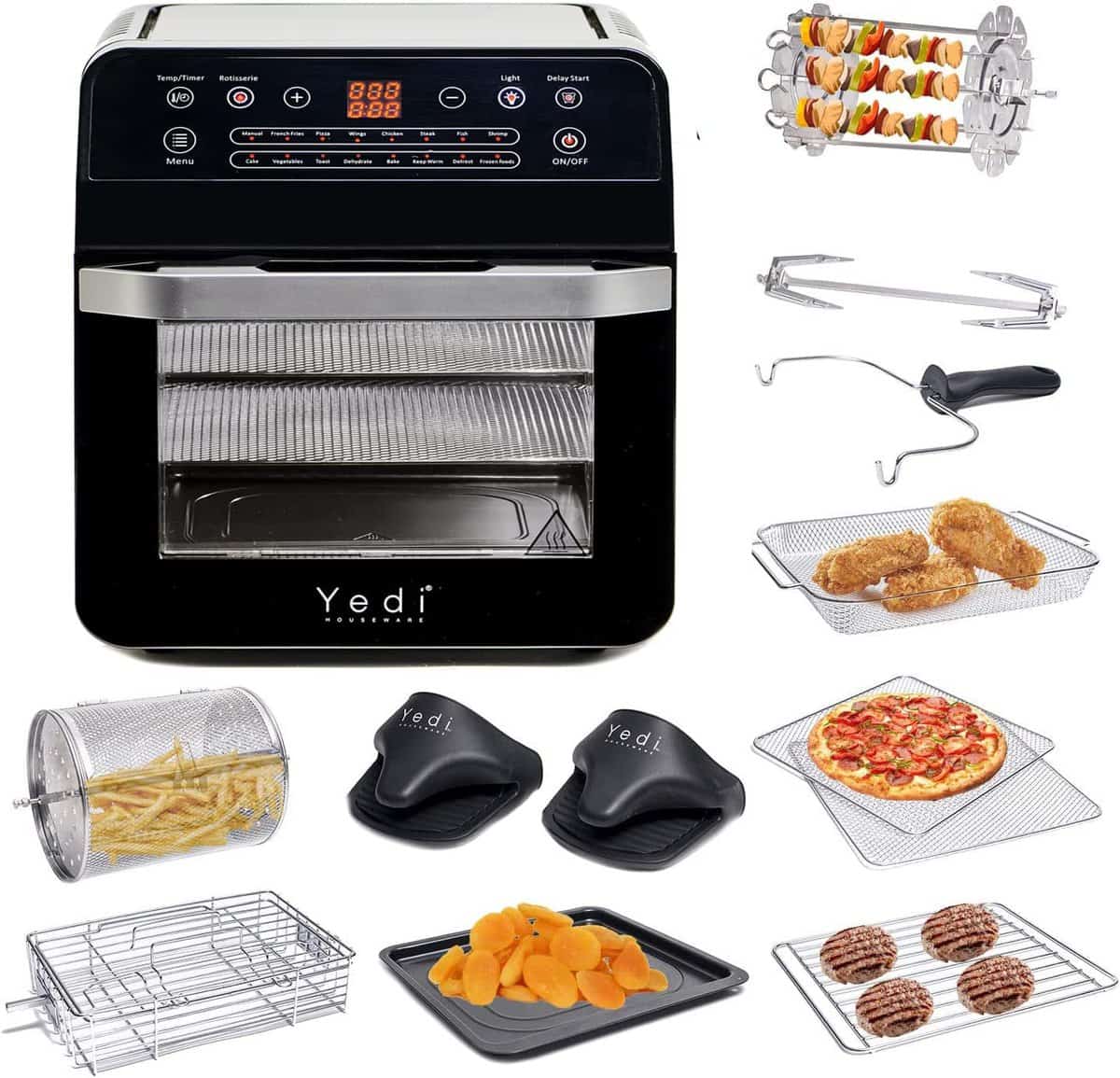 Yedi Total Package 18-in-1 Air Fryer Oven, Air Fryer with Rotisserie and Dehydrator + 100 Recipes, 12.7 Quart
Air Fryer Dehydrator Recipes:
If you are looking for some air fryer dehydrator recipes, here are some of my favorites! So, whether you are looking for recipes for your Ninja Air Fryer Dehyrader Recipes or Instant Pot, or even Cosori, the recipe will work the same!
Frequently Asked Questions
How Do You Use An Air Fryer Dehydrator Combo?
You'll need to follow whatever recipe you have. But if you don't have a recipe, generally, you should put the food on the rack and dehydrate it for a minimum of 3 hours. If the food isn't done, continue to dehydrate longer.
Does An Air Fryer Dehydrator Use A Lot Of Electricity?
Each unit is different, so you should always consult your manufacturer's information for more details about your unit. If you run it all the time, it will use more electricity than if you just use it sometimes. Overall, it runs way less electricity than an oven.
What are the best foods to dehydrate?
There are lots of foods that taste great dehydrated. Here are a few ideas to try out:
Apples
Cherries
Peaches
Mango
Grapes
Bananas
Zucchini
Cabbage
Carrots
Beef
Chicken
Seafood