Thanksgiving Kid-Friendly Charcuterie Board — Are you looking for a kid-friendly appetizer to serve this Thanksgiving? Look no further than the ever-popular charcuterie board!
Charcuterie boards have been trending on social media feeds lately, and it's not hard to see why.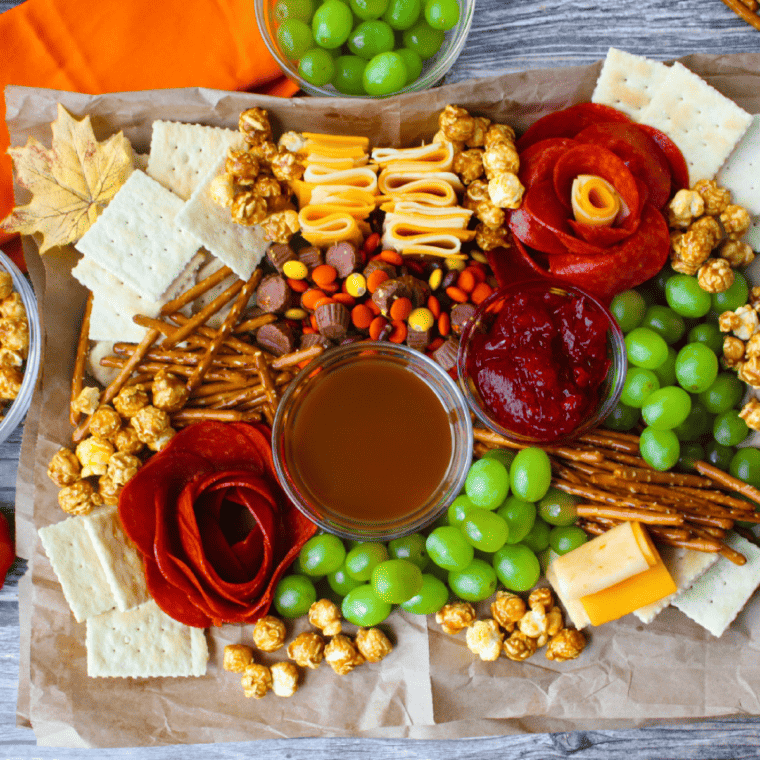 This creative dish is incredibly easy to make; all you need are some simple ingredients full of flavor that can easily be tailored to everybody's taste preferences – even your picky eaters!
These boards come together quickly, so you can return to cooking up the main course. Below, we'll provide a step-by-step guide on putting together the perfect kid-friendly Thanksgiving charcuterie board!
Kid-Friendly Charcuterie Board
Introducing a Thanksgiving twist that your kids are going to adore absolutely! As the holiday season approaches, we're diving into the delightful world of charcuterie, but with a whimsical spin tailored just for the kiddos. Imagine a spread brimming with turkey-shaped cheeses, mini pumpkin pies, bite-sized fruits, and so much more, all arranged playfully and invitingly.
This Thanksgiving, let's give the little ones an edible canvas that tantalizes their taste buds and sparks their imagination. Dive in and discover how to create the ultimate Thanksgiving charcuterie board that will have the kids 'gobbling' it up in no time!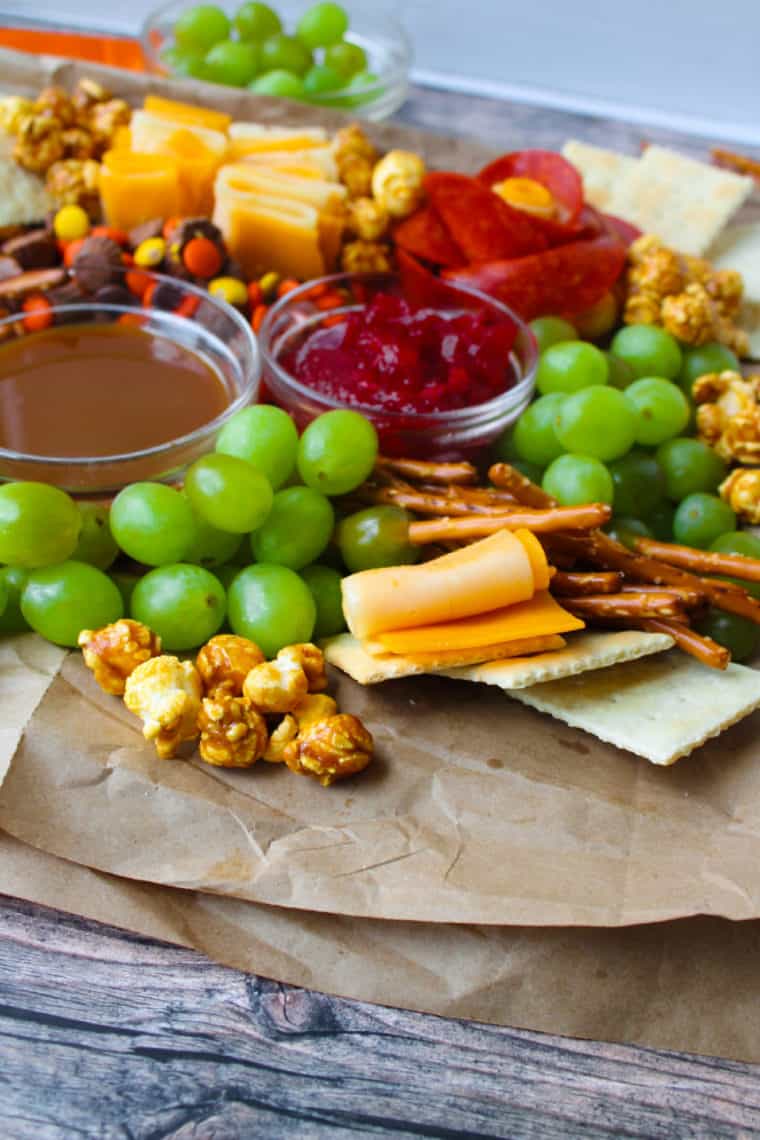 How to make a Holiday Kid-Friendly Charcuterie Board
Make the holidays a little more special this year by brainstorming fun and creative activities for your family to enjoy.
One of our favorites is creating an epic kid-friendly charcuterie board! Charcuterie boards are perfect for bringing everyone together for a tasty and memorable snack time. With just a few simple items around the house, you can craft something truly delicious that both adults and kids will love – plus, it's so much fun to assemble!
Read on as we guide you through making your unique holiday charcuterie board that everyone in the family can enjoy.
Creating a holiday charcuterie board for kids is all about colorful, fun, bite-sized treats that little hands can easily grab. Here's a step-by-step guide to creating a board that's visually appealing and delicious for the younger members of your family.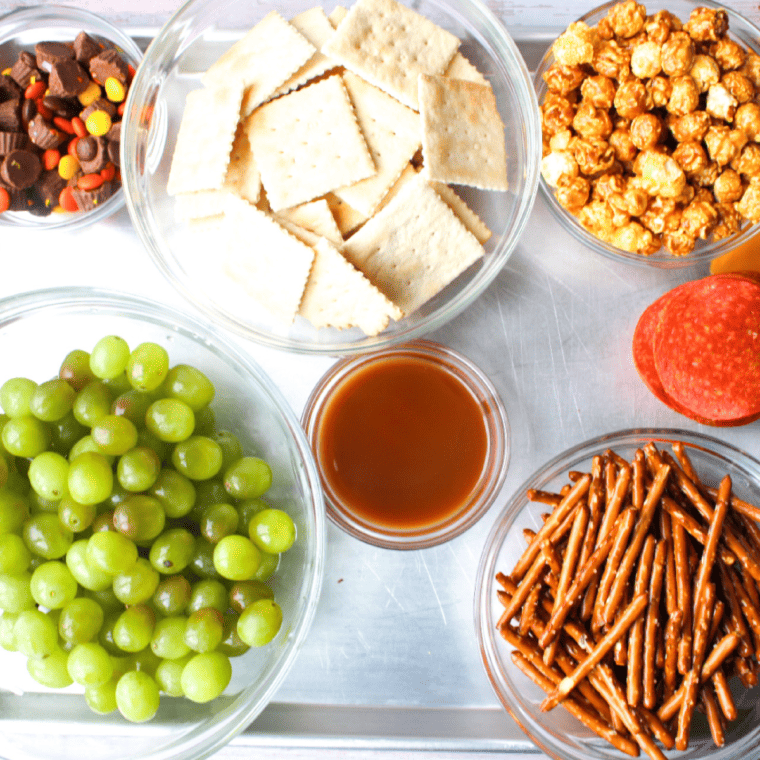 Choose the Board:
Select a board that's big enough to hold all the treats but not so big that it overwhelms your table. A wooden cutting board, a large ceramic platter, or a slate cheese board works well.
Add Cheeses:
Cheese Shapes: Using cookie cutters, cut cheese slices into festive shapes like stars, trees, or snowmen.
String Cheese: Kids love string cheese, and it's easy to grab and eat.
Mini Babybel: These are fun, kid-friendly, and wrapped in colorful wax.
Deli Meats:
Roll up slices of turkey, ham, or salami. They look like little meat flowers and are easy for kids to pick up.
Breads & Crackers:
Include a variety of shapes and sizes: mini toasts, breadsticks, and festive holiday-shaped crackers.
Add a mini sandwich or two, cut into fun shapes with cookie cutters.
Fresh Fruits:
Berries: Strawberries, blueberries, and raspberries add bursts of color.
Grapes: Easy for kids to pick up and provide a juicy contrast to the cheeses and meats.
Apple & Pear Slices: Use a little lemon juice to avoid browning.
Veggies:
Opt for kid favorites like baby carrots, cherry tomatoes, cucumber slices, and bell pepper strips. Include a dip like a ranch or hummus in a small bowl.
Sweets:
Add festive holiday cookies, chocolate-covered pretzels, or even a few pieces of candy for a sweet treat.
Consider gingerbread men, candy canes, or chocolate Santas, depending on the holiday.
Nuts & Dried Fruits:
Add almonds, cashews, or dried fruits like raisins and apricots for older kids.
Garnish:
Sprinkle in some holiday cheer with edible garnishes. Fresh rosemary sprigs can mimic pine trees, and cranberries can look like holly berries.
Arrange:
Start by placing larger items like bowls of dip and then work your way out, filling in gaps with smaller items. The key is abundance; you want the board to look full and inviting.
Serve:
Place the board on a table accessible to kids, perhaps with festive napkins or plates nearby.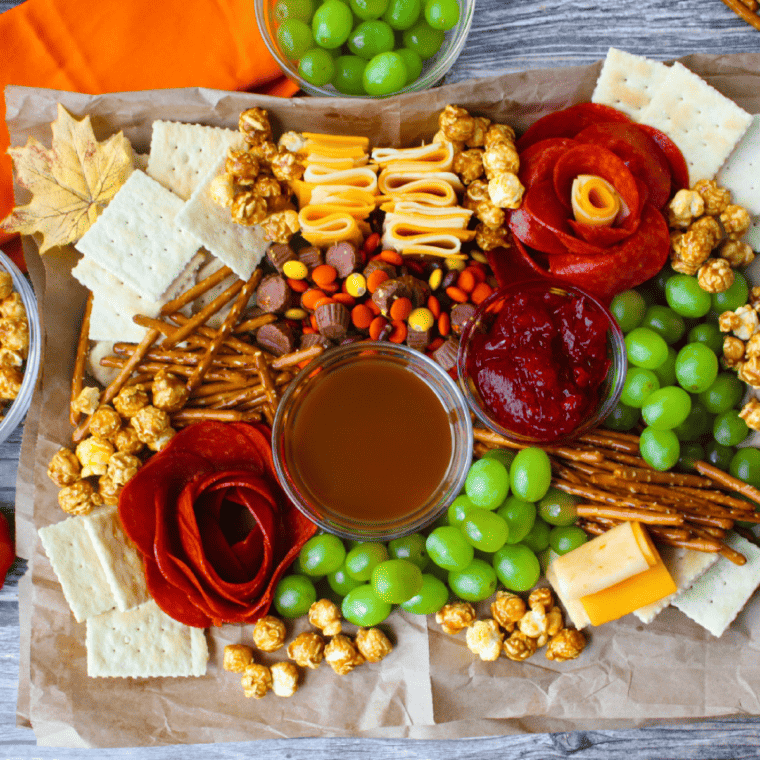 Pro Tips For Creating The Ultimate Holiday Kid-Friendly Charcuterie Board:
Stay Colorful: Kids eat with their eyes first. The more colorful and vibrant your board, the more it will appeal to them.
Texture Variety: A mix of textures, from crunchy crackers to soft cheeses and juicy fruits, can make the board more engaging and fun for little ones.
Safety First: Ensure all ingredients are age-appropriate to avoid choking hazards, especially for young kids. For instance, grapes should be halved or quartered.
Interactive Elements: Kids love to dip and stack. Include dips, spreads, or a small fondue pot for melted chocolate or cheese.
Familiar Favorites: While it's great to introduce kids to new flavors, ensure there are some familiar favorites on the board that you know they'll love.
Themed Elements: Use cookie cutters to shape cheeses or sandwiches into festive shapes relevant to the holiday. Think stars for Christmas, pumpkins for Thanksgiving, or hearts for Valentine's Day.
Nut Allergies: Be aware of common allergies when serving to a group. If you're unsure, it's best to skip nuts altogether or clearly label them.
Kid-Level Accessibility: Make sure everything is bite-sized and easy for kids to pick up. Also, place the board on a lower table or surface so it's easily accessible to them.
Taste Test: If introducing new items, taste them first to ensure they're kid-friendly in flavor and spiciness.
Keep it Fresh: If the board will be out for a while, consider using a chilled board or placing items on ice packs to keep things fresh, especially cheeses and meats.
Engage Them: Let the kids be a part of the board-making process. They can help choose items, arrange them, and even make labels. This can get them more excited about eating what's on the board.
Opt for Sturdy Over Fancy: While brie might be a hit at adult gatherings, sturdy cheeses like cheddar or gouda might hold up better to kid handling.
Stay Stocked: Have backup supplies of the most popular items. Once the board starts to look picked over, you can quickly replenish it.
Remember, the goal is to create an experience that's as enjoyable for the kids as it is for the adults. It's about exploration, fun, and, of course, tasty treats!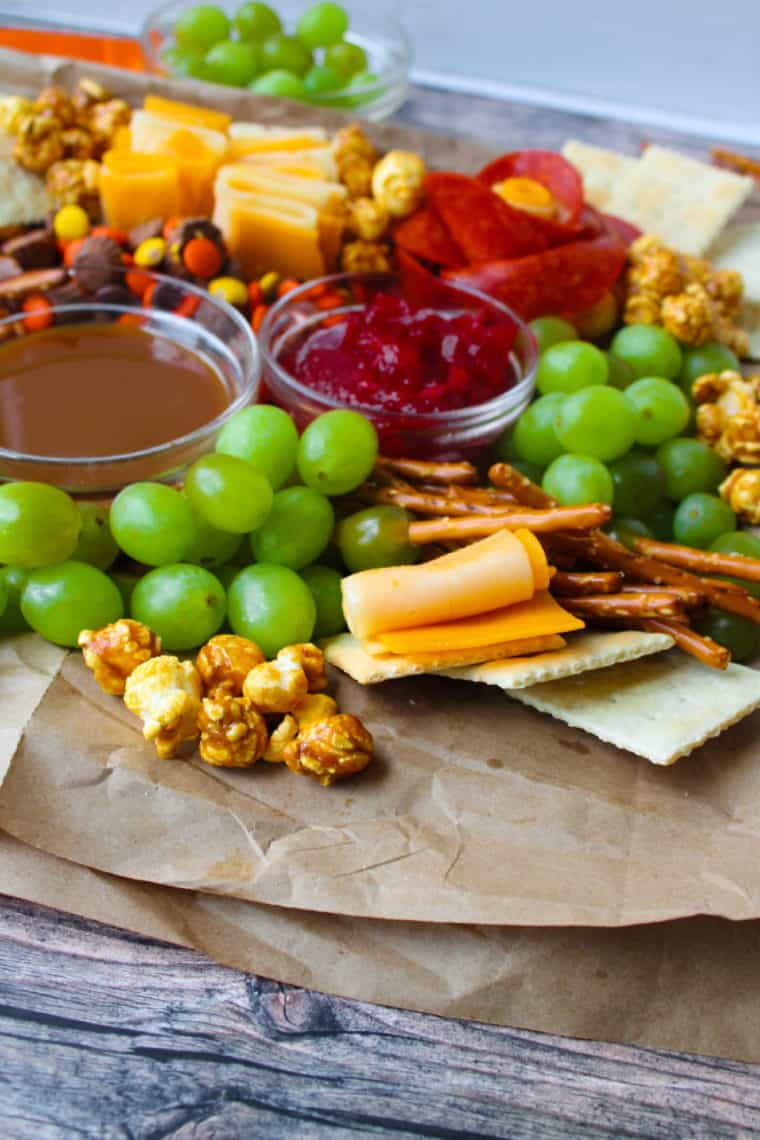 Frequently Asked Questions About Thanksgiving Kid-Friendly Charcuterie Board
What is a charcuterie board?
A charcuterie board is a traditionally curated selection of meats, cheeses, breads, and accompaniments. In this context, it's adapted to be kid-friendly, focusing on foods kids enjoy.
Is it safe for kids to eat all the cheeses and meats on a regular charcuterie board?
It depends on the child's age and dietary needs. Soft cheeses or certain cured meats might not be suitable for young children. Always consult with a pediatrician for specific dietary concerns.
How can I make my charcuterie board nut-free?
Avoid including nuts and be cautious of cross-contamination. Read labels carefully; some items might be processed in facilities that handle nuts.
Can I prepare the board ahead of time?
Yes, you can prepare the board a few hours ahead, but covering and refrigerating perishable items is best. Remember to take it out about 15 minutes before serving so the cheeses can come to room temperature.
How do I keep fruits from browning on the board?
Drizzling fruits like apples and pears with some lemon juice can help prevent them from browning too quickly.
Can I make a dairy-free, kid-friendly charcuterie board?
Absolutely! Many dairy-free cheese alternatives are available, and you can focus more on meats, fruits, veggies, and other dairy-free snacks.
How do I introduce new foods to kids on the charcuterie board?
Mix new items with familiar favorites. Kids are likelier to try something new if it's presented alongside something they already love.
Is there a vegetarian option for a kid-friendly charcuterie board?
Yes! You can create a board with cheeses, fruits, veggies, bread, dips, and various plant-based snacks without any meats.
How much should I prepare per child?
It varies depending on the age of the kids and what meal the board is serving as (snack, appetizer, main course). As a general rule, prepare a bit more than you think you'll need, as the kids might find they love certain items.
Do I need any special equipment to create a charcuterie board?
No special equipment is necessary. A large wooden board, platter, or even a tray will work. Just make sure there's enough space to spread out the items so they're easily accessible.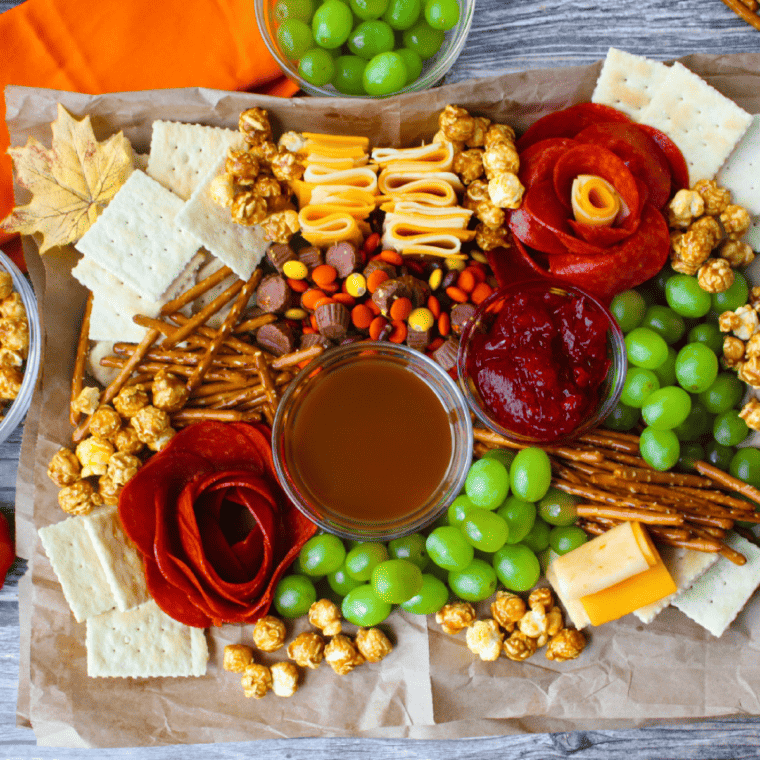 More Air Fryer Recipes
Don't Forget To Pin the Thanksgiving Kid-Friendly Charcuterie Board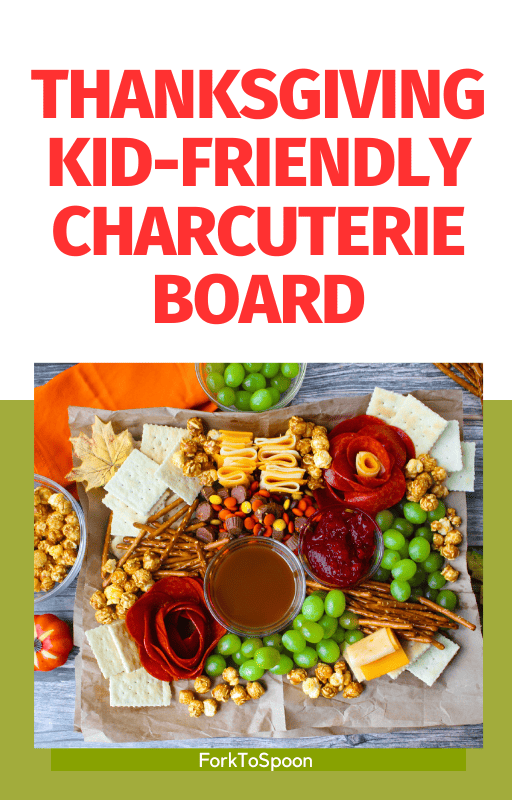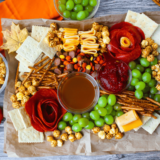 Thanksgiving Kid-Friendly Charcuterie Board
Description
This Thanksgiving, let the little ones have a feast of their own with this colorful, delightful, and kid-approved charcuterie board. Filled with a mix of sweet and savory items, it's guaranteed to keep them coming back for more.
Ingredients
Cheeses: Choose mild ones like string cheese, cheddar cubes, or mini mozzarella balls.

,

s

Meats: Thinly sliced turkey, ham, or even rolled-up chicken slices.

Crackers/Breads: Mini breadsticks, pretzels, and a variety of crackers.

Fruits: Sliced apples, grapes, blueberries, and strawberries.

,

with a splash of lemon juice to prevent browning

Veggies: Sliced cucumbers, baby carrots, cherry tomatoes, and bell pepper strips.

Sweets: Chocolate-covered raisins, marshmallows, or even a few gummy bears.

Nuts

,

optional and based on allergies: Almonds, cashews, or walnuts.

Dips: Hummus, ranch dressing or a mild salsa.

Having dips can encourage kids to try veggies.
Instructions
Preparation: Begin by preparing all your ingredients. Slice fruits and veggies, roll up meats, and set cheeses and other items in separate bowls.

Board Layout: Start by placing bowls of dips or larger items like grapes on your board. This will act as anchors.

Fill in the Spaces: Add cheeses, meats, fruits, and veggies, grouping similar items together or mixing for a more eclectic board.

Add the Sweets: Sprinkle the board with the sweet treats. This will add pops of color and excitement for the kids.

Serve Immediately: Once set up, serve immediately. If waiting is necessary, cover with cling wrap and store in the refrigerator for a short period.
Notes
Note: Remember to adjust the ingredients based on the number of children and any dietary restrictions or allergies.