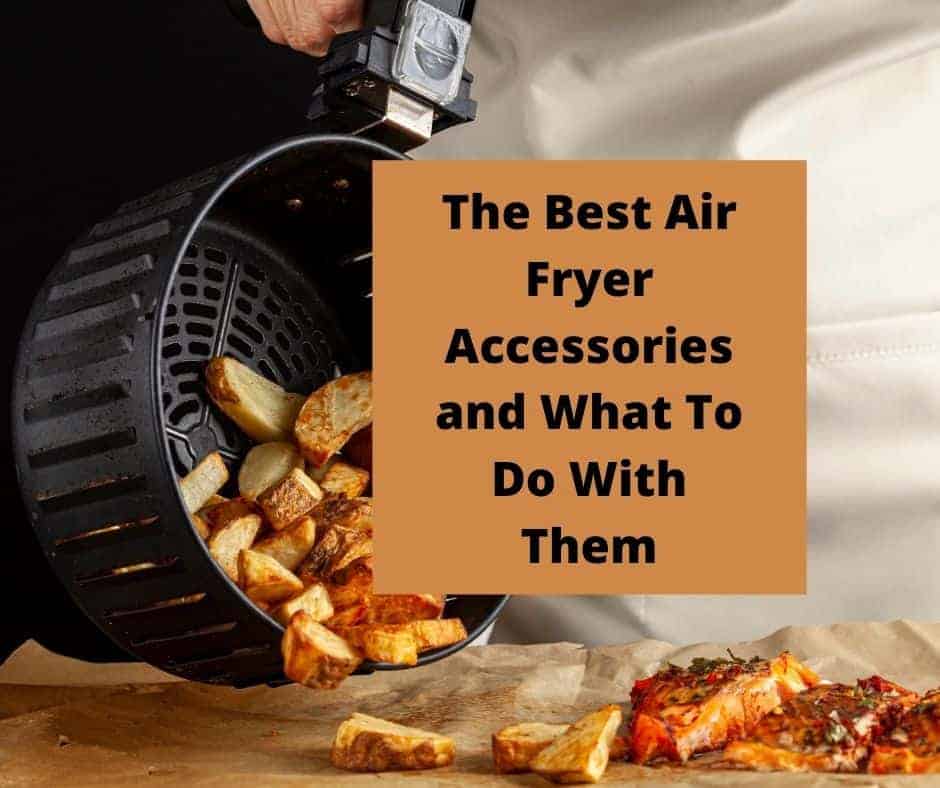 Everyone has a new air fryer these days. I am a strong believer that you can make anything in the air fryer as long as you have the right pan or accessory. Today, I am sharing some of my strongly The Best Air Fryer Accessories and What To Do With Them.
This post may contain affiliate links. Read my disclosure policy here.
Every single person that owns an air fryer needs a meat thermometer. You know why, every since air fryer cooks slightly different.
Your exact cooking time is so dependent on a lot of factors, and eating raw meat can be hazardous to your health, so after you add your air fryer to your cart, add a meat thermometer. Remember to go by the USDA recommendation internal temperatures for all foods.
Depending on what air fryer you own and what you already have in your kitchen, you may need to stop and pick up a set of spatulas, silicone turners, and tongs.
There is no better accessory than a sturdy pair of kitchen tools, whether you use your oven or your air fryer!
Air Fryer Double Layer Rack, Air Fryer Accessories Multi-purpose Rack Fits Most 4.2QT or Above(8in,4pins)
This air fryer double rack allows you to cook kebabs. It is a great tool to cook bacon on. And it allows you to cook more food in your air fryer basket.
Since this rack does not restrict airflow, it's perfect for making more food! Who doesn't want to make more food?
Silicone Muffin Cups
OXO Good Grips Silicone Air Fryer Cups, Multicolor, One Size
These were made for the air fryer. The sides keep the muffin tin upright, while the perfect size for any air fryer. I use them a lot for air fryer egg bites, air fryer cupcakes, and so much more. Next up on my list a turkey pot pie, mini size, of course.
Tongs
A great pair of tongs. You will never use tongs as much as you do when you own an air fryer. Invest in a great pair. It will become one of the tools you use every single day.
Depending on your air fryer, you either will want a metal pair or a silicone pair. But, I promise once you own an air fryer, you will never have used tongs more.
All in one set, everyone needs one set; this one has everything you will ever need. A great investment in a set will allow you to cook almost everything you want in the air fryer.
This set includes everything you will need to start your air frying adventures, including liners, molds, cake pan, pizza pan, skewers, muffin cups, handy charts, egg bite mold, even a basting brush. All will come in really, really handy.
Anyone who owns an air fryer needs an oil spray bottle. You must never use aerosols in your air fryer. Otherwise, the basket will start to peel away. (then you need to get a new basket since it's not safe cooking with a peeled basket or a basket that is peeling)
I have had great luck with the EVO oil sprayer, it's the only one I have had for a long time, over 4 years now. It has been a great investment.
One of the worst decisions that people can make is not putting something under your air fryer. Whether you have granite, concrete, glass, or laminate, everyone should be putting something under their air fryers.
Read your instructions manual carefully and see what the manufacturer recommends, as you do not want to restrict any airflow. This would also pose a safety hazard.
Foil is one of those things that you always need to have when you have an air fryer. I have used it in so many ways, including my favorites, foil pack meals, check out my recipe for foil potatoes (I call them campfire).
The thing to remember when using foil is that you do not want to restrict any airflow from the air fryer. Otherwise, your food will not cook correctly. And you do not want the foil to hit or be anywhere near your cooking element.
My general rule of thumb for anyone who starts air frying is to look around your kitchen. Whatever is oven safe is generally air fryer safe. Just be careful about air frying glass containers (unless you truly know that they are oven-safe)
Since everyone's air fryer is a different size, the size of your pans that you need will depend on what air fryer you own.
The truth I love ramekins. I really do. Most of us have them on hand, and they are perfect for air frying. I am also a HUGE fan of mug cakes in the air fryer. Check out my chocolate chip mug cake, lemon mug cake, and my famous air fryer blueberry cobbler.
As soon as you get your air fryer, grab a Mandoline slicer. You will never have made better homemade French Fries, chips, or fried pickles, all amazing with the help of the Mandoline.
And unlike cutting the fries yourself, they will all be uniform in size, so they all will come out cooking at the same time!!