Quick and Easy Air Fryer Shrimp Fajitas: If you have been looking for an easy meal, something the whole family will love, this is one of my favorites. This Air Fryer Shrimp Fajita Recipe is perfect for a delicious dinner and perfect for those fussy eaters!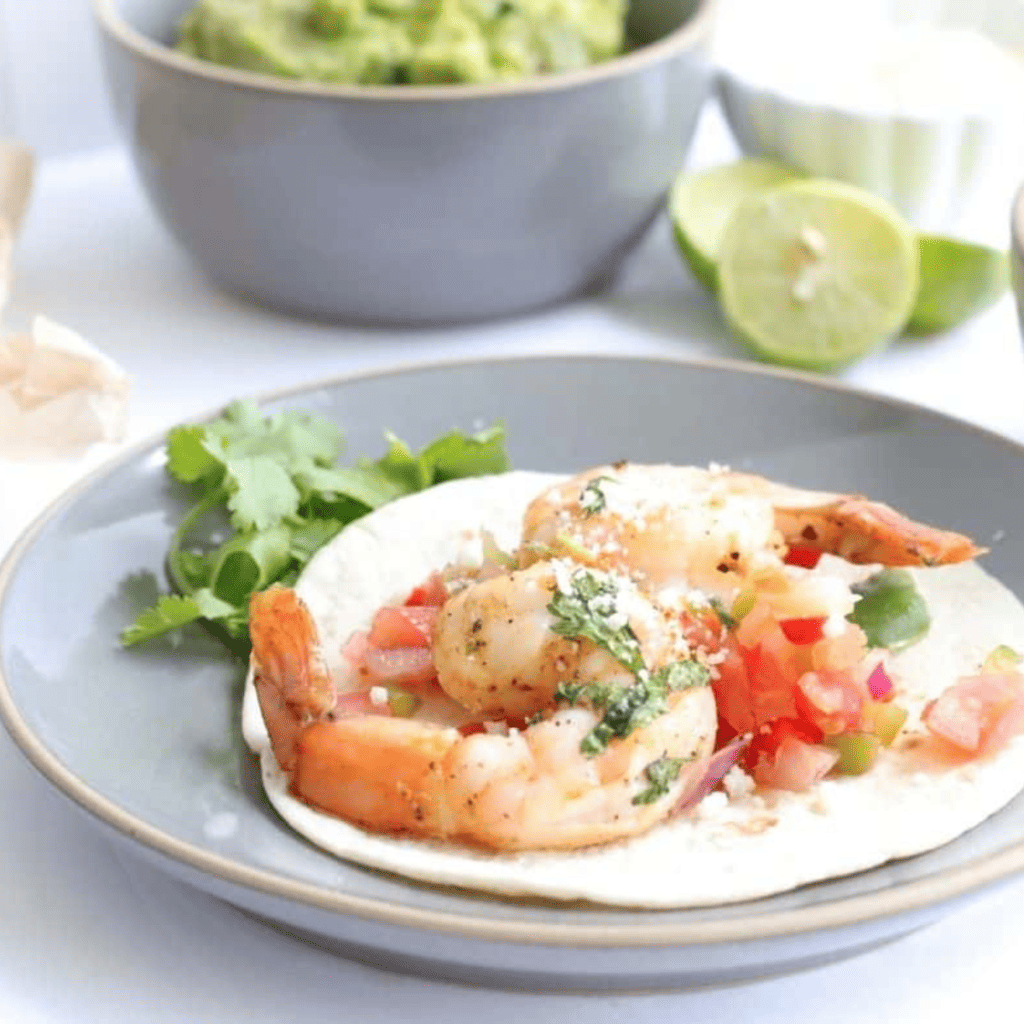 Mexican Food In The Air Fryer has never been easier! This is a great recipe for busy weeknights and perfect for taco night.
Air Fryer Shrimp Fajitas Recipe
Experience the flavors of a Tex-Mex fiesta with this mouthwatering Air Fryer Shrimp Fajitas recipe. Bursting with vibrant colors, bold spices, and succulent shrimp, these fajitas perfectly balance zesty, smoky, and savory flavors. The beauty of using an air fryer for this recipe is that it creates perfectly cooked and tender shrimp with a slight char while infusing bell peppers and onions with a delightful caramelized sweetness.
With minimal effort and maximum flavor, these Air Fryer Shrimp Fajitas are a quick and delicious meal option with your taste buds dancing. Get ready to savor the irresistible combination of seasoned shrimp and colorful veggies, all wrapped in warm tortillas for a delightful Tex-Mex feast.
This recipe will rival any of your local Mexican restaurant! If you are looking for some other quick and easy (but delicious) meals, here are some of my family's favorites: AIR FRYER GENERAL TSO'S CHICKEN RECIPE, BBQ AIR FRYER CHICKEN BREAST, AIR FRYER BEEF TACO SALAD, and AIR FRYER BEEF AND BROCCOLI.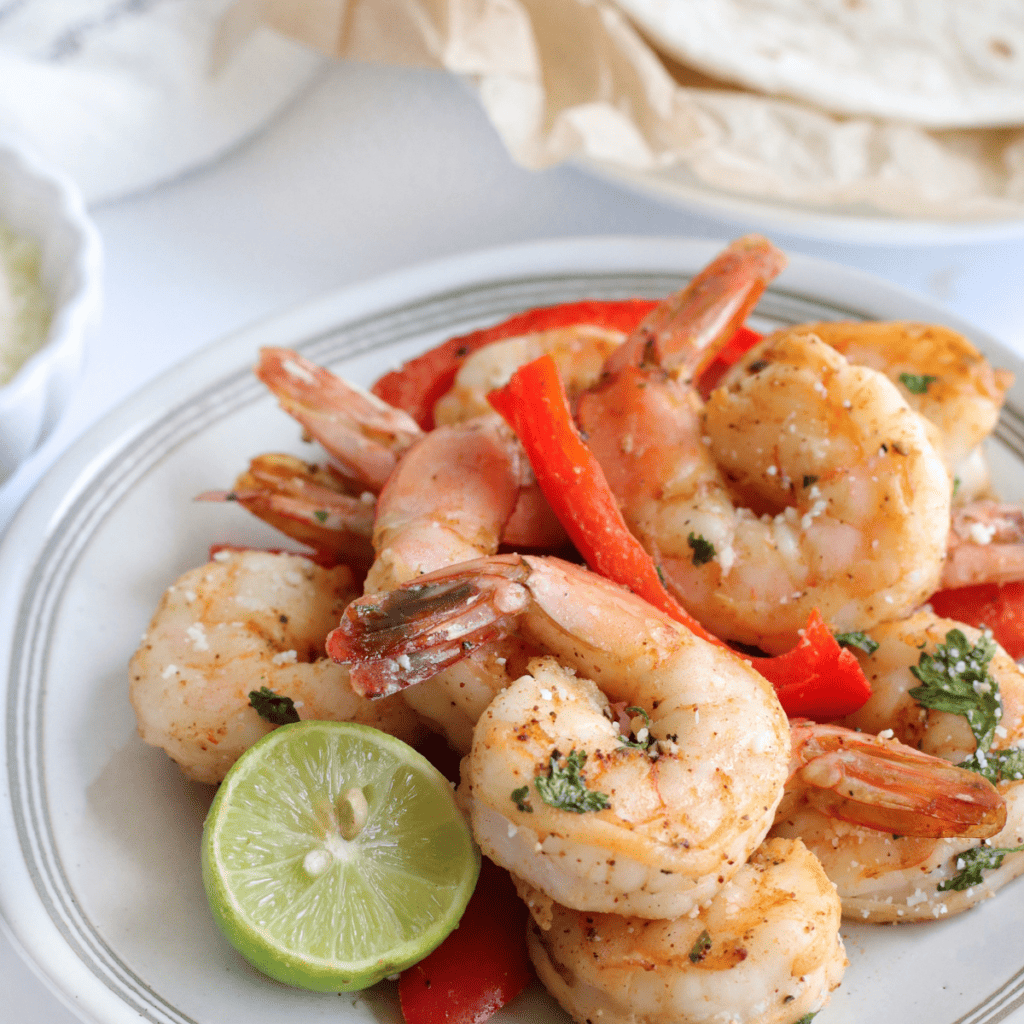 Ingredients Needed For Air Fryer Shrimp Fajitas
Shrimp fajitas are one of the most delicious dishes you can make in any kitchen. However, making them use an air fryer takes your meal to another level! With its quick-cooking capabilities and ability to lock in flavor, your air fryer is perfect for whipping up mouthwatering seafood fajitas.
And while it might seem intimidating at first, all you need are some essential ingredients and cooking techniques that we'll cover later on. We're breaking down exactly which ingredients you'll need to help get you started on this delicious journey of air frying shrimp fajitas. So let's start stocking our pantries with everything necessary for crafting flavorful and sure-to-satisfy shrimp fajitas!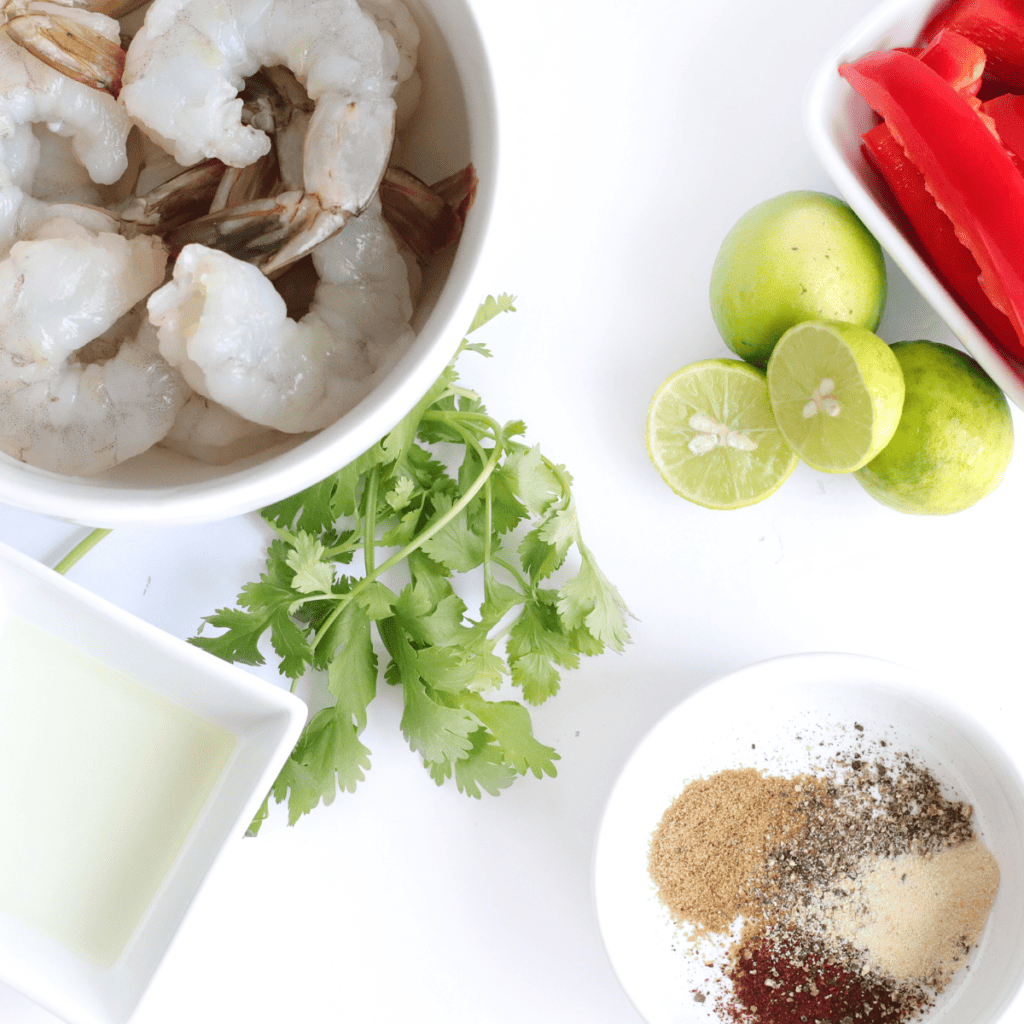 ​
Remember the step-by-step directions and detailed ingredient list are below in the printable recipe card at the bottom of the post, as well as the nutritional information.
​Shrimp: Tender and succulent, the dish's star adds a delightful seafood flavor to the fajitas.
Olive oil: Used for sautéing the shrimp and vegetables, olive oil adds a rich and subtle fruity note to the dish.
Lime juice: The citrusy tang of lime juice brightens the shrimp flavors and adds a refreshing element to the fajitas.
Garlic: Minced garlic brings the shrimp a robust and aromatic flavor, enhancing its overall taste.
Chili powder: A blend of spices, including chili powder, adds a warm and smoky kick to the shrimp, giving it a Tex-Mex flair. Another option is red pepper flakes!
Cumin: With its earthy and nutty flavor, cumin adds depth and complexity to the shrimp, enhancing the overall seasoning.
Paprika: The mild and slightly sweet flavor of paprika provides a vibrant red color and subtle smokiness to the shrimp.
Cayenne pepper (optional): For those who enjoy a spicy kick, cayenne pepper can be added to give the shrimp fajitas an extra heat.
Kosher Salt and Black Pepper: Essential for seasoning, salt and pepper bring out the natural flavors of the shrimp and other ingredients.
Bell Peppers: Colorful and crunchy, bell peppers add a sweet and slightly tangy taste to the fajitas and vibrant hues. Use green bell pepper, red bell pepper, or even yellow bell pepper.
Onion: Thinly sliced onion provides a mild and sweet flavor, adding depth to the fajita mixture. Use red onion or yellow onion.
Flour or corn tortillas: These soft and pliable wraps serve as the base for assembling the fajitas, providing a delicious vessel for the flavorful shrimp and vegetables.
Optional toppings: Sliced avocado, shredded cheese, sour cream, salsa, chopped fresh cilantro, guacamole, refried beans, taco seasonings, and lime wedges can be added as desired, allowing you to customize your fajitas with extra flavors and textures.
How To Cook Shrimp Fajitas Air Fryer
Are you looking for a healthy, delicious main course that you can whip up quickly? Look no further! Shrimp fajitas made with an air fryer are here to rescue you from dinner-time frustration. An air fryer cuts the amount of oil used in traditional cooking methods by more than half and dramatically reduces cooking time.
This recipe requires minimal prep and can be served with all your favorite toppings – guacamole, sour cream, tomatoes, and lettuce – giving everyone at the table a chance to create their flavorful taco. So let's get cooking!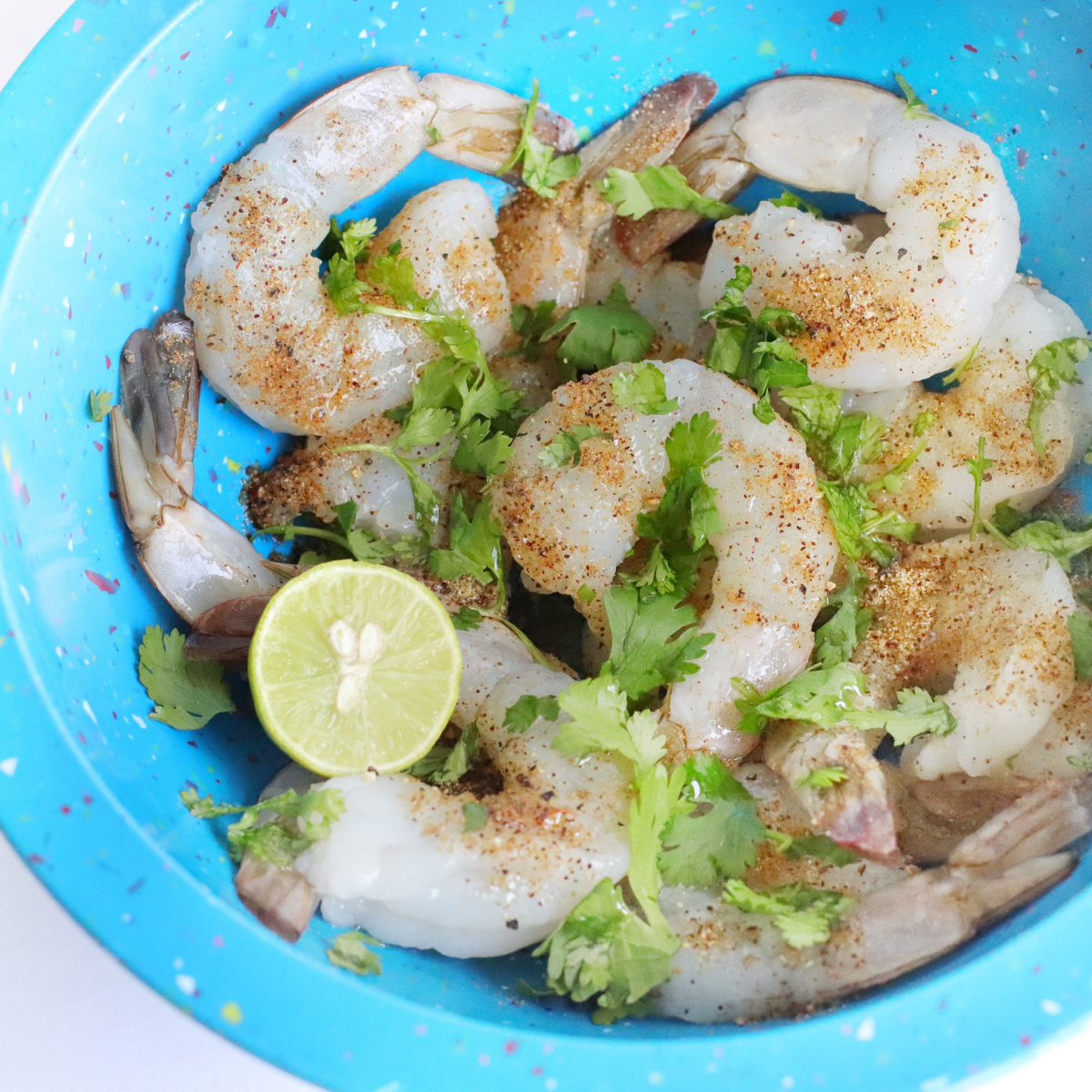 Step One: Prepare The Shrimp
Preheat your air fryer to 400 degrees F (200°C) for 3-4 minutes. In a large mixing bowl, combine the shrimp, olive oil, lime juice, minced garlic, chili powder, cumin, paprika, cayenne pepper (if using), salt, and pepper. Toss to coat the shrimp evenly in the seasonings.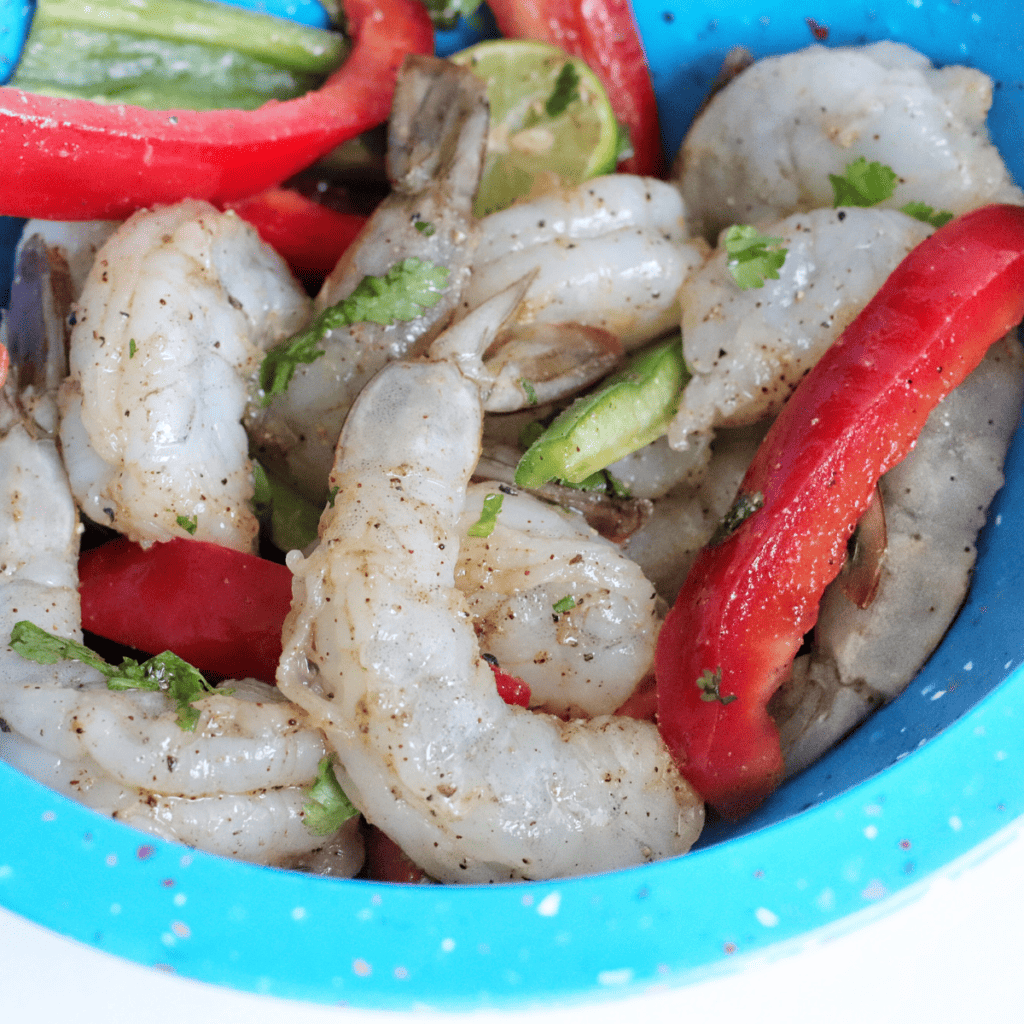 Step Two: Season The Shrimp and Vegetables
Toss the sliced bell peppers and onions with olive oil, chili powder, cumin, paprika, salt, and pepper in a separate bowl.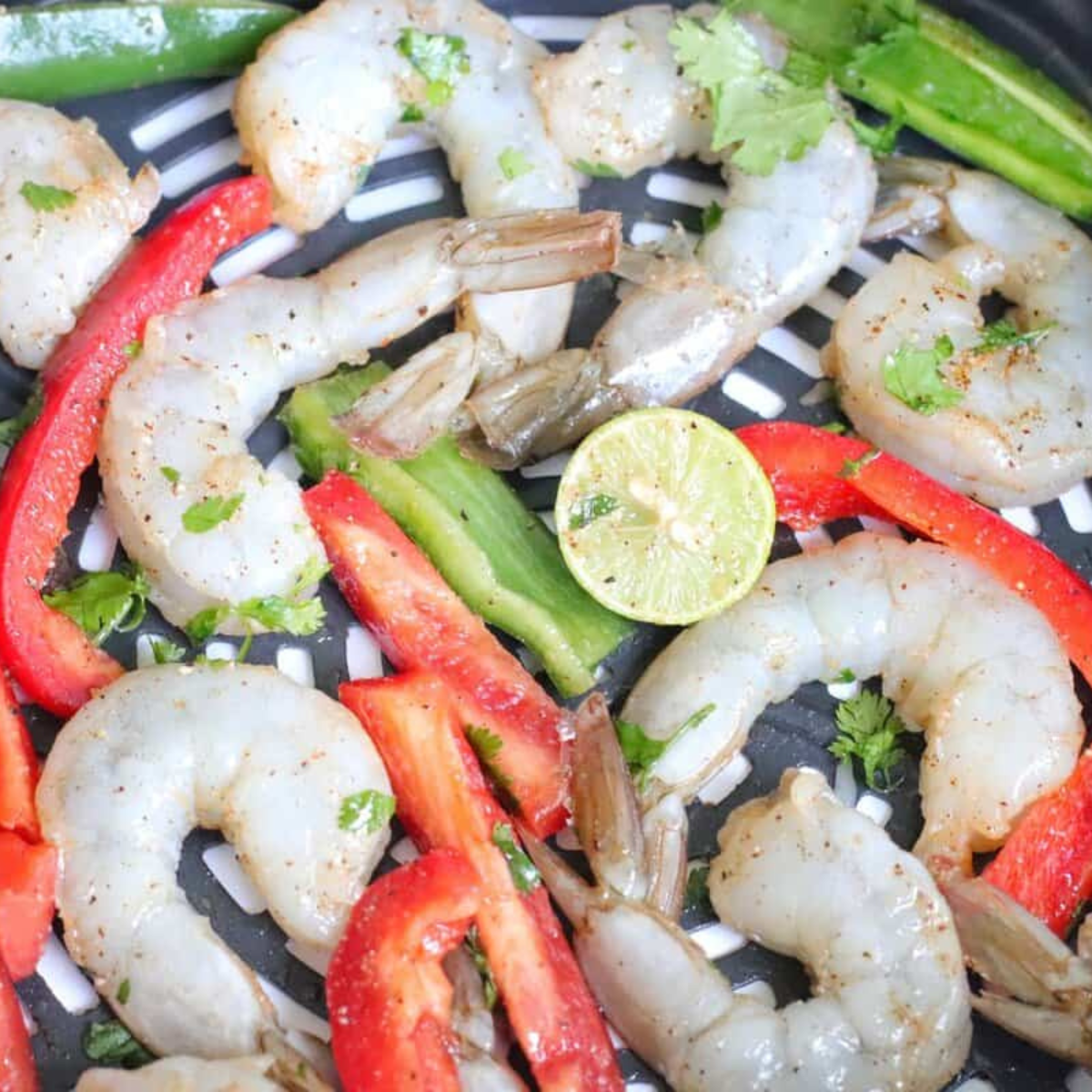 Step Three: Air Fry Shrimp Fajitas
Place the seasoned shrimp in a single layer in the air fryer basket. Add the seasoned bell peppers and onions to the basket, ensuring they are spread out evenly. Set the cooking time for 8-10 minutes or until the shrimp and the vegetables are tender. Shake the air fryer basket, or flip the ingredients halfway through cooking.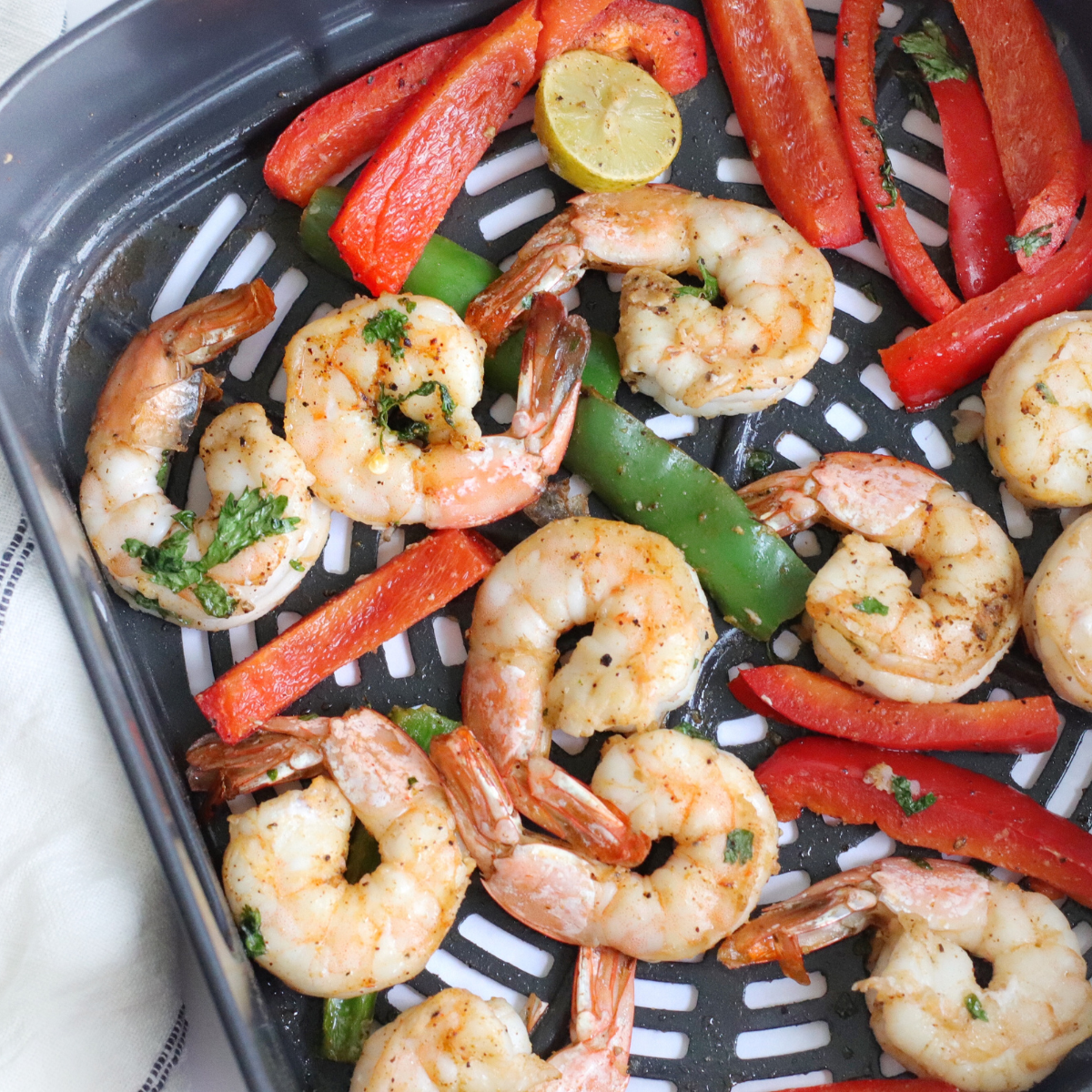 Step Four: Serving
Remove the basket from the air fryer and assemble the shrimp fajitas by placing the cooked shrimp, bell peppers, and onions on warm tortillas. Serve the shrimp fajitas with optional toppings such as sliced avocado, shredded cheese, sour cream, salsa, chopped cilantro, and a squeeze of lime juice.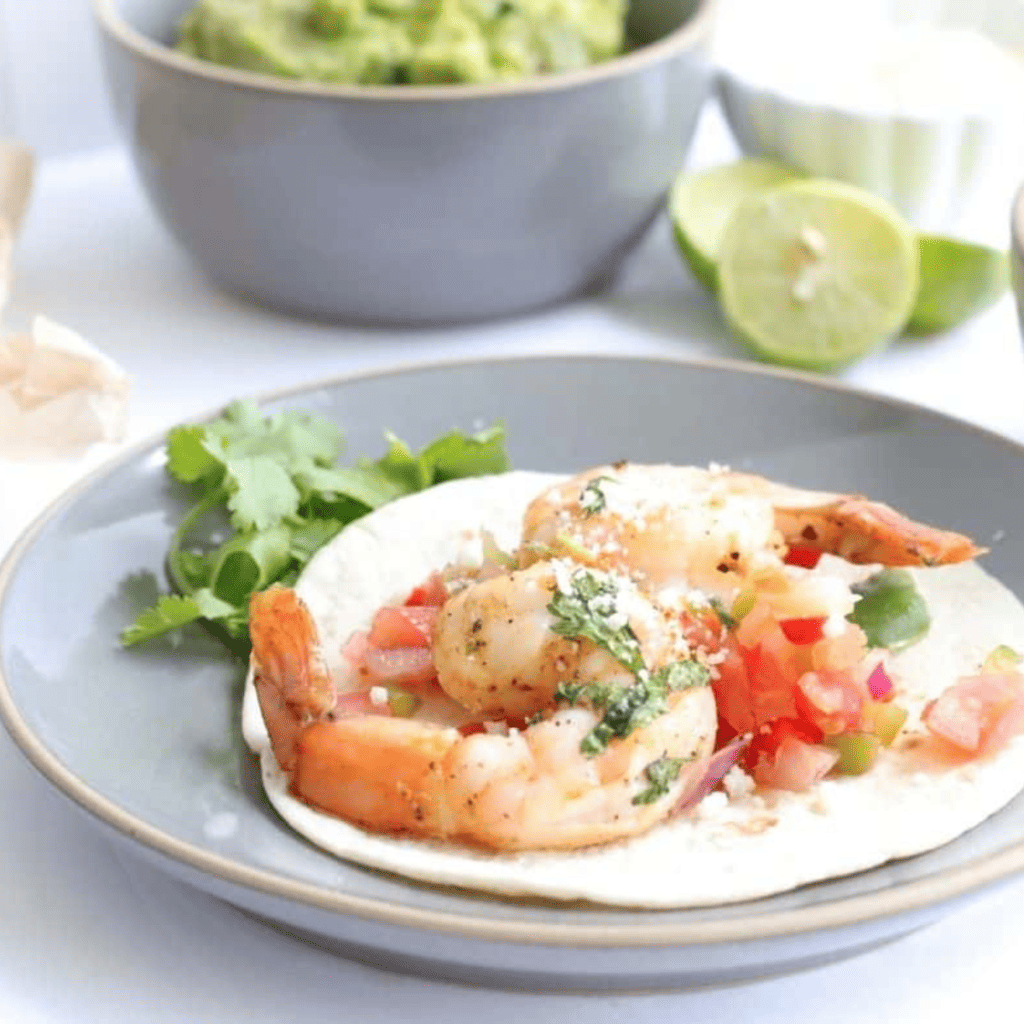 Pro Tips For The Best Air Fryer Shrimp Fajitas
Use large shrimp: Opt for large-sized shrimp as they tend to hold up better in the air fryer and offer a meatier texture. They will also be easier to handle when assembling the fajitas. Any raw shrimp will work.
Preheat the air fryer: Preheating ensures it reaches the desired temperature before cooking, producing more consistent and evenly cooked shrimp and vegetables.
Don't overcrowd the basket: To ensure proper air circulation and even cooking, avoid overcrowding the air fryer basket. Cook the shrimp and vegetables in batches, or use multiple trays if your air fryer allows.
Shake or flip halfway through. To ensure even cooking and browning, shake the air fryer basket or flip the shrimp and vegetables halfway through the cooking process. This helps to achieve a more evenly cooked and flavorful result.
Marinate the shrimp: If time permits, marinate the shrimp in the seasonings and oil mixture for at least 30 minutes before cooking. This will help infuse the flavors and enhance the taste of the shrimp.
Season the vegetables separately: To ensure they are evenly coated in the seasonings, toss them in a separate bowl with the oil and spices before adding them to the air fryer. This ensures that the flavors are distributed evenly.
Adjust cooking time: Cooking times may vary depending on the size of the shrimp and the air fryer model. Keep a close eye on the shrimp to avoid overcooking, as they can become rubbery if cooked for too long.
Warm the tortillas: For extra flavor and pliability, warm the tortillas before assembling the fajitas. You can do this by wrapping them in foil and placing them in the air fryer for a minute or two before serving.
Customize your toppings: Feel free to personalize your shrimp fajitas with your favorite toppings and condiments. Consider adding sliced jalapeños, extra guacamole, or a squeeze of fresh lime juice for an extra burst of flavor.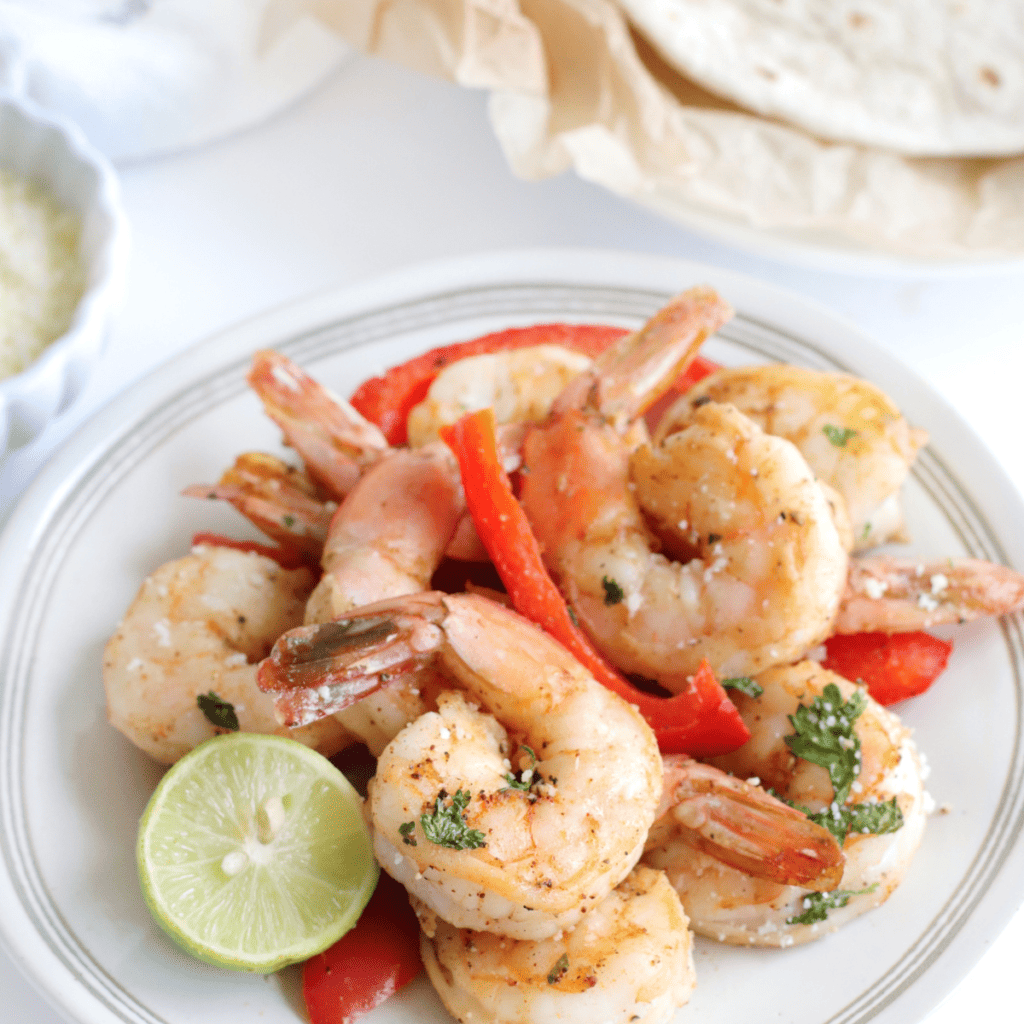 FAQ
Can I use frozen shrimp for this recipe?
You can use frozen shrimp, but make sure to thaw them completely before seasoning and cooking. Pat them dry with paper towels to remove excess moisture before marinating. Any shrimp will work perfectly for this recipe. Cooking shrimp is amazing in the air fryer.
Can I use different vegetables for the fajitas?
Absolutely! While bell peppers and onions are classic choices, you can experiment with other vegetables like zucchini, mushrooms, or cherry tomatoes. Just ensure that the vegetables are sliced thinly and evenly for even cooking.
Can I use a different seasoning blend?
Feel free to customize the seasoning blend according to your preference. You can add additional spices like garlic powder, onion powder, or smoked paprika to enhance the flavor profile. Taco seasoning is a popular option for this recipe.
Can I use corn tortillas instead of flour tortillas?
Yes, you can use corn tortillas if you prefer or have dietary restrictions. Corn tortillas add a slightly different texture and flavor to the fajitas.
How do I prevent the shrimp from sticking to the air fryer basket?
To prevent sticking, lightly coat the air fryer basket with cooking spray or brush it with thin oil before adding the shrimp and vegetables. This will help create a non-stick surface.
Can I double the recipe for a larger crowd?
You can easily double or triple the recipe to accommodate a larger group. Just make sure to cook the shrimp and vegetables in batches to avoid overcrowding the air fryer.
Can I prepare the shrimp and vegetables in advance?
While it's best to cook the shrimp and vegetables fresh for optimal texture and flavor, you can prepare the seasoning and chop the vegetables in advance to save time. However, marinate the shrimp just before cooking for the best results.
Storing Leftover Shrimp
If you have any leftover shrimp or want to make this recipe ahead of time for a quick and easy weeknight meal. Let the air fryer fajitas cool to room temperature, then transfer to an airtight container. The shrimp fajitas will last in the refrigerator for 3-4 days.
What to serve with shrimp fajitas: Serve with white rice or cauliflower rice, or they are perfect on their own. It's an easy dinner that doesn't require much work or cleanup!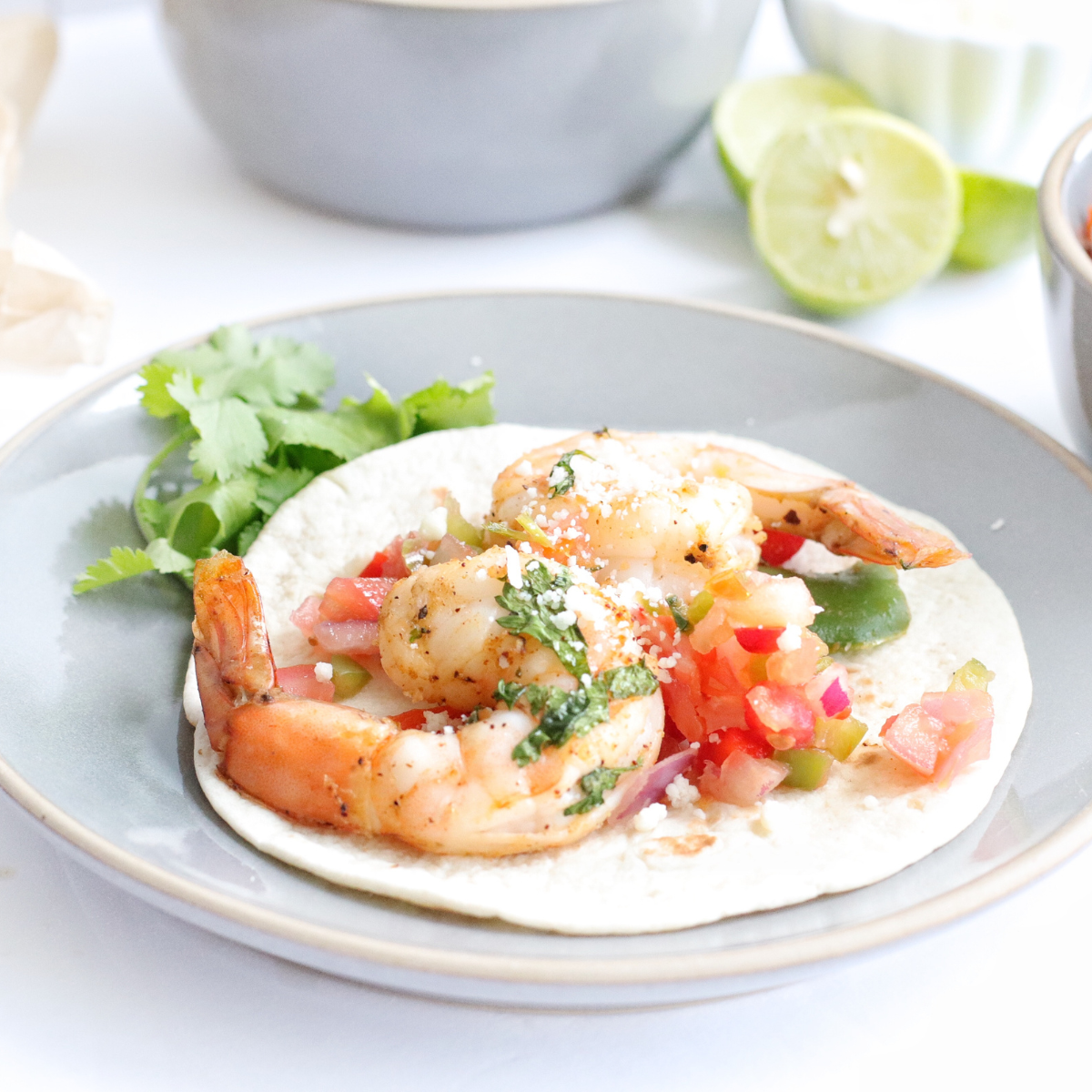 More Air Fryer Recipes
Don't Forget To Follow Us Along on Social Media; Instagram, Facebook, and TikTok, and Join Our Facebook Page and group for all your Air Fryer Recipes and Tips!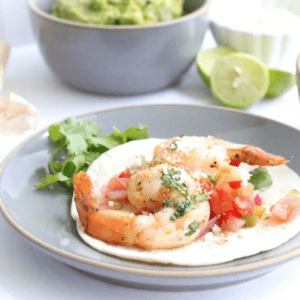 Air Fryer Shrimp Fajitas
Description
Quick and Easy Air Fryer Shrimp Fajitas: If you have been looking for an easy meal, something the whole family will love, this is one of my favorites. This Air Fryer Shrimp Fajita Recipe is perfect for a delicious dinner and perfect for those fussy eaters!
Ingredients
12-14

Frozen

XL Peeled Uncooked Shrimp

,

Thawed

½

tablespoon

Cumin

½

teaspoon

Garlic Powder

¼

teaspoon

Black Pepper

¼

teaspoon

Paprika

1

tablespoon

Chopped Cilantro

1

tablespoon

Olive Oil

½

large

Lime

1

large

Green Bell Pepper

1

large

Red Bell Pepper

2

Flour Tortillas

,

or Corn Tortillas

Your Favorite Fajita Toppings
Instructions
Preheat Air Fryer to 400 degrees F, air fryer setting.

Place thawed shrimp in a large bowl.

Add cumin, garlic powder, black pepper, paprika, olive oil, and cilantro to the bowl.

Chop red and green peppers into strips. Add them to the bowl as well.

Finally, squeeze the lime half into the bowl (You can actually throw the lime half right in with the ingredients if you want or discard after squeezing.)

Mix everything around until it's evenly coated in seasoning and olive oil.

Place shrimp and peppers in a single layer in the air fryer basket.

Cook for about 5-6 minutes.

When shrimp is completely pink on the outside and browned a little, you can remove it from the heat.

Transfer to a serving bowl & enjoy!
Notes
Cooking fajitas in the air fryer takes little to no time at all! These shrimp fajitas are perfect on top of a salad, wrapped in a tortilla, or served with rice!
I garnished them with a little Cotija Cheese in some of the pictures ( which is totally optional).
In addition to peppers, you can easily add onions or even jalapeños!
Nutrition
Serving:
1
Serving
Calories:
210
kcal
Carbohydrates:
27
g
Protein:
6
g
Fat:
10
g
Saturated Fat:
2
g
Polyunsaturated Fat:
2
g
Monounsaturated Fat:
6
g
Cholesterol:
10
mg
Sodium:
237
mg
Potassium:
428
mg
Fiber:
5
g
Sugar:
7
g
Vitamin A:
2932
IU
Vitamin C:
177
mg
Calcium:
83
mg
Iron:
3
mg