Are you ready for a taste of the tropics? If so, then Ninja Creami Pineapple Aqua Fresca is the perfect way to get your feet wet.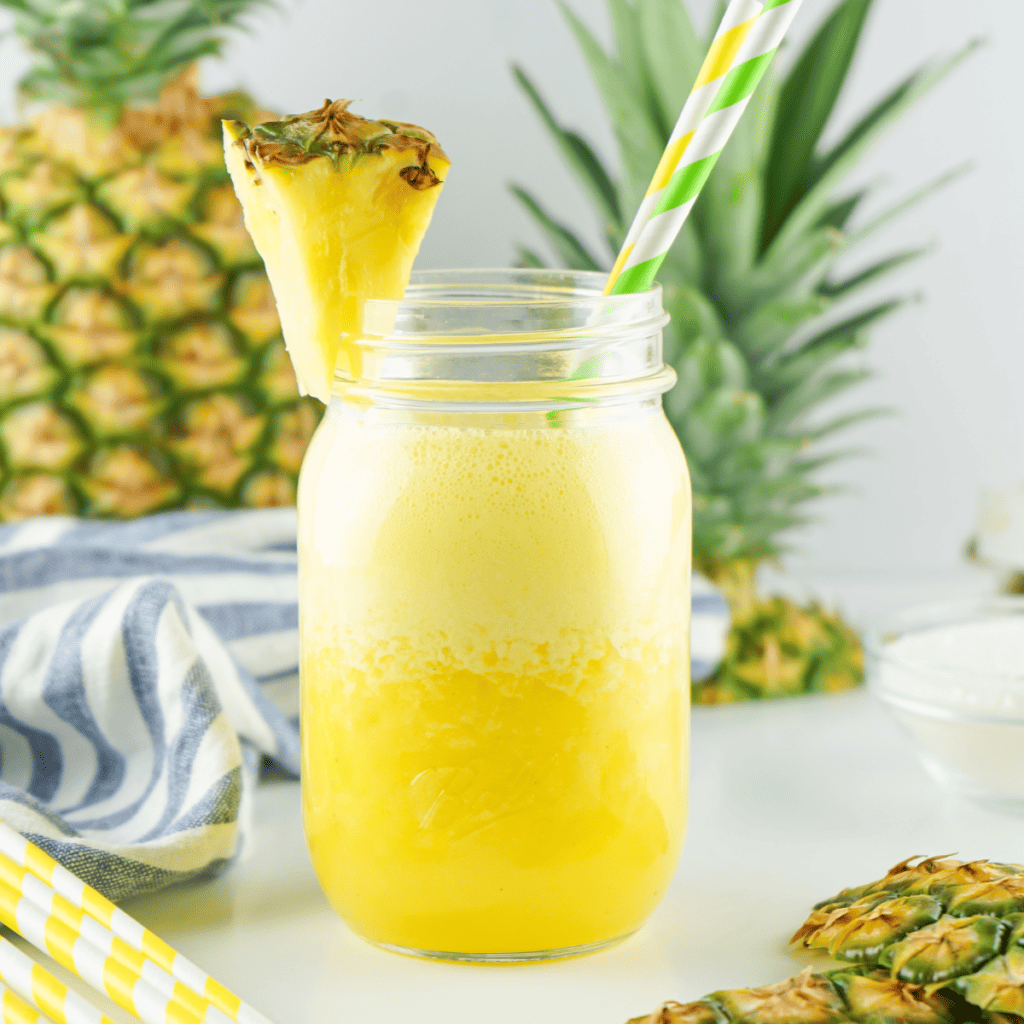 This delicious and refreshing drink will have you feeling like you've been transported to a far-off exotic island! With sweet pineapple juice balanced out by zesty lime juice, this caffeine-free refresher packs a flavor punch as unique as tantalizing.
Get ready for an amazing tropical experience – it's party time with Ninja Creami Pineapple Aqua Fresca!
What Is A PIneapple Aqua Fresca
A Pineapple Aqua Fresca is a refreshing Mexican beverage made with fresh pineapple, water, and a sweetener. "Aqua fresca" translates to "fresh water" in Spanish and refers to various non-alcoholic beverages made by blending fruit, water, and sweetener.
Ingredients Needed For Ninja Creami Pineapple Aqua Fresca
Ever wanted to make a refreshing summer treat but don't know where to start? Look no further than the Ninja Creami Pineapple Aqua Fresca, an easy-to-make drink that will surely become your summertime staple!
With only a few simple ingredients and fresh pineapple chunks as its essence, this delicious concoction combines sweet, savory notes in every sip. Classic yet unexpected recipes like these deserve special attention, so we've laid out all the ingredients needed for you below – follow our instructions and imagine yourself sipping on this delightful refreshment with ease!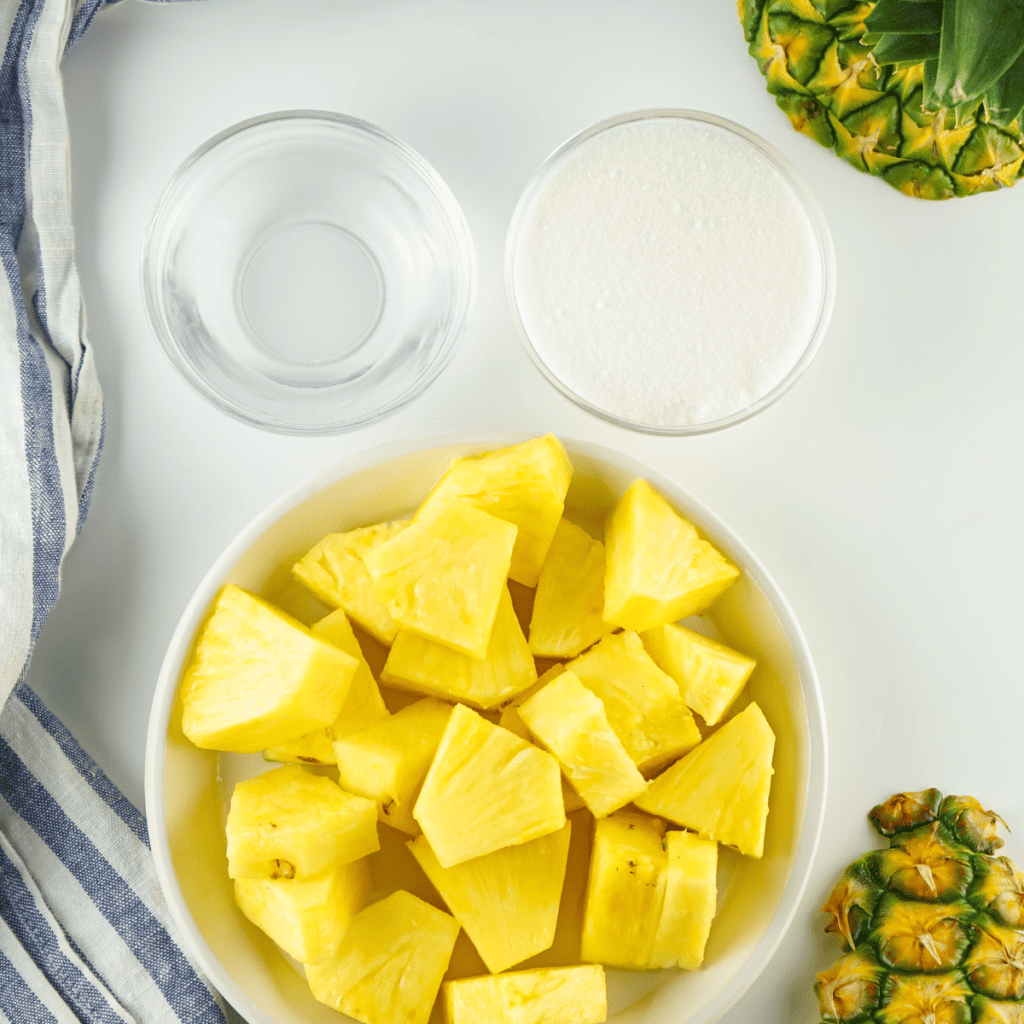 Remember the step-by-step directions and detailed ingredient list are below in the printable recipe card at the bottom of the post, as well as the nutritional information.
Fresh pineapple: Use ripe and juicy pineapples for the best flavor. Peel, core, and cut the pineapple into chunks.
Pineapple Juice: Use pineapple juice for added flavor.
Sweetener: You can use granulated sugar, honey, agave syrup, or any preferred sweetener to balance the tartness of the pineapple. The amount of sweetener can be adjusted to suit your taste preferences.
How To Make Pineapple Aqua Fresca In Ninja Creami Machine
If you're looking for an easy and refreshing summer drink, look no further! Pineapple Açaí Fresca is the perfect beverage to excite your taste buds all season.
It's creamy texture and delicious flavor will quench any thirst as it chillingly whizzes through the Ninja Creami machine. This fool-proof recipe is a great way to bring the taste of island paradise in a convenient form — without having to spend all day mixing up exotic ingredients on land or sea. Plus, have no fear if you've got a sweet tooth – this recipe can turn even sweeter with just some extra sweetness! So get ready for a cool treat everyone (including yourself) will enjoy this summer — let's learn how to make pineapple Açaí Fresca in the Ninja Creami Machine!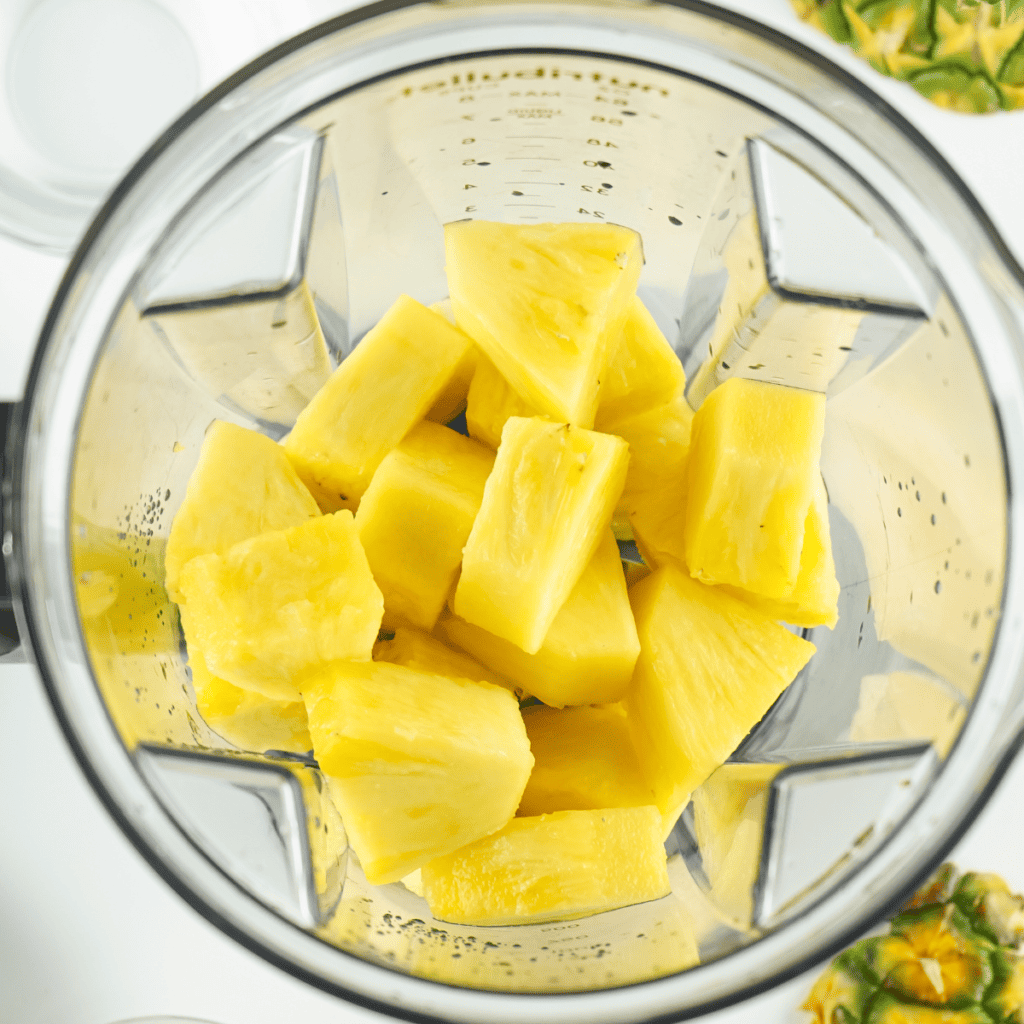 Step One: Add Ingredients To Ninja Creami
Place the pineapple chunks in the Ninja Creami pint container, pour the pineapple juice into the Ninja Cerami pint container, and fill to the Max Fill Line.
Step Two: Freeze
Add the lid to the Ninja Creami Pint Container and place it into the freezer for 24 hours.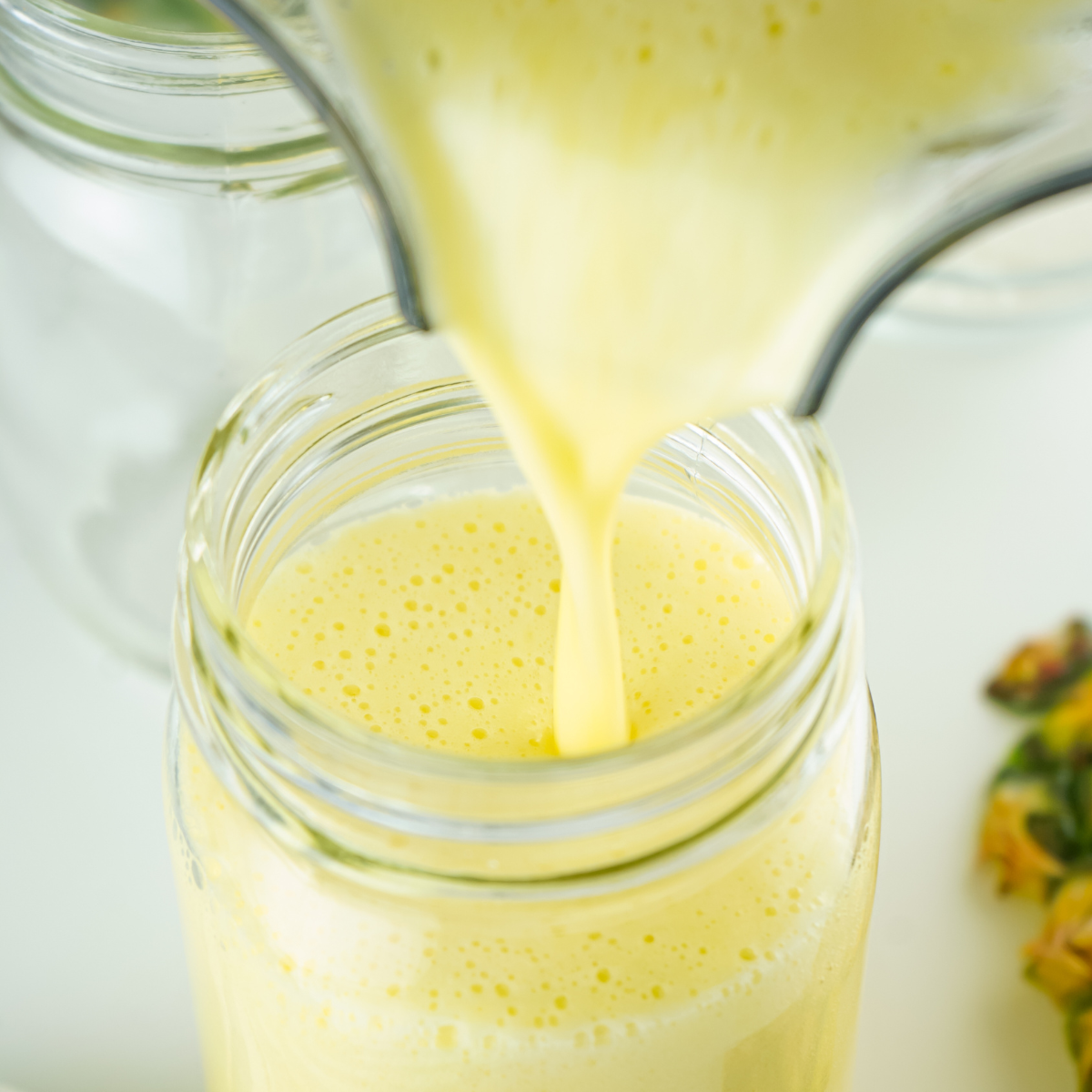 Step Three: Process
Remove the lid from the Ninja Creami Pint Container, and place the pint container into the Ninja Creami Bowl, add secure. Press the Sobret Button and allow for the drink to process.
After it is processed, remove the pint container and add a couple of tablespoons of pineapple juice, and press the re-spin cycle.
Step Four: Serving
Taste the Aqua Fresca and add a few teaspoons of sweetness, and garnish with fresh pineapples.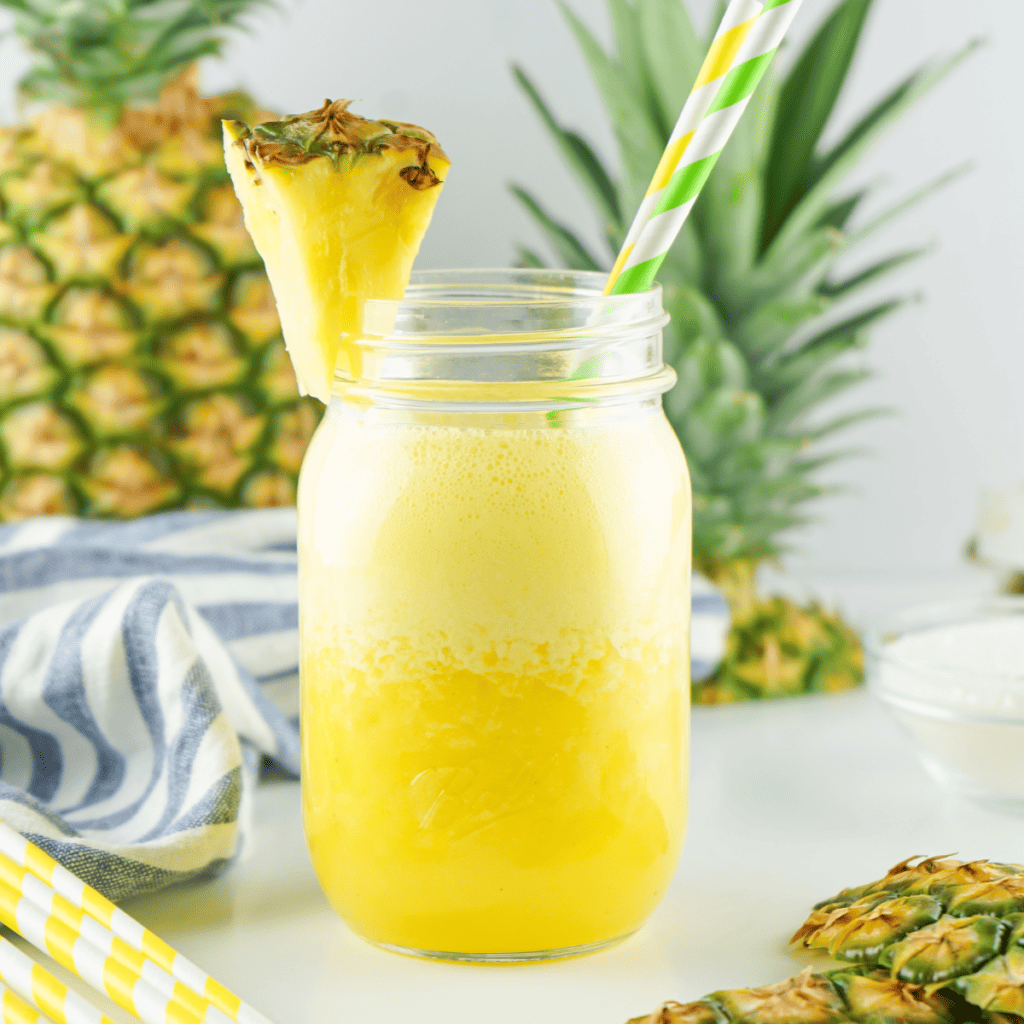 Pro Tips For Using The Ninja Creami Machine
The Ninja Creami Machine is an amazing tool that lets you create your own ice creams, gelatos, smoothie bowls, and even sorbets at home. Here are some pro tips to help you make the most out of your Creami machine:
Experiment with Recipes: Don't limit yourself to the recipes that come with the manual. Experiment with different types of milk, fruits, sweeteners, and add-ins. You might just come up with your own signature flavor.
Chill Your Ingredients: If you're making a recipe that uses milk or cream, make sure these ingredients are well chilled before you add them to your machine. This can help the freezing process and results in a smoother texture.
Patience with the Freezing: Allow the Creami cups to freeze properly. The machine works best when the mixture in the cup is completely frozen. For best results, freeze for 24 hours before use.
Layer Your Ingredients: When adding ingredients to your Creami cup, layer them. Start with liquid, add your solid ingredients, then finish off with more liquid. This ensures everything freezes evenly.
Avoid Overfilling: Don't overfill the Creami cups. There should always be some space at the top as the ingredients will expand as they freeze.
Keep the Machine Clean: Regularly clean your machine to prevent the build-up of any residues that can affect the taste and quality of your desserts. Most parts of the Creami machine are dishwasher safe, making it easy to clean.
Freeze Ripe Fruits: Using overly ripe fruits can often give your desserts a much more flavorful and natural sweetness. When you find fruits are too ripe to eat but too good to throw out, consider freezing them for your next batch of Creami.
Mind the Sweeteners: Experiment with different types of sweeteners to change the taste profile. Honey, agave, maple syrup, or even sugar substitutes can be used depending on your preferences.
Storage: If you're not planning to eat your dessert right away, transfer it into a sealed container and store it in the freezer. This will prevent it from becoming too hard or forming ice crystals.
Softening Time: If your mixture comes out too hard, let it sit for a few minutes to soften before serving. This can make it easier to scoop and will improve the texture.
Enjoy using your Ninja Creami Machine and the wonderful desserts you'll make!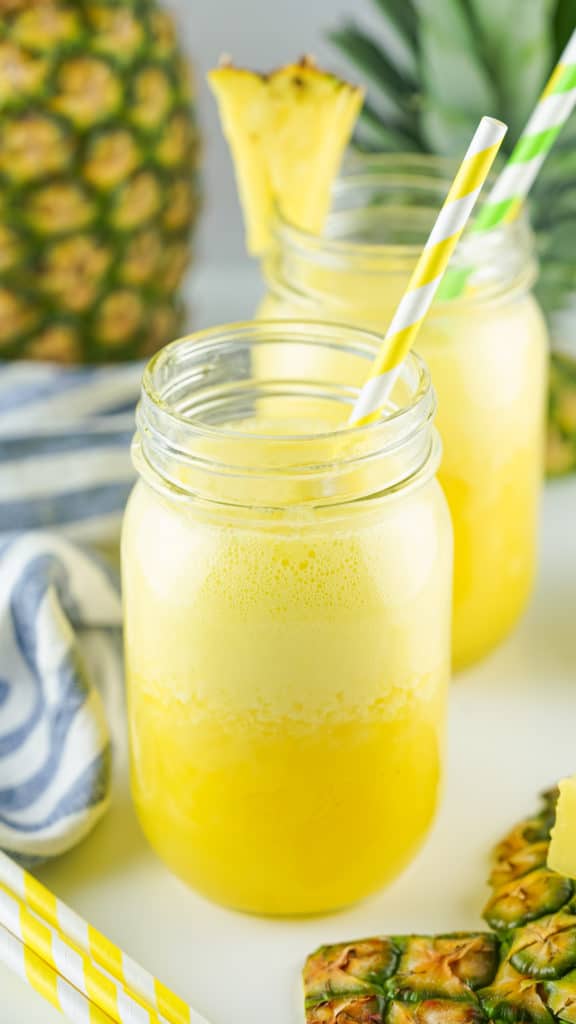 Equipment Used:
Ninja NC301 CREAMi Ice Cream Maker, Gelato, Mix-ins, Milkshakes, Sorbet, Smoothie Bowls & More, 7 One-Touch Programs, with (2) Pint Containers & Lids, Compact Size, Perfect for Kids, Silver
Cedilis 6 Pack Milkshake Glass with 6 Long Metal Spoons, Old Fashioned Soda Glasses, Fountain Classic Glass for Ice Cream, Clear, 12oz
More Ninja Creami Recipes
Don't Forget To Follow Us Along on Social Media; Instagram, Facebook, and TikTok, and Join Our Facebook Page and group for all your Air Fryer Recipes and Tips!
Ninja Creami Pineapple Aqua Fresca
Description
Are you ready for a taste of the tropics? If so, then Ninja Creami Pineapple Aqua Fresca is the perfect way to get your feet wet.
Ingredients
20

ounces

pineapple

,

chunks

4-5

tablespoon

pineapple juice

2

teaspoons

granulated sugar

,

adjust to taste
Instructions
Place the pineapple chunks in the Ninja Creami pint container, pour the juice into the Ninja Cerami pint container, and fill to the Max Fill Line.

Add the lid to the Ninja Creami Pint Container and place it into the freezer for 24 hours.

Remove the lid from the Ninja Creami Pint Container, and place the pint container into the Ninja Creami Bowl; add secure. Press the Sobret Button and allow for the drink to process.

After it is processed, remove the pint container, add a couple of tablespoons of pineapple juice, and press the re-spin cycle.

Taste the Aqua Fresca, add a few sweetness teaspoons, and garnish with fresh pineapples
Equipment
NInja Creami Machine

Ninja Creami Pint Container

Ninja Creami Pint Lid
Nutrition
Serving:
1
Serving
Calories:
173
kcal
Carbohydrates:
45
g
Protein:
2
g
Fat:
0.4
g
Saturated Fat:
0.03
g
Polyunsaturated Fat:
0.1
g
Monounsaturated Fat:
0.04
g
Sodium:
3
mg
Potassium:
348
mg
Fiber:
4
g
Sugar:
35
g
Vitamin A:
166
IU
Vitamin C:
139
mg
Calcium:
41
mg
Iron:
1
mg