Do you like eggs? How about bacon? If you said yes to either of those, then you're going to love this new recipe that I've been using in my Instant Pot Vortex Air Fryer. It's quick, easy, and delicious! Plus, it's a great way to start your day. Who knows, maybe this will become your go-to breakfast recipe. Give it a try and let me know what you think! 🙂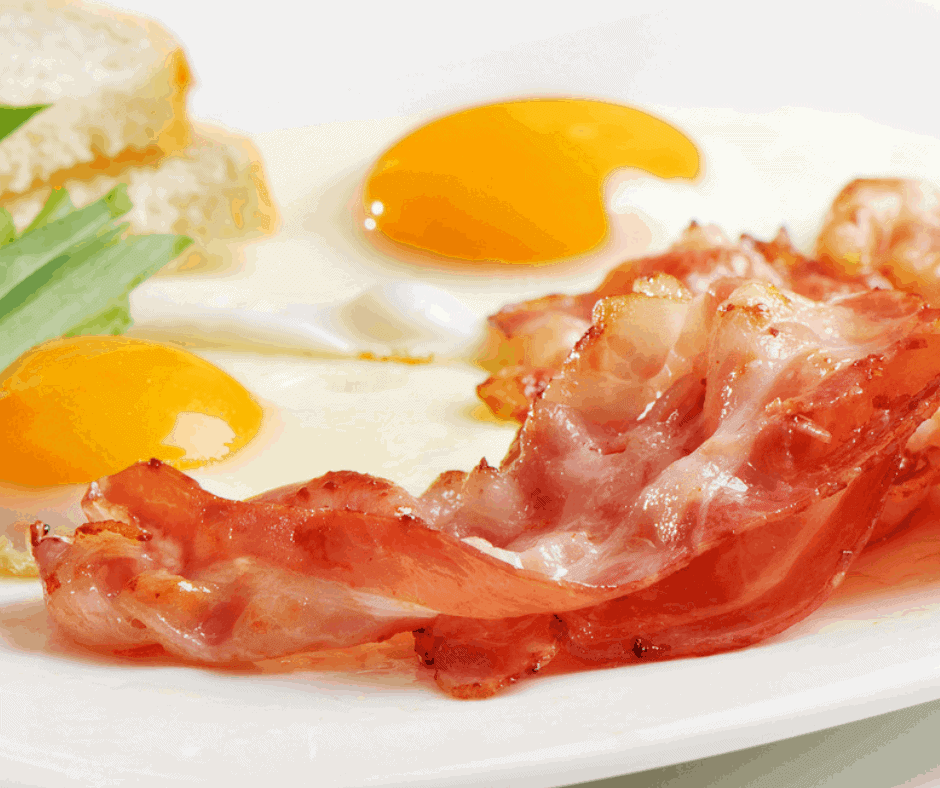 Instant Pot Vortex Air Fryer, Bacon and Eggs–Hmm. Summer vacation, two teenage boys, and a new Air Fryer, hmm.
Do you know where this is going? Yes, breakfast at my house consisted of fried eggs and bacon. Now the breakfast was successful, we loved the bacon and the eggs. The eggs themselves, I will have to work on, because the ends of them were like plastic. +
But, this is a fun machine to play with. It cooks food way faster than a regular air fryer, and I have been a dedicated air fryer blogger since 2017, check out www.forktospoon.com, which is loaded with air fryer recipes, from Banana Bread to Cookies, I have it all.
Instant Pot Vortex
I was one of the ones who picked up my new Vortex Air Fryer by Instant Pot today. My kids were all excited as I have quite a few Instant Pots and quite a few air fryers. (See about me, for pictures of my kitchen)
So, they asked if we could do a quick test run.
Sure, I thought, what should we make, they screamed out DONUTS!! They love their donuts, we have been having quite an adventure making donuts, some of them are extreme, so I hope you check them out.
But, today was all about trying out the Vortex, which is only being sold at Walmart, which meant I had to go out and get it, I couldn't stock the tracking feature on Amazon, which is what I usually do. They are being sold there, and online. I think most people have had better luck ordering them online, than finding them in stores. I was surprised that my local Walmart would not be stocking them.
So, we unboxed the Vortex, it has a sleek design, it has many many functions.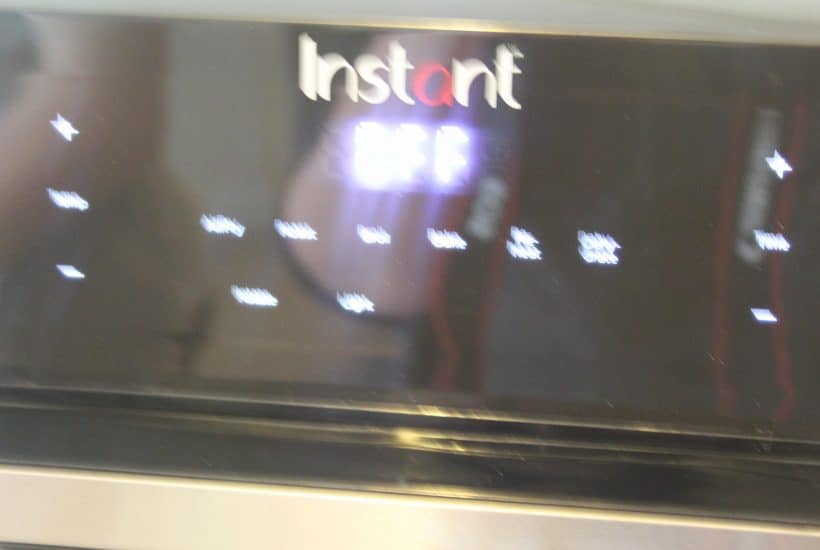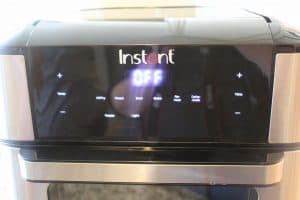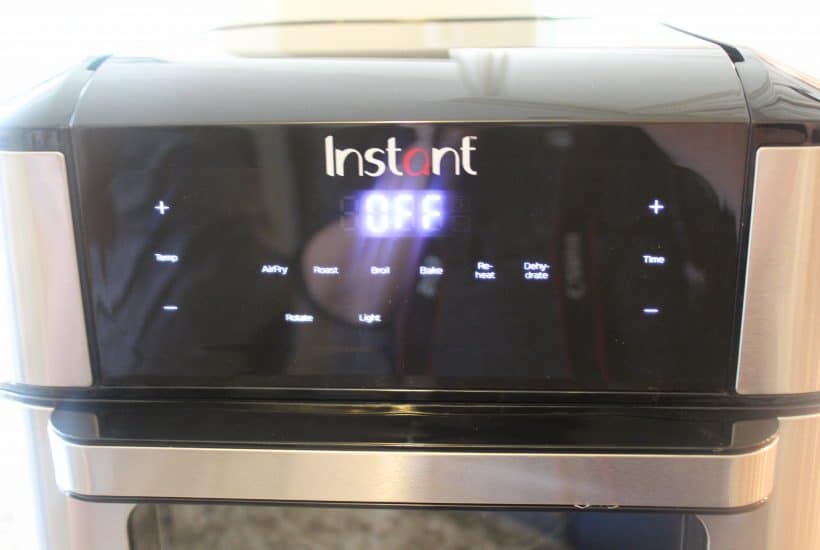 Here is a description from the Walmart Site:
Instant Pot Vortex Air Fryer Bacon and Eggs
There's something about cooking bacon and eggs together that just feels so right. And it's even better when you can do it in a fraction of the time with your Instant Pot Vortex Air Fryer. This easy breakfast recipe is perfect for busy weekday mornings, and it's sure to get your day off to a great start. Best of all, there's virtually no cleanup required – simply toss the dishes in the dishwasher and you're good to go! So what are you waiting for? Start whipping up this delicious breakfast dish today!
Ingredients Needed For Instant Pot Vortex Air Fryer Bacon and Eggs
The Instant Pot Vortex Air Fryer Bacon and Eggs is a great breakfast or brunch dish that is easy to make. The vortex feature ensures that your bacon and eggs are cooked evenly, so you won't have to worry about any uncooked areas. Plus, the air fryer cooks your bacon and eggs quickly and without any added oil, making it a healthier option. To make this dish, you will need some simple ingredients that you likely already have in your kitchen. So what are you waiting for? Try out this delicious recipe today!
Bacon
Eggs
Olive Oil Spray
How To Cook Air Fryer Bacon and Eggs In The Instant Pot Vortex
Looking to cook air fryer bacon and eggs in the Instant Pot Vortx? This easy 4-step guide will show you how! With minimal ingredients and a quick cook time, this breakfast dish is perfect for busy mornings. So, if you're looking for a delicious and nutritious breakfast that's easy to make, be sure to try this recipe!
Spray the pan that came with the Vortex, with non-stick cooking spray or olive oil.

Crack your eggs into the pan.

Set the pan into the Vortex Machine.

Set the temperature to 305 degrees F, for 4 minutes. After 4 minutes check and see if they are done the way you want them, otherwise, add a couple of minutes to them. My son likes them so he can dunk his toast into them.

Then add the bacon (we could have done it all together but we were playing with the machine and temperature)

Set the temperature to 400 degrees F, for 8 -10 minutes. (air fryer setting)

Plate, serve, and enjoy!

Full breakfast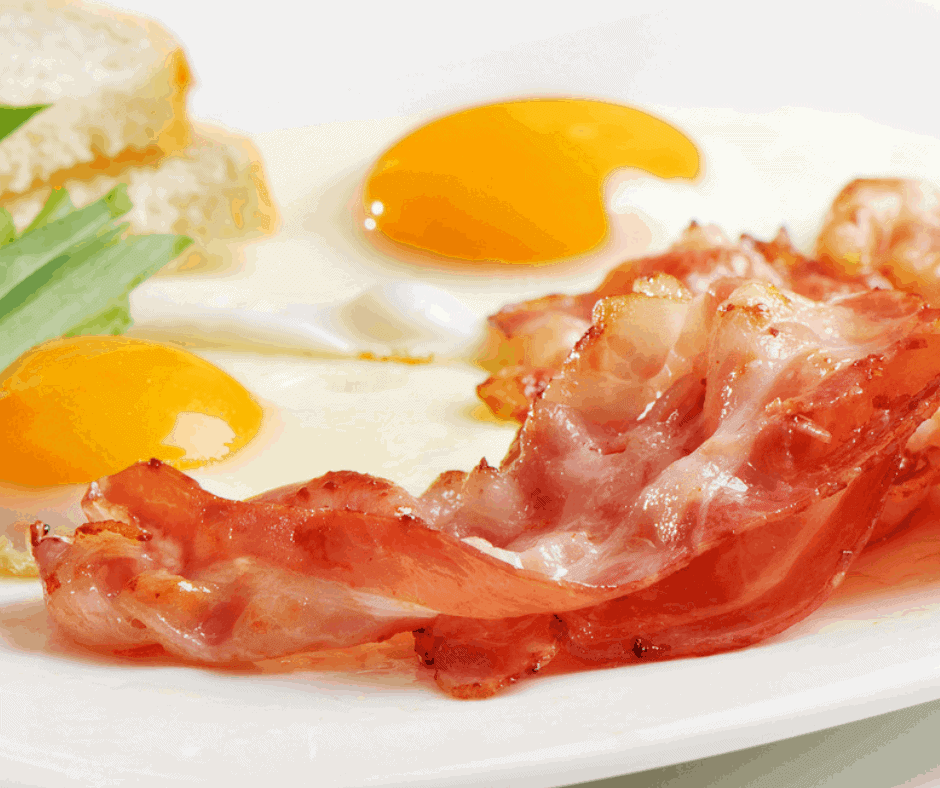 More Air Fryer Breakfast Recipes:
SOME HELPFUL PRODUCTS USED IN MAKING THIS RECIPE–
Disclosure: Some of the links below are affiliate links. At no cost to you, I will earn a commission if you click through and make a purchase.
Don't Forget To Pin–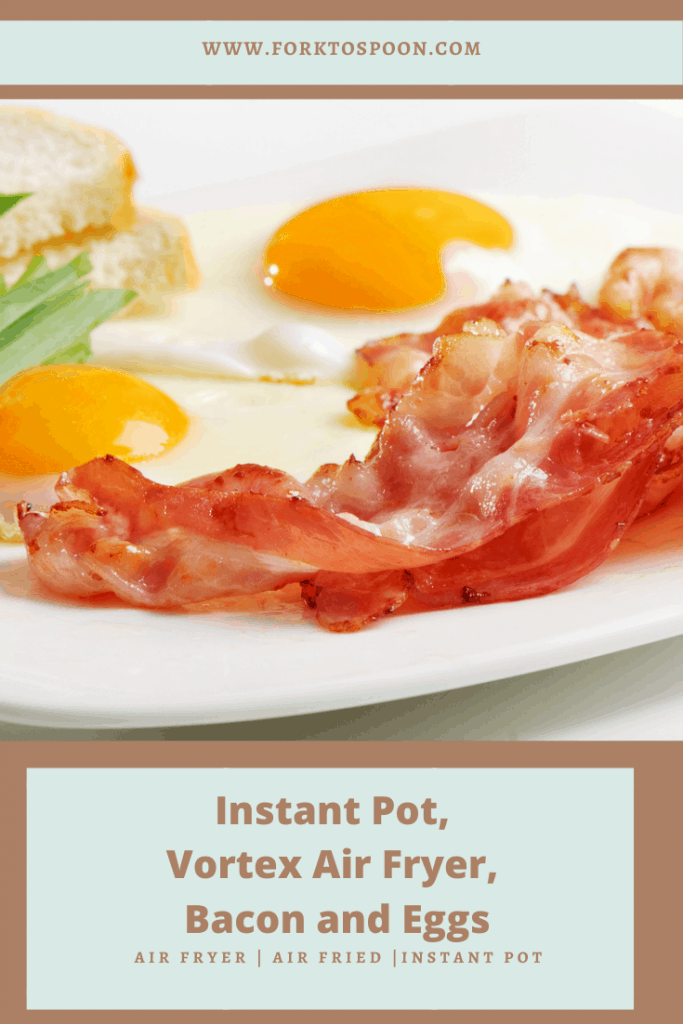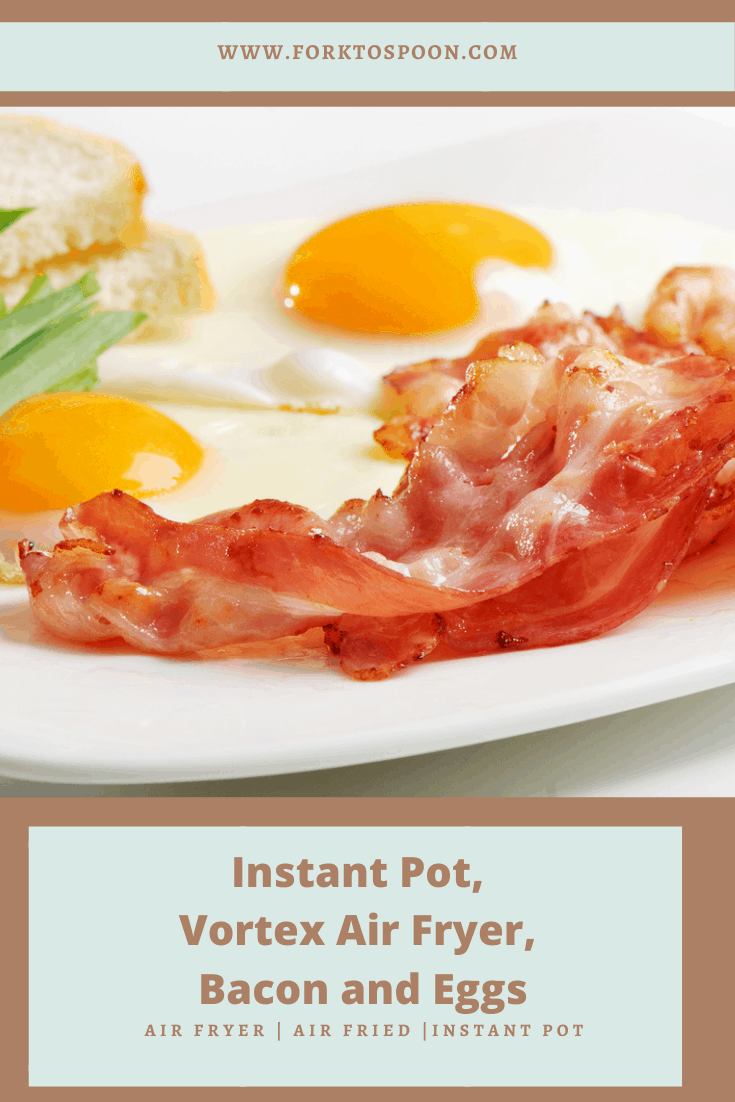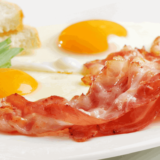 Instant Pot Vortex Air Fryer Bacon and Eggs
Description
Easy way to make bacon and eggs for breakfast in one pan, just in the air fryer. One Pan, no clean up this is a breeze!
Ingredients
2

large

eggs

4

strips

bacon
Instructions
Spray the pan that came with the Vortex, with non-stick cooking spray or olive oil.

Crack your eggs into the pan.

Set the pan into the Vortex Machine.

Set the temperature to 305 degrees F, for 4 minutes. After 4 minutes check and see if they are done the way you want them, otherwise, add a couple of minutes to them. My son likes them so he can dunk his toast into them.

Then add the bacon (we could have done it all together but we were playing with the machine and temperature)

Set the temperature for 400 degrees F, for 8 -10 minutes. (air fryer setting)
Notes
instant vortex bacon instant pot air fryer bacon how to cook bacon in instant vortex air fryer how to cook bacon in vortex air fryer instant vortex air fryer bacon instant pot vortex bacon ninja air fryer bacon bacon in vortex plus air fryer
Nutrition
Serving:
1
g
Calories:
89
kcal
Carbohydrates:
0.4
g
Protein:
6
g
Fat:
7
g
Saturated Fat:
2
g
Polyunsaturated Fat:
1
g
Monounsaturated Fat:
3
g
Trans Fat:
0.02
g
Cholesterol:
188
mg
Sodium:
74
mg
Potassium:
69
mg
Sugar:
0.2
g
Vitamin A:
270
IU
Calcium:
28
mg
Iron:
1
mg