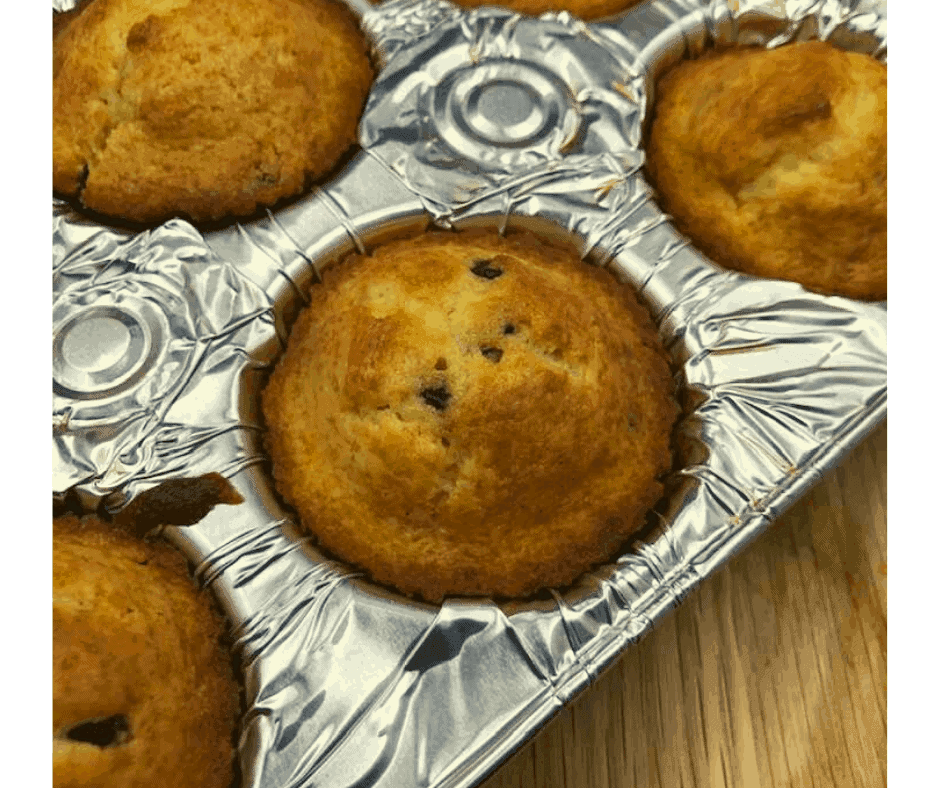 My mother was a great baker, she always baked muffins on Sunday, and we would bring them to our walk to school on Monday mornings. This was great because Monday's for most people are slowly starting days. So, having a portable breakfast was important, and since I'm old, we didn't own a microwave or eat frozen foods. So, having an on the go-to breakfast was awesome in my eyes.
My kids have the same problem on Mondays, so I made muffins, on Sunday night, just like my mom and they always grab them on Monday mornings. I guess traditions are important.  So, if you are having trouble with breakfast, try this one, and let me know how they work for you.
Muffins, they are the perfect breakfast food. They are a great healthy alternative for breakfast on the go.  Whatever the muffin, it's sure to be sweet, crumbly and delicious.
I love eating muffins all year round; they are perfect on the go-to breakfast. I always make a huge batch on Sunday, so my husband can bring them to work during the week. These are my favorite muffins, I have been eating them since I was a little girl. I'm not sure where the recipe came from, but they are amazing!  My kids also love them, because they are nice and fruity, who doesn't love chocolate.
Making muffins in the air fryer requires patience and setting the timer until you have them the way you want them. I like mine golden brown; I know others like them cooked more or less. So, my best advice to you would be to set the timer for 3 minutes and keep on checking them, until they are how you want them. Because you are eating them, have them your way. It's one of the best reasons to make food at home.
The two things I have used to make muffins in the air fryer are silicone muffin liners and my tiny four cube muffin tin. I prefer the muffin tin more because I don't have to worry about them flying around in the air fryer. The links are in the items used section, in case you were wondering. I tried several times to keep the silicone muffin tins to stay in the air fryer, but no matter, how much batter, I put in; they fly around. You could fill the silicone muffin cups and then place them into the muffin tin.
Here are other muffin recipes.
here are some common questions that come across in our air fryer group, and I wanted to take a few minutes and address them.
Common Questions:
Can Silicone Molds Be Used in The Air Fryer?
Yes, anything that is ovenproof, can be used in the air fryer.  It can be glass, cerarmic, metal or silicone.  I have had success with silicone molds, metal disposable cupcake molds and really good sucess with silicone molds.
Here are some suggestions:
Pantry Elements Silicone Baking Cups Variety Pack 
Accessory Kit that fits into any air fryer (notice the cupcake mold, which can also be used in the Instant Pot (Pressure Cooker)
This is my favorite, each purchase comes with 2, and I bought 2, so I could always have my muffin batter in a pan. Love it!
Can You Bake in the Air Fryer?
Yes, absolutely. Although all of the temperatures and times will need to be adjusted. Prepare the pans, as you would normally, spray with non-stick cooking spray.  You will also have to adjust the recipes so that you only fill the air fryer sized pans (Sometimes, cake mix and brownie mix, prepared will need to be split between two pans) With muffins it doesn't matter that much.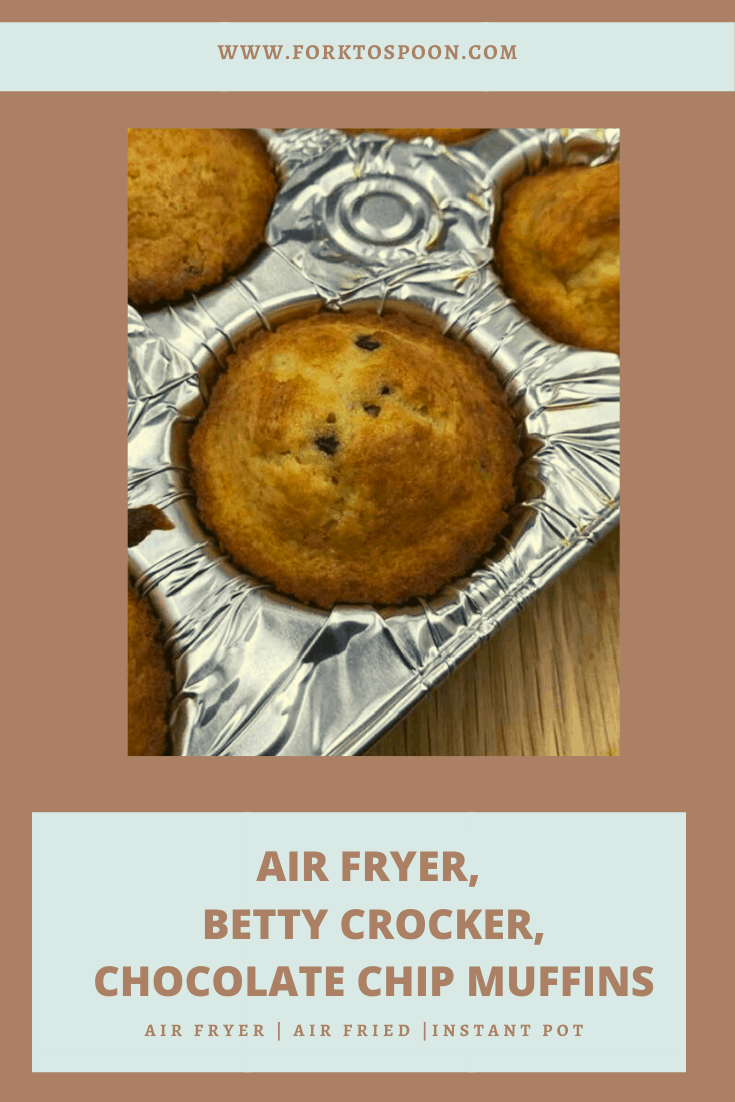 Print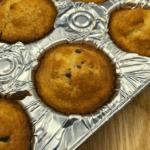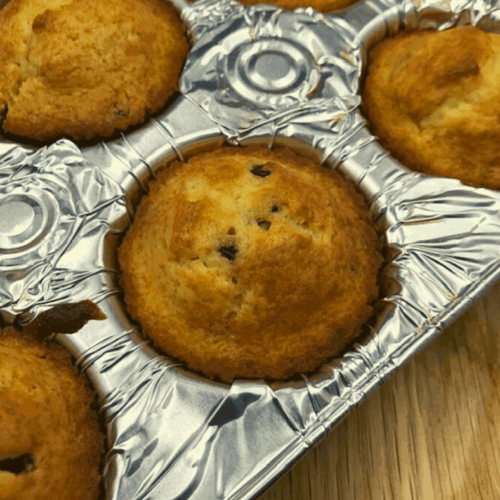 Betty Crocker, Chocolate Chip Muffins
Author:

ForkToSpoon.com

Prep Time:

5 minutes

Cook Time:

12 minutes

Total Time:

17 minutes

Yield:

10

muffins

1

x

Category:

Breakfast

Cuisine:

American
---
Description
This is a really easy recipe for Betty Crocker Chocolate Chips Muffins, made in the air fryer. It is a great recipe since you don't have to watch them.
---
1

package Betty Crocker Chocolate Chip Muffin Mix
---
Instructions
This is the muffin mix I used.

Per the package instructions, mix in the egg, water, and oil (every package is different, just make as directed)

Pour into a prepared (sprayed with olive oil) muffin tin.

Set in the air fryer for 12 minutes at 320 degrees F. Before you remove, make sure they are fully cooked, the actual time will depend on the air fryer model and wattage you own.
Plate, serve and enjoy!

---