Cornbread Muffins in the Air Fryer are so easy to make — because who has time to wait for traditional recipes to bake up in the oven? Not me, especially during the holiday season. That's why I love using my air fryer to make quick and easy corn muffins! They're so delicious that no one will ever know that you didn't spend hours in the kitchen.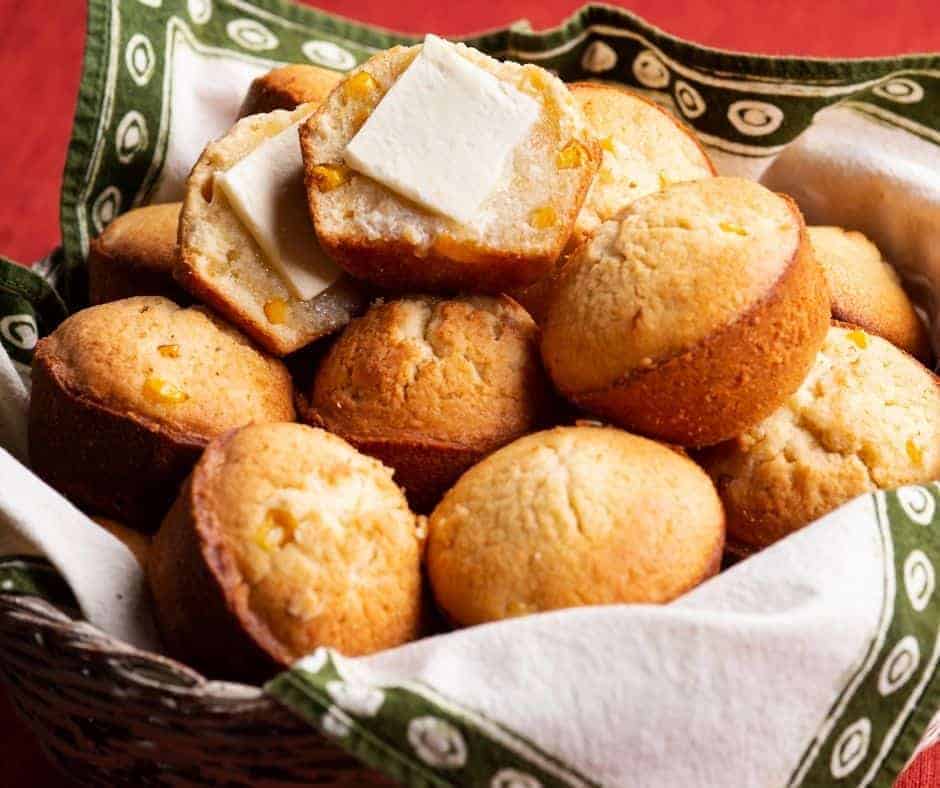 Cornbread Muffins Recipe
If you haven't made cornbread muffins, they are amazing in the air fryer! Light, fluffy, and tender, they're the perfect side to various dishes — chili, ribs, stews, or even a simple chicken dinner. Air Fryer Cornbread Muffins are an amazing addition to any meal.
They are best served warm with a big old pat of butter right in the middle. With the air fryer, they only take about 20 minutes from start to finish, so you can literally make them every day.
If you don't eat them in one sitting, just reheat them in the microwave or air fryer for a nice warm batch to go with the next day's meal!
If you are looking for other Air Fryer Cornbread Recipes, some of my favorites are AIR FRYER JALAPENO CORN MUFFINS, AIR FRYER FAMOUS DAVE'S CORN MUFFIN COPYCAT, AIR FRYER CORN PILLSBURY CORNBREAD SWIRLS, and AIR FRYER PUMPKIN CORNBREAD!
Why You'll Love This Corn Muffins Recipe
Easy to make in the air fryer
Full of savory and sweet flavor
Budget-friendly
Made from scratch
Ingredients Needed For Cornbread Muffins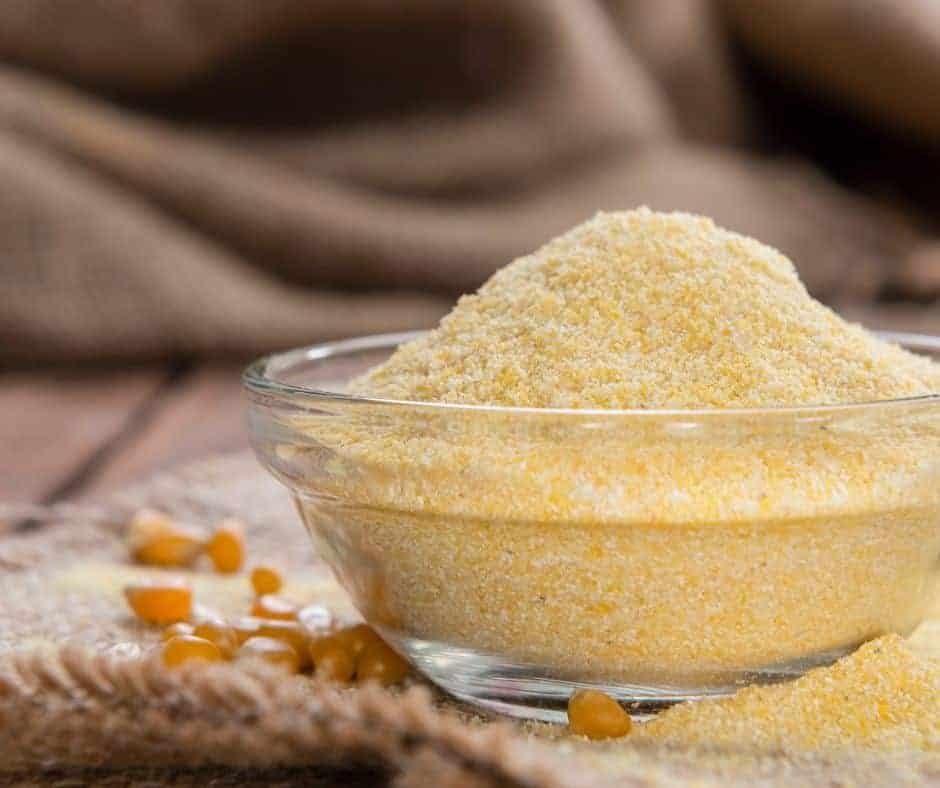 All-Purpose Flour: If you want to make these gluten-free, you can use gluten-free all-purpose flour! I recommend King Arthur's Gluten-Free All-Purpose Flour.
Yellow Cornmeal: You can also use white cornmeal, but yellow cornmeal is the classic ingredient.
Salt
Corn Kernels: Use either canned corn or frozen corn (that has been thawed).
Baking Powder
Buttermilk
Baking Soda
Eggs
Granulated Sugar: If you want a low-sugar recipe or a diabetic-friendly recipe, you can use a sugar substitute, such as Splenda.
Vegetable Oil
How to Make Corn Muffins
Below you'll find my perfect cornbread muffins recipe. Enjoy!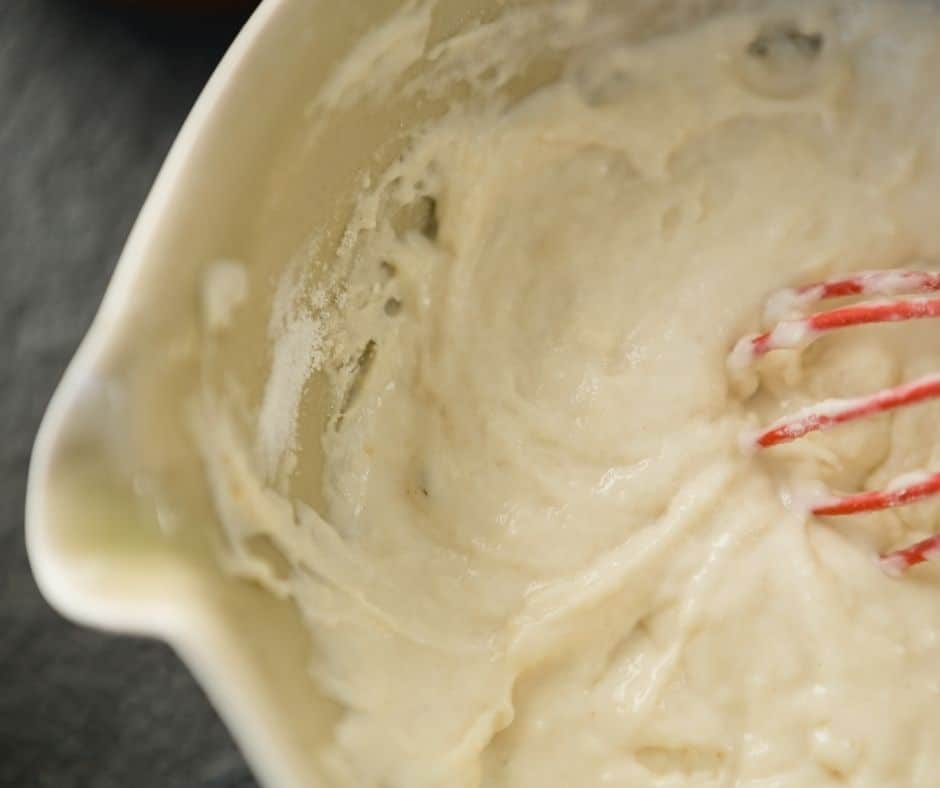 Step 1: Assemble the dry ingredients
Add the flour, cornmeal, salt, baking powder, baking soda, and sugar to a bowl and mix to combine.
Step 2: Add the wet ingredients
Incorporate the buttermilk, eggs, corn kernels, and vegetable into the dry mixture.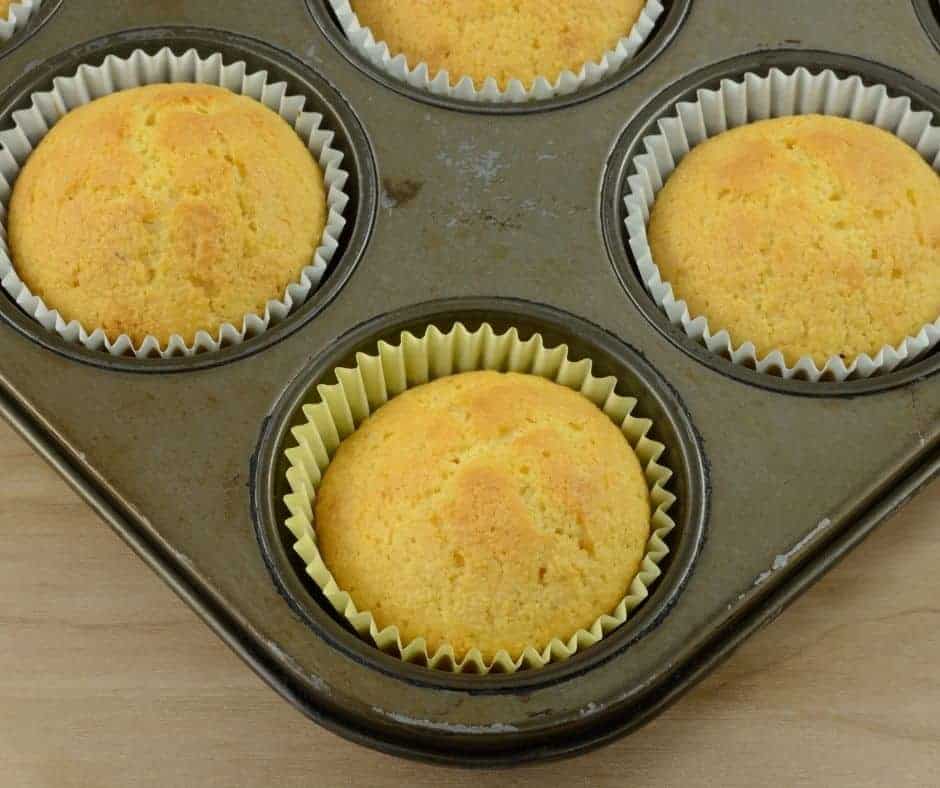 Step 3: Prepare the muffin tin
Spray your air fryer muffin tin with non-stick cooking spray or olive oil, then fill up each tin about 2/3 of the way full.
Step 4: Air fry the corn muffins
Place the muffin tin in the air fryer basket or tray and air fry at 330 degrees F for 12 minutes on the air fryer setting.
When the cornbread muffins recipe is done, serve and enjoy!
Why Make Corn Muffins In The Air Fryer?
The air fryer offers several advantages over the oven when it comes to baking corn muffins. Let's take a look at some of them!
The air fryer distributes heat more evenly than the oven, so your corn muffins recipe will come out perfectly cooked every time.
The air fryer uses hot air to cook your food instead of heated surfaces like an oven does, so your food will not dry out as much.
The air fryer is smaller and more compact than an oven, so it's perfect for small kitchens or for when you only want a few muffins.
So next time you're feeling like baking up a batch of corn muffins, don't reach for the oven. Go for your trusty air fryer instead!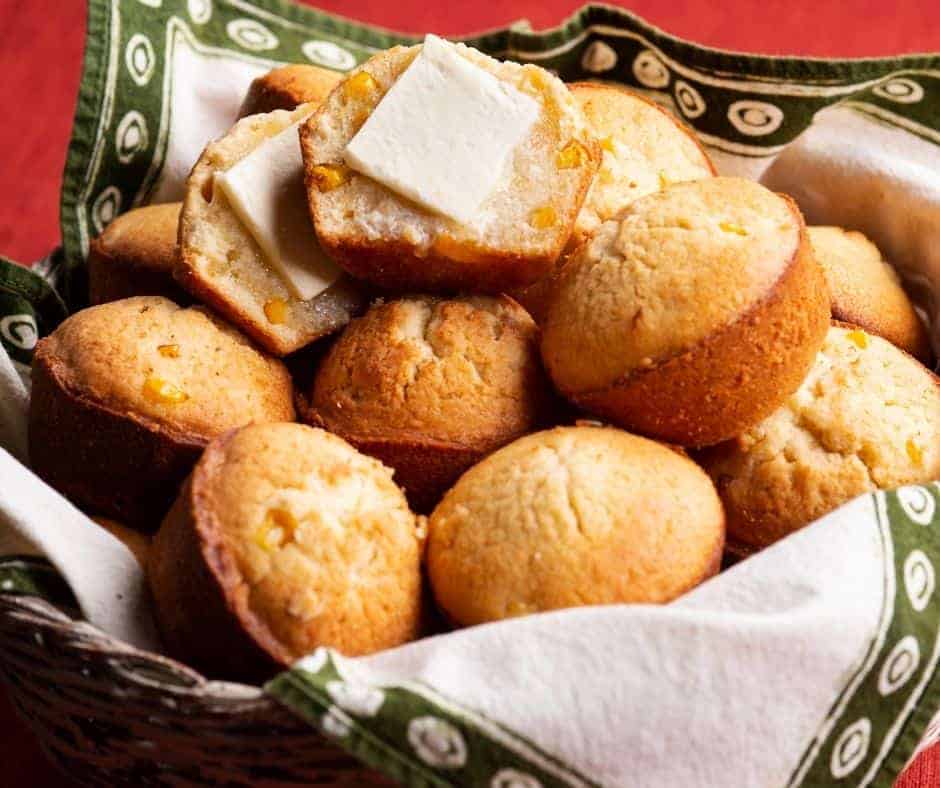 Pro Tips For The Best Cornbread Muffins Recipe
Filling carefully. Only fill them up about 2/3 way full, or the center will be underbaked.
Word of caution: Be really careful about using paper liners because they can catch fire and burn.
Using silicone muffin cups in the air fryer. If you are using silicone muffin tins, just check about halfway through the air frying cooking time to make sure they haven't fallen over.
Frozen vs. canned corn. You can use either frozen or canned corn kernels, or omit them altogether. I find they give some added texture.
Batter consistency: For the cornbread, you really do not want a creamy batter. A few lumps will be best, as you really do not want a dense cornbread.
How To Serve This Air Fryer Corn Muffins Recipe
I love serving these fresh to my guests and family. There is nothing better than hot cornbread fresh out of the "oven."
Cornbread is traditionally served with either sweet butter or honey. Either option will work as well for these muffins.
Storage and Reheating
These really do store well, and you can make them ahead of time! Store them in an airtight container where they will last for about 2 to 3 days at room temperature.
You can easily toss them back into the air fryer or use a microwave to reheat them before serving.
What Muffin Tins To Use In The Air Fryer
While we all have muffin tins in our kitchen, you will often find that they do not fit inside your air fryer basket.
One of my favorites is: (affiliate link included)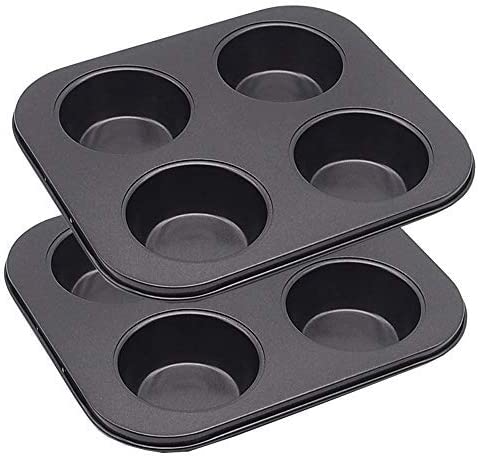 2Pcs Muffin Pan 4 Cup Standard Size Air Fryer Small Oven Cupcake Baking Pan Non-Stick Carbon Stainless Steel By HYTK
How To Reheat Cornbread In Air Fryer
If you're like me and love cornbread, then you know there are few things better than a fresh piece of hot cornbread. But what do you do if you have some leftovers?
You can reheat them in the oven, but that can take a while. Or, you could use your air fryer to reheat it in just a few minutes!
Place the cornbread into the air fryer basket, and heat at 300 degrees F until the cornbread is warmed through.
How To Cook Frozen Cornbread Muffins In The Air Fryer
Now that you know how to make corn muffins in the air fryer, you may be wondering how to make them from frozen!
Place the frozen muffins into the air fryer basket.
Set the temperature to 330 degrees F and cook until the muffin is cooked through.
More Air Fryer Corn Recipes: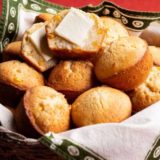 Cornbread Muffins in the Air Fryer
Description
Cornbread Muffins in the Air Fryer and simply scrumptious. These corn muffins from scratch are easy to make and cook up in under 15 minutes!
Ingredients
1

cup

all-purpose flour

1

cup

yellow cornmeal

1

teaspoon

salt

1

tablespoon

baking soda

1 1/4

cup

buttermilk

1/2

cup

corn kernels

2

large

eggs

1/4

cup

granulated sugar

1/3

cup

vegetable oil
Instructions
In a large mixing bowl, mix the flour, yellow cornmeal, salt, baking powder, baking soda, and sugar.

Then mix in the buttermilk, eggs, corn kernels, and vegetable oil.

Spray your air fryer muffin tin with non-stick cooking spray or olive oil.

Fill the muffin tins about 2/3 way full. Then set the muffin tin in the air fryer basket or tray. Set the timer for 12 minutes at 330 degrees F, air fryer setting.
Nutrition
Serving:
1
g
Calories:
286
kcal
Carbohydrates:
36
g
Protein:
7
g
Fat:
13
g
Saturated Fat:
3
g
Polyunsaturated Fat:
6
g
Monounsaturated Fat:
3
g
Trans Fat:
0.1
g
Cholesterol:
51
mg
Sodium:
780
mg
Potassium:
162
mg
Fiber:
2
g
Sugar:
9
g
Vitamin A:
134
IU
Vitamin C:
0.2
mg
Calcium:
54
mg
Iron:
2
mg
Don't Forget To Pin!