Air Fryer Funfetti Skillet Cookie — If you're looking for a fun, festive new way to enjoy your air fryer, then you'll love this Air Fryer Funfetti Skillet Cookie! This delicious dessert is easy to make and perfect for parties or special occasions.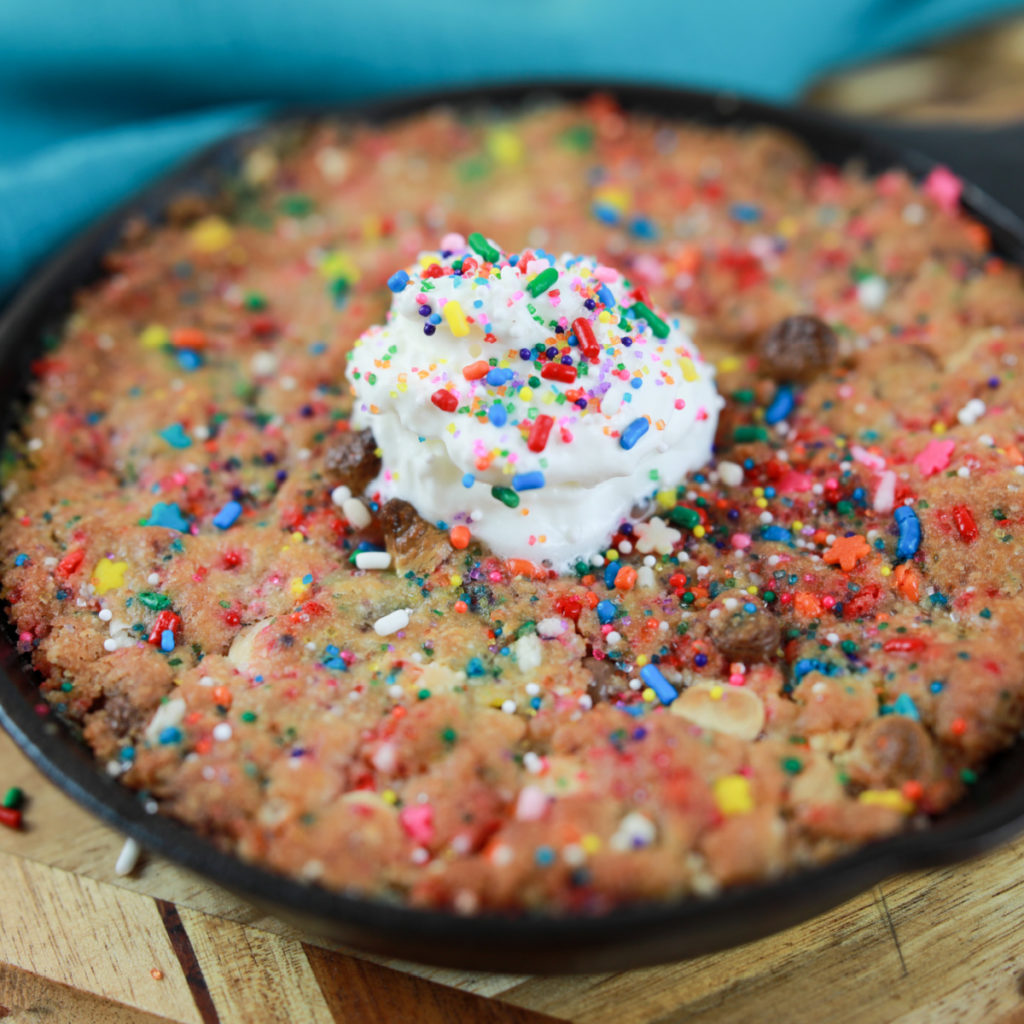 The air fryer is the perfect appliance for making skillet cookies. This funfetti version is loaded with sprinkles and tastes delicious. Best of all, it's easy to make, and cleanup is a breeze. Try this recipe today!
Do you love making desserts in the air fryer? Try this Air Fryer Jelly Donuts!
What Is An Air Fryer?
An air fryer is a small kitchen appliance that cooks by circulating hot air around the food. Air fryers are popular because they cook food quickly and evenly, without using a lot of oil. They are also versatile and can be used to cook various foods. If you're looking for an easy way to eat healthier or want to add a new kitchen gadget to your collection, an air fryer may be the right choice for you.
What Is A Skillet Cookie?
Do you love desserts but don't want to spend a lot of time in the kitchen? Then skillet cookies are for you! This dessert is easy to make and can be customized to your liking. What is a skillet cookie?
It's a giant cookie that is cooked in a cast-iron skillet. You can add any ingredients you like, such as nuts, raisins, or M&Ms. The best part is that there is no need to turn on the oven – pop it in the air fryer and let it cook! So next time you have a sweet tooth, try this easy air fryer dessert recipe. You won't be disappointed.
Air Fryer Pizookie
If you're a fan of cookies and pizza, then you're going to love this air fryer pizookie recipe! It's super easy to make, and it tastes delicious. Plus, it's a great way to satisfy your cravings for both cookies and pizza. So give it a try today! You won't be disappointed.
Ingredients Needed For Air Fryer Funfetti Skillet Cookie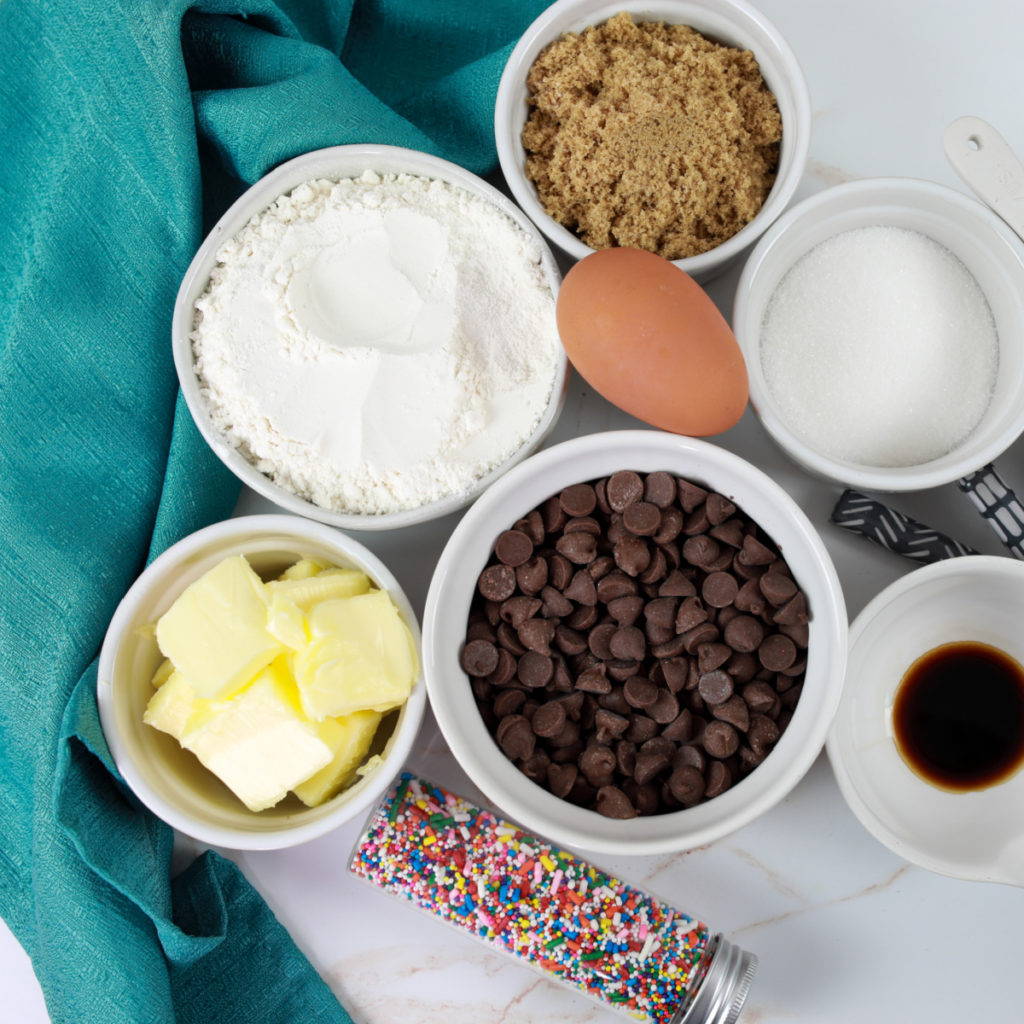 Butter
Granulated Sugar
Brown Sugar
Pure Vanilla Extract
Egg
All-Purpose Flour
Baking Powder
Salt
Chocolate Chips
White Chocolate Chips
Funfetti Sprinkles
How To Make Air Fryer Funfetti Skillet Cookie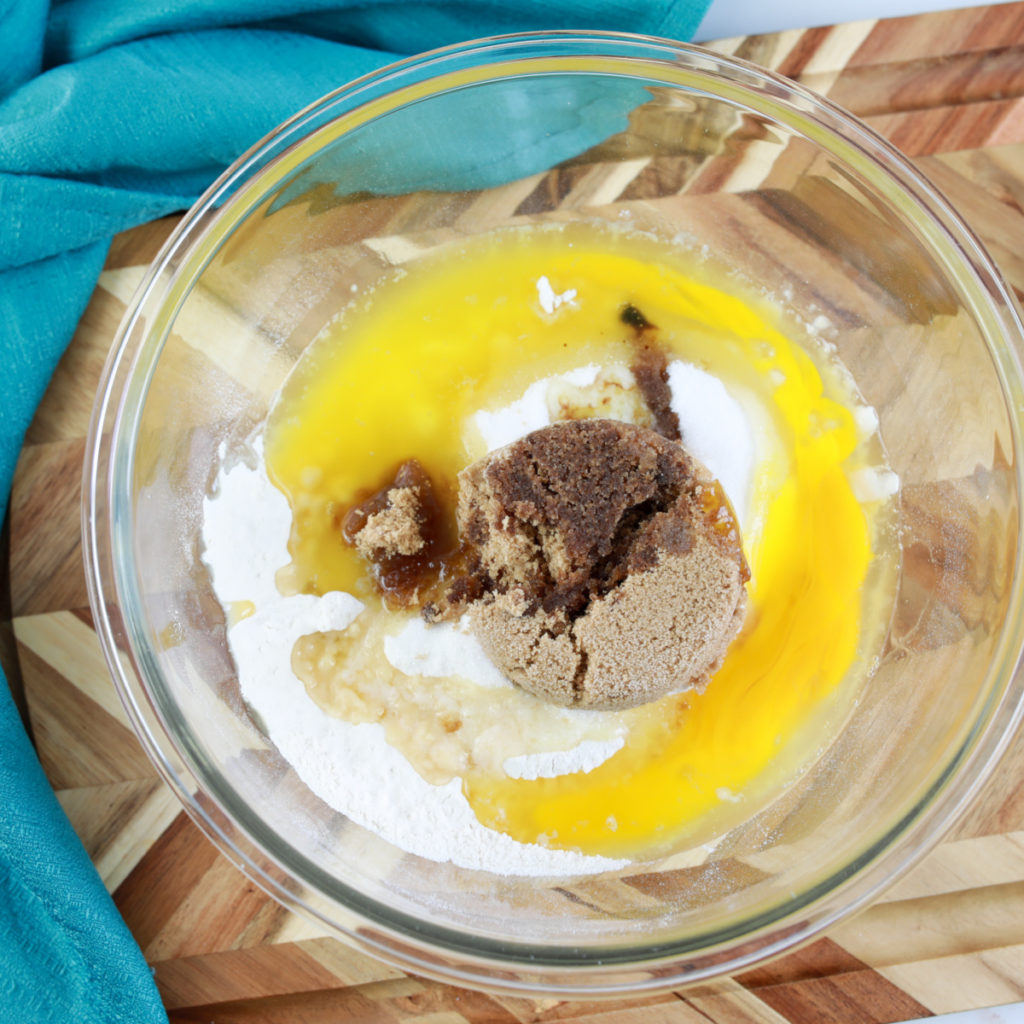 Add the flour, baking soda, salt, butter, sugar, brown sugar, egg, and vanilla in a large bowl.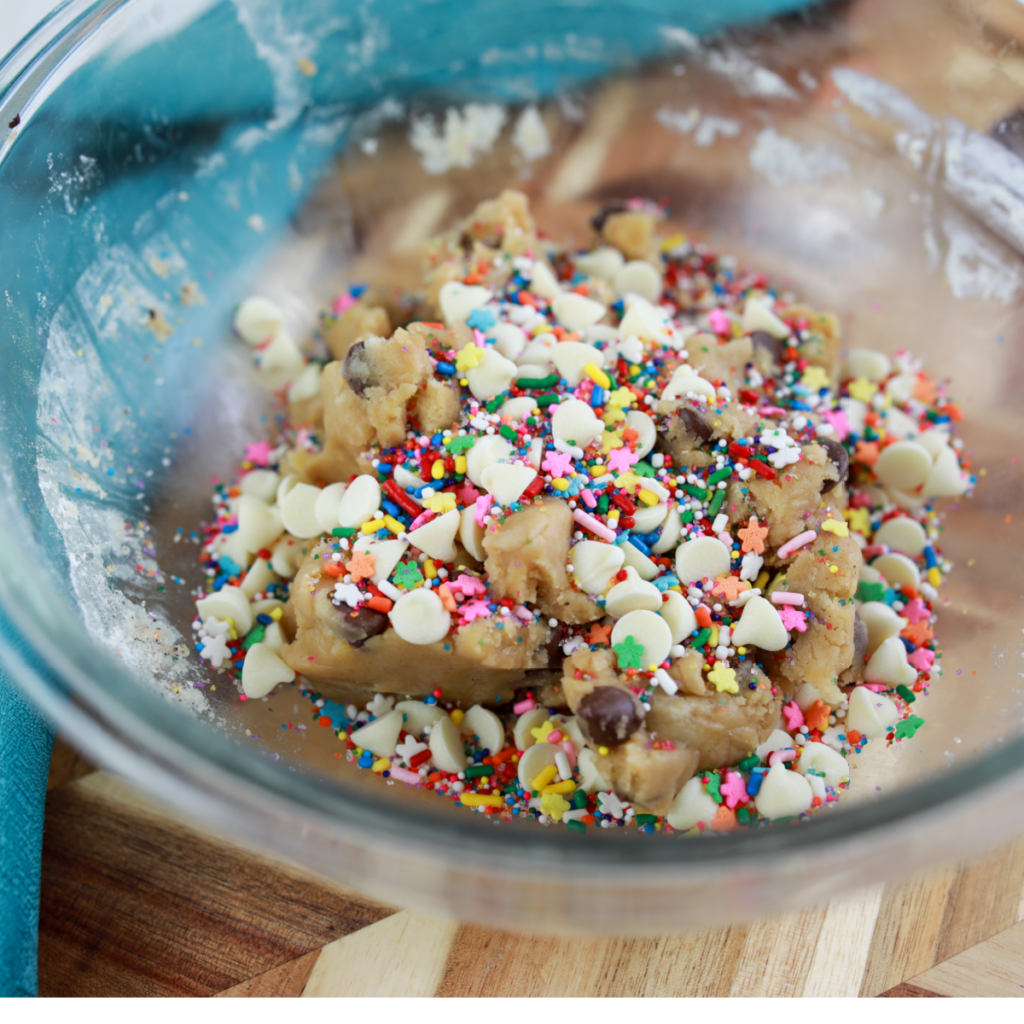 Mix until everything is well combined, then fold in the chocolate chips, white chips, and funfetti sprinkles.
Mix until the chocolate chips are evenly distributed. Generously spray your pan or skillet with olive oil spray or cooking spray. Press your cookie dough into the prepared pan. Set the pan into the air fryer and set the temperature to 320 degrees F for 12 minutes. (air fryer setting)
Ingredient Notes:
Eggs: For best results, use room temperature eggs to blend into the cookie dough, better than cold eggs.
Pure Vanilla Extract: For best results, use pure vanilla extract; the flavor will enhance the cookie flavor.
Brown Sugar: use soft brown sugar; if it's hardened, the brown sugar will turn your cookie hard. So either use a new bag or soften your brown sugar.
All-Purpose Flour: For best results, measure your flour correctly. Using a scale to measure your flour is the best way, but if you don't have one, here is a tip for you. You should fluff up your flour with a spoon before packing them into cups to level off for the most accurate measuring.
Recipe Notes:
How To Make This Gluten-Free
Are you looking for an air fryer gluten-free dessert? This one is perfect! Change out the flour and other ingredients for gluten-free options. This recipe is amazingly gluten-free. I would recommend that you use King Arthur's Gluten-Free All-Purpose Flour, which bakes up amazing!
When Do You Know When Your Skillet Cookie Is Done?
When the skillet cookie is ready, it will have developed a lightly browned top. This is because residual heat from your cast iron pan will continue to cook your cookie. If you wait for the entire cookie to be brown, you will end up with a dried-out cookie.
Can I Make This Cookie Ahead Of Time?
Yes, although the air fryer takes almost no time to bake up. I would advise you to make the dough and refrigerate it right before serving.
But you can make them ahead of time. Leave them covered at room temperature for up to 3 days to store them. You can either serve at room temperature or warm right before serving.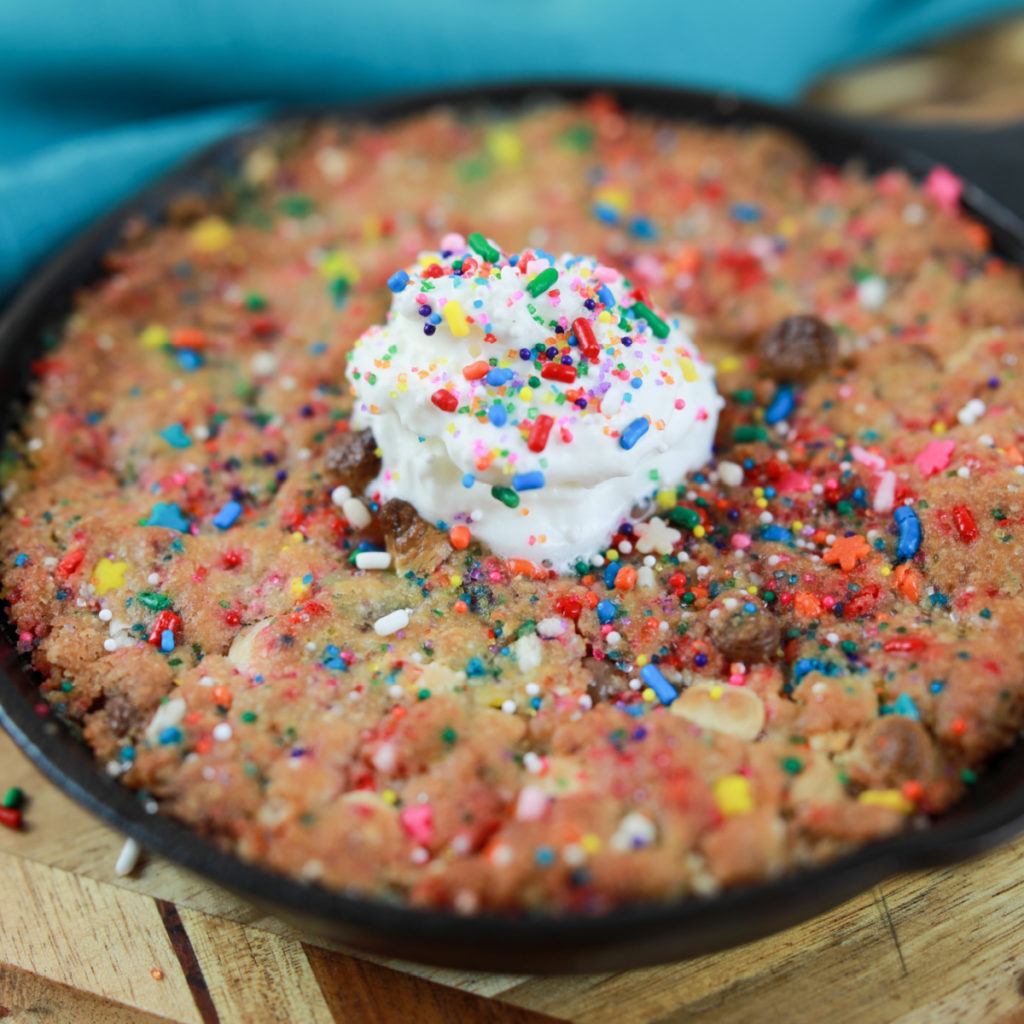 Can I Freeze This Cookie Dough?
This recipe is perfect for all your favorite cookie needs! You can freeze the skillet cookie dough raw or baked. For best results, wrap it tightly in saran wrap or place it into an airtight container for about 2 to 3 months.
Refrigerate your cookie dough in the refrigerator overnight, and then warm or bake right before serving.
What Cast-Iron Pan Can I Use In This Recipe?
Cast-iron pans are great for cooking food evenly and retaining heat well, making your food crispy on the outside and tender on the inside. Most people are surprised that I use cast-iron pans in the air fryer, but I have been using them for several years. Before doing so, I would highly recommend that you check your owner's manual, but here are some of the ones I have used in the past.
6 Inch Cast Iron Skillet, Frying Pan with Drip-Spouts, Pre-seasoned Oven Safe Cookware, Camping Indoor, and Outdoor Cooking, Grill Safe, Restaurant Chef Quality

Modern Innovations Mini Cast Iron Skillet with Silicone Mitt (4 Count) – 3.5 Inch Mini Cast Iron Skillet – Pre Seasoned Small Cast Iron Skillet Set
More Air Fryer Cookie Recipes:
Don't Forget To Pin: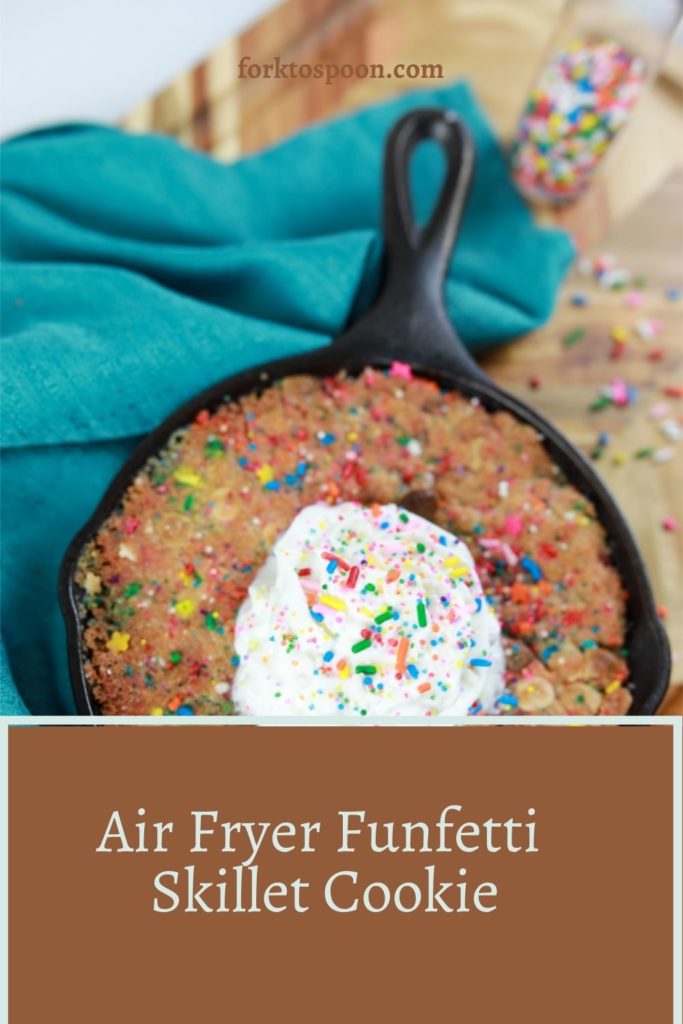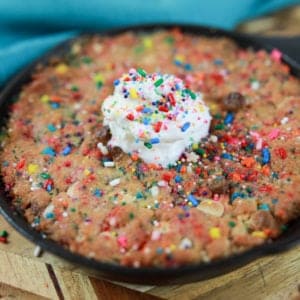 Air Fryer Funfetti Skillet Cookie
Description
Cooks of all levels will appreciate this easy Air Fryer Funfetti Skillet Cookie. This recipe is perfect for cooks who are new to air frying, and it's a great way to show off your creative side with a fun dessert. The best part is that it only takes minutes to prepare, and the end result is a delicious cookie that will please everyone. So why not give it a try? You won't be disappointed.
Ingredients
1/2

cup

butter

,

melted and unsalted

1/2

cup

granulated sugar

1/2

cup

brown sugar

1

teapsoon

pure vanilla extract

1

large

egg

1 1/2

cup

all-purpose flour

1/2

teaspoon

baking powder

1/2

teaspoon

salt

1 1/4

cup

chocolate chips

1/2

cup

white chocolate chips

4

tablespoons

funfetti sprinkles
Instructions
Add the flour, baking soda, salt, butter, sugar, brown sugar, egg, and vanilla in a large bowl. Mix until everything is well combined, then fold in the white and milk chocolate chips, sitr in the funfetti sprinkiles.

Mix until the chocolate chips are evenly distributed.

Generously spray your pan or skillet with olive oil spray or cooking spray.

Press your cookie dough into the prepared pan.

Set the pan into the air fryer and set the temperature to 320 degrees F for 12 minutes. (air fryer setting)
Equipment
Air Fryer

Pan,

See recommended in notes
Nutrition
Serving:
1
Serving
Calories:
1039
kcal
Carbohydrates:
147
g
Protein:
8
g
Fat:
49
g
Saturated Fat:
30
g
Polyunsaturated Fat:
2
g
Monounsaturated Fat:
9
g
Trans Fat:
1
g
Cholesterol:
112
mg
Sodium:
573
mg
Potassium:
337
mg
Fiber:
1
g
Sugar:
106
g
Vitamin A:
783
IU
Vitamin C:
0.1
mg
Calcium:
158
mg
Iron:
3
mg